Kaju Chocolate Barfi – Warmest Diwali Wishes
As an Amazon Associate and member of other affiliate programs, I earn from qualifying purchases.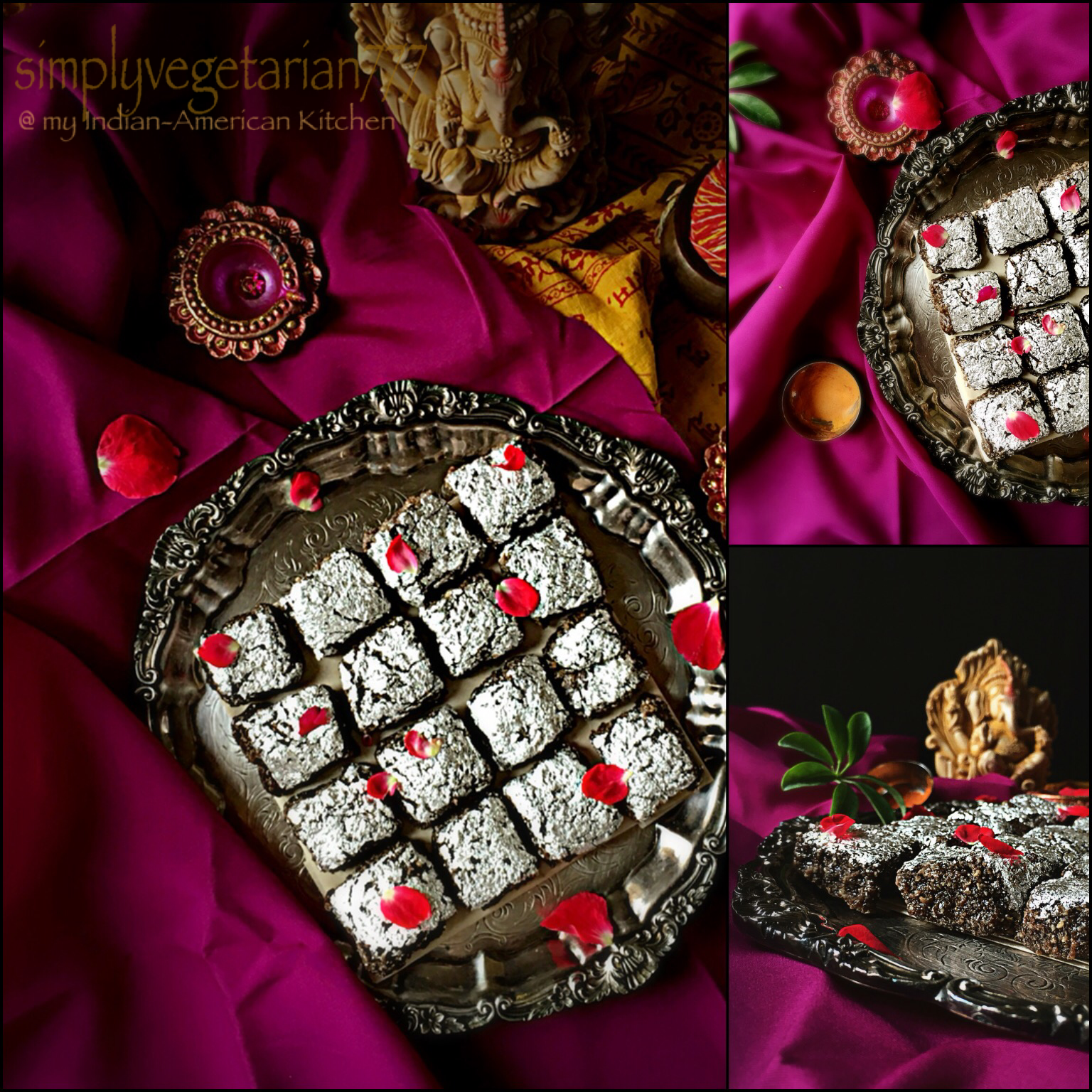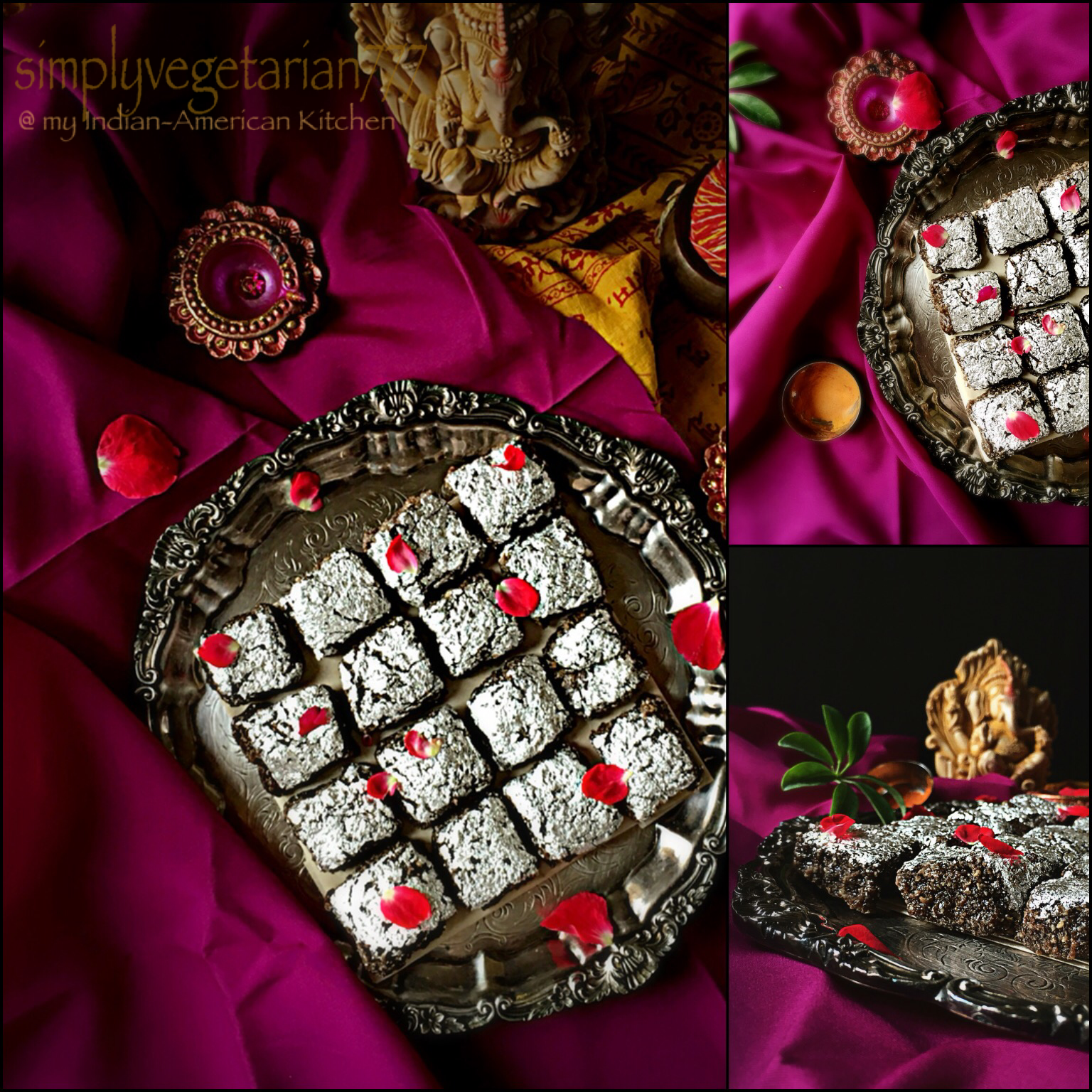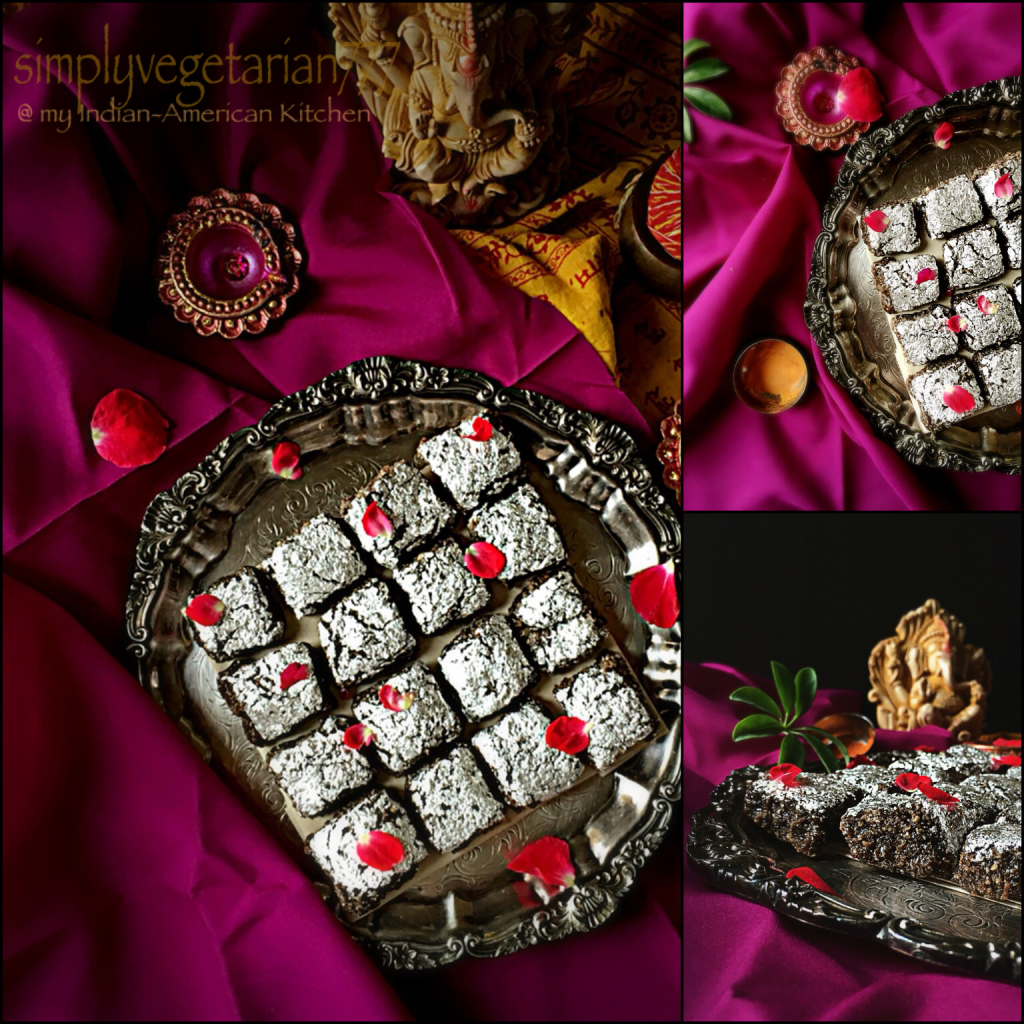 Diwali is the biggest festival for the Hindus of Indian community and the subcontinent. A beautiful festival of lights, secular spirit, good food and company, some glamour and some poker ;), firecrackers and mithais, fun, laughter, joyful times and loads of memories…golden memories..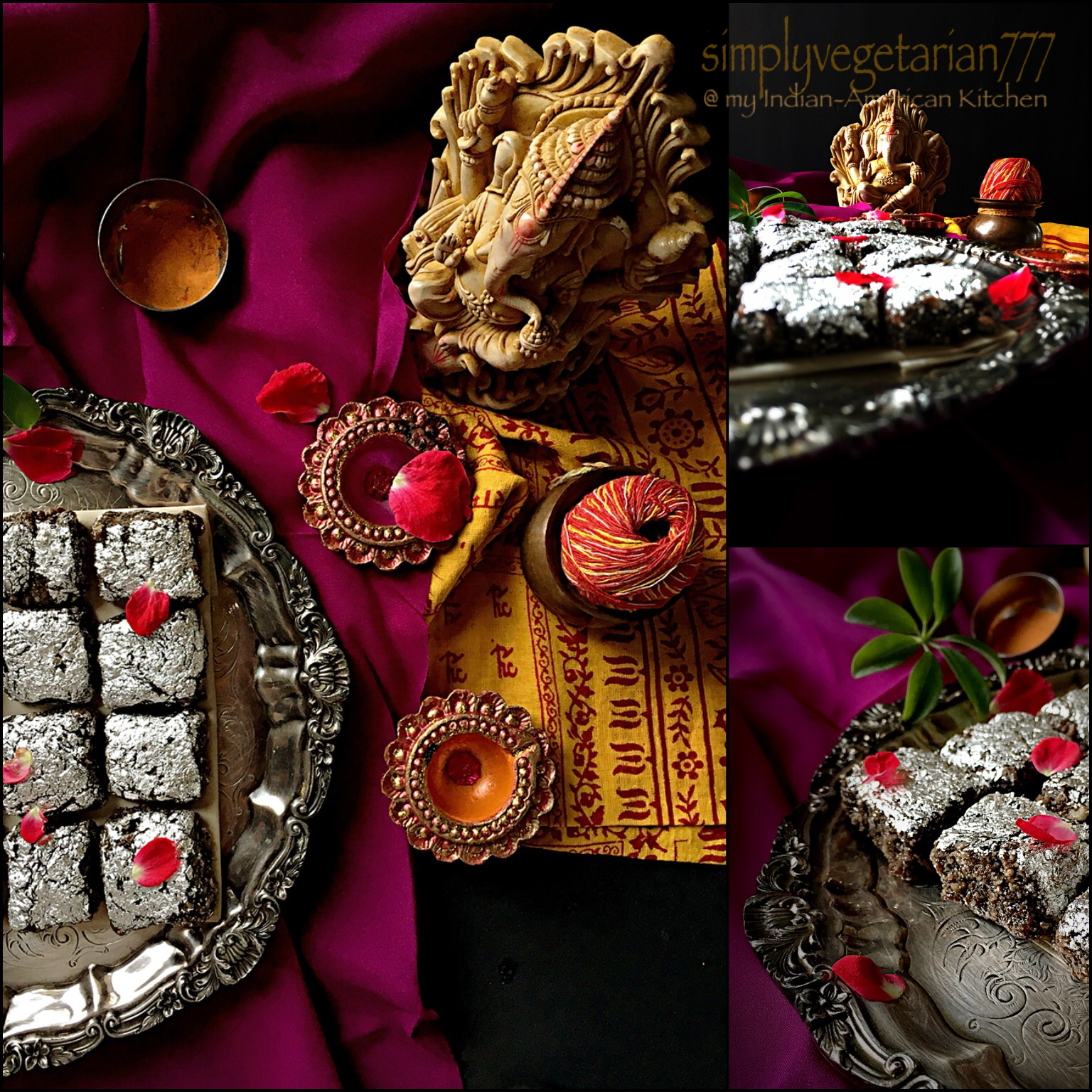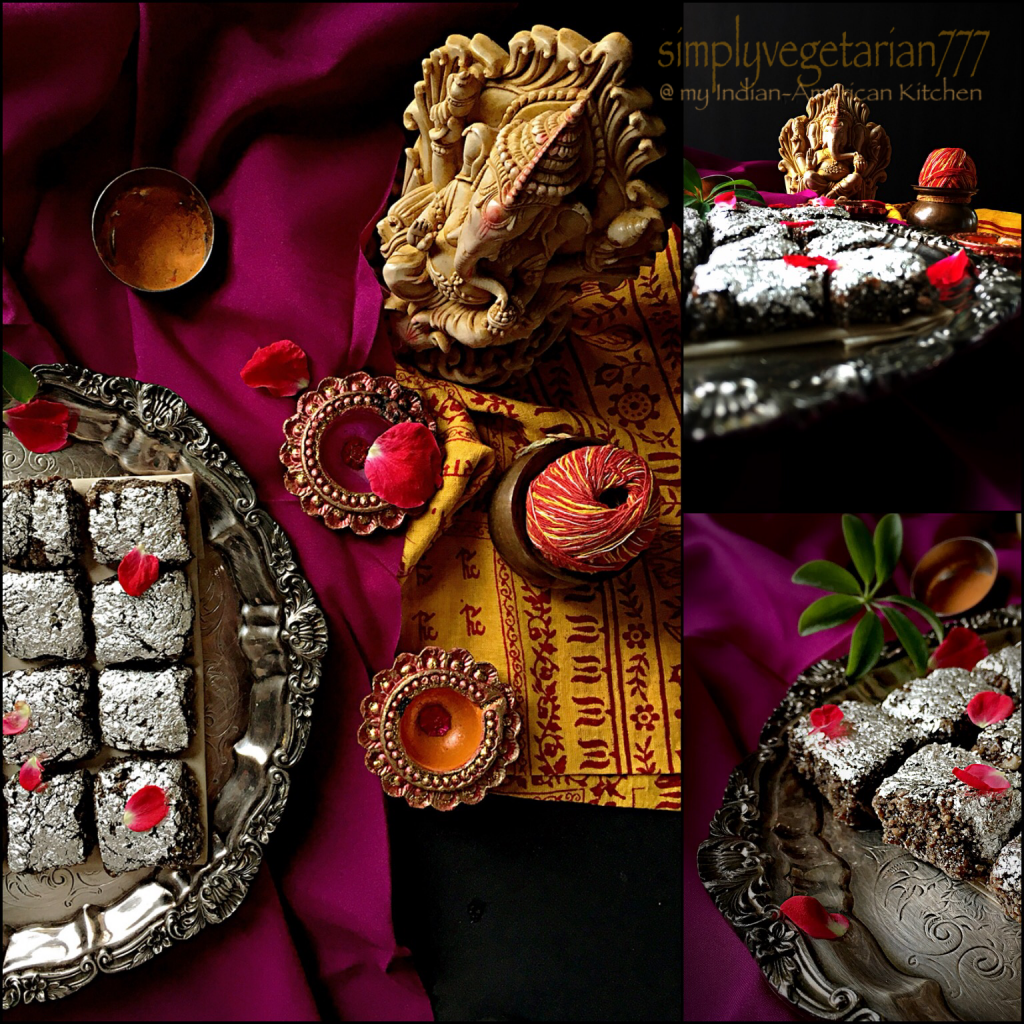 Diwali is symbolic of victory of good over evil, lightening our hearts and soul with purity of goodness and recognizing the Almighty God inside us. Being kind and tolerant to others, share and spread the happiness with the less privileged ones, feed the hungry, clothe the cold bodies and just be there in the moment.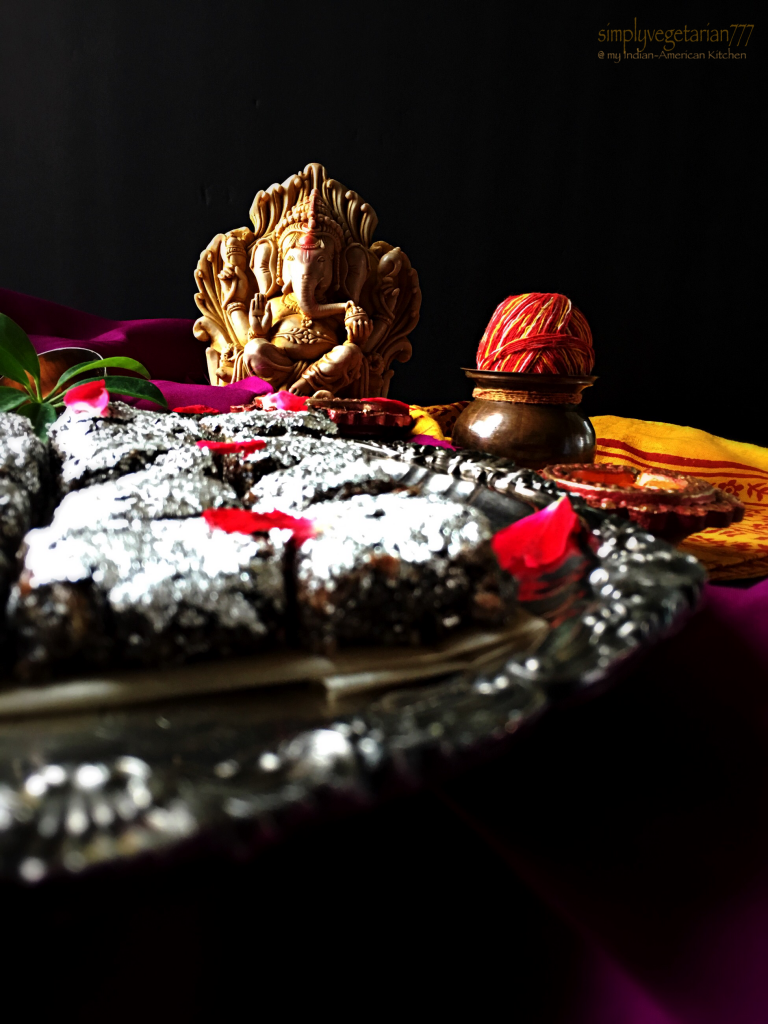 Goddess Lakshmi, the Goddess of wealth enters the houses of those, who are ready to share and care. Lord Ganesha, the vighna-harta (the problem solver), sits in our house, watching over us and blessing us.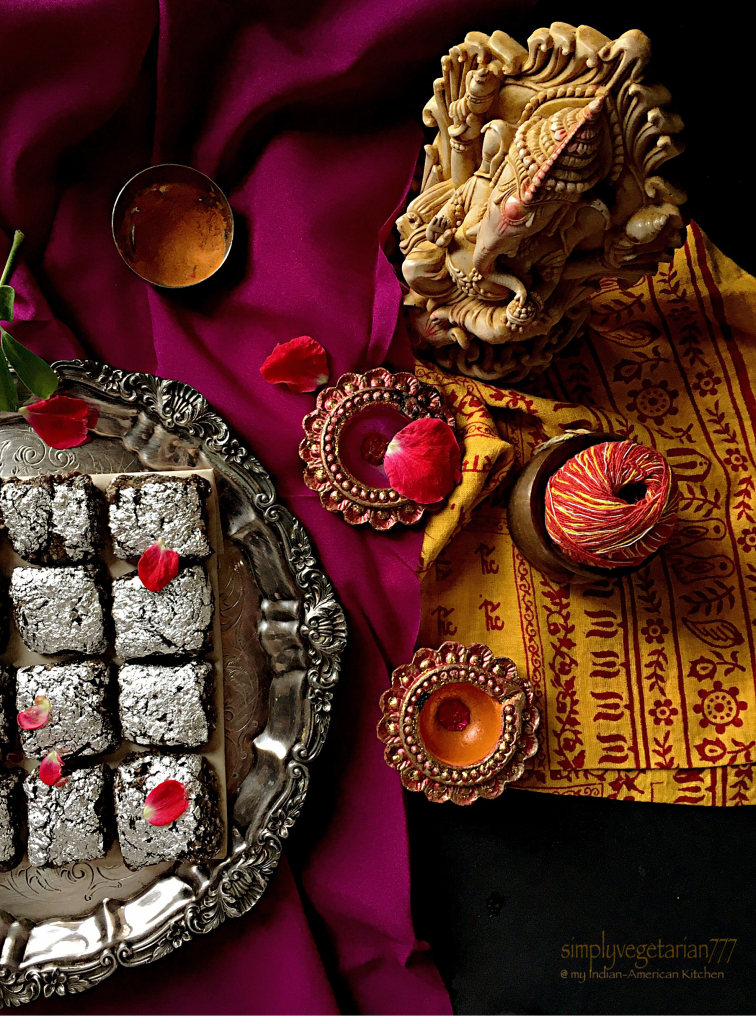 I have such fond memories of Diwali from my childhood. The girls of the family will decorate the verandahs with rangolis and flowers. The boys would put kandeel (paper lantern) and lightings. The grandmother, aunt and mom would be busy with kitchen preparations. The grandfather, uncle and dad would be busy getting the pooja done at the factory in time and then distributing the bonus and mithai to the employees. The whole "raunak" at my childhood home is unmatched, now resting in my memories.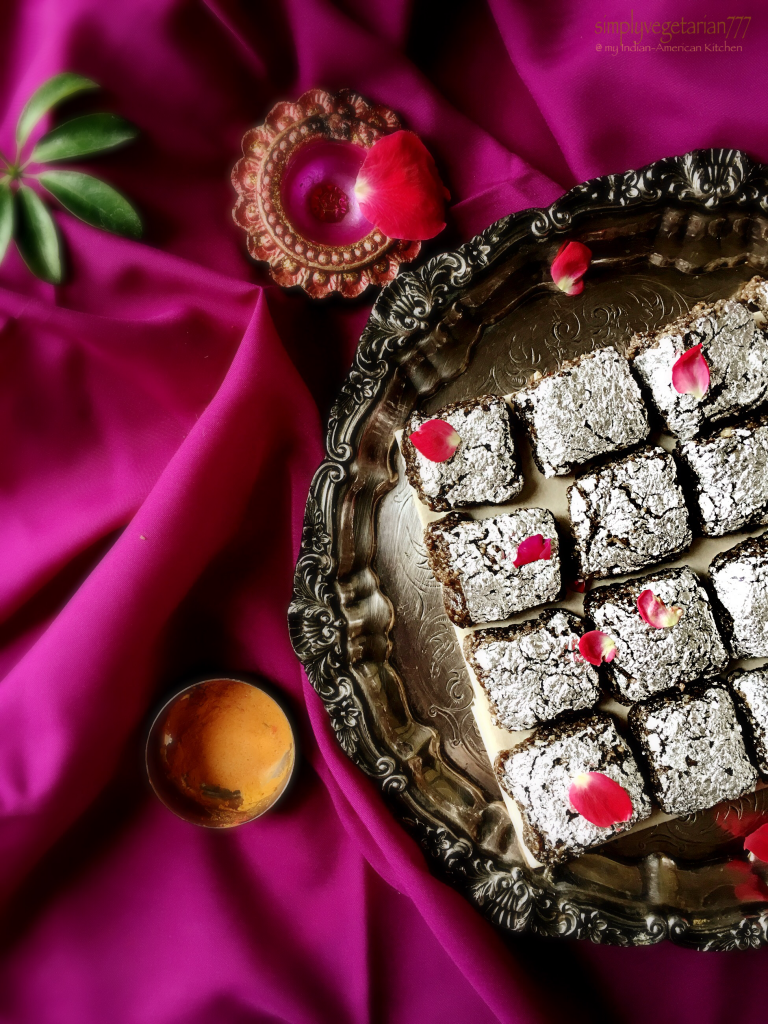 Coming to the Diwali ki Mithai (sweets), I have gine very low key this year. I have not prepared much. This is the only Mithai that I have prepared and I must say that it does not require anything else on the side. It has the bitefulness of Kaju Katli and the charm and glamour of Chocolate.
Kaju is Cashews and Chocolate is chocolate and Barfi is Fudge.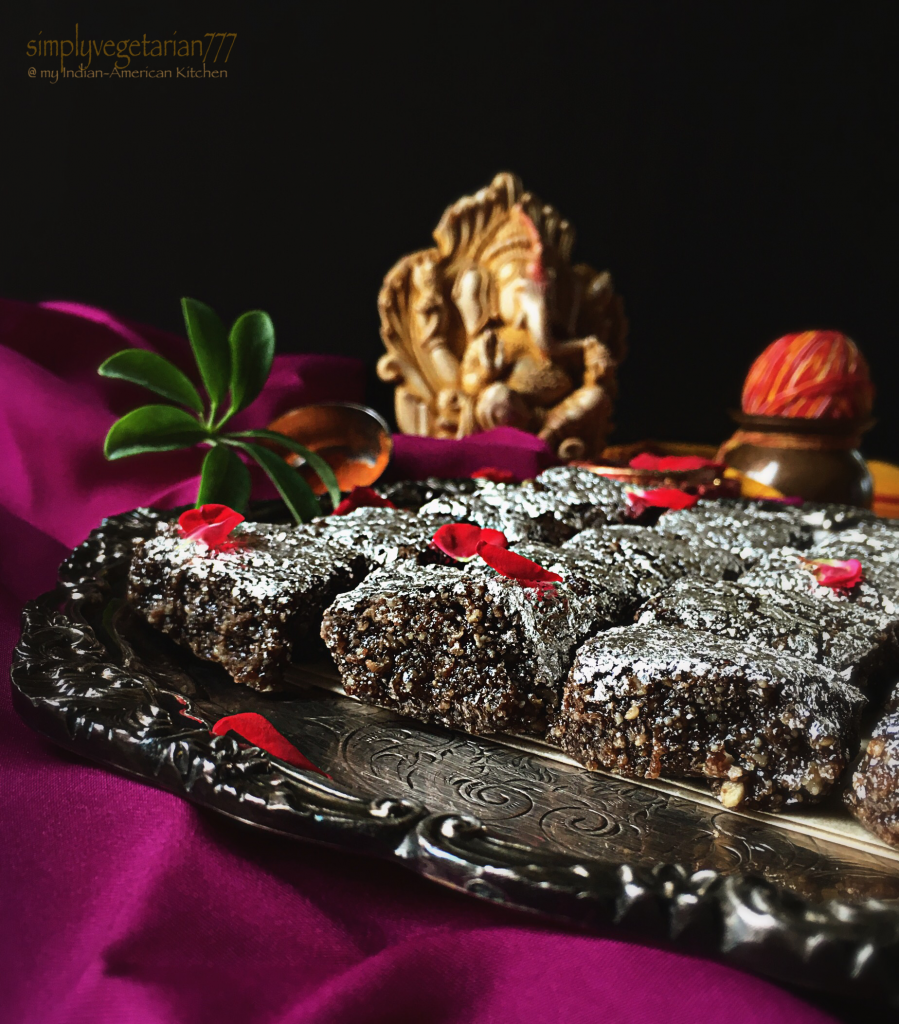 Binjal had posted Chocolate Barfi, few days ago and I think she set the fire up for the rest of us. Chocolate in mithai had been ringing in my head since then. I wanted to make Kaju Katli though and decided on that. I started making it and one thing led to the other and I ended up with this quick and few ingredients Kaju Chocolate Barfi. It is gooey like fudge and so soothing with every bite. If it was not for Shailja, my Barfi would have gone for a down dip. Thank you lady for saving me as always.
Kaju Chocolate Barfi
Servings: 10-12
Difficulty: easy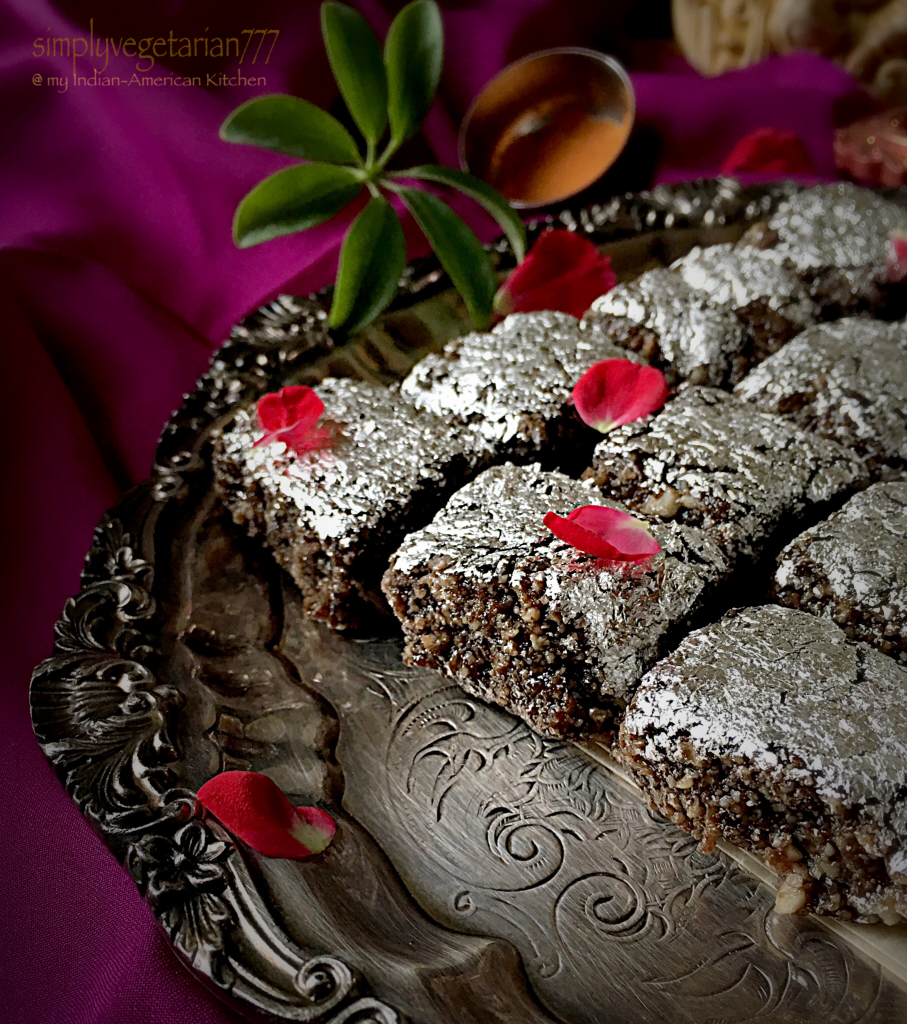 Kitchen Equipments Required
Grinder, Heavy bottom pan, heavy stirring spoon, a 10 inch round plate for setting the barfi.
Ingredients
Cashews / Kaju – 2 cups
Sugar – 3/4 cup
Water – 1/4 cup
Coco powder, unsweetened – 1/4 cup
Milk – 1/4 cup
Ghee to grease the plate
Silver foil, edible to decorate, optional
Method
Grind the cashews in the grinder to a fine powder. Keep aside. Make sure that you do not over do it or else you will end up with an oily paste.
Take the heavy bottom pan and add sugar and water in it. Cook it on medium heat till sugar is completely dissolved. We are not looking to make any string consistency of the sugar. It is simple sugar syrup.
Once the sugar is dissolved, add cashew powder, milk and chocolate powder.
Cook it on low flame, while stirring continously with the heavy spatula.
After 8-10 minutes, the batter will leave the sides and come to the center. Switch off the flame.
Grease the plate with ghee.
Spread out this mixture evenly in the greased plate, of about 1/2 inch thickness.
If you are using the silver foil, apply it now.
Let it cool down to room temperature and set for about 3-4 hrs.
Now you may slice it in either squares or diamonds.
These should stay good outside for 2-3 days. Refrigerate it later, if any left.
Wishing you Health, Wealth, Peace and Prosperity this Diwali from my Indian-American Kitchen to yours!
Happy Diwali
Sonal