Kesariya Paneer ki Kheer ( Saffron drenched Cottage Cheese Pudding)
As an Amazon Associate and member of other affiliate programs, I earn from qualifying purchases.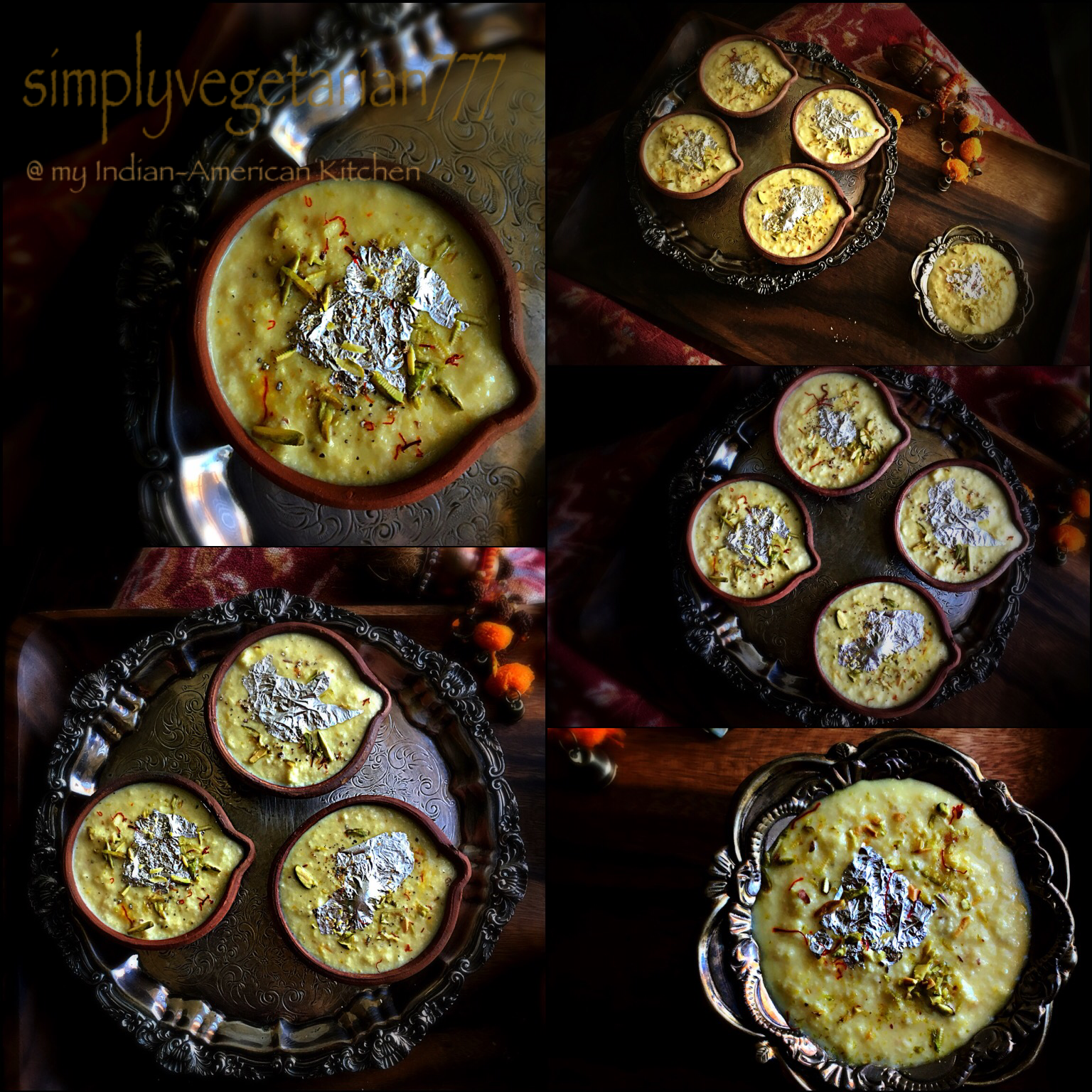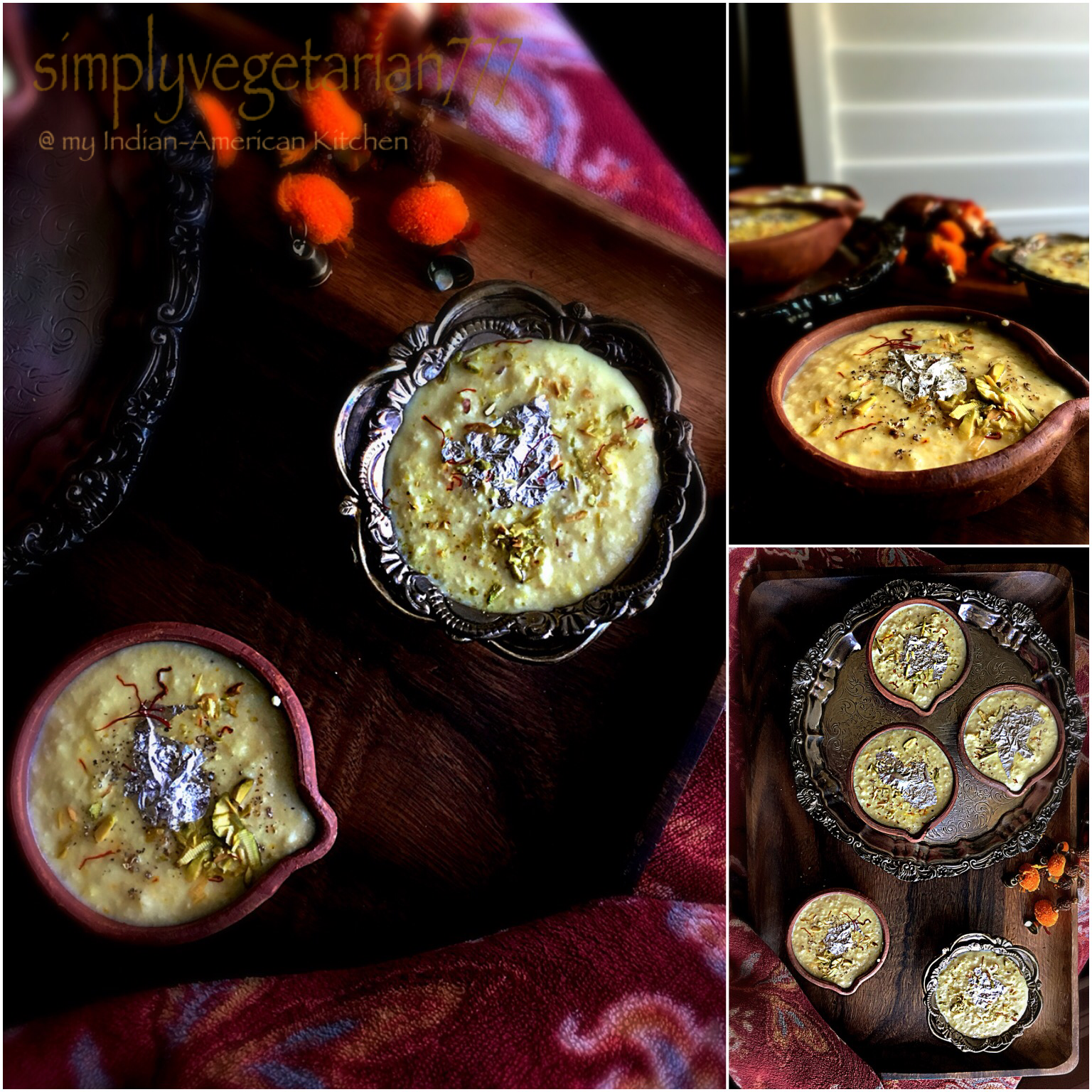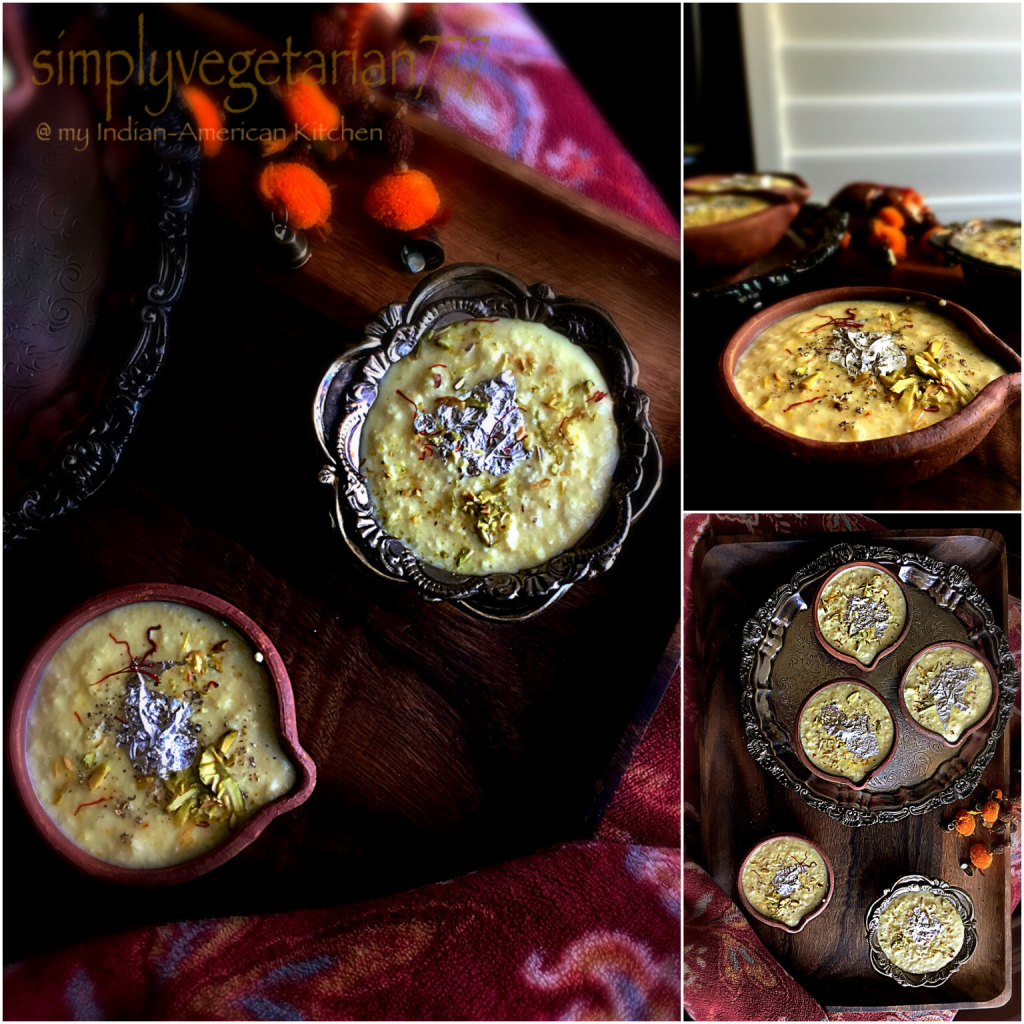 Warning – This post has lot of photos! I couldn't decide, which one not to post! So I have made the saffron and paneer drenched kheer, rich with visual teasers! Enjoy!!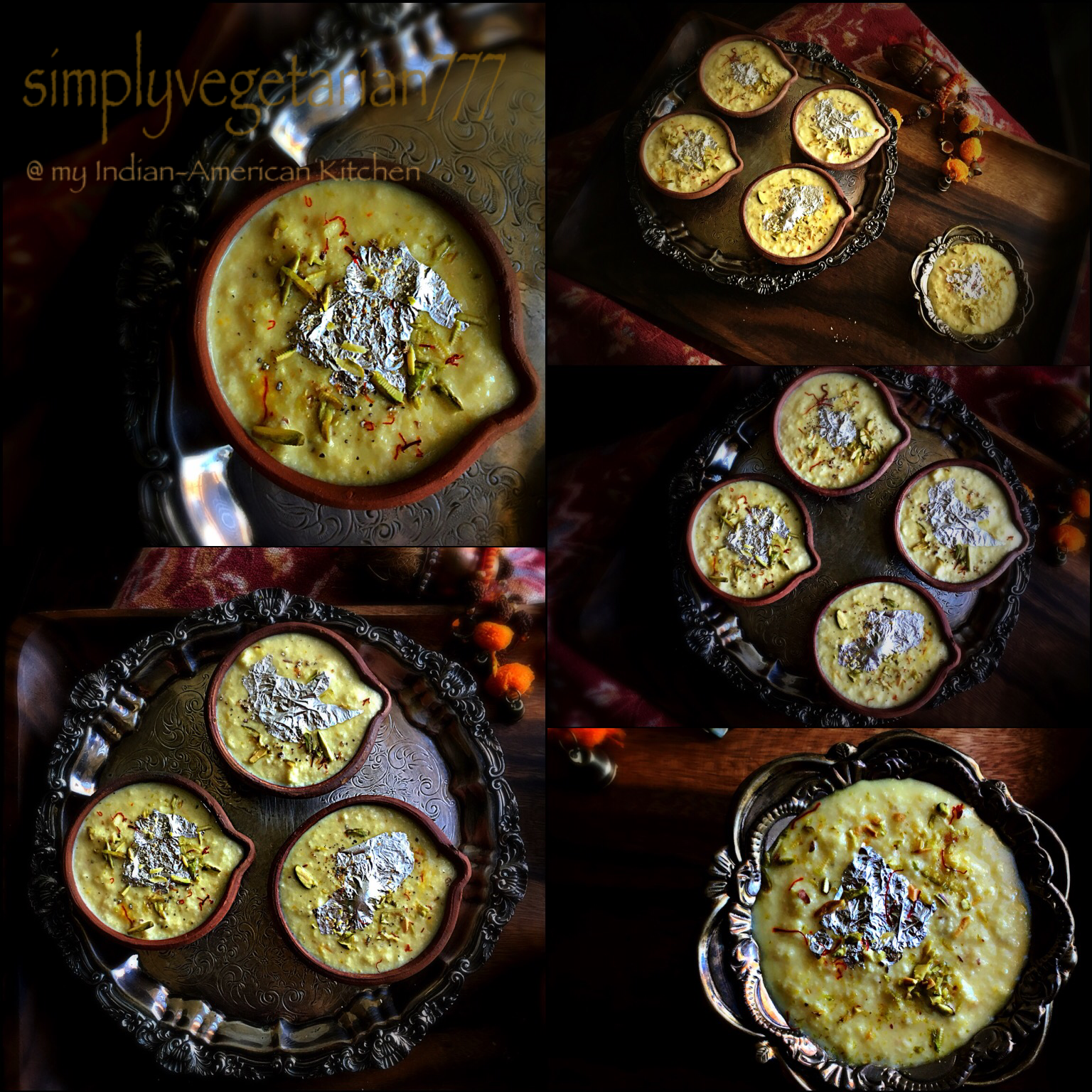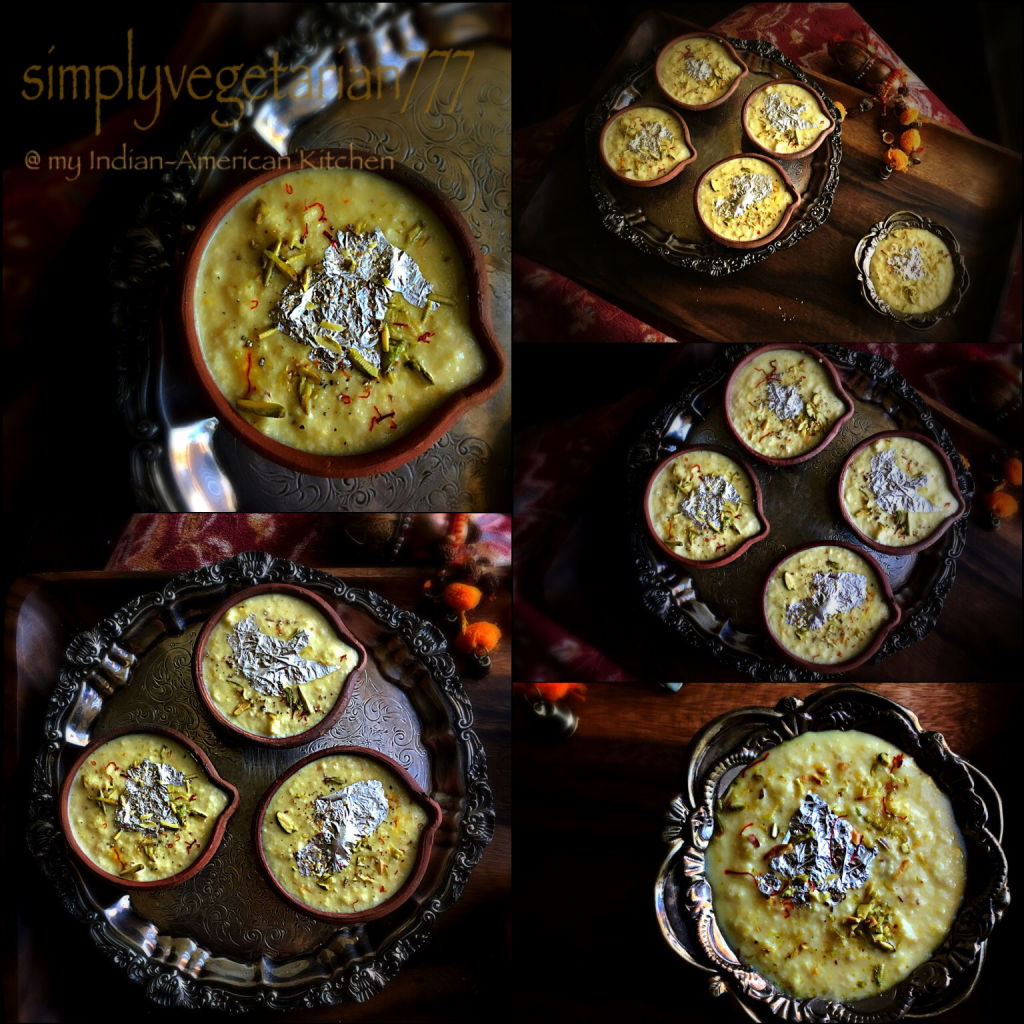 I love chilled kheer, resting in a kulhad and sakore, the earthern small pots, made to serve the street treats mainly. The mit to ki Khushboo and swaad (earthern aroma and flavors), make any dessert so desirable and exotic.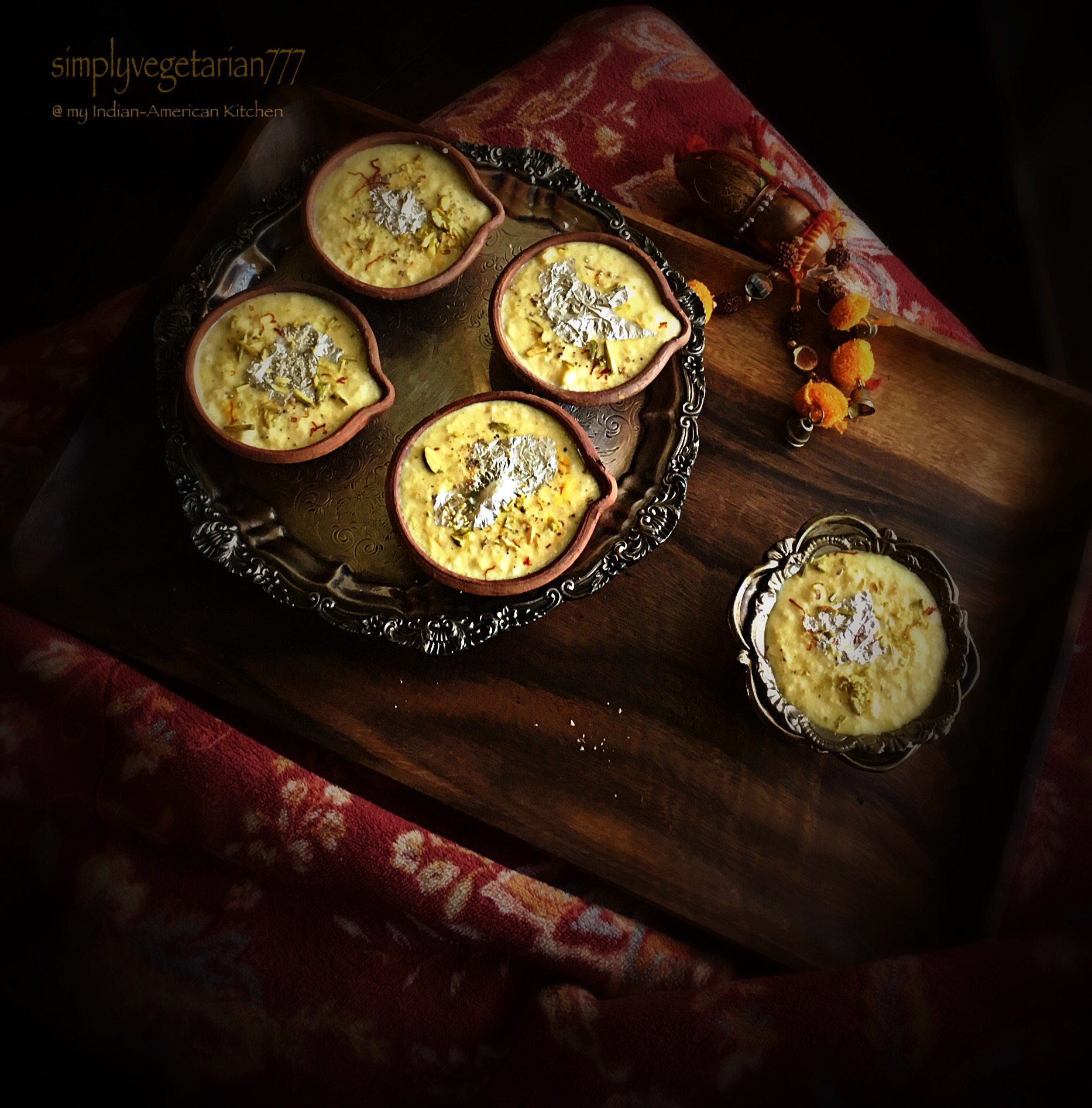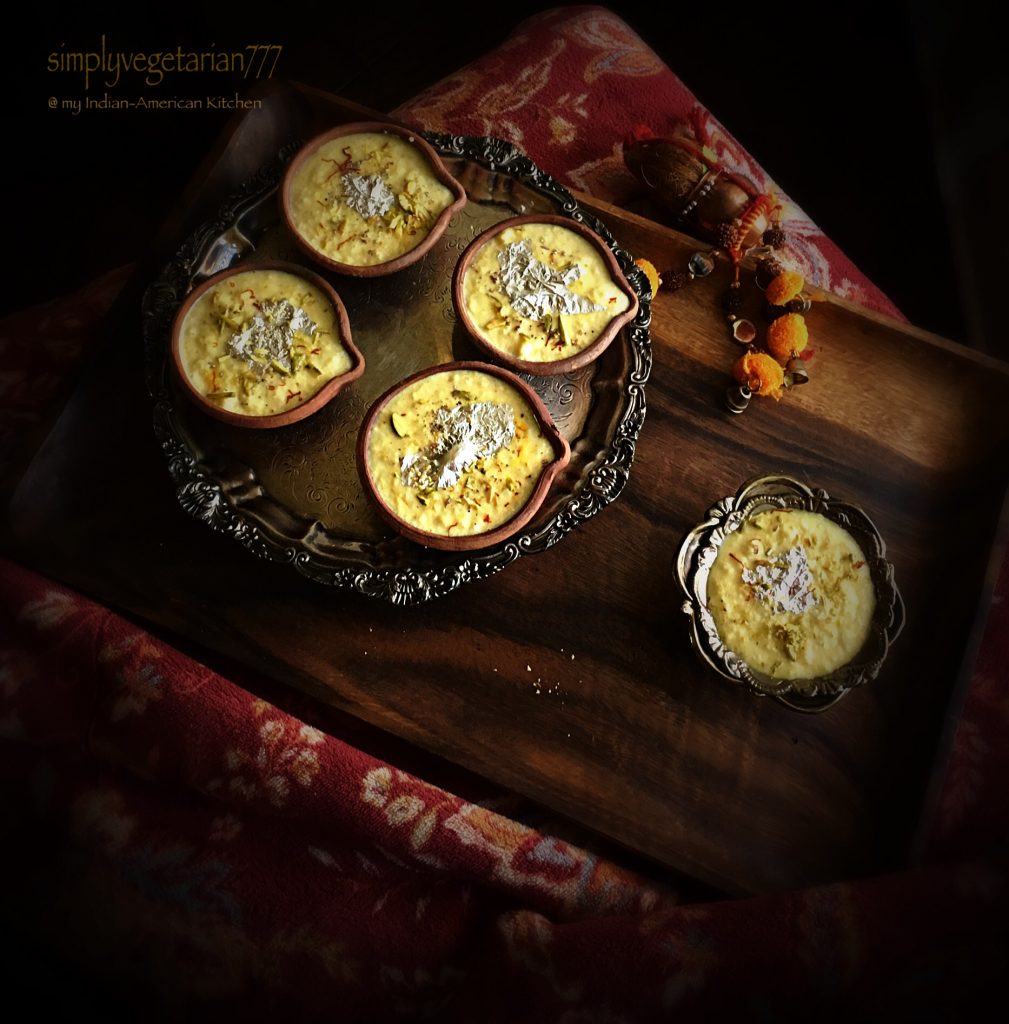 Be honest, don't you want to pick up one pot from there and devour it? That's why, I am taking these gorgeous mini earthern pots filled with heavenly nectar deliciousness to Angie's Fiesta Friday!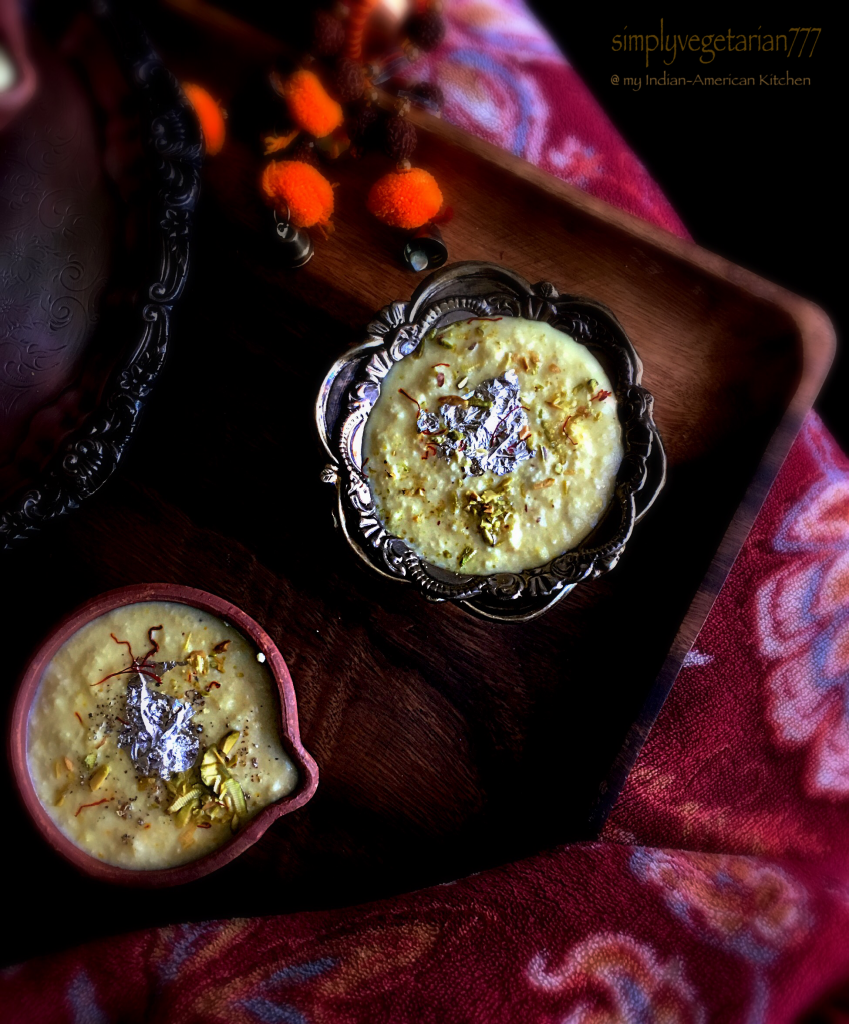 This dish was an accidental product of my experiment. I called up Shailja in the morning and after our usual notes exchange, I demanded her to inspire me to create something today. I said, "Shailja, festivals are coming up and I really need some good ideas to blog. We both discussed our plans. Finally, I agreed to make small rasgullas in  malai. Checked my notes with her. She is my Guru when I am stuck. Somehow the Shortcut that I thought would work, backfired at me. I didn't give up. Tried again and make the Paneer ki kheer! This was anyways on my mind to make since a long time.
I promise I haven't looked for the recipe from anywhere. Long time ago, had tried this at one of my Bengali Neighbor's house and had fallen in love with this kheer since then. It's been 14 years and here I am, finally tried it! A much satisfying moment for me!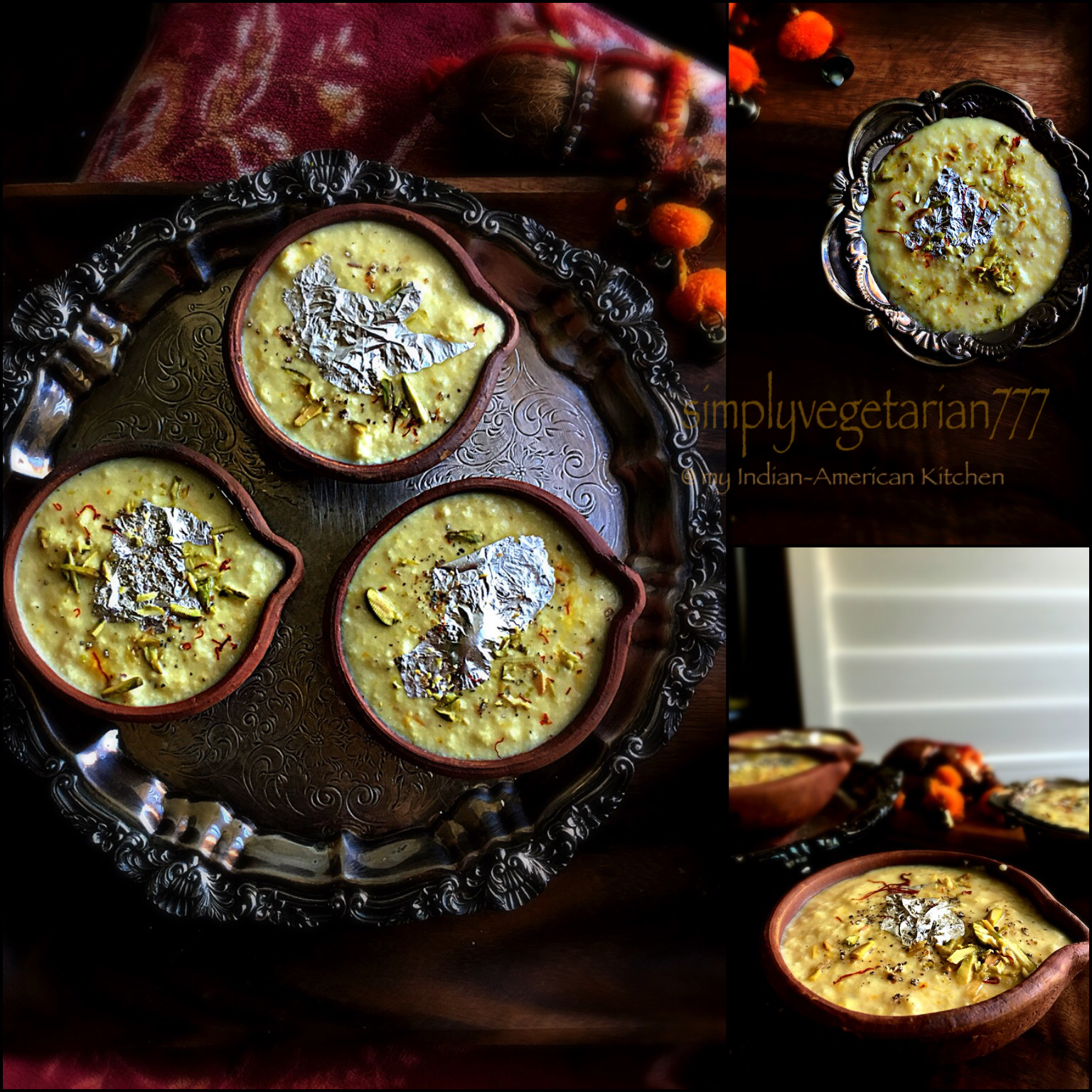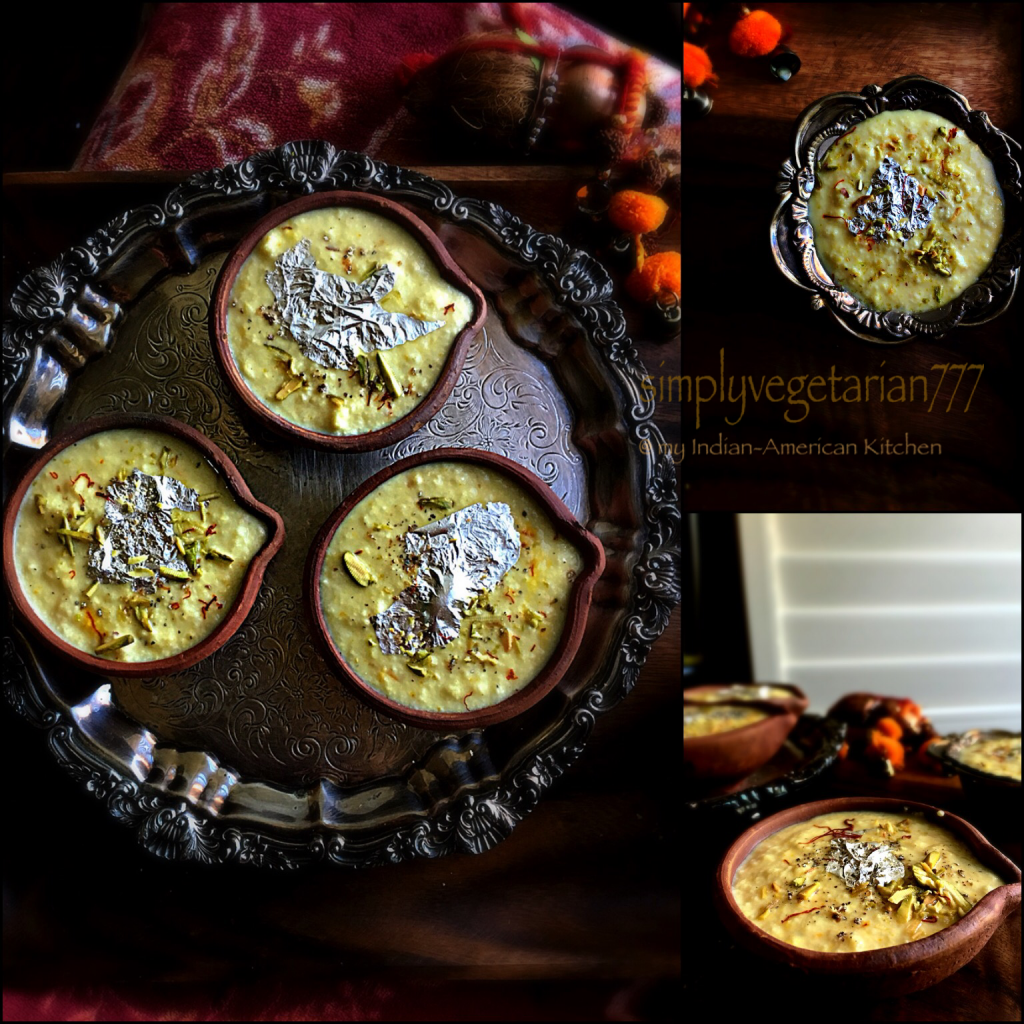 Without further ado, here is the super simple recipe which will make your festival time more enchanting and appetizing with its looks and licks :).
Kesariya Paneer ki Kheer
Servings: 8-10
Difficulty: easy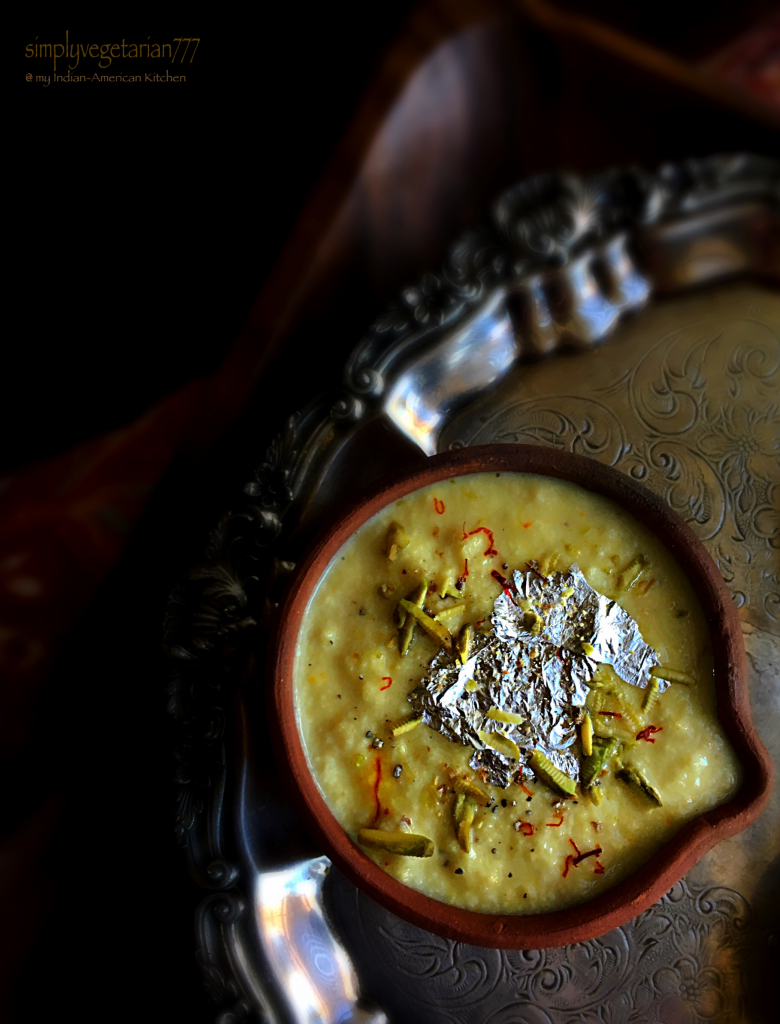 Kitchen Equipments Required
2 heavy bottom big sauce pans, 2 stirring spoons, cheese cloth, sieve or colander, chopping board, knife, a small bowl to soak saffron, another bowl, stirrer.
Ingredients 
Milk 2% (toned) – 3 liters (1&1/2 liters + 1&1/2 liters) or 12 cups.
Milk powder – 1/4 cup
Sugar – 3/4 cup
Cardamom / Elaichi powder – 1/2 tsp
Saffron / Kesar – 1 tsp, full of good quality
Pistachios / Pista slivers and silver foil (edible) for garnish.
1 to 1&1/2 cups of Yogurt or 1 to 2 tbsp Lemon juice or 1-2 tbsp Vinegar for curdling the milk to make paneer.
Method
Making fresh Paneer / Chhena
Boil 1&1/2 liters or 6 cups of milk in a big sauce pan. When it comes to rolling boil, add the curdling medium of your choice – yogurt or lemon juice or distilled vinegar. Add little amount at a time. Lower the flame. Stir with spoon. Keep adding till the whey is separated and clear green water is visible. Add some ice cubes for easy separation. Transfer the milk solids to the cheese cloth. Gather the cheese cloth and tighten it. Let the water drain out more. Wash it under cold and clear water. Keep it in a colander or sieve for 2 hrs, so that all the water is drained. The soft and fresh paneer or Chhena is ready.
You may buy fresh paneer from your local grocer. Make sure it's soft and good quality.
Collect the whey and don't throw it. Use it to cook rice, pulav, kneading dough.
Preparing the Kheer
Soak saffron in 1 tbsp of warm water.
Take another heavy bottom sauce pan. Boil remaining 6 cups / 1&1/2 liters of milk in it. Cook it on medium flame till it is reduced to 4 cups.
 Now add cardamom powder, sugar and milk powder to it. Whisk it vigorously with a stirrer. Cook the milk for 5 minutes till sugar is dissolved.
Take the fresh paneer and mash or grate it fine. Add it to the milk pan. Add soaked saffron.
Cook it on simmer for 10 more minutes till it becomes thick and starts making the layers of malai/ cream.
Switch off the flame. Pour in serving bowls. Add silver foil, slivered pistachios and a dash of cardamom powder.
Serve it either hot or chill it and consume. I love chilled version.
Let the festivities begin on a good note. Enjoy this Kesariya Paneer Ki Kheer from my Indian American Kitchen in yours 😉!!
Go! Go! Crank that gas stove of yours and whip this deliciousness and collect all the accolade :).
Sonal