Khatte Meethe Baingan (Sweet & Sour Eggplants)
As an Amazon Associate and member of other affiliate programs, I earn from qualifying purchases.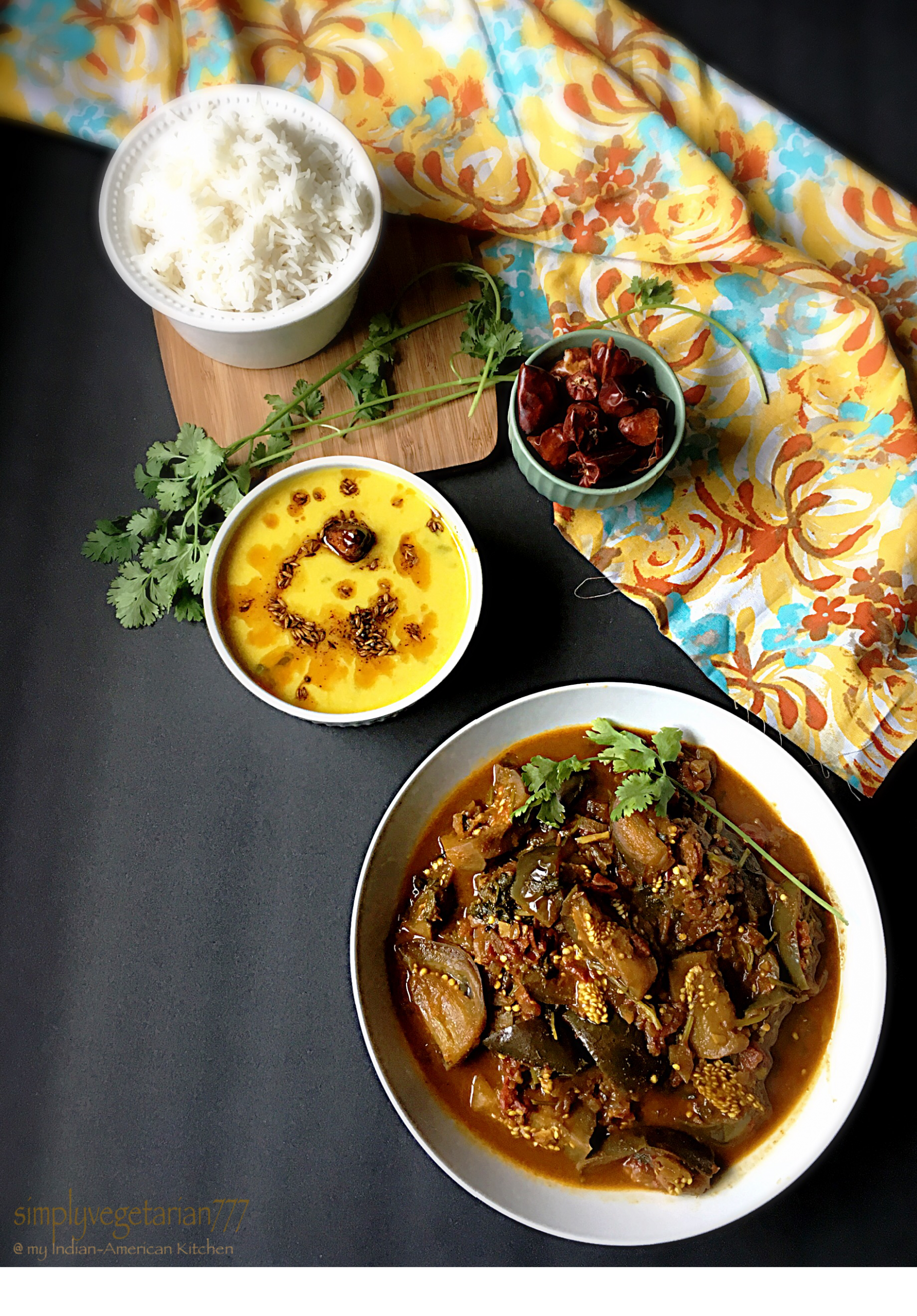 ---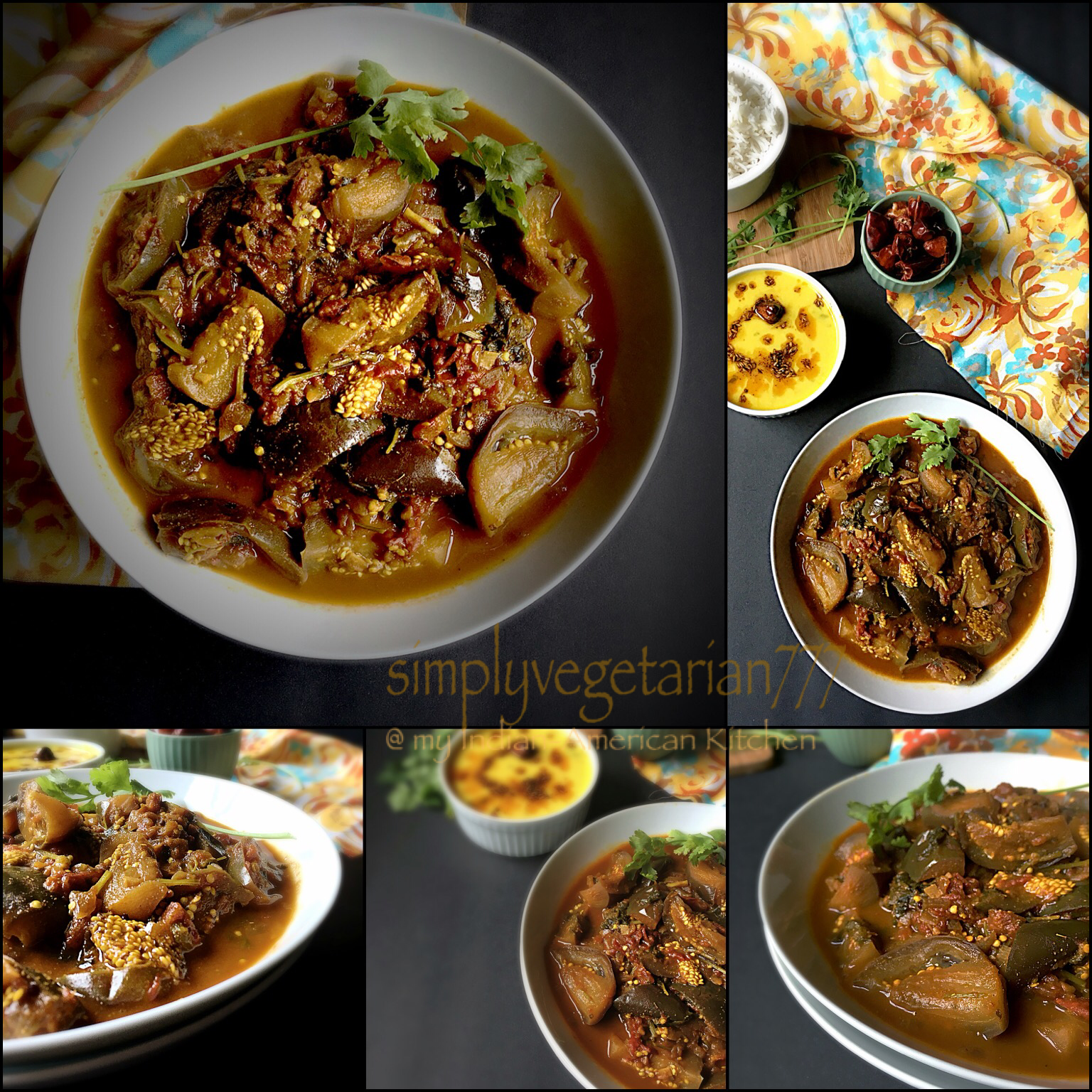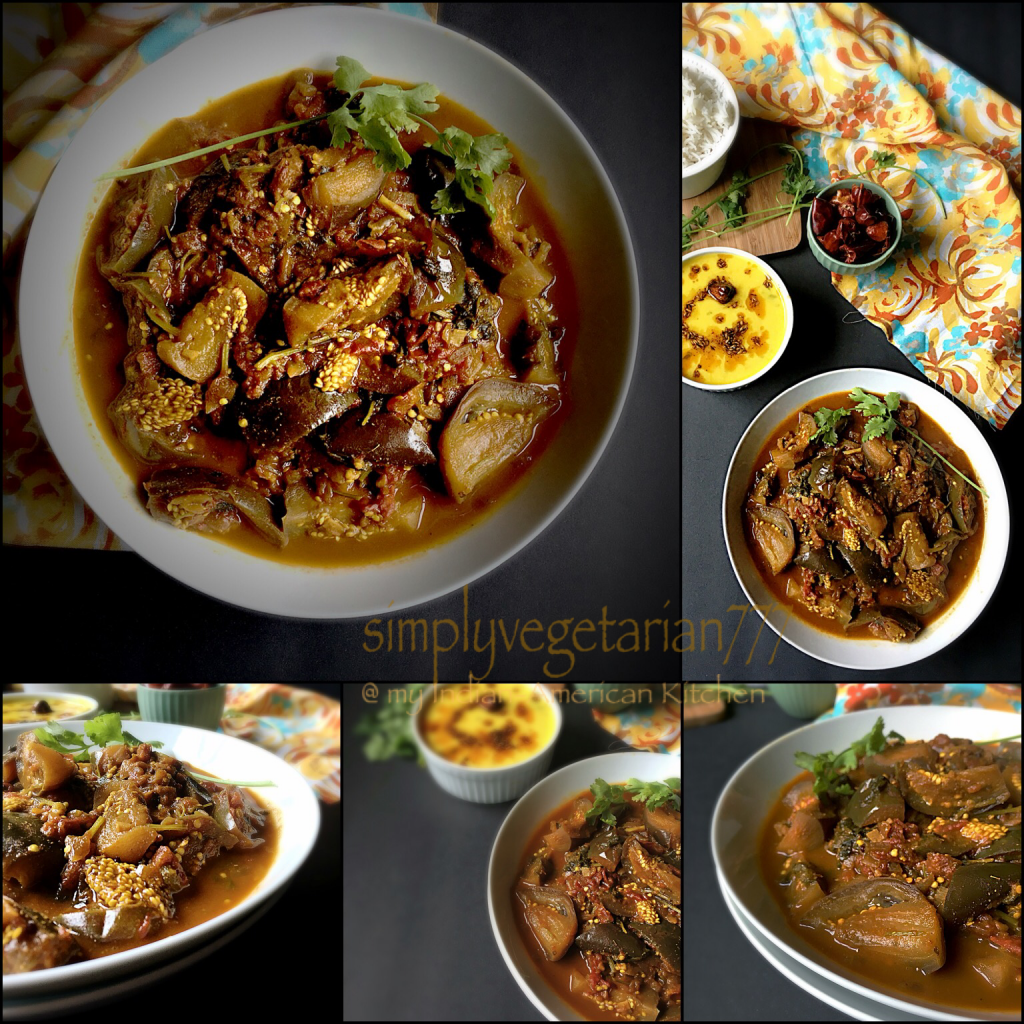 Go Meatless on Mondays! I have been associated with Meatless Monday for more than an year now. People might think, hey aren't you a vegetarian blog anyways? Why the association? The answer is – what is the harm in joining hands together for creating more awareness about eating vegetarian meals more often.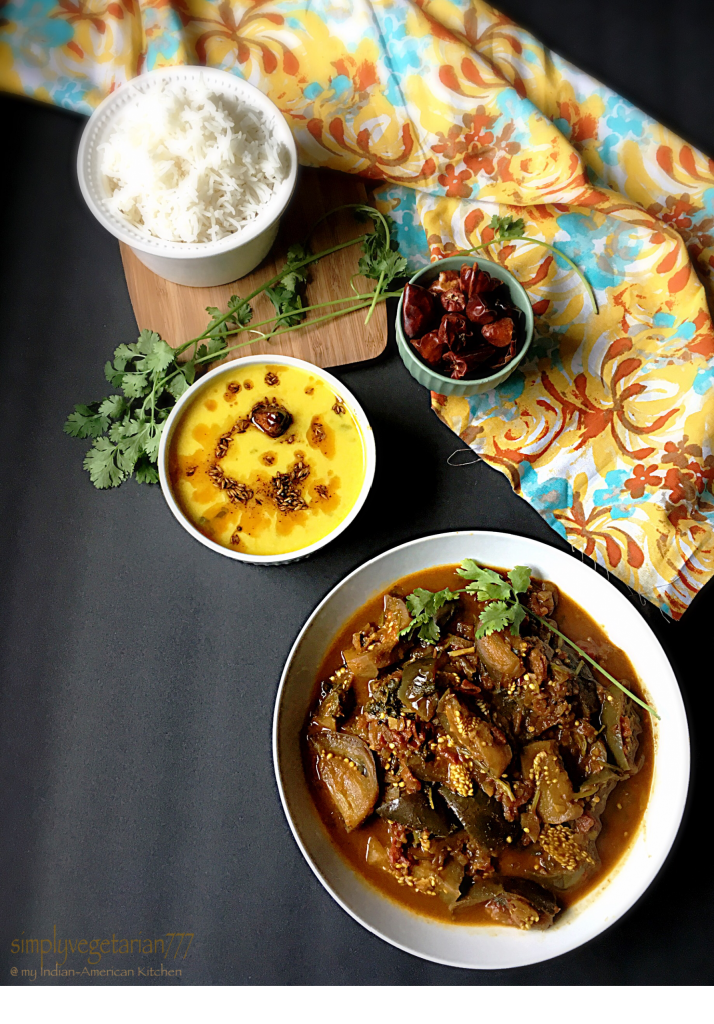 Eggplants or Aunergines or brinjals or Baingan or Al-Badinjan – so many names of this humble vegetable. The best part is that it makes th best substitute for a non vegetarian day. It is a very good source of dietary fiber, vitamin B1, and copper. It is a good source of manganese, vitamin B6, niacin, potassium, folate, and vitamin K. It is a brain food. It is antimutagenic (anti-cancer), antimicrobial, anti-LDL (bad cholesterol) and antiviral activities. It attributes to the prevention of rheumatoid arthritis. Don't you think that it is worth the good consumption in our day to day diet and menu planning? Please nod yes! 😀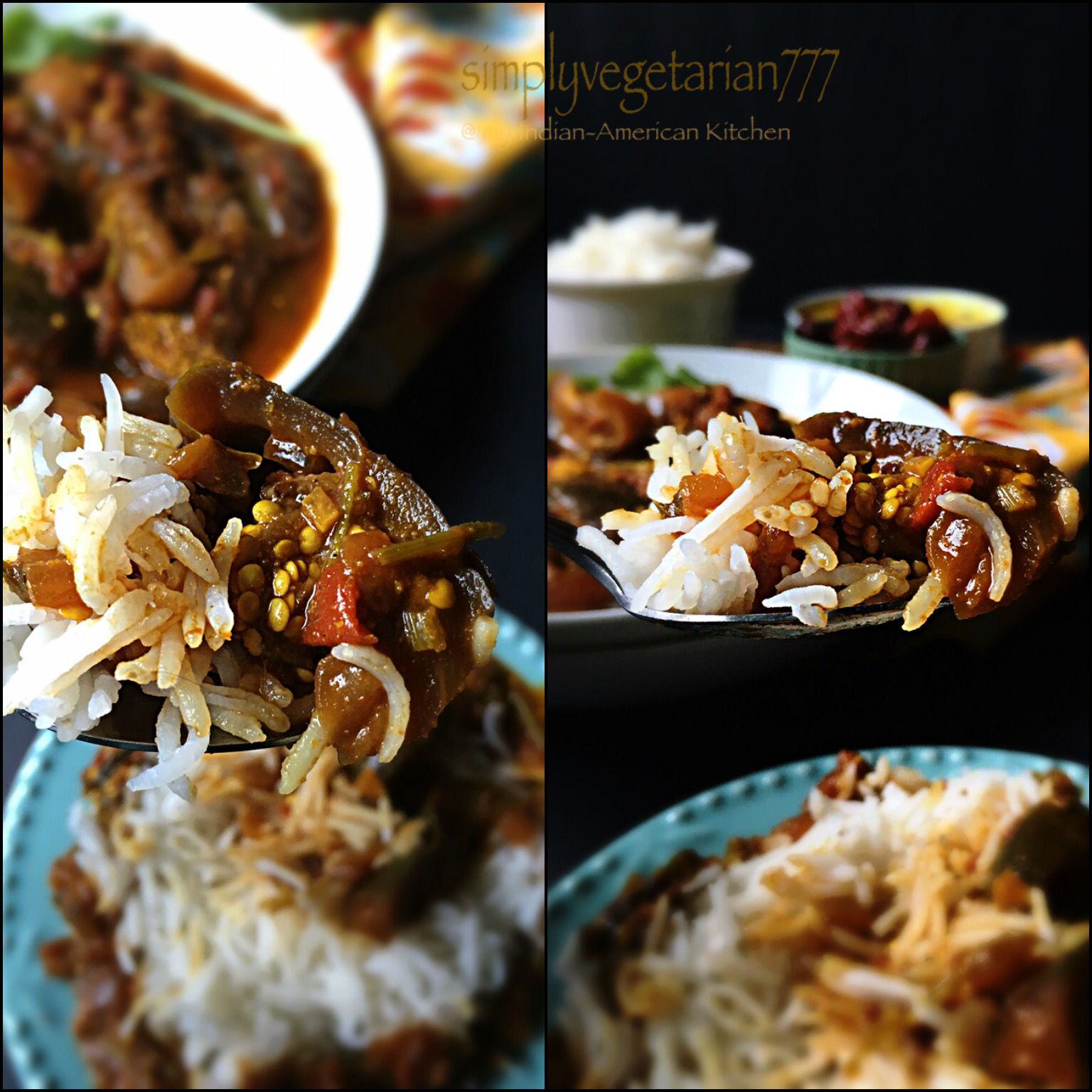 Now coming to the recipe, my Mamiji (aunt), was a fabulous cook with unmatched knowledge and technique of cooking. All her dishes were just out of this world. I remember that she used to cook an eggplant dish which used to be sweet and sour at the same time. I only remember asking her once when I was much younger,  That how does she prepare this dish? It was long time ago. From all that time, I just remembered the excerpts from our note exchange that she used  "gudh" (jaggery) and vinegar for cooking that dish. So I tried to re-create the dish from my memory and I have to say, if it doesn't match exactly to what she made, it was just finger licking delicious on its own. I am biased to eggplants anyways. But it is totally worth it. I promise.
I loved its sweet, sour, spicy and warm taste. All the flavors were so nicely balanced. Such an easy dish with enormous health benefits. I am sure you are going to love it.
This is how I made it!
Khatte Meethe Baingan (Sweet & Sour Eggplants)
Servings: 4-6
Difficulty: easy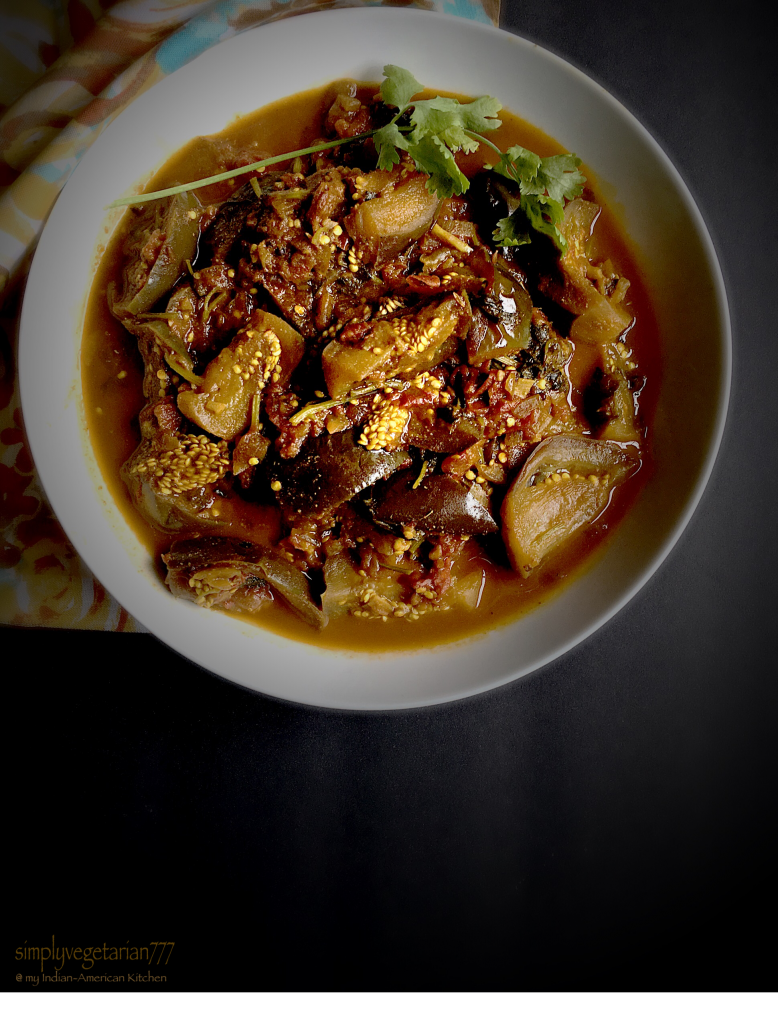 Kitchen Equipments Required
chopping board, knife, heavy bottom pan with lid, stirring spoon.
Ingredients 
Baby Eggplants – 6 to 8, washed and the stems removed.
Onion – 1 small, chopped fine
Tomatoes – 2 large, chopped fine
Ginger – 1 small piece, chopped fine
Garlic – 2 large pods, chopped fine
Green Chili – 1 small, chopped fine
Cilantro – handful, chopped fine
Oils & Spices
Oil – 1 tbsp
Cumin seeds – 1 tsp
Turmeric – 1/2 tsp
Coriander powder – 1 tbsp
Red chili powder – 1/2 tsp
Garam Masala – 1/2 tsp
Gudh / Jaggery – 2 tbsp. May use brown sugar instead.
Vinegar, distilled white – 1 tbsp
Salt to taste
Method
Take the baby eggplants. Slice them into 2 inch thick slices. So, probably you will get 6-8 slices out of each baby eggplant.
Heat the oil in the heavy bottom pan and add cumin seeds. Once the seeds crackle, add onions, ginger and garlic. Lower the flame to medium and cook the onions till they are slightly browned. It will take approximately 7-8 minutes.
Now add the chopped tomatoes and green chili. Stir in with the onions. Add all the spices as mentioned under the spices including Jaggery and vinegar. Cover with lid and cook on medium flame till tomatoes are cooked thoroughly. Stir in between. It will take about 5 minutes.
Open the lid. Add the sliced eggplants and chopped cilantro leaves. Add 1/2 cup of water. Stir well. Cover and let cook for another 7-8 minutes till eggplants become tender and the curry is reduced to slightly thicker.
Serve it with rice or Roti. It tastes just divine.
Happy Meatless Monday People! Cook Better! Eat Good and Eat Delicious! Perfect for a vegan and vegetarian menu planning!
From my Indian American Kitchen to yours!
Sonal