Lentils & Eggplant Stew in Mint & Sumac – Canadian Lentils Recipe Revelation Challenge
As an Amazon Associate and member of other affiliate programs, I earn from qualifying purchases.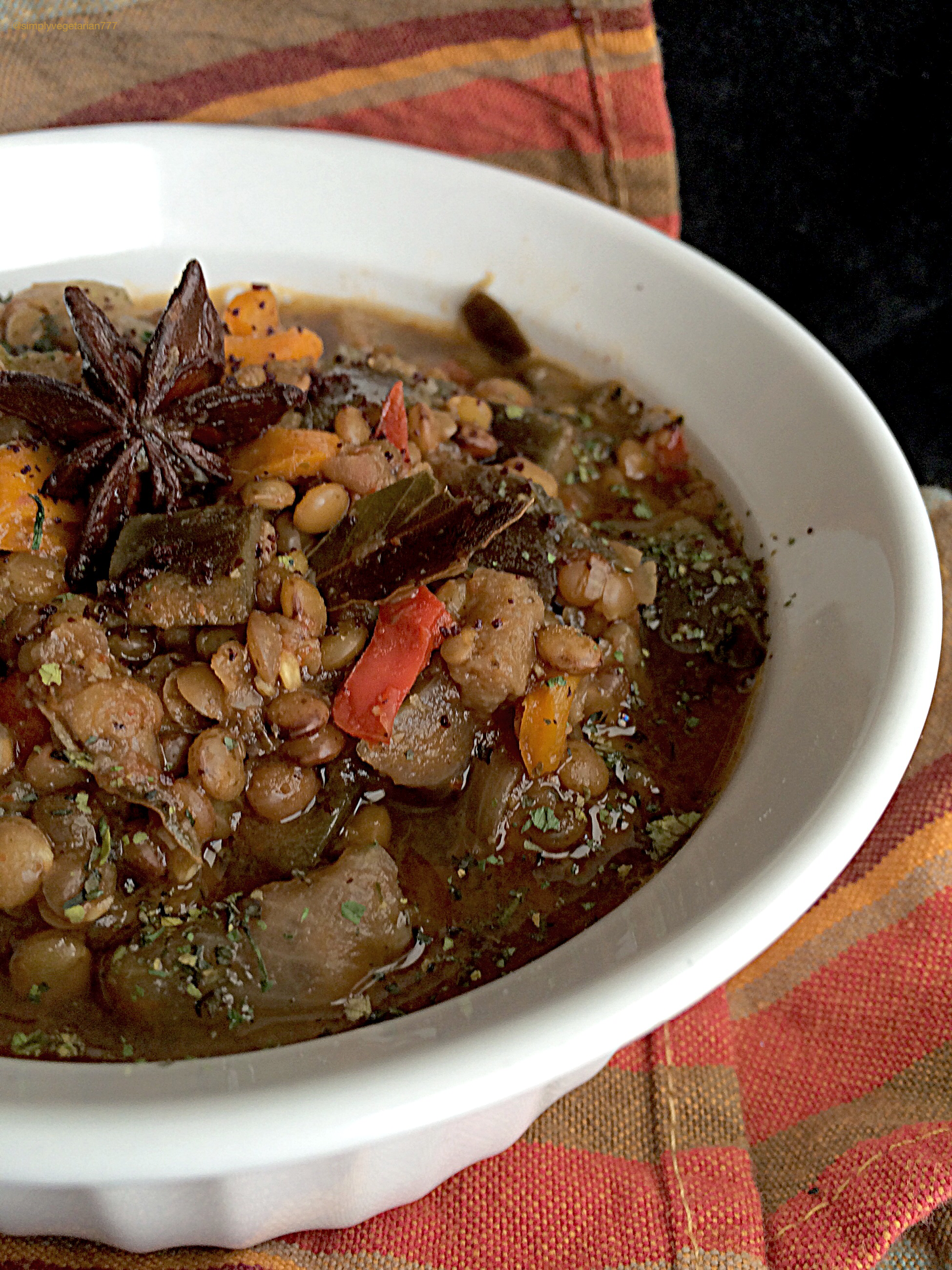 I almost forgot that I had registered for 2 categories in Canadian Lentils Recipe Revelation Challenge. One was for the appetizers where I created the Lentils and Kale Vegan Sausages and the other category was Main.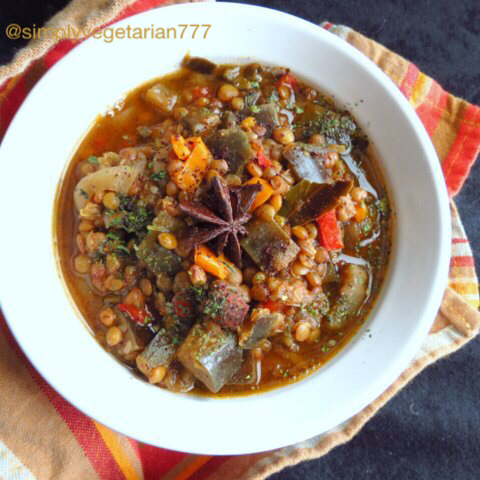 I created this flavorful and bold stew mixing the flavors of whole black lentils and meaty eggplants. The addition of mint and sumac added a nice middle eastern touch to it with cinnamon, star anise and bay leaf going on. It was the best stew ever! Believe me! You have to try it to actually believe me. A wholesome hearty stew which can be eaten for lunch or dinner and can be packed for lunch. A stew which can be eaten as is or with pita, naan or rice on the side.
A stew that is packed with goodness of fiber and high protein from lentils. Lentils also promote heart health, stabilize the blood sugar, lower the bad cholesterol and promote weight loss. The eggplants add anti-oxidants, reduce bad cholesterol, help in maintaining the diabetes, low in carbohydrates, promotes heart health and prevents blood clots due to the presence of Vitamin K.
Therefore this recipe is perfect for people who are diabetic, have high cholesterol, struggling with weight loss and are advised to watch out for their heart health.
Lentils and Eggplant Stew in Mint & Sumac
Servings: 4
Difficulty: easy
Serves – 4
Kitchen Equipments Required – Chopping board, knife, Sauce pan with lid, stirring spoon
Ingredients
Black Lentils – ½ cup dry
Eggplants – 1&1/2 cups, chopped in 1 inch cubes
Garlic – 1 tbsp, freshly grated
Mint – 1 tbsp fresh or ½ tsp dry
Onions – ½ cup thinly sliced
Tomato – 1 medium, chopped fine
Bell peppers, red – 1&1/2 tbsp
Oil – ½ tbsp
Bay leaf – 1 small
Star Anise – 1
Cinnamon Stick – a small piece
Sumac – ½ tsp
Cumin powder – 1 tsp
Red chili powder – ¼ tsp​
Salt to taste
Water – 4 cups
Method
1. Wash and soak the lentils in clean water for 10-15 minutes.
2. Meanwhile, take the sauce pan. Heat oil in it. Lower the flame and add bay leaf, star anise and cinnamon stick to it. Sauté for a few seconds till it becomes aromatic.
3. Add the grated garlic, sliced onions and red bell peppers to it and sauté till it turns slightly golden.
4. Add mint, chopped eggplants and tomatoes to the pan now. Sauté for good 4-5 minutes on medium flame, till the tomatoes and eggplants look soft.
5. Drain the water from the lentils. Add the soaked lentils to the pan along with cumin powder, red chili powder, salt and sumac. Give it a good stir with the spoon. Add 4 cups of water to the pan. Stir again. Cover with lid and let cook on medium to lower flame for about 35-40 minutes, while stirring occasionally. Adjust water if required.
6. The stew is ready to be served.
Special Notes
1. This stew can be made in a Pressure cooker.
2. You can also make this stew in slow cooker
3. You may make a big batch and freeze it well in single portions for your meal requirements.
4. You may eat it as is, serve with Pita, Naan or Rice.
5. An excellent dish for diabetics, people with high cholesterol and weight watchers.