Meatless Monday : Bademjan Borani, deconstructed! An eggplant and yogurt dish from Middle East
As an Amazon Associate and member of other affiliate programs, I earn from qualifying purchases.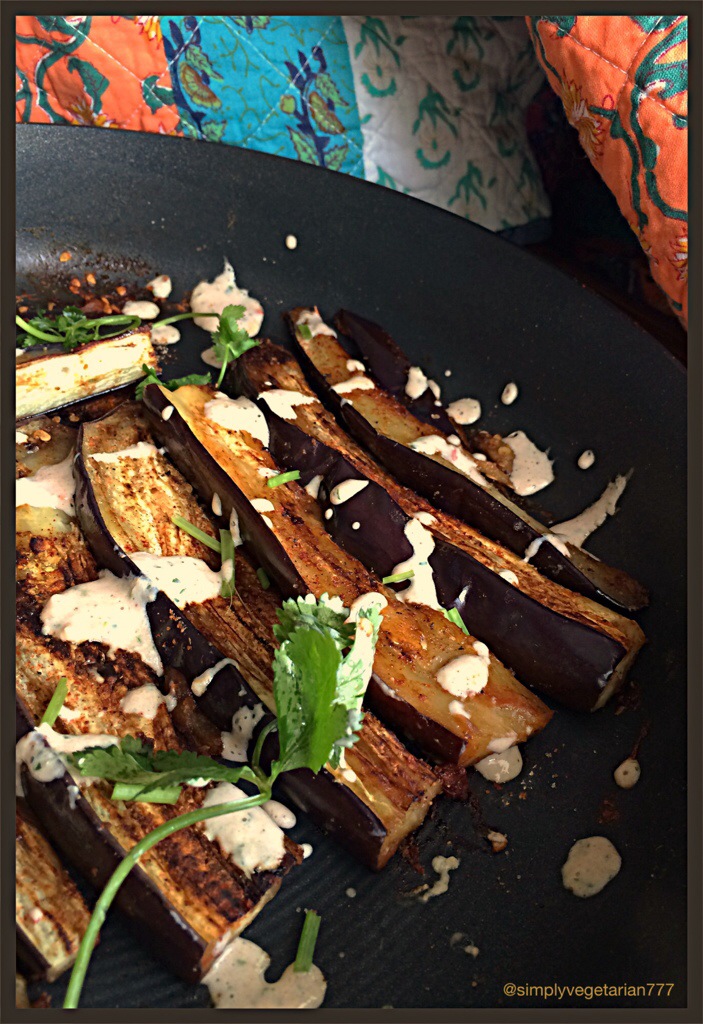 I had this big eggplant lying in the fridge. Took it out to make some Indian vegetable prep but then realized that it's Meatless Monday, so my mind took a 180 degree turn and started thinking on a dish that is more appealing to a global audience. I sometimes find myself pulled between my wordpress folks and Facebook folks. These are two very different audiences for me. A dish, which is so much adored on wordpress gets a different reaction from my FB followers and vice versa. Anybody else there who finds themselves in a similar condition? But I guess that's a good thing since it pushes me more to create and present some awesome global dishes. And today I present Bademjan Borani.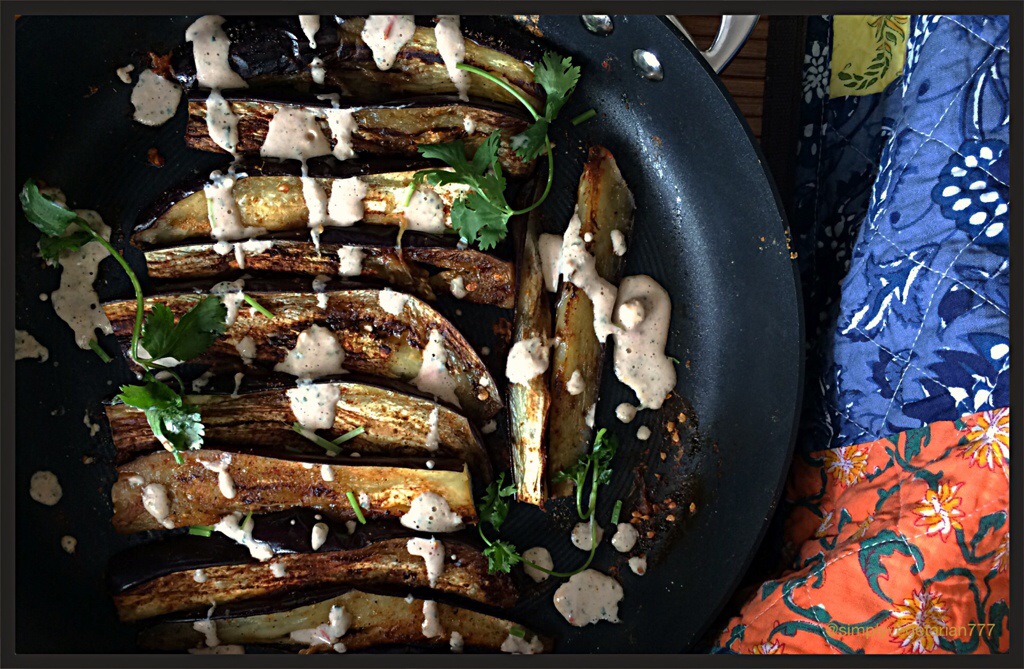 Bademjan is eggplant or aubergine in Arabic. Borani means a yogurt base dip. Elaine had emailed me some recipes, few months ago and there was this dish with deep fried eggplant sticks and served in yogurt dip. I wanted to make it. Ramadan is on and so I thought it would be a great treat for my followers who observe fast during this holy month. But I somehow had lost it and couldn't recollect the recipe properly. Went online and googled recipe with different tag words and read so many before I personalized this one. So I can't take the guarantee on the authenticity of this dish but fingerlicking delicious it is :). My friends of Arabic heritage might help me here on its authenticity or how close it is to the original. Since every recipe I read online was different from the other. This is a great treat for Eggplant lovers. I adore eggplant. I healthilized it by not deep frying but pan grilling the eggplant sticks ;). Sorry for that confuzzled term!
Let's get on to the recipe now. Such a simple recipe!
Kitchen Equipments Required : a big non stick pan, wooden fork or chopstick or non stick safe spatula, blender, chopping board, knife.
Ingredients :
Eggplant : 1 big, sliced into 1-1&1/2 inch thick sticks.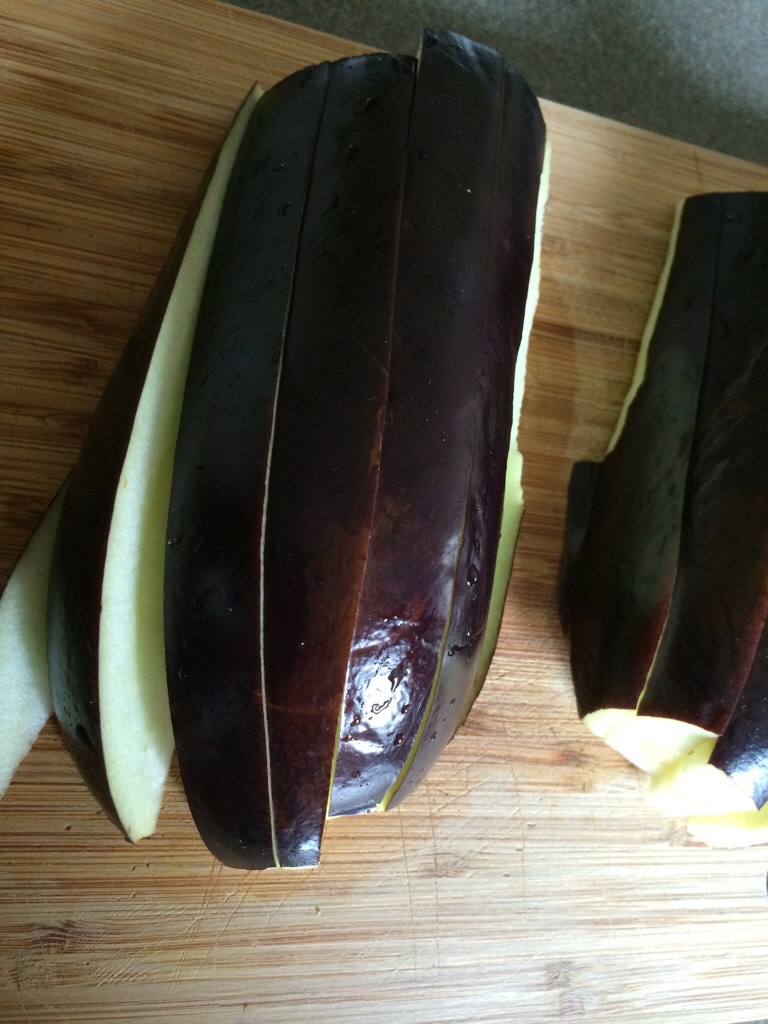 Oil : 1 tbsp
Cumin powder : 1/2 tsp
Fancy paprika or degi mirch powder : 1/4 to 1/2 tsp or to taste
Salt and black pepper to taste
Yogurt sauce :
Thick yogurt or Greek yogurt : 1/4 cup
Garlic : 3 pods
Tomatoes : 1 sliced thick
Cilantro : 1 tbsp chopped. You may use mint too.
Lemon juice : 1 tsp
Salt to taste
Method :
Heat oil in the pan. Swirl it around to quote the pan nicely. Lay down the eggplant sticks along with tomato slices from the dip ingredients. Sprinkle them with cumin powder, salt, black pepper and fancy paprika/degi mirch.

Grill them on medium high in the pan while flipping them every few minutes to make sure they are evenly cooked. Tomatoes will be done sooner so remove them when they are mushy. They need to go in the dip. If you want then you can grill the tomatoes in a separate pan or in the oven.

Preparing the Dip : Take your blender and add all the dip ingredients to it including the roasted tomatoes. Blitz till everything comes together. Sauce is ready. You may use as much or as little.

Serving : Plate the eggplant sticks in a platter. Drizzle the yogurt dip on the top. Squeeze some lemon juice and dress with cilantro leaves. Ready to eat. It can be eaten warm or at room temperature.
Note : Most of the time, people make a complete dip with all the ingredients including grilled eggplant slices to serve with pita/Khubz or lavash on the side.
Have a good Monday people and with this I have published 500 posts! How? Scratching my head since it's been an year and a month that I started. Crazy me!
Sonal