Meatless Mondays : Vegetable Tom Kha , a quintessential soup from Thai cuisine in Vegan form. Can it getter better than that?
As an Amazon Associate and member of other affiliate programs, I earn from qualifying purchases.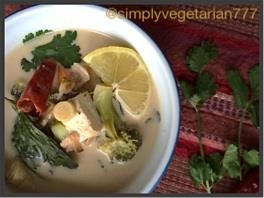 Mine is a family which can feed on Thai food almost daily with as much ease as Indian food. Yes :). My 3 year old loves her medley of vegetables including baby corn, broccoli and Tofu in mild Thai flavors any time of the day. My oldest is a red curry buff. I and my husband love almost everything from their appetizers, soups, curries to stir fries. Pad Thai and their basil stir fried vegetables are my favorite. Earlier I had posted about Tom Yum Soup which is another of our family favorite.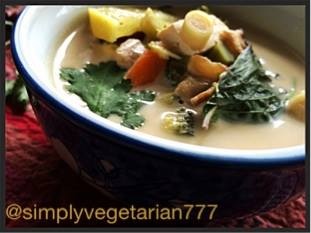 Today is the perfect day for some good soup. It's raining outside and nothing can match to the pouring-some, rain-some day….other than a bowl of good soup which is nicely balanced with all the flavors! It tasted awesome, just perfect :).
I read a lot of preparations for this soup and after reading and concluding to my family's taste, this is what is my take on the vegetarian Tom Kha soup. I claim no originality or authenticity to the Tom Kha but this is how we like it here at home :).
Vegetable Tom Kha
Servings: 4-6
Difficulty: easy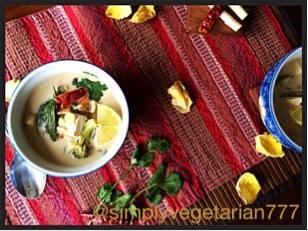 Ingredients :
Vegetable Stock (low sodium) : 5 cups
*Coconut Milk : 1 can of 14 oz
Lemon grass Stalk : of 2-3 stalks or 1&1/2 tbsp chopped fine
Garlic : 2 pods, crushed
*Galangal : 7-8 thin slices
Brown sugar : 1/2 tbsp
Dry Red Chili Whole : 1-2, broken in half
Soy sauce (low sodium) : 1&1/2 tbsp
*Thai Basil : 7-8 leaves, washed
Cilantro/ Coriander leaves : 3 tbsp, chopped
Lemon or Lime peel : 1/2 tsp
Carrots : 1/2 cup sliced in thin circles
Broccoli : 1 cup florets
*Mushroom (button or baby Bella or dried shitake, any available) : 1/2 cup
Firm Tofu : 8-10 oz or 3/4 cup cubed
Method :
1. Take a big pot. Add vegetable stock, crushed garlic, sliced galangal, red chillies, brown sugar and finely chopped lemon grass (which is clear of outer hard stem, only yellow tender portion is good for use).
2. Heat this stock on high till it boils. Simmer and keep heating for 5-7 minutes.
3. Now add carrots to it. Boil for 3 minutes. After the carrots become slightly tender, add broccoli and mushrooms to the stock. Boil for another 5 minutes.
4. Keep the flame low. Add soy sauce, coconut milk, Thai basil, cilantro leaves , Tofu and lime or lemon peel. Heat for another 3-5 minutes.
5. Take it off the flame. Give it a spoon lick test. Adjust the taste if you feel by adding some salt, soy or chili paste or some lemon/lime juice, if required. I did not add any extra salt.
6. Ladle in your soup bowls. Garnish with some cilantro/coriander leaves, a thin slice of lime/lemon. Enjoy and warm up your heart with this delicate and gorgeous soup 🙂
Notes :
1. You can use low fat coconut milk.
2. If Galangal is not available, you may use fresh and tender ginger.
3. If Thai Basil is not available, you can use regular basil or skip it.
4. You may use any kind of mushrooms. I used dried shitake. In case you use dried mushrooms, then add them in the first step and boil with stock to tenderize them.
5. You may use any available vegetables like baby corn, onions, bell peppers, water chestnuts, peas, sweet peas, etc.

Enjoy!
Sonal