Mini GulabJamuns made with Milk powder only !
As an Amazon Associate and member of other affiliate programs, I earn from qualifying purchases.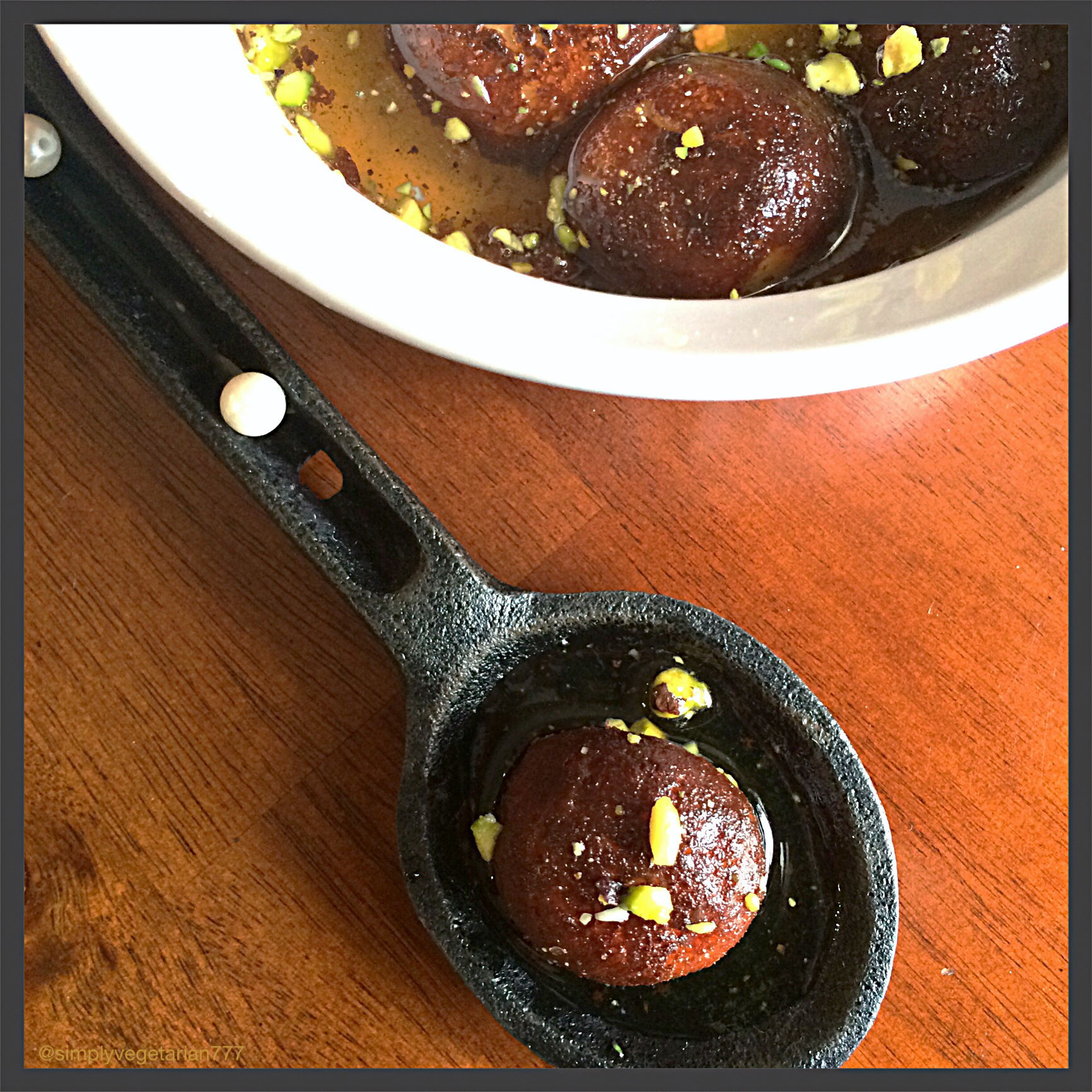 Milk Powder Fudge Balls stuffed with pistachios, fried golden and dunked in Sugar syrup, topped with Pistachios.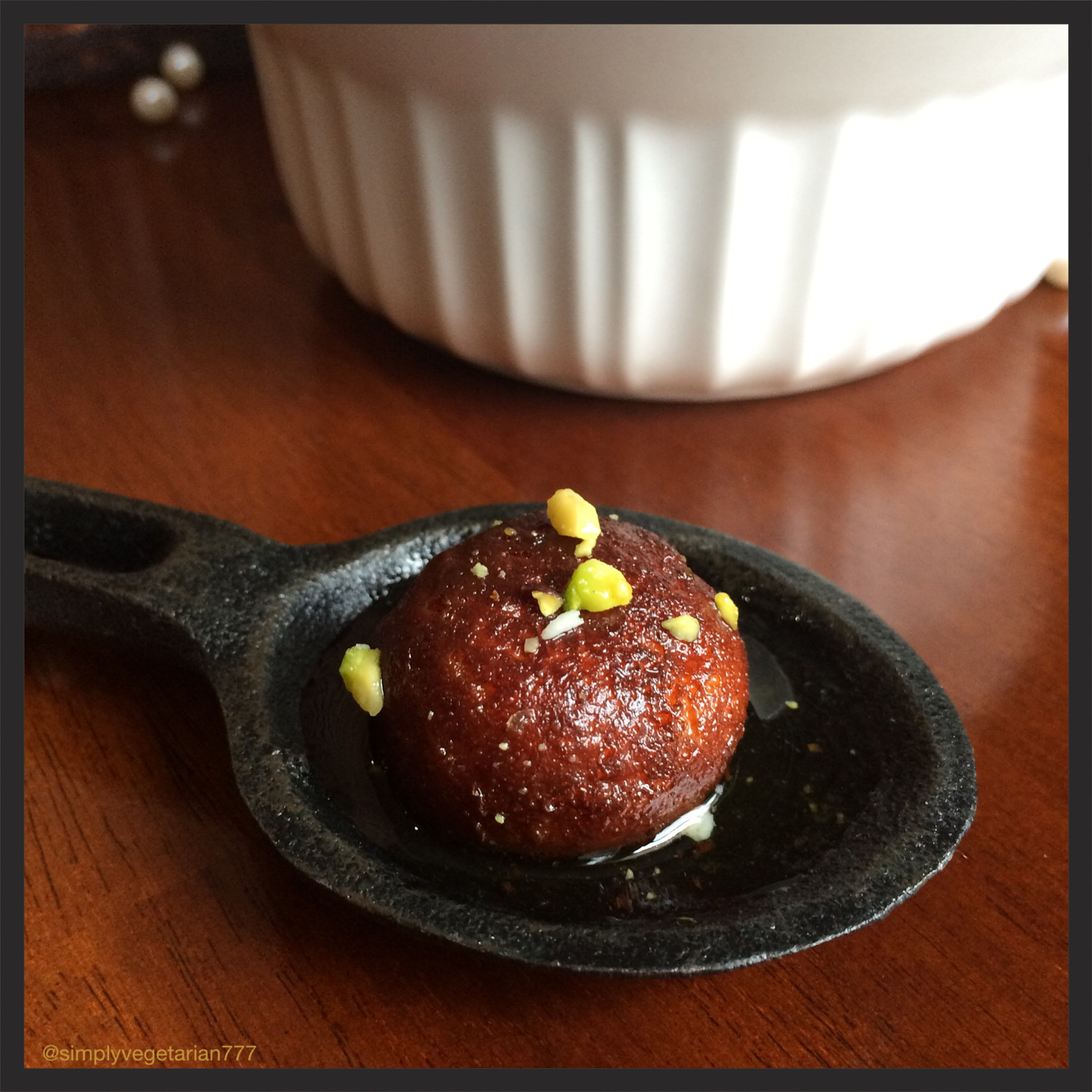 Melt in the mouth soft and no other additives like flour or cottage cheese.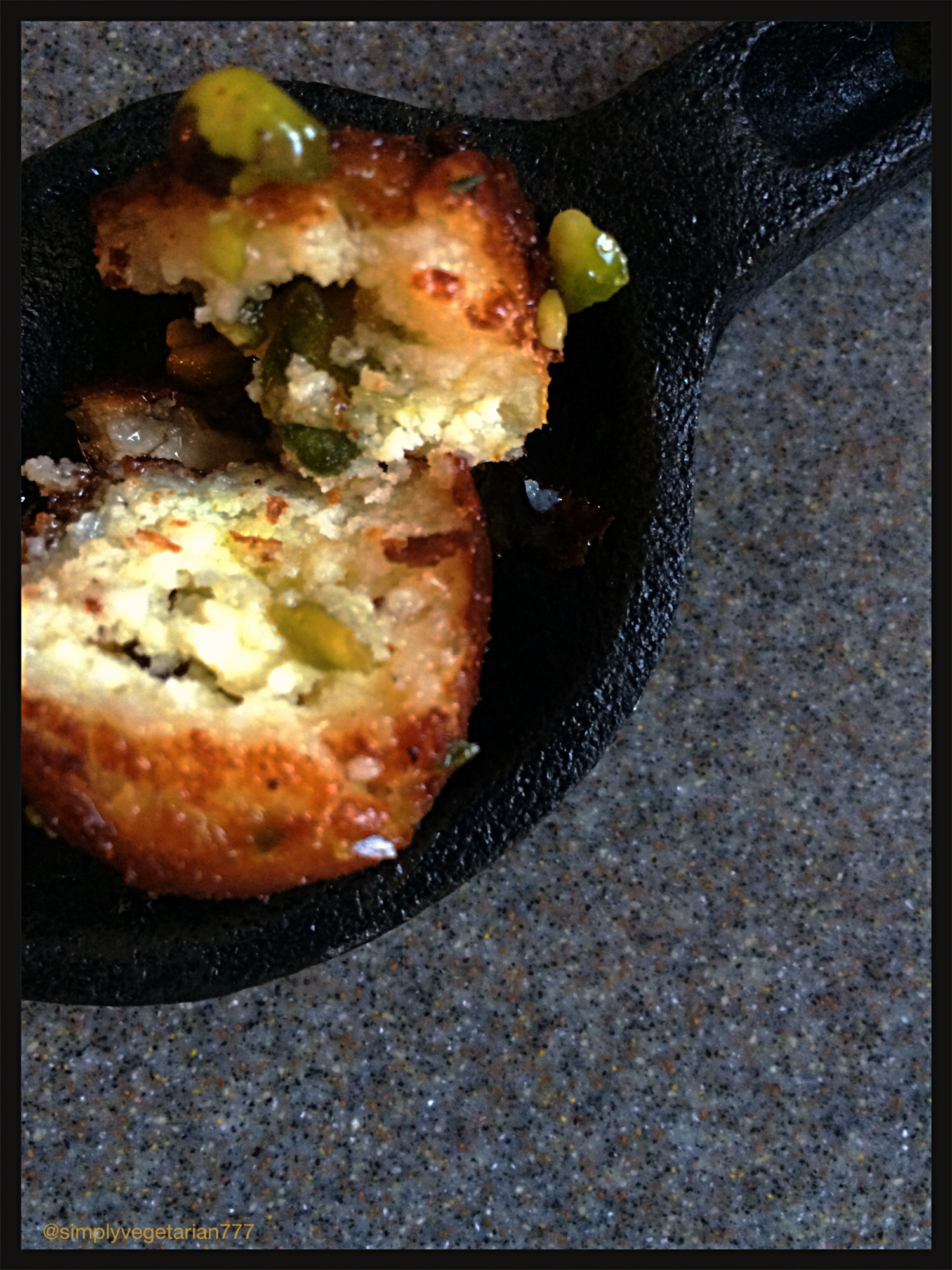 A peek inside, pistachio stuffing!
I love GulabJamuns! GJs as we nicknamed them :). I love the mini ones more. Pick one, plop in the mouth, melts and gone…just like that. :). Ohhhh…just magic. No kidding. These are purely made with milk powder kneaded Mawa/ Khoya/ Milk solids. No flour added, no cottage cheese added, no baking powder/soda, bisquick…nothing! Plain and gorgeous.
Yields : 10 mini GJs
Kitchen Equipments Required :a deep pan to fry, a bowl, a plate, a slotted spoon to fry, a small bowl with water, kitchen towels, a sauce pan and a spoon.
Ingredients :
For Milk Fudge Balls :
Milk Powder : 1/2 cup
Ghee : 1tbsp
Skim milk : little less than 2 tbsp
Oil : 2 cups for frying. Believe me, only a bit is used.
Pistachios : 1-2 tsp, chopped fine
For syrup :
Sugar : 1/2 cup
Water : 1 cup
Cardamom powder : a fat pinch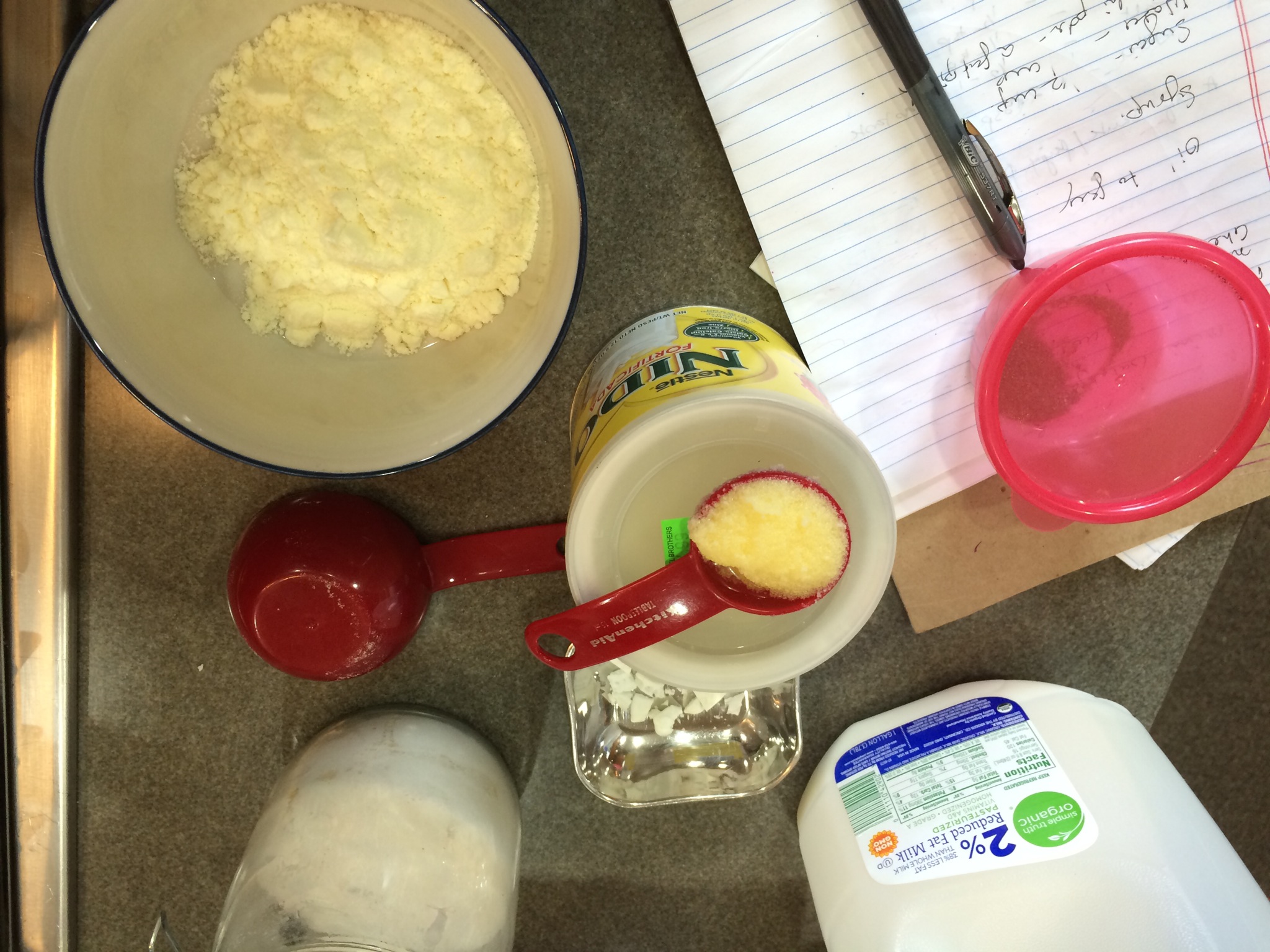 Method :
1. Making Milk powder Mawa/Khoya/Solid : Take a bowl. Add milk powder and ghee to it. Rub well. Add milk, little at a time and make a dough. Don't knead it. Just gather it together. It's going to be a bit sticky. But that's okay!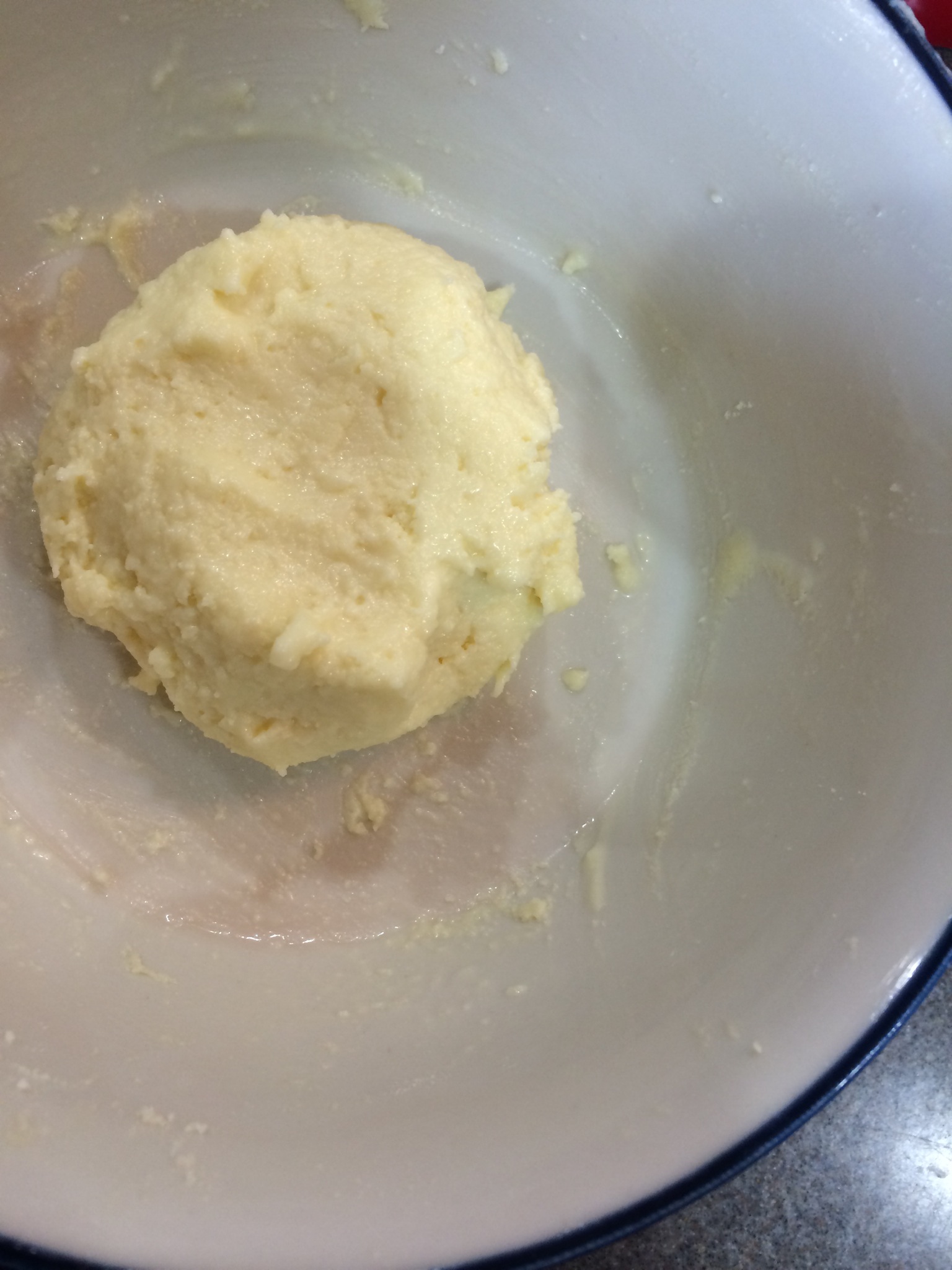 2. Rolling and Stuffing the Fudge Balls : Pinch 1 inch of the dough, as big as the dent in the middle of your palm. Flatten it. Add a fat pinch of pistachios in the middle.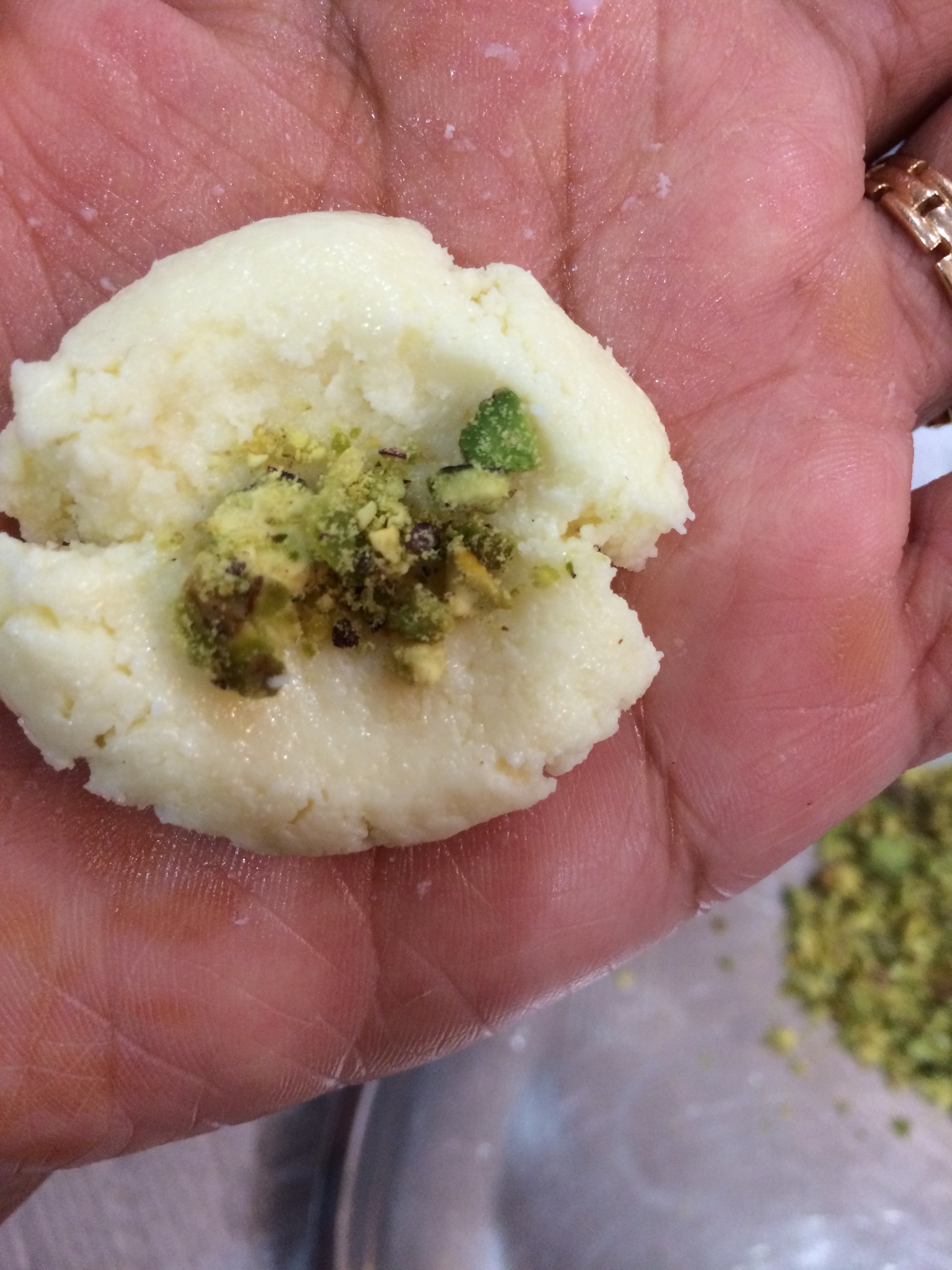 Gather it around the pistachios. Leave no cracks. If it gets hard to handle, dip your fingers in water bowl and work it out. Roll gently and make a smooth ball.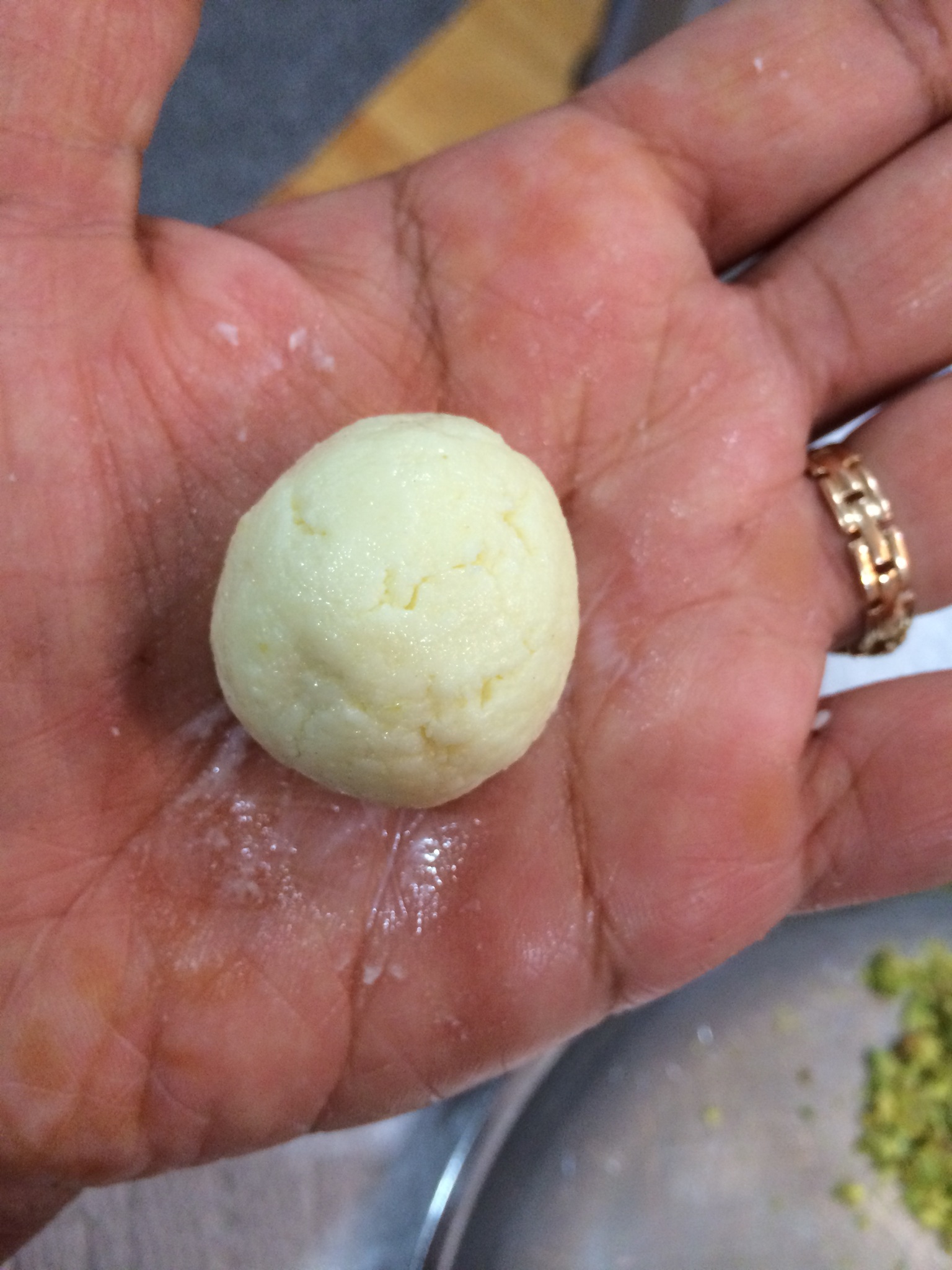 Finish all of the dough and you will have 10 small fudge balls.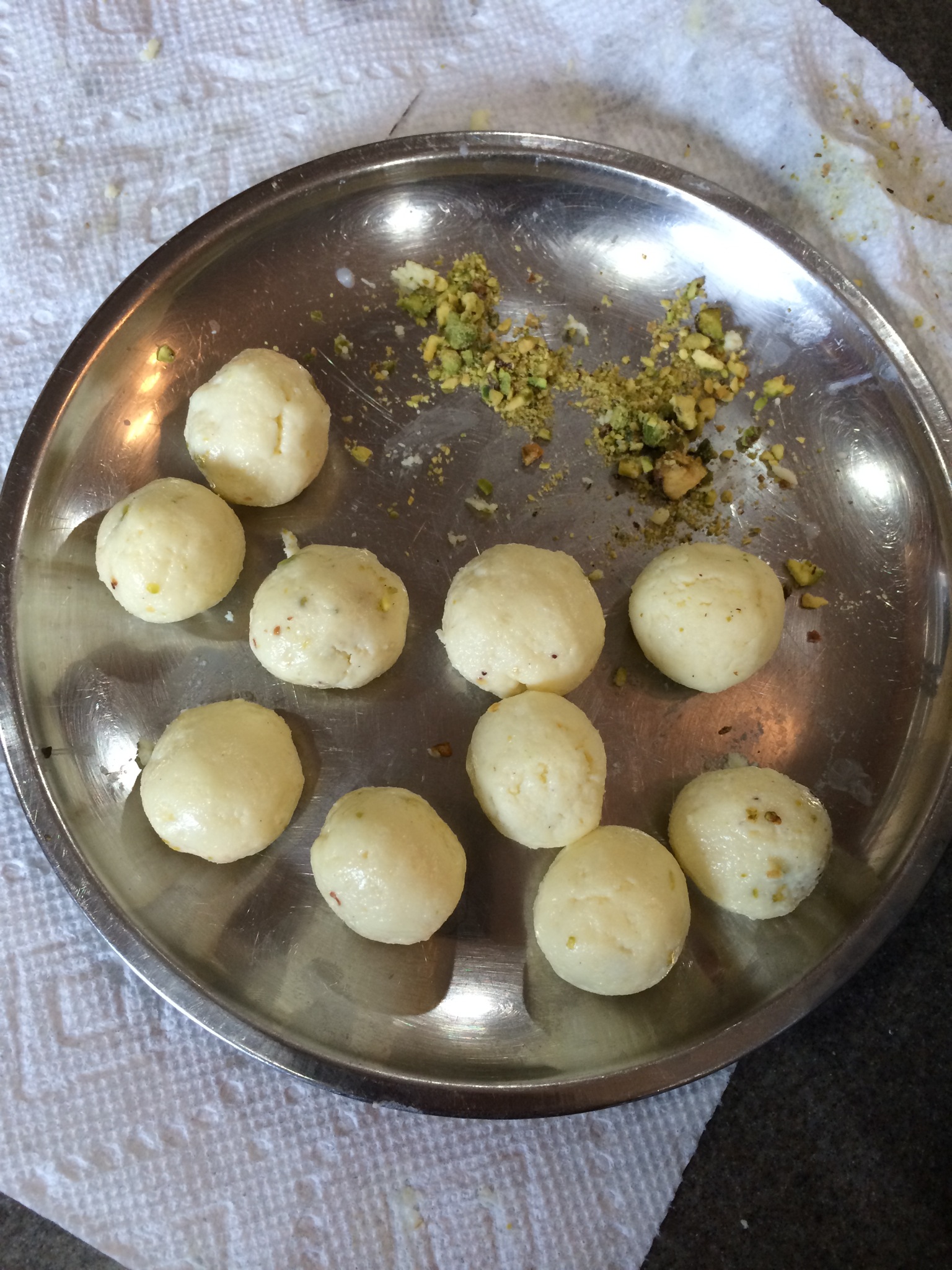 3. Preparing the Sugar Syrup : Take a saucepan. Add sugar, water and cardamom powder to it. Cook it for atleast 15 odd minutes, till it changes it's color slightly . We are not looking to obtain any thread consistency in this sugar syrup. Just thick syrup.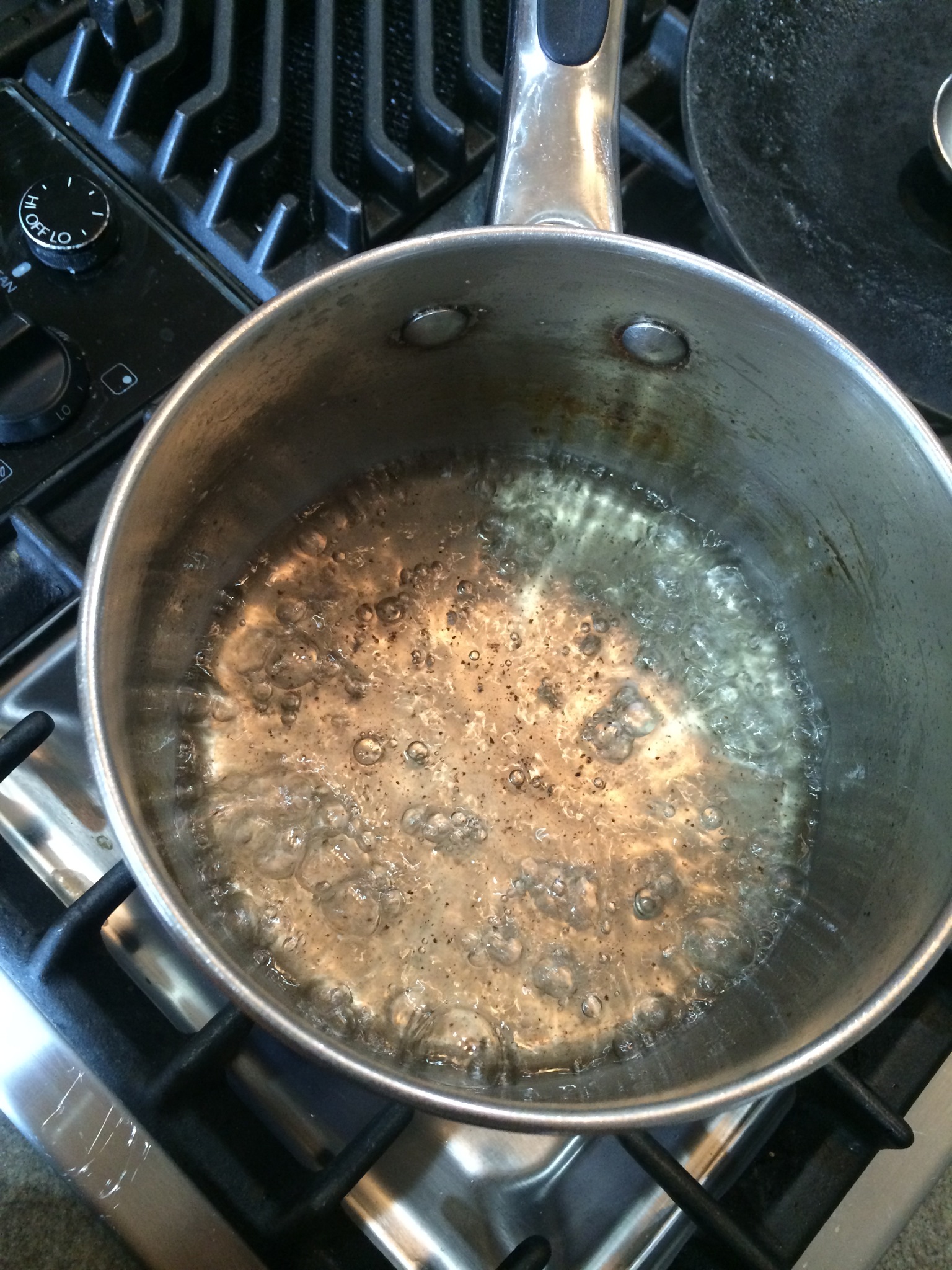 4. Frying the GJs : Pay attention !
Heat the oil in deep pan to medium temperature. We don't want the oil to be super hot! Not at all.
These are pure Milk solids so they get browned almost immediately.
Also, we don't have to bother to cook them from insides, since they are small and also, there is no cheese or flour that needs to be cooked.
Add 5 or all 10 GJs ( if the wok / Kadhai is big) at the same time to fry. You have to constantly move them in the oil to fry them evenly. These will be done in less than 1 minute.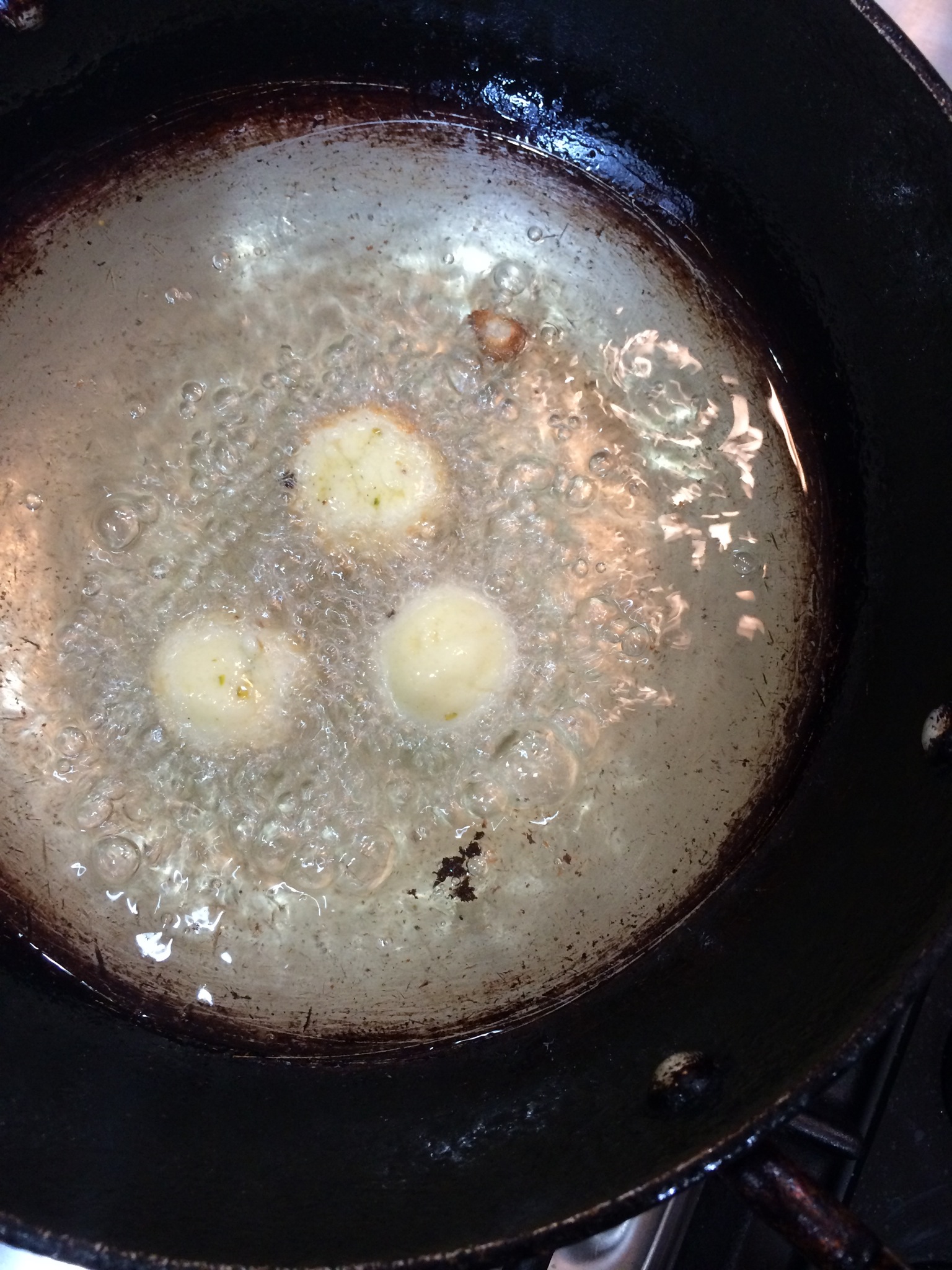 They will be funny looking when fried but when dunked into syrup, they will smooth up in texture and looks ;).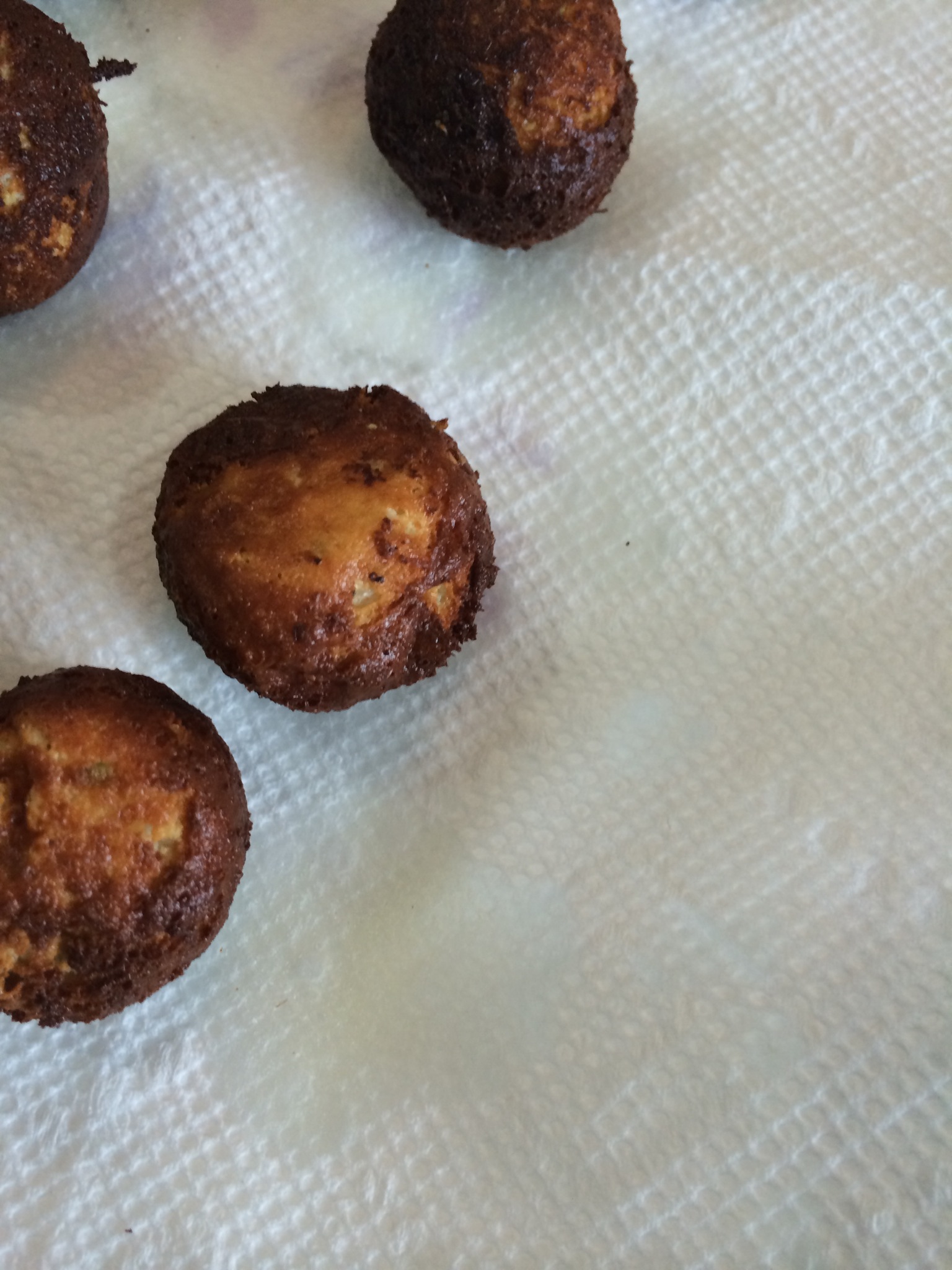 5. Adding Fried GJs to the Syrup :
Layer the Gulabjamuns in a small bowl. Pour hot syrup on top of these. Sprinkle with chopped pistachios and let rest at room temperature for 2-3 hrs so that the syrup can be soaked well.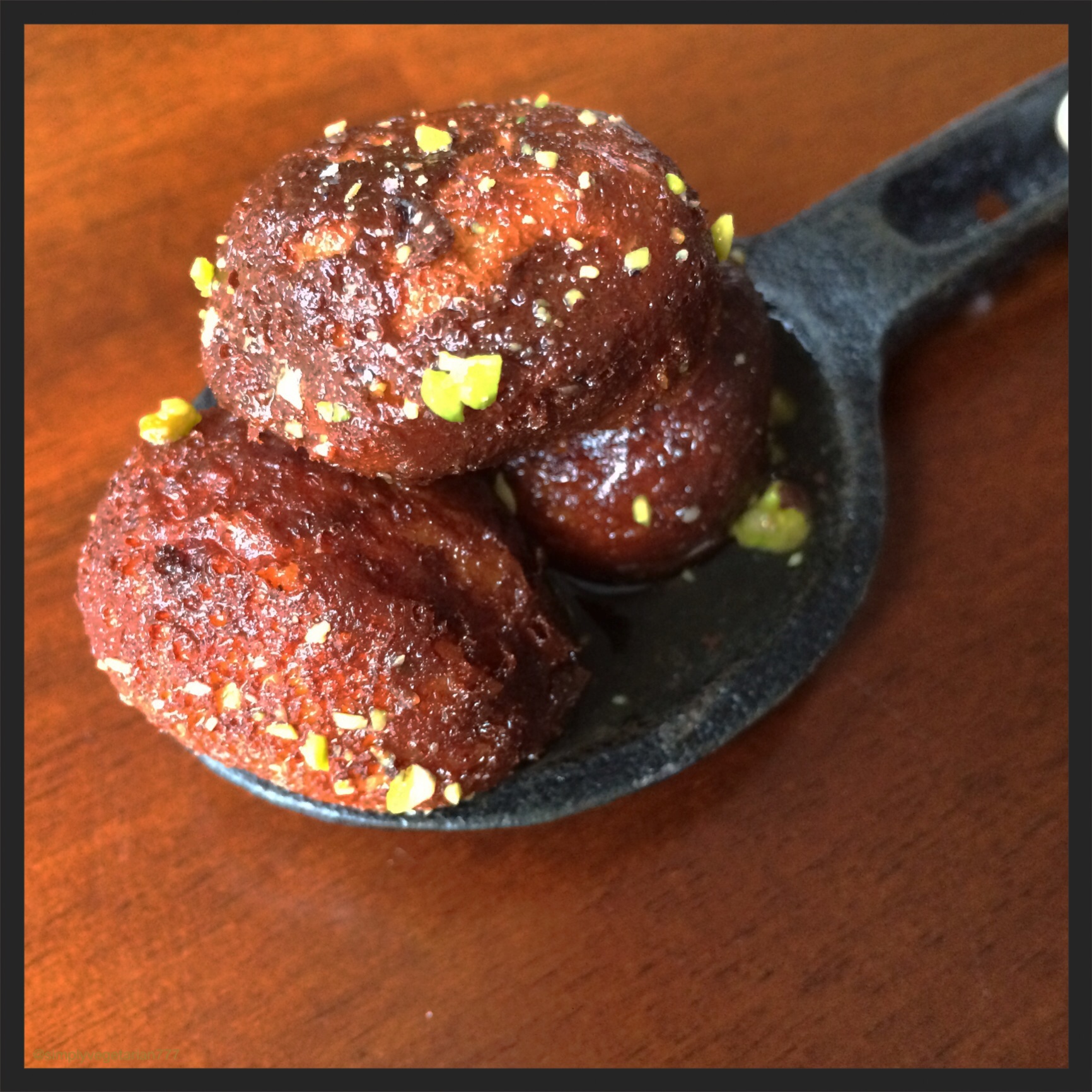 Notes :
1. These are best eaten warm or even room temperature.
2. You can refrigerate these. Warm them for few seconds in microwave and serve.
3. The stuffing in the middle of the GJs is a great tip shared by my mom. It prevents the development of dense texture in the middle, also called ghutli in Hindi. You may add pistachios, raisins, almonds, batasha, mishri in the middle.
4. The ball has to be pulled together like parantha or kachori so that air is incorporated a bit, again to prevent dense texture in the middle.
Thanks to Shailja for helping me with Sugar Syrup consistency.
Enjoy these Minis this festival or in any parties. Serve them with Rabdi or Kheer!
Sonal