Multigrain Sambhar Rice – DFT
As an Amazon Associate and member of other affiliate programs, I earn from qualifying purchases.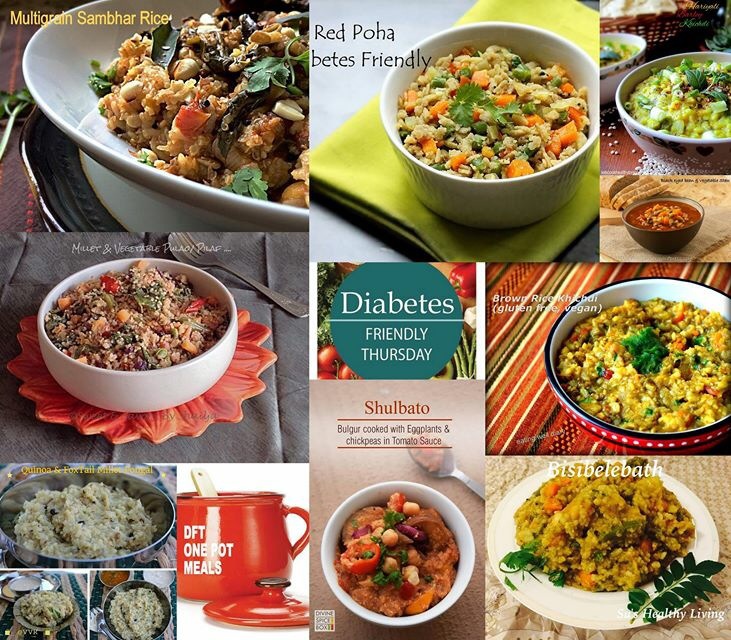 Creating Recipes with a Cause! I am a proud DFT blogger. To learn about DFT, Read this recipe! view more DFT recipes, Click here!
Multigrain Sambhar Rice
DFT goes easy and cooks a one pot meal for you!!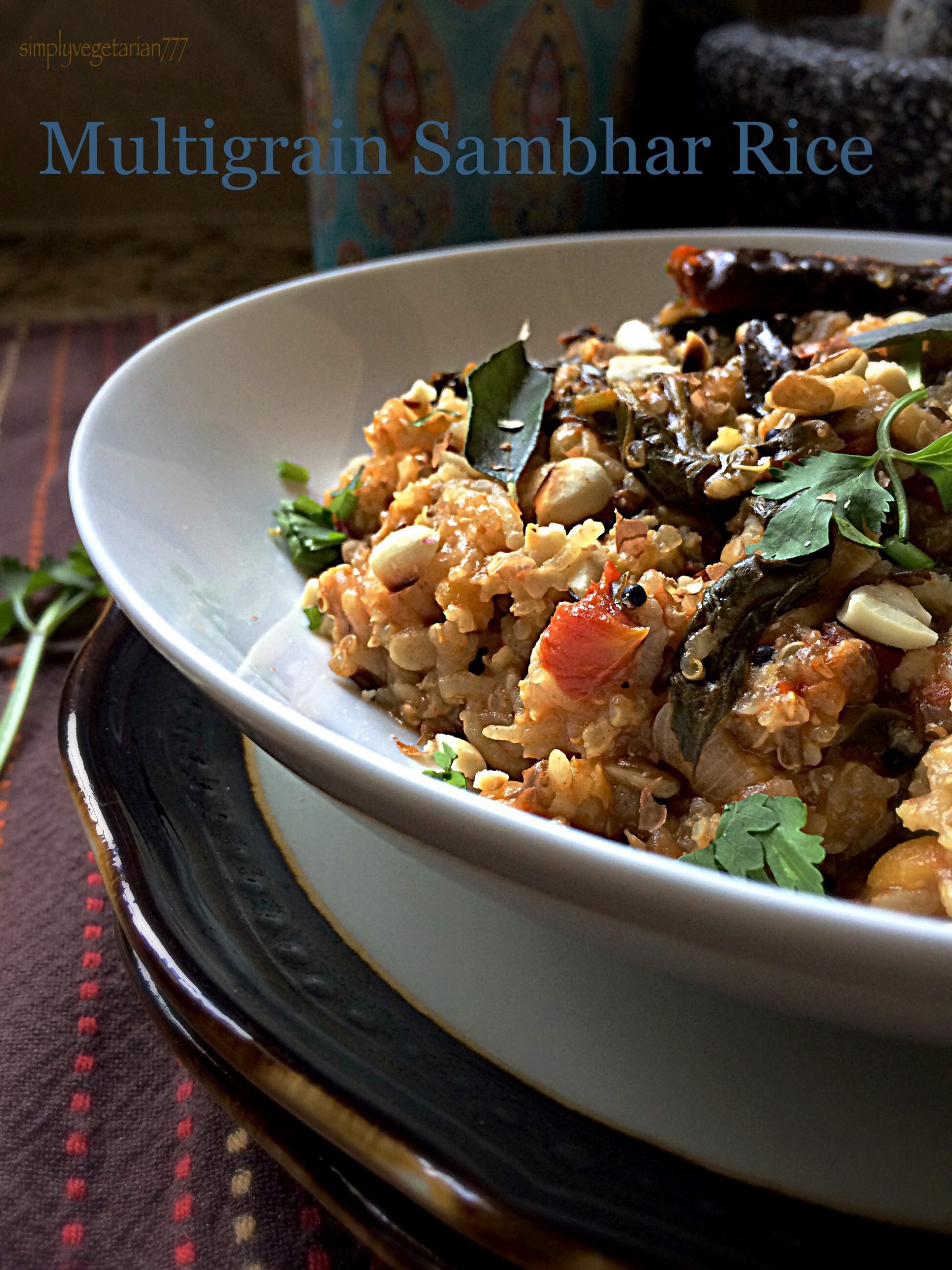 When we decided to create "one pot meals" this week, it was quite a mixed response from the team. We were happy and overwhelmed at the same time. One pot meals had to be cooked together and not cooked separately and then served together. That beats the purpose.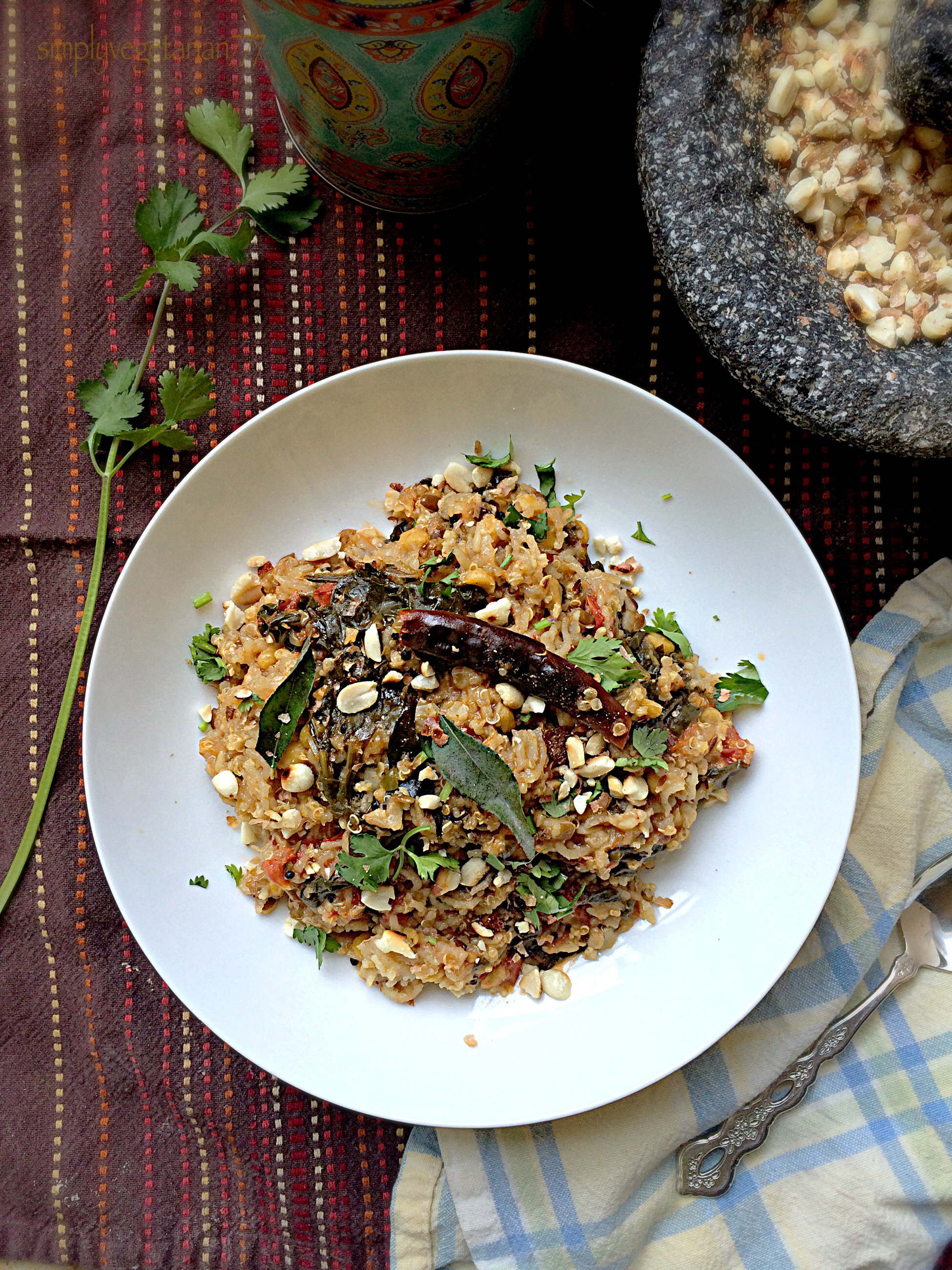 When I have extra time in hand, I like to experiment and this one was well received. The family loves it. It has southern Indian flavors of a very popular dish called Sambhar which is a lentils and vegetable stew with sour and spicy layers. I checked with others in the group and they nodded that I am not hallucinating and there is a dish called Sambhar Saadam, that really exists.
Here is a super simple and loaded with spinach recipe that makes it easy to eat good and healthier from just one bowl of goodness.
For the benefits of main ingredients on diabetes, used in the dish, please refer to the Foot Notes!
Here is how it is made!
Multigrain Sambhar Rice
Servings: 6
Difficulty: easy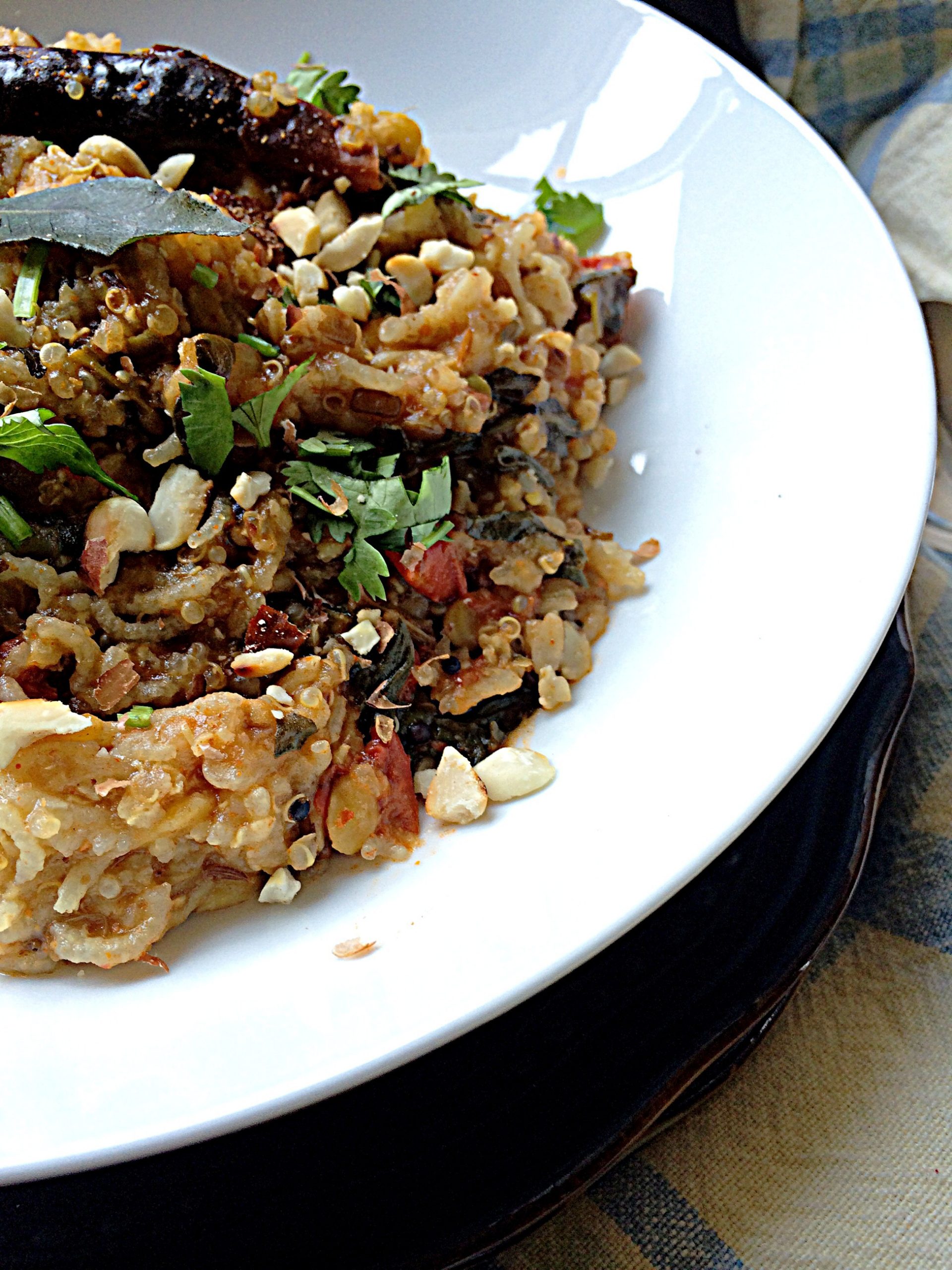 Kitchen Equipments Required
Pressure cooker or deep sauce pan with a lid, chopping board, knife, stirring spoon and a sauté pan, a big bowl.
Ingredients
Multigrains
Pearl Millet – 1/4 cup. You may use any millet on hand.
Quinoa – 1/4 cup. You may use amaranth (chaulai) grains instead.
Rice – 1/4 cup. You may use brown rice if you like.
Urad chhilka – 1/4 cup
Chana dal – 1/4 cup
Oil & Spices
Oil – 1/2 tbsp
Mustard seeds – 1 tsp
Asafetida – a pinch, optional
Curry leaves – 7 to 8 leaves
Whole dry red chilli – 1
Sambhar masala – 1&1/2 to 2 tbsp, as per taste. Use home made or market bought. I used MTR brand. You may even use curry masala instead.
Salt to taste
Vegetables
Onions – 1/2 cup chopped
Tomatoes – 1/2 cup chopped
Ginger – 1 small stub, chopped fine
Spinach – 2 cups, finely chopped
Water – 4 cups
Garnish
Corinader/ cilnatro leaves for garnish
Dry Roasted peanuts – 3 tbsp
1 dry roasted red chili and crushed
Method
1. Take the bowl. Add all the multigrains in it. Wash them thoroughly and soak in 1&1/2 cups of water for 8-10 minutes. Drain and keep aside after soaking.
2. Heat oil in the pressure cooker or pan. Lower the heat and add mustard seeds, whole red chili, curry leaves and asafetida.
3. Once the mustard seeds crackle, add ginger and onions and increase the heat to medium. Sauté onions for 3-4 minutes till it is soft and slightly pinkish. Now add finely chopped tomatoes. Sauté further for another 5 minutes on medium heat, till tomatoes are soft and cooked.
4. Now add chopped spinach, soaked and drained multigrains and mix well. Cook for another 2 minutes on medium heat.
5. Add Sambhar powder, salt and water. If using pressure cooker, close the lid, put the weight on and bring it to the first whistle. After the first whistle, lower the flame and simmer for another 7-8 minutes. Switch off the gas. Let stand till the pressure is released from the cooker. Open slowly. Divide the Sambhar rice in 6 equal portions and garnish with some chopped cilantro leaves, 1/2 tbsp of crushed dry peanuts and crushed dry red chilli. Serve with some non fat yogurt.
A delicious one pot meal is ready which is comforting and delicious.
Note – If you are using sauce pan, use 5-6 cups of water and bring to a boil. Then lower the flame and cook till water is evaporated. Let it stand covered after been cooked for another 5 minutes before serving it.
————————————–
Foot Notes
Pearl Millet – Millet's high fiber content slows digestion and releases sugar into the bloodstream at a more even pace. This helps diabetics avoid dangerous spikes in blood sugar that lead to glucose spilling over into the urine, known as glucosuria. Millet also contains high quantities of methionine, an amino acid that is deficient in most grains, giving millet a valuable place in a vegetarian diet. For more information, read here!
Quinoa – Quinoa is an alternative grain and high in protein, minerals and fiber. It has a higher satiety quotient. A small quantity of quinoa will fill you up sooner and will keep you content for the longer time.
Rice – it is a myth that diabetics cannot eat starchy foods. The starchy foods can be eaten but in controlled portion. In this recipe, actual amount of rice when divided amongst 6 portions is less than 1 tbsp (raw). It is peoportionatkey balanced in the recipe.
Urad Chhilka Dal – The readings done to research a topic bring interesting facts to vision. Check this out. Urad dal is a prebiotic food. Prebiotics is about food ingredients like complex starch and soluble fibre which cannot be digested with our normal digestive process, but require the help of stomach bacteria to digest it. This bacterial digestion in the lower part of our stomach is extremely good for our nutrition and at the same time stimulates the growth of bacteria in the digestive system. Any dal which is consumed with its husk on, is high in fibers and since it is prebiotic too, it is really good. Still we can not ignore the fact that it has good starch too so small portions please!
Chana Dal – Chana Dal is a kind of split pea. are high in dietary fiber and B vitamins in addition to being a low glycemic food. A ½ cup of cooked split peas provides about 20 grams of carbohydrate with a glycemic load of about 10.
3 Tips to Great Blood Sugar Control

The multigrain might overwhelm you but if you observe carefully, there is less than 1/4 cup of total raw grain per portion, served here! So it should work well. Consult your doctor or nutritionist before making any new modifications.
——————————————
Disclaimer

I am not a nutritionist or dietician. My knowledge and information is based on my research and reading from different resources. Please consult your doctor or dietician before making any changes to your diet.
——————————————
Other One Pot Meals from the Team DFT!