Oats Whole Wheat Chocolate Walnut Pistachio Biscotti, Eggless
As an Amazon Associate and member of other affiliate programs, I earn from qualifying purchases.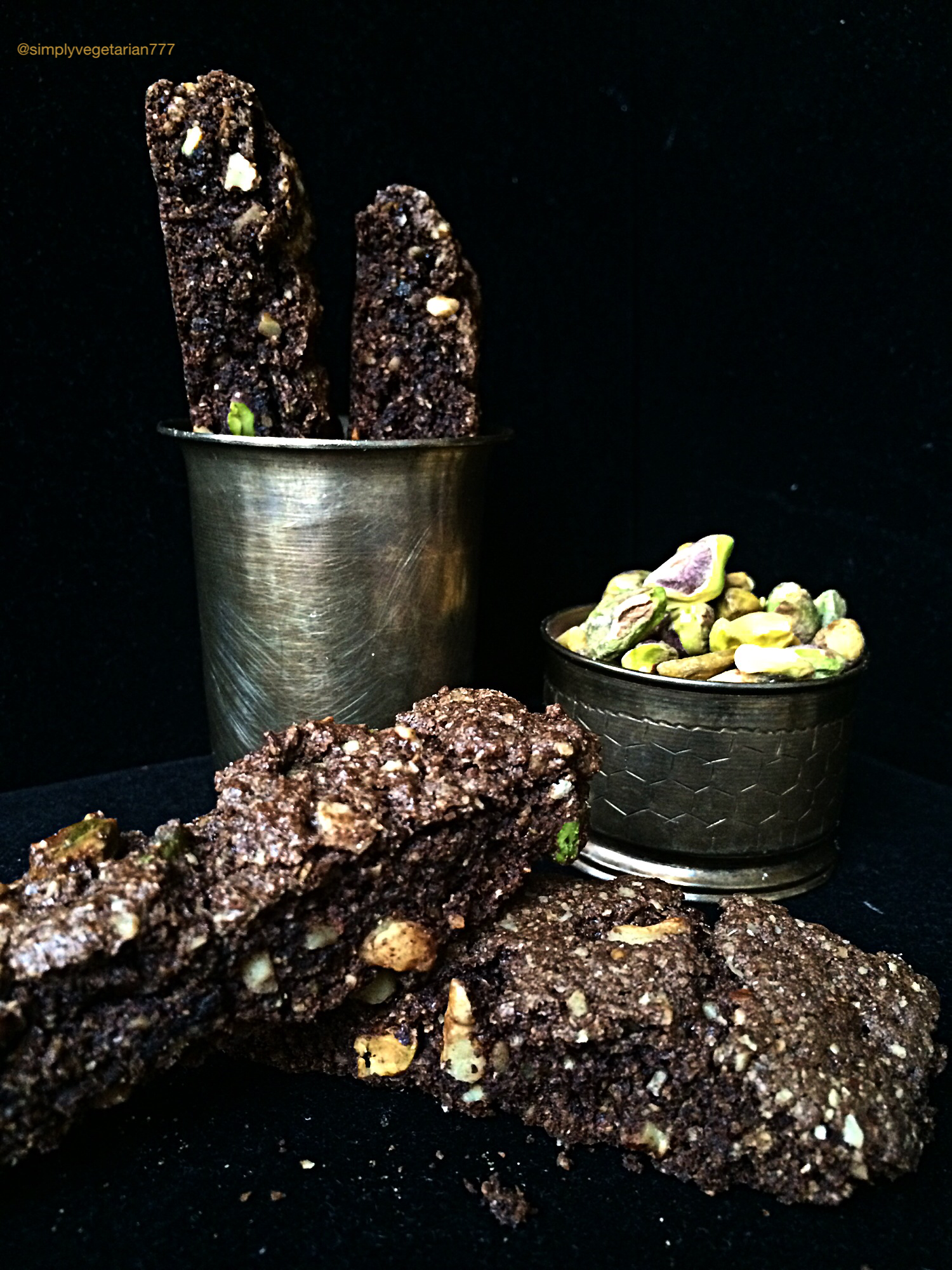 I had been thinking of baking biscottis since long time. It was November of 2013, when I baked my last batch.

These are Crumbly! Crunchy! Light! Delicious! Nutty! Heart healthy! Eggless! Festive!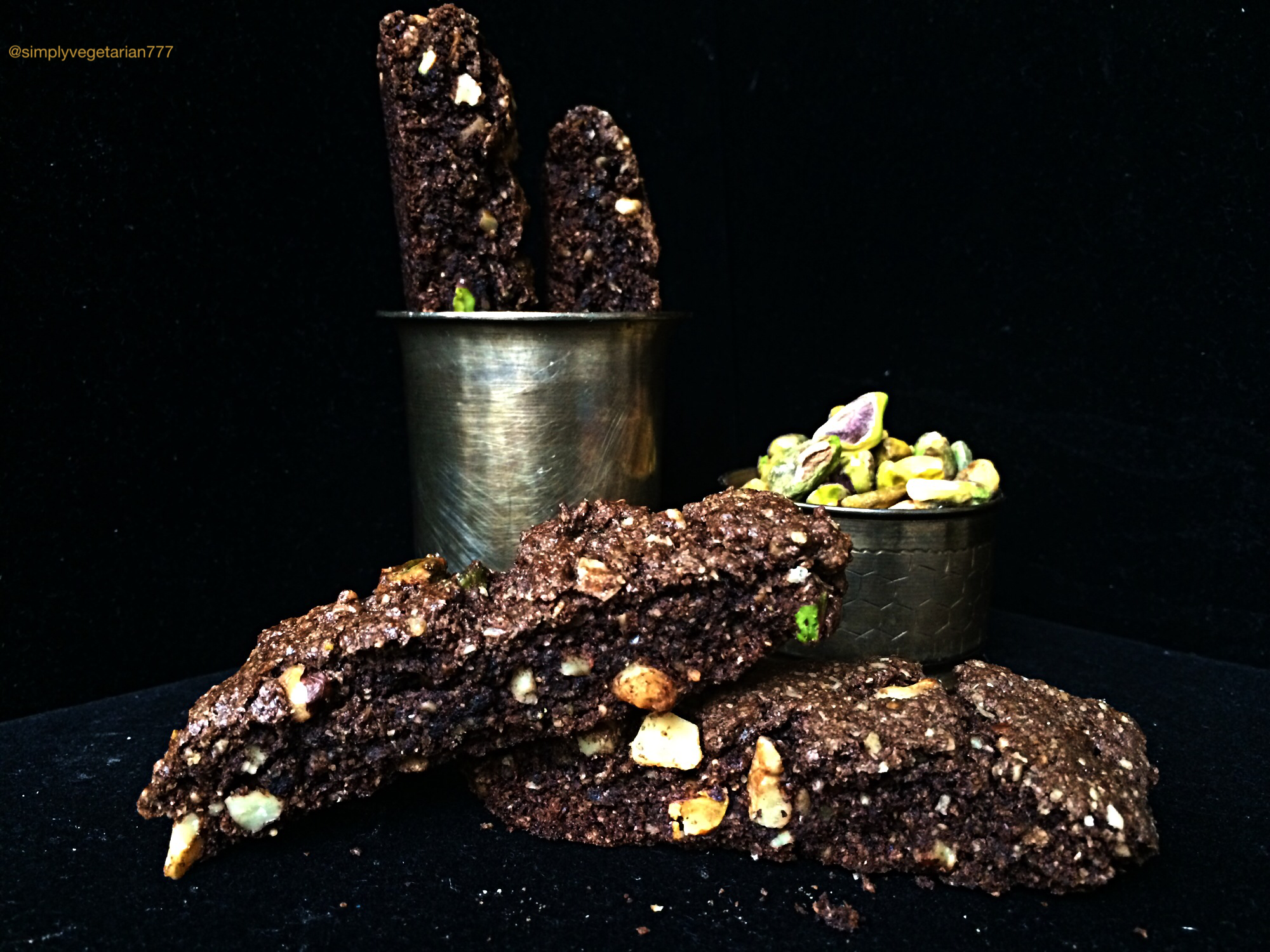 A super easy recipe which doesn't need much prep but is bursting with flavors and textures. If you ask my why another eggless recipe? Then my friend, this time because I ran out of eggs and the family wanted another batch, now and then! Yes these were made in 2 days Biscotti Marathon ! The first day I made a batch, it had eggs and much more cocoa powder and were much richer in color. Shared some and finished the rest…the same day…and when everybody was eyeing that last biscotti, I knew I had to make another batch. Here is a click from my first batch with eggs and more chocolate! Will put down a special note using eggs and richer chocolate tips.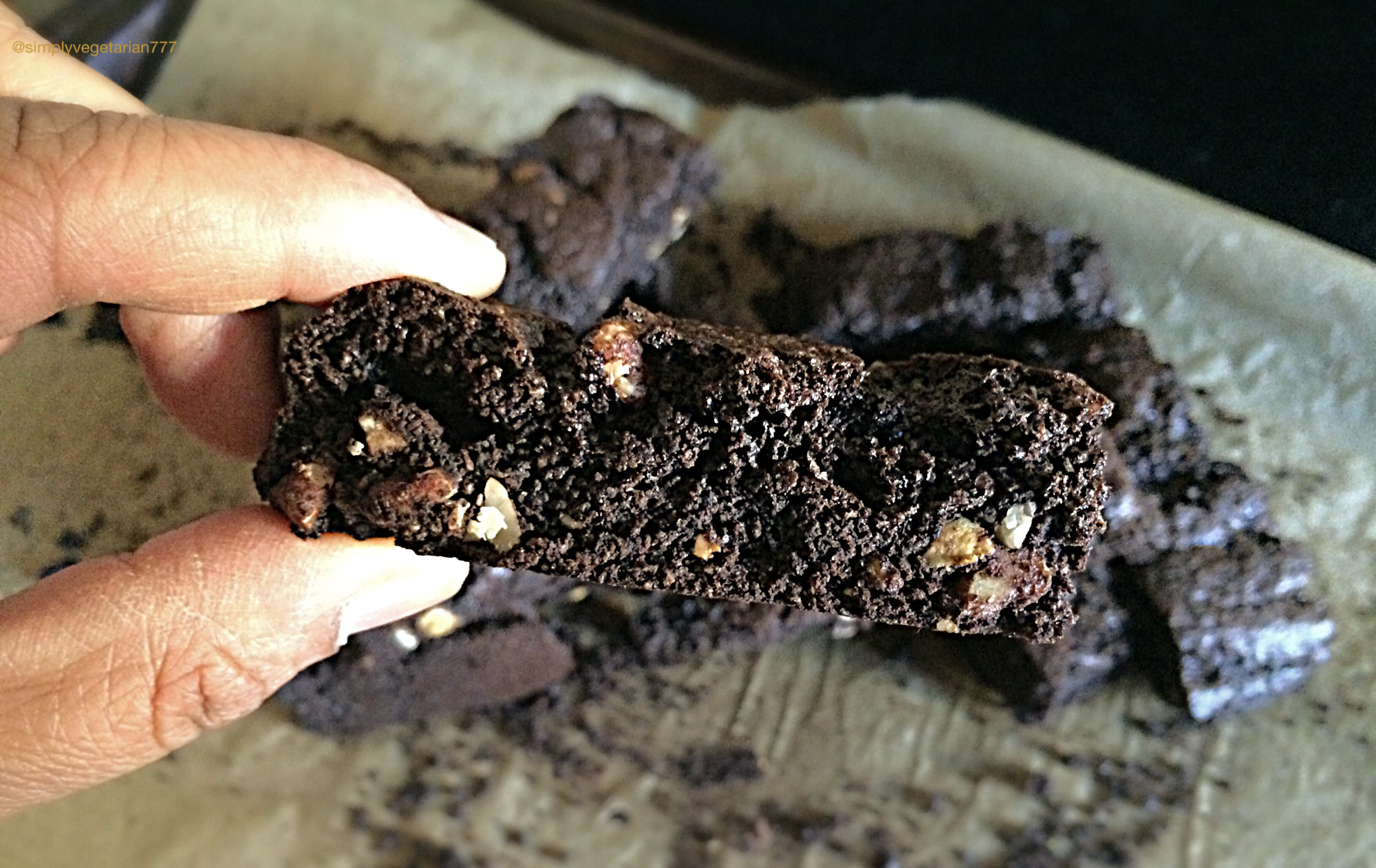 Biscotti is nothing but a double baked Italian cookie which is bar shaped and originally baked in a log, which is then cut and double baked for crispier texture. The best part about this recipe is that you can choose not to double bake it since after the first bake, it is a perfect fudge brownie.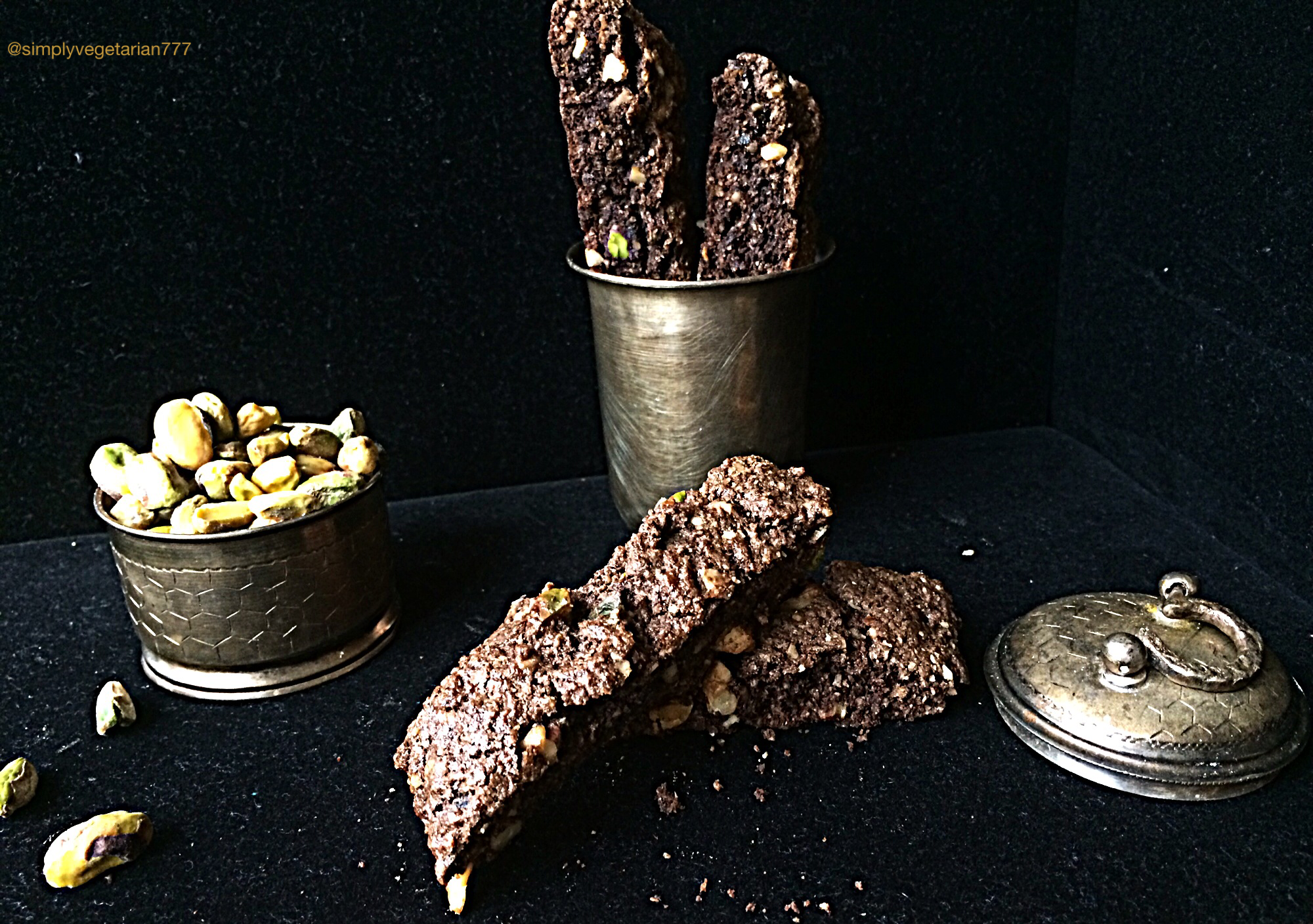 Here is how I made it !
Yields : 18-20 Biscottis
Kitchen Equipments Required : a big bowl, chopping board or food processor, a microwavable cup, fork, cookie tray, butter or parchment paper, oven, knife, measuring spoons n cups.
Ingredients :
Oats Meal : 1 cup. See notes.
Whole wheat flour : 1/2 cup
Instant coffee powder : 2 tsp
Coco powder, unsweetened : 3 tbsp
Cinnamon powder : 1/2 tsp
Baking soda : 1 tsp
Baking powder : 3/4 tsp
Salt : a pinch
Brown sugar : 3/4 cup + 2 tbsp. see notes.
Walnuts : 3/4 cup, roughly chopped or processed
Pistachios : 1/2 cup
Vegetable Oil : 1/4 cup
Vanilla essence : 2 tsp
Flax meal : 2 tbsp dissolved in 6 tbsp of warm water. See notes.
Notes :
How to make Oats Meal : Take 1&1/4 cup of quick cooking rolled oats. Put them in the grinder and grind them super fine. It won't be stone ground fine flour but a nice fine meal. This leads to the crumbly texture instead of dense texture. You may use oats flour instead.

Sugar : I don't like my dessert too sweet so this was just perfect. You may use 1 cup for that extra sweet tooth ;).

Flax Meal : This acts like eggs in our recipe. If you have flax seeds, then grind them fine to obtain meal. Or if you want, use 2 eggs instead. In case you don't want to use eggs or flax, use 1/4 cups more of oil.
Method :
Preheat the oven at 350F/180C. Line the cookie sheet with butter/parchment paper.

Keep the flax meal jelly ready.

Take a big bowl. Add oats meal, whole wheat flour, coffee powder, cinnamon powder, coco powder, salt, brown sugar, baking powder, baking soda, chopped walnuts and pistachios to it. Stir with a fork. Make a well in the middle.

Add flax jelly, oil, vanilla essence in the well. Take a fork and start bringing everything together in a rough dough. It is not at all of batter consistency. It is a dry dough. I used my hands here since hands work better. We are not kneading it but gathering it.

Divide in 2 equal portions and stretch them out in 2 logs of 3 to 4 inches width and 3/4 to 1 inch thickness.

Bake them in the oven for 30 minutes. Take the tray out and let it rest for 5 minutes. Do not touch them fresh out of the oven. Do not switch off the oven. The baked logs look like the picture below.

Separate them and bake them again for 10 minutes in the oven. Switch the oven off. Open the door slightly. Let the tray hang in there for 15 more minutes in cooling oven.

Take them out and enjoy them warm or cool them down completely at the room temperature and then store in air tight container.
It seems like a long post but super easy and super yummmmm! Do try it! You will be glad that you did :).
Happy Holidays!
Sonal