Paneer Mughlai / Indian Cottage Cheese in a Rich Curry made with Nuts (with Vegan Options)
As an Amazon Associate and member of other affiliate programs, I earn from qualifying purchases.
Mughlai is a cuisine which developed in India but was majorly influenced by Persian and Afghani style of cooking. Mughals traveled to India in 16th century for trade and commerce initially but later they conquered and ruled Northern parts of India for almost 2 centuries. Not to say, the food, language and culture was so intricately imbibed in the North Indian life style that it is very evident till now, rather should I say, it's one.
Let's learn a word from Urdu today, TEHZEEB, pronounced as 'teh-zeeb', which is mainly the value system. For example, a kid who behaves kindly and politely, would be appreciated as "This is his Tehzeeb (values), that he is so kind and polite". Okay! So much for the word learning today :).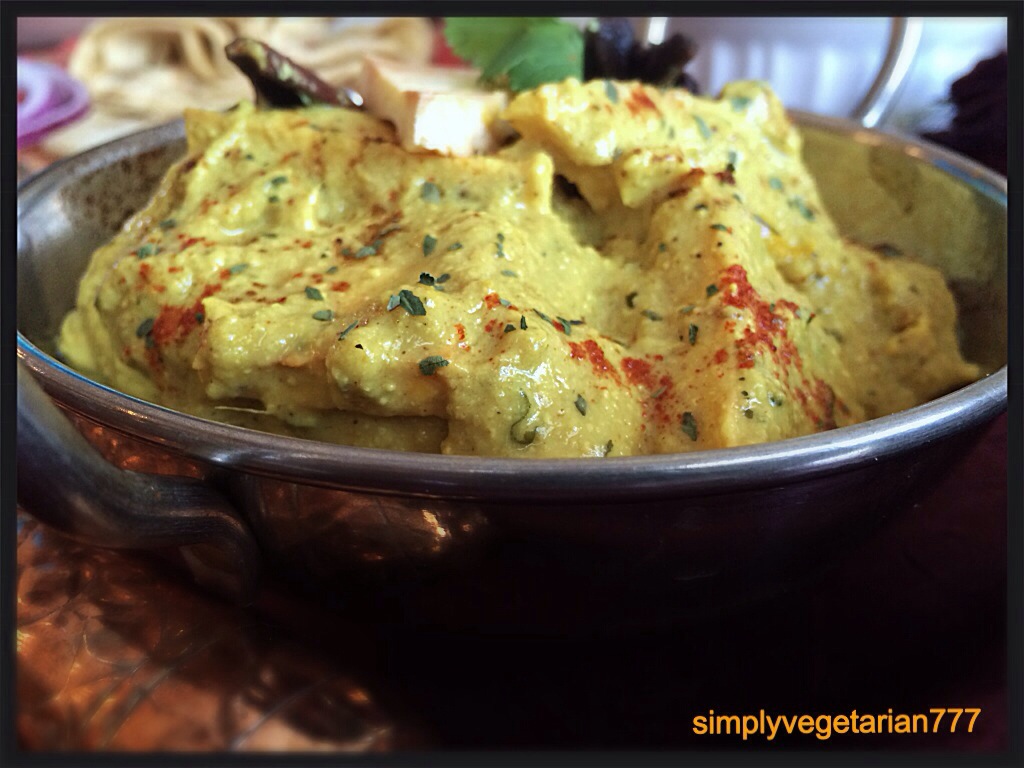 Mughlai cuisine is quintessentially a very rich cuisine. Lots of nuts and dry fruits are used along worth milk, cream, butter and saffron. Freshly ground spices are used to give it an unmatchable aroma. If you know me, I always like to simplify the recipes for everybody's use. I read quite a lot of recipes and then concluded mine but carefully. This is the simplest you can enjoy and believe me not difficult at all! Will soon post another type of bread that can be used with it called Lachcha Parantha.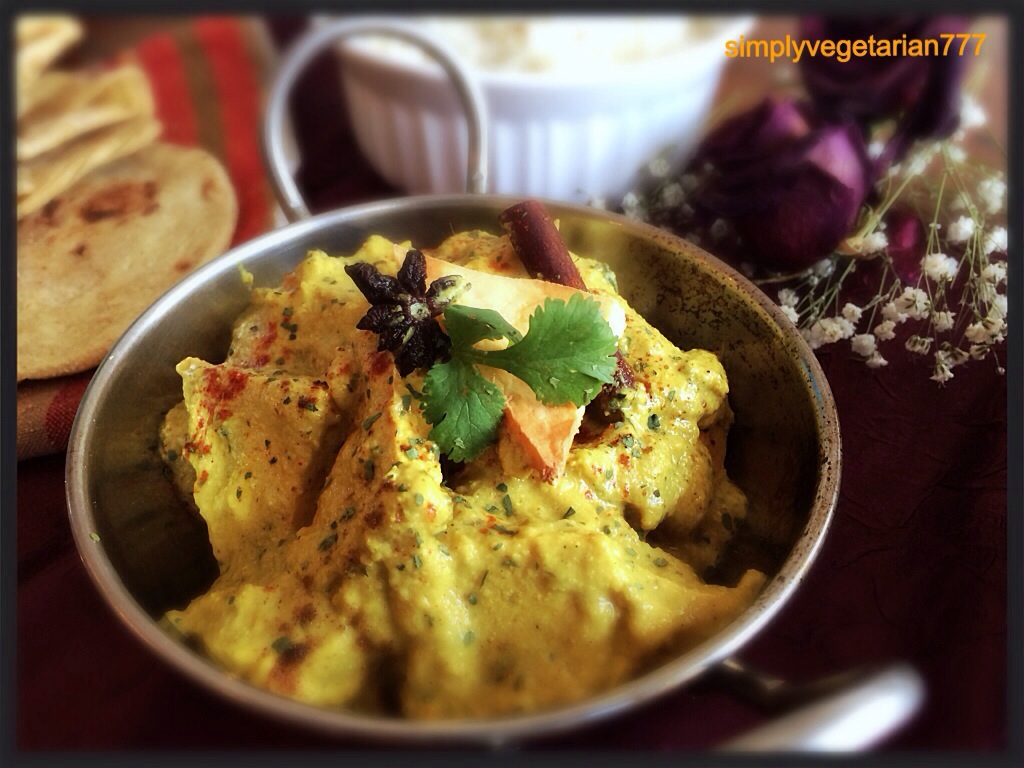 It is creamy. It is rich. And the good news is that it can totally be made Vegan for my dear vegan friends :). I am going to mention the vegan options along side under the ingredients.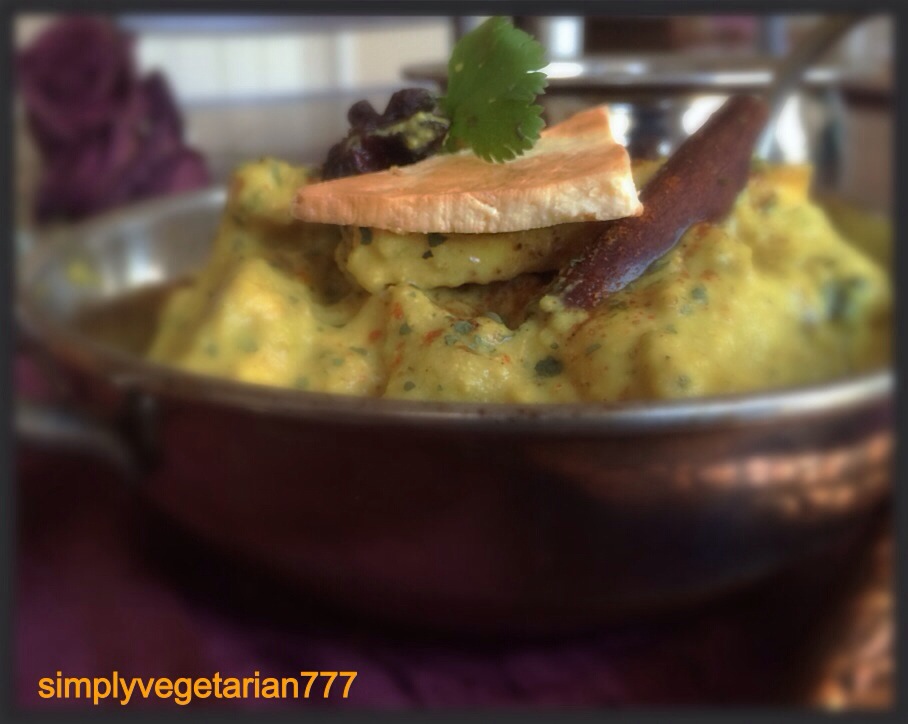 Let's get started now. All set?
Ingredients :
Oil : 1 tbsp
Poppy seeds : 1 tbsp, soaked overnight in 1tbsp of water
Cashews : 2 tbsp, soaked overnight in 2 tbsp of water
Almonds : 2 tbsp soaked overnight in 2 tbsp of water and then peeled
Paneer : 400 gms, cut in small triangles or thin cubes/layers. Use Extra firm Tofu. Home made paneer which is Indian cottage cheese, the recipe is here
Onion : 1 small or 1/2 cup
Ginger : 1 small head
Garlic : 3 pods
Sugar : 1/2 tsp
Saffron : 4-5 strands soaked in 1 tbsp milk, use plant based like soy or almond, don't worry if you don't have any. You can skip it if you want.
Milk low fat : 1 cup. Use soy or Almond milk, unsweetened if going for vegan choice.
Cinnamon stick : 1 small
Star Anise : 1, optional. Adds nice aroma and flavor or use 2-3 green cardamom pods
Turmeric powder : 1/2 tsp
Red chili powder :1/2 tsp
Garam Masala : 1&1/2 tsp. For home made spice mix, click here
Salt : to taste
Kasoori Methi : 1/2 tsp, crushed (optional)
Water : 1 cup
Kitchen Equipment Required : Blender and Grinder, cooking pan
Method :
Step 1 :
Take your grinder. Add soaked poppy seeds, cashews and peeled almonds. Make a paste with 1/4 cup water.
Step 2 :
Take your blender. Add onions, garlic and ginger. Make a paste out of it with 1/4 cup water.
Step 3 :
Prepping the Paneer/Tofu : Pan grill the paneer slices, lightly with almost no oil OR bake them in preheated oven at 375*f for about 8-10 minutes, turning them mid way for even cooking. Make sure, they are not hard but just slightly done.
Step 4 :
Cooking the Curry
Heat oil in pan. Add cinnamon stick and star anise or cardamom if you are using it. Stir for few seconds. Now add onion paste to the hot oil. Bring the heat to lower medium, and cook the onion paste till slightly brown.
Add the nuts paste to the browned onion paste. Top with sugar, garam masala, turmeric, red chili powder now.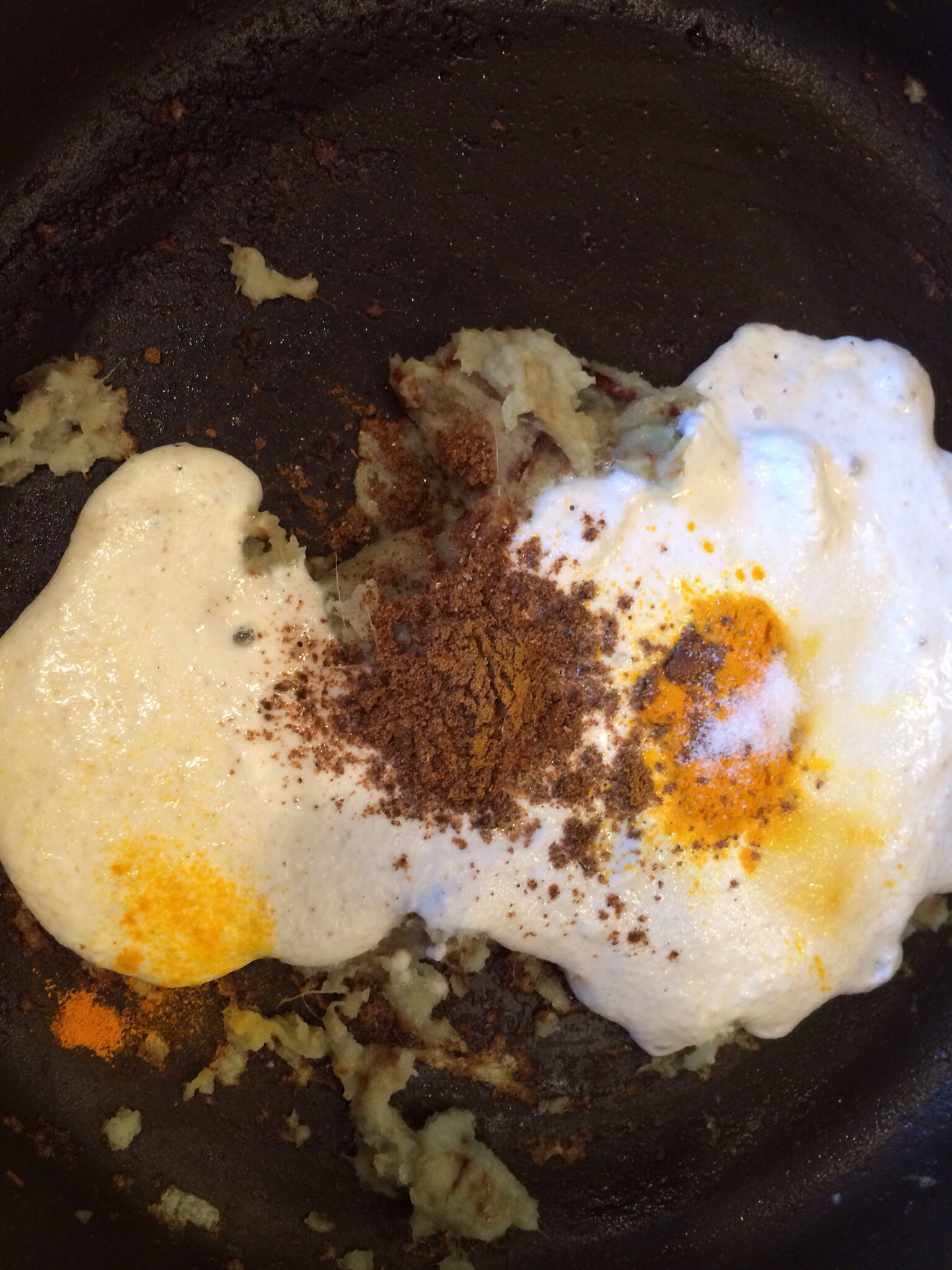 Add milk or plant based milk now along with salt. Add the soaked saffron too. Stir well. Get a quick lick form the side and adjust the seasonings and spices as in garam masala or salt or red chili powder at this point, to your personal taste. Some like it mild and some like it hot. Add water. Cover and cook the curry for 10 minutes till the flavors come together. It might look runny at this moment but the cooking will thicken it since nuts soak up a lot of water.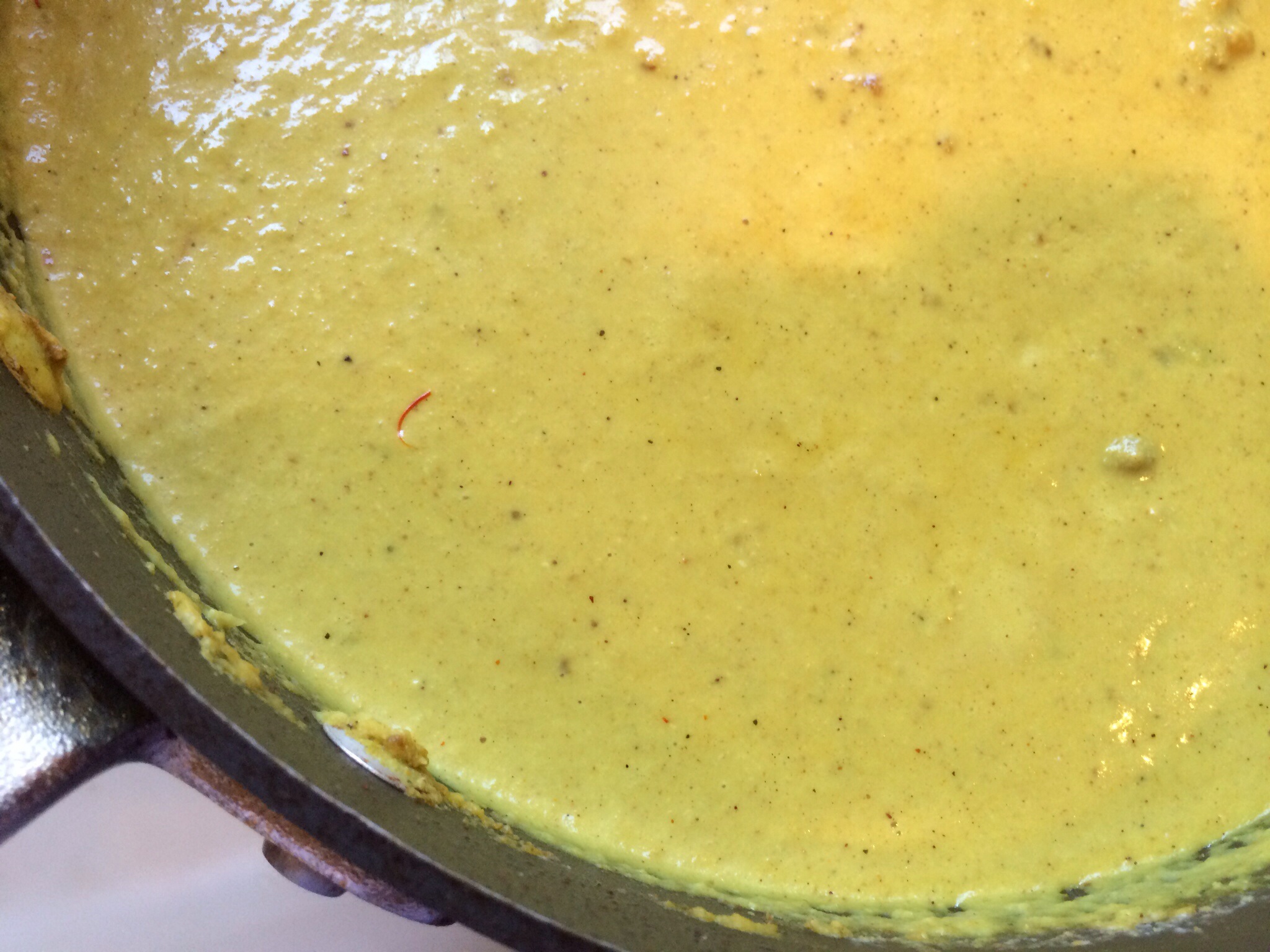 Now add prepared Paneer pieces or Tofu pieces. Gently mix the curry and paneer/tofu pieces together. Cover and cook for 10-15 minutes more.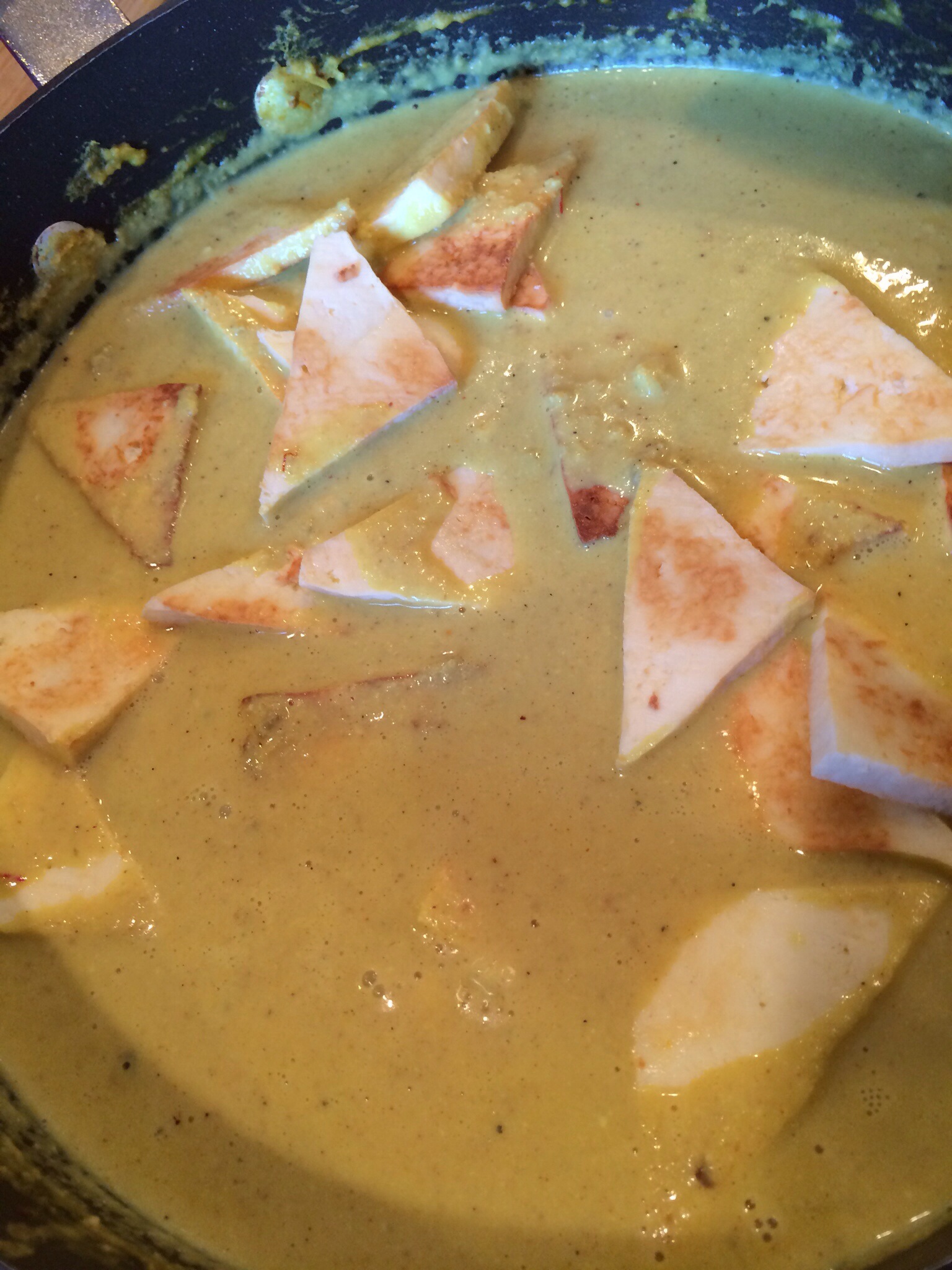 You will see the curry is coming together and that's it :).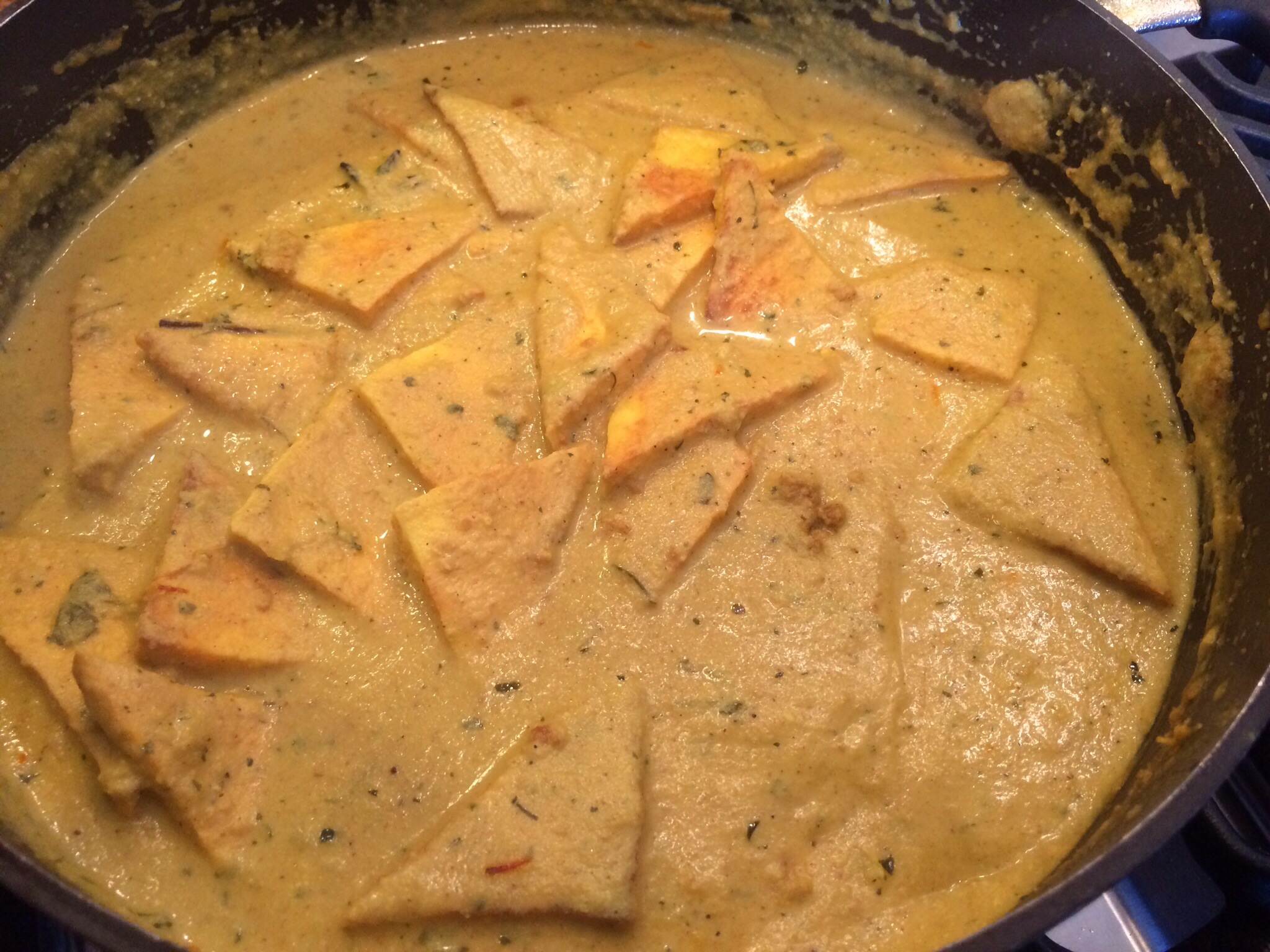 Few other Options besides Paneer : you may use grilled baby potatoes, pan grilled or oven baked Cauliflower, mixed vegetables, any kind of koftas or kebabs and even boiled eggs.
Some accompaniment suggestions : this can be eaten with Jeera rice , Naan or any kind of bread.
This is my treat to all the party people this weekend at Angie's Fiesta Friday. Hope to see some old buddies and some new warm souls tonight at Angie's.
>