Red Lentil Stew / Moroccan Harira (vegetarian version) – Diabetes Friendly Thursdays
As an Amazon Associate and member of other affiliate programs, I earn from qualifying purchases.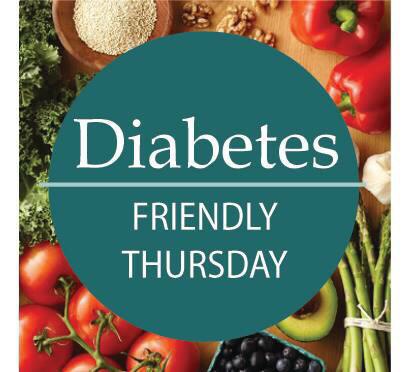 Creating Recipes with a Cause!
I am a proud DFT blogger. To learn about DFT, read this link. To view more DFT recipes, Click here!

Red Lentil Stew / Moroccan Harira
The DFT team brings Diabetes Friendly Soups this week! Thank you Shailja, Prachi, Sarika, Swati, Anupama, Apsara, Chahat, Suchitra!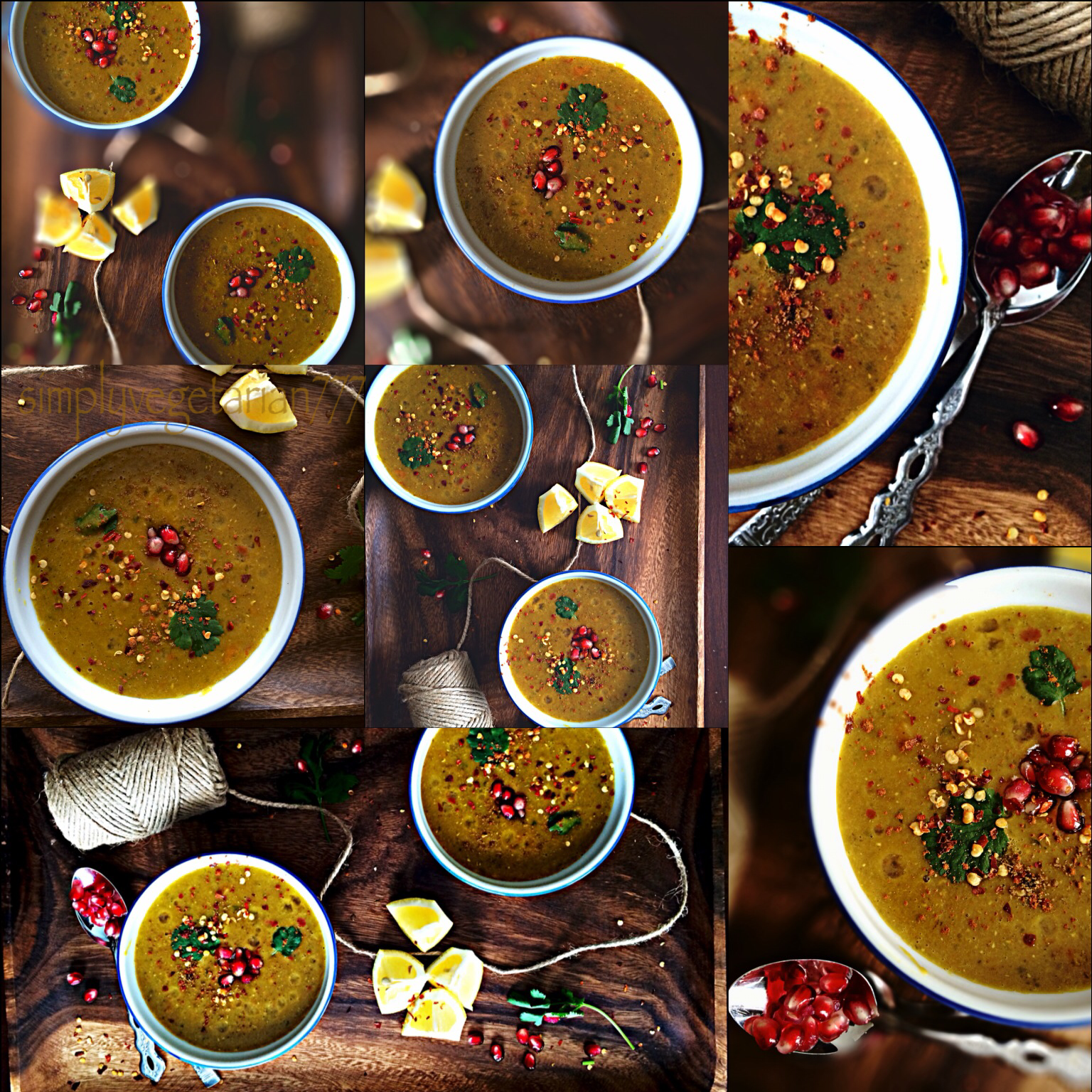 The recipes keep evolving with time, the availability of ingredients, the migration of the people, the choice of food"ism" like veganism, vegetarianism, and ofcourse the meat"ism". Lately, the world chefs and home cooks have been adapting and recreating the recipes in vegetarian avatar for the benefit of all.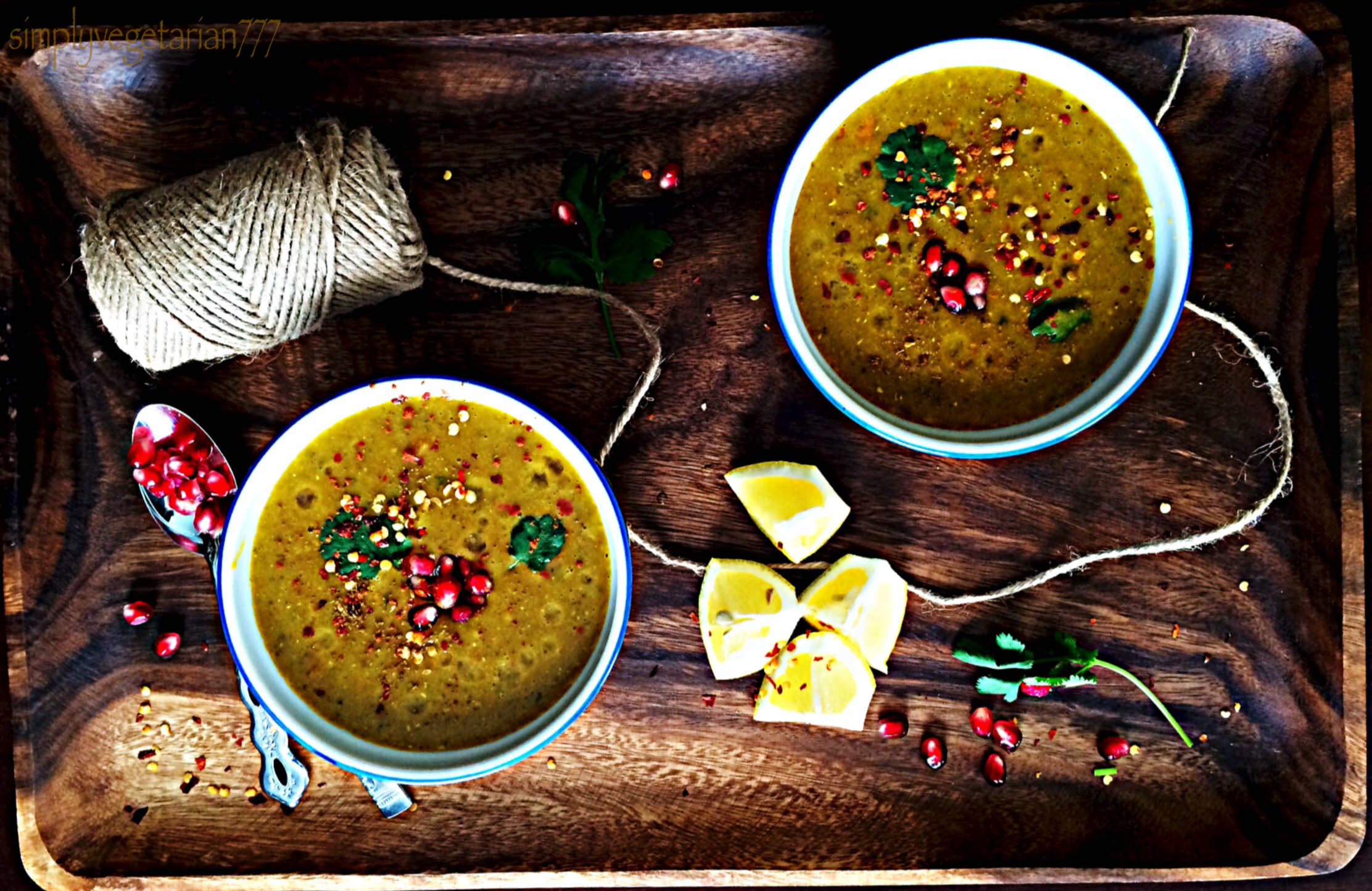 I read this recipe in atleast 20 different versions online and then came up with mine, keeping in mind the basic ingredients and then adapting to what is available to me and people worldwide in general. Vegetarian Moroccan Harrira is a flavorful and simple soup or stew which I have created healthy for Diabetics.
Red Lentil Stew / Moroccan Harira
Servings: 2
Difficulty: easy
Kitchen Equipments Required
Chopping board, knife, pressure cooker or sauce pan with lid, stirring spoon, hand blender or regular blender.
Ingredients
Oil – 1&1/2 tsp
Onion – 1/4 cup, chopped fine
Ginger – 1 tsp, chopped fine
Garlic – 1 tsp, chopped fine
Tomato – 3/4 cup, chopped fine or 1 medium.
Carrot – 1/2 cup or 1 medium, chopped fine
Red lentils / Lal masoor – 1/2 cup, washed and soaked for 10 minutes.
Corinader / Cilantro leaves – 2 tbsp, chopped fine
Parsley – 1/2 tsp dry or 2 tbsp fresh, chopped fine
Turmeric – 1/2 tsp
Cumin powder – 1/2 tsp
Cinnamon powder – 1/4 tsp
Red chili flakes – 1/4 to 1/2 tsp, per taste
Water – 2 cups
Lemon juice – 2 tsp
Garnish – 2 tsp pomogrenate seeds (Amar dana), corinader leaves, cumin powder and chili flakes.
Method
1. Heat oil in the pressure cooker or sauce pan. Add ginger, garlic, onion and carrots together. Lower the flame and sauté them for 3-5 minutes till slightly soft.
2. Add chopped tomatoes, corinader leaves, parsley and all the spices to the pan. Stir well. Let it cook for 2 more minutes. Add soaked lentils and 2 cups water. Stir again.
3. Close the lid of the cooker, put the flame on high and cook till one whistle. Lower the flame and simmer for 3-5 more minutes. Shut off the gas stove. If you are cooking in sauce pan, then you might need more water.
4. Once the pressure is released, open and cool for 5-7 minutes. Now coarsely grind it with hand blender or in regular blender. You may purée it fine if you like.
5. Heat up again. Serve in bowls. Garnish with 1 tsp, pomogrenate seeds, 1 tsp lemon juice, some cumin powder and cilantro leaves along with chili flakes.
6. Enjoy as is or serve with some whole wheat or multi grain pita or bread. It is a very filling soup. You may adjust the consistency and spice levels to your desire.
For better idea on health benefits of Red lentils, Tomatoes and Carrots on Diabetes, please read the foot notes.
---
Health Benefits of Red Lentils, Tomatoes and Carrots for Diabetes.
Modern Diabetic Research and Resources say that today, diabetics can eat from all the food groups but the key to good eating is portion control. Diabetics can choose from a variety of food plans, including an exchange system, a diet based on the glycemic index, or a carbohydrate-counting plan that allows for a specific amount of carbohydrates per meal.
Red Lentils are a good choice for a low carb meal, because they are high in fiber and therefore will help stabilize blood sugar levels. Lentils also provide a good deal of low-fat protein, which can be helpful for vegetarian diabetics as well as diabetics who want to lose some weight. Having said that, they are still primarily carbs, so portion control is must. 1/4 cup of dry lentils constitute a good meal portion. For more information, Click here!
Tomatoes lower blood pressure significantly and improve HDL, so they may help cut the risk of heart disease, a common and serious problem for people with diabetes. They're also rich in iron and vitamins C and E, according to the American Diabetes Association, which rates them as a diabetes superfood. For more information, click here!
Carrots are high fiber food and 1 cup of chopped carrot makes for 1 serving of vegetable, that is approximately 3 carrots of medium size. Therefore, 1 carrot eaten as a snack or used in your cooked preparation is actually a benefit. . Carrots are a good choice if you have diabetes as their carotenoid and vitamin A content helps protect your eyes from diabetic retinopathy or damage to the blood vessels in the eye from long-term diabetes. For more information, Click here!
—————————————————-
Discalimer
I am not a nutritionist or dietician. My knowledge and information is based on my research and reading from different resources. Please consult your doctor or dietician before making any changes to your diet.
——————————————————-
Other Entries from this week DFT featuring more soups.
Shailja's Provencial Soup
Swati's Zero Oil oats and celery soup
Anupama's Sweet Potato and Squash Soup

Chahat's Peas Broccoli and Mint Soup

Sarika's Barley Soup