Shahi Rabdi : Thickened and Sweetened Milk Dessert with Nuts, Cardamom and Saffron! Happy Teej and Happy Eid!
As an Amazon Associate and member of other affiliate programs, I earn from qualifying purchases.
With the festivals of Teej and Eid approaching tomorrow, I thought I would pick a dessert which is loved equally by Hindus and Muslims in my part of the world. Rabdi is a dessert which is originally made by thickening the milk for hours on low flame and then sweetening it. It has a special place in both the cultures in northern part of India.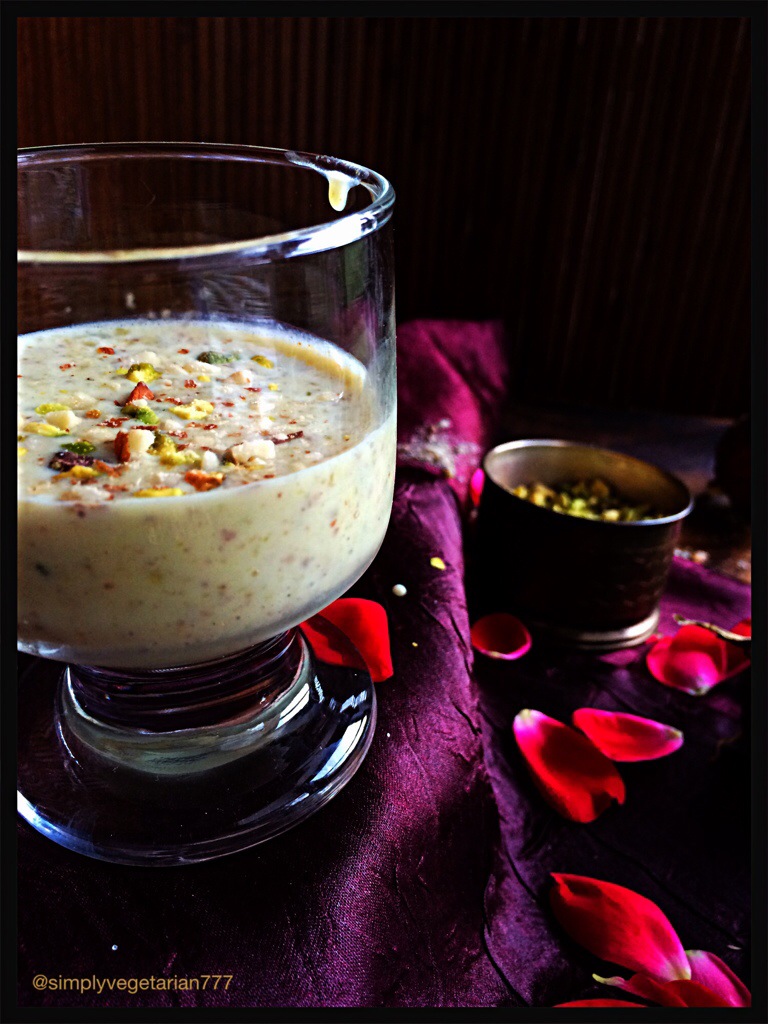 I remember that my Ammaji (grandmother) loved Rabdi. Often she would skip dinner and eat a big bowl of Rabdi instead. Such was her love for Rabdi. We all used to laugh at this habit of hers when she wanted to eat light and opt for Rabdi. Rabdi by no means is light ;). This one is for you Ammaji.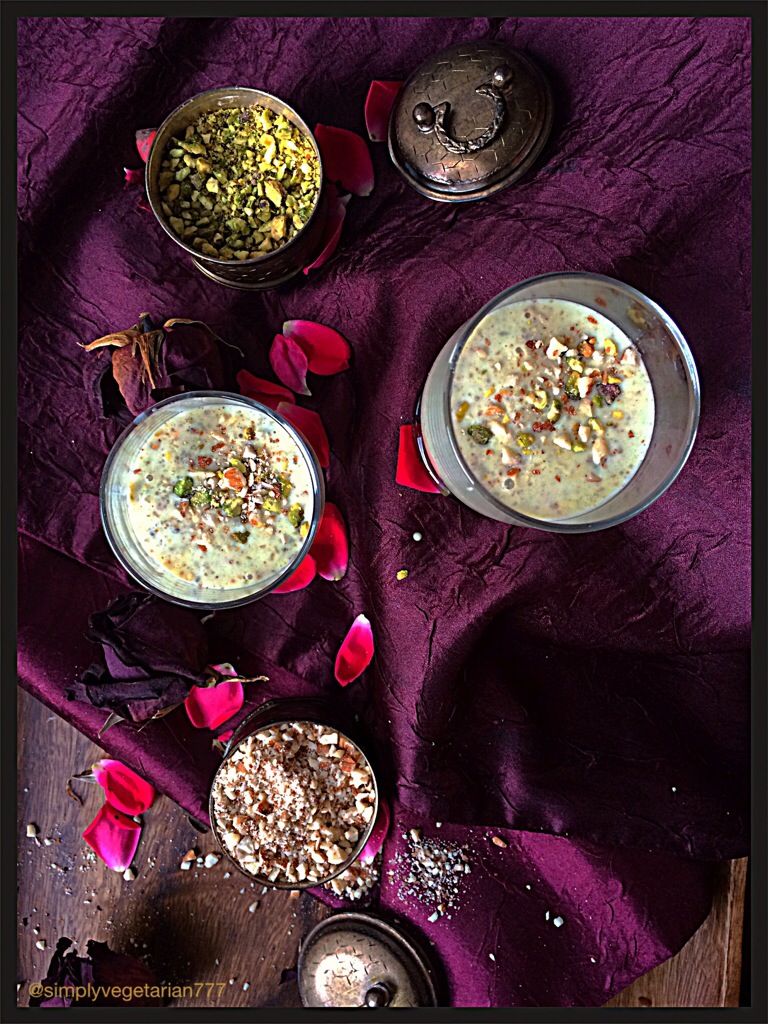 Teej is a festival that announces the onset of Monsoons (Rainy season) in India. Also it is associated with a bonding of wives and husbands in the northern part. Hindu wives would observe day long fast for the long life of their husbands and enjoy the day by applying henna on hands, singing, swinging on raw jute rope swings hanging from mango trees, all dressed up and spend the day likewise. In the evening they would have a nice rich meal together.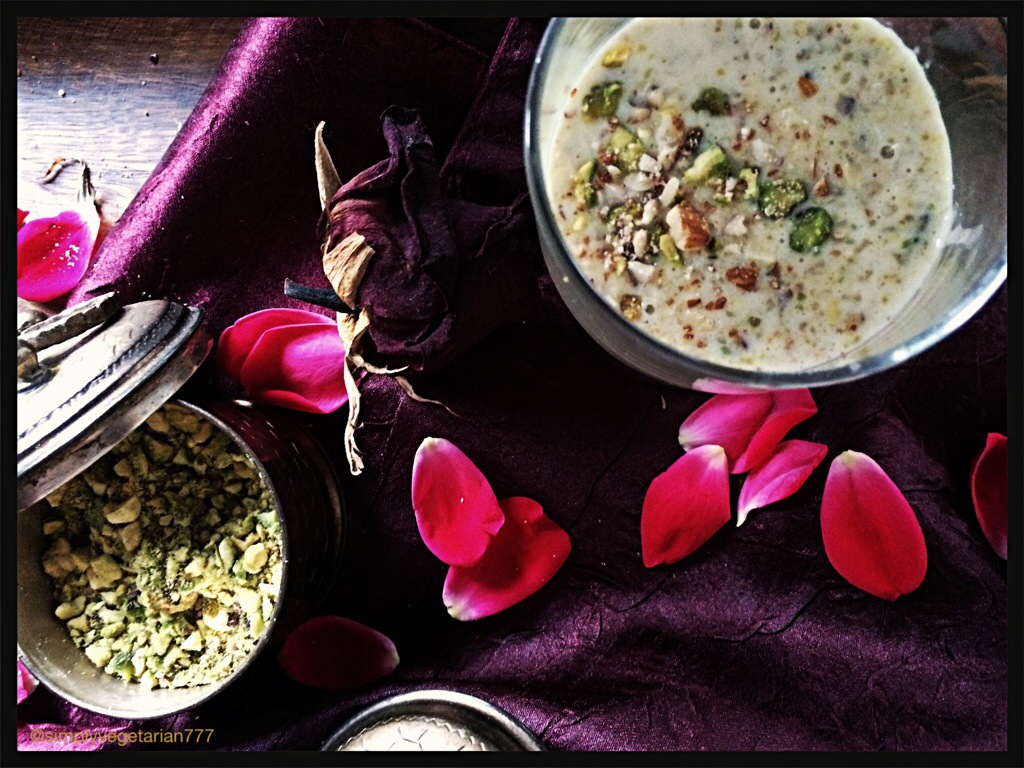 Eid is observed at the end of a month long Ramadan, where Muslims observe fast from dawn to dusk. When holy Ramadan is over, they celebrate for 2-3 days with family and friends with good food and festivities.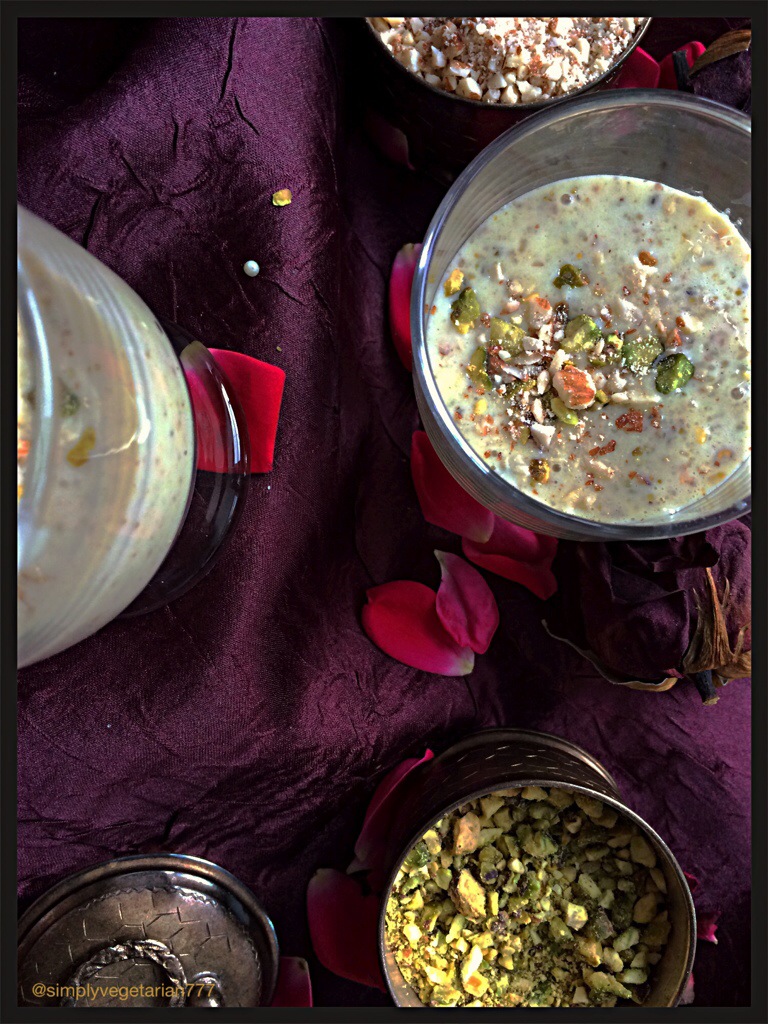 My recipe today is not the authentic one but a quick and easy take on the traditional recipe. The availability of condensed milk has reduced long cooking hours into few minutes churn, blend, cool and eat! What? Don't believe me? Check it out!
Yields : 6 servings
Kitchen Equipments Required : blender, chopper or chopping board and knife, dessert bowls, plastic cling wrap, spatula.
Ingredients :
Condensed milk, low fat and sweetened : 1 can of 14 oz
Milk powder, low fat : 1/2 cup, unsweetened
Low fat milk : 1 cup
Cardamom powder : 1/4 tsp
Saffron : a fat pinch
Pistachios : 2 tbsp, chopped or crushed
Almonds : 2 tbsp, chopped or crushed
Method :
Take the blender. Add condensed milk, milk powder, milk, cardamom powder and saffron to it. Blend till everything becomes one. It should be thick pouring consistency like pancake batter. If not, adjust the milk or milk powder quantitates accordingly.

Take it out. Add chopped or crushed nuts. Mix well with spatula and refrigerate in dessert bowls for 2-3 hrs.

Serve chilled topped with more nuts if desired.
Traditional Rabdi is layered with thick cream thickened and is not served with nuts but Chironjee sometimes, which is a kind of rich seed.
Enjoy this super rich and super delicious dessert this festival folks and let me now if you try it :).
Happy Festivities Everybody!
Sonal