Sewayi ki Kheer
As an Amazon Associate and member of other affiliate programs, I earn from qualifying purchases.
Sewayi ki Kheer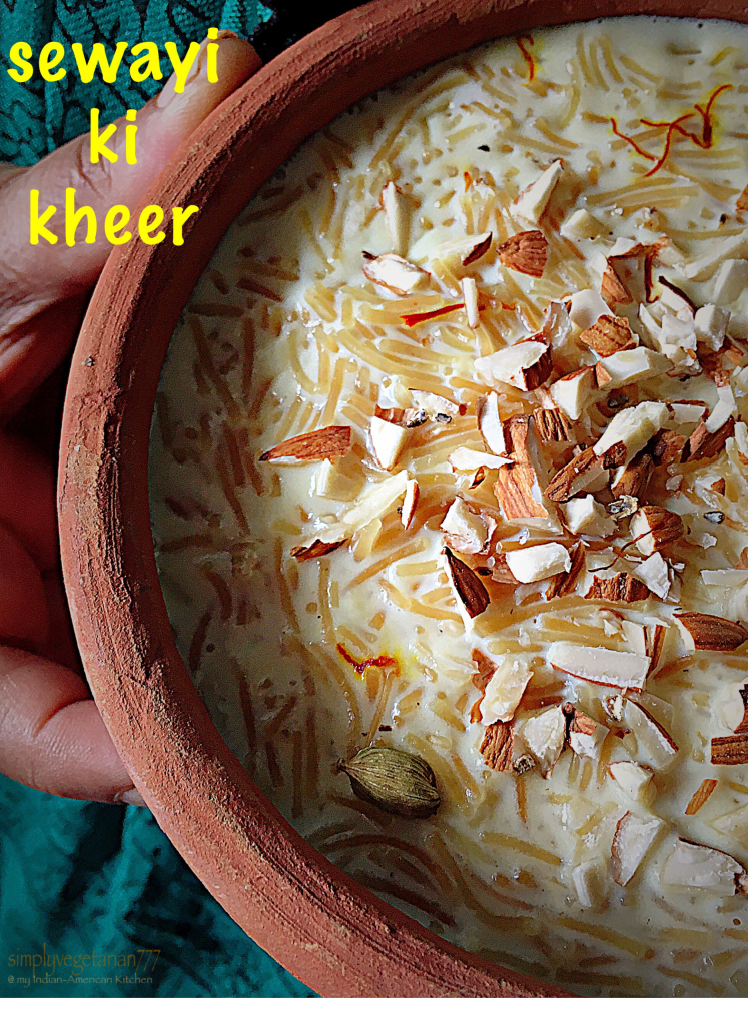 Sewayi ki Kheer is the humble and delicate dessert from Indian cuisine. I could not have chosen a better day to blog it, since people are celebrating Eid-al-Fitr today, all over the world.
Sewayi ki Kheer is a must make dessert to celebrate Eid since this is a sweet Eid where people prepare a lot of sweets and savory snacks for celebrations.  Sheer Khorma or Sheer Khurma is a popular name for this kheer.
The basic difference between Sheer Khurma and Sewayi ki Kheer is that Sheer Khurma has dates in it since Muslims consider dates pious for consumption, during Ramadan and Eid.
It is believed that Sheer Khurma is a dish from Afghanistan. The dish traveled to India and the chefs of the Hyderabad Nawabs developed a similar version of it.
I have some great memories attached with the kheer. My mum made it at home occasionally. Besides that, our Muslim friends & neighbors gifted us bowls and bowls of sewayi ki kheer on the occasion of Eid. The kheer was rich with dry fruits and drenched heavily in ghee.
Here is some information for those people, who are not aware about Sewayi – In a layman's language, Sewayi is a shape of pasta or noodle. It is made with whole wheat, refined flour, rice or sometimes with the starch of mung or tapioca. In North India, Sewayi is made with refined flour. It is originally hand made. The Sewayi is either a thin long thread pasta/noodle or it is a thin short length pasta. It is easily available in the market. Many companies like Bambino etc, have introduced roasted sewayi in the market, for the convenience of the customer. I have used short length sewayi in this recipe. You can also use long thin sewayi in the recipe.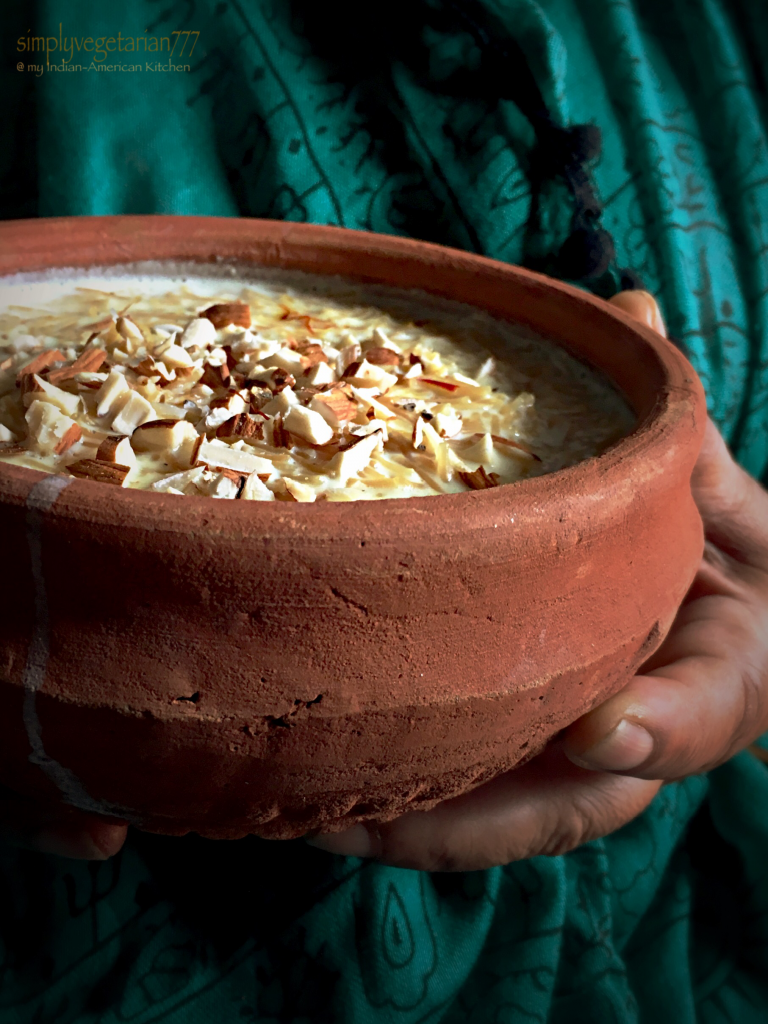 Sewayi ki Kheer is a very simple, easy and quick dessert, therefore it is quite popular in India and subcontinental countries like Pakistan, Bangladesh etc.
You need only few ingredients to make this kheer – milk, sewayi, ghee, sugar, cardamom and the garnishes of saffron & nuts etc, which is optional. Sewayi is roasted in ghee and there after boiled with milk till desired thickness is reached. Then the Sugar and other flavoring agents like cardamom etc, are added and stirred till sugar is dissolved. Henceafter, kheer is garnished with nuts etc. It is served either hot or cold.
While I am writing this, a very interesting memory cropped up in my mind. My Baba (grandfather) was very fond of this kheer, despite his diabetes. Few times, he requested my mom to make the kheer with Maggi noodles. Yes you read it right :D…. This memory is about 25 years old and I still remember it fresh in my mind. As my Baba ate sewayi Maggi ki kheer, I often wondered as a child…hmmm? really? ewww? interesting?
There were so many mixed emotions and I could never understand the "why" behind that. For that matter, I still do not understand it, but then Food is a personal choice and I believe – Each to its own. Therefore, that "Why" gets to Rest in Peace.
Age gives you wisdom & tranquility.
I am enjoying shooting pictures in India, since I can capture the rustic food in the seasoned yet soft hands of my mother. I hope you are liking what you are seeing. 🙂
Some other Indian Desserts from my blog are – Shahi Rabdi , Gajar ka Halwa , Mini Gulabjamuns , Rabdi – Malpua and more.
Here is how I made Sewayi ki Kheer with my mother, in her kitchen.
Sewayi ki Kheer
Delicate and easy dessert from India, made with milk, sugar and sewayi (vermicelli).
Ingredients
Sewayi - 1 cup

Milk - 6 cups

Ghee - 2 tsp

Water - 1 cup

Sugar - 1/3 to 1/2 cup

as per taste. I used 1/3 cup since I do not like my desserts over sweet.

Elaichi / Cardamom - 4

Kesar / Saffron - 1 fat pinch

Almonds - 10 to 12
Instructions
Prepping the Kheer
Soak the saffron/kesar in 1 tbsp warm milk and set aside.

Peel the cardamom and take the seeds out. Crush them fine. Set aside.

Take the almonds and chop them roughly. Set aside.
Making Sewayi ki Kheer
Take a heavy bottom pan and heat the ghee in it. Lower the heat to medium and add sewayi to the pan. Roast the sewayi/vermicelli in ghee on lower medium heat for about 3-5 minutes, till they are golden and aromatic. Make sure that you do not burn it.

Now add 1 cup water to the pan and bring the sewayi to a boil. Cook on medium heat till the water is absorbed. This step is necessary to make sure that sewayi is thoroughly cooked in milk.

Now add milk to the pan. Bring it to a boil and then cook on medium heat for about 12 to 15 minutes till it thickens. Stir often to avoid burning at the bottom. Switch off the gas stove.

Add sugar, cardamom/elacichi powder and soaked saffron. Stir with the ladle or cooking spoon and dissolve the sugar.

Garnish with chopped almonds.

You may serve it warm or chilled.

I enjoyed a chilled bowl of sewayi and it was all the more delicious since I had set it in the earthern pot.
Notes
You can add any kind of nuts to the recipe for granish..
Chironji, coconut and dates can be added to the kheer, if desired.
I am sure that you loved the simple, rustic, delicious, easy and gorgeous recipe of Sewayi ki Kheer and make it soon.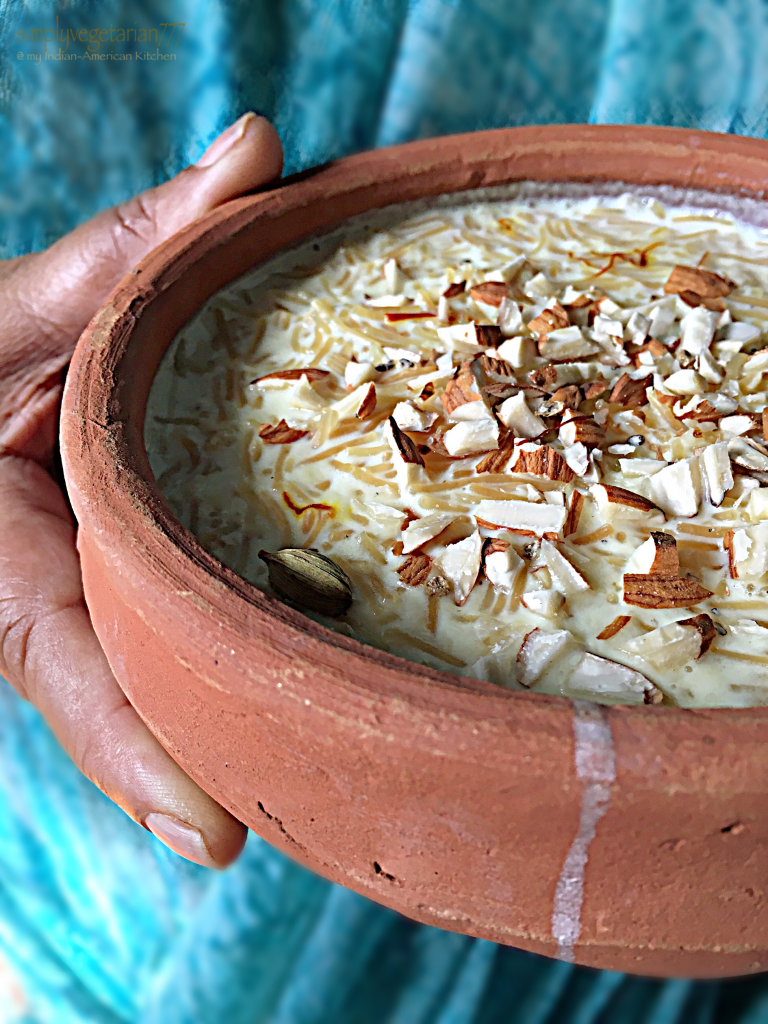 Try the recipe of Sewayi ki Kheer this week, to treat your family and friends. I am sure they will ask for more. My children loved it too. In the world of cakes and cookies, the traditional mithais still steal the show. Life is complicated, therefore our recipes need to be simple.
As I always say – Eat Happy! Stay Happy!
Sonal