Easy Chocolate Cheesecake in a Jar
As an Amazon Associate and member of other affiliate programs, I earn from qualifying purchases.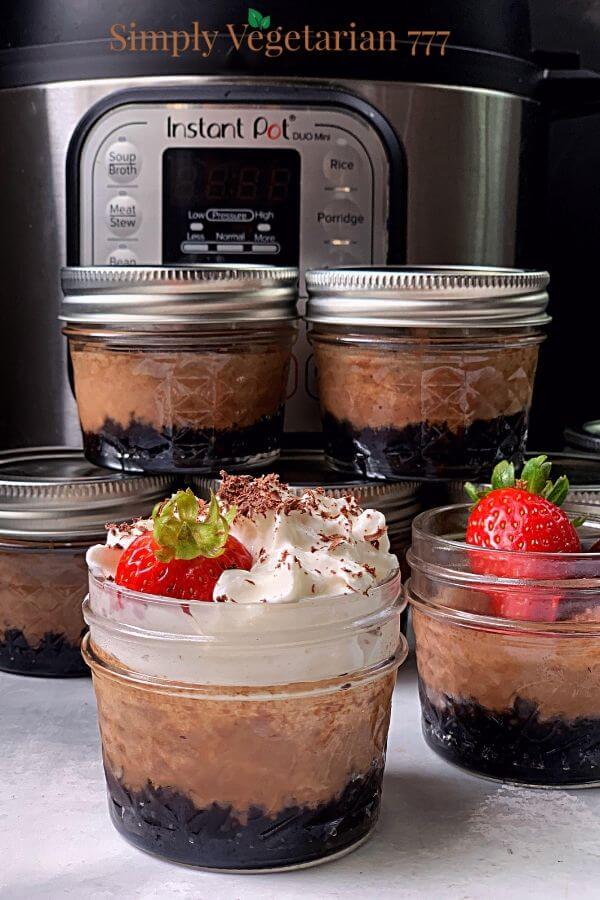 Since this Easy Chocolate Cheesecake is a family favorite, I make it often. This is a Chocolate Cheesecake in a Jar Recipe made in Instant Pot.
It is rich, and delicious. And the best part is that it is perfectly portion controlled. Did you check my NEW YORK STYLE MINI CHEESEAKES in IP yet?
NOTE – You may jump to the recipe directly or read some good information related to the recipe in between.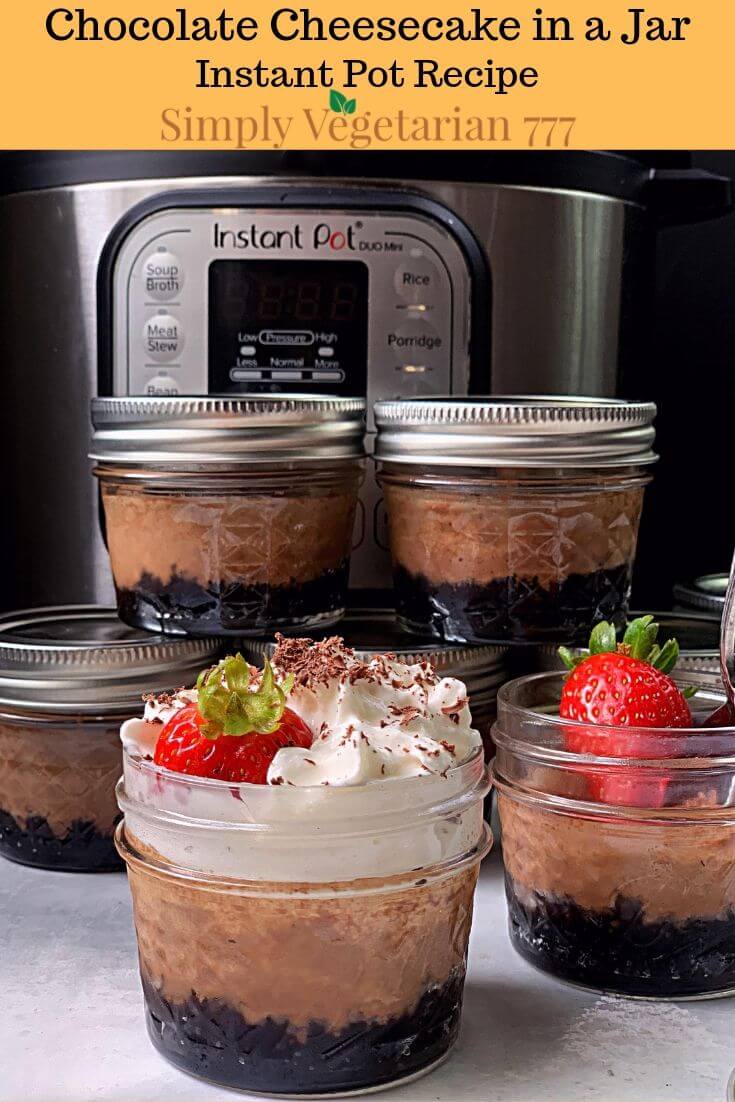 Instant Pot Easy Chocolate Cheesecake in a Jar Recipe
You know that Cheesecake is the easiest thing to make in an Instant Pot? It might look intimidating to make for many of us. But the truth is that it is the easiest thing to make.
To get a perfect cheesecake, we use water bath in the oven. Since Instant pot has to have a water bath as a base to cook anything in it, this works out perfect.
I am a huge fan of Portion Control so that I can have my cake and eat it too. Like Literally. And making my desserts in Jars give me that freedom of enjoying it without guilt.
You have to check out my PORTION CONTROL DESSERTS or DESSERT IN A JAR here – mocha express pudding, no cook chocolate pudding, no bake key lime cheesecake,no bake cheesecake, no bake mango cheesecake, black forest cake in a jar, and more.
How to make Chocolate Cheesecake in Instant Pot?
Any cheesecake has 2 components – The Crust and The Cheesecake Filling.
Crust is the base of the cheesecake. Since it holds the cheesecake at the base, it is made with cookies and/or crackers.
Most of the recipes call for graham crackers for the base. But for the chocolate version – oreo cookies or any chocolate cookies are commonly used.
Since it is a cheesecake, cream cheese is the main ingredient of the filling. Other 2 commonly used ingredients of a cheesecake are – Sour cream and Eggs.
Although there are many successful recipes out there which are made without the use of sour cream or eggs. My recipe does not use sour cream.
I have adapted this recipe from Simply Happy Foodie. In case you want to make a whole cheesecake, then you may follow this recipe.
Ingredients of Chocolate Cheesecake
Important – We recommend amazon links to make the purchase easier for you. These buys are either amazon choice or our personal favorites. You are not obligated to purchase from our amazon affiliate links. But if you do, then you do not pay anything extra. It helps us earn a commission to keep the blog running.
The ingredients used in this recipe are –
Oreos
Butter, unsalted
Sugar
Cream Cheese
Heavy Cream
Semi sweet chocolate chips
Eggs
Kitchen Gadgets and Accessories used
Instant Pot 6 quart or MEALTHY MULTIPOT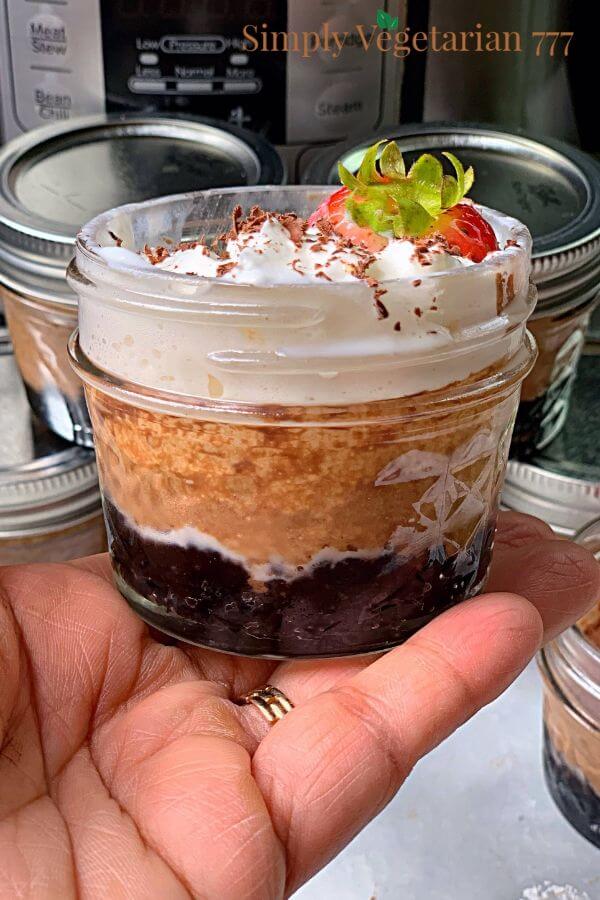 Chocolate Cheesecake in Instant Pot
It is a 5 steps easy recipe. No frills, plain simple recipe to make Mini Chocolate Cheesecake in Instant Pot.
Scrape the Cream off the Oreos. Grind them with some butter & sugar. Divide equally. Pour it in 8 mini Jars. Press it down hard. Chill in the refrigerator till the filling is ready.
Blend all the ingredients of the Cheesecake filling in steps. Pour over the chilled Crust/Base in Mason Jars.
Now pour some water inside the inner pot. Place mason jars on the trivet inside the Inner Pot.
Close the lid. Set the valve to sealing. Cook for 6 minutes and follow NPR.
Open the lid. Take out the jars. Let them cool to room temperature. Chill in the refrigerator for minimum 2 hrs before eating. Garnish with some whipped cream and fruits.
Note – Although I have to say that it tastes really good at the room temperature. I normally take out my cheesecake from the refrigerator. Let it come to the room temperature-ish and then dig in. Sometimes cheesecake turns dense when it is too cold. It is best enjoyed when not too cold.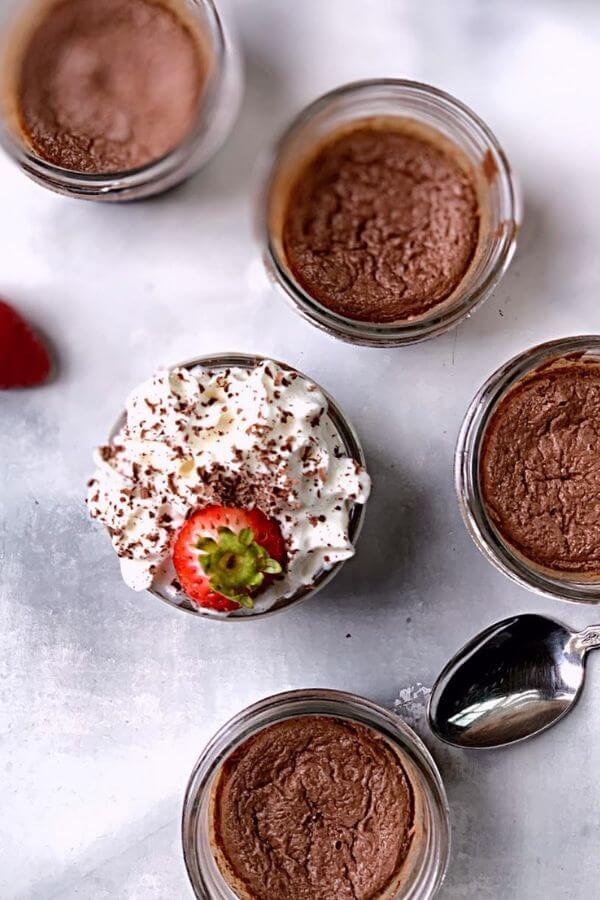 Some FAQS about Chocolate Cheesecake
What is Cheesecake?
Cheesecake is a sweet dessert consisting of 1 or more layers. The main thick layer is made with soft cream cheese or ricotta, eggs and sugar. If there is a base or crust, it is made with graham crackers or cookies. Another layer can be added with fruits, whipped cream, nuts, fruit sauce etc. Cheesecake can be flavored with vanilla, chocolate, lemon etc.
Is it possible to make cheesecake without baking?
It may be baked or unbaked, usually refrigerated. Here are some of my Unbaked Cheesecakes in a jar – No Bake Cheesecake, No Bake Mango Cheesecake, No Bake Key lime cheesecake.
How does the Cheesecake Taste Like?
Since it has a soft creamy filling made with fresh cheese, cheesecakes are slightly tart in taste.
What is the texture of a cheesecake like?
They are more like Custard Pies, Flan or Tart. All of these desserts have a crispy and firm base and soft filling.
How is a Cheesecake eaten?
A cheesecake has to be chilled in the refrigerator for few hours before you eat it. Though the best temperature to eat a cheesecake is at slight room temperature where it is not too cold. The best way is to take it out after chilling, leave it on the counter for sometime and then indulge.
How to store Cheesecake?
Refrigerate it. It will stay good for a week when refrigerated.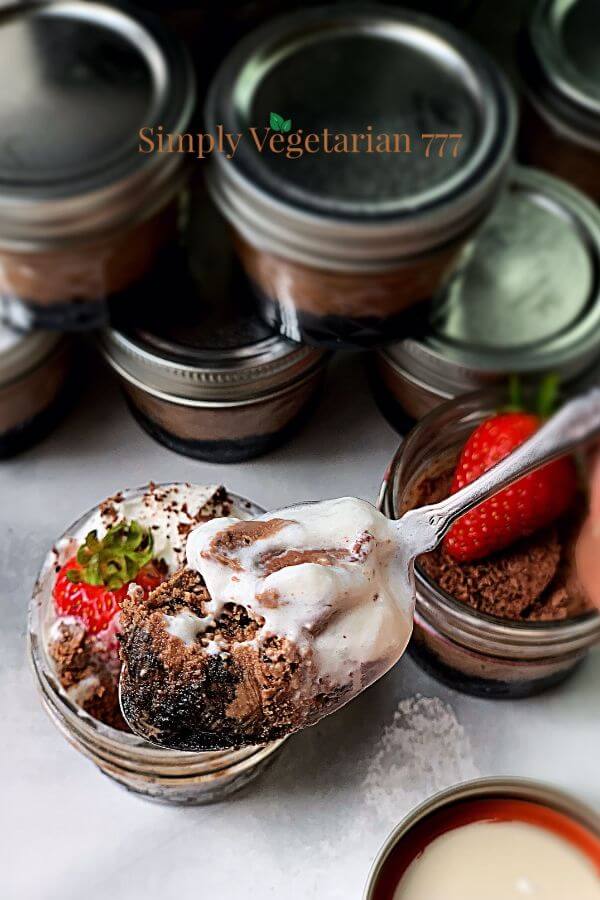 You can follow us on Facebook, Instagram, Pinterest & Twitter for regular updates. And don't forget to sign up for our E-Letter whenever we publish a new post.
Simplyvegetarian777 Vegan Instant Pot Recipes
Chana Masala, Saag Aloo, Rajma Masala (red kidney beans curry), Aloo Baingan ( potato eggplant curry), Lobiya (Black eye Peas curry) and more.
Simplyvegetarian777 Instant Pot Cakes
Red Velvet Cake, Chocolate Cake, Banana Bread, Funfetti Cake, Chocolate Cake in a Jar
Simplyvegetarian777 Instant Pot Breads
Focaccia, and Muffin Tray Dinner Rolls
You may refer to this NEW YORK STYLE MINI CHEESECAKE in IP video for reference.
Easy Chocolate Cheesecake in a Jar Instant Pot Recipe
Easy Chocolate Cheesecake in a Jar Instant Pot Recipe
This chocolate cheesecake is rich, delicious and easy to make. It is made in 4 ounce Mason Jars in Instant Pot. Perfectly portion controlled and super yummy.
Equipment
Instant Pot 6 quart or Mealthy Multipot

Measuring Cups, Blender

Food Processor

4 ounce Mason Jars
Ingredients
The Chocolate Base of the Cheesecake
10

Oreo Chocolate Sandwich Cookies

Remove the filling in between the sandwiches. This will give you 20 cookies now.

2

tsp

Sugar

1&1/2

tbsp

Butter, unsalted

melted
The Filling of the Cheesecake
1

8 ounce

Cream Cheese, original (no low fat)

room temperature

1/4

cup

Sugar

1/2

tsp

Vanilla Essence

1/2

cup

Chocolate Chips

semi sweet

1/4

cup

Heavy Cream

room temperature

1/4

tsp

Instant Coffee Powder

1/2

tbsp

Cocoa powder

unsweetened

1

Egg

room temperature
Instructions
Preparing Chocolate Cheesecake Crust
Take clean 8 of the (4 ounce) Mason/ canning Jars. Remove their lids and set aside.

As mentioned above, take 10 oreo chocolate cookie sandwiches. Remove the cream in between. Discard the cream. You will now have 20 single oreo cookies.

Take a food processor. Add cookies and sugar to it. Pulse it slowly till cookie turns into fine crumb. Now add melted butter and pulse it few more times till butter is combined with the crumbs. You might have to scrape the crumbs from the food processor in between to make sure that the all the cookies are crumbed evenly.

Divide the cookie crumb evenly into 8 parts, about 1&1/2 tbsp each. Layer the base of 8 mason jars with this buttery cookie crumb. Press it down with hands or back of the spoon. Since this is a jar cheesecake, there is no need to press it too hard.

Now place these mason jars in the refrigerator till you work on the filling of the cheesecake.
Preparing Chocolate Cheesecake Filling
Preparing Chocolate Sauce - Take a microwave safe bowl and add semi sweet chocolate chips and heavy cream in it. Microwave it for 30 seconds. Take it out. Mix well with a spoon. Microwave it again for 30 seconds. Take it out and mix well again till cream and chocolate chips are well combined. By now you will have a thick creamy chocolate sauce. Add the Instant Coffee powder. Mix again. Set it aside to cool it down a bit.

Now take a bowl and add cream cheese, sugar and vanilla essence to it. Blend on medium speed with hand blender till cream cheese becomes creamy and soft.

Now add the slightly cooled Chocolate Sauce & Cocoa Powder to the Cream Cheese mix. Blend it with hand blender till smooth and creamy. All the ingredients must blend well.

Add the egg (at room temperature) the last and blend it lightly until mixed. PLEASE DO NOT OVER MIX THE EGG in the cream cheese mix.

Take out the Mason Jars from the refrigerator. Now add this Chocolate Cream Cheese Mix to the mason jars, about 2 to 2&1/2 tbsp per jar. Tap these on the counter lightly and cover with foil. Set aside.
Making Chocolate Cheesecake in a Jar in Instant Pot
Place the inner pot inside the IP and plug it in. Put about 1&1/2 cups of water inside the inner pot. Place the low trivet inside the Inner Pot. Now start placing the small mason jars carefully on top of the trivet. You can easily place 7 (4 ounce) mason jars on trivet. Place the 8th mason jar carefully on top as shown in the picture here.

Place the lid of the Instant Pot. Set it to SEALING. Press the Pressure Cook/Manual Button and set the TIMER for 6 MINUTES on HIGH PRESSURE AND HIGH MODE. Once the timer goes off, follow NPR (natural pressure release).

As the pressure is released, open the lid carefully. Now take out the mason jars out of the instant pot. Set them on the counter to cool down. Once these come to the room temperature, place their lids (not tight) and chill in refrigerator for minimum 2 hrs. They are ready to eat after that.

I normally make my cheesecakes at night, so that they are ready to be eaten the next day.

THE BEST EDIBLE TEXTURE of the cheesecake is when it is rested on the kitchen counter for about 20-25 minutes after taking it out of the refrigerator. Or it becomes too cold and dense in between when eaten straight out of the refrigerator.

You can dress it up with some whipped cream as I did and top it with some fresh berries and chocolate shavings.
Notes
It stores well in the tiny mason jars in the refrigerator. These dwell well for a week when refrigerated. Mini Cheesecakes make a great portion controlled dessert and are perfect for gift also.
I am sure you will be making it soon. Please leave your feedback under the comments section when you try it.


Sonal