Black Eyed Peas Curry Instant Pot Recipe with Collard Greens – Video Attached
As an Amazon Associate and member of other affiliate programs, I earn from qualifying purchases.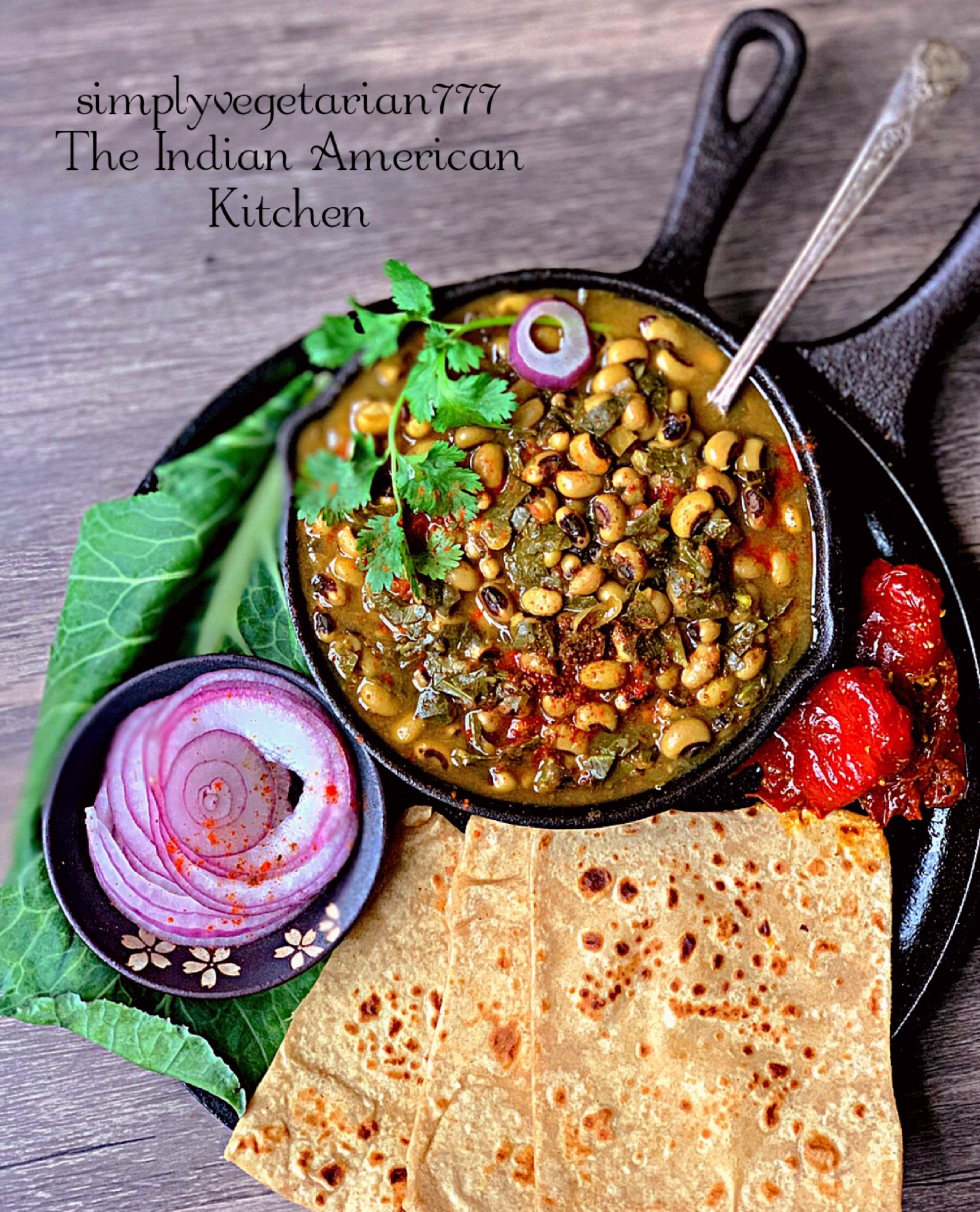 Black Eyed Peas Curry is a super delicious curry made in Instant Pot. It is a vegan and gluten-free stew. Warm Indian Spices make it perfect for any season.
The combination of Collard Greens and Black Eyed Peas add good luck to your fortune.
Watch the small video attached in the post for good understanding.
Save 50.0% on select products from Braviloni with promo code 506KEXS8, through 11/22 while supplies last.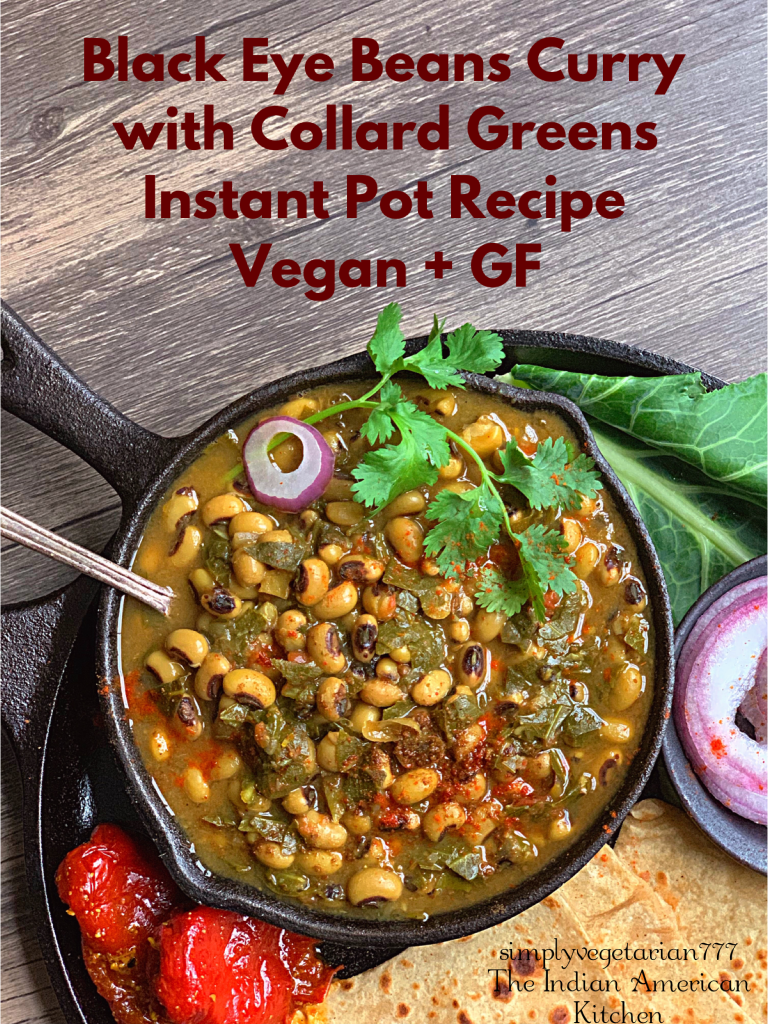 Vegan & Gluten-Free Black Eyed Peas Instant Pot Recipe with Collard Greens
Sometimes I wonder about the tastes that I am adhering with time and age. I grew up in India with very typical North Indian Cuisine Flavor Profile.
Since last 18 years, USA is my home. And the flavor profiles seem to be blending & blurring with time. I often pick American ingredients and create Indian(ised) recipes or vice versa.
Therefore, when I call my kitchen "Indian American Kitchen", it actually is in the true sense.
Collard Greens & Beans Recipe
This recipe is a complete spin-off of the POPULAR COLLARD GREENS & BEANS RECIPE.
Ever since I read about the Collard Greens & Beans recipe, it had been on my mind to make this combination in my kitchen.
Now the original recipe uses Ham along with Black Eyed Beans & Collard Greens too. Being a vegetarian, it restricted my trials.
So, I did what I do the best. Yes, I turned it into a curry. Added some warm Indian Spices and cooked in Instant Pot.
This Collard Greens & Black Eyed Peas Curry is Purely VEGAN & GLUTEN-FREE. Bookmark or Save it for your New Years' Trials.
It is a popular belief in Southern USA that if you eat collard Greens & Beans on the 1st of January, GOOD LUCK will follow you.
Since I have tested and tried it on my 2 guinea-pigs (my kiddos), I am all set to make it again on the New Years.
IT IS A KID APPROVED CURRY. Super Yay for that. 🙂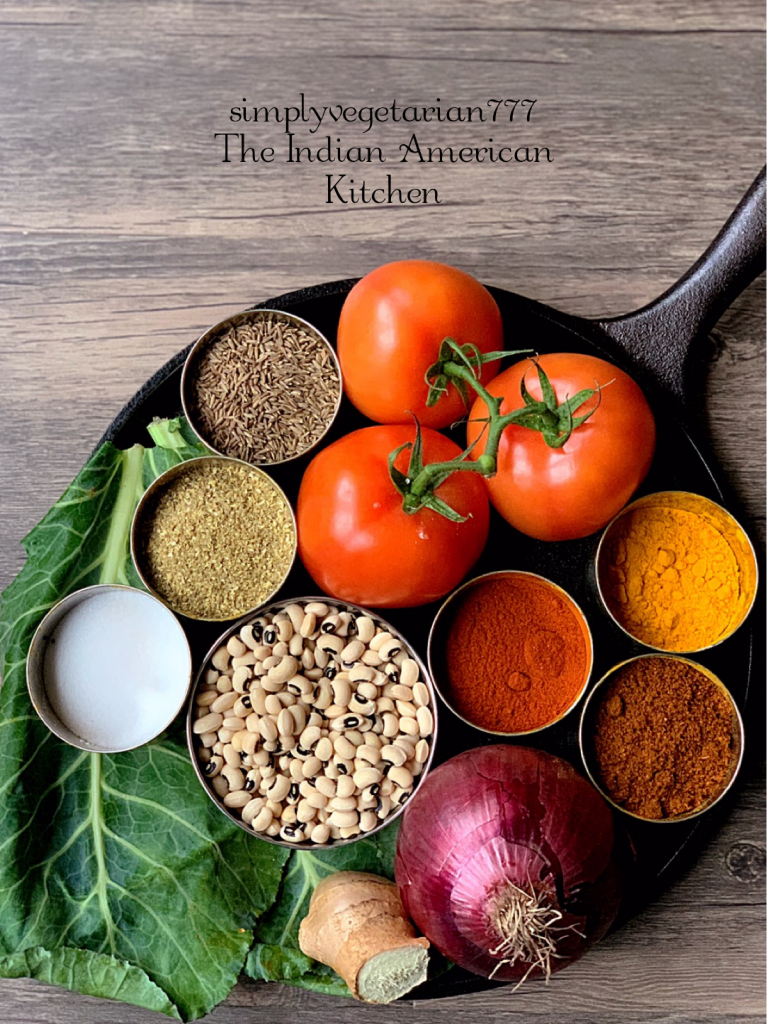 Black Eyed Peas Curry Ingredients
This Black Eyed Beans Curry is also known as Lobia Masala or Rongi Masala in Indian Cuisine. The main ingredients used in this recipe are –
(We use Amazon affiliate links to recommend products. It does not increase your purchase price but helps us earn a small commission to keep the blog running.)
1. Black Eyed Peas or Beans
2. 5 Indian Basic Spices – Turmeric, Red chili powder (cayenne), Coriander powder, Garam Masala, Cumin Seeds
Totally recommend this pack if you like cooking curries.
3. Collard Greens
4. Basic Curry Ingredients – Onion, Tomato, Ginger, Garlic & Green Chili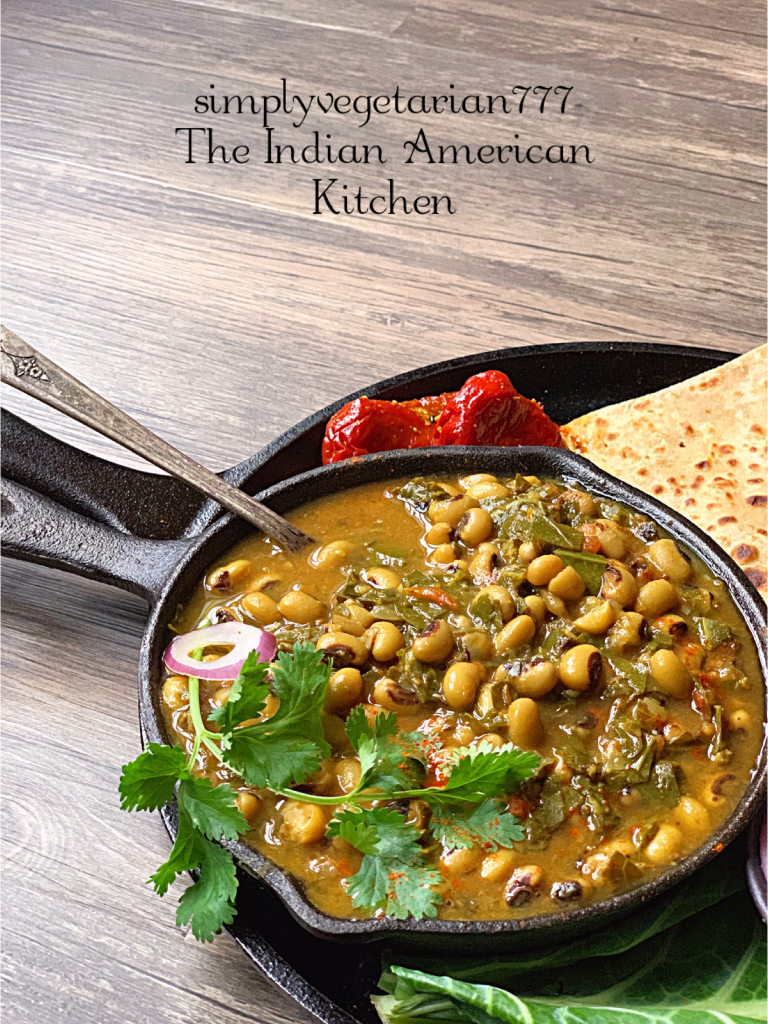 How to make Black Eyed Beans Curry or Black Eyed Peas Stew?
Though Black Eyed Peas Curry or Lobiya Masala is not a very popular curry from the Indian Restaurants. But it is a common homestyle recipe.
Rongi Masala or Lobia Masala is prepared 2 ways –
⇒ The Rich Curry using Onions and Tomatoes + SPICES as this particular recipe.
⇒ A very simple curry where we use ginger + green chili and the basic tempering of oil/ghee, cumin seeds, turmeric, cayenne powder (red chili powder), Garam Masala and Salt. This is how my mum made it and I loved it.
A handful of Greens adds more flavor and nutrition to the curry. My mother added spinach sometimes. Collard Greens are not native to Indian Climate. I started using these greens here. These work really well in the curry.
Here is how to make Black Eyed Peas Stew in Instant Pot
You need either 3 quarts Instant Pot or 6 quarts Instant Pot + Instant Pot Covering Lid + Stirring Ladle + Chopping Board + Kitchen Knife to make this recipe.
We are using SAUTE MODE & MANUAL/PRESSURE COOK MODE to prepare Black Eyed Peas Curry with Collard Greens in Instant Pot.
SAUTE MODE
⇒ Press Saute Mode on your IP and set at HIGH. Add oil to the inner pot once the screen displays HOT. Then add cumin seeds + ginger, garlic & green chili. Saute for few seconds.
⇒ Add onions and saute till tender. Now add tomatoes + all the spices and saute. Cover till curry ingredients are mixed well and tomatoes are super soft.
⇒ This is your BASIC INDIAN CURRY BASE for any recipe. Add Beans + Greens + Water. Stir.
MANUAL / PRESSURE COOK MODE
⇒ Cancel the Saute mode. Place the Lid of the IP. Put the floating valve to SEALING.
⇒ Press the Manual/Pressure Cook Mode to HIGH/MORE. Set the TIMER.
⇒ Once the timer goes off, follow NPR (natural pressure release). Open Stir again.
⇒ Check for Salt and Garam Masala. Add lemon juice if desired.
Serving Suggestion
I served it with Parantha which is a home-style Indian Flatbread. Here is the recipe if you would like to try it at home.
It goes very well with Naan and Pita too. Cumin Rice works wonders as well.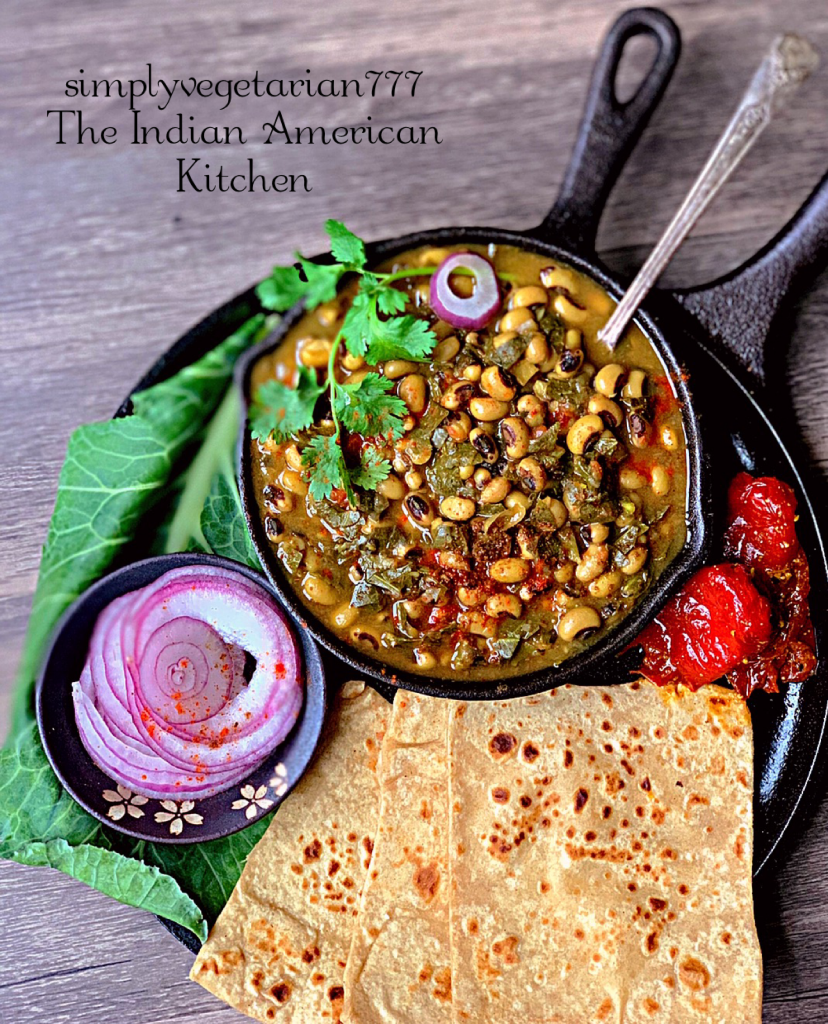 Substituting some Ingredients in the Black Eyed Peas Curry Recipe
If you are looking to substitute or altering this recipe to your personal liking, then here are few suggestions –
Black Eyed Beans – Well, this is the main ingredient. I would not suggest you to substitute it.
If you have to then you may use Split Peas, Chana Dal, Split Pigeon Peas. Cooking time will vary with the kind of beans you use.
Collard Greens – Though this is a popular Green of the country, not many people seem to use it. I do not know why.
If you still can not come to use collard greens then use Spinach, Kale or Fenugreek Leaves. Use the greens that you love.
Indian Spices – If you feel intimidated by the list of Indian spices, then skip it. Use Indian Curry Spice – yes just 1 spice that is a mix of all the spices used.
I have a recipe for HOMEMADE CURRY SPICE if you want to make yours. You can order it from Amazon or buy from your local Indian Store.
Onion & Garlic – Many Indian families cook their curries without onion and garlic. And I have come to know that many people are allergic to these 2 ingredients as well.
GOOD NEWS is – you can make any curry without onion and garlic. Just skip it. Adjust water and salt accordingly.
Save 40.0% on select products from CZCITY with promo code 40T3UKTV, through 11/19 while supplies last.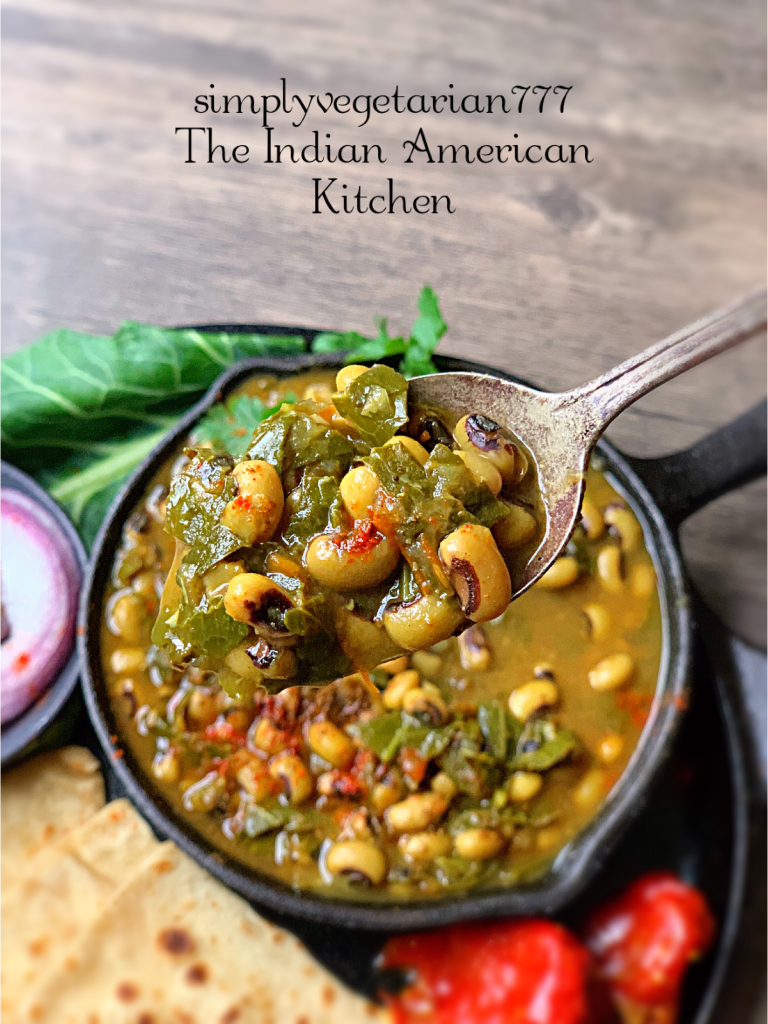 Some Vegan & Vegetarian Instant Pot Beans Recipes from Simplyvegetarian777 are
Red Kidney Beans Curry, Chickpeas Curry (Chana Masala), Mexican Spicy Pinto Beans, Madras Lentils, Dal Bukhara, and Pumpkin Dal.
Watch the VIDEO showing the Black Eyed Peas Curry in Process
Instant Pot Recipe for Black Eyed Beans Curry – Vegan & Gluten-free Recipe
Black Eyed Peas Curry Instant Pot Recipe - Vegan & Glutenfree
Black Eyed Peas Curry is a super delicious curry made in Instant Pot. It is a vegan and gluten-free stew. Warm Indian Spices make it perfect for any season.
Ingredients
2

cups

Black Eyed Peas/Beans (dry)

washed and soaked for 3-4 hrs

1 small bunch or

or 2 cups

Collard Greens

washed, Ribs removed and chopped fine

1

medium

Red Onion

finely chopped

1 cup

or 2

Tomatoes

finely chopped

1 tsp or

1 small piece

Ginger

finely chopped

2

Cloves

Garlic

1-2

small

Green chili or 1/2 jalepeno

finely chopped

4

cups

Water

or more if desired. Added later.
Oil & Spices
1

tbsp

Cooking Oil

1

tsp

Cumin Seeds

1/2

tsp

Turmeric Powder

1

tbsp

Coriander powder

1/4 to 1/2

tsp

Red Chili powder or Cayenne powder

1

tsp

Garam Masala

1&1/2

tsp or to taste

Salt
Garnish (optional)
2

tbsp

Cilantro leaves

chopped

1

tbsp

Lemon juice
Instructions
Watch the video to understand the steps better.
Preparing the Black Eyed Beans
Wash the beans. Soak them in 4 cups water for 3-4 hours. When ready to cook, drain the water. Set aside to be used.
Cooking on SAUTE MODE
Place the inner pot inside the Instant Pot. Plug it in. Press the SAUTE MODE and set at HIGH for 10 minutes. Once the screen displays HOT, add oil to it. After few seconds, add cumin seeds and stir for another few seconds.

Now add ginger, garlic, and green chili to the pot. Saute for few seconds. Add finely chopped Onions to the IP. Give it a good stir. Cook until onion becomes soft. It will take about 3-4 minutes. If needed, cover and cook the onions. But stir in between to avoid burning at the bottom.

Once the onions are soft, add tomatoes + all the spices to the IP. Give it a good stir. Cover with the IP lid. Cook for about 5 minutes till tomatoes become soft. Open the lid. The saute mode is probably over by now. Scrape the bottom of the pot.

Add soaked and drained black-eyed beans and chopped collard greens to the IP. Give it a good stir. Add 4 cups of water and stir again.
Cooking on MANUAL/PRESSURE COOK MODE
Close the IP Lid and lock it. Place the floating valve to SEALING. Press the MANUAL/PRESSURE COOK MODE and set at 20 MINUTES at HIGH/MORE.

Once the Timer goes off, follow NPR (natural pressure release). As the safety valve drops down, open the lid carefully. Give the curry a good stir. If it is too thick for you, then you may add 1 more cup of warm water. Put the IP on saute mode and bring it to a gentle boil. Switch it off. Adjust salt and garam masala.
Serving Suggestion
When ready to serve, add chopped cilantro and squeeze some lemon juice.

You may serve it with Parantha (Indian Flatbread), Naan, Pita or RIce.

This Black Eyed Peas Curry can be eaten as is like a stew.
MORE SUGGESTIONS
You may make a larger batch and refrigerate it for a week to be used.

Since black-eyed beans are nutritionally dense, these are great to be eaten as a stew. Pack these for your lunch stew.

You may substitute collard greens with spinach or kale in the recipe.

If you plan to use canned beans, then cooking time will be reduced to 8 minutes.
I am sure you will try it soon. Please leave your feedback in the comments section when you try it.
Can't make it now? PIN THIS BLACK EYED BEANS CURRY FOR LATER.

In my Kitchen, you will always EAT HAPPY & STAY HAPPY!
Sonal