Meatless Mondays : Curried Black Eye Beans or Lobhiya : Black eyed beans recipe in curry flavors..simple and easy, full of proteins and fiber. An excellent source for vegetarians and vegans
As an Amazon Associate and member of other affiliate programs, I earn from qualifying purchases.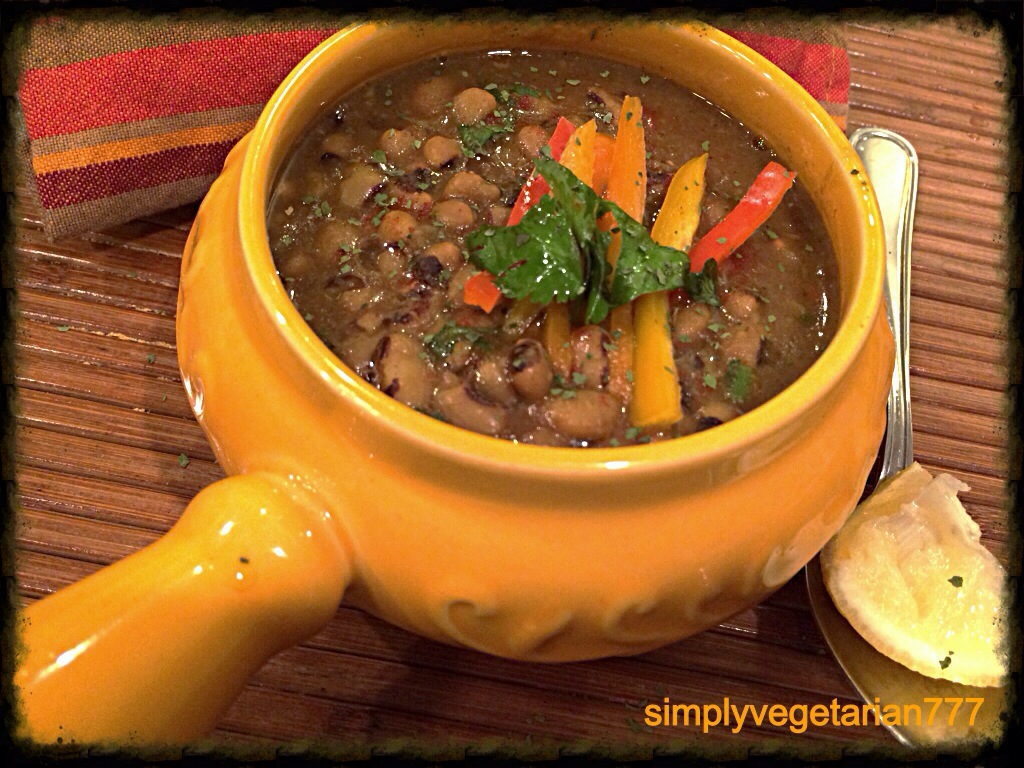 Black eye beans, or Lobhiya as we popularly call it in. North India, is actually a very common dried bean available and eaten on most parts of the world. In USA, I have seen it available in dried form, canned form and even ready to use frozen section. That definitely shows the popularity of this dry bean. In southern states if USA, this bean is cooked with collard greens and some meat and often enjoyed as a family meal during New Years feast. I love love love the texture if this bean. It is soft and meaty when cooked with a good bite to it and not as heavy as chickpeas and kidney beans. I have always like d the curried black eyed beans. My mom and my Maasi (mom's sister) make the best Lobhiya.
Let's have a look at the Nutrition Value and Health Benefits of this Dried Bean :
Fiber : BEB(black eyed beans) are rich in soluble fibers. As with all legumes, black-eyed peas are very good fiber sources, providing 4 grams or 16% of the recommended daily value. There are two types of dietary fiber: soluble and insoluble. Beans contain mostly soluble fiber, which can help decrease blood cholesterol levels and therefore may help reduce the risk of heart disease. Soluble fiber may also help patients with diabetes maintain improved blood sugar levels because the fiber helps to slow the rate of absorption of carbohydrate.

Vitamins and Minerals : BEB are especially rich sources of potassium. This mineral is important for the proper function of all cells, tissues and organs in the body. It is also crucial for heart function and plays a key role in muscle contraction. Black-eyed peas do contain a small amount of naturally occurring sodium: 48 milligrams. However, because of their other heart-healthy nutrients, legumes are encouraged for even those with cardiovascular disease or high blood pressure. Zinc is another mineral found in black-eyed peas. Zinc is involved in many aspects of cellular metabolism, and is therefore essential for the immune function, protein synthesis, wound healing and healthy cell division.
Most beans, including black-eyed peas, are a rich source of iron. The beans also contain vitamin C which helps the body absorb non-heme iron.
LOW IN FAT AND CALORIES
Black-eyed peas are a low-fat and low-calorie food, making them a healthy addition to a weight-loss meal plan. Canned versions vary in content, but a 1/2 cup of black-eyed peas is generally less than 100 calories and contains about 1 g of fat. A diet that is low in fat and calories helps you lose weight, prevents weight gain and protects you from many health conditions, including heart disease, diabetes and depression.

PROTEIN
Black-eyed peas are a good alternative source of protein if you don't eat meat. Protein is important because it supports most of the parts of your body, including muscles, skin, hair and nails. In addition, protein helps cells grow and repair and provides energy to your body.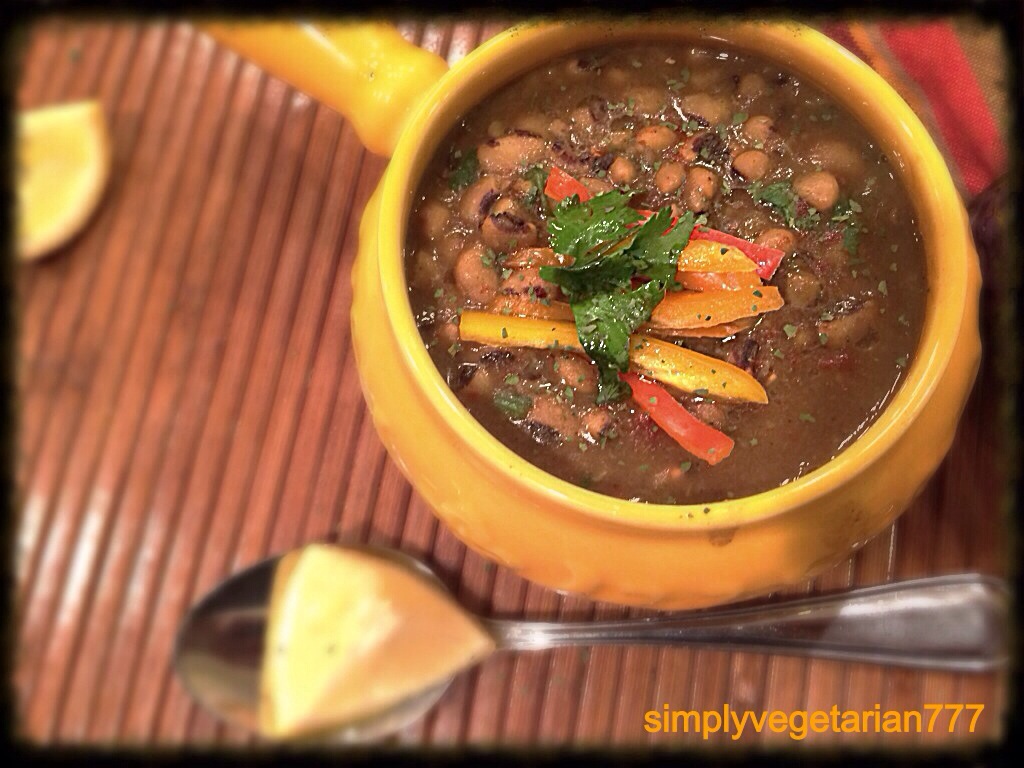 Few days back I had posted about The Salad Series and now in addition to that I want to start a Dried Beans Series also. This will give me a good opportunity to not only include more beans in my diet on regular basis but will be a good source for lot of readers who are turning vegetarian or vegan and struggling with the protein quotient. I will post a bean and a recipe and request the viewers not only leaving a like but leaving a comment about how they use that bean…..if any differently in their vegetarian or vegan diet. Let us get started :).
Serving size : 4-6
Kitchen Equipments required : A pressure cooker preferably but a sauce pan with lid or slow cooker can be used too.
Time taken : Under 30 minutes
Ingredients :
Black eyed pea : 1 cup washed, when using dried beans. If using canned or frozen beans then time and water content will decrease automatically. But advise up using fed rued beans. For quick cooking, just soak the beans for 4-6 hours. I didn't do it though.
Water : 4 cups for pressure cooker, 7-8 cups for sauce pan.
Tomato : 1 large cut in small pieces
Onions : 1 small cut in small pieces
Ginger : 1 tbsp freshly grated
Green chili : 1 small, optional
Turmeric : 1/2 tsp
Salt to taste
Garam masala : 1/2 tsp or more to your taste. *You may use curry spice mix if you want.
Red chili powder : less than 1/8 tsp or more, to taste. Or totally skip it if you don't like the heat.
Cilantro/coriander leaves : 1/4 cup chopped fine
Oil/ghee : 2 tsp, optional
Lemon juice : 1/2 tsp, optional. *I always like to add little lemon juice in my beans stews for 2 reasons : First, it enhances the taste of the beans in Indian spices. Second for that extra dose of vitamin C.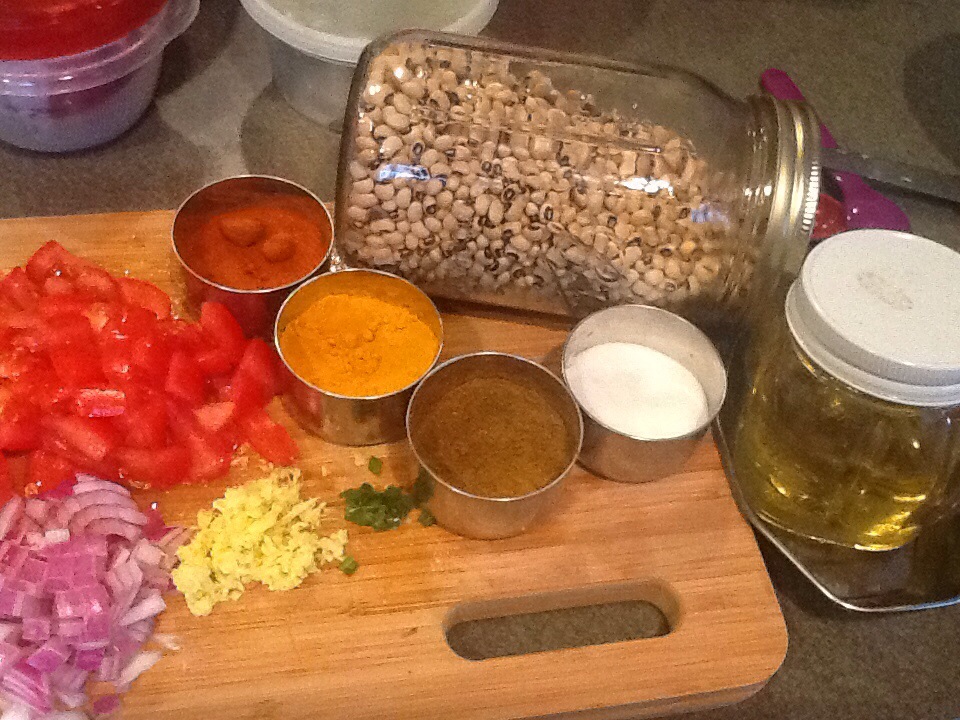 Method :
Take a pressure cooker or sauce pan with a lid. Add washed and/or soaked black eyed beans to the cooker/pan. Add 4cups water of suing a pressure cooker. If using a pan, add 7-8 cups of water. If using canned or frozen beans, then 4-5 cups is good enough.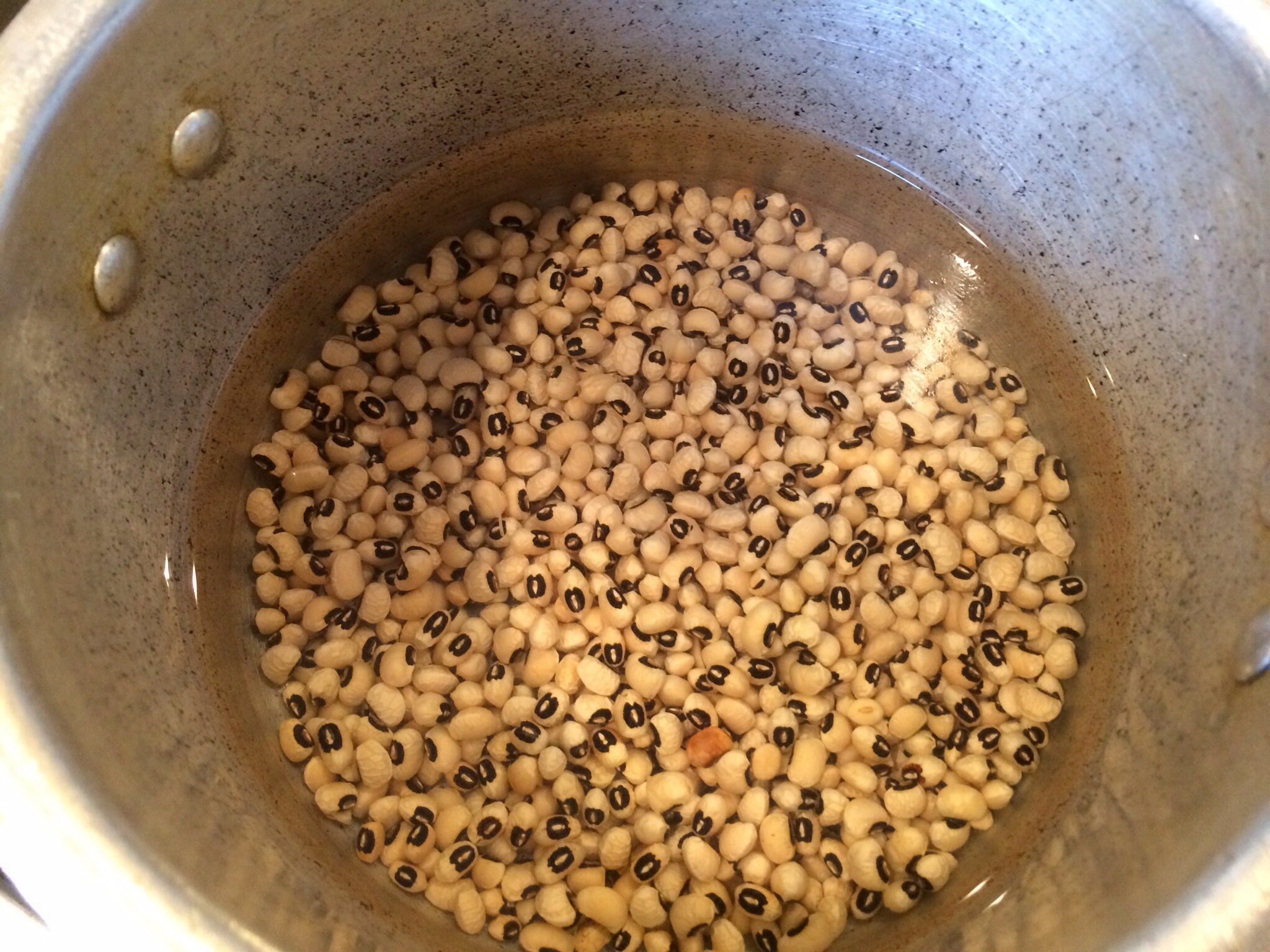 Add all the chopped fresh ingredients and spices to the pan now.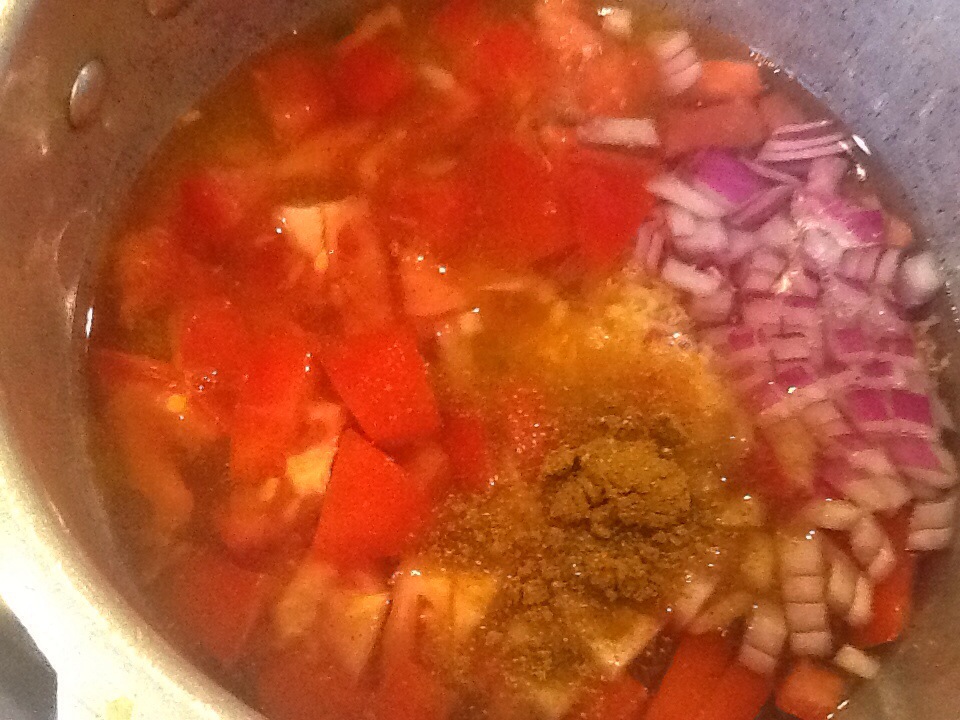 Give it a stir.
If using a pressure cooker, put the lid and whistle on. Set it on the high flame. After the first whistle, lower the flame and let it simmer for 15-20 minutes, in case you are using unsoaked dried beans. If using soaked beans, then 12-15 minutes are good for simmering. If using canned or frozen beans, then 5-7 minutes of simmering is good. Put off the flame. Let it sit like that till the steam is all settled down. Note: I like my beans very tender and mushy so I steam them more but if you like your beans little bite ful..then you may simmer for less time.
If you are using a sauce pan, then bring the ingredients to a rolling boil first without covering. After the first boil, simmer it on lower medium flame while stirring occasionally. Simmer for 20-25 minutes till the beans are soft, in case you are using dry beans. Adjust the water accordingly. If you are using frozen or canned options, the. Use lesser water as indicated above and it will be done in 12-15 minutes.
Once the beans are done, take a ladle and mush it slightly for thickening the curry. Add chopped cilantro leaves. Add olive oil if you want to. It will taste great without the oil too. Ladle in your favorite soup bowl. Squeeze a little lemon juice and enjoy it warm. It can be eaten with boiled rice, rotis/Chapatis and even with a rustic bread on the side for dipping. Grilled French baguette will be awesome :). Enjoy!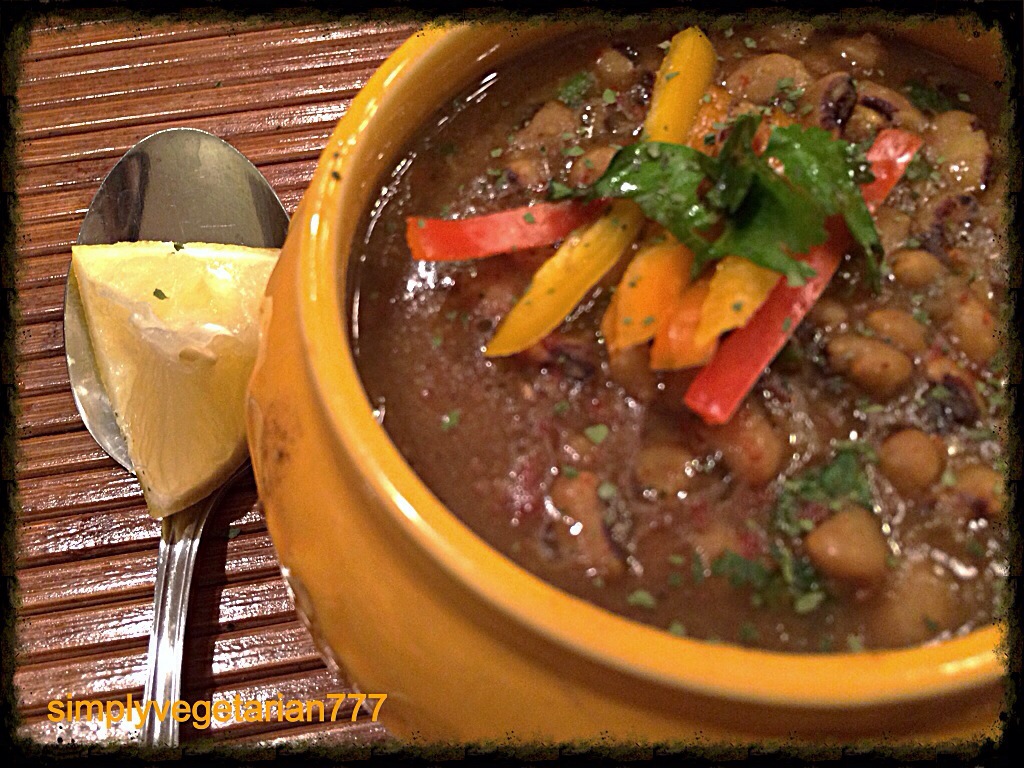 Note : if you have a recipe for black eyed beans, send it in or link it in the comments for more informative thread.