Instant Pot Pumpkin Dal Easy Recipe – Vegan + Glutenfree
As an Amazon Associate and member of other affiliate programs, I earn from qualifying purchases.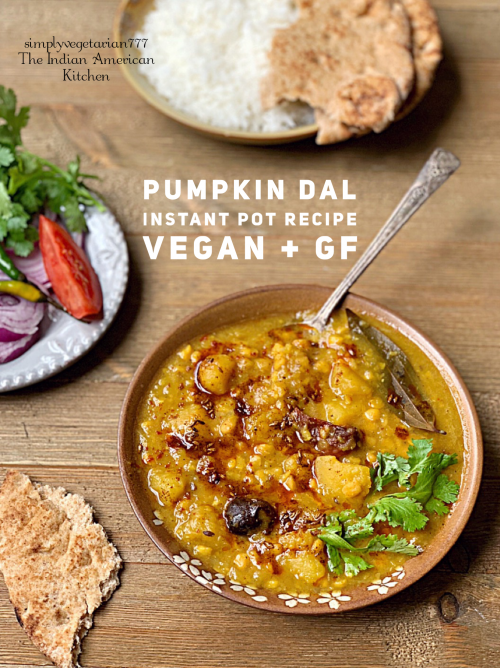 Instant Pot Pumpkin Dal is super delicious and is nutritious as well. It is super simple to make it in the Instant Pot. This Dal is best enjoyed warm with hot naan or rice.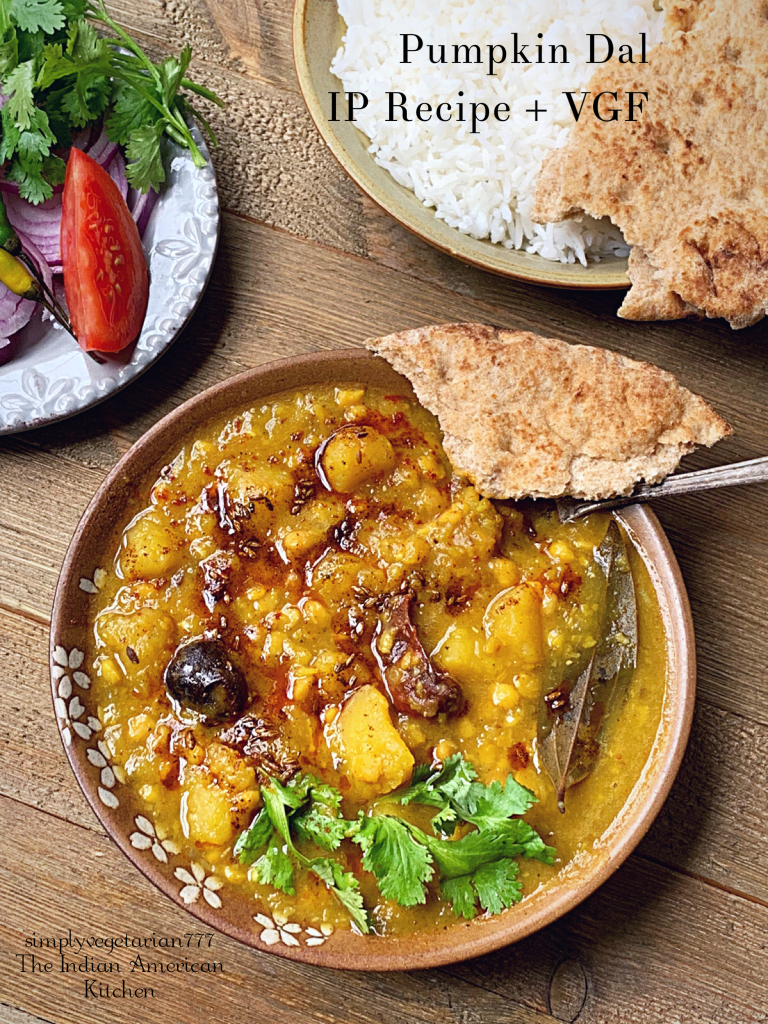 Easy Instant Pot Pumpkin Dal Recipe – Vegan & Gluten-Free
This year is slipping away so fast. My oldest started high school this year and my evenings go with keeping up with her after school activities. I have to mention my Little M who is not that little any more. That kid is vibrant & rambunctious and keeps me on my toes.
How did that happen? Summer ended 10 days ago and the crisp FALL is here.
I think Autumn is my favorite season. The smell of pumpkin spice and apple cider makes it divine. The abundance of PUMPKIN brings out so many new recipes and ideas. The grocery stores are stocked with the variety. Some commonly found varieties are – Butternut Squash, Acorn Squash, Delicata Squash, Cinderella's carriage (the jack-o-lantern pumpkin), etc.
I love incorporating Pumpkin and its varieties in the recipes till the fresh bounty lasts.
Ways to incorporate Pumpkin in Diet
I normally buy Pumpkin from Indian Grocery store and Butternut squash & Acorn squash from Normal grocery stores. Though I plan to try more varieties of pumpkin and squash this year.
I make these Pumpkin Recipes for my family –  Butternut Squash Bisque, Indian Pumpkin curry, Turmeric Ginger Pumpkin Soup . Then I cook Pumpkin with Lentils & Beans too.
Why should we eat Pumpkin?
Pumpkin & Squash is nutritiously rich and should be incorporated in our diet. My top 3 reasons why –
It is rich in fiber and keeps you full for long. Hence it helps in weight loss too.
Pumpkin is rich in Beta Carotene that converts into Vitamin A in the body. It promotes EYE HEALTH.
Pumpkin is packed with Vitamin C and helps in building better immunity.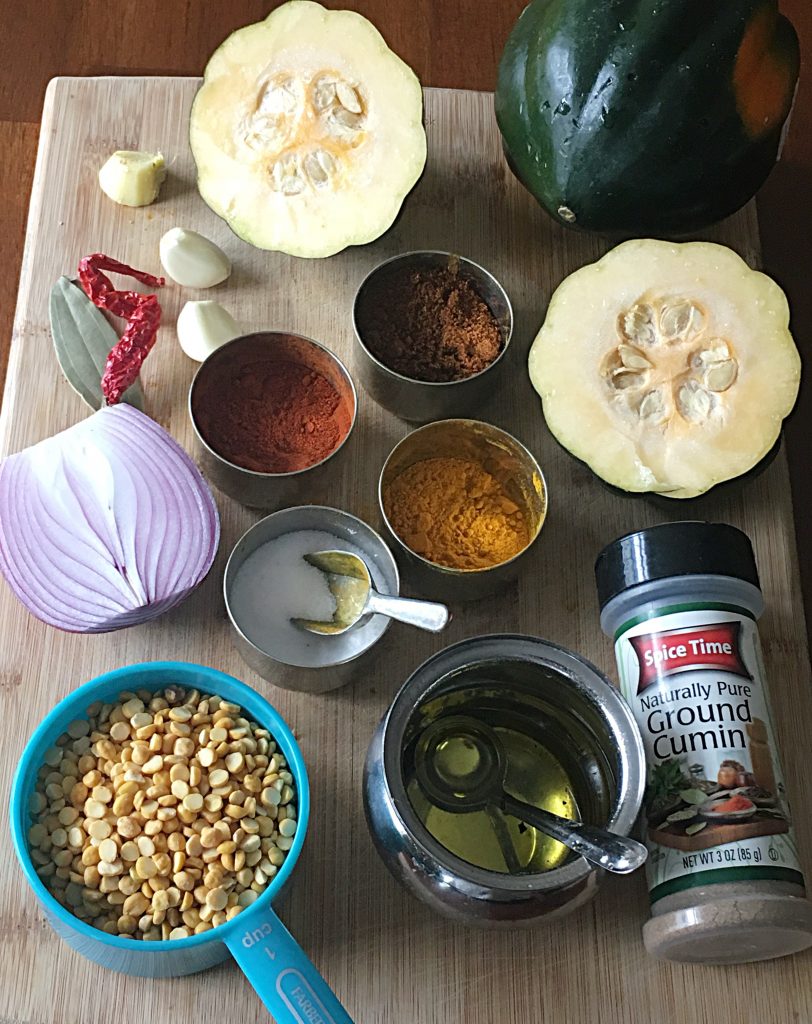 What is Pumpkin Dal?
Dal is of stew consistency made with different beans and lentils. It is mostly cooked as is just with the beans. Dal is combined with the variety of vegetables also. Some popular kinds of dals cooked with vegetables are – Lauki Chana Dal and Saag Chana Dal.
Pumpkin Dal is a seasonal Dal from Indian cuisine. This Dal is amazing in taste. Pumpkin adds subtle sweetness to the dal. Indian Spices like Bay leaf, Turmeric and Garam Masala add so much more flavor to Split Black Gram and Pumpkin.
Orange pumpkin is used in this recipe, traditionally. I have used Acorn squash in the recipe. You can use any available kind.
Acorn squash is so easy to handle and peel. You have to wash it, cut it open, scoop out the seeds with spoon, peel it with a peeler and cut into cubes.
What kind of beans or pulses can be used to make Pumpkin Dal?
I make Pumpkin Dal with Chana Dal which is Split Bengal Gram. It adds such a good texture and bite to the recipe.
You can use Split Peas if Chana Dal can't be found easily. It would go great with Lal Masur (Red Lentils), Mung Dal, Lobiya (Black eye Beans) and Toor Dal (Split Pigeon Peas).
Important Note – Just keep in mind that the use of different beans will alter the cooking time of the Dal. Also, I would suggest to use the beans that are done in 10-15 minutes max. Since pumpkin gets cooked faster, it will get mushy with the beans that take longer to cook.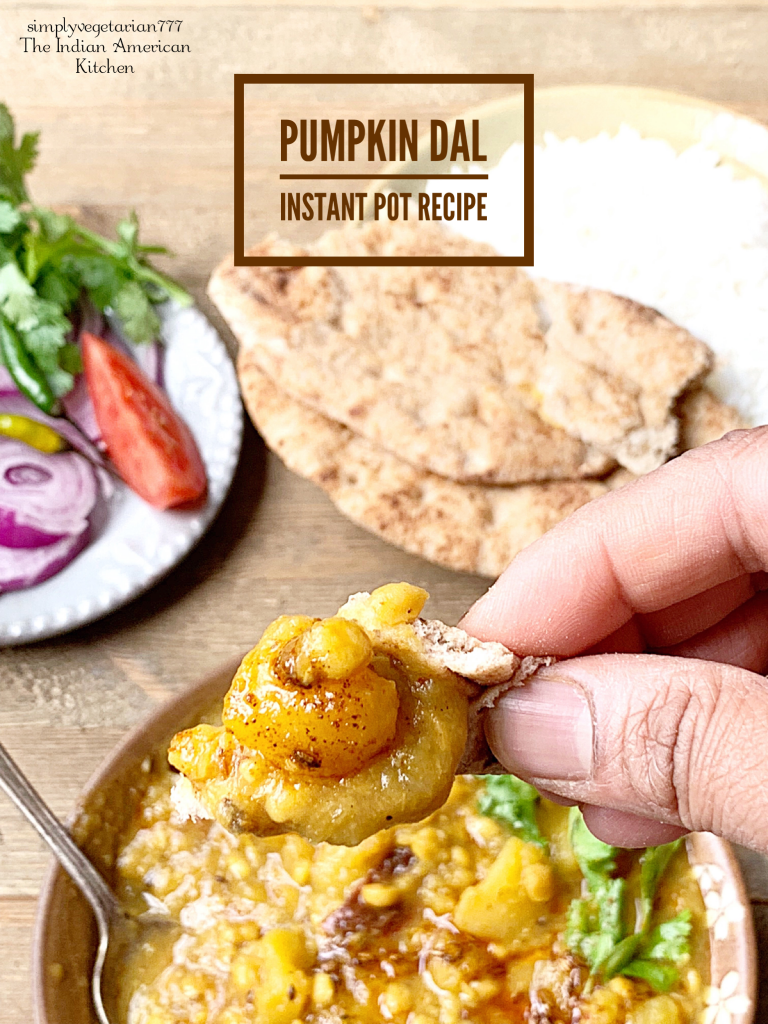 Which Instant Pot should I use to make this Pumpkin Dal?
I have 2 sizes of Instant Pot. 3 quarts duo (7-in-1) and 6 quarts duo (10-in-1) are 2 great sizes to own. We are a family of 4 and I use my 3 quart Instant Pot more for day to day cooking.
Some Dal Recipes from simplyvegetarian777 –
Here are some vegetarian dals and beans preparation from my blog –
Dal Maharani, Dal Amritsari, Lehsuni Dal, Panchratni Dal, Dal Bukhara, Dhaba Dal, Punjabi Rajma and many more.
Few Vegetarian Instant Pot Recipes from simplyvegetarian777 –
Creamy Pasta and many more.
Ingredients that you can order from amazon.com to make this Vegan + Gluten-free Pumpkin Dal in Instant Pot
Note – Our blog is an amazon affiliate and offers the links to click and buy. It doesn't increase your cost but help us earn a small amount to keep the blog running.
Instant Pot 3 quart or Instant Pot 6 quart
Indian Spices pack including Garam Masala, Turmeric, Red Chili powder, cumin seeds
Watch the Video of pumpkin Dal before you cook it.
This is how to make Instant Pot Pumpkin Dal
Instant Pot Pumpkin Dal - Vegan & Gluten-free Recipe
Instant Pot Pumpkin Dal is super delicious and is nutritious as well. It is super simple to make it in the Instant Pot. This Dal is best enjoyed warm with hot naan or rice.
Ingredients
1

cup

Chana Dal

cleaned and washed

1

pound

Pumpkin or Acorn Squash or Butternut Squash

cut into larger cubes

1

medium

Onion

chopped fine

1 tsp

or 1 small piece

Ginger

finely chopped

1 tsp

or 2 cloves

Garlic

finely chopped

3

cups

Water
Oils & Spices
2

tsp

Cooking Oil

1

Bay Leaf

1-2

whole

Dry Red Chillies

optional

1

tsp

Cumin Seeds

1/2

tsp

Turmeric powder

1/2

tsp

Red chili powder

1&1/2

tsp

Garam Masala

or use less for less heat

1/2

tsp

Cumin powder

1&1/2

tsp

Salt

or to taste
Garnish
1

tsp

lemon juice or more

1

tbsp

Cilantro / Coriander leaves
Pumpkin Dal Tempering (Optional)
1&1/2

tsp

Cooking Oil

1/2

tsp

Cumin seeds

1/2

tsp

Red chili powder
Instructions
Watch the Video for BETTER UNDERSTANDING
Preparing for the Pumpkin Dal
Clean and Wash the Chana Dal under running water 2-3 times. Then soak it in 2 cups water till ready to use. Meanwhile work on your Acorn squash or pumpkin of your choice. Wash the squash, Cut it open into half. Scoop out the seeds from the middle with a spoon. Now peel the squash or pumpkin with a peeler or sharp knife. Cut it into large cubes. It is ready to be used in the recipe.
SAUTE MODE
Place the inner pot inside the Instant Pot. Press saute mode to 5 minutes on High/More. When the screen displays HOT, add bay leaf, whole red chilies, and cumin seeds. Saute for few seconds. Now add chopped onions, garlic and ginger. Give it a good stir. Cover with a lid and cook for about 3-4 minutes till onions become soft. Switch off the Saute Mode.
MANUAL / PRESSURE COOK MODE
Drain the soaked chana dal. Add it to the Instant Pot. Also add pumpkin or squash of your choice. Now add all the mentioned spices - turmeric, salt, red chili powder, garam masala, cumin powder. Give another good stir. Add 3 cups water. Stir again.

Now place the Instant Pot Lid and set the floating valve to SEALING. Press the MANUAL/PRESSURE COOK MODE to NORMAL/MORE and set the timer for 12 minutes.

Once the timer goes off, let the pressure release naturally that is NPR (natural pressure release). When the safety pin goes down, open the lid carefully. Add lemon juice and Cilantro leaves. Adjust salt and garam masala if required.

Also, if the dal consistency is too thick for you, then you can add 1/2 to 1 cup of hot water to it and bring it to the consistency of your choice. If you choose to do that, then you may cook further on saute mode.

Serve it hot with rice or naan. I ate it with whole wheat pita and it tasted awesome. Pumpkin Dal can be eaten as is like a stew or served with bread of choice.
Making Pumpkin Dal Tempering (optional)
Take a small pan and heat oil in it. Once the oil is hot, reduce the heat and add cumin seeds. As they start crackling, add red chili powder and immediately switch off the heat. Add it to the Pumpkin Dal for more flavor.

Or simply add 1 tsp of Olive oil to it if you want to. It adds to the flavors.
I am sure you are going to try it. If you do try then please leave your feedback in comments. I will greatly appreciate it.
Can't make it Now? PIN Chana Pumpkin Dal FOR LATER!

In my kitchen, you will always EAT HAPPY & STAY HAPPY!
Sonal