Vegetarian Taco Soup Instant Pot Recipe – Stove Top Instructions & Video Included
As an Amazon Associate and member of other affiliate programs, I earn from qualifying purchases.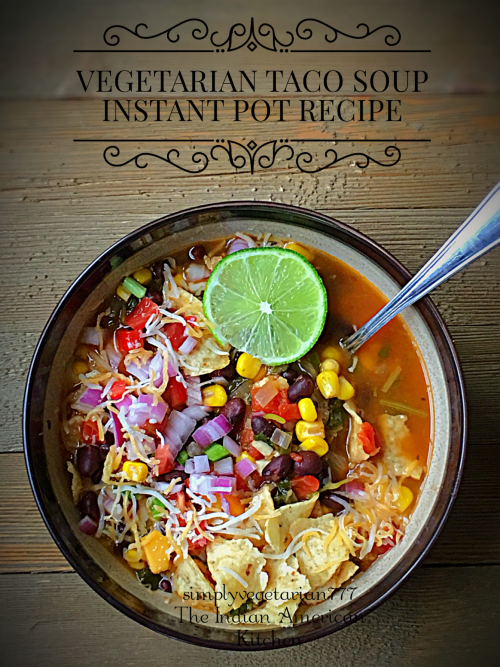 This Tex Mex Style Vegetarian Taco Soup Instant Pot Recipe is very easy & simple to make. It is bold and full of flavors. Your family is going to ask for it again and again.
Stove Top cooking Instructions and Video is included for better understanding.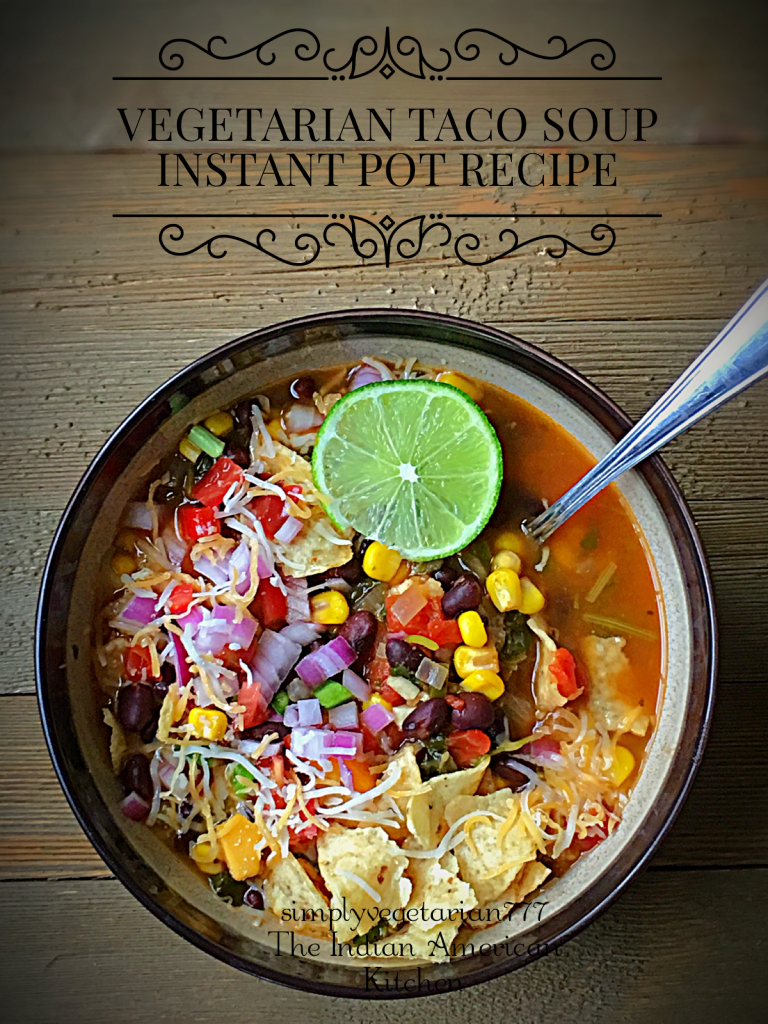 Tex Mex Style Vegetarian Taco Soup Instant Pot Recipe
I am a huge fan of Tex Mex Cuisine. That On the Border kinda meal is so satisfying and comforting. To tell you the truth, Tex Mex Cuisine is one of my favorite cuisines.
The spices, warmth, and the tone of the food is much similar to the Indian Cuisine. Now when I say that, I do not mean exactly the same. What I mean is that both the cuisines have that earthen warm flavors to the recipes.
Some of my favorite TEX MEX recipes from my blog are – caramelized onions & beans quesadillas, Vegetarian Fajita Platter, Cantina Salad Bowls, Salsa Verde, Restaurant Style Salsa and much more.
What is Tex Mex Cuisine?
Well to all my readers, Tex Mex is a fusion cuisine of American and Mexican flavors. It is believed that Tejano people living in Texas, created this cuisine. Tejano people are descendants of Spanish speaking people settled in Texas from Northern Mexico and Texas.
Tex Mex cuisine uses cheese heavily along with shredded meat (which I have to omit for obvious reasons). Bell Peppers, Onions, Beans, Spices and Tortillas are used alongside to make a complete meal.
The smell and flavor of those caramelized Bell peppers and Onions makes me go weak in my knees. And as I write this, I am drooling heavily.
I love reading history of a food culture and its origin. It makes the understanding of a cuisine so much more better.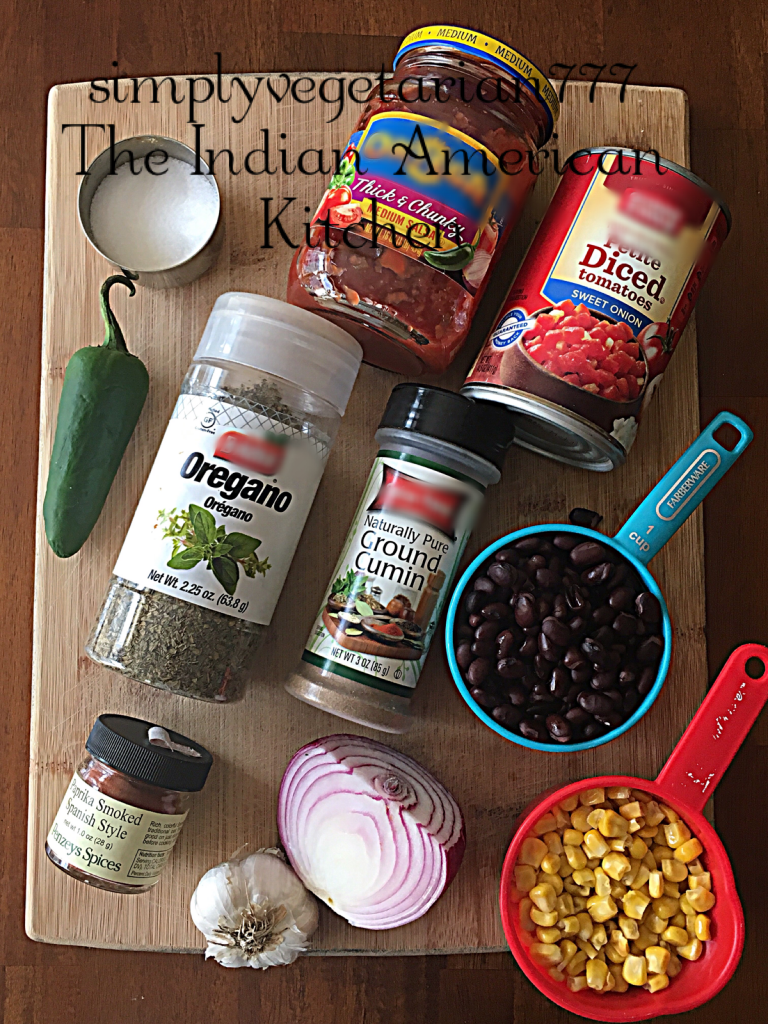 What is a Taco Soup?
Taco soup is the soup version of a Taco. When we create a vegetarian version of Taco Soup, we skip the meat and use the other staple ingredients like beans, onion, corn and spices.
It is super simple to make and a very EASY RECIPE OF TACO SOUP to follow. Not a rocket science at all.
Can I make VEGAN TACO SOUP?
Yes absolutely. Skip the shredded cheese on top of the soup that goes as  a garnish and make sure that all the ingredients that you use to make this soup are vegan ingredients. Voila, you have a VEGAN TACO SOUP in hand.
Can I make GLUTEN-FREE TACO SOUP?
Another win win for all those who intake gluten-free diet. Make sure that the market bought products are all gluten-free. Plus make sure that the Taco chips that you are going to use in the soup are gluten-free as well. Easy Peasy, right?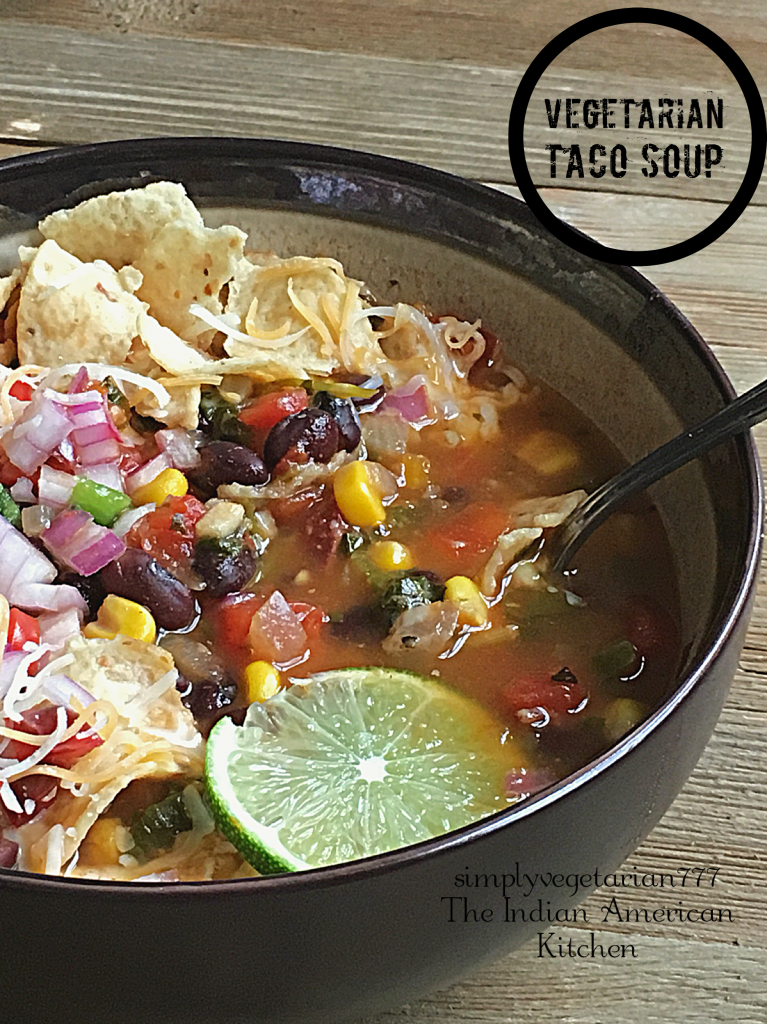 Why should you make Vegetarian Taco Soup in Instant Pot?
I have made this TACO SOUP in a pan on the STOVE TOP many times. Since I have got my Instant Pot, I make all my soups and curries in Instant Pot only.
Have I told you that I am an Instant Pot Convert from a Hater to Lover? Yes, you got me right. Now I own 2 Instant Pots – 6 quart and 3 quart.
The mini one is more used as it is perfect for daily cooking for a family of 4-6 people. The 6 quart comes out mainly for party preps or when I am making whole beans, chili or Rice Pulav. Here is why you should also cook in Instant Pot –
No Baby Sitting or Attending to the Kitchen Gadget is required. You saute, you put the lid and close and set the timer and done. You can run errands in the meantime or spend that time with the family instead.
The cooking in Instant Pot is ONE POT COOKING. There is no pile of dishes in the sink and the Inner Pot is so easy to clean.
It is a MESS FREE Cooking.
The food preparation and cooking is VERY EFFICIENT and is perfect for busy moms and professionals in today's day and age.
It is so SAFE TO USE, that even your teenager can use it like my daughter does.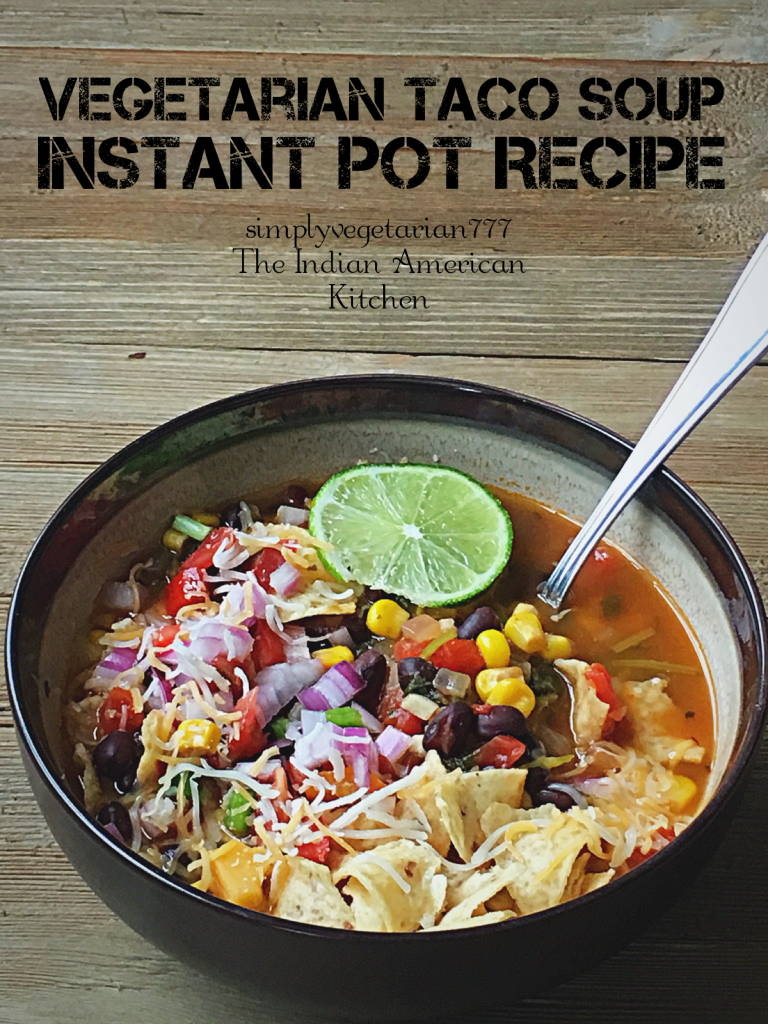 SOME OTHER VEGETARIAN INSTANT POT RECIPES FROM THE simplyvegetarian777 are –
Ingredients to order from Amazon to make this RECIPE.
Ordering via these links will not increase your cost. It will help me make a small commission to keep the blog running.
Canned Diced Tomatoes or use fresh tomatoes
or
Check out the small video playing before you make the Taco Soup for basic understanding.
Here is how you make Vegetarian Taco Soup in Instant Pot
Vegetarian Taco Soup Instant Pot Recipe
This Tex Mex Style Vegetarian Taco Soup Instant Pot Recipe is very easy & simple to make. It is bold and full of flavors. Your family is going to ask or it again and again.
Ingredients
1 medium or

1/2 cup

Onions

finely chopped

3 large or

1 cup

Tomatoes

Puree these or use finely chopped. I use canned diced tomatoes

2

cloves

Garlic

finely chopped

1

cup

Black Beans

canned and drained

1

cup

Corn kernels

fresh or frozen. I used frozen

1/2

cup

Cilantro

finely chopped

1/2

cup

Salsa

mild or medium. I used medium

1

Jalapeno

finely chopped

4

cups

Water

1

cup

Nacho Chips or Tacos

roughly crushed
Oil & Spices
1/2

tbsp

Cooking Oil

1

tsp

Cumin powder

1/2

tsp

Oregano

1/2 to 1

tsp

Smoked Paprika or any Paprika of your choice

May use Red chili powder

1

tsp or to taste

Salt
You may use 1-2 tsp of Taco seasoning instead of all the spices mentioned above.
Garnish
1-2

tbsp

Onion

finely chopped

1-2

tbsp

Tomatoes

finely chopped

1

tsp

Jalapeno

finely chopped

3-4

tbsp

Cheese shredded

I used Mexican blend

1/2

Lime cut into wedges or slices
Instructions
Gather all your ingredients and Watch the Video above the Recipe Card for good understanding. Now follow below.
SAUTE MODE
Place the inner pot inside the Instant Pot and Plug it in. As soon as the screen displays HOT, add oil to the pot. Wait for few seconds and then add finely chopped onions, jalapenos and garlic. Give it a good stir and cook for about 2 minutes till onions get soft.

Add black beans and Corn Kernels. Give it a good stir and add diced or pureed tomatoes. Give it another good stir.Now add chopped cilantro and mix again.

Add 1/2 cup of mild or medium hot salsa. It depends upon how spicy you want your soup to be. Stir again. Now add all the spices + salt or taco seasoning (whichever you are using). Add salt carefully since the salsa and canned tomatoes both have salt added to it. So start with a little at first and then add more if desired.

Add water and stir again. Cancel the Saute Mode. Place the lid on top of the Instant Pot and set the floating valve to SEALED.
PRESSURE COOK / MANUAL MODE
Place the lid on top of the Instant Pot and set the floating valve to SEALED. Set the timer to 2 minutes High/More.

Once the timer goes off and cooking is complete, follow QPR (quick pressure release). As the safety valve drops down, open the lid carefully. Give it a good stir. Your Vegetarian Taco Soup in Instant Pot is ready.
Garnish suggestions
Ladle Vegetarian Taco Soup in serving bowl. Load it with Shredded Cheese, finely chopped Onions, Tomatoes, and Jalapenos. You may squeeze some Lime Juice if you like. Many people add some sour cream or chopped avocado as well.

To finish the garnish, add roughly crushed Taco chips on top. In few minutes these chips will become soft and add so much more texture to the soup. Add more for crunch as well.
I am sure you will be trying this recipe soon. It sure will become a family favorite and Instant Pot Staple. My husband loved it so much and he is not a soup kinda guy.
Can't make it Now? Pin Vegetarian Taco Soup Instant Pot Recipe for later!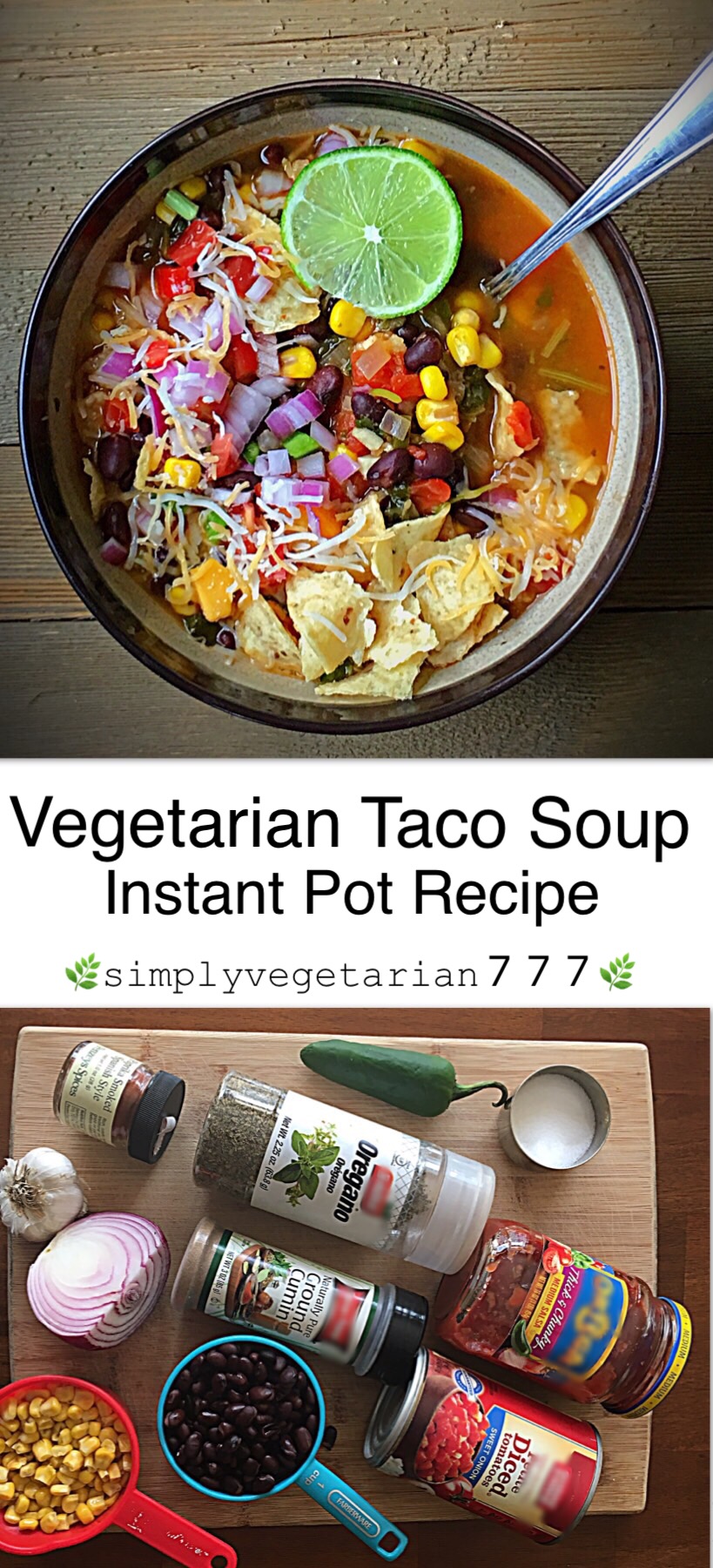 In my kitchen, you will always EAT HAPPY & STAY HAPPY!
Sonal