Asian Sweet Corn Soup Instant Pot Recipe
As an Amazon Associate and member of other affiliate programs, I earn from qualifying purchases.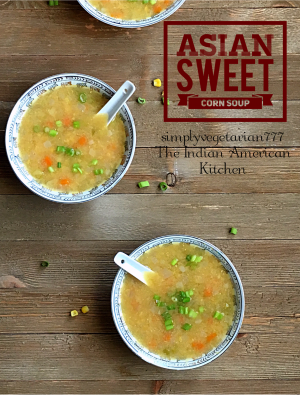 Asian Sweet Corn Soup is really DELICIOUS in taste and super EASY to make. It is delicate in texture and mildly flavored with only a few ingredients. The soup is VEGAN and can be made GLUTENFREE. Instructions for STOVE TOP SWEET CORN SOUP are also given in the recipe.
Can't Make it now? PIN THIS RECIPE FOR LATER!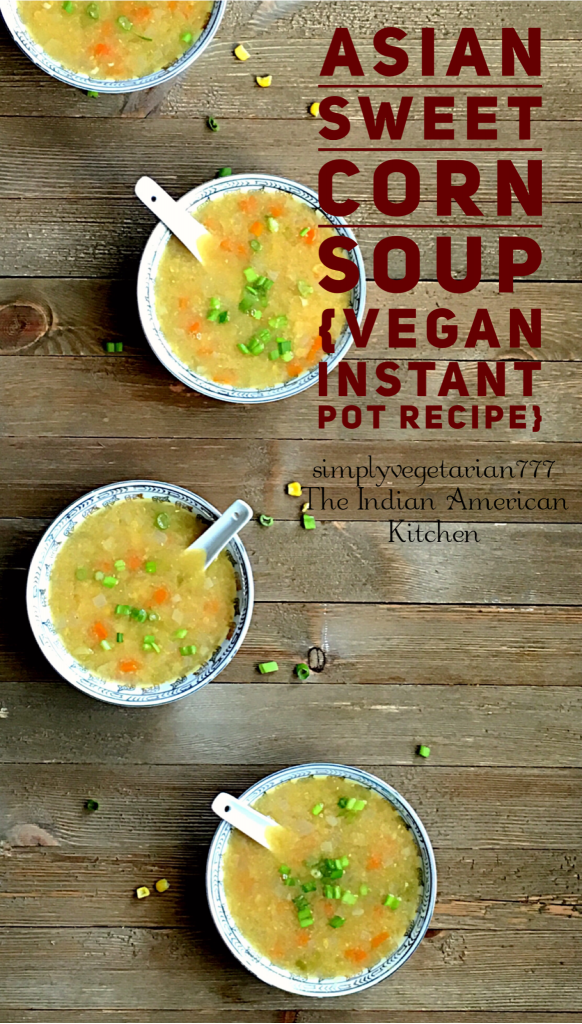 Instant Pot Asian Sweet Corn Soup Recipe
The best part about the summers is that there is a plethora of Nature's Bounty everywhere and Sweet juicy corn is no exception. The fresh Produce section of the Grocery Aisles is bursting with Sweet Corn these days and there is no dearth of recipes floating around using corn.
This recipe has Asian influence and is much healthier. I love Asian flavors in my summer soups since it brings the perfect umami in the food. I grew up eating this Indo Chinese Corn Soup, which used to be my favorite. It still is. Though the Indo-Chinese version of Sweet Corn Soup is much spicier, I made this soup on the milder side.
Since Amit and I love this soup, I make it often. This time I tried it in the Instant Pot and it came out amazing. I got 2 Thumbs UP from the whole family. I am not going to make it on the stove top again.
MY TOP REASONS TO MAKE THIS CORN SOUP IN AN INSTANT POT
I am an Instant Pot Convert from a Hater to Lover. Yes, you got me right. Now I own 2 Instant Pots – 6 quarts 10-in-1 Insta Pot and 3 quarts Duo Mini. I use the mini one more since it is perfect for daily cooking for a family of 4-6 people. The 6 quart comes out mainly for party preps or when I am making whole beans, chili or Rice Pulav.
I made this recipe in my 3 quarts IP. You can easily make it in 6 quarts or 8 quart IP as well. Here are my top reasons why you should also cook it in Instant Pot –
It does not need any Baby Sitting or Attending. You saute, you put the lid and close and set the timer and done.
The cooking in Instant Pot is ONE POT COOKING.
It is a MESS FREE Cooking.
The food preparation and cooking is VERY EFFICIENT and is perfect for busy moms and professionals in today's day and age.
It is so SAFE TO USE, that even your teenage kids can use it like my daughter does.
If you try this recipe, then give a shout out and Tag us on FACEBOOK, INSTAGRAM, PINTEREST, and TWITTER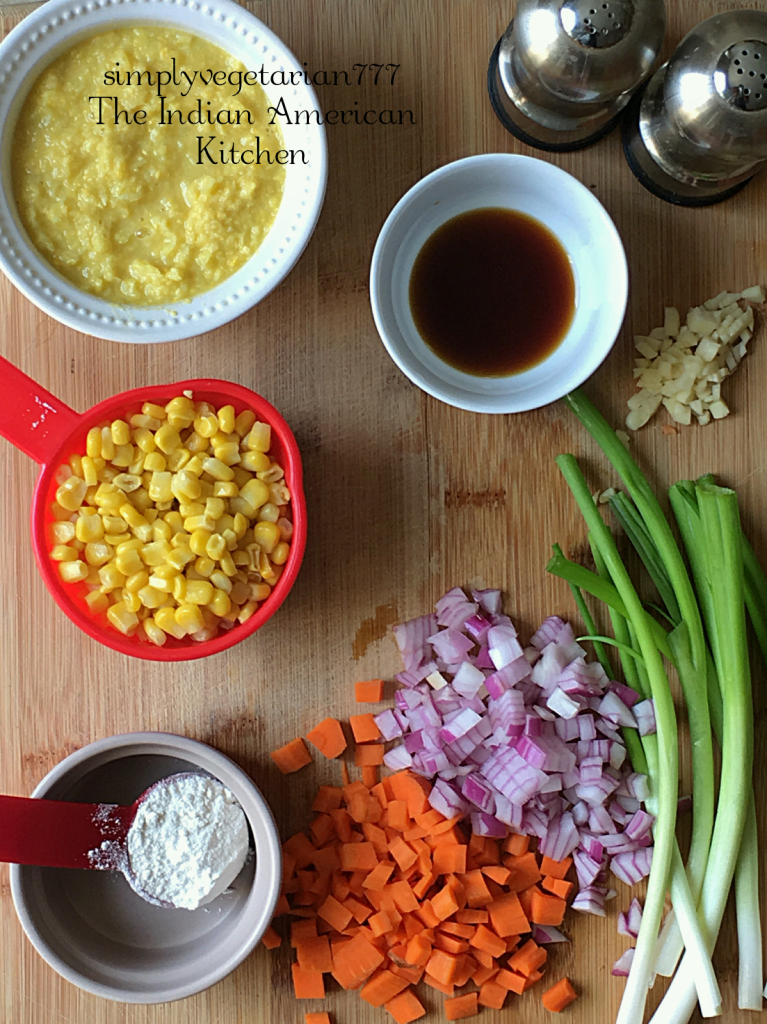 YOU MUST MAKE THIS SWEET CORN SOUP BECAUSE
It is a SIMPLE AND EASY RECIPE. Even a kitchen rookie can make it.
This is the SEASONAL RECIPE but can be enjoyed all year long.
It is SUPER QUICK RECIPE DONE IN JUST 2 MINUTES COOKING TIME.
This is a much HEALTHIER RECIPE THAT IS VEGAN and can be made GLUTENFREE too.
It is a MILD RECIPE which can be adapted to its SPICIER VERSION.
BASIC COMPONENTS OF ASIAN CORN SOUP
Corn Kernels and other vegetables
Cream of Corn (Learn how to make HOMEMADE CREAM OF CORN in 1 SIMPLE STEP, given beow)
SOY SAUCE Slurry
Salt & Pepper
HOW TO MAKE CREAM OF CORN AT HOME?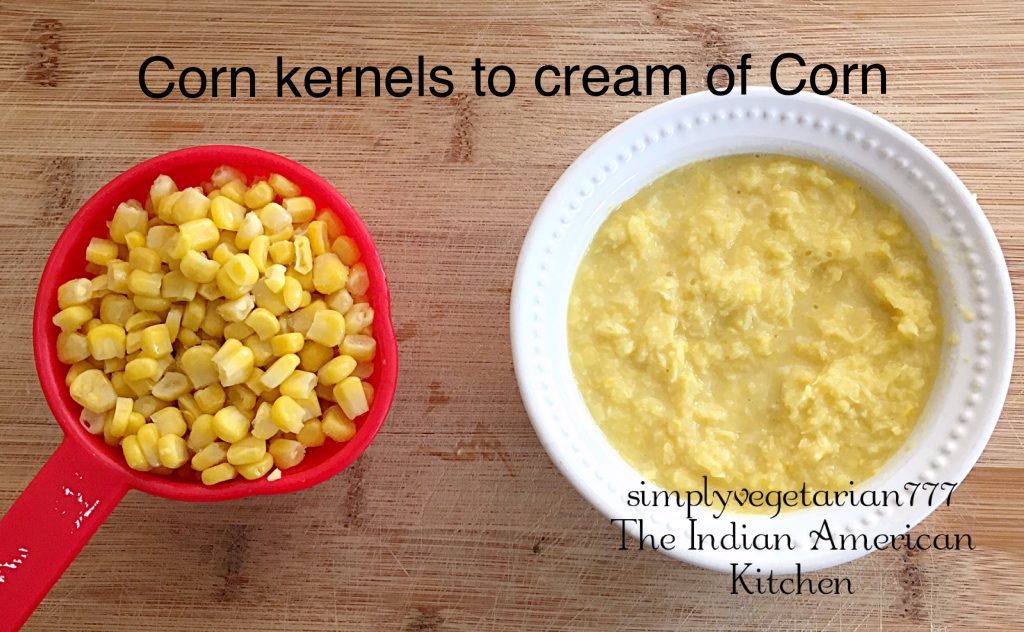 I wanted to let you know that Cream of Corn is a super easy ingredient and can be easily made at home. Also home-made is additives free therefore all the more better.
The best way to make 1 cup of CREAM of CORN is to grind 1 cup of tender corn kernels with 1/4 cup water, till they cream together well. I use my MAGIC BULLET for all grinding etc and love it.
HOW TO MAKE GLUTENFREE CORN SOUP?
This soup can be easily made glutenfree by swapping all purpose flour with CORN STARCH or CORN FLOUR.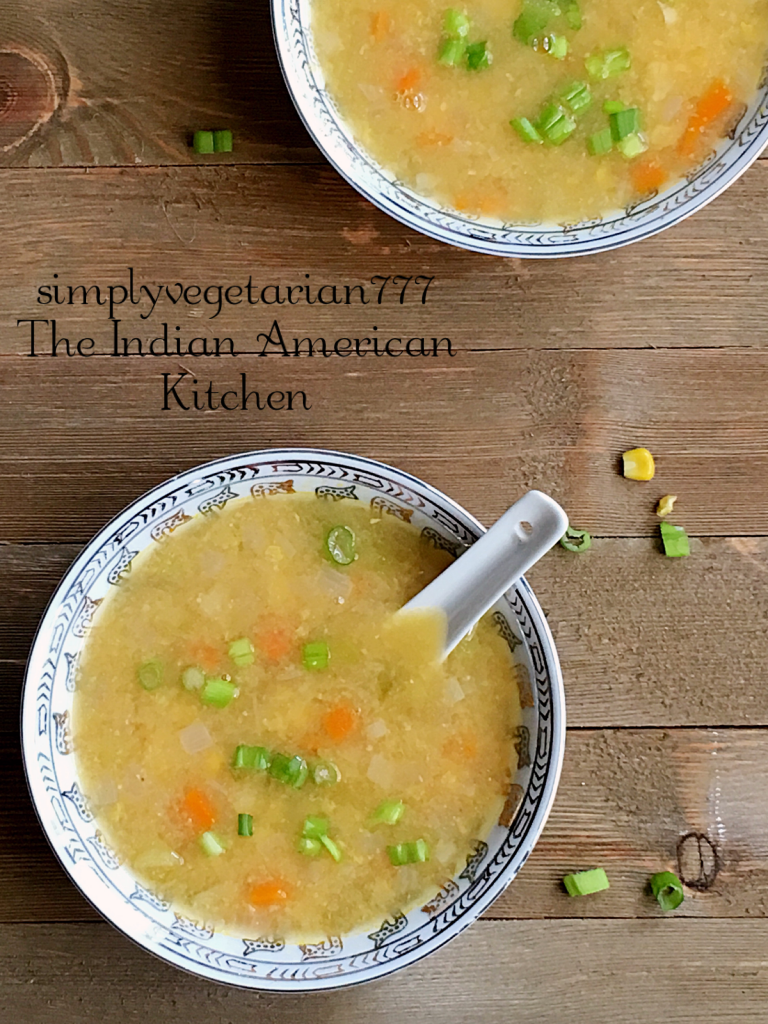 SOME ASIAN RECIPES FROM THE BLOG ARE
THIS IS HOW YOU MAKE ASIAN SWEET CORN SOUP IN INSTANT POT
Asian Sweet Corn Soup Instant Pot Recipe
sian Sweet Corn Soup is really DELICIOUS in taste and super EASY to make. It is delicate in texture and mildly flavored with only a few ingredients. The soup is VEGAN and can be made GLUTENFREE. Instructions for STOVE TOP SWEET CORN SOUP are also given in the recipe.
Ingredients
1

tsp

OIL

1

cup

Corn Kernels

fresh or frozen

1

cup

Cream of Corn or 1 cup more corn kernels to make at home

Recipe given below to make it

1/4

cup

Red Onions

finely chopped

2

small

Carrots

chopped as big as the size of corn kernels

1

clove

Garlic

finely chopped

5

Green Scallions/ Onions

whites and greens separated and chopped

1

tbsp

All Purpose Flour

1/2

tbsp

Light Soy or 2 tsp Dark Soy

To

Taste

Salt & Black Pepper

4&1/2

cups

Water

1/2

tsp

Chili sauce or Hot sauce

optional to make it spicy
Instructions
MAKING HOME MADE CREAM OF CORN
In case you decide to make the CREAM OF CORN at home then follow this simple recipe. Take a high-speed blender and add 1 cup of thawed or fresh corn kernels + 1/4 cup water to it. Blend till corn is turned into a thick cream. USe this in the recipe. You can use the market bought cream of corn too.
MAKING SOY SAUCE SLURRY
Take a cup and add soy sauce + All purpose flour + 1/4 cup water to it. Stir it with a fork or small whisk. Make sure that there are no lumps left in the slurry. Set aside till ready to use. When ready to use, whisk again and add.
COOKING ON SAUTE MODE IN INSTANT POT
Place the inner pot inside the Instant Pot. Plug it in. SWITCH ON THE SAUTE MODE and wait till the screen displays HOT.

Now add OIL to the inner pot. Wait for 2 seconds and then add Red Onions + Garlic + Carrots + White parts of the Green Onions. Saute for 2 minutes.

Now add Corn Kernels + Cream of Corn + Salt + Pepper. Give a good stir.

Add 4 cups Water + Soy Sauce Slurry to the inner pot. Give it a good stir. If you are adding Hot sauce or chili paste then you add it now.

Cancel the SAUTE MODE.
COOKING ON PRESSURE COOK / MANUAL MODE
Close the Lid of the IP. Set the FLoating valve to SEALING. Press the Manual Mode / Pressure Cook Mode and set it for 2 MINUTES on MORE + High Pressure.

Once the timer goes off, you can either follow QPR if you are in hurry. OR you can follow NPR if you set it for cooking before leaving for work or a long day. It doesn't matter.

IMPORTANT - When you will open the lid, the soup will be bit clouded in appearance. NOTHING TO WORRY ABOUT IT. Just take a ladle or serving spoon. and Give it a good stir. It will dissolve the cloudy look and is good to go.

Place the soup in soup bowls and garnish with Green part of the scallions. Serve it warm.
OIL FREE VERSION
You can make this soup oil-free too. Just skip the step of adding the oil and sauteeing the ingredients. Instead, dump all the ingredients together and Cook on Manual Mode for 2 minutes.
STOVE TOP INSTRUCTIONS
Heat oil in a saucepan and follow the same steps as mentioned in the SAUTE MODE above. Once you follow all the steps in saute mode, add water + soy sauce slurry. Cover the pan with lid, bring it to a boil. Simmer for 10 minutes. Serve it warm.
NOTES
This recipe can be easily doubled.

The soup can be made in a big batch and be frozen in freezer-friendly containers. You may store in single portions. When ready to eat, just empty the portion in microwave safe bowl or cup and heat for 2 minutes and eat.

If you are making it for the family with kids, skip adding hot sauce while cooking. You can serve the hot sauce on the side for whoever wants to add it.

Though this soup uses only a few vegetables, but you can add vegetables of your choice and enrich with the protein of your choice as well.
In my kitchen, you will always EAST HAPPY & STAY HAPPY!
Sonal