This restaurant-style Easy Hot and Sour Soup Recipe is actually better than the restaurant. It's the best. The recipe is quick and simple to make, easy to adapt to your personal liking and so so delicious.
INSTRUCTIONAL VIDEO IS INCLUDED IN THE POST.
Important – Scroll down to the bottom of the post for COMPLETE RECIPE in a recipe card. In between, I have included tips and suggestions regarding this SPICY HOT SOUP RECIPE.
Instant Pot Easy Hot and Sour Soup Recipe
I have been meaning to post this recipe since a long time. I have no idea why I have delayed so much. My girls love it and I make it often.
Since I am a slave to my habits, I like to add a good dose of vegetables to this soup. As a result, it is a filling soup and can be a mini meal in itself.
Apparently, this is a very popular soup at many Chinese American Restaurants. Seems like we are not the only family that enjoys this delicious soup. It is a personal favorite of many families too. And now you can make it at home.
I am not claiming it to be an authentic recipe but it is really good. The recipe is adapted according to the ingredients available.
Have you checked our Asian Broth, Instant Pot Tom Yum Soup, Instant Pot Asian Sweet Corn Soup, Instant Pot Kung Pao Spaghetti yet?
What is Hot & Sour Soup?
Although it is a Chinese Soup that has its origin from the regions of Beijing and Sichuan. Noteworthy is that U.S.A. and other Asian countries like Japan & India have their own versions.
As the name claims, this soup is sour and spicy/hot in taste. Rice wine vinegar lends the sourness and Red Chilies/White Pepper adds the spice/heat quotient to the soup.
Mostly Shitake and wood ear mushrooms are used in the recipe along with carrots (sometimes). But it is common to see the use of Tofu, Bamboo Shoots, Cabbage, Eggs, and Soy sauce in the recipe.
You can serve the soup as a broth base or can be thickened with the help of Corn Starch Slurry.
It is one of those recipes, that can be easily adapted to the personal preference.
Hot Sour Soup Ingredients
You will need the following ingredients to make this soup –
Fresh Produce
Although I have used these ingredients but you can adapt and use whatever you like. Include one or all. Although Ginger and Scallions are must.
Green Onions/Scallions, Carrots, Cabbage, Button Mushrooms, & Ginger
Packaged/Canned Ingredients
We use amazon affiliate links to suggest the ingredients. You may check our privacy policy for more information.
Vegetable Broth – I used low sodium broth. You may use regular or No sodium broth. You have to monitor the addition of salt accordingly.
Bamboo Shoots – These come in small cans. If you can find bamboo strips, that is good. Or you can slice these into thin matchsticks, after draining from the can.
Tofu, Extra Firm
Corn Starch – It is also known as corn flour in many countries. It is fine white powder kind in appearance. And it is gluten-free.
Spices & Condiments
Rice Vinegar (the souring agent) – You may use regular distilled vinegar too. I started with 1/4 cup of red wine vinegar. Since I like my flavors bold and bursting, I ended up adding more. So start with less and place extra on the side if people need it more.
White Pepper (the heat agent) – Since I didn't have white pepper, I used 1 tsp of Black pepper. Apparently, white pepper is stronger than black pepper. Therefore use that with caution. Start with a fat pinch and then build it on as needed.
Sesame Oil – This is optional. But it adds a nice flavor to the recipe. You can use toasted sesame seeds oil for deeper flavor.
Red Chili Sauce/Paste – I used sriracha. You can use Sambel Olek as well. I have seen people using chili flakes or red chili paste too. Use whatever is handy, or skip it to avoid being too spicy.
Light Soy Sauce and Dark Soy Sauce – I used both kinds of soy sauce. You can chose to use only one kind whichever is handy. Dark Soy sauce adds not only deeper color but deeper umami. To make your recipe gluten-free, use Tamari instead.
Salt
Other Ingredients
Water
Eggs – These are optional. Adding eggs to this recipe is an American adaptation. Normally people use 3 eggs for this quantity. Since my family isn't too fond of eggs in the soup, I added only 1 to add little protein.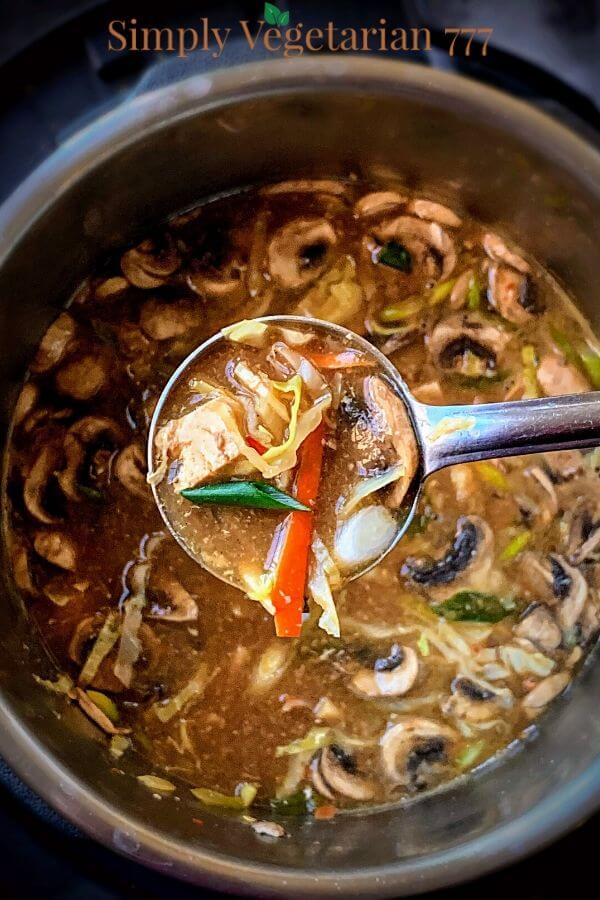 Kitchen Gadgets Used in the Recipe
Instant Pot, Inner Pot, Measuring Cups & Spoons, Kitchen Ladle, Small Whisk, Chopping Board & Knife, Mixing Bowl.
Is this Chinese Soup Healthy?
This soup is pretty healthy. I would say that it can cure your sinuses.
Lol!! Jokes apart, but with the addition of vegetables and eggs in that good hot & sour broth, this soup is very healthy. It is low in Calories as well.
You can skip the thickening of the soup and make it much lighter. Also, you can skip the oil in it and it is OIL FREE SOUP.
The only downside of this soup is that – it can be high in Sodium. Therefore, if you have sodium related health issues, then be careful.
Can this soup be VEGAN?
Absolutely YES! Don't add the eggs and it is 100% VEGAN.
How Can I make it Gluten-free?
Use Tamari Sauce instead of Soy Sauce, and this recipe is 100% Gluten-free.
How to make HOT & SOUR SOUP in Instant Pot?
Watch the instructional video for better understanding. Complete Recipe is at the bottom of the post in RECIPE CARD.
This Recipe has 3 steps –
Make the Soup Broth on Pressure Cook Mode in Instant Pot.
Cook Vegetables in Broth on Saute Mode in IP.
Add Cornstarch Slurry and Egg to the soup. Cook it further on Saute Mode. Cornstarch slurry will thicken the soup. Eggs will add texture to the soup.
Hot & Sour Soup is ready.
Other Dishes that will go well with this Spicy Broth to make it a meal –
Hakka Noodles, Honey Chili Lime Noodles, Kung Pao Spaghetti, Fried Rice, etc.
Please check out DESSERTS or DESSERT IN A JAR here – mocha express pudding, no-cook chocolate pudding, no-bake key lime cheesecake,no-bake cheesecake, no-bake mango cheesecake, black forest cake in a jar, and more.
You can follow us on Facebook, Instagram, Pinterest & Twitter for regular updates. And don't forget to sign up for our E-Letter whenever we publish a new post.
Yield: 8 people
Easy Hot and Sour Soup Instant Pot Recipe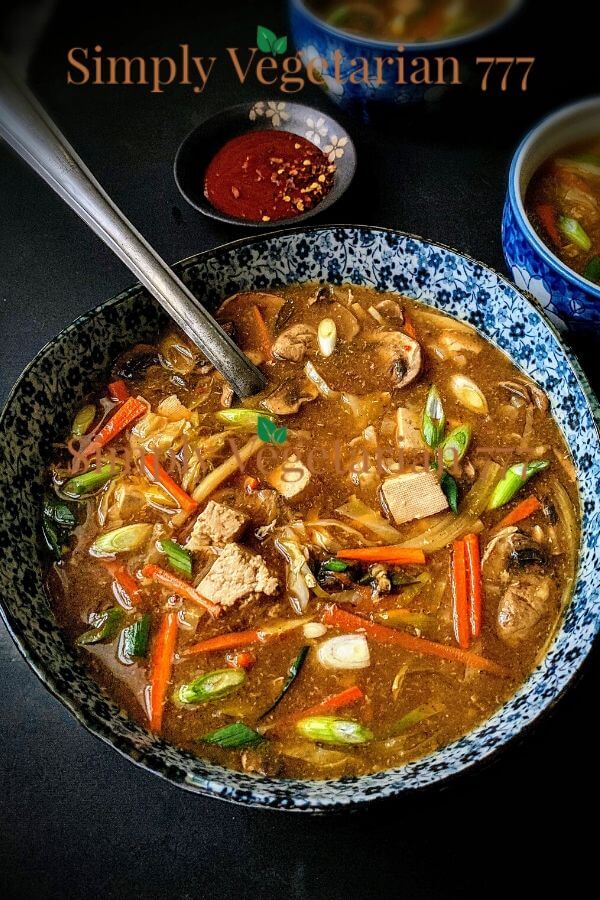 This Restaurant-style Hot & Sour Soup is super delicious and so easy to make. It comes together quickly. The soup is hot/spicy and sour in taste as the name suggests. Vegetables add more texture and flavor to the soup. Instructional Video is attached for better understanding.

Prep Time: 15 minutes

Cook Time: 10 minutes

Total Time: 25 minutes
Ingredients
Fresh Produce
7 Green Onions/Scallions, sliced diagonally into longer cuts
1 Large Carrot, peeld & cut into thin matchstick size
2 Cups Cabbage, thinly sliced
10 Button mushrooms, thinly sliced. You may use shitake or baby bella mushrooms.
1 tbsp Ginger, grated
Packaged Ingredients
32 oz/4 cups Vegetable Broth (see notes)
5 oz can of Bamboo shoots, drained & thinly sliced into matchsticks size
1 cup / half block of Tofu, Extra Firm drained & cut into small cubes
1-3 Eggs
Oil & Condiments
1/4 cup Rice Vinegar + more to add later if needed
3 tbsp Light Soy Sauce
1 tbsp Dark Soy Sauce
1 tsp Black Pepper powder. OR You may use White Pepper powder which has more heat. Use this with caution with little at a time.
1 tsp Chili Paste + more for later if needed.
1 tsp Sesame Oil. You can use toasted sesame seeds oil too.
1 tsp Salt or to taste
2 cups Water
Corn Starch Slurry Ingredients
2 tbsp Corn Starch (use 3-4 tbsp for more jelly kind consistency)
2 tbsp Water
Instructions

Important - Read the whole post for many tips and other suggestions made through out the post regarding recipe and how to personalize it easily. Also, do not forget to refer to the INSTRUCTIONAL VIDEO attached for better understanding.
Making Hot & Sour Soup Broth
1. Insert the inner pot inside your Instant Pot and plug it in.

2. Measure and Add Vegetable Broth, Water, Grated Ginger, Rice Vinegar,, Light Soy Sauce, Dark Soy Sauce, Red Chili Paste, White/Black Pepper to the inner pot. And Stir it well with a kitchen ladle.

3. Close with the lid and set the valve to Sealing position.

4. Pressure cook it on HIGH PRESSURE COOK MODE for 2 Minutes.

5. Once the timer goes off follow QPR (quick pressure release). Open the Lid. Your Soup Broth is ready.

You can follow NPR as well if you are not in hurry. You can prepare this broth ahead of time and make the rest of the soup later.
Making Corn Starch Slurry
Meanwhile, take 2 tbsp corn starch in a mixing bowl and add 2 tbsp cold water to it. Stir these 2 together well with a stirring whisk till combined. Corn Starch Slurry is ready. Set aside till ready to use.

Now 2 tbsp of corn starch slurry will make this soup lightly thick. If you want more jelly kind consistency, then make corn starch slurry with 4 tbsp corn starch flour + 4 tbsp water.
Get the Eggs Ready
If you plan to add eggs to this recipe, then break the eggs in a small bowl and give them a light whisk to make them runny.

Cooking Vegetables in Broth
1. Now add chopped carrot matchsticks, diagonally cut Green Onions/Scallions, thinly sliced cabbage, sliced mushrooms, matchstick size bamboo shoots & cubed firm Tofu to the broth. Stir it all well.

2. Cover with a lid. Cook on HIGH SAUTE MODE for 3 minutes.

3. Once the timer goes off, remove the lid and stir.
Putting Hot & Sour Soup Together
1. Now add the Corn Starch Slurry to the Soup and stir well.

2. Also Add the beaten eggs in the pot from far top in a string/thread form. Keep stirring the soup with either a spoon or single chopstick in a circular motion. This will help in making the popular egg ribbon or thread in the soup.

3. Set the Instant Pot on High Saute Mode and cook for 3 minutes.

Instant Pot Hot & Sour Soup is ready to be served. Ladle out in soup bowls and enjoy. You may garnish it with more sesame oil, and scallions.
Notes
Above is a basic Hot & Sour Recipe. Here are the following suggestions to adapt it for personal taste -

1. You may add more Rice Vinegar to the soup to make it more sour. I added 2 tbsp more towards the end since I like mine quite sour.

2. I also added more chili paste to my soup, about 1/2 tbsp since I like mine more spicy.

3. You can serve the soy sauce, rice wine vinegar and hot chili paste on the side for the folks to personalize it.

4. You can skip the cabbage and carrots in the recipe. Or add more vegetables of your choice. It is your recipe after all.

5. You can make it vegan by skipping eggs.

6. Make it Gluten-free by swapping soy sauce with Tamari Sauce.

7. It is best when consumed fresh but tastes good even after 2 days when refrigerated.
Recommended Products
As an Amazon Associate and member of other affiliate programs, I earn from qualifying purchases.
Nutrition Information
Yield 8 Serving Size 1
Amount Per Serving Calories 139Total Fat 8gSaturated Fat 1gTrans Fat 0gUnsaturated Fat 6gCholesterol 70mgSodium 1221mgCarbohydrates 11gFiber 3gSugar 4gProtein 8g

The Nutritional Information provided is an estimate. Please refer to your physician before attempting this recipe in case of special diet.

Please leave your feedback and suggestions in the comments section below. Do try this delicious recipe.
Sonal