Mango Cheesecake Trifle No Cook No Bake Recipe
As an Amazon Associate and member of other affiliate programs, I earn from qualifying purchases.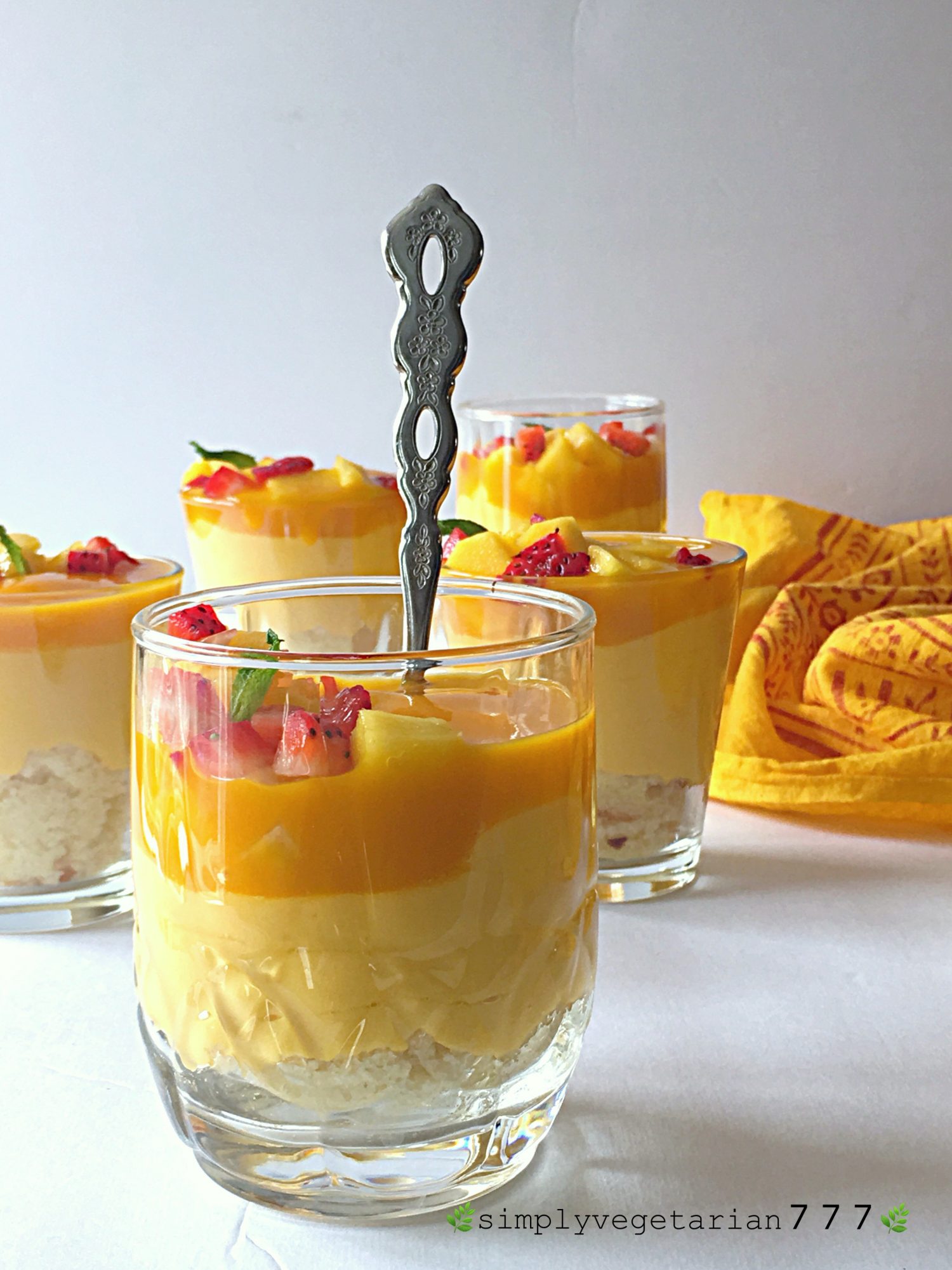 This Mango Cheesecake Trifle is very easy to make and super delicious. Most important part is that it is a No-Cook and No-Bake Recipe. It is a Quick and Easy dessert for your parties and get-togethers.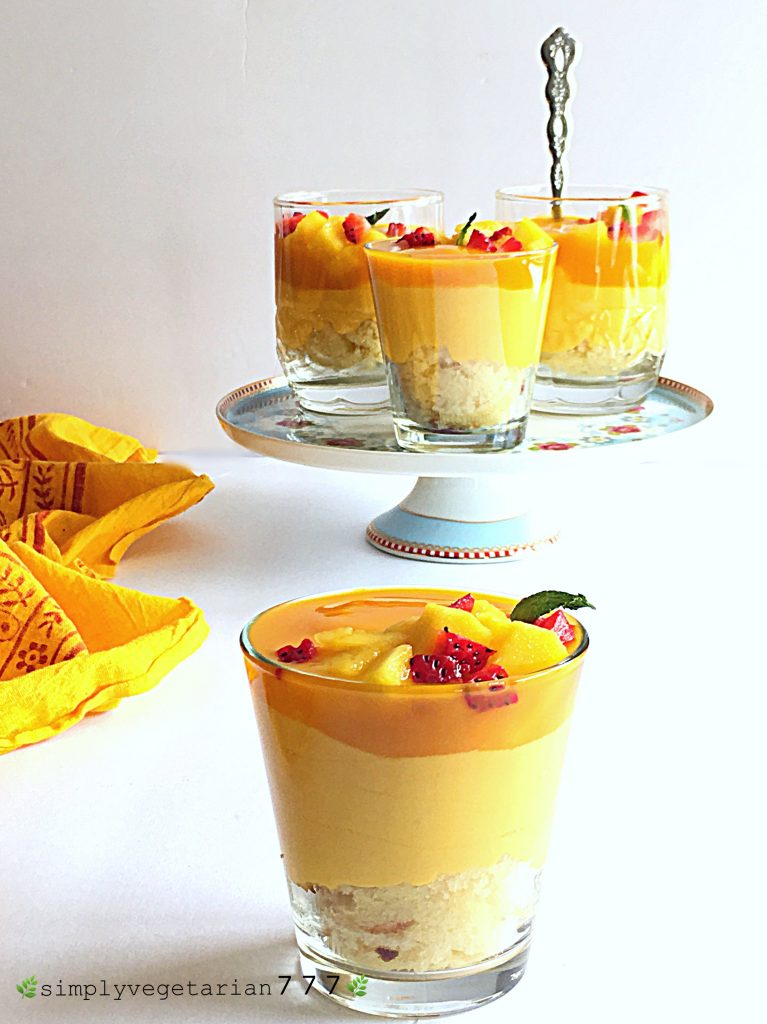 Mango Cheesecake Trifle
Is your mouth watering yet? I am sure you are eager to dig into this Trifle with your spoon. Can't blame you. It is so delish that one spoonful isn't enough, rather it would push you to finish it all. The creamy Trifle with the bursting flavor of Mangoes is the RIGHT THING for summer.
For me, MANGO = SUMMER and SUMMER = MANGO. I am not adding even an inch of exaggeration here. Tonnes of Mango Memories during Summer Break, still reign my Nostalgia. Endless laughter, Endless Dusseheri Mangoes and Endless Childhood Fun, that's what filled my Indian Summer Break.
I still visit India during my kids' summer break. The history repeats itself. It is such a pleasure to watch my girls enjoying with their cousins over mangoes and loads of fun. Every time, when they visit India, Mangoes and Cousins are surely on the top of their list. So, I can clearly say that    MANGO = ENDLESS INNOCENT CHILDHOOD as well.
Aanya, my older one is a CHEESECAKE FANATIC and I am a TRIFLE kind of a girl. She keeps asking me to bake a cheesecake and I keep telling her….the day shall come soon..
She often says, Mom, LIfe is always good after a slice of CHEESECAKE…. Though I am with her but my first love is always TRIFLE.
WHY? Because My Mom always made the best Trifle Puddings ever. And that taste still lingers in my mouth. The layers of Cake, Pudding and Fresh Fruits – refrigerated till set was the best thing to happen. One serving was never enough. We would lick our spoon numerous time to make sure that not even one crumb was wasted. LOL! I wish I can relive that time again. Good Old days.
To pick from Cheesecake and Trifle is a huge struggle in my home. Honestly, making err baking a cheesecake is a task and too big for lazy me. Have you checked my blog? It is all about EASY, EFFICIENT and YUMMM RECIPES and DESSERTS made with easily available ingredients. This recipe fits the criteria perfectly.
You can check some Delicious MANGO RECIPES from the Blog here
Aam Panna – Raw Mango Summer Cooler
Pake Aam ka Panna – Ripe Mango Curry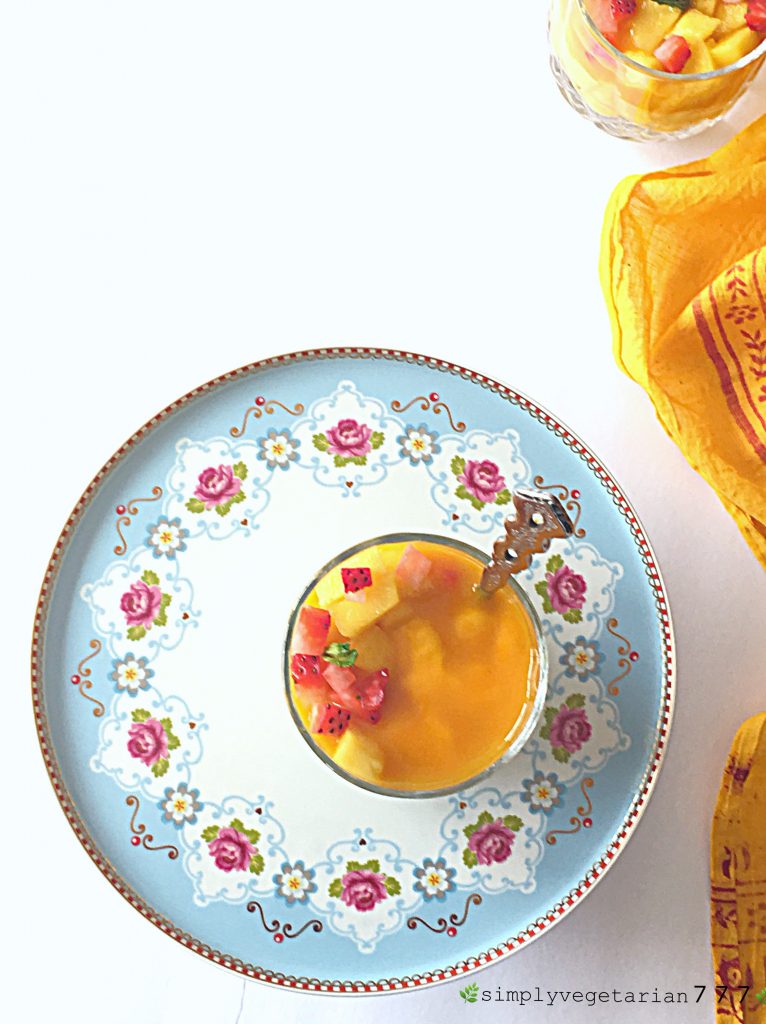 Why should you Make this DESSERT?
It is NO-COOK and NO-BAKE RECIPE
So Easy to Put together
It has Mangoes
Trifle sounds good, right?
To top that it is a CHEESECAKE TRIFLE.
Perfect for your SUMMER Get Together and Family Picnics
Some EASY, QUICK and YUMMY DESSERTS from my blog are
You need the following to make the Trifle
Vanilla Cake – Use market bought or make at home using this recipe.
Mango Pulp or Puree
Fresh Mango
Cream Cheese and Yogurt
This is how to make this RECIPE
Mango Cheesecake Trifle
This Mango Cheesecake Trifle is very easy to make and super delicious. Most important part is that it is a No-Cook and No-Bake Recipe. It is a Quick and Easy dessert for your parties and get-togethers.
Ingredients
1

small loaf

Vanilla Cake

1 can /

30 ounce Tin / 3&1/2 cups

Mango Pulp

it already has sugar in it

1 packet /

8 ounce / 226 grams

Cream Cheese at room temperature

1/3 less fat or low fat

1/2

cup

Sour cream (low fat) or thick yogurt

hang yogurt in a muslin for 1/2 hr to get rid of extra water

1

Mango

cut into small cubes

2

Strawberries

cut into small cubes
Instructions
Making Mango Cheesecake
Take a high speed blender and add 3 cups of Mango pulp + Cream cheese (room temperature + sour cream/hung yogurt to it. Blend all the ingredients together till well blended and you get one thick mango cheese cream. Set it aside.
Making Mango Cheesecake Trifle
Take the small vanilla loaf and crumble it into small pieces. Divide it into 6 equal portions, about 1/4th cup each or 1&1/2 cups of total crumbled cake.

Take 6 Dessert Glasses. Layer these glasses with the crumbled cake at the bottom. Then add about 1/2 cup of Mango Cheese Cream on top of the cake.

You still have about 1/2 cup of Mango pulp leftover. Layer the top of Mango Cheese Cream with Mango Pulp.

Top with some fresh cut fruits and a sprig of mint. Refrigerate for 30 minutes to an hour for best taste. Serve it chilled.
TO MAKE IT VEGAN
Substitute the regular vanilla cake with a vegan vanilla cake. Replace cream cheese with Tofutti brand cheese or vegan cashew cream cheese.
This is a perfect recipe for your family get together and picnics. An amazing and refreshing dessert for Summer Fun.
Can't make it now? PIN IT FOR LATER!
In my kitchen, you will always EAT HAPPY & STAY HAPPY!
Sonal