Mango Milk Fudge
As an Amazon Associate and member of other affiliate programs, I earn from qualifying purchases.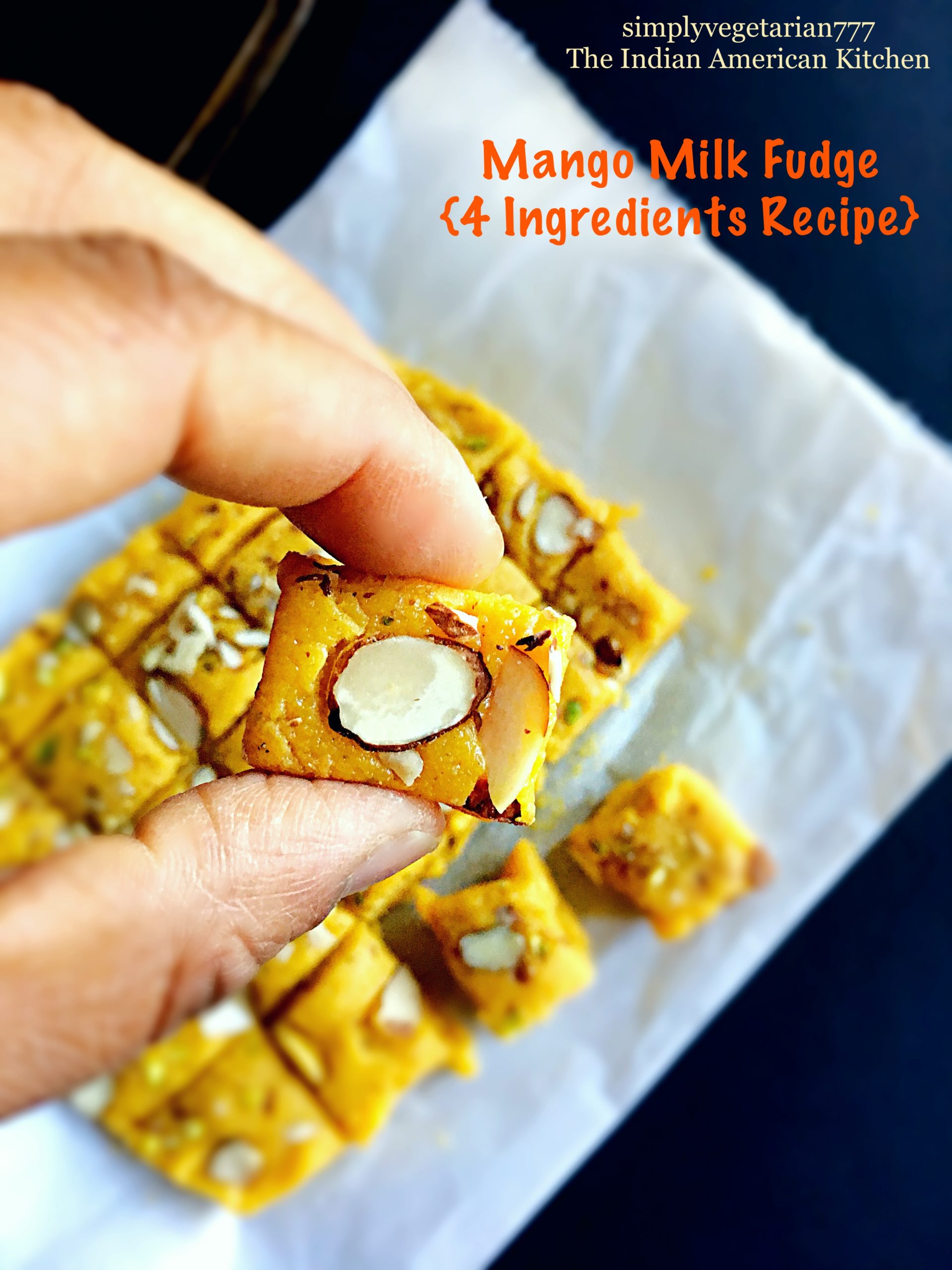 Mango Milk Fudge is  a delicious and easy recipe that is made with only 4 Ingredients. It is a great way to enjoy mangoes in the season and eat your fudge too! You will surely bookmark it for later!
Mango Milk Fudge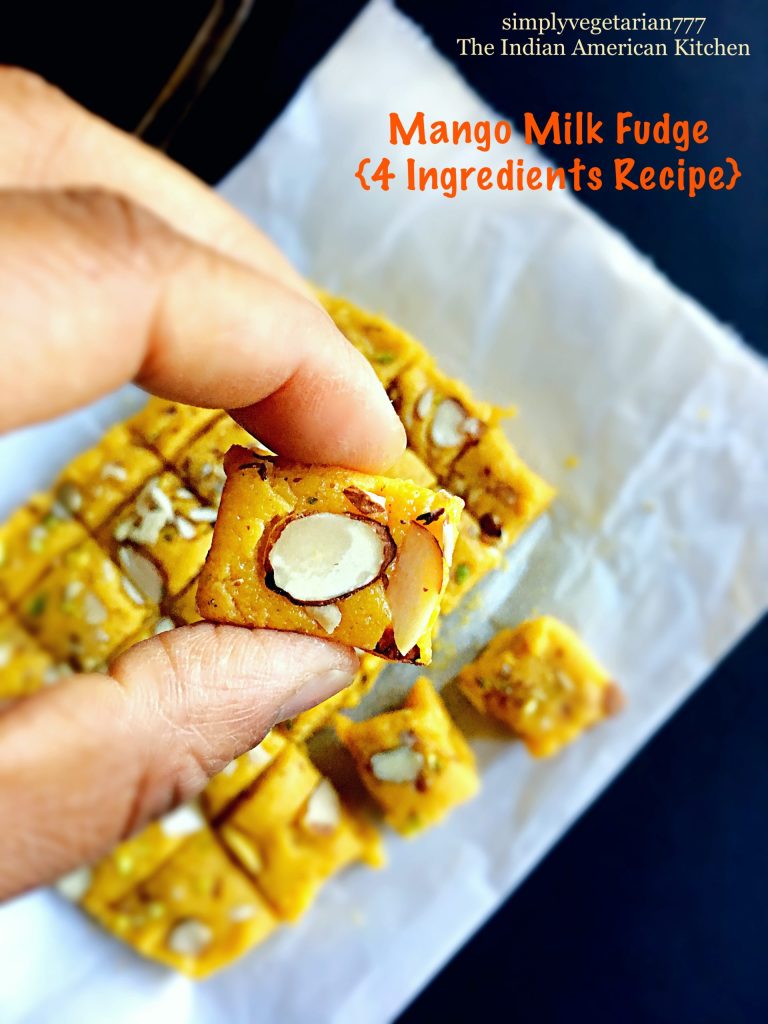 It is almost 10:00 pm on Sunday night and I am trying to finish this Mango Milk Fudge post. I can definitely do it tomorrow but I have already been procrastinating it since Friday. Guess, it is time to get it out of my drafts and reach you.
Since it is already late, I will try to keep it simple and short. I bet you love the sound of it. Simple and short, just like the recipes that I share.
Mango Milk Fudge is going to bowl you over with its flavors and the ease of making it.
Have you ever wondered how few handful ingredients can create beautiful dish? Humble every day seasonal ingredients create "Larger than life" Dishes that are so well received. Don't believe me? Then try this Mango Milk Fudge.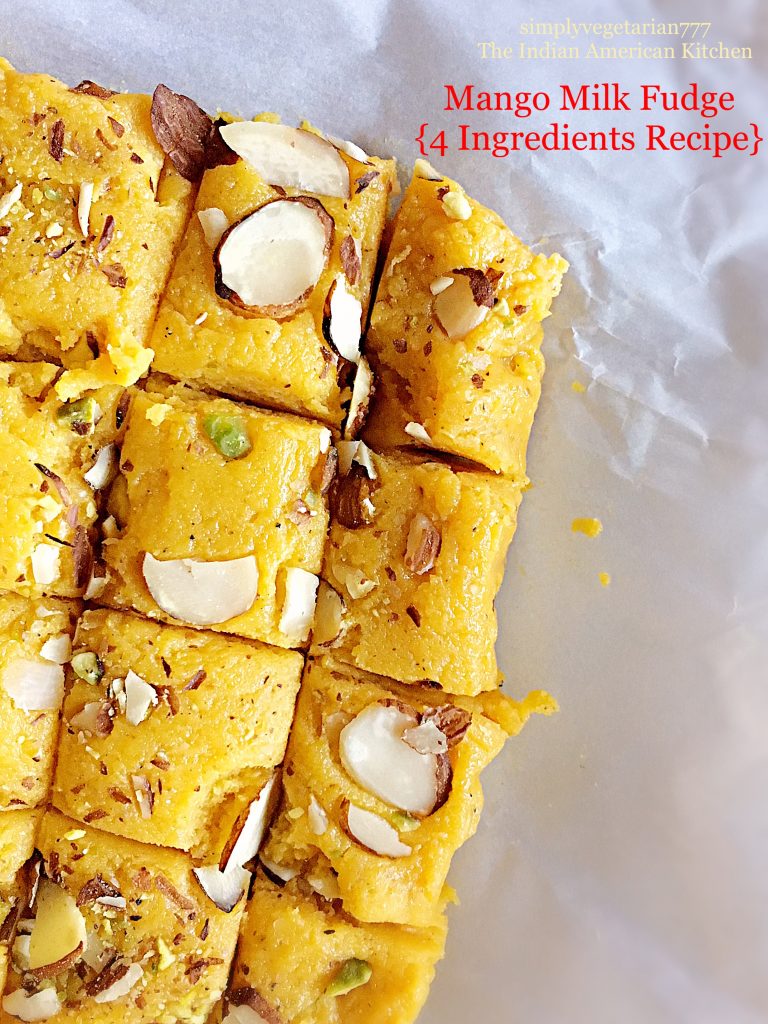 Small tiny pieces of Mango Milk Fudge melt in the mouth effortlessly. It is like magic that stirs the taste buds and take you on a fairy tale ride. It has that element of romance and charisma in it.
Some Mango recipes from my blog are –
Mango Recipe Collection from the BLOG
Punjabi Bharwaan karela with raw mango and many more.
This is how I made it.
Mango Milk Fudge
Easy delicious Mango Recipe, perfect for Summer.
Ingredients
Mango Pulp - 1 cup

Milk powder - 2 cups

Sugar - 1/2 cup

Elaichi / Cardamom powder - 1/4 tsp

Almond flakes and crushed Pistachio for Garnish!
Instructions
Take a heavy bottom hard anodized pan. Add Mango pulp, Milk powder, Elaichi powder and sugar to it.

Cook it on medium heat for about 15-20 minutes and stir often.

Take it off the heat, once the mango and milk mix leaves the sides and gathers in the middle.

Take a 6 inches wide rectangular pyrex or any other brand glass container and line with parchment or butter paper.

Spread the mango milk mixture evenly in this container with a spoon.

Sprinkle the top with some sliced almonds and pistachios along with a pinch of cardamom powder. Press the garnish down lightly on the surface of the fudge.

Refrigerate it for 2-3 hrs.

When ready to serve, take it out. Cut it out into 1x1 inch pieces with a sharp knife.

Serve it chilled.
NOTE - Keep it refrigerated since it is a soft fudge and serve it chilled. It will stay well for a week in the refrigerator.
Can it get simpler than this? No, right? My husband who has really fine taste buds, loved it. He put one in the mouth and exclaimed – It is just perfect. Mango flavor is so rightly balanced and not over powering at all. It made my day. Kids loved it as well.
Do give it a try. If you are a Mango Freak then this is going to be right up your ally, I promise.
Here is where you can order the ingredients from, to make this recipe.
Disclaimer – If you will order anything from amazon through my blog, it helps me earn a meagre commission to keep this blog running.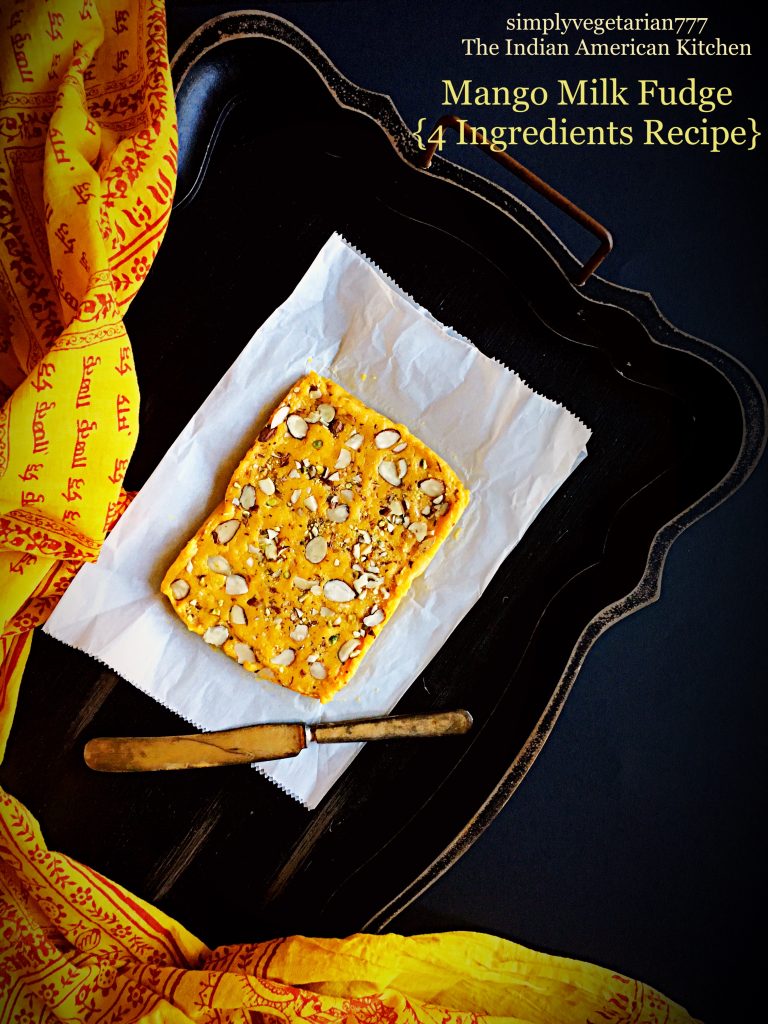 Are you making it this week? Keep me posted if you do! Mangoes just got a great makeover!
Can't make it now? PIN IT FOR LATER!


In my kitchen, you will always EAT HAPPY & STAY HAPPY!
Sonal