Aami Mirchi ki Sabzi
As an Amazon Associate and member of other affiliate programs, I earn from qualifying purchases.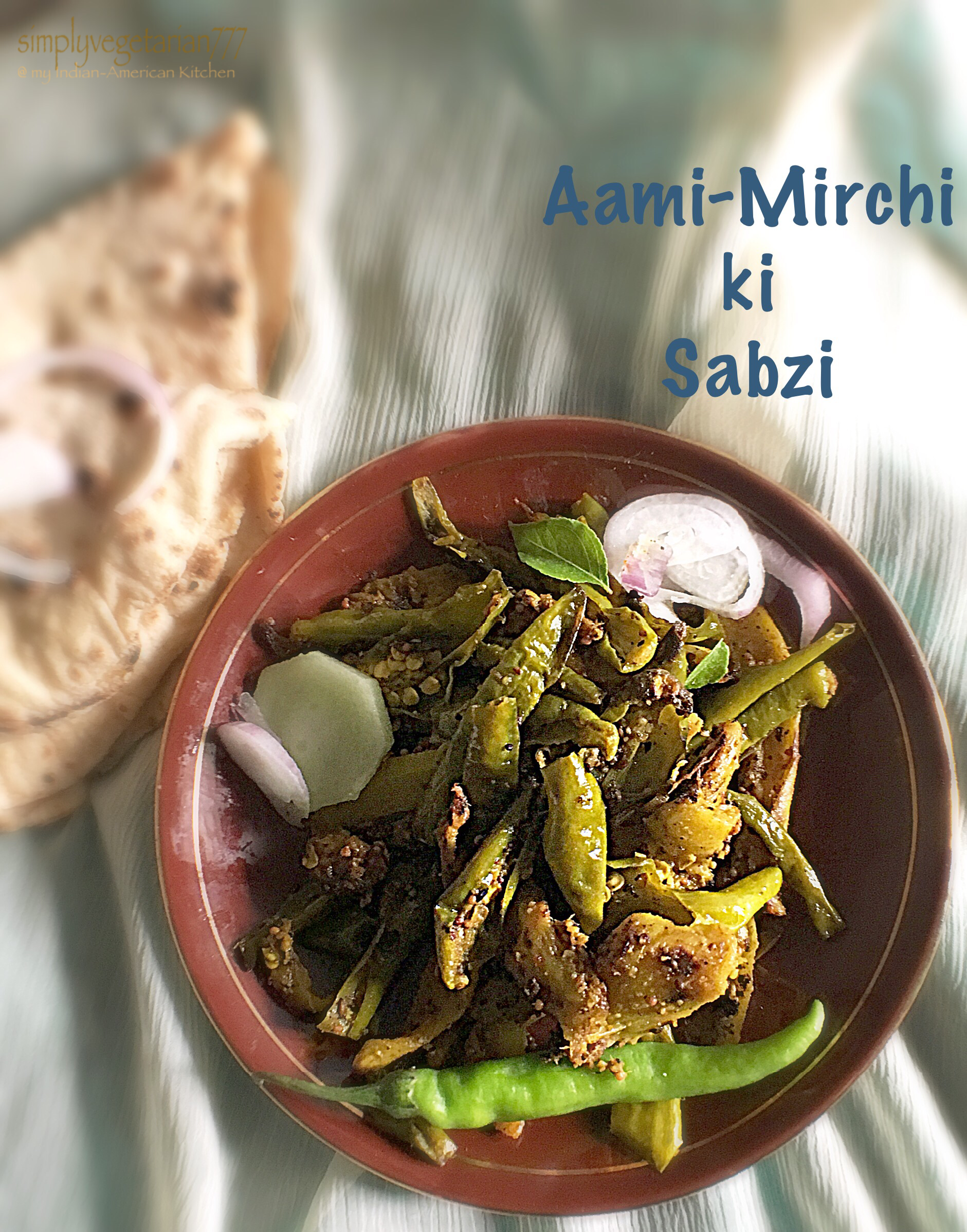 Aami Mirchi ki Sabzi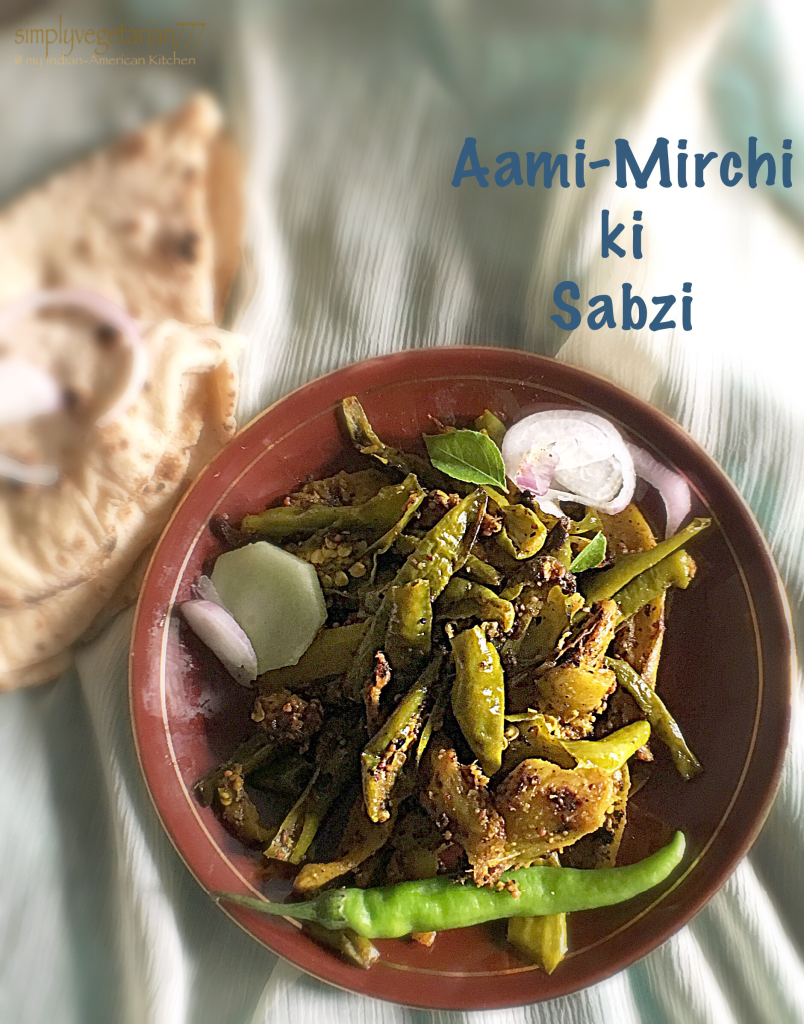 Aami Mirchi ki Sabzi is a regular feature on the dining table with meals during summers, in my mum's home.
Before we move further, let me explain the meaning of the recipe for all those who do not understand hindi.
Aami = Raw Green Mango, Mirchi = Green Chillies, Sabzi = Stir fry. So it is Raw Green Mango & Green Chillies Stir Fry.
Did I mention that I am visiting India to see my parents, parents-in-law and extended family? If you are aware of it, then keep following me to uncover some delightfully easy recipes, made with local summer ingredients, in Northern India, specifically Uttar Pradesh. Like yesterday, when I was visiting my sister for lunch, she served this delicious chutney, made with Coriander/Cialntro leaves and tart plum…😱😱…yes exactly this 👉 was my expression 😱😱. It was so so so finger licking delicious that I asked her to give it to me in a bowl to eat like that. Will unveil that chutney soon too. 😀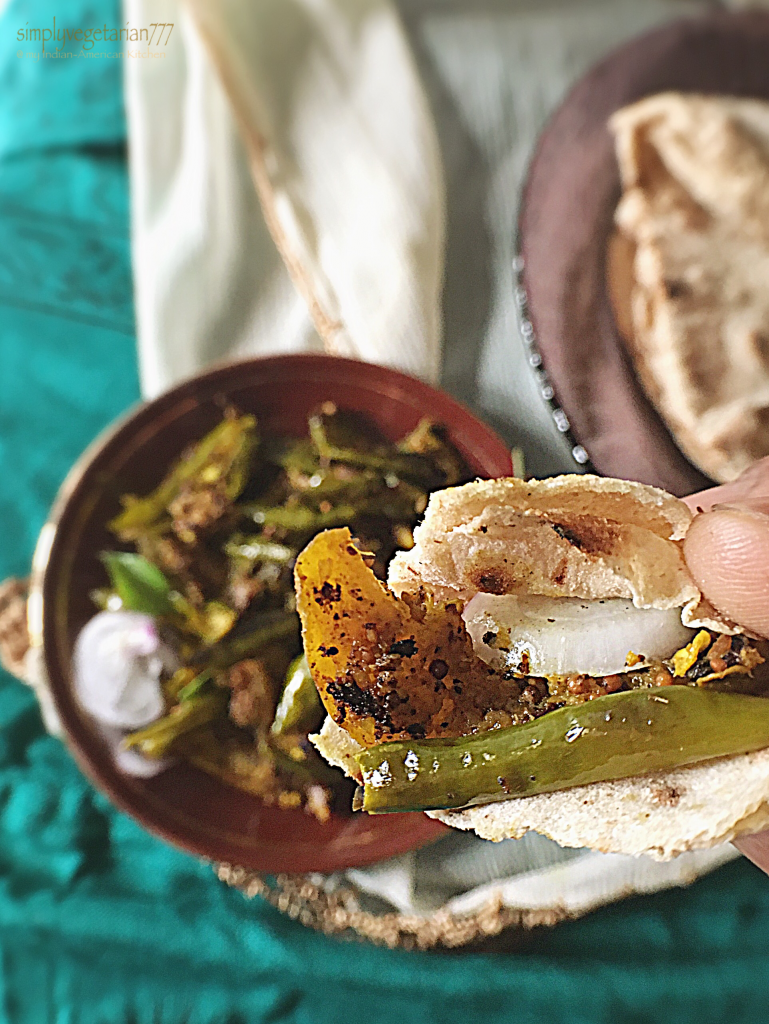 Gosh, have I cribbed about Indian Summer Heat yet? Yes? Well, I will rant again just to cool myself down. Dang! It's super duper super duper super duper hottttt…like sizzling hot…like that hot Tawa/griddle which sizzles when sprinkled with drops of water. And the humidity? Ufffffff!!! Tauba!!! Rant over.
The bright side is – I am getting to spend some quality time with the family, who I see once in 4-5 years. So no complains. Enjoying Thumbs Up and Limca (without rusted lids as found in USA)…already drank a glass full of Mint Gol Gappa Pani and Tamarind Gol Gappa Pani…kept my fingers crossed till the next day though. Only downfall is that my sleep pattern is still in a mess! But that's a small thing to pay for all the fun – Chaat & Chat, Mum saying every few minutes – Kuchh Kha le (Eat something) 😂…moms I tell you…visiting all, catching up on my sleep during the day without worrying about the time or what to make for dinner or lunch. The most enchanting part for me is EATING KARELA (bitter gourd) every single day. My mom makes the best Jhatpat karela and since my dad loves karela too, there is a bowl of Karela Sabzi sitting on the dining table for every meal, like a pickle. My dad is kind enough to leave most of the karela for me till I visit them. 😀 Don't be surprised, I love all the odd ball sabzis of the world- karela, Ghiya/Lauki, Parwal, Turai, tinda etc etc.. Will bring out these dishes from mum's kitchen as well soon.
The heat can be fierce but cannot burn me out while I am visiting.
Coming back to the dish – Aami Mirchi ki Sabzi is served as a side dish with the main meal. If I want to categorize it under quick fix / instant pickles, I think it will fit into that bracket easily.
Aami & Mirchi ki Sabzi is a very simple preparation and is made with only few ingredients. The stars of the recipe are – Raw Mango and Green Chillies. If you are faint hearted and can't take the heat, be aware of the heat quotient then. You may decrease the green chillies in the recipe then or use milder chillies. It is cooked in mustard oil and few spices like fennel, yellow mustard seeds, Corinader powder, turmeric and salt. Aami is washed, peeled and cut into slices lengthwise. Mirchi is washed and slit lengthwise into thin slices. They are the tossed into spices and cooked till the mango slices are soft (but not mushy). My mum uses more green chillies in this prep but I reduced the amount. It was already too hot to handle. In case you want to reduce the heat further in the recipe, then remove the seeds from 6-7 chillies and it will mild down the recipe.
How to cook with Mustard Oil – Whenever we cook with Mustard oil, it is very important to bring it to the smoking point on high heat first and then reduce the heat & add the ingredients accordingly.
Some recipes using raw mango on my blog are – Punjabi Bharwaan Karela with Raw Mango and Aam Panna .
To find all my Indian Summer Recipes under one roof, search under the hashtag #Indiansummerfooddiary on the Facebook. I have already blogged ,Lychee Mint Soda and Mathura ki Lassi since I have landed here.
This is how I made it.
Aami Mirchi ki Sabzi
A summer special delight made with raw mangoes and green chillies.
Ingredients
Raw Mangoes - 250 gms or 2 big raw mangoes

washed, peeled & cut into long slices

Green Chillies - 10 to 12

sliced thin lengthwise. To decrease the heat, remove some seeds
Oil & Spices
Mustard Oil - 1 tbsp

Yellow Mustard / Rai - 1/4 tsp

Coriander powder / Dhaniya - 1/2 tsp

Fennel powder / saunf - 1/2 tsp

Turmeric / Haldi - 1/4 tsp

Salt - 1/4 tsp or to taste
Instructions
Take the heavy bottom pan or kadhai and add mustard oil to it and smoke it. Once it smokes, lower the heat and add yellow mustard seeds to it. Once the seeds crackle, add all the spices and green chillies. Saute for 1 minute on low medium heat.

Now add the sliced raw mangoes to the pan. Give it a good stir. Sprinkle 2-3 tsp water on top. Cover with lid and cook on low heat till raw mangoes become slightly tender.

Aami Mirchi ki Sabzi is ready.
Serving Suggestion
This is best served and eaten with chapati/roti, arhar/toor dal and rice combination. A typical menu from Uttar Pradesh, a northern state from India.
Have I told you that Mango rules the summer in India and there are 283 varieties of Mango in India, alone. Only 30 are well known. My favorites are – Langda, Dasseheri & Chaunsa. I might bring some more local recipes using Mango in local cooking.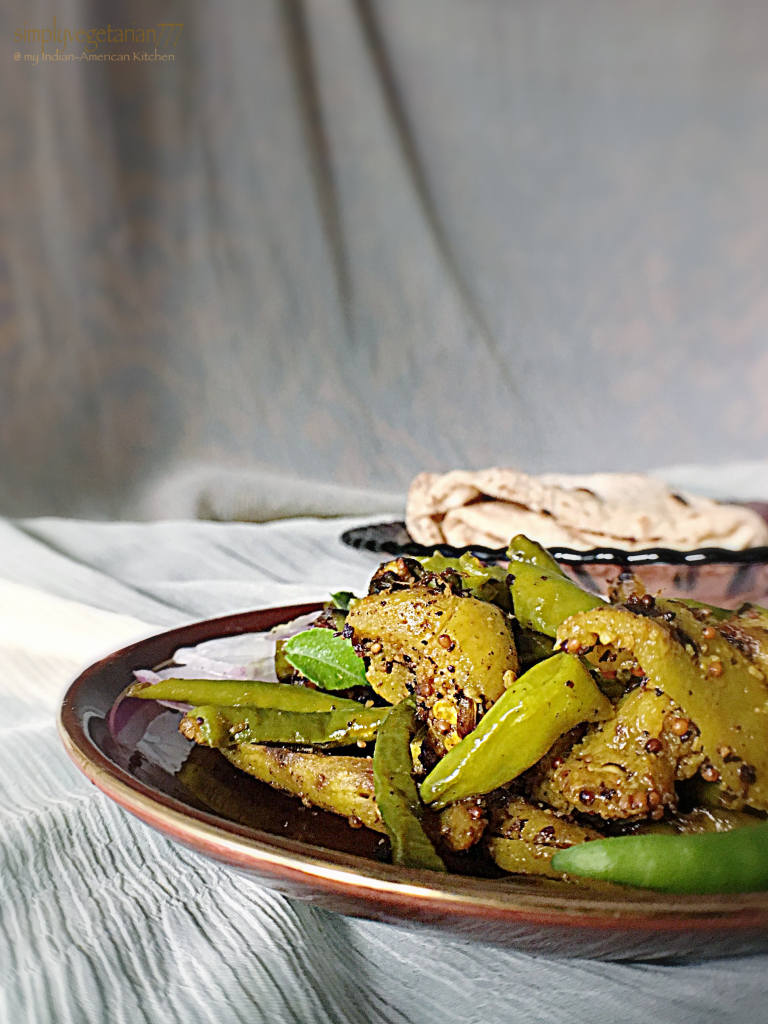 Green Mangoes are easily available these days in the grocery stores of USA also. Indian grocery stores also carry the green mangoes during summer. You may use frozen green mangoes also for this recipe. If you use frozen ones, don't add the additional water.
What are you waiting for? Go make this today itself and enjoy Mango in a deliciously cool avatar.
As I always say – Eat Happy! Stay Happy!
Sonal