Punjabi Bharwaan Karela with Raw Mango
As an Amazon Associate and member of other affiliate programs, I earn from qualifying purchases.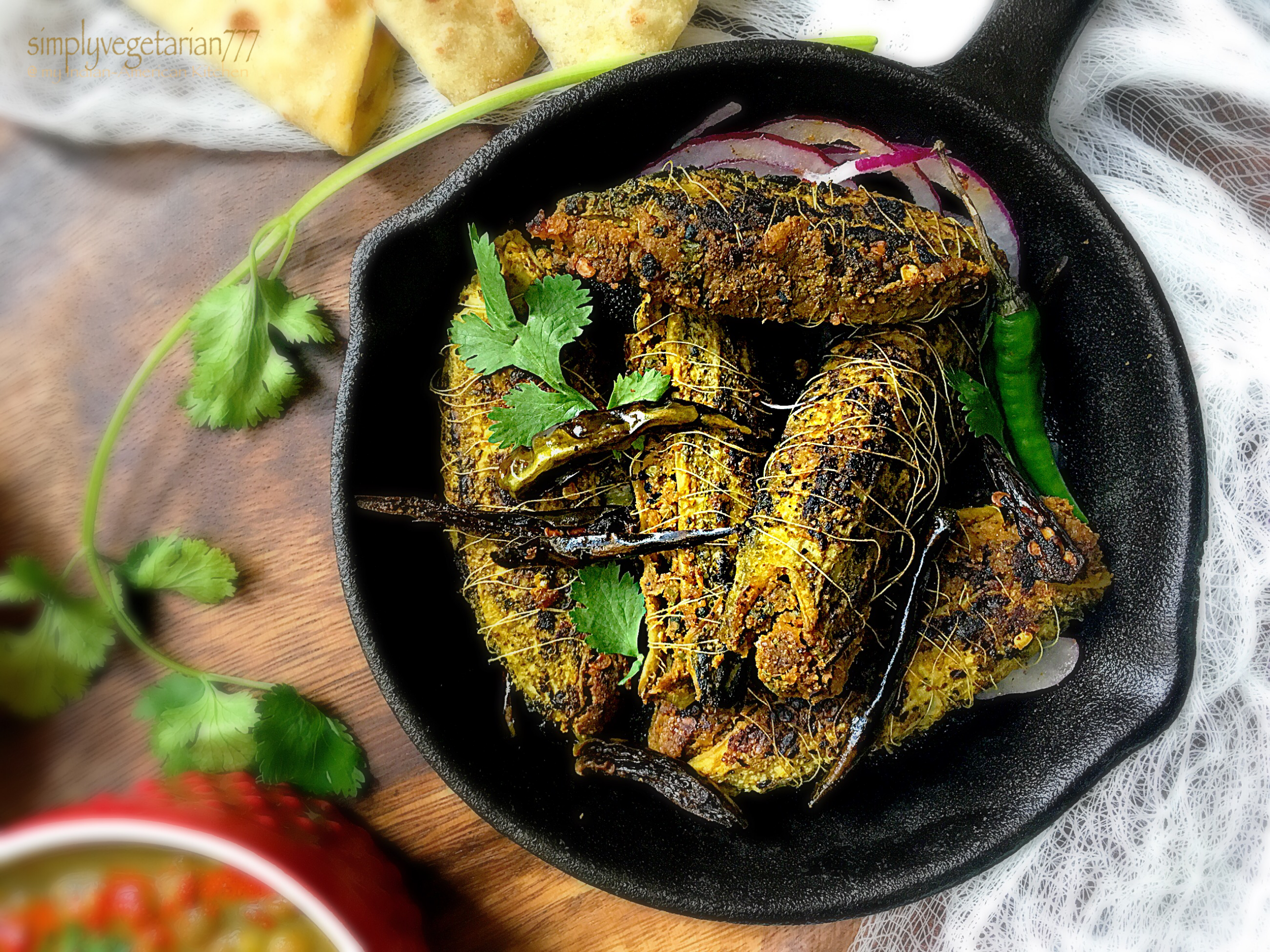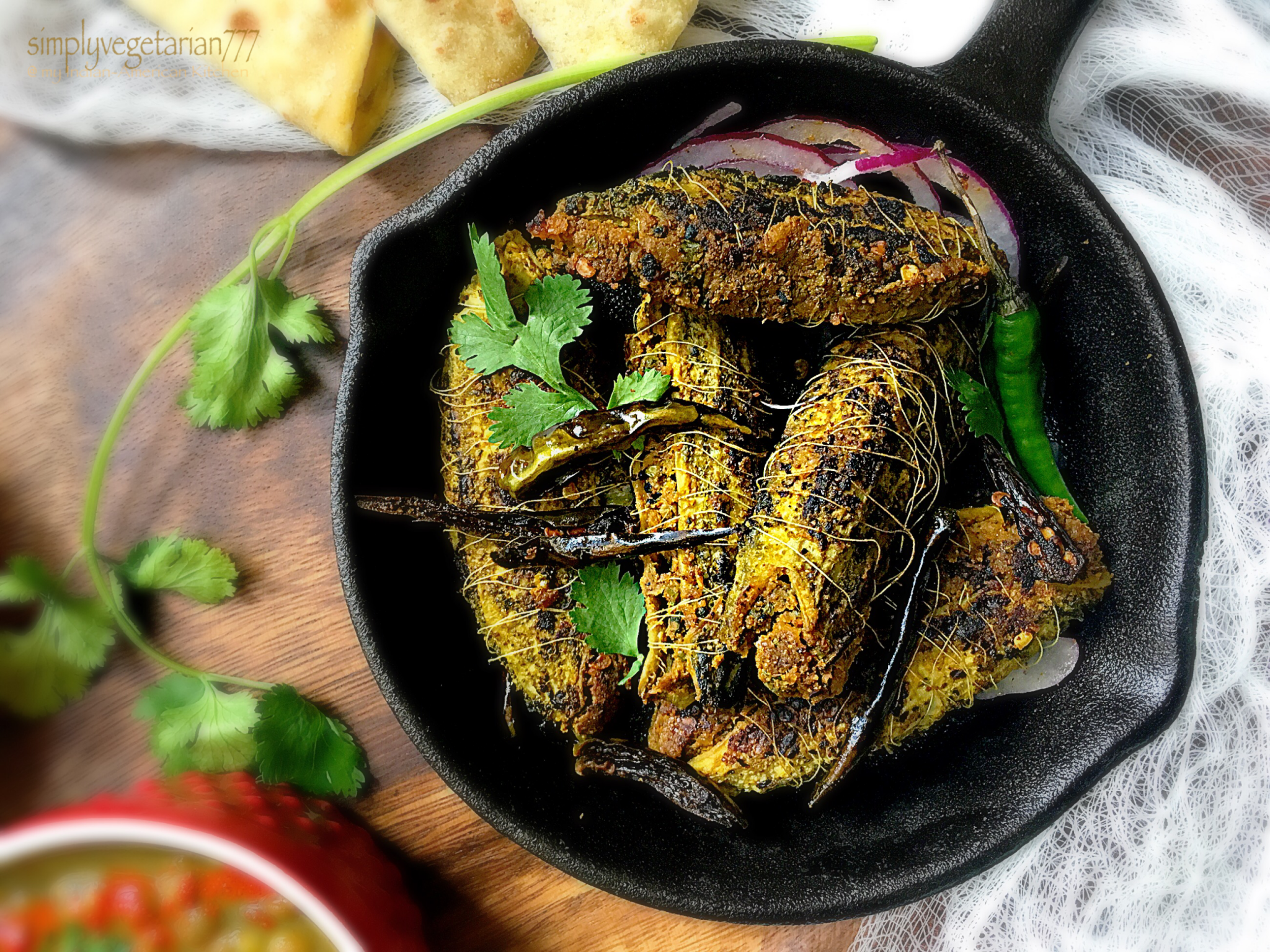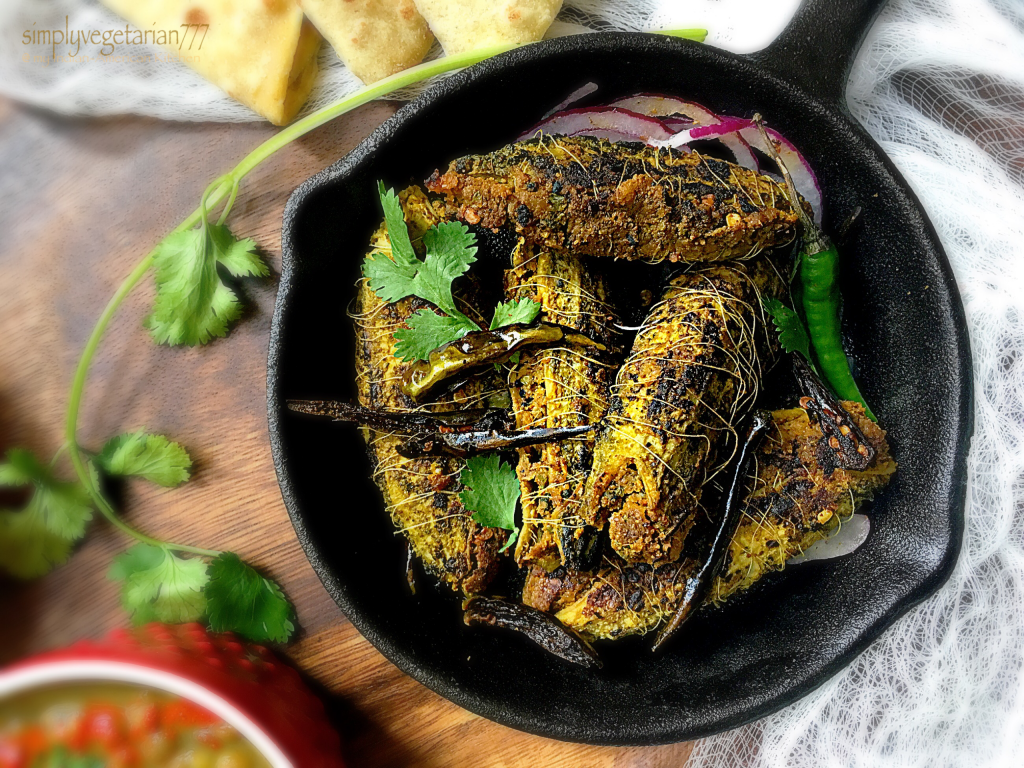 Punjabi Bharwaan Karela with Raw Mango is a popular dish from Northern India. Often stuffed with pickling spices, shredded karela skin & onions, cooked in mustard oil, it is quite a popular dish. Karela is Bitter Gourd, Bharwaan is Stuffed, Punjabi means belonging to the region of Punjab in India. The stuffing that I have used in this dish is a very proportionate filling and often comes handy in lot of stuffed or bharwaan vegetables like karela/bitter gourd, baingan/eggplant/brinjal,  bhindi/okra/lady finger. So, bookmark this post for sure for future reference.
Bharwaan Sabzi or Stuffed Vegetable is often considered a delicacy and is not prepared often, given the time and effort, especially given the large families in earlier days. But believe me, it was quicker to make, especially when I had to work on just 5-6 bitter gourds.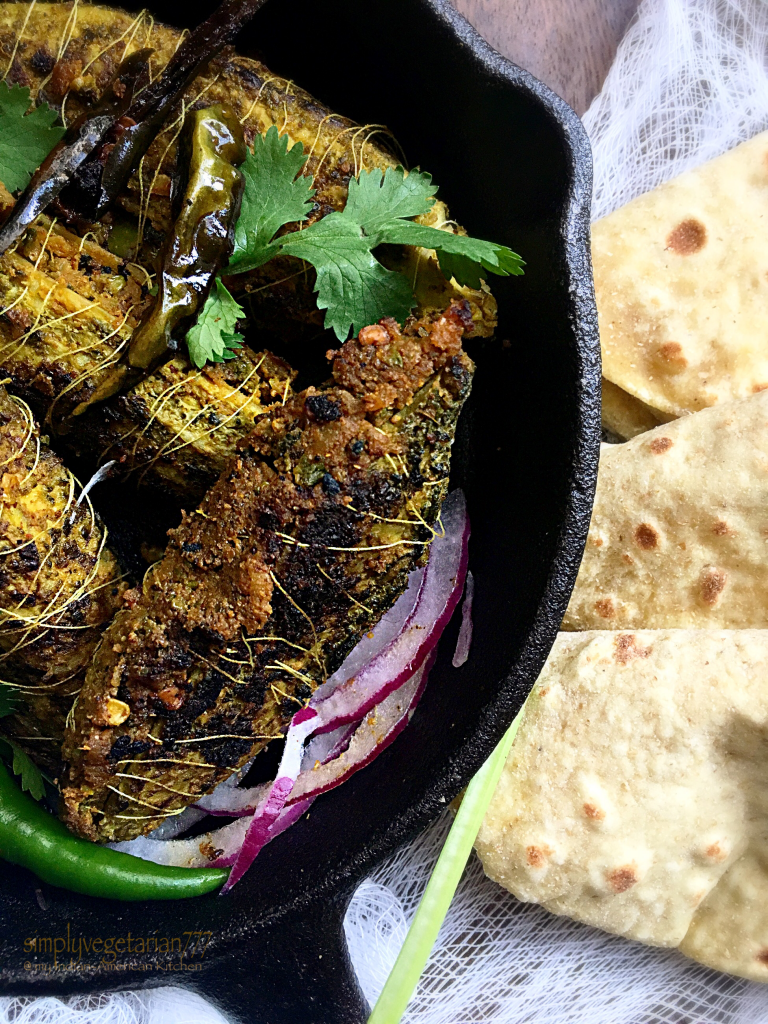 I have some fond memories attached with bharwaan karela, unfolding the long thread, wrapped around each karela, lost like a kitten absorbed in the hard play of knitting yarn. Sounds funny..eh.. But to tell you the truth, when I was wrapping delicate thread around the stuffed karela, a dejavu happened and took me back to my mum's kitchen, where I would watch her doing the thread game with her vegetables, with lot of effort and attention. And she had to do a lot of them at each time..I mean a lot, given the huge joint family and un-invited guests over the meals, most of the times. The dusky kitchen, summer heat, aroma of sizzling spices, my mum in cotton saree, racing against time to get the meals done on time….the whole nostalgia just unfolded itself in front of me, over that delicate thread, which I was wrapping around my Karelas.
But as they say, nostalgia is lived only in memories and that is what is cherished for ever. This recipe again comes from my Mum's Kitchen. God definitely made mothers to bring the comfort in our memories and tastes.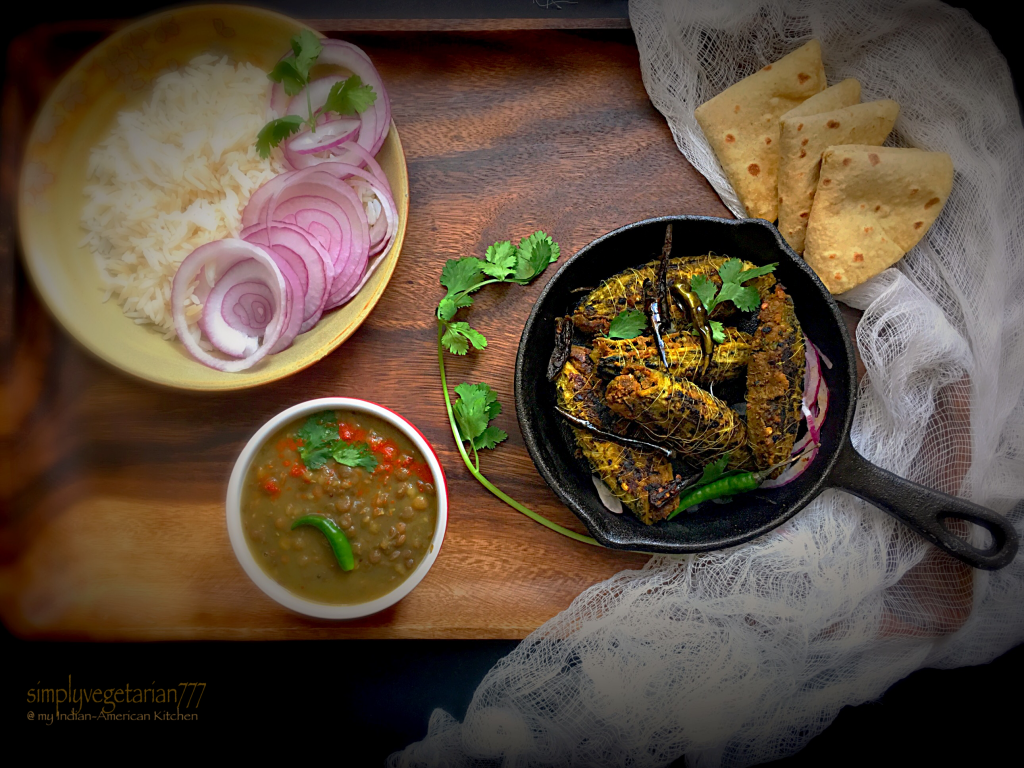 Karela or Bitter Gourd is very low in calories, almost 17 calories per 100 gms. It is rich in phyto nutrients and have proven to help stabilizing sugar in type-2 diabetes. It is rich in folate and advised in the diet of pregnant mothers. It is a good source of Vitamin C, B-carotene, Vitamin A. Since it is rich in fibers, it is a good laxative too. it is a moderate source of B-complex vitamins such as vitamin B-3, vitamin B-5, vitamin B-6 and minerals such as iron, zinc, potassium, manganese and magnesium.
Punjabi Bharwaan Karela with Raw Mango is a very simple recipe. We start with washing the karela & patting it dry. Scrape the skin of the karela, then making a single one side slit on karela. Cleaning the insides of the karela and tossing them away. Apply some salt on karela and leave them so that their skins soften. Meanwhile, we prepare the filling with onions, spices, scraped karela skin and raw mango, which is optional. I have used it since it enhances the flavors and it is the mango season. Once the filling is made, stuff the filling inside the karela. Wrap the thread around karelas to keep the stuffing and shape intact. Finally, shallow frying in oil.
This is a great recipe for lunch or dinner. Pan grill on Tawa or hot griddle by pressing it hard and cooking from all the sides, I promise it will not disappoint you.
Some Punjabi and Bharwaan or Stuffed Recipes from the blog are – Punjabi Bharwaan Baingan, Bharwaan Bhindi, Punjabi Kadhi, Punjabi Aloo Matar Samosa and many more.
Let us get to the detailed recipe now.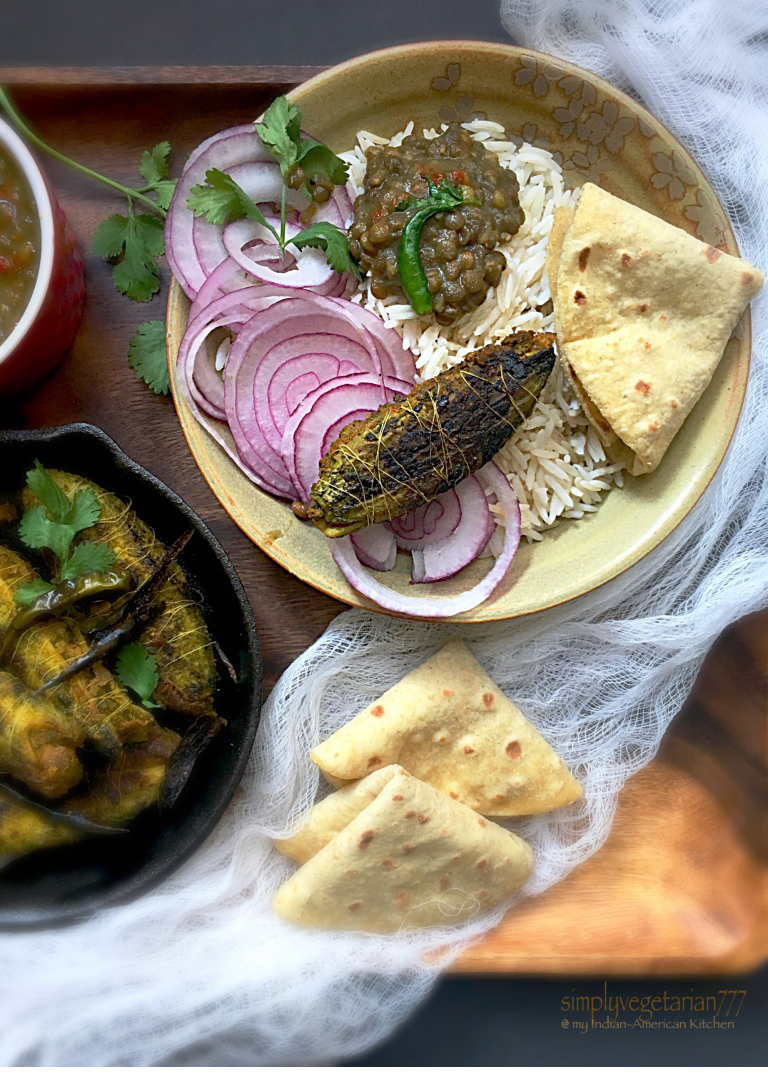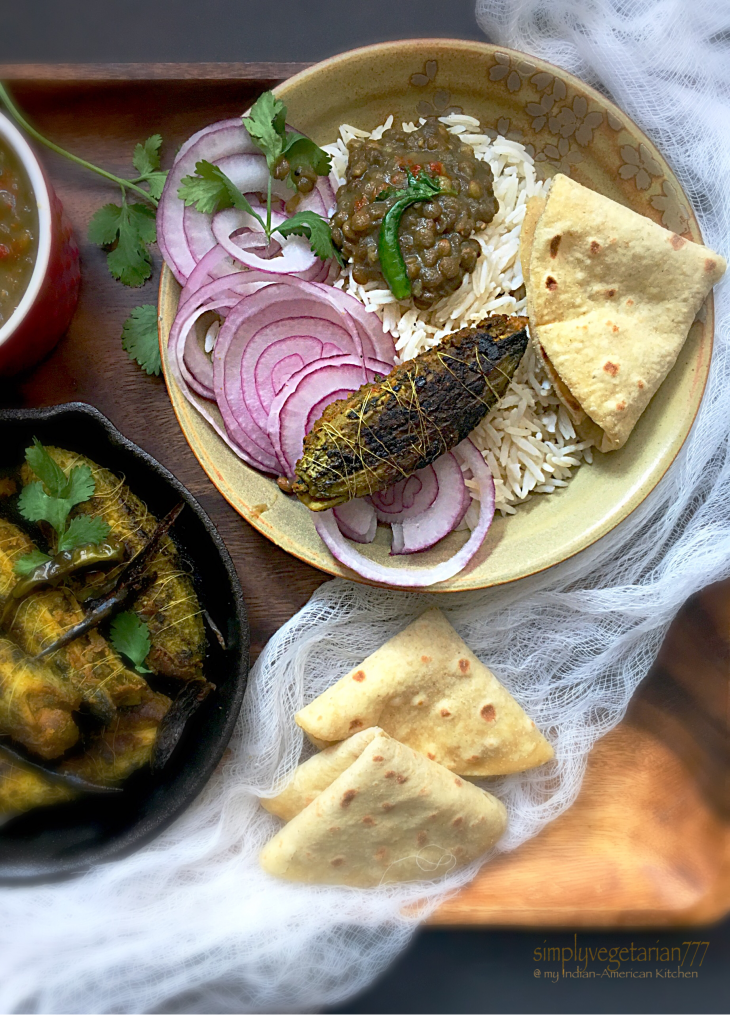 Punjabi Bharwaan Karela with Raw Mango
Karela or Bitter Gourd, stuffed with North Indian Spices and Raw Mango, then pan fried to crispier texture. A delicacy from Northern States of India. A dish to be savored with rotis or paranthas.
Ingredients
Karela / Bitter Gourd - 5 to 6

Onion - 1/2 small

shredded thin or processed in food processor

Raw Mango - 1/4 cup

shredded thin or processed in food processor
Oil & Spices
Mustard Oil - 1 tsp + 2 tsp. You may use vegetable oil also

Kalonji / NIgella seeds - 1/2 tsp

Coriander powder - 1 tbsp

Fennel powder - 1 tbsp

Cumin powder - 1 tsp

Ginger powder - 1/4 tsp

Turmeric / Haldi - 1/2 tsp

Red chili powder - 1/4 tsp to 1/2 tsp

as per the heat required.

Amchur / Dry Mango powder - 1/2 tsp

Salt -1/2 + 3/4 tsp or to taste

Sugar - 1 tsp
Thread to tie the karelas
Instructions
Preparing the Karela or Bitter Gourd
Wash the Karelas thoroughly and pat them dry with a clean towel.

Take a sharp knife and carefully scrape the pointy rough peel of the karelas and set aside. Do not throw it.

Make single slit on each karela (make sure that the slit does not go though the other side of the karela). It is like making a single insertion, only on one side.

After slitting the karela, scoop out the insides of the karela, especially the big seeds and toss them out.

Take a small bowl and toss the karelas with 1/2 tsp of salt in it.

Set the salted karelas aside. This step is necessary to soften the thick skin of karela or otherwise it will not cook through.

Note - Many people parboil the karela in hot water also and then pat them dry to fill and pan fry.
Preparing the Stuffing
Heat 1 tsp of mustard oil in a non stick pan. Bring it to the smoking temperature and then reduce the heat to medium.

Add kalonji (nigella seeds) to the hot oil. Once they splutter a bit, add finely chopped onions to the pan. Saute them on medium till onions turn slightly pink.

Now add the scraped karela skin, all the spices and sugar as mentioned above plus the raw mango to the pan.

Saute for a minute on medium heat. Switch off the gas stove. Let it cool down for 2-3 minutes.
Stuffing the Karelas
Now attend the karelas first. Squeeze them out gently between your palms. Pat them dry with a clean kitchen towel.

Pick one karela and fill it up tight with the stuffing.

Take the thread and wrap it around the karela in whichever fashion you like. This thread will keep up the shape of the karela and stuffinh inisde it while, pan frying it from all the sides.

Finish all the Karelas likewise.
Pan Frying the Karelas
Heat 2 tsp of mustard oil in a non stick or hard anodized pan. Once it reaches the smoking poit, reduce the heat to medium.

Place all the stuffed bitter gourds in the pan, slit side down. Roll them quick in oil so that all the sides are coated in oil. End up with slit side down again.

Now place the lid of the pan. Cook on medium low heat for about 4-5 minutes. This will make the skin cook tender before crisping.

Now remove the lid. Cook the stuffed karelas from all the sides on medium to high flame from all the sides.

Cook for about 10-12 minutes, making the karela crisp from all the sides.

Your delicious karela is ready to be served with hot rotis or paranthas.
Notes
You may use any cooking oil. Mustard oil lends to the rustic flavor of the dish.

Make sure that you pick the karelas with thin amd soft skin. Pick the fresh ones from the store or market.

Sugar is optional here. I have used it to cut down on the bitter taste of the karela.

Raw Mango is a seasonal addition since summer has its abundance. I used frize raw mango. You may use either fresh or frozen.
I had a great time cooking these Punjabi Bharwaan Karela with Raw Mango in my Indian American Kitchen, reminiscing some nostalgia. I am sure you will love cooking this too.
Sonal