Bharwaa Bhindi, Tawa Fry
As an Amazon Associate and member of other affiliate programs, I earn from qualifying purchases.
Bhindi or Okra or Lady Finger are some of the names, this vegetable is known as. It is widely used in many cuisines and in various forms.
I have an interesting story to tell you about this vegetable. Growing up in India, we always called the "humble okra" as lady fingers. When I came to USA in 2001, I didn't know that. It had been a while since I had it, so I went grocery shopping for lady fingers. I addressed an assistant there to guide me where the lady fingers are and she happily took me to the cookies aisle and showed me the Italian biscuits used for making tiramisu. I looked at her and then I said in my head, "duh! She doesn't know lady fingers?" It was difficult to cross over that lady finger debate with the assistant at that point. Frustrated, I came back home! Few days later, I went with an Indian neighbor to shop for groceries and then learnt that "lady finger is not a lady finger any more. It has dawned the hat of Okra." My cross culture learning began at that point. Brinjal had become Egg-plant and so on !! I am laughing as I write this.
Now on to the recipe!
Bharwaa Bhindi, Tawa Fry
Servings: 4
Difficulty: easy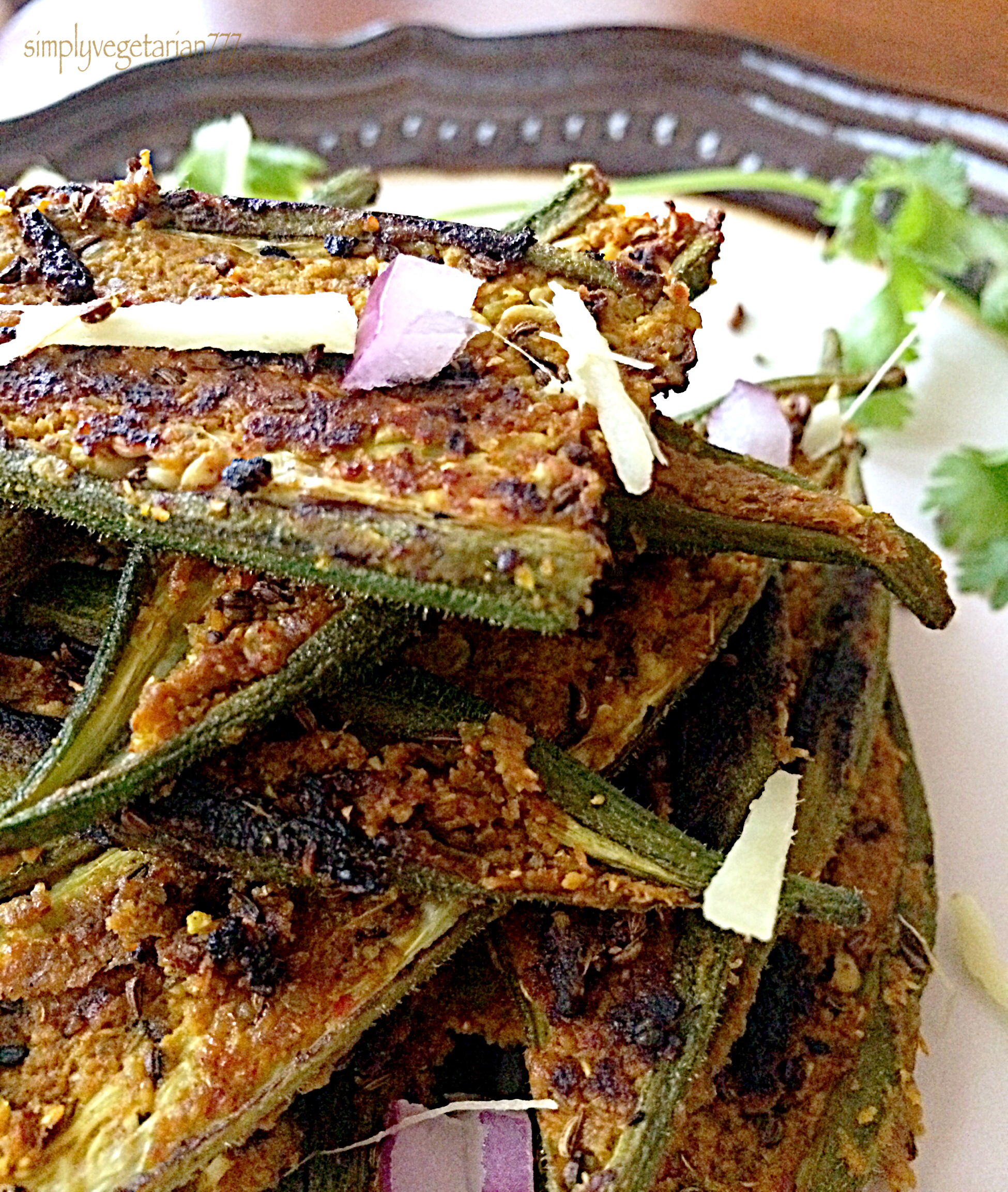 Kitchen Equipments Required
Chopping board, knife, a microwave safe plate, heavy bottom broad sauté pan ( nonstick or hard anodized preferred), a flat spatula
Ingredients
Okra / Bhindi – 250 gms, whole
Oil – 1 tbsp
Carom or Ajwain seeds – 1/2 tsp
Spices for filling
Turmeric – 1/2 tsp
Red chili powder – 1/2 tsp
Whole coriander seeds – 1 tbsp
Cumin seeds – 1 tsp
Fennel seeds / saunf – 1 tsp
Dry mango powder / amchur – 1 tsp
Salt to taste
Yogurt, thick – 2 to 3 tbsp
Method
Refer to the pictogram given below!
1. Wash the okra and wipe it dry completely.
2. Remove the head of okra. Slit from one side, making sure that it doesn't cut through.
3. Make a coarse powder of cumin, coriander and fennel seeds. Mix all the other spices. Add yogurt to make a thick paste.
4. Fill the okra with the spice mix. Finish the batch likewise.
5. Microwave in microwave safe plate for 5 minutes.
6. Heat oil in pan and add ajwain seeds. When they crackle, place the microwaved okra in the pan, slit side down.
7. Reduce the heat and cook in an open pan for another 7-10 minutes. While cooking, press these down with flat spatula for extra crispness.
Bharwaa Bhindi is done to be enjoyed with your family and friends!
Pictogram