Punjabi Bharwaan Baingan (Stuffed Eggplants)
As an Amazon Associate and member of other affiliate programs, I earn from qualifying purchases.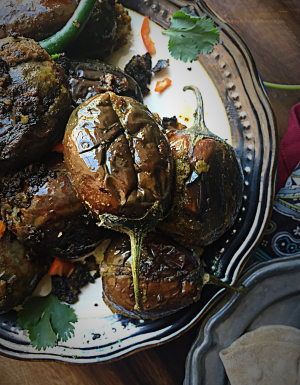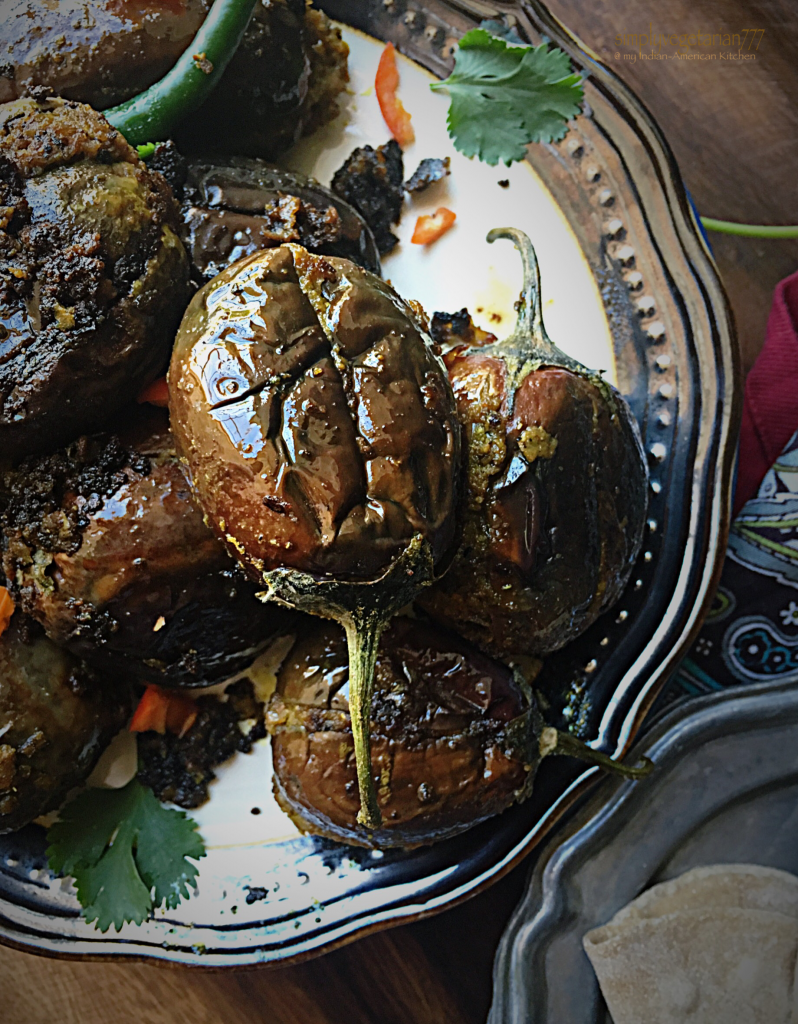 I know! I know! I am back with another eggplant recipe again. It seems  that I can't get enough of this meaty, nutritious and delicious vegetable. But hey, if there is another recipe to make and share then why not..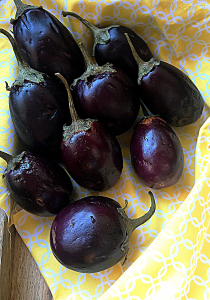 Baby eggplants are perfect for cooking. They don't take long to cook and make a hearty meal.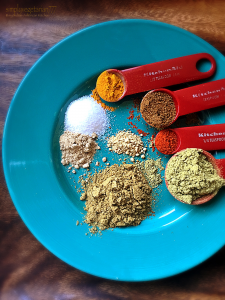 Jazzed with some spices and that's it! The list of the spices can be small or long, no matter what, they never disappoint you.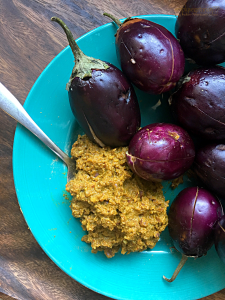 This is my mother's recipe and very close to my heart. My mom makes the best Baingan, which ever form it is. I love her Baingan Bharta. It used to be on the top of my list for her to prelate, whenever I visited home. Served with some hot Roti. Complete bliss!
While taking notes from mum, I snapped in between when she said, you have to cut the onions lengthwise and "very" thin. I shot back…are you serious? No! Not doing that. I don't have time and patience to cut the onions per your instructions and this will make the recipe too tedious for me. She didn't like it but knowing me, the kind of strong headed daughter I am, she didn't persuade me further. I asked, "what if I process the onions in food processor" and she agreed. I must say that the result was fabulous. The filling came out so thick and paste like that it was much more in control.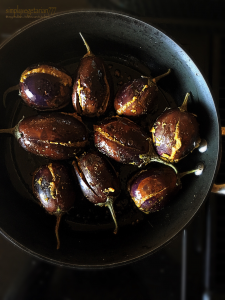 So, I filled the slit eggplants with the onion and spice paste. Seared them in some mustard oil.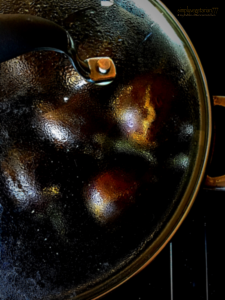 Covered them with lid to cook the insides and wallah…finger licking delicious and soul warming Bharwaan Baingan were ready.
I have added a step of microwaving the stuffed eggplants to reduce th actual cooking time and that has always helped. Though it is optional. You may skip it and add the eggplants directly to the oil. Did you ever believe that a Bharwaan or Stuffed recipe can be this simple and can be achieved within 20 minutes from start to finish?
Check it out for yourself! 
Punjabi Bharwaan Baingan
Servings: 4
Difficulty: easy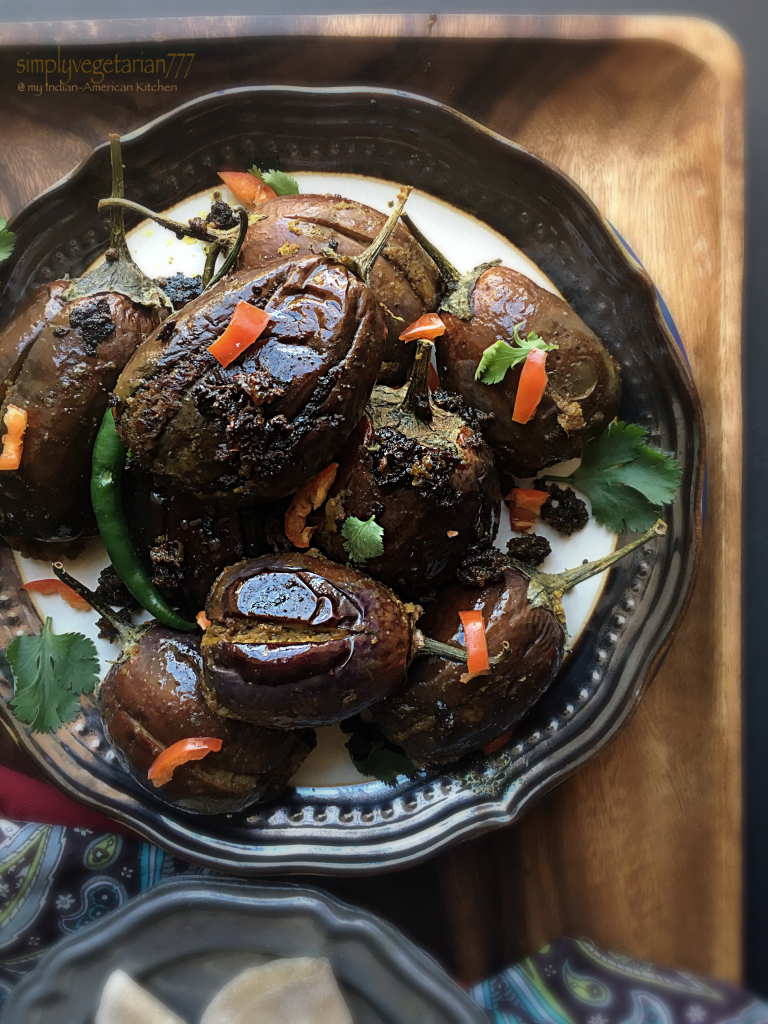 Kitchen Equipments Required
Choppping board, knife, heavy bottom pan with lid(non stick or hard anodized preferred), a flat spatula, a microwave safe plate, a bowl, food processor, spoon.
Ingredients
Baby Eggplants / Aubergine – 10
Onion – 1 small
Oil & Spices
Mustard Oil – 1 tbsp. You may use vegetable oil also.
Coriander powder – 1 tbsp
Fennel powder – 1 tbsp
Cumin powder – 1 tsp
Ginger powder – 1/4 tsp
Turmeric / Haldi – 1/2 tsp
Red chili powder – 1/4 tsp to 1/2 tsp, as per the heat required.
Amchur / Dry Mango powder – 1/2 tsp
Salt – 3/4 tsp or to taste.
Method
Prepping the Eggplants – Wash the baby eggplants and dry with a towel. Keep the stems of the eggplants intact. Don't chop them off. Make 2 incisions across the baby eggplant so that there are 4 cuts. Don't cut through the bottom. Leave 1/4 inch intact from the bottom. Set them aside.
Making the filling – Take the food processor. Add roughly chopped onion and all the spices to it. Make a fine paste out of it. Take it out in a bowl.
Filling the Baby eggplants with filling – Pick one baby eggplant. Gently open up from the top, without breaking it from the bottom. Apply the filling inside both the cuts and spread. I used a small spoon to do that. You may use a plastic knife also. Just butter it up heavily with the onion and spice filling. Set aside and fill all the babies.
Microwave the filled eggplants for 2 minutes. This step is optional. I normally microwave all my stuffed vegetables to make sure that the filling inside gets nicely cooked. This step also reduces the cooking time considerably.
Cooking Bharwaan Baingan- Heat Mustard oil in the heavy bottom pan and heat till it smokes. Reduce the heat to medium. Add the stuffed eggplants to it carefully, one by one. While at medium heat, gently rotate each eggplant (holding their tails or stems 😀) in the oil so it is evenly coated in mustard oil. Now cover with lid. Let cook for 3-5 minutes covered to soften it up from the inside. Remove the lid. Rotate and cook on medium heat for 7-9 minutes more. Rotate in between for even charred and cooked marks, avoiding any burns.
Your Punjabi Bharwaan Baingan are ready :).
Serving Suggestion
Serve these warm with rotis or paranthas or naan or even pulav. These are delicious accompaniments to any starchy carb on the side. I don't need any carb along with it. I can just pick one like that and bite on it like a pickle!!

If you like Bharwaan Baingan, then you would like Shailja's Gujrati Bharwaan Baingan  too. Just click on the link 👆 to get the recipe.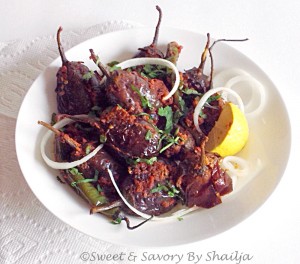 I had a great time cooking these in my Indian American kitchen. I hope you will enjoy it too!!
Sonal