Punjabi Kadhi with Baked Pakora : A curry made with chickpea flour and buttermilk/sour curd
As an Amazon Associate and member of other affiliate programs, I earn from qualifying purchases.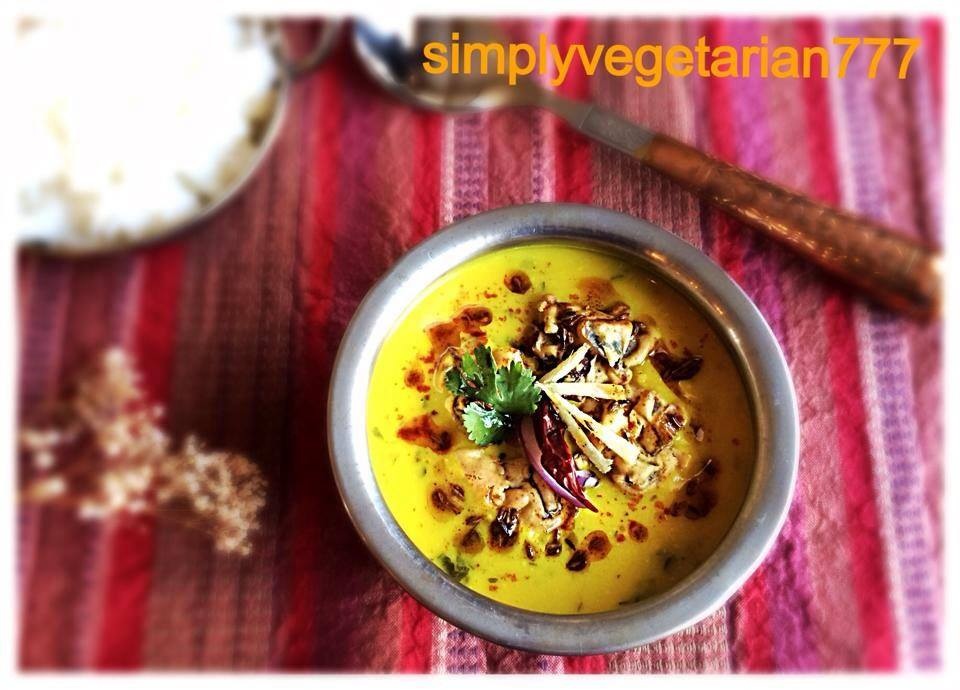 A gorgeous golden curry which is a comfort food and keeps me connected to my family and a part of me that I left back in India. It brings back so many childhood memories. Whenever my mom cooked Kadhi, the whole house smelled divine. I and my sister would be in the kitchen holding a bowl each, standing on the either side of mom and begging her, "can I taste some more, please mom?" Mom would keep pouring a ladle each in our bowls and finally would say, "Enough, I have to keep it for everybody for lunch". We could never had enough :). Such a simple dish yet such a warming and full of love kinda dish.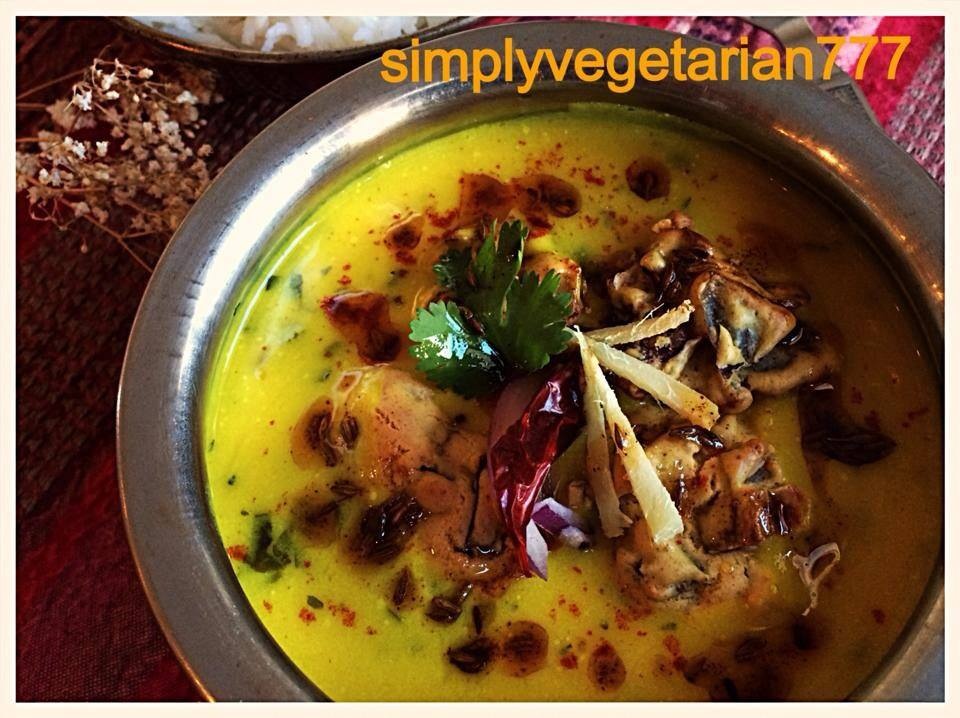 Another memory is of fritters made with chickpea flour/besan. The kadhi is generally loaded with chickpea flour/besan fritters also called pakodas or bhajji. Mom would always make an extra batch for us kids to enjoy them warm as a snack while the lunch got ready. I wonder how much did 4 of us (me, my darling sister and my 2 wonderful younger brothers) ate and my mom would never get tired. Those were the days. Simple. Non complicated. Filled with the richness of simple foods and loads of family time. And actually we used to eat from the same big plate over the weekend, each making sure that the next bite of the flatbread is in their mouth :))..lol…. The silly competitions of "who will eat more" and who can escape first so that he/she doesn't have to clear the table etc etc….. So many good old memories :)….leave me happy and sad! Such is the cycle of life !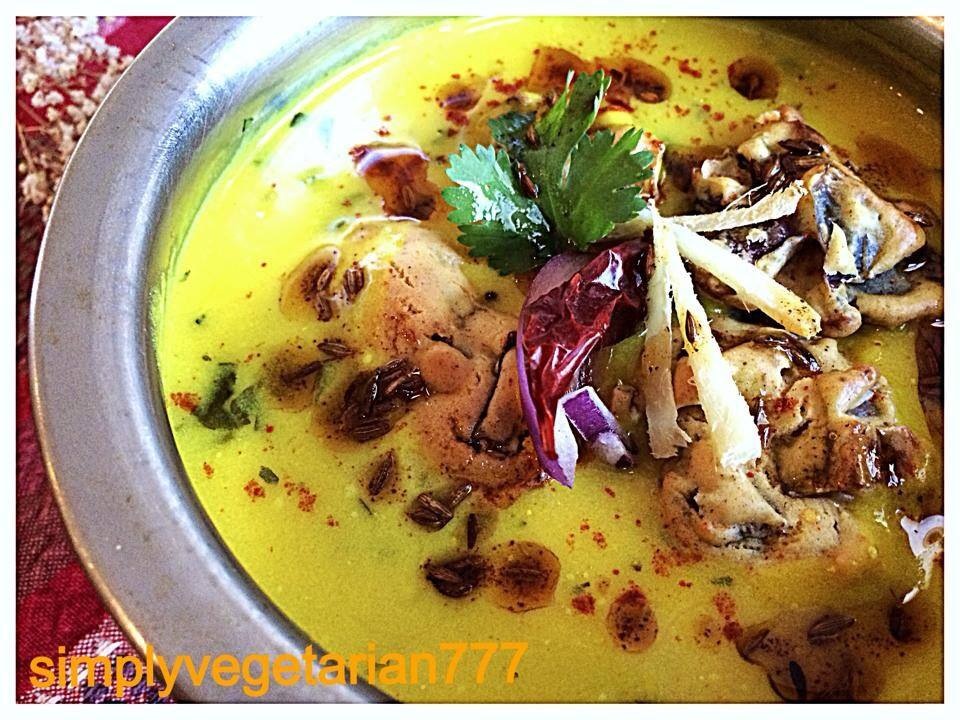 The Kadhi Chawal is a very famous combination in northern and western parts of India. Whereas, Kadhi is the curry with chickpea flour and buttermilk and Chawal is Rice. It is often enjoyed as a good weekend lunch. Today, I am going to document my basic kadhi recipe. Though my mom was the one who introduced me to the wonderful taste of Kadhi but it was my mother in law who taught me how to make it. Mine is no where closer to mom's or MIL's but pretty good in itself :). One day, it might serve as a reference to my daughters when they are ready to roar in their kitchens :). Did I mention that this is another very commonly served curry in Indian restaurants during lunch buffets?
I bet rice is the best friend to so many side dishes in lot of cuisines. I wonder if there was no rice, what else could have been there. Yes of course now a days we have so many other options like bulgar wheat, quinoa, couscous, etc etc etc. But nothing can beat the rice! True, right?
Coming down to the recipe now. I have to point it out here that I have started baking my fritters in the oven rather than frying and this is much healthier for my family. You can fry the fritters if you want to.
Get ready!
Serves : 6-8
Kitchen Equipments Required :
Stirrer, Deep and heavy bottom sauce pan, ladle, baking sheet, parchment/butter paper, oven.
Ingredients :
Besan or chickpea flour : 1/2 cup
Buttermilk : 4 cups
Water : 5 cups
Tempering :
Oil : 1/2 tbsp
Asafetida/hing : a pinch
Fenugreek seeds : 1/2 tsp
Cumin seeds : 1 tsp
Mustard seeds : 1 tsp
Nigella seeds or kalonji or black onion seeds : 1/4 tsp
Dry red chili whole : 2
Turmeric : 1 tbsp
Ginger powder : a pinch or 1 tsp of freshly julienned ginger
Salt to taste
Red chili pepper : 1/2 tsp or to taste
Additional Optional Toppings :
Dry fenugreek leaves :1tbsp
And / OR
Fresh spinach : 3 tbsp chopped fine or frozen spinach : 1-2 tbsp
And / OR
Onions : 1/2 cup, sliced thinly
Baked Fritters :
Chickpea flour : 1/4cup
Onion : 1/2 cup chopped fine
Baking soda : a big pinch
Salt to taste
Red chili powder : 1/8 tsp
Ajwain or carom seeds : a big pinch
Water : 2-4 tbsp, just enough to combine them in a thick batter, like that of waffle batter or idli batter (slightly less than free pouring consistency)
Final Tempering :optional
Oil/Ghee : 1 tbsp
Cumin seeds : 1 tsp
Red chili powder : 1/4 tsp or to taste
Method : Dividing the recipe in separate steps to understand better.
Making Baked Fritters :
1. Preheat the oven at 425*f. Line a baking sheet with butter or parchment paper.
2. Combine all the ingredients mentioned under Fritters, above. Add water little at a time to reach the right consistency of thick batter. It should not be flowing at all. Adjust the chickpea flour accordingly if you pour extra water by any chance.
3. Spoon out 1 tbsp batter on the baking sheet, 1 inch apart. Bake in the oven for 15 odd minutes, while flipping it in the mid time and rotating the tray for even baking. All done.
Making Kadhi :
1. Sieve the flour in a bowl.
2. Add the buttermilk slowly to the flour and keep stirring vigorously with a stirrer, to avoid any lump formation. Add turmeric to it now and stir with a stirrer. Set aside.
Note : Many people add turmeric later but I add it this point since turmeric can also become lumpy when added to hot liquid later. Doesn't alter the taste at all.
3. Heat the oil in a deep saucepan. Lower the flame to low. Add asafetida, red dried chili whole, cumin seeds, black mustard seeds, nigella seeds and fenugreek seeds to the oil. Once the cumin and mustard seeds start crackling, add the flour and buttermilk mixture to the pan, slowly. Add water. Stir well with a ladle.
Note : if you plan to add onions to the Kadhi, then add the onions after the seeds splutter in the oil. Sauté for 4-5 minutes till they are tender and then add everything else as mentioned above in step 3.
4. Add red chili powder, ginger powder or julienned ginger and salt to taste. This curry needs to be seasoned with good amount of salt. If you have high blood pressure, then kindly stick to your prescribed sodium levels and keep it low.
5. If you are using any additional toppings like Fenugreek leaves, spinach and or even Kale, add it now.
6. Put the flame to medium. Cook it in the pan for good 1/2 an hour atleast. The secret of this curry is "more you cook, the better it is in taste".
Note : Keep an eye while the curry is cooking. Keep stirring after every 7-8 minutes to avoid the sticking at the bottom.
Give it a spoon lick test ;). See if the curry needs more salt and adjust.
Making Additional Tempering :
Heat the oil in a pan. Add cumin seeds and once they start crackling, add red chili powder and turn the stove off. Season the Kadhi/curry with this tempering on the top.
Enjoy with some hot rice or fresh flat bread called roti / chapati / fulka or Naan. You may add chopped cilantro/coriander leaves for additional garnish.
Well I can drink it up like a soup :).
Enjoy!
Sonal