No Bake Cheesecake
As an Amazon Associate and member of other affiliate programs, I earn from qualifying purchases.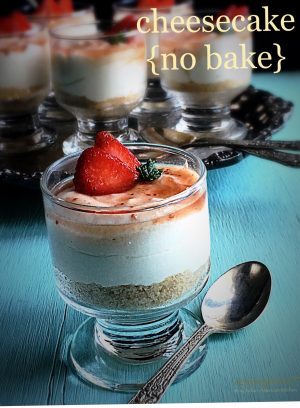 No Bake Cheesecake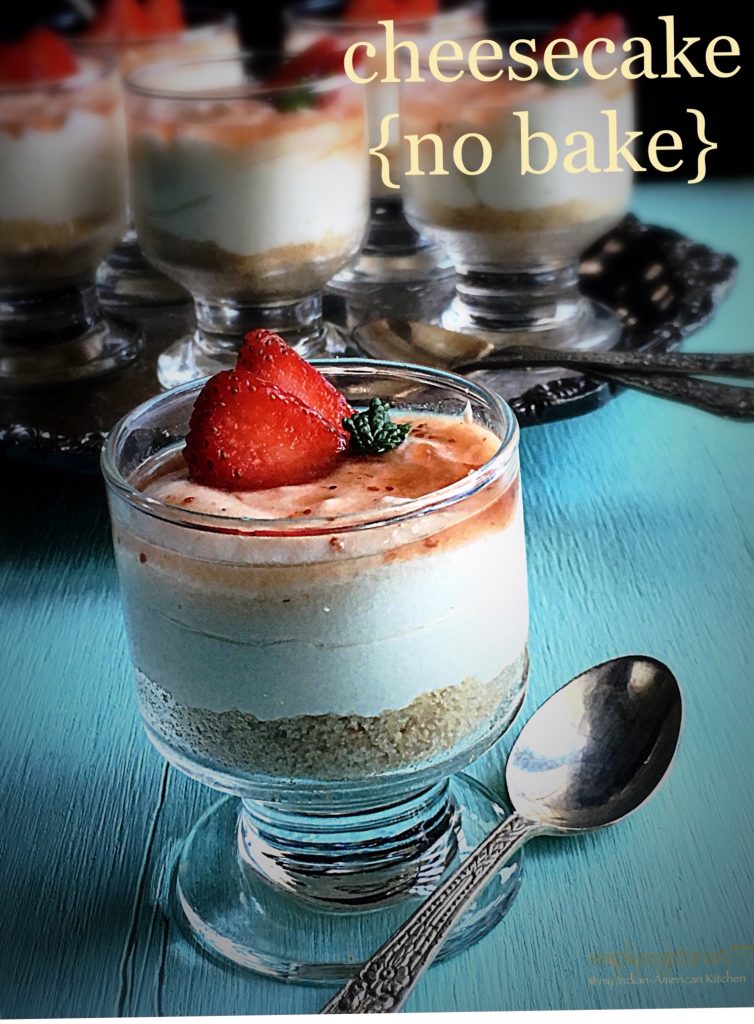 No Bake Cheesecake is calling your name if you are a fan of cheesecake. This recipe is super easy to assemble and as the name suggests, it does not need any baking. As you can see the pictures, the dessert is served in individual dessert cups so it is a big winner when you are opting for portion control. Are you with me on the dessert now?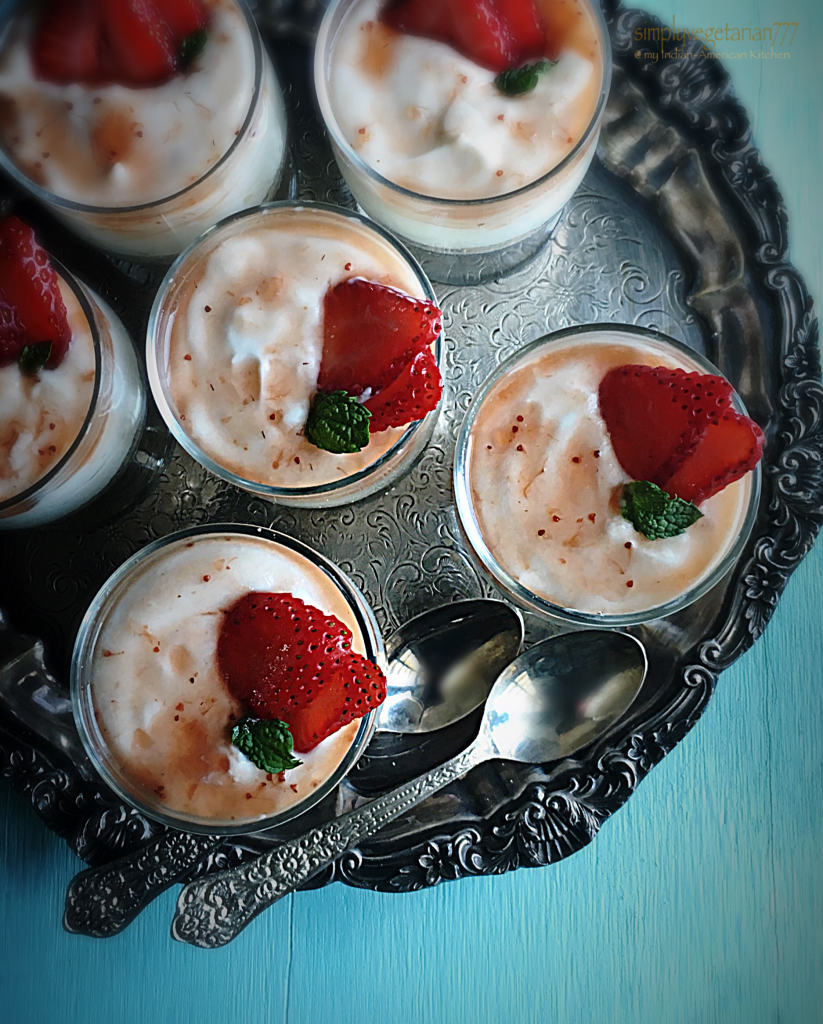 My beautiful 2 daughters are a huge fan of New York style Cheesecake, so much so that they can feast on that, almost every day of the week. I am not kidding here. Seriously! They both can easily finish a thick slice each everyday and can still demand for more. It is me, who does not give in to their cheesecake demands every time to keep the desires in check. I mean, who can eat cheesecake every day!!
Lately, I had been avoiding the reminders from my oldest daughter to bake a cheesecake. I even told her one day, "Give me a break child! It is hot and that huge oven will increase the temperature of the house by 10 degrees. So wait till the fall arrives."
She heard me and then broke down and mumbled, " mom then buy it from the store. They sell it by a slice." Please believe me that I am not a bad mother. It is just that She wanted to eat it. I wanted to bake it. Truth to be told, baking overwhelms me..there I said it!! Yes, baking scares me most of the times.
Baking is a strict discipline and can not be messed with random wilderness. I am a wild child and when I bake, I have to keep my wandering mind in control. That irks me. Though baking is very rewarding, when conquered well!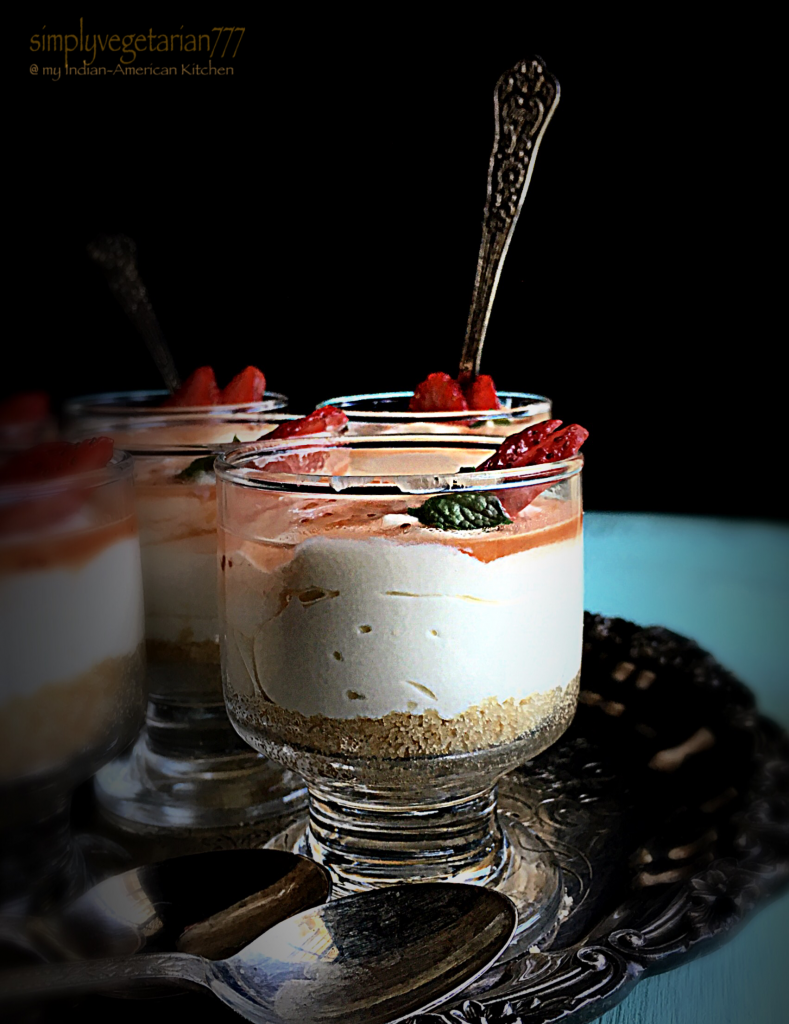 So after constant nagging and bickering, I agreed and gave in. You must be wondering that it would have been a better choice to have bought from the market and fed her. Yes, ideally it would have been great. But it would have been a phantom defeat for the stubborn me and a mother who really wants to feed her children something that is home made.
I have baked Chocolate Cheesecake before and it came out fantastic. This time, I wanted to make a No Bake Cheesecake which is easier and quick to put together. This recipe is no fail recipe. Few ingredients and an amazing dessert was ready in under 20 minutes plus the time to chill needs to be taken in account.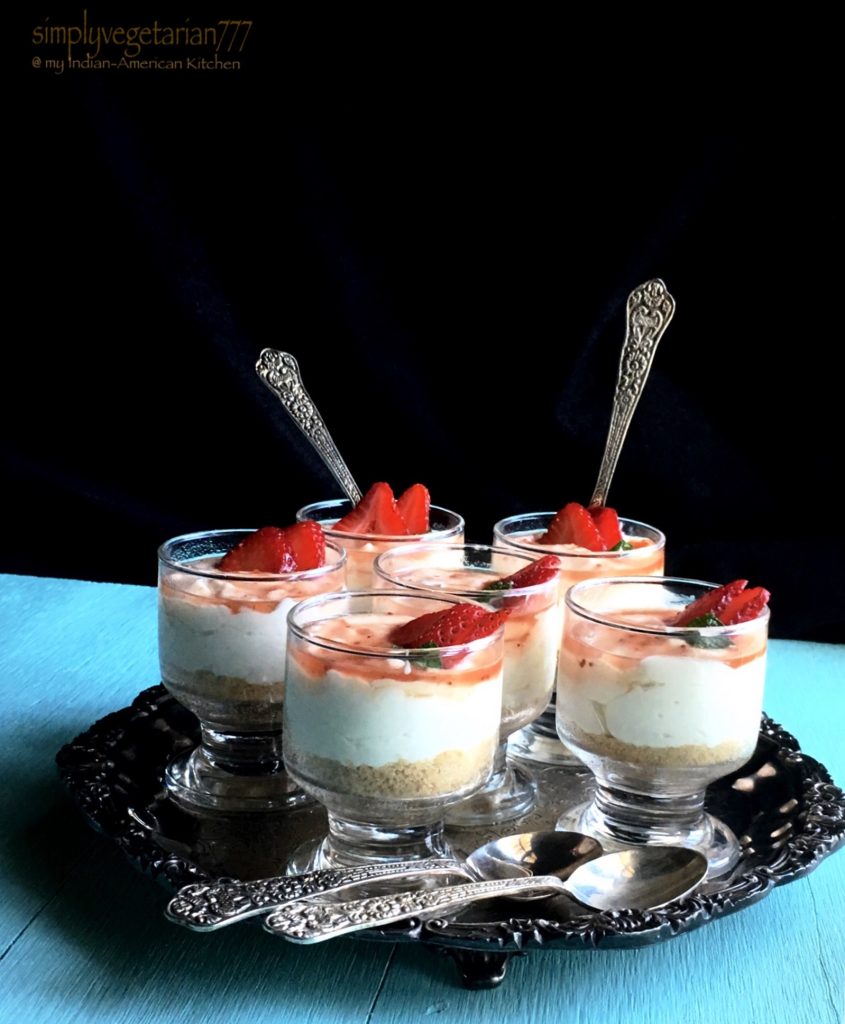 Do you want to know another secret that makes this No Bake Cheesecake more desirable? Yes? It is low fat. Yes, I have used low fat cream cheese and sour cream to lighten this up. I also skipped the heavy whipping cream since this kind of cheesecake does not need to set and stand without support as seen in regular cheesecake.
NOTE – You must set and serve this kind of No Bake Cheesecake in individual dessert cups for better presentation and to hold it up. If you are not convinced then you may call it as a cheesecake pudding. Whatever you call it, I promise one thing – DIVINE TASTE!
My daughters loved it and they loved it so much that out of 6 servings that I made, they finished 5 dessert cups between themselves and 1 was devoured by Amit. Me? I just keep shuttling between them with a spoon in hand for 1 bite here and 1 bite there. I am not exaggerating at all.
This is all that you need for this recipe – a few handful of ingredients. They are –
Biscuits or Cookies
Butter
Sugar
Low fat Cream Cheese
Low fat Sour cream
Milk
Strawberry Jam
Strawberry
Read the complete recipe as given below for substitutes, in case you can not source the cream cheese and sour cream.
Some other no bake easy desert recipes and cheesecake recipes from my blog are –  No bake chocolate cheesecake , chocolate cheesecake , strawberry cheesecake etc.
This is how I made it !
No Bake Cheesecake
An easy take on American Cheese cake. Simple dessert ideas.
Ingredients
Ingredients for Classic Bottom Cookie Crumb Layer (Read the notes section for more options).
Crumbs

fine - 1 cup of Graham Crackers or Marie Biscuits. Approximately 15-20 cookies or crackers.

Butter

melted - 4 tbsp

Granulated Sugar - 1 tbsp
Ingredients for No Bake Cheesecake Layer
Cream Cheese

low fat - 1 cup or 8 ounce at room temperature

Sour cream - 1/2 cup

low fat at room temperature

Milk - 2 tbsp

Vanilla essence - 1 tsp

Sugar

powdered - 1/2 cup
Garnish
Strawberries - 3

sliced thin

Strawberry Jam - 2 tsp diluted with 1 tsp water and whisked well

Mint leaves for garnish
Instructions
Making the Cookie Crumb Layer
Take a grinder and add the cookie crumbs, butter and granulated sugar to it. Give a good whisk to gather it together.

Take 6 dessert glasses. Distribute the cookie crumbs evenly in all the 6 glasses. Press them down firmly with a fork or spoon to make an even thick layer. Set aside.
Making the Cheese Cake Layer
Take a deep bowl. Add the cream cheese, vanilla essence and powdered sugar to it.

Whisk these ingredients at the fast speed with electric egg beater / whisk for 3-4 minutes till it gets light and fluffy.

Now add the sour cream and milk to the mix. Whisk these with cream cheese batter on light speed till incorporated well for about 1-2 minutes.

Take this mix and distribute it evenly in 6 equal portions and spread it over the cookie crumb layer in the dessert glasses.
Making the Garnish Laye
Add water to the strawberry jam and mix well. Spread this diluted jam over the cheesecake layer evenly. Arrange the sliced strawberries and mint leaves.

Cover the top of the dessert glasses with plastic wrap.

Refrigerate for 3 hrs before serving.

Serve it chilled.
Notes
In case you can not find cream cheese, make fresh chhena (soft paneer without setting) and use that. To replace sour cream, use thick fresh yogurt, Hang the yogurt in a cloth for 1 hr and let the water drain out. This thick yogurt can work well. For cookies, you can use any slightly sweet cookies or biscuits. For jam and fruit, you may use the fruit and jam of your choice.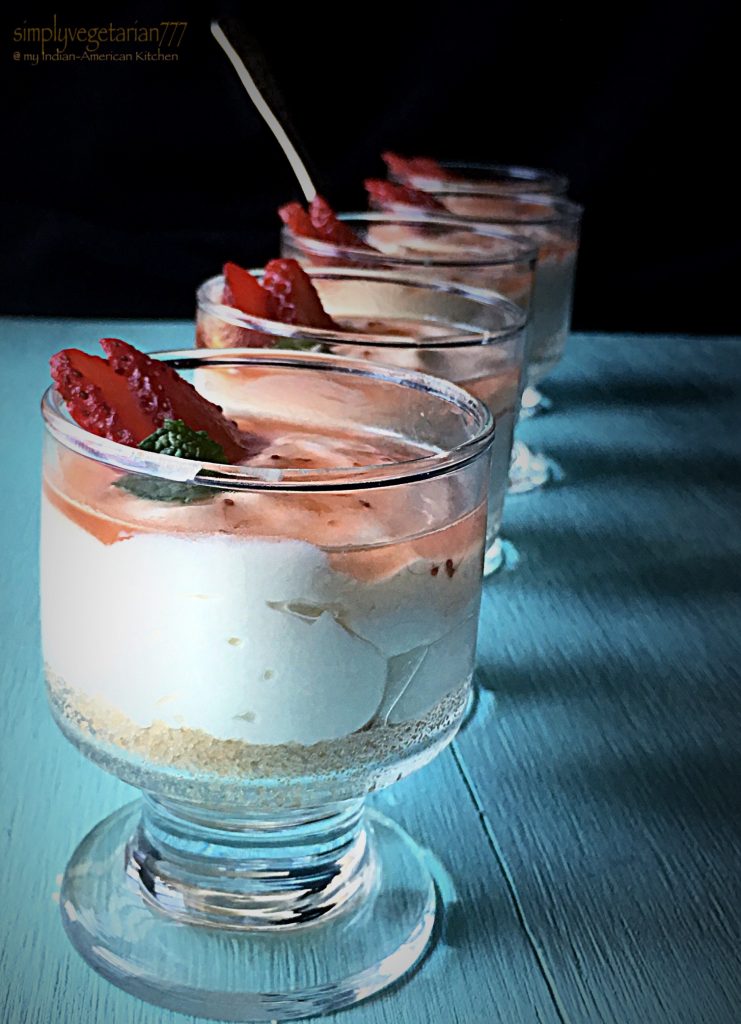 Are you there with me? I am sure you are :). Make this gorgeous and super simple No Bake Cheesecake this weekend and treat your family and friends. I am sure they are going to love it. For anybody out there who hasn't tasted the cheesecake before and is wondering how does this particular one taste, then I can compare it to Indian shrikhand or American parfait, somewhere around there.
If you try it, then do write back to me and share your reviews.
As I always say – Eat Happy! Stay Happy!
Sonal