Basic Vanilla Cake – Super Moist & Eggless
As an Amazon Associate and member of other affiliate programs, I earn from qualifying purchases.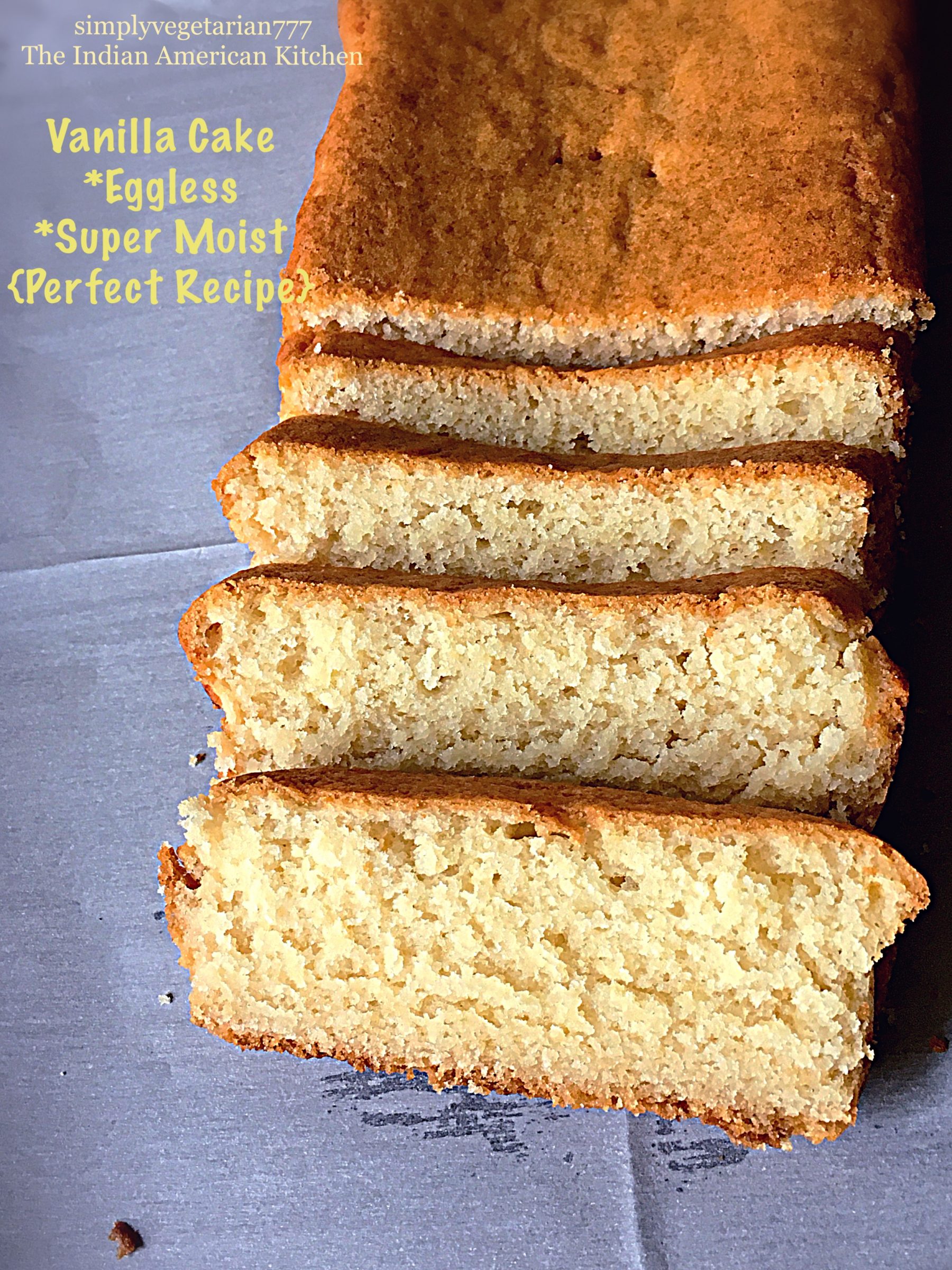 Basic Vanilla Cake – Super Moist & Eggless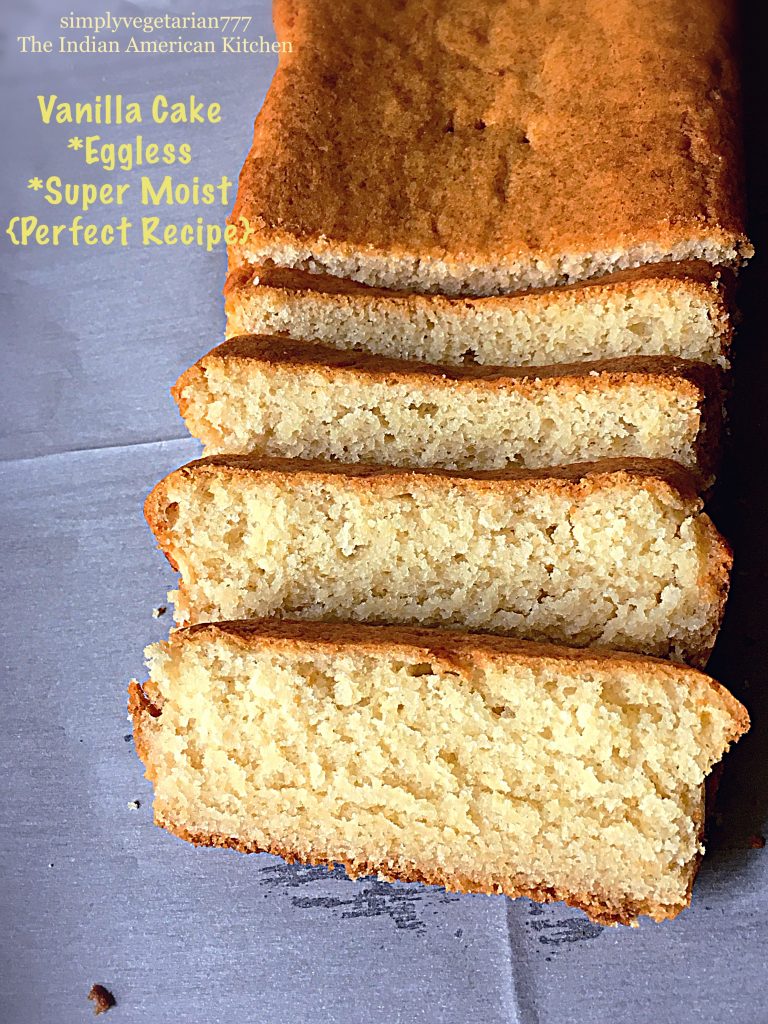 Basic Vanilla Cake – Super Moist & Eggless, is the recipe that you should bookmark and save or write and keep it with you, in any way that you can.
Vanilla cake is the most delicate cake in my humble opinion. A simple mistake or a slightly iffy texture, you can make out that it is not "the" perfect vanilla cake. IT HAS TO BE PERFECT IN TEXTURE &TASTE, or else I do not like it. And I thought I was the easiest one to please when it comes to food. Vanilla cake literally had me wrong.
Any other kind of cake, be it chocolate or other flavor, can still be camouflaged with its flavor, but not the Vanilla Cake.
I tried several vanilla cake recipes that went kaput. That dissuaded me for the looongest time to bake a vanilla cake. I have finally found the PERFECT RECIPE for Basic Vanilla Cake – Super Moist & Eggless.
I have to thank Ruchita, my dearest girl friend who brought this recipe to me and persuaded me to bake a vanilla cake again. I reluctantly agreed but I am glad that I tried. You must try out this cake for sure. She had saved this cake from one of the Facebook groups, posted by Pamela Mayal Bedi. I don't know her but would extend my thanks for sharing this recipe. Slight alterations have been made to personalize the recipe.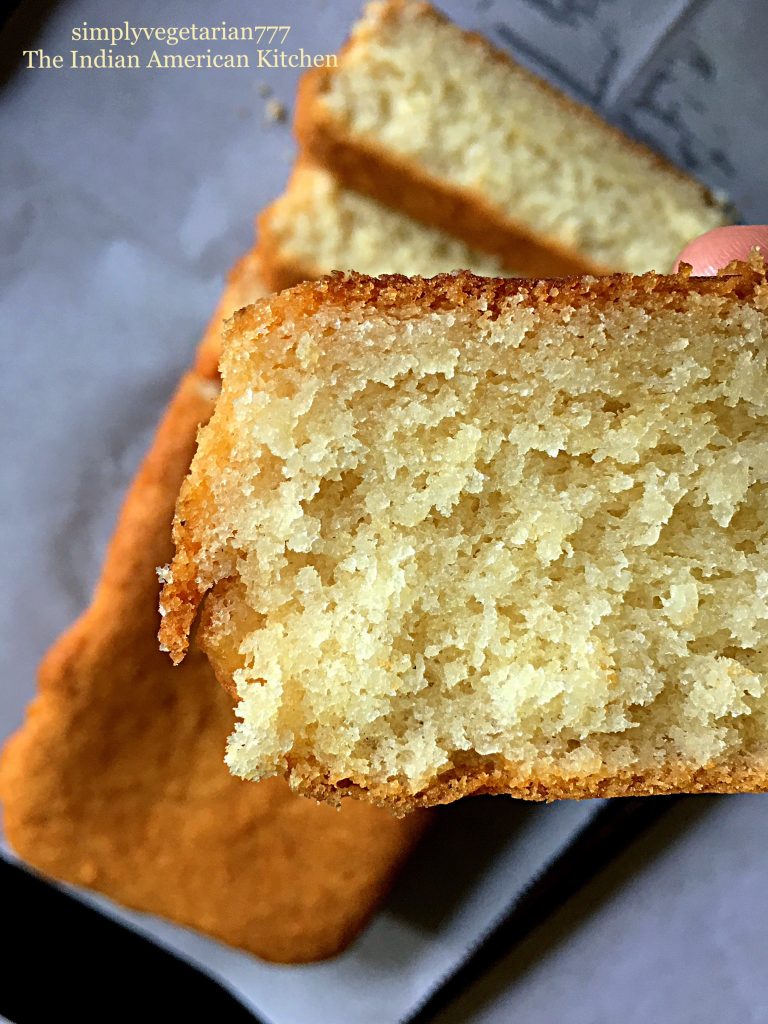 Did you notice the crumb of the cake up there 👆 ? Now you know what I am talking about. Amit said that it tastes almost like Britannia Cake from our childhood days. I think that is pretty good comparison to begin with.
Before we go ahead and bake this cake, here are some reminders – It is not a sponge cake and therefore does not rise much. The taste and texture is very similar to Pound cake (without a pound of butter in it). Use a 6″ or 7″ round or rectangular cake loaf to bake this cake, not the larger one. It finishes very fast, I mean very very fast. 😁
The Things that I used to bake this Basic Vanilla Cake – Super Moist & Eggless –
Disclaimer – If you will order any of the below through my blog from amazon, it will help me generate a meager amount to run this blog.
Parchment Paper – This is the best kind I have ever used, since these sheets are pre-cut
Basic Vanilla Cake - Super Moist & Eggless
Eggless Vanilla cake, aked perfectly with few ingredients.
Ingredients
All purpose flour - 1&1/2 cups

sifted

Thick yogurt - 1 cup

room temp

Sugar - 1/2 cup + 2 tbsp

Baking soda - 1/2 tsp

Baking powder - 1&1/4 tsp

Refined oil - 1/4 cup

Butter unsalted

room temperature - 1/4 cup

Vanilla essence - 1 tsp

Salt - 1/4 tsp
Instructions
Preheat oven at 350*F / 180*C. Line your 7" or 6" Cake Loaf Pan with parchment paper.

Take a bowl and sift flour, baking soda, baking powder and salt in it. Keep aside.

Take another big bowl and add butter, oil and sugar in it. Cream oil + butter + sugar till fluffy for about 3 min.

Beat yogurt separately for 1 minute till creamy.

Add yogurt to the butter & sugar bowl. Mix well.

Add vanilla essence to wet ingredients. Fold them together.

Mix dry ingredients intoto wet ingredients in 3 batches.

Pour the batter in the lined pan. Level it out with a spreading knife.

Tap the loaf tin on counter few times and put it in the oven.

Bake it for 35-40 minutes, till the toothpick comes out clean from the center.

Start checking for the done-ness after 30 minutes and check after every few minutes for perfect bake. Every oven is different, so the time varies. Time varies depending upon the type of baking pan used.

Happy Baking.
Notes
The original recipe called for cake flour. You can use that if you want. You can make it at home. for 1 cup Cake flour --> you need 1 cup all purpose flour. Take out 2 tbsp all purpose flour and replace with 2 tbsp corn starch/flour. Sift it altogether so that it mixes well. Use now. For 1&1/2 cup of Cake flour, you will take out 3 tbsp of all purpose flour and replace with 3 tbsp corn starch/flour.
Some eggless bakes from my blog are – chocolate butter cookies , Super Moist Easy Chocolate Cake, Eggless Choco chip muffins and many more.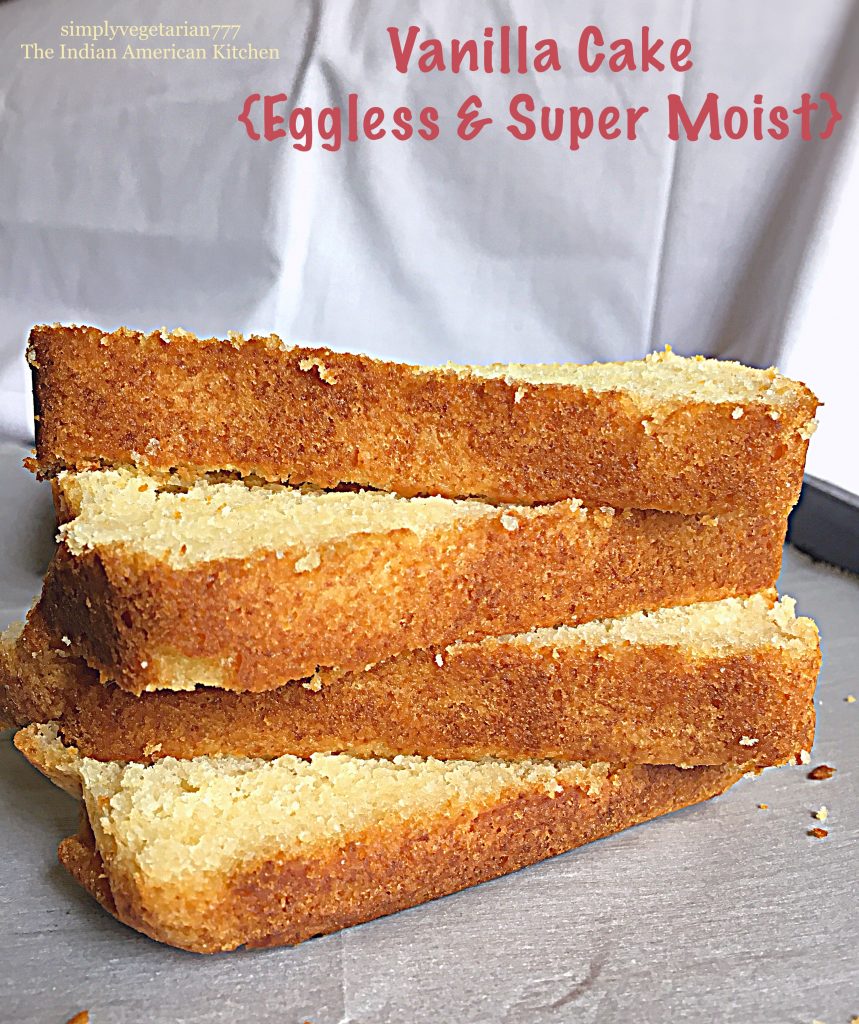 Check out the color of the perfect Basic Vanilla Cake – Super Moist & Eggless 👆…
Take it as a Hostess gift. Bake it for your kids' get togethers. Crank the oven especially for this cake sometimes, to enjoy with your tea in the evening. It is the simplest cake and uses very few ingredients.
Can't bake it now? PIN IT FOR LATER!


In my kitchen, you will always EAT HAPPY & STAY HAPPY!
Sonal