Chocolate Butter Cookies – Eggless & Easy
As an Amazon Associate and member of other affiliate programs, I earn from qualifying purchases.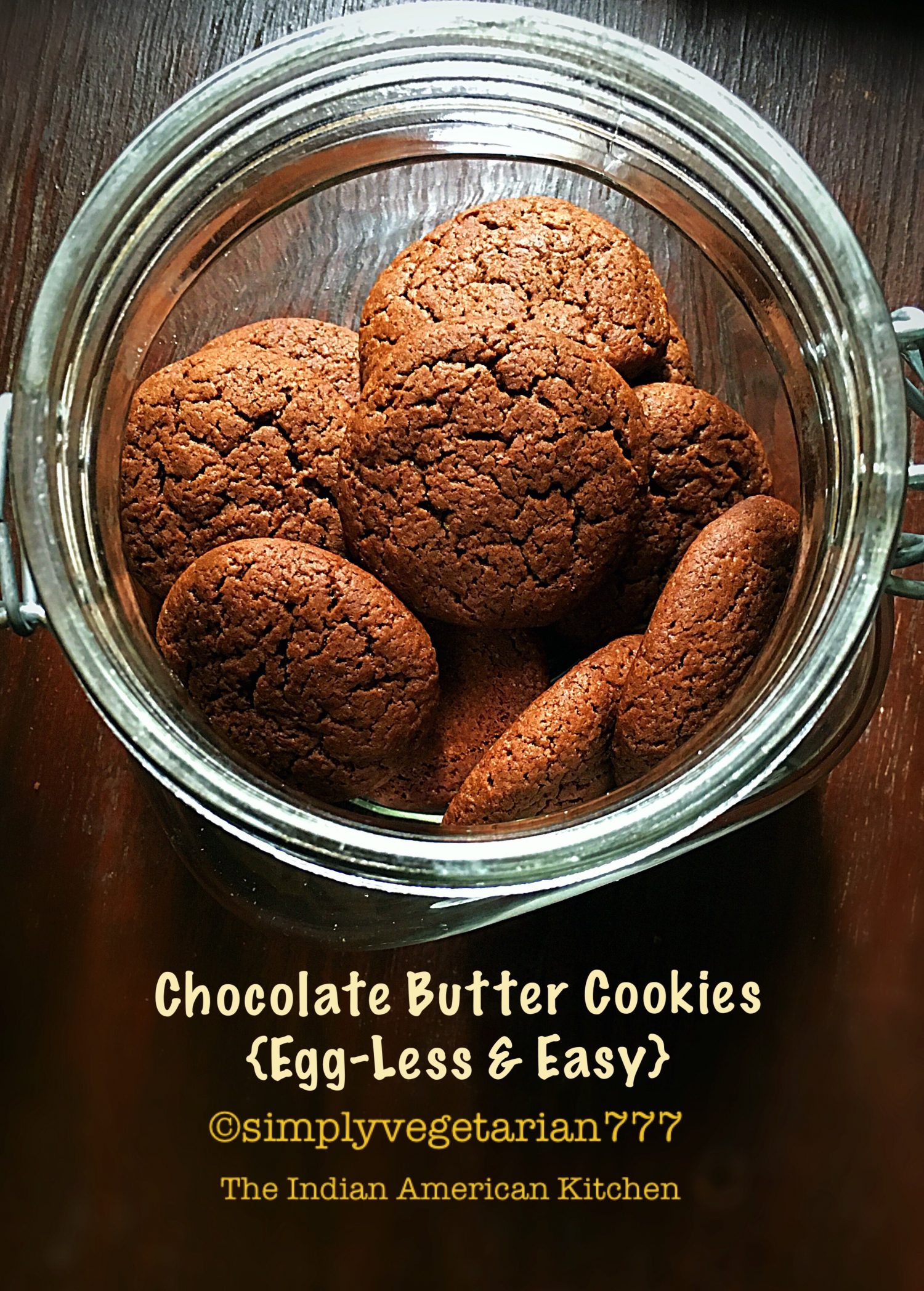 Chocolate Cookies – Eggless & Easy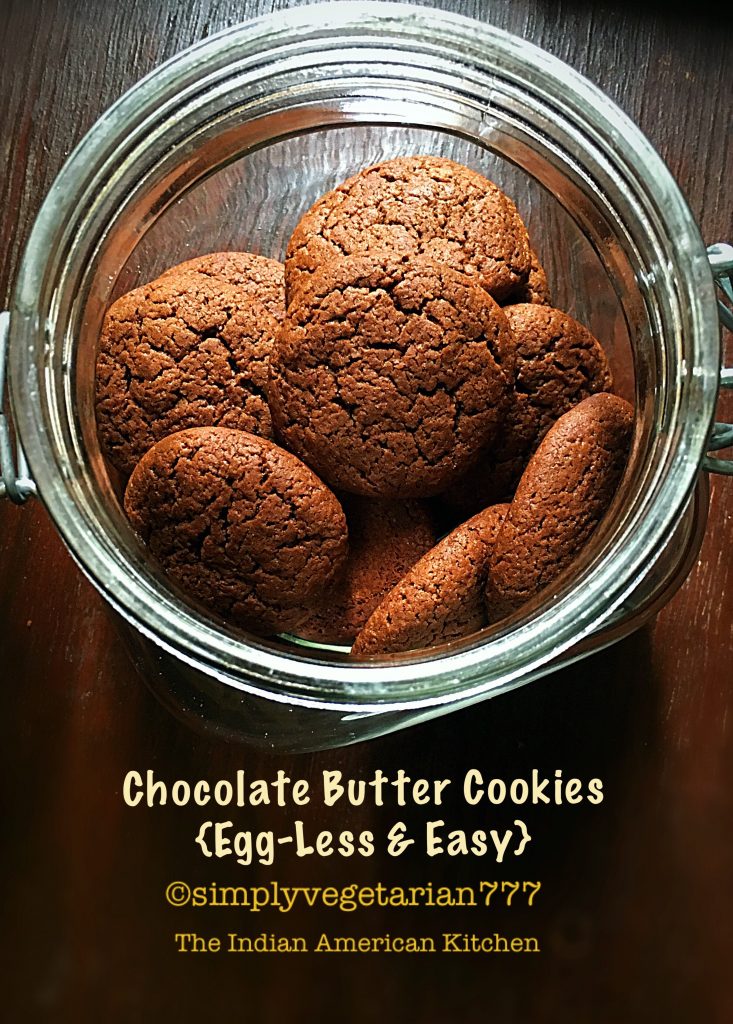 Chocolate Cookies – Eggless & Easy is one recipe that you do not want to miss. What is there to miss about it? These are made of chocolate and have cookies written all over it. No Kidding! 😀
Chocolate is the heart beat of most of the people alive in the world, so much so that there are chocolates available in all kind of imaginary forms, possible.
Cookies and cakes made with chocolate have always scored better in comparison to their "not-so-chocolate" version. Isn't that true? Well, that is true in my house, to say the least.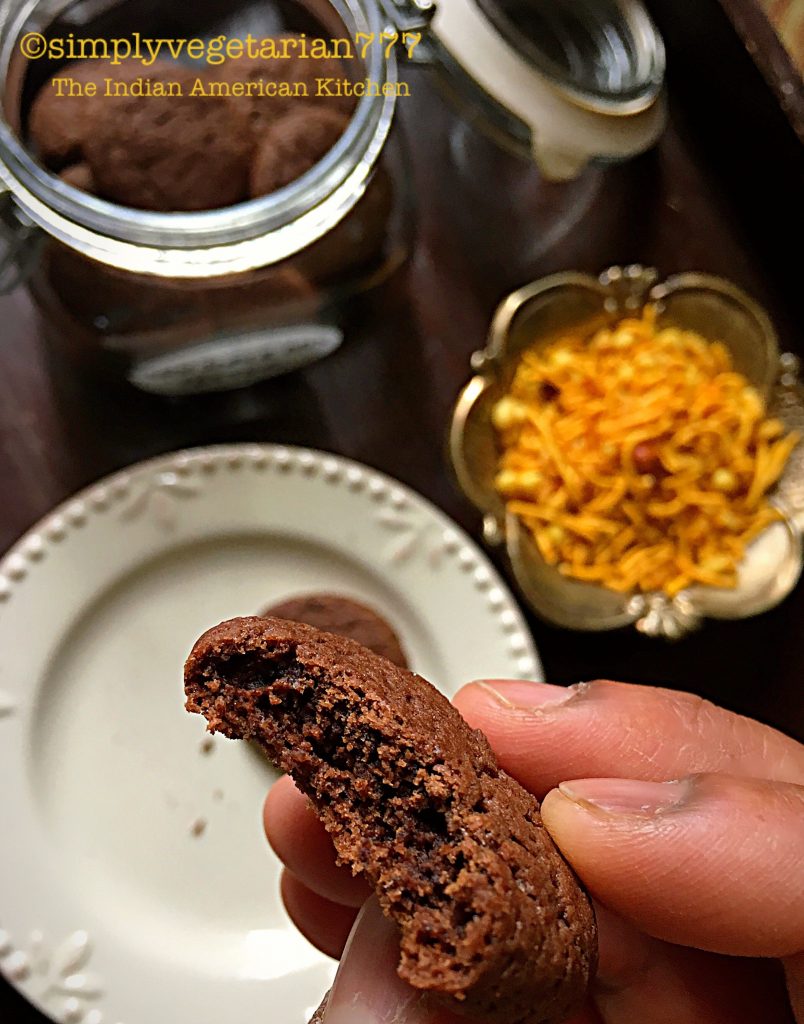 I am a vegetarian who eats eggs. Now don't ask me how and why because in India there are all kinds of vegetarians, that one can categorize. I fall into the category of egg eating vegetarian.
For some reason, I can't tolerate the strong smell of eggs in cookies. Strange, isnt't it? Though eggs do wonder to the texture of cookies, but most of my cookies would rather be eggless.
I miss the cookies from Indian Bakery that are soft and buttery. Those cookies are just amazing and melt in the mouth. Some are filled with nuts and others with warm spices. There are cookies flavored with cumin seeds and carom seeds too and they taste just amazing.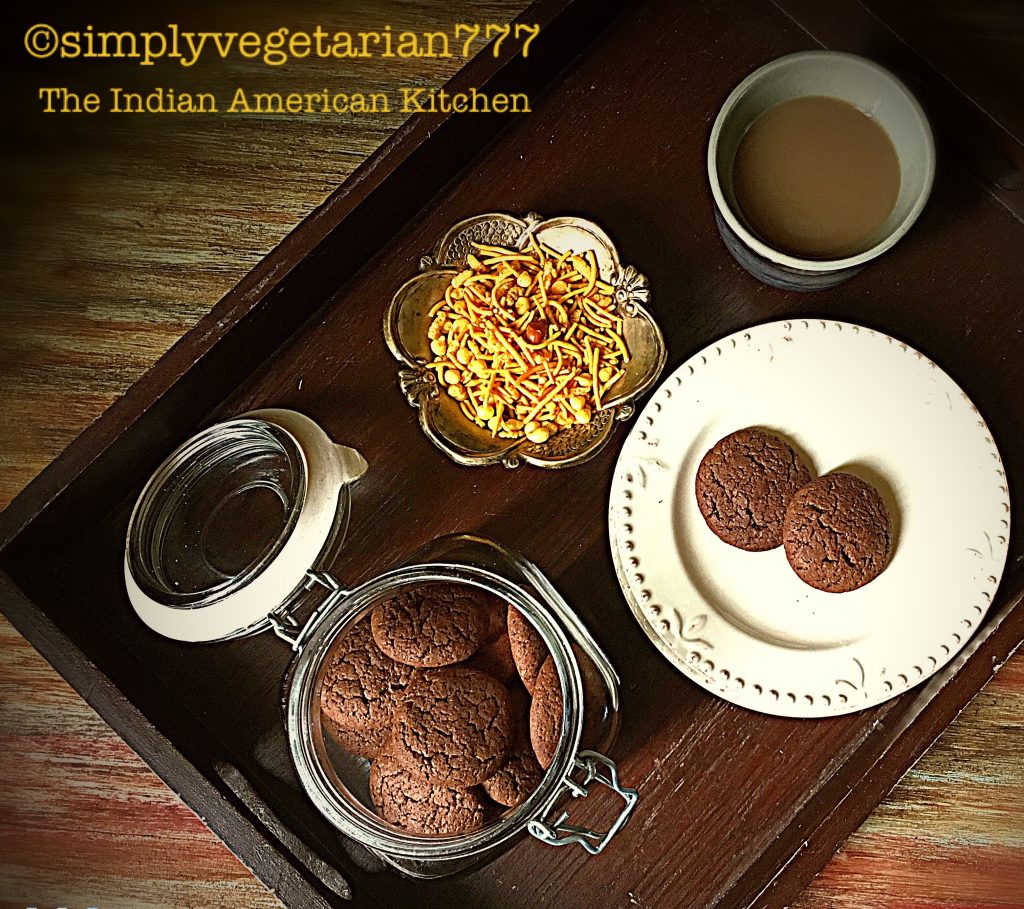 Evening tea is no less than a CULT in India. People are busy in their "Chai ka Waqt" around that time. Every household will have a pan boiling with chai and a tray set with cookies of some sort and an evening savory like that of mixtures and mathris etc. It is no less than a party time, a mini meal in itself.
Here is a variety of snacks and tea time accompaniments, popular in India, with Evening Chai – Methi Mathri , Khasta Achari Mathri , Samosa , Kachori , Jelly Thumbprint cookies , Kesar Pista Elaichi Biscuits , Chocolate Walnut Biscuit , Chivda Mix and more.
This is how you make Chocolate Butter Cookies – Eggless & Easy !
Chocolate Cookies - Eggless & Easy
Egg-Less recipe for easy and Buttery Chocolate Cookies
Ingredients
All purpose Flour - 3/4 cup

Coco powder

unsweetened - 1/4 cup

Sugar - 1/2 cup

Baking Soda - 1/4 tsp

Butter

unsalted - 1/4 cup, room temperature

Milk - 3 tbsp

Salt - a fat pinch
Note - If you are using salted butter, then skip the additional salt.
Instructions
Sieve flour, coco powder, baking soda and salt in a bowl. Mix and set aside.

Take another deep bowl and add butter, sugar and milk in it.

Whip it with electric whisk for about 2-3 minutes on high, till it becomes creamy and light.

Slowly add and mix the flour mixture to this butter mix and mix gently with a spoon or fork till all the ingredients are well combined into a dough.

Transfer this dough in a plastic bag or container and refrigerate it for at least 1/2 an hour. At this point, you may leave it in the refrigerator for longer time, till you are ready to bake.

Preheat the oven at 350*F or 180*C and Line a baking tray with parchment or butter paper.

Take the cold dough out. Divide it into 24 equal balls.

Take one ball and flatten it gently in your palm. Place on the baking sheet. Finish all the dough balls likewise. Place these flattened balls, 2 inches apart from each other. They spread out while baking.

Bake for 10 minutes for soft cookies and 12 minutes for slightly crispier coolies. Do not bake more than that.

Take the tray out of the oven and let the cookies sit there for 5 minutes and then transfer them carefully to the cooling rack.

They tasted awesome when they were warm but very soft to touch. They firmed up more once they cooled down to the room temperature.
Storage
They store well in an air tight container or jar once cooled at the room temperature.
Notes
VERY IMPORTANT - When you are baking this cookie in summer, skip the milk since butter melts more in summer when whisked as compared to the winters. Use milk in the recipe in winters only.
Can't Bake it now? PIN it for LATER!


In my Kitchen, you will always BAKE HAPPY & STAY HAPPY!
Sonal