Jelly Thumbprint Cookies, Eggless
As an Amazon Associate and member of other affiliate programs, I earn from qualifying purchases.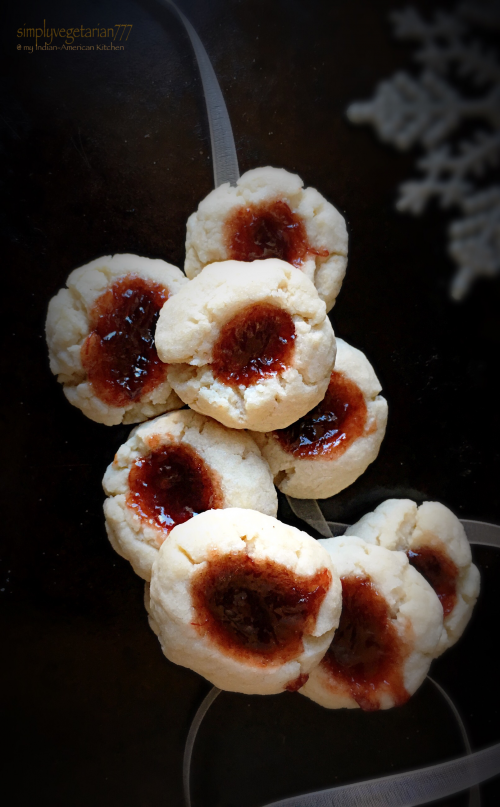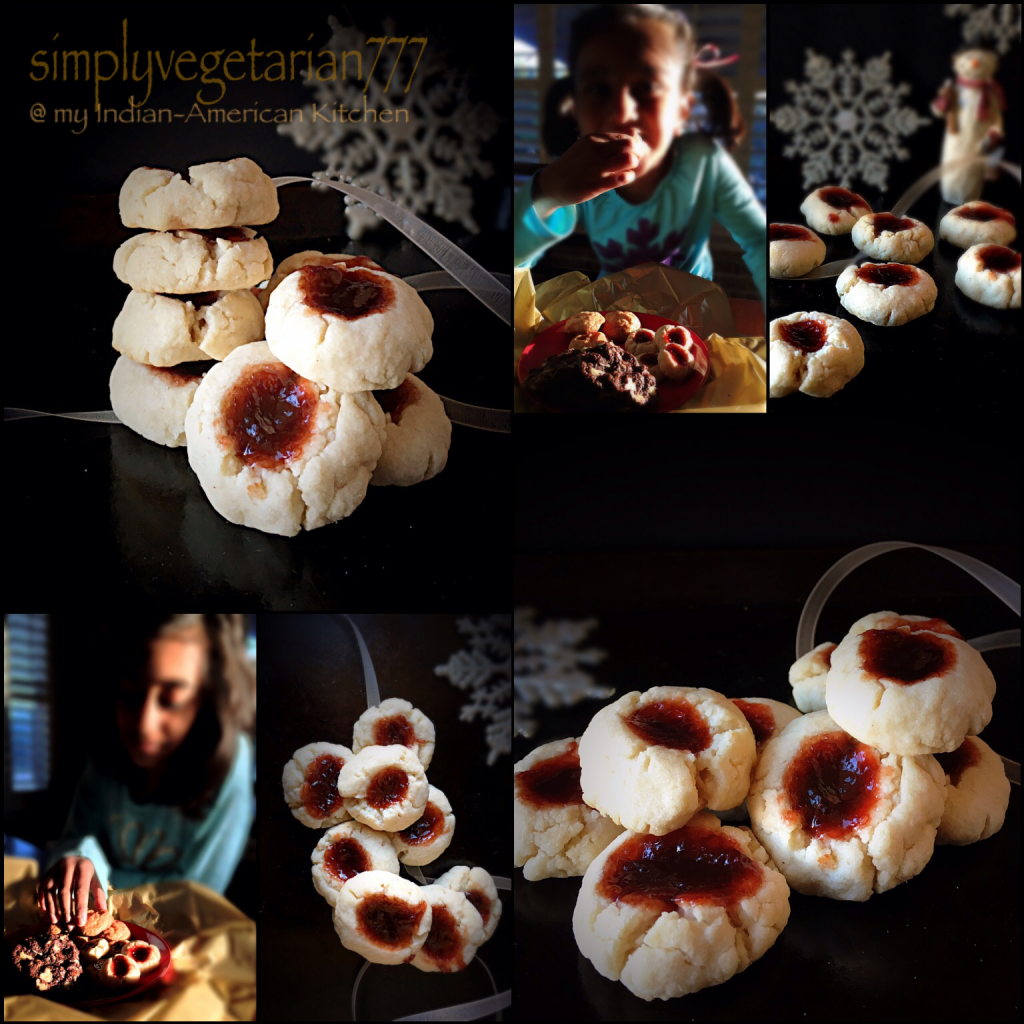 These bite sized happiness is what you want sometimes. One bite, melt in the mouth, mini moments of joy….yes this is what these cookies are!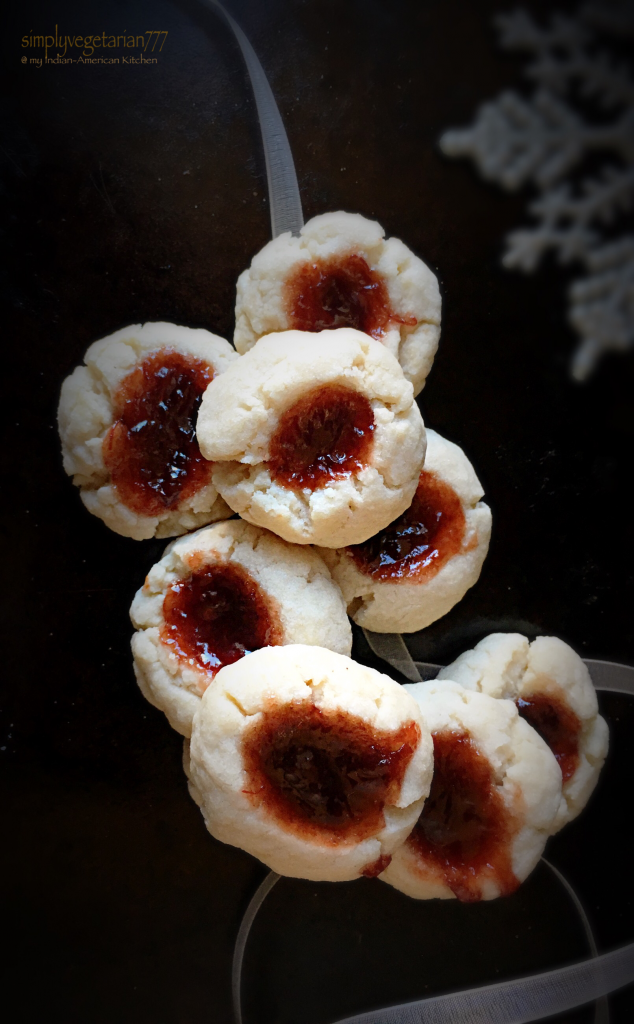 I wanted to make these cookies eggless. Most of the recipes I read had eggs in it. Then I decided to shortlist a recipe which is more of a shortbread kind. Flour, Sugar and Butter! As simple as that!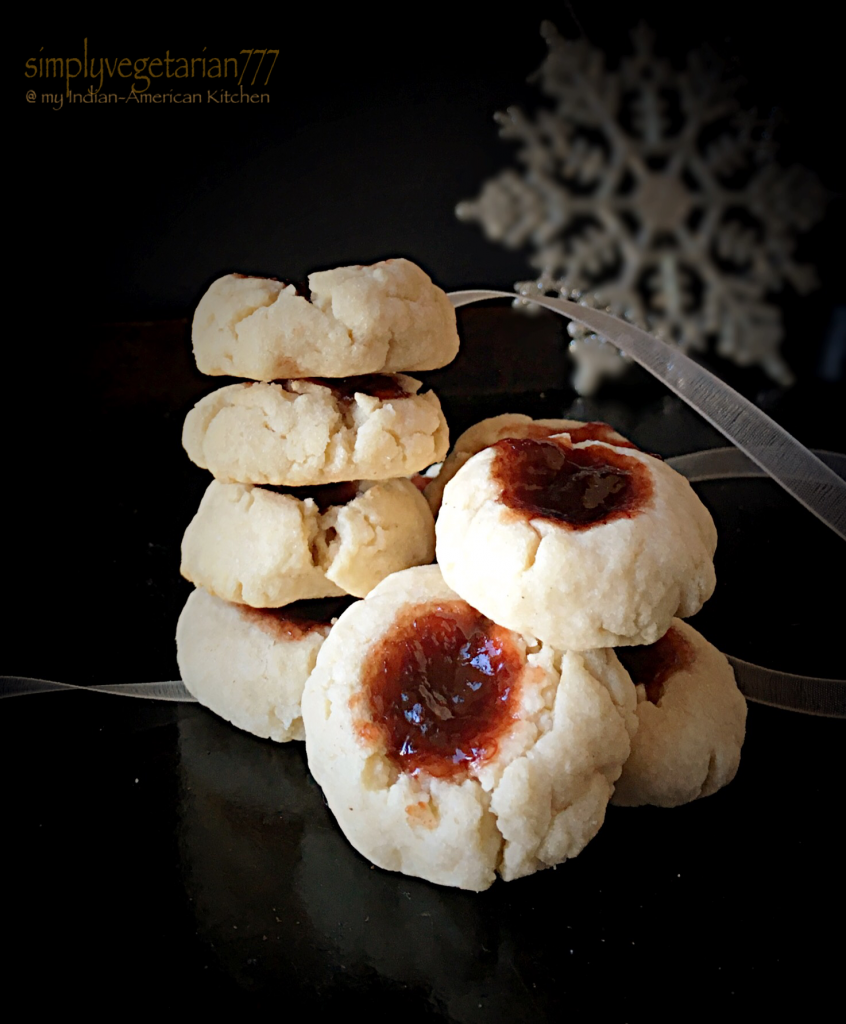 Beautifully baked, filled with strawberry jam/jelly in the middle, are so festive and pleasant to eyes!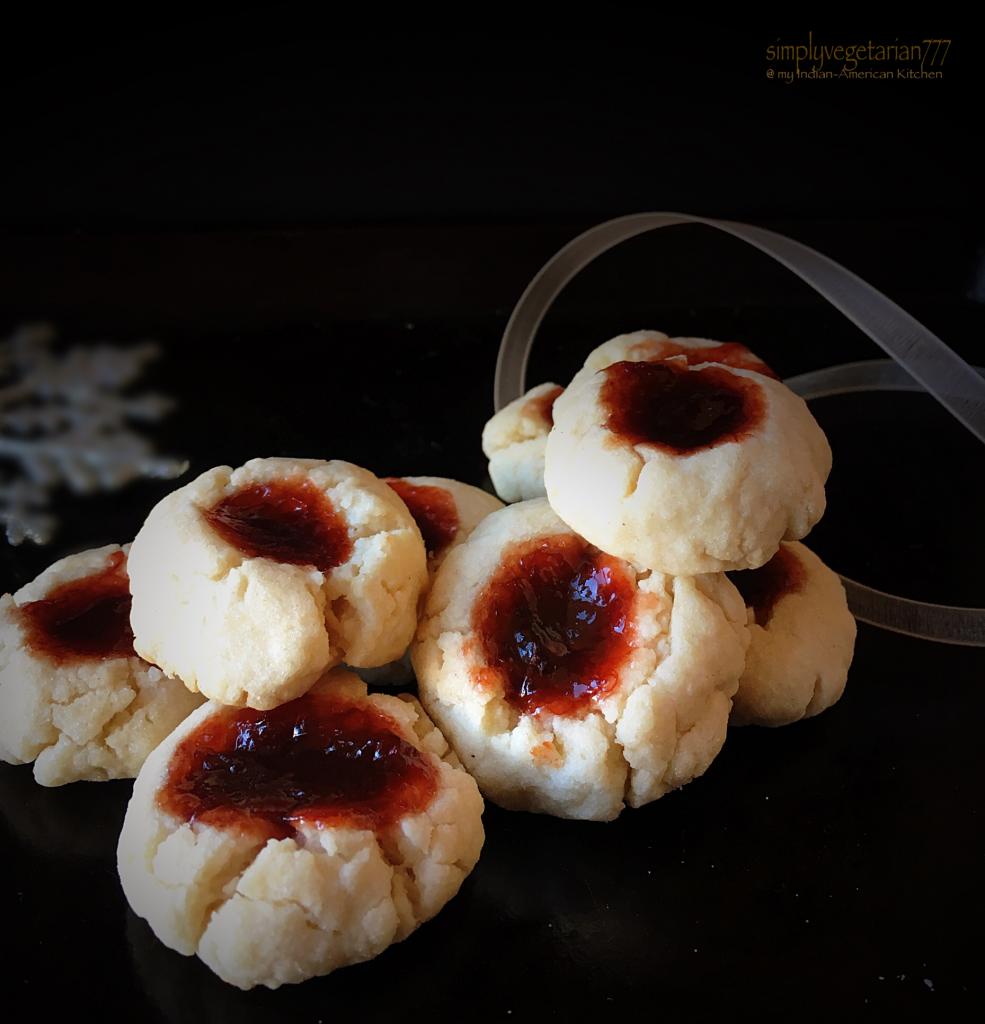 This is the simplest recipe, which I adapted from Here -The Tickling Palates!
This is how I made it
Eggless Jelly Thumbprint Cookies
Servings: makes 18 mini cookies
Difficulty: easy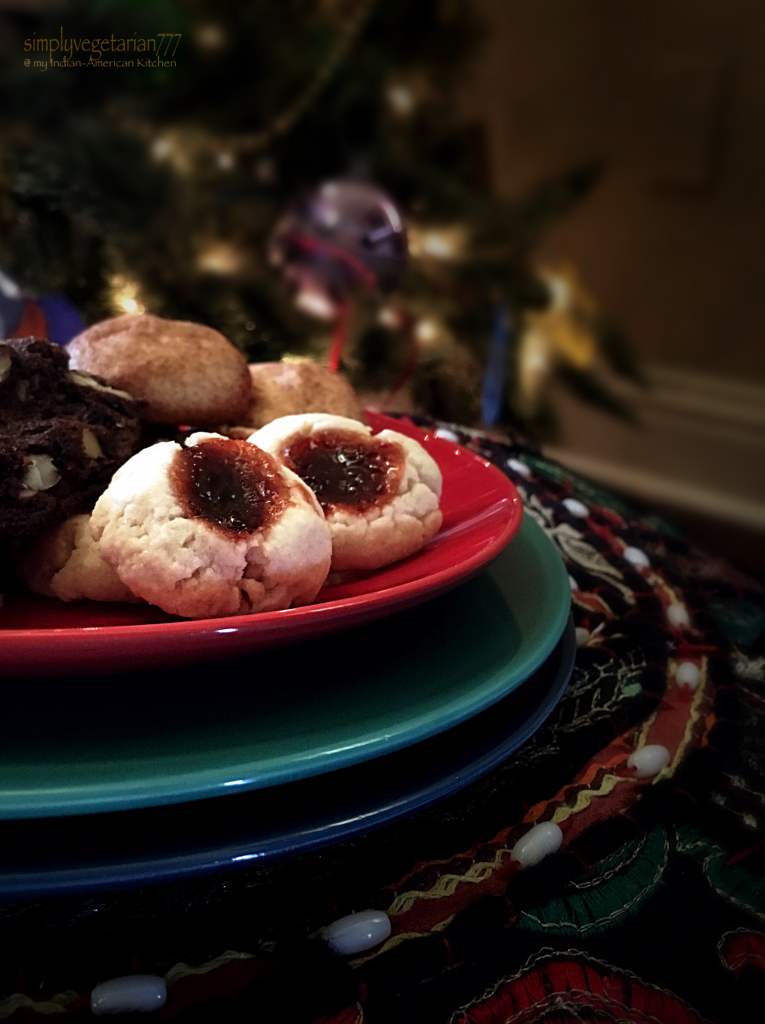 Kitchen Equipments Required 
Mixing Bowl, Microwave safe bowl, a stirring spoon, egg beater or whisk, a plastic wrap, baking tray, butter or parchment paper, oven.
Ingredients 
All purpose flour – 1cup
Sugar, fine crystal – 1/2 cup
Butter, unsalted – 1/2 cup, softened at room temperature
Salt – a small pinch
Milk – 1 tbsp
Vanilla Essence – 1/2 tsp
Strawberry Jam or of your choice  – 1&1/2 tbsp
Water – 1 tbsp
Method
Take the mixing bowl. Add butter and sugar to it and cream together till smooth with egg beater.
Add flour and salt to the bowl. Incorporate well and bring the ingredients together in a crumbly dough. Don't knead or else we will not get a good flakey texture. If it is too crumbly, add 1 tbsp milk to bind it.
Transfer this dough to a plastic wrap and close tightly. Refrigerate for 20 minutes. Do not over refrigerate or else it will become too hard to manage. If you keep the dough overnight in the refrigerator, then bring it out and let it rest till it is kind of soft to mould and shape.
Preheat the oven at 375*F / 190*C. Line a baking sheet with baking paper.
Take the microwave safe bowl. Add jelly and water to it. Microwave for 15-20 seconds. Take it out and stir well.
Divide the cookie dough in 18 equal small balls.
Slightly flatten these. Make a indent or hole in the middle of the cookie.
Fill the indent in the cookies with a 1/4 to 1/2 tsp of jelly.
Place these cookies on the baking sheet, at least 2 inches apart.
Bake for 12 minutes and then take these out of the oven. Switch the oven off. Do not open the oven again and again to check on the cookies.
After 2 minutes, transfer on the wire rack to cool till they reach room temperature. These are tempting to eat hot but be careful since jelly is hot.
Notes
You may use half and half, i.e., half all purpose flour and half whole wheat flour.
You may use any kind of jam and jelly for the filling.
You may use caramel or chocolate ganache or Nutella to fill the middle.
These cookies store for a week at room temperature.
If you are using salted butter, then skip the salt.
These make beautiful hostess gift.