Corn Poha Dry Roasted Chivda Indian Trail Mix
As an Amazon Associate and member of other affiliate programs, I earn from qualifying purchases.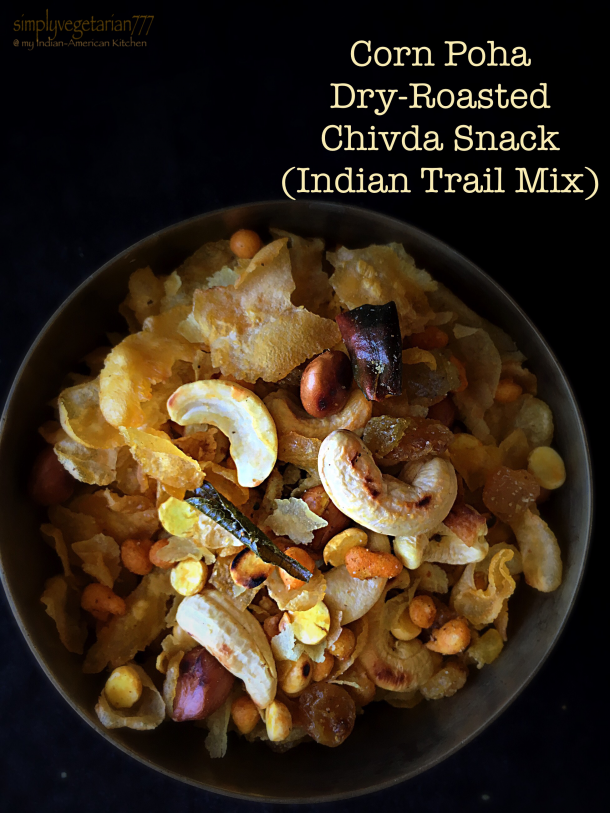 Corn Poha Dry Roasted Chivda Indian Trail Mix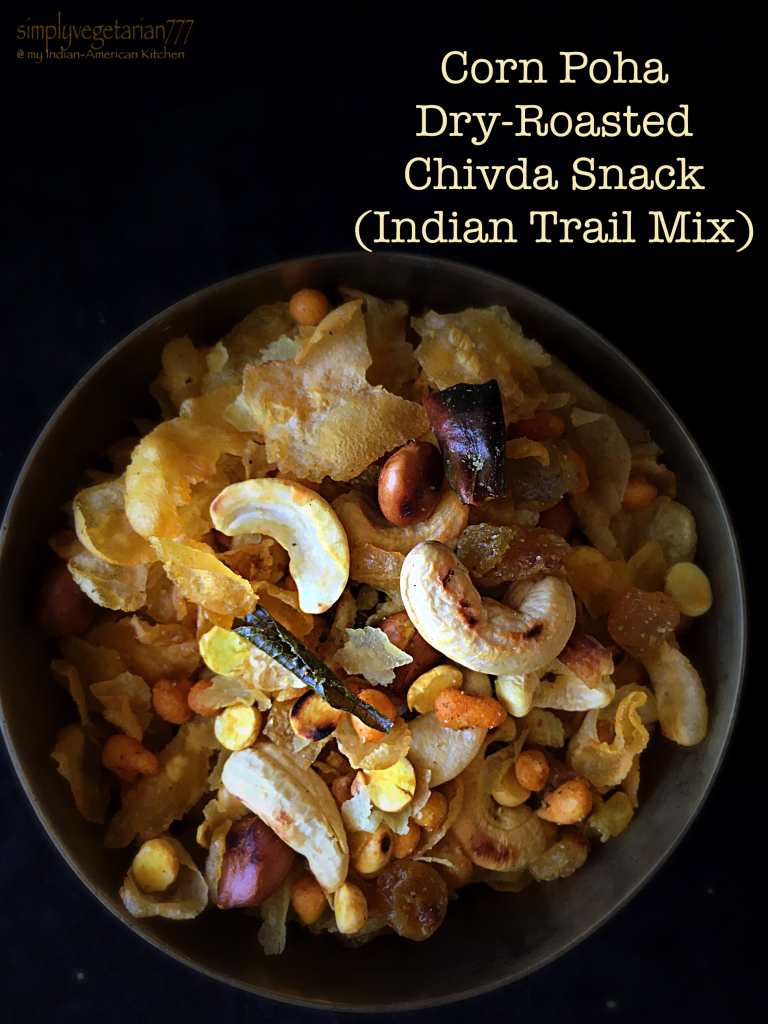 Corn Poha Dry Roasted Chivda Indian Trail Mix is my new crush for snacking. More than me, it is Amit who has become a great fan of this mixture.
Corn Poha Dry Roasted Chivda can be conviniently named as Indian Trail Mix. Since it is rightly balanced with the spicy and sweet nuts, raisins and other star ingredients from the Indian Kitchen Pantry like corn poha, boondi, daliya dal (split roasted gram) and a bit of rice poha.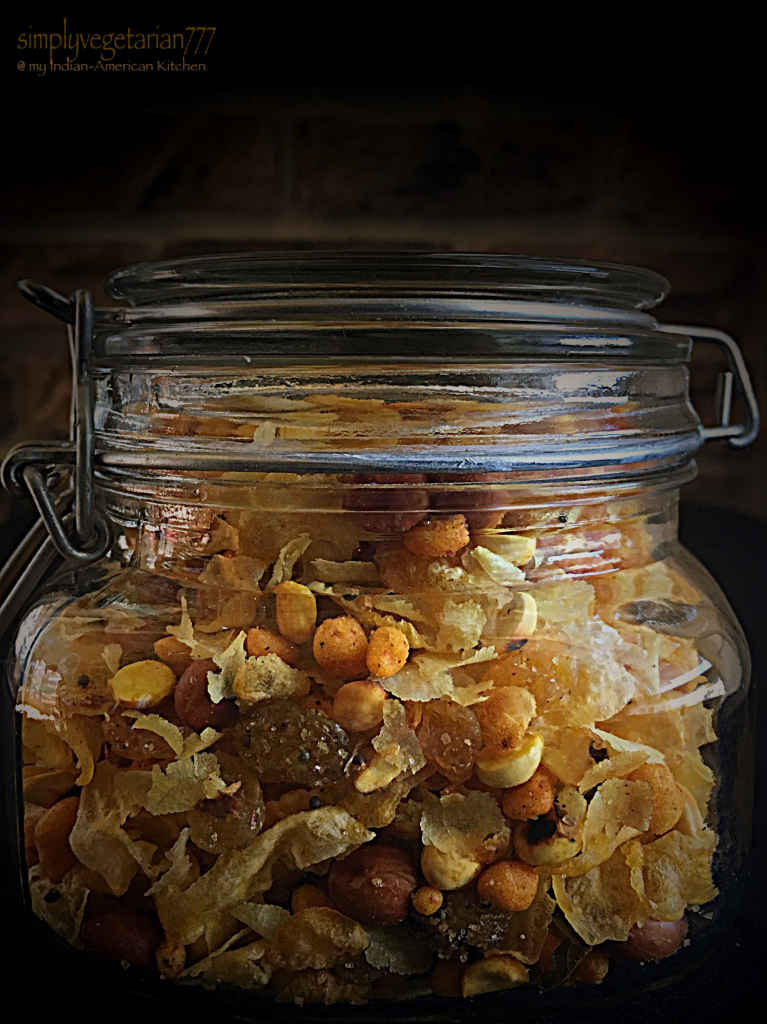 Chivda is a mixture or a mix of dry ingredients, which is often served as a snack during tea time in India. It is also known as Chidva in many households. Corn Poha is actually dry corn flakes that is not cooked.
This chivda is perfect for chai time (tea-time). I love my chai and I have to have a warm cup of my magic potion with a kadak (crispy) snack on the side, to keep my evenings alive and going. Lately this Corn Poha dry roasted chivda is keeping me good company. It is a pure bliss. I have to admit that I tend to eat this more though :)..
I like to shop for new ingredients quite often to try and create something palatable. The story of this chivda began from the moment, I picked a pack of dried corn poha from the store. Many Indian Dry Snack Mixes use this poha as a main ingredient but it is used as a fried snack. When I picked up the packet, I was sure that I didn't want to fry it.
Remember my post of Chivda Indian Party Mix , where I used Rice Thin Poha to create another mix, which was dry roasted as well? This one has a similar story to tell. Same ingredients, just substituting the rice poha with corn poha.
The best part is that none of it is deep fried other than the ready made Boondi, that I have used. It adds extra crunch to it.
A heavy bottom pan is the key to perfectly dry roasted chivda. Second important thing to remember is the heat control – lower medium heat is a good temperature, when the ingredients are stirred continuously while being roasted. Corn Poha swells like papd/papadom when it gets in contact with hot pan.
Believe me that it is the simplest recipe ever without much frills to it.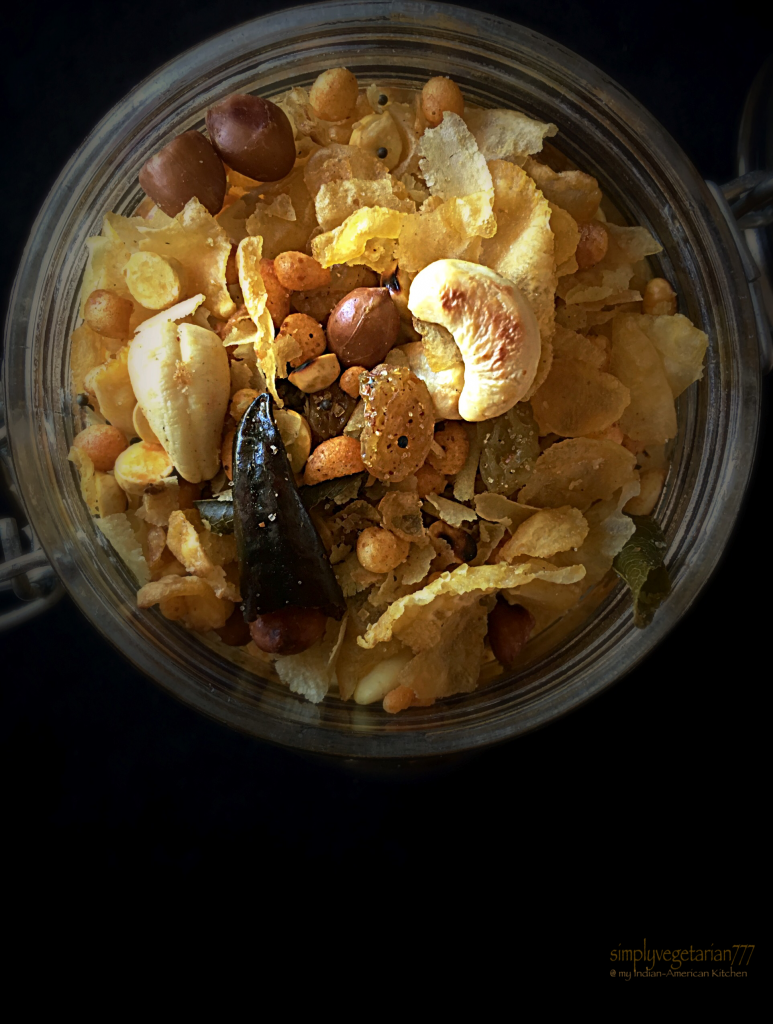 It is a perfect snack to carry when traveling with family or serve as a party snack with some drinks, or pack it for picnics or just munch anytime. This makes a perfect Hostess Gift as well. You can make it for any festival like Diwali or Holi. Or even make it when entertaining a group for game night. Perfect snack for health conscious people as well.
Some other snacks from my blog are – Kala Chana Jor Garam , Chivda Indian Party Mix , Gudh Til ki Baked Meethi Mathri , Baked Millet Crackers and many more.
This is how I made it.
Corn Poha Dry Roasted Chivda
A healthy snack to munch on filled with good nuts protein and corn carbohydrate.
Ingredients
Corn Poha - 4 cups

Rice Poha

thin - 1 cup

Peanuts - 1 cup

Cashews

halved - ½ cup

Daliya Dal - ½ cup

Boondi - 1/2 cup

Raisins - 1/2 cup
Oil & Spices for Tempering
Vegetable Oil - 3 tbsp

Black mustard seeds - 1&1/2 tsp

Curry leaves - 12 dry or 8 fresh

Red chilli dry & whole - 2

broken into small pieces

Turmeric - ½ tsp

Red chili powder - ½ tsp

Amchur / Dey mango powder - 1 tsp

Sugar - 2 tsp

Salt - 1&1/2 tsp or to taste
Instructions
Take the heavy bottom pan and dry roast peanuts, cashews, daliya dal separately till they are crisp. Do not brown them too much. Keep aside in a mixing bowl. Do not roast boondi and raisins.

In the same hot pan, add corn poha and dry roast it on medium heat. Do not over crowd the pan with corn poha. Dry roast 1 cup at a time. The corn poha will behave like papad when in contact with hot pan. Keep stirring to avoid burning and assure even roasting. Keep this corn poha in separate large plate till it cools down.

Once the corn poha is roasted, dry roast thin poha and dry roast it for few minutes. Use the lowest flame since we do not want to brown it. Keep stirring with a stirring spoon. When it is well roasted, the flat beaten rice will start curling around the corners. That's when it is done.

Now mix all the roasted ingredients together and toss well.
Preparing the tempering
In the same pan, heat oil and add mustard seeds. Lower the flame and when seeds start crackling, add dry red chillies, curry leaves. Sauté for 3 more seconds. Now add all the other spices as mentioned above and switch off the flame. Tempering is ready for the mix.

Add the dry roasted ingredients to the pan along with boondi and raisins and mix well with tempering with stirring spoon.

The corn poha dry roasted chivda or Indian Trail Mix is ready. Cool it to room temperature completely before storing in air tight containers.
Do not wait anymore. Go get a packet of Corn Chivda from the market and quickly put this together. I know you will be hooked as my family is. We have already finished 1 lot of Corn Poha dry roasted chivda and I am ready to dry roast the next.
Pin this for later!


I bet you believe me when I repeat again and again that in my kitchen, you will always – EAT HAPPY & STAY HAPPY!
Sonal