Kesar Pista Elaichi Biscuits – Eggless
As an Amazon Associate and member of other affiliate programs, I earn from qualifying purchases.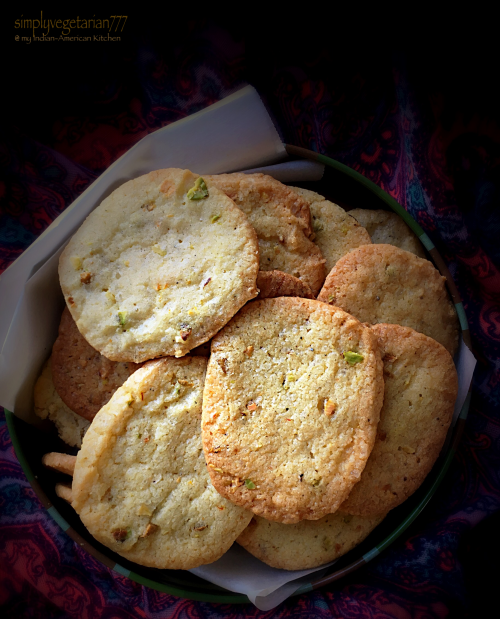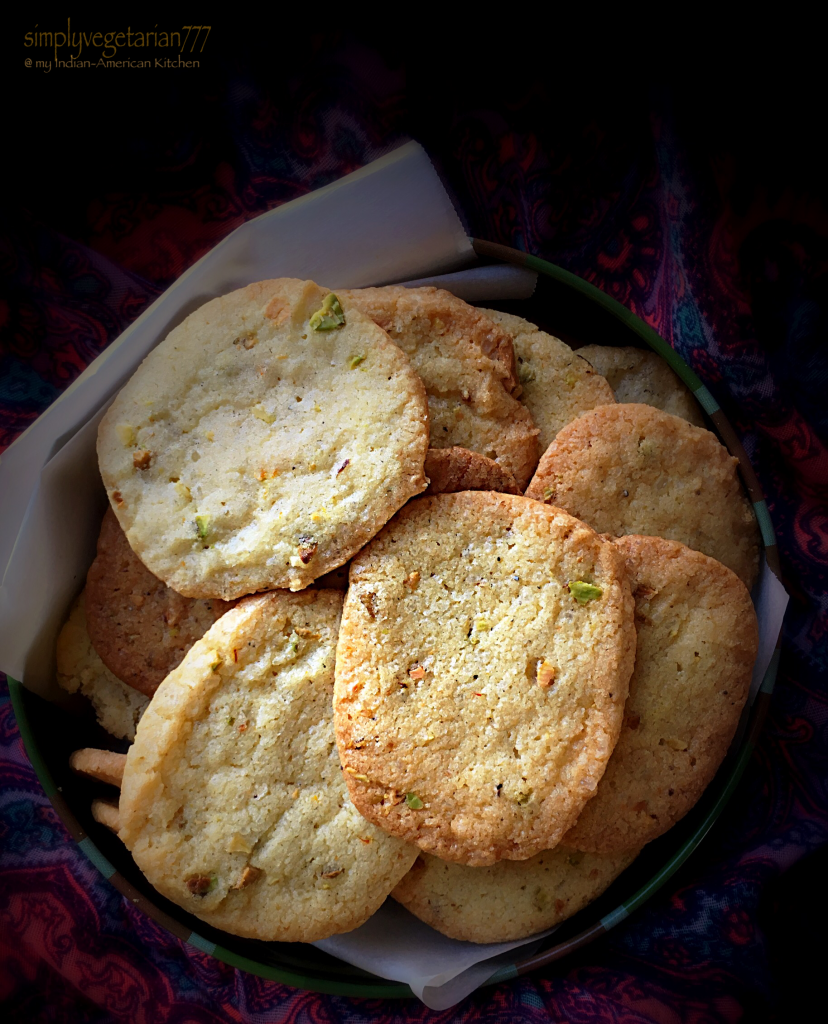 Kesar is Saffron. Pista is Pistachio. Elaichi is cardamom.
Kesar Pista Elaichi Biscuits – Eggless or cookies have all the 3 beautiful delicate flavors combined together to bring out the Indian festive spirit in fusion form. The best part is that I have made these biscuits eggfree, keeping the festival of Holi in mind.
These biscuits melt in the mouth, and every single bite is like reliving the childhood back in India. Saffron in the cookie reminds me of the warmth of my mum and dadi. Pista brings the color of the festival to me with a royal sophistication. Elaichi….ahh…that aroma and flavor of cardamom lingers for long and lets me relish the golden moments, a little longer.
Since my birth country is India and karma bhoomi (place of livelihood) is America, many a times, my Indian American Kitchen gives shape to recipes combining the American techniques and Indian flavors. This recipe is one such recipe. I adapted the recipe from Joy of Baking's Pecan Shortbread Cookies. I read the recipe and picked the base and added my fusion flavors and the result was awesome.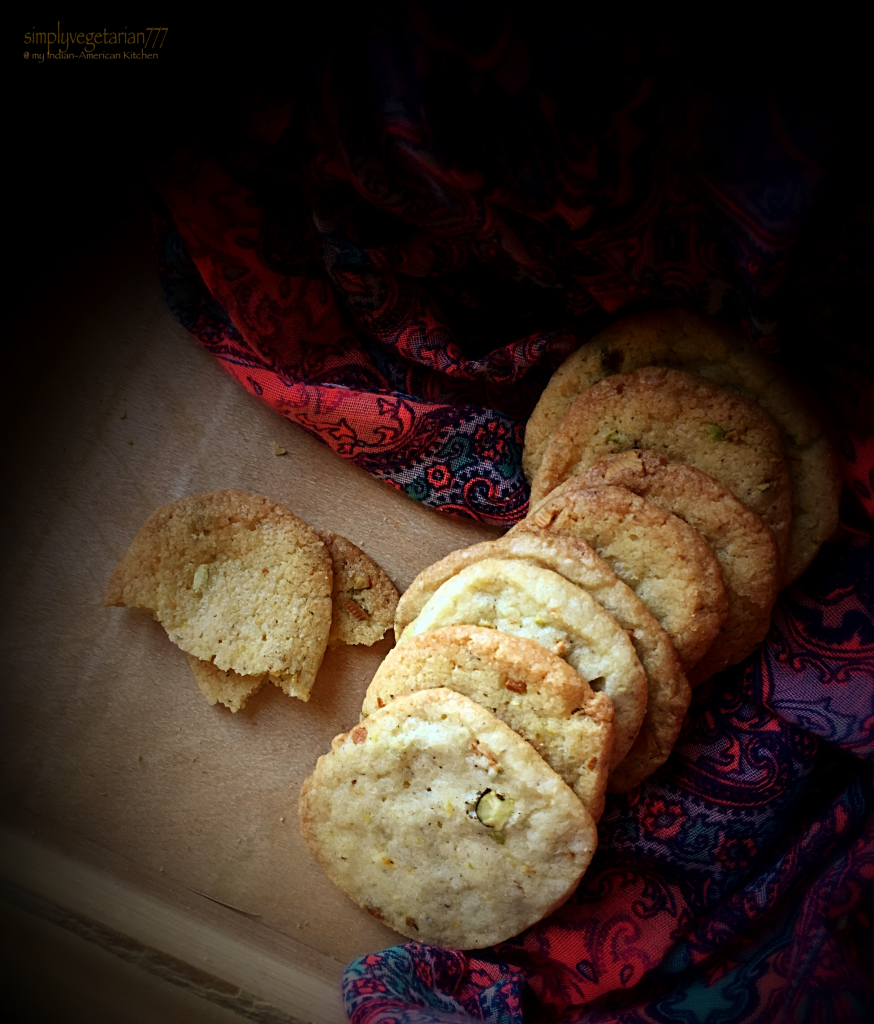 My oldest daughter put one biscuit in her mouth and exclaimed – "Ma, it is almost like Gujiya in a cookie form". I think that is the best compliment I have ever received since that exactly what I was aiming for and I accomplished it. Only a true foodie can understand my epitome of happiness at that minute.
To get some more eggless cookie recipes, check these out – Jelly Thumbprint Cookies, Chocolate Walnut Crisp Biscuits, Eggless Walnut Brownie and Oats Whole Wheat Nuts Biscotti.
Some other very popular Holi recipes from my blog are – Thandai Pudding, Achari Mathri, Gujiya, Baked Gujiya, Kanji, Dahi Pakodi and Jal Jeera.
Kesar Pista Elaichi Biscuits, eggless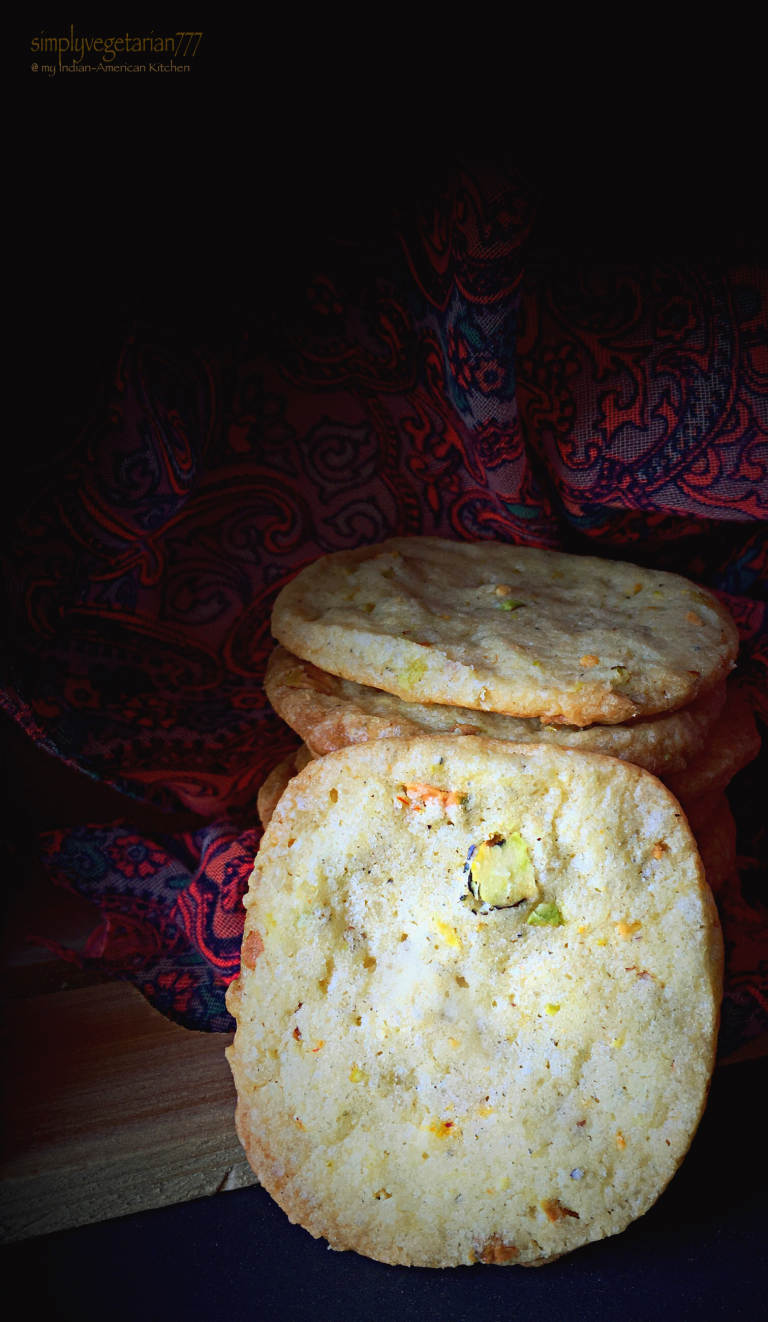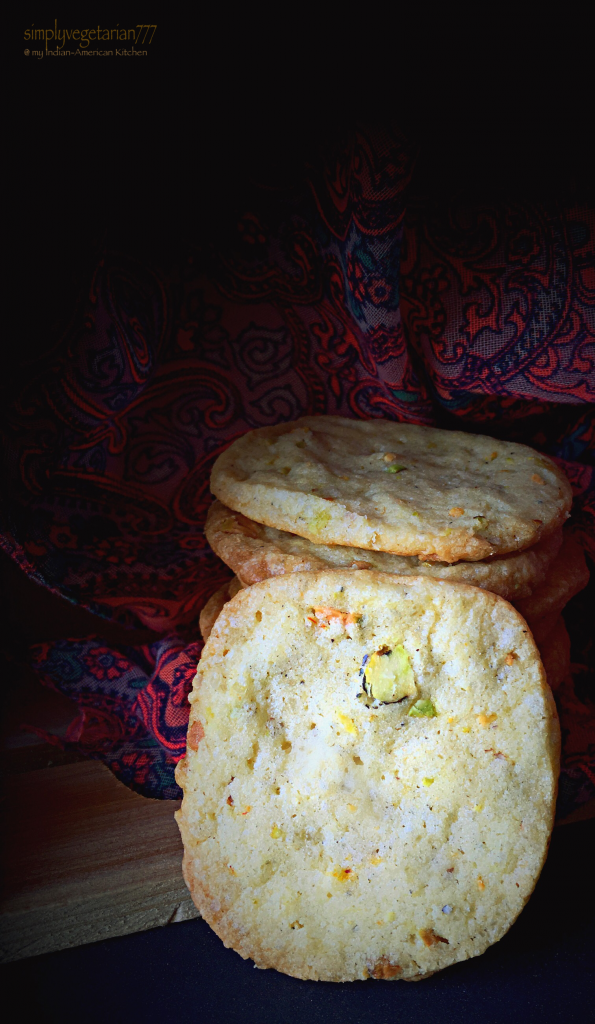 Kitchen Equipments Required
Chopping board, knife, mortal – pestel, 2 baking trays, parchment paper or butter paper, electric egg beater, a big mixing bowl, a medium mixing bowl, a small microwave safe bowl, flour sifter (atta chhalni), heavy duty plastic wrap.
Ingredients
Maida / Refined Flour – 1 cup
Butter, unsalted – 1/2 cup, 1 stick at room temperature
Salt – 1 fat pinch
Sugar, fine – 1/3 cup + 1 tbsp
Kesar / Saffron – 1 fat pinch
Milk – 1&1/2 tbsp
Elaichi / Cardamom – 6 pods
Pista / Pistachio, usalted – 2 tbsp
Method
Preparing the Ingredients 
Peel the cardamom pods and discard the peels. Crush the cardamom seeds into fine powder in the mortar-pestal. Set aside
Heat 1&1/2 tbsp milk in microwave safe bowl for 15 seconds and soak saffron in it. Set aside.
Chop the peeled unsalted pistachios into fine and thin slices. Set aside.
Preparing the Cookie / Biscuit Dough
Take the medium bowl and sift the flour and salt in it. Set aside.
Take the big bowl. Add the soft butter and sugar to the bowl. Whisk and Beat the sugar and butter together for about 3 minutes till light and creamy, with electric egg beater.
Add saffron milk and cardamom powder to the mixing bowl. Mix well.
Now add flour and chopped pistachios to the butter mixture. Slowly and gently incorporate the butter sugar mix with flour and pistachio. Combine together to make a cookie dough. We

do not knead this dough

. Just gather together in the bowl.
Take a large piece of heavy duty plastic wrap. Empty the dough with crumbs on the plastic wrap. Make a log of even sides. Start wrapping the dough in the plastic wrap while spreading it long and shaping evenly. You may shape it in a square-shape log or circular-shape log. Wrap it tightly from all the sides.
Refrigerate the cookie dough log for about 3 hrs. You may refrigerate it overnight also.
Baking the Cookies
Take the cookie-dough log out. Let it rest at the room temperature for about 10-12 minutes.
Meanwhile, preheat the oven at 350*F / 180*C. Line the 2 baking sheets with parchment or butter paper.
Mark 1/2 inch thick marks on the cookie log. It would yield about 16-20 cookies. Cut out the cookies and place them on the cookie sheets 2 inches apart from each other.
Bake these cookies for about 10-12 minutes till the sides of the cookie turn pinkish brown.
Take them out. Cool at the room temperature over the cooling wires. They will firm up in texture, after cooling.
Store in air tight container.
Notes 
I made thinner cookies about 1/4 inch thick. You may decide the thickness to your desire.
You may shape them as desired. Instead of making a log, you may make a disc out of the cookie dough and refrigerate the disc instead of log.
I had had a great time creating and baking these cookies in my Indian American Kitchen for Holi. I am sure that you will love these too! These are perfect to entertain friends and family. These also make the perfect Hostess Gift.
Sonal