Khasta Achari Mathri
As an Amazon Associate and member of other affiliate programs, I earn from qualifying purchases.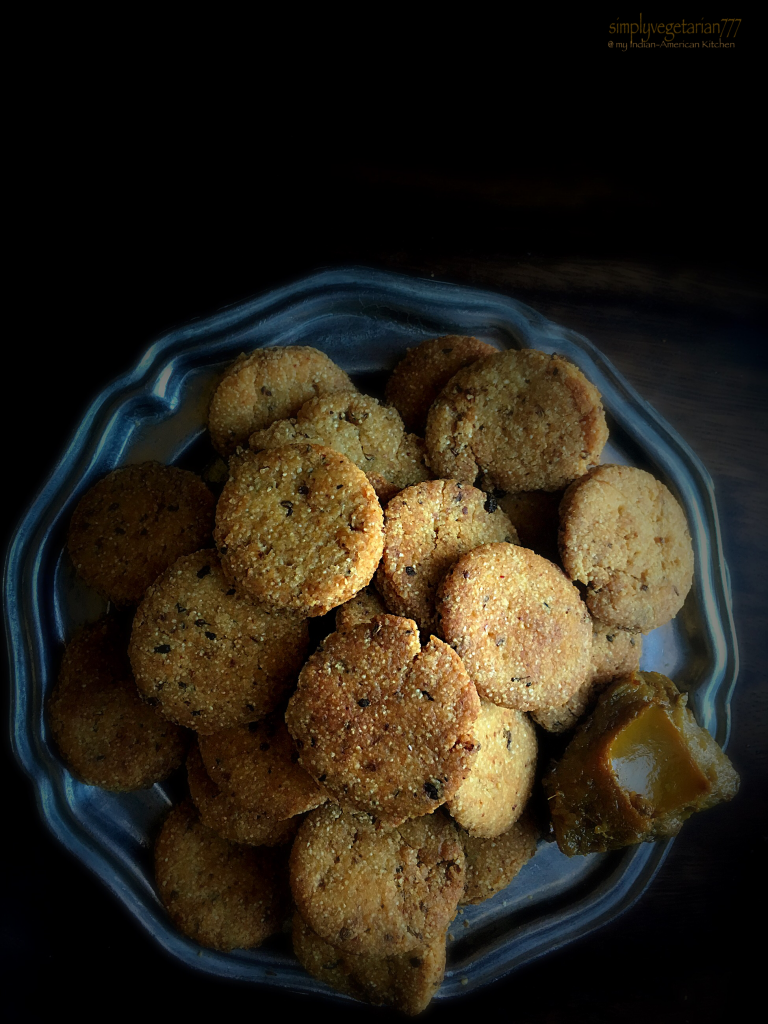 Mathri is a Deep Fried Biscuit. Achar means Pickle. Khasta means brittle and crispy at the same time. It is a popular snack of Northern India and is one of the favorite Chai Nashta for evening tea time in most of the households. Mathri goes so well with a cup of masala chai. These small mini avatars are super cute and disguise you in eating more, so better watch out ;).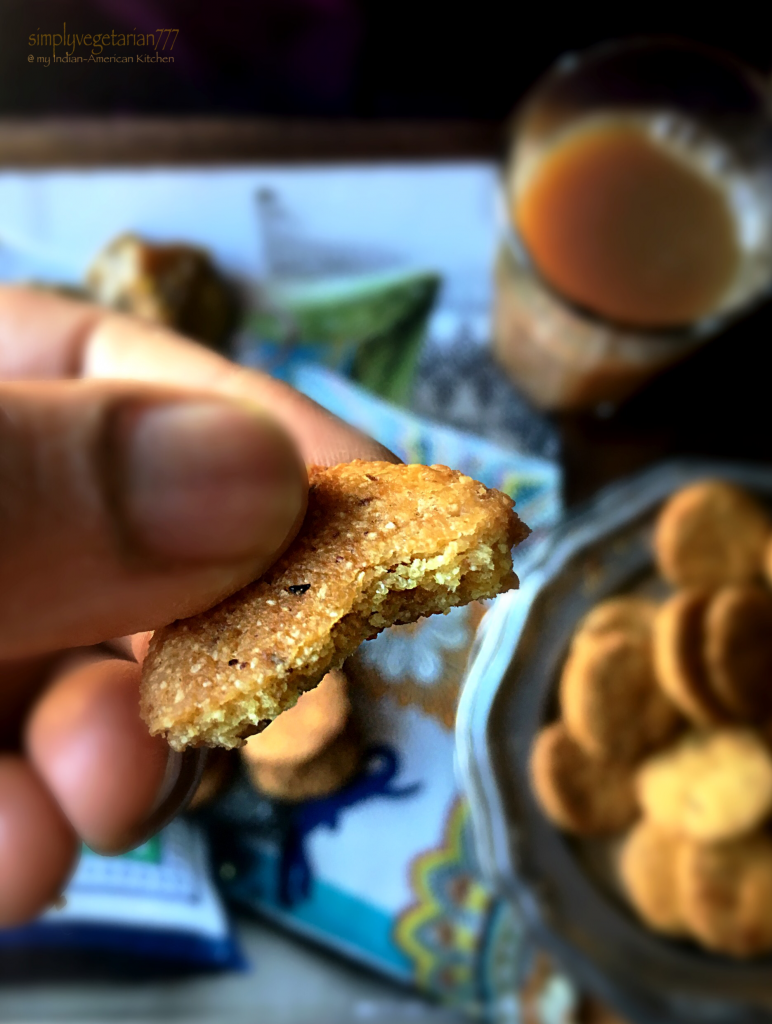 I have not come across anybody who doesn't like a good Khasta Mathri. My kids love mathris and had been asking me to make a batch since sometime. Recently a mango pickle bottle got over and I was left with the pickle masala at the bottom. The kids' demand and the leftover pickle masala combined together to make these Khasta deep fried biscuits which came out super delicious, delicately flavored and huge on texture.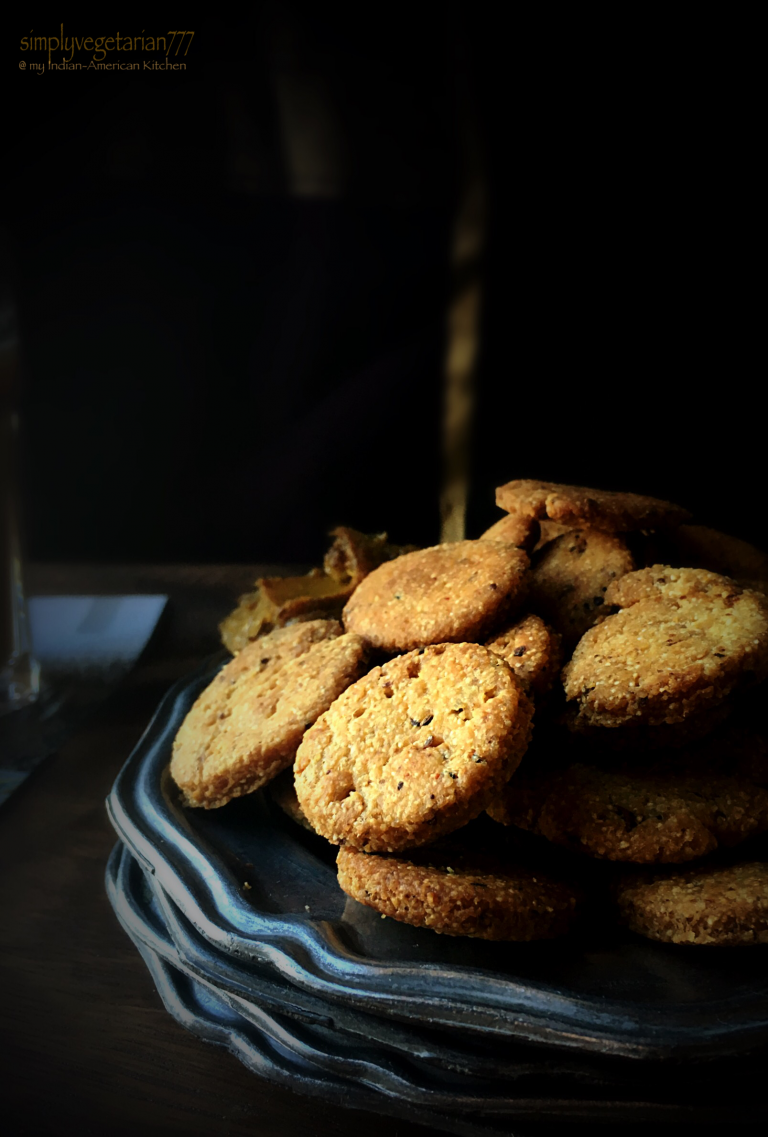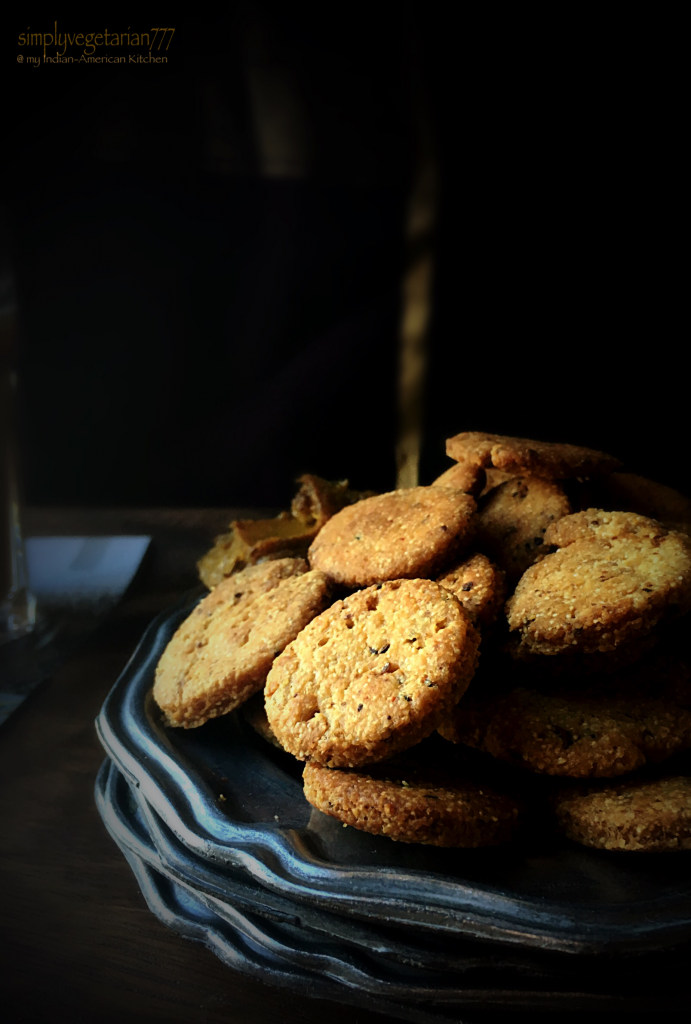 The secret ingredient in making these bite sized mini snack mathris is the Sooji aka semolina. Yes, that is what adds to the Khasta texture of these deep fried biscuits.
This is how I made these mathris, under my mom's supervision over the long distance call.
Khasta Achari Mathri
Servings: 4-6
Difficulty: medium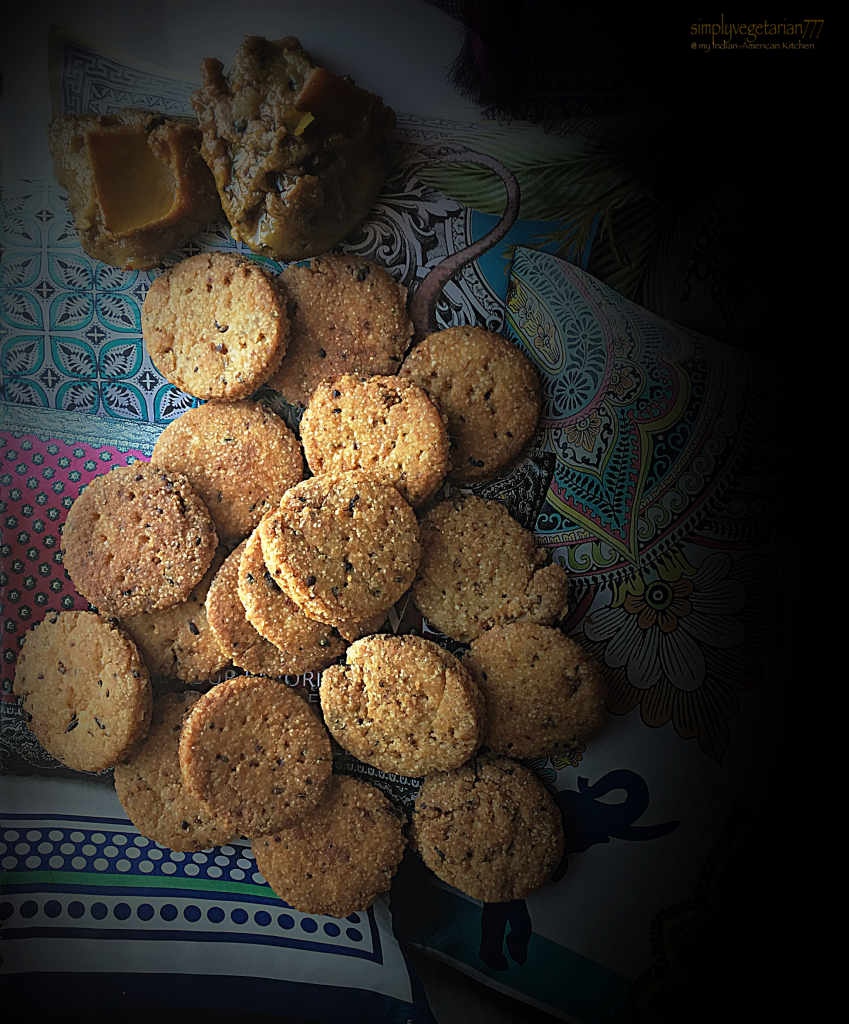 Kitchen Equipments Required
A big mixing bowl, a microwave safe bowl or cup, a wok or Kadhai, a slotted spoon, a big plate lined with paper towels, a bowl to cover the dough, rolling pin and rolling board or clean counter, fork, small cookie cutter or a cap of any bottle.
Ingredients
Sooji / Fine Semolina – 1/2 cup
Maida / Refined Flour – 1/2 cup
Ajwain / Carom seeds – 1/2 tsp
Hing / Asafetida – a pinch
Achaar ka masala (pickle leftover) – 1 tbsp, I used mango pickle masala. You may use chili pickle or pachranga pickle masala too.
Achaar ka oil – 1&1/2 tbsp
Salt – 1/4 tsp
Baking soda – a very small pinch
Water – 1/2 cup
Peanut oil for frying
Method
Refer to this pictogram for better understanding of the method mentioned below.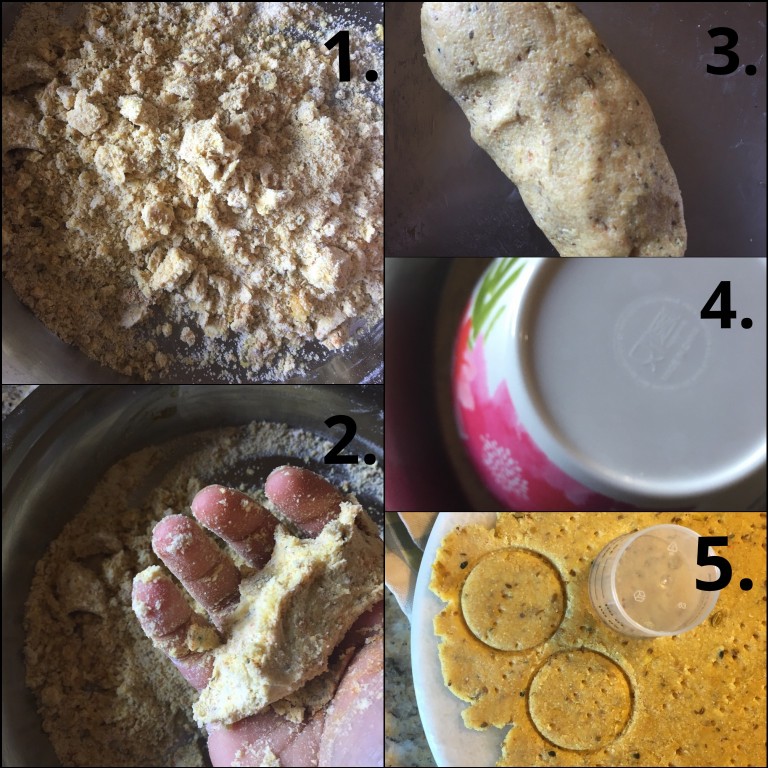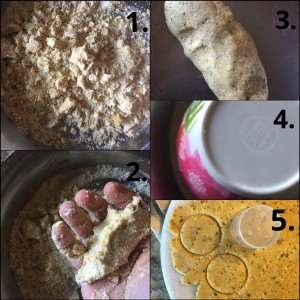 Separate the oil from the masala.
Heat water in microwave safe cup or bowl for 1 minute. Set aside.
Take the big mixing bowl and add the Sooji, maida, salt, ajwain,  hing and baking soda together. Mix.
Now add 1 tbsp of pickle masala and 1&1/2 tbsp of pickle oil. Mix well and bring the flour together to bind. It should be of consistency that when you make a fist with flour, it should stay as a loose fist. Refer to the picture 2 in the pictogram.
Start adding warm water, 1 tbsp at a time. It will take about 2 tbsp of warm water to make a tight dough. The dough should not be soft. Knead for 2 minutes to combine the ingredients. Cover the dough with another bowl or plate and let sit for about 20 minutes. After resting, the dough will become slightly loose as the sooji or semolina will swell up and make the dough a bit relaxed.
Now divide the dough in 2 equal parts. Cover one part and set aside. Oil the surface of the rolling board or clean counter lightly. Make a ball out of one dough portion. Roll it out into a thin disc. Fork it through gently in several places. Cut out small 2 bite sized discs from the rolled out dough. Set aside. Finish the rest of the dough likewise. Keep the rolled out discs aside.
Heat oil in a wok or kadhai to maximum. Once hot, reduce the temperature to medium. Gently drop 10-12 small mathris at the same time in the hot oil. After a minute, increase the temperature to medium high and fry till the mathris become pinkish golden. It takes about 3-5 minutes each lot. Finish frying all the mathris likewise. It will yield about 30-35 mini munchies.
Important Part to remember is Temperature Control while frying. The mathris are fried in lots of 10-12 at a time. The tempearute of oil should be hot to begin with. When ready to fry, the temperature of oil has to be reduced to medium. It again needs to be cranked up higher medium after a minute of adding all the mathris. They should not be fried at the low heat or they will absorb a lot of oil.
Storage
They are good at the room temperature for long time, when stored in air tight container, after cooled down completely. They make a good picnic or traveling snack.
The shape and size of these deep fried mun goes can vary. The seasoning or flavoring may vary as well. Some popular ones are methi mathri, ajwain ki Mathri, masala Mathri and many more. Check out Baked Millet Mathri, Baked Whole Wheat Mathri and Baked Lemon Crackers recipes! Mathri is often accompanied with pickle on the side, be it Instant mango pickle, Gajar Shaljam ka Achar or Green Chili pickle.  
I had a great time making these tea time cuties in my Indian American kitchen. I am sure you will love these and make them soon to treat your kids and family!
Sonal