Eggless Choco-Chip Muffins
As an Amazon Associate and member of other affiliate programs, I earn from qualifying purchases.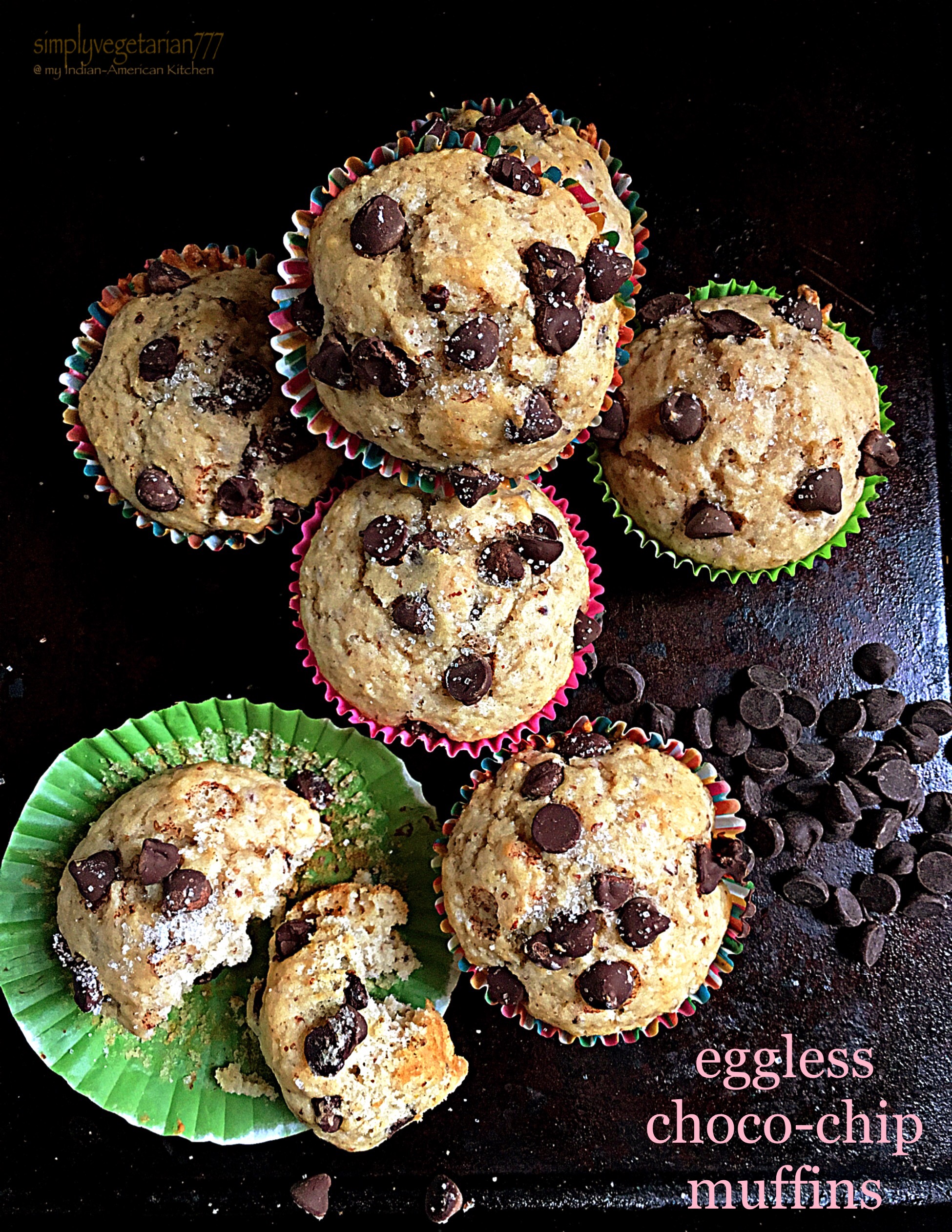 Eggless Choco-Chip Muffins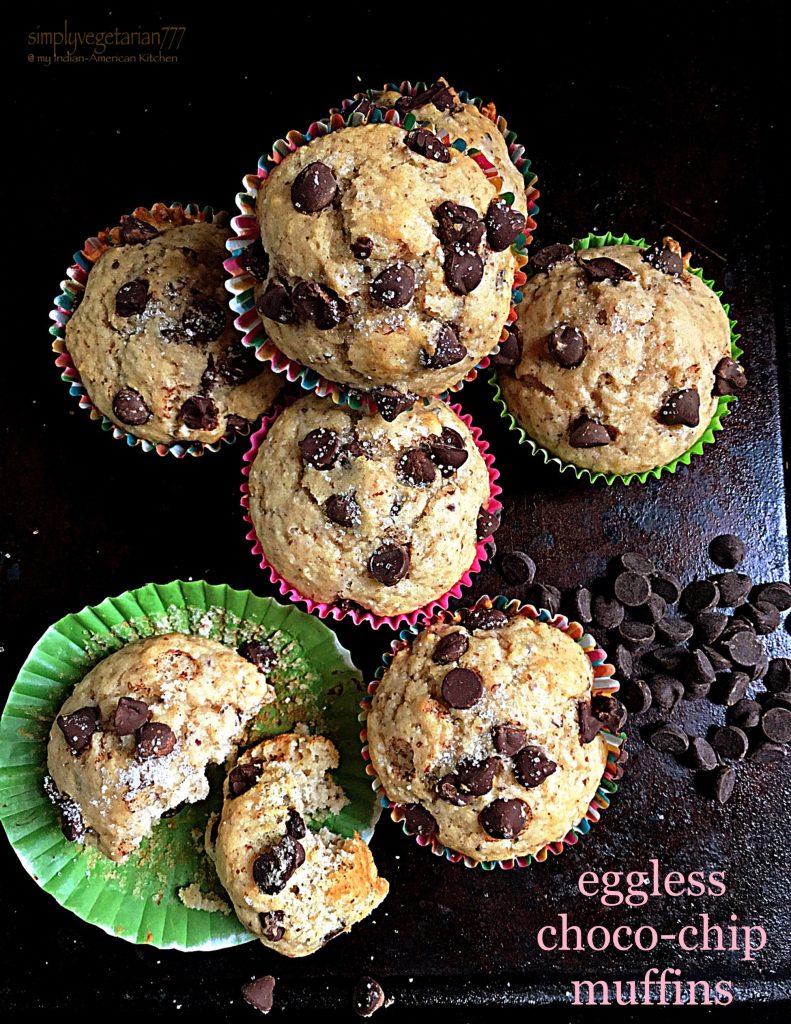 These Eggless Choco-Chip Muffins are the best kind ever baked in my kitchen. Don't they look precious? Beautiful muffin tops covered with polka dotted semi sweet chocolate chips, granulated sugar crystals adding to the crunch in every bite. it is a dream come true for any muffin lover.
While these babies baked in the oven, even the remotest corner of the house smelled of pure vanilla and chocolate heaven. Kids could not wait till the time was up. One of them actually burnt her mouth, since she had lost her patience by then. As soon as I got these pretties out, she grabbed one super hot muffin, fumbled between her hands and dug her teeth inside and she ate and cried at the same time…it was  a happily burnt in the mouth kinda cry….kids..i tell you..
The best part is that these are so easy to put together that even your teenager or pre-teen can bake these under supervision. Psst…on that note, let them bake these gorgeous beauties for you on the mother's day. Will you? Bookmark this recipe and you won't have to look anywhere else then.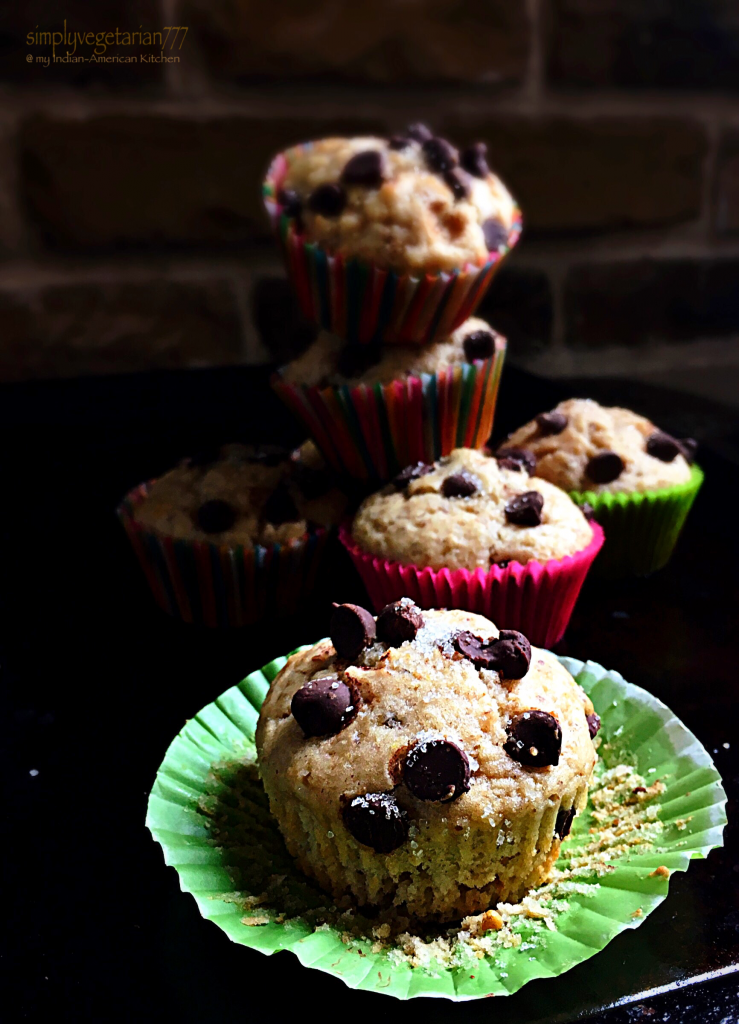 I am a huge fan of Martha Stewart and Stephanie of Joy of Baking. Their baking recipes are just perfect and come out fabulous every time. I have adapted this recipe from Joy of Baking. Click here for the original recipe. I have made these choco-chip muffins, eggless so that everybody can enjoy these. The flax seed meal makes the best substitute for eggs in a baked dessert, keeping it soft and moist, just like eggs. Also, I made them healthier by substituting half of the all purpose flour with whole wheat flour.
These Eggless Choco-Chip Muffins make the best treat for snack since these are not super sweet and because there is flax and whole wheat too. A perfectly Healthy Bake for every day feasting.  A good dose of fiber and good carbs. The size is perfect. The texture is perfect. And the taste is perfect.
Some other Eggless Bakes from my Blog are
Whole wheat & Jaggery Banana Bread
Eggless Walnut Brownie
This is how the Eggless Choco-Chip Muffins are made.
Eggless Choco-Chip Muffins
Easy recipe for Eggless Choco Chip Muffins, made healthy.
Ingredients
Unsalted butter

melted and cooled - 1/2 cup

Flax seed meal - 2 tbsp dissolved in 6 tbsp of warm water

Milk

whole or reduced - 2/3 cup. I used 2%.

Vanilla extract

pure - 1 1/2 teaspoons

All-purpose flour - 1 cup

Whole Wheat flour - 1 cup

Sugar

granulated - 2/3 cups + 1 tbsp

Baking powder - 2 1/2 teaspoons

Salt - 1/4 teaspoon

Chocolate chips

semi sweet - 1 cup
Instructions
Preheat oven to 375*F / 190*C, and place oven rack in the center of the oven. Line the 12 muffin pan with paper liners.

Take a bowl and add flax meal dissolved in warm water, milk & pure vanilla extract.

In another large bowl whisk together the flour, sugar, baking powder, and salt. Stir in the chocolate chips. (Hold back 2-3 tbsp choco chips back to add later on the top).

With a fork or wooden spoon, add the wet ingredients, along with the melted butter, to the dry ingredients and stir only until the ingredients are moistened and combined. (Do not over mix the batter or you will have tough muffins.)

Divide the batter evenly into the 12 muffin cups. Add the remaining choco chips on top of the muffins.

Place the pan in the oven and bake for about 18 minutes, or until a toothpick inserted in the center of a muffin comes out clean. Sprinkle the hot muffins immediately with granulated sugar, for some extra crunch.

Transfer to a wire rack and let cool for about 5-10 minutes before removing from pan.
Notes
You may use 2 cups of all purpose flour, as mentioned in the original recipe.
If you eat eggs, then you may use 2 eggs in place of flax meal.
You may use any kind of chocolate chips, like bitter sweet, butter scotch, white chocolate, etc.
!Storage
Can be covered and stored at room temperature for a few days or they can be frozen.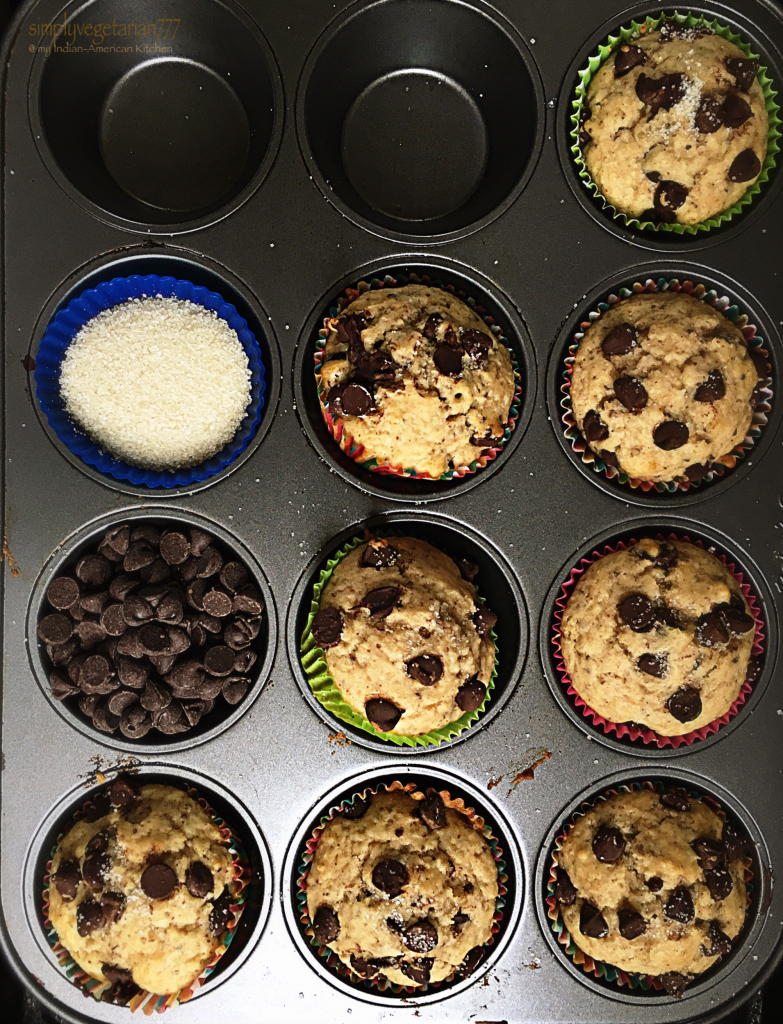 I had an excellent time baking these Eggless Choco-Chip Muffins in my Indian American Kitchen. I am sure you would love these too. Bake it this weekend and enjoy with your family and friends.
Eat Happy! Stay Happy and yes…..HAPPY MOTHER's DAY to all the lovely mommies out there.
Taking these to Throwback Thursdays by Mollie of Frugal Hausfrau , Angie's Fiesta Friday , Whimsy Wednesday.
Sonal