Whole wheat & Jaggery Banana Bread, eggless!
As an Amazon Associate and member of other affiliate programs, I earn from qualifying purchases.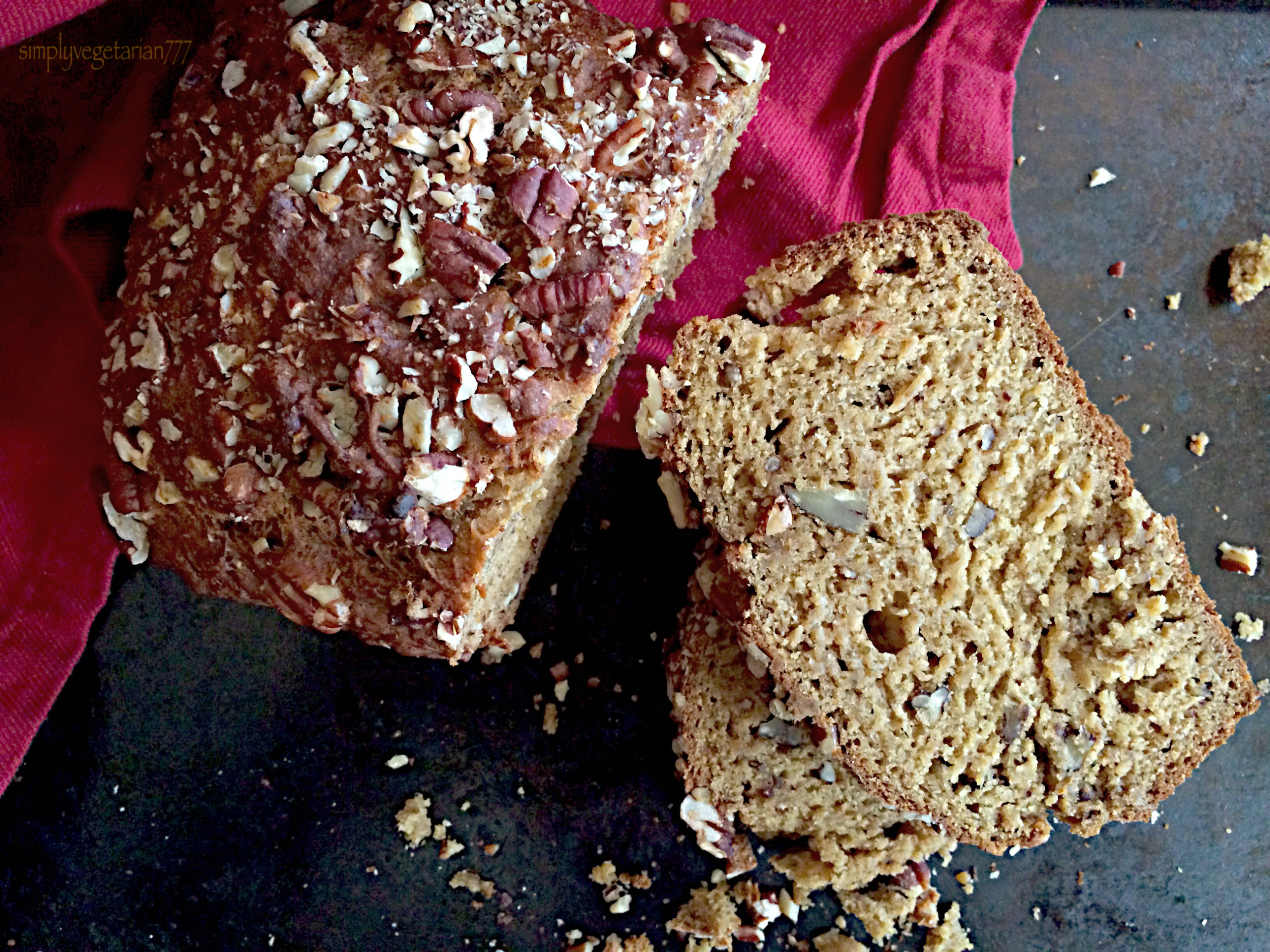 I have to say this today loud and clear. If you are new to baking or intimidated by baking, then Banana Bread should be the first baked goody in your oven. You can never go wrong with it. I have so many kinds of banana breads on my blog and not even one recipe has disappointed me. Well, I keep the basic recipe with some tweaking changes of added ingredients here and there. The best part is that it can be easily done without any eggs.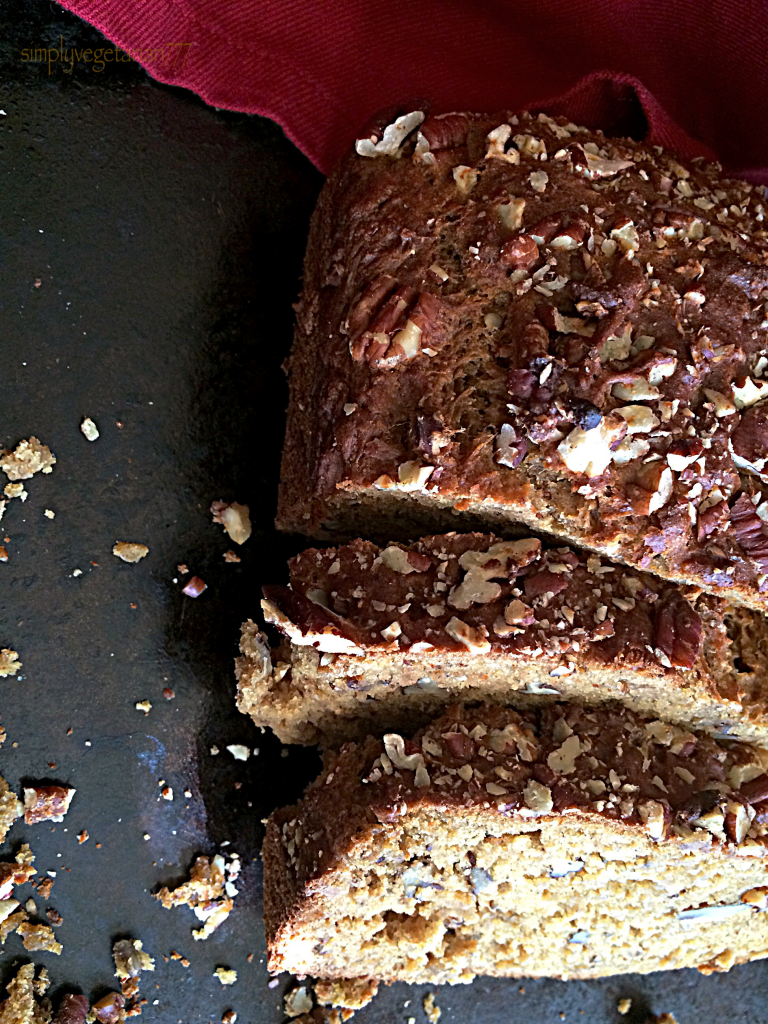 This bread came out of the oven and more than half of it was gone within the first 20 minutes. I kept slapping the approaching hands to let it cool off and save some to click, but of no use. The husband and the kids kept roaring with laughter as I kept chasing them away from it and they kept coming back like honey bee. Does that say anything about the quality of the bread? Well, this is not a leavened bread, neither a cake but a sweet bread that goes perfectly well with your cup of tea and coffee. With the added benefits of whole wheat and jaggery, it was of lesser guilt and absolutely delicious.
Adding the jaggery was a last minute idea, after I remembered seeing Ruchi's Ginger Gudh Cake on Facebook. And it worked well. Next time, I might substitute with it completely. Let us bake the gorgeous now.
Eggless Banana Bread (Whole wheat & Jaggery)
Servings: 1 loaf of 9x4 inches
Difficulty: easy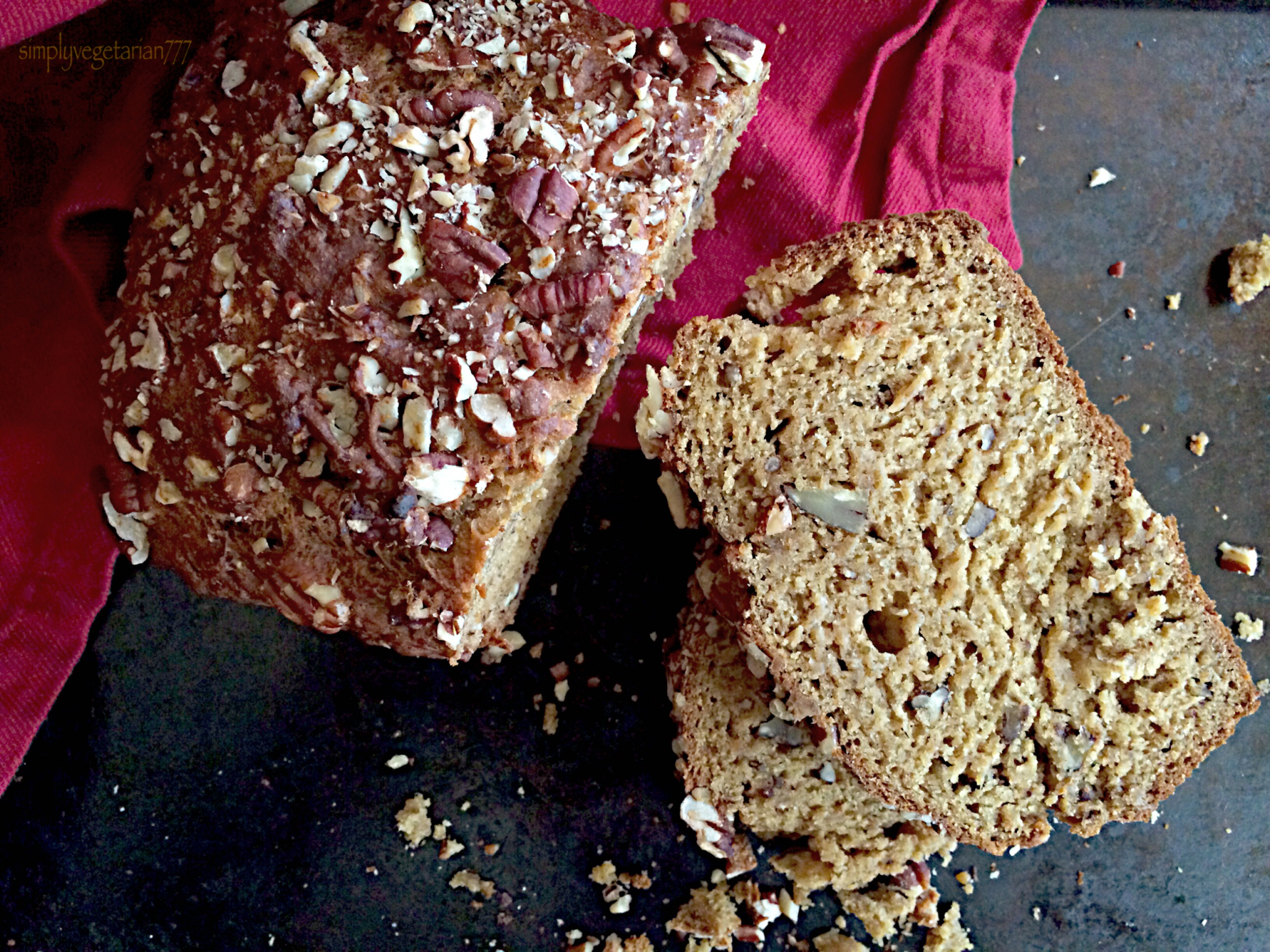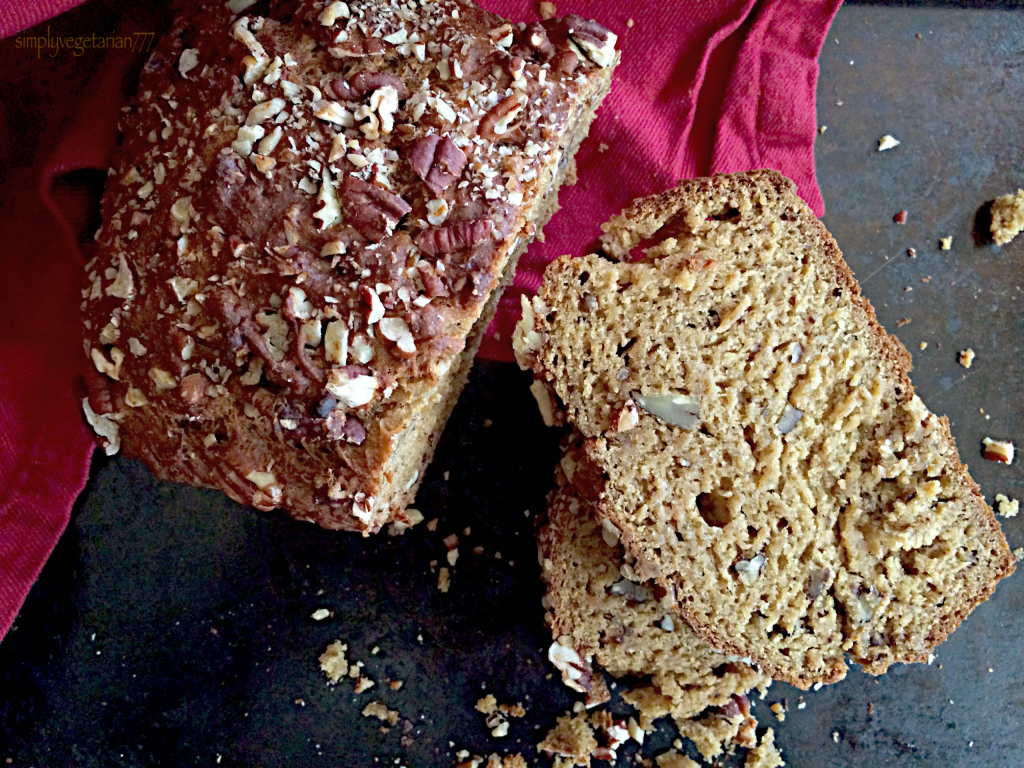 Kitchen Equipments Required : 2 big bowl and 1 small bowl, fork, electric egg beater, oven, a bread loaf tin of 9″x4″, parchment/butter paper, spatula.
Ingredients :
Whole wheat flour : 2 cups
Baking soda : 1 1/2 tsp
Salt : 1/2 tsp
Bananas over ripe : 4, almost 1&1/2 to 2 cups mushed
Jaggery (Gudh) : 1/2 cup, grated fine or in powdered form.
Sugar : 1/2 cup
Vegetable Oil : 1/4 cup
Yogurt, whipped : 1/2 cup
Vanilla extract : 1 tsp
Walnuts : 1 cup, coarsely crushed or chopped in food processor
Method :
1. Preheat oven to 350*F / 180*C and line the loaf pan with parchment paper.
2. In a large bowl, combine the flour, baking soda, and salt, set aside.
3. Mash the bananas with a fork in another bowl. With an electric mixer fitted with a wire whisk, whip the bananas, jaggery and sugar together for a good 3 minutes. We want a light and fluffy banana cream.
4. Add the oil, yogurt and vanilla. Beat well and scrape down the sides of the bowl. Mix in the dry ingredients just until incorporated, no need to over blend. Fold in the 3/4 cup of walnuts with a spatula.
5. Pour the batter into the prepared loaf pan. Give the pan a good rap on the counter to get any air bubbles out. Sprinkle the remaining 1/4 cup of walnuts evenly on top of the bread.
6. Bake for about 45-55 minutes, until golden brown and a toothpick inserted into the center of the loaf comes out clean. Don't get nervous if the banana bread develops a crack down the center of the loaf; that's no mistake, it's typical. Rotate the pan periodically to ensure even browning.
7. Cool the bread in the pan for 10 minutes or so, and then turn out onto a wire rack to cool completely before slicing.
Enjoy it warm or at room temperature.
Storing : As it reaches the room temperature, wrap in either foil, plastic wrap and store in the refrigerator in a box or brown paper bag. This will avoid the drying out. It is good outside for one day.
Enjoy this healthier version of banana bread this season with the goodness of whole wheat and jaggery.
Sonal