Instant Pot Wonton Soup Recipe – Vegetarian
As an Amazon Associate and member of other affiliate programs, I earn from qualifying purchases.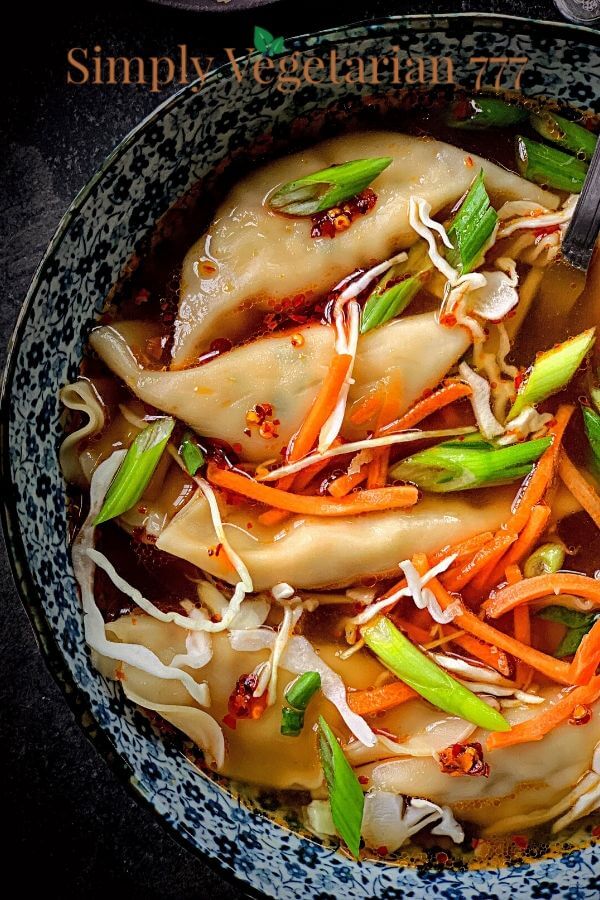 This Instant Pot Wonton Soup Recipe is super delicious. It is a very simple recipe that is easy to follow and fool-proof. The best part is that it is a Vegetarian Asian Soup Recipe full of flavors and balanced in spices.
I believe that delicious recipes need not be difficult. Easy and simple recipes that can be followed easily, make the best meals.
IMPORTANT – Complete Recipe is at the bottom of the post in a RECIPE CARD. Please scroll down to the bottom for that. In between, I have included some tips and other information related to the recipe.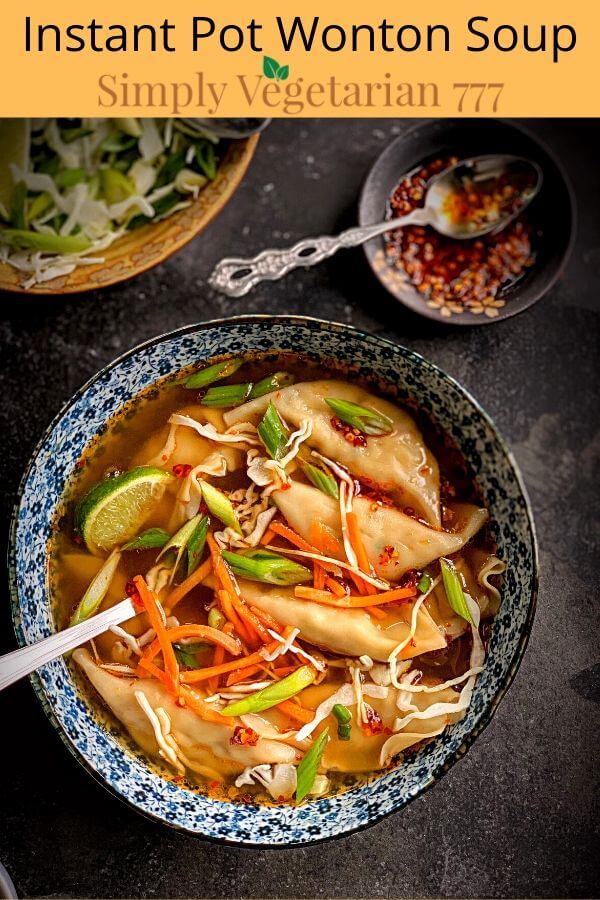 Instant Pot Wonton Soup – Easy Vegetarian Asian Soup Recipe
I am sure that by now you must have guessed that my family loves ASIAN CUISINE. Probably we do not eat it authentic, nonetheless the flavors are rather fully bang on.
As a result, our website has tonnes of successful Vegetarian Asian Recipes that are easy to follow. You can make these with easily available ingredients. Now that is a good news, isn't it?
Have you checked our HOT & SOUR SOUP or ASIAN SWEET CORN SOUP yet? These 2 are must try along with our other Asian Recipes.
You can follow us on Facebook, Instagram, Pinterest & Twitter for regular updates. And don't forget to sign up for our E-Letter whenever we publish a new post.
What is a Wonton Soup?
Although I am not sure if that is an authentic dish, but it seems like a popular dish.
Probably it got adapted over the period of time and finally got its ground. The most important fact is that it is relished by many.
However, wonton are originally from China, the dish has similar traces from all over Asia.
Most noteworthy is that these are similar to Pot-stickers, Dumplings and Momo. Also if I may add, ravioli and tortellini etc, can be combined in the same family.
Wonton are eaten either steamed, boiled, or pan fried. Sometimes, these are deep fried as well. Furthermore, these are added in broths and soups to make a filling dish also called Wonton Soup.
Since we are a vegetarian family, we use vegetarian wonton.
Therefore, Wonton Soup is a Dish that is made of a good flavorful Broth, where wonton are added to it later, just before serving.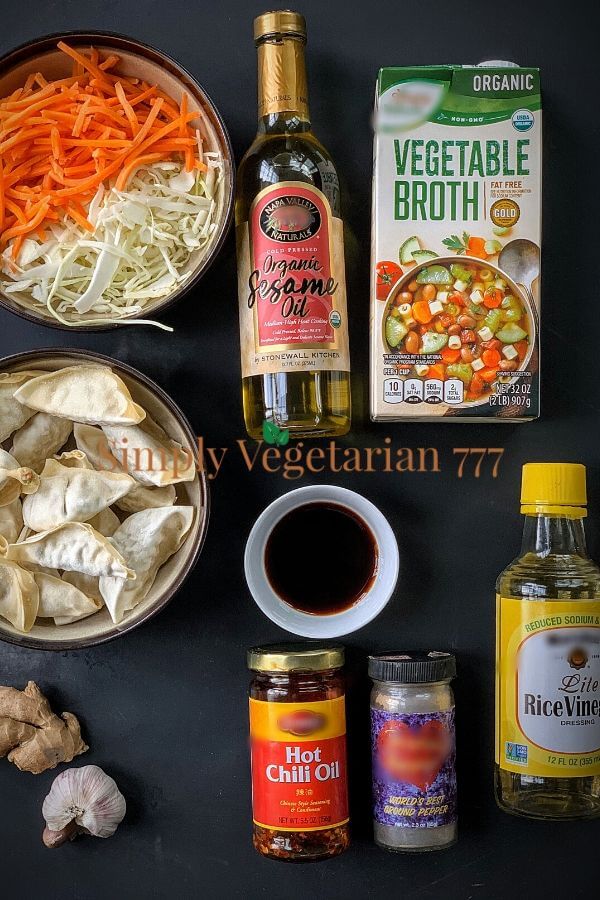 What are the ingredients of Wonton Soup?
Note – We recommend products from amazon.com for purchase as an amazon affiliate. You can find our privacy policy on the blog.
As mentioned earlier, I have no idea about the authentic recipe for this Dumpling Soup. Most importantly, this is our family favorite recipe. Start from here and personalize it further if you wish to.
This recipe has 3 groups of ingredients –
Broth Ingredients – Vegetable Stock, Water, Ginger, Garlic, Rice Vinegar, Light Soy Sauce, Sesame Oil, Hot Chili Oil(love this one, tastes like Chinese takeout) or Sambel Olek. Salt & Pepper if needed. Since the broth is pretty salty, I didn't need to add any salt or pepper to it.
Frozen Wonton – found in frozen section of Costco, Trader Joes or your local Asian Grocery Store. I used large wonton. But you may use any size small or big or make at home. Also, you can use either of these – wonton, dumpling, or potsticker.
Garnish/Toppings – Shredded Cabbage, matchstick Carrots, Lime Juice, Green Onions Sliced.
Kitchen Equipment used
Instant Pot, Inner Pot, Measuring Cups & Spoons, Kitchen Ladle, Chopping Board & Knife, Asian Soup Bowls.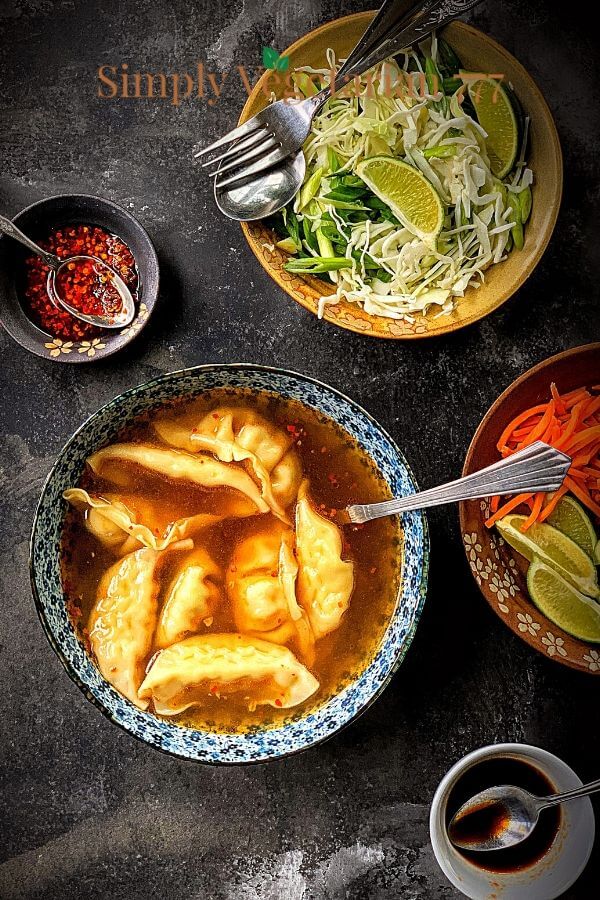 Where to buy frozen Wonton from?
Wonton are available in the market by different names. You can purchase either of these for this recipe – wonton, dumplings, potstickers or momo.
I normally purchase Vegetarian Potstickers from Costco from the frozen section. Trader Joes or your local Asian Grocery store will have it. Check out the frozen section.
If you know how to make it at home, use home-made.
What size and shape of dumplings should be used?
I would advise to go with small potstickers for the soup. Since they are more manageable in size, it is easier to eat and look good aesthetically too.
However, if you do not care like me, then use whatever is handy. I have used regular size dumplings here.
Is Wonton soup healthy?
It can be healthy depending upon how many wontons are you using. Normally 4 large vegetarian wontons are 130-140 calories. Broth is very light. Therefore, I can confidently say that it is quite a HEALTHY RECIPE.
What do you eat with Dumpling Soup?
Normally it is served as a first course. You can combine this soup with spring rolls, or any vegetarian Asian appetizer. Or make it a bigger meal and combine with Fried Rice or Noodles or Kung Pao Spaghetti etc.
What is in Wonton Soup Broth?
Wonton Soup is kind of Clear Broth. It is flavored with ginger, garlic, soy sauce, rice vinegar, and sesame oil. My version is further enhanced with some lime juice and hot chili oil.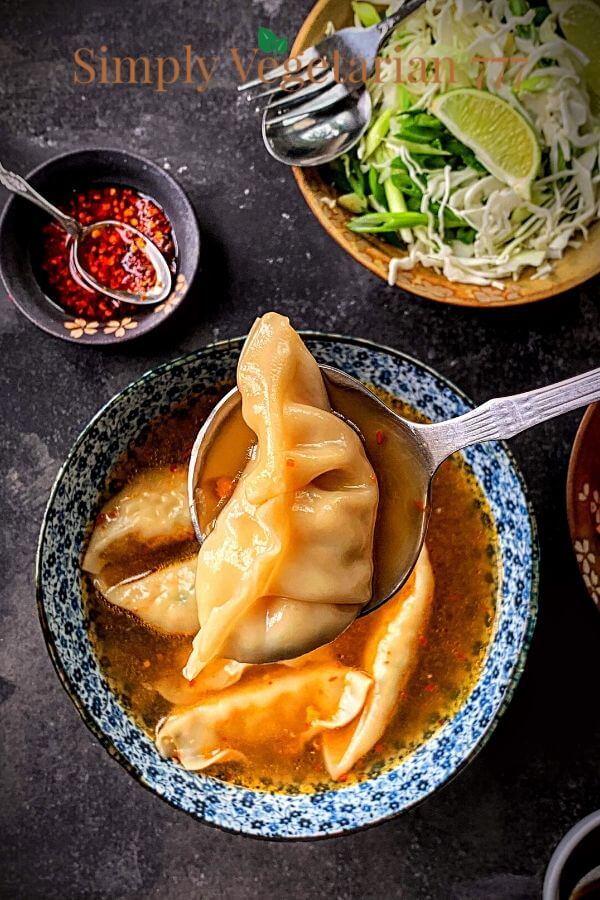 How to make Healthy Wonton Soup in Instant Pot?
This Recipe is divided into 3 parts –
[complete recipe is at the end in a recipe card. please scroll further down for that.]
Preparing Broth in IP
Certainly this is the simplest step. First of all add all the broth ingredients in IP and pressure cook on high. That's it.
The best part is that you can either do QPR(quick pressure release) or NPR(natural pressure release) for this recipe. It doesn't matter. If you are in rush, follow QPR or else NPR.
You can prepare it ahead of time and warm it up later to serve. This broth is freezer friendly too.
Adding Frozen Wonton to the Broth
Wonton are cooked in the broth just before serving.
Because wonton can disintegrate in the broth after certain time. For that reason, you can not cook these beforehand in the broth.
But that is not hard at all. It takes about 2-3 minutes for the wonton to cook in the broth. When the broth is boiling on saute, drop the wonton in it and cook and serve.
Rather you can choose to steam the wonton separately and keep for later. Before eating, place steamed warm wonton in a bowl and pour piping hot broth over it. Top with your favorite garnishes and eat.
Garnish with finely shredded & diced Vegetables
Shredded Cabbage, matchstick carrots and green onions add a nice crunch and flavor to the soup. Since I like my vegetables crunchy, therefore I normally add it later.
If you like yours slightly soft, then boil these vegetables with wonton in the broth.
I serve these with a good dash of lime, extra soy sauce and hot chili oil on the side for personalizing.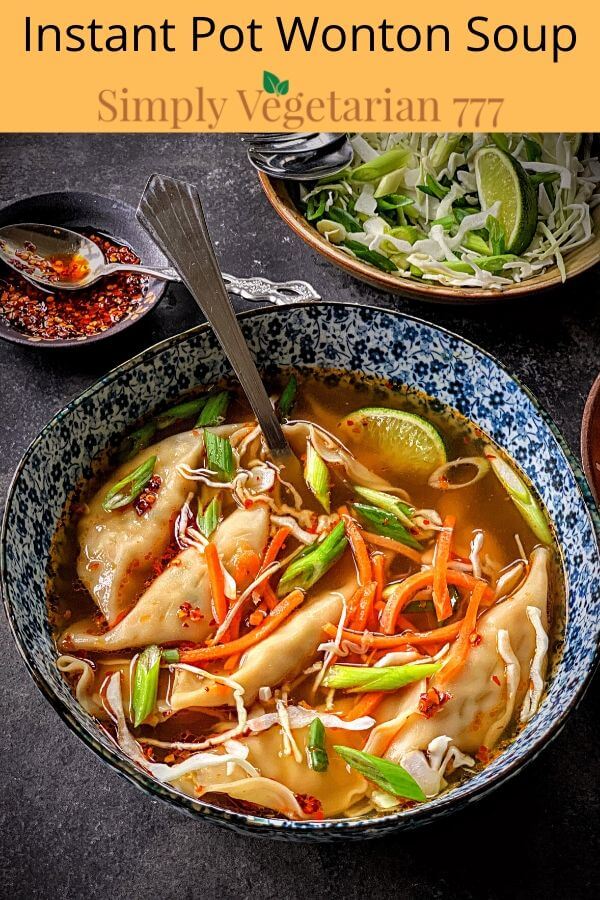 OTHER DISHES THAT WILL GO WELL WITH THIS SOUP TO MAKE IT A MEAL –
Hakka Noodles, Honey Chili Lime Noodles, Kung Pao Spaghetti, Fried Rice.
Some other Popular Asian Recipes from the blog –
Red Thai Curry, Green Thai Curry, Thai Curry Noodles, Tom Yum Soup, Asian Sweet Corn Soup, Quinoa Asian Salad, Chopped Asian Saladetc.
Popular Instant Pot Desserts from the Blog –
New York Cheesecake, Pumpkin Cheesecake in Jars, Chocolate Cheesecake, Chocolate Cups, etc.
Vegetarian Instant Pot Wonton Soup Recipe
Yield: 4
Instant Pot Wonton Soup Recipe - Vegetarian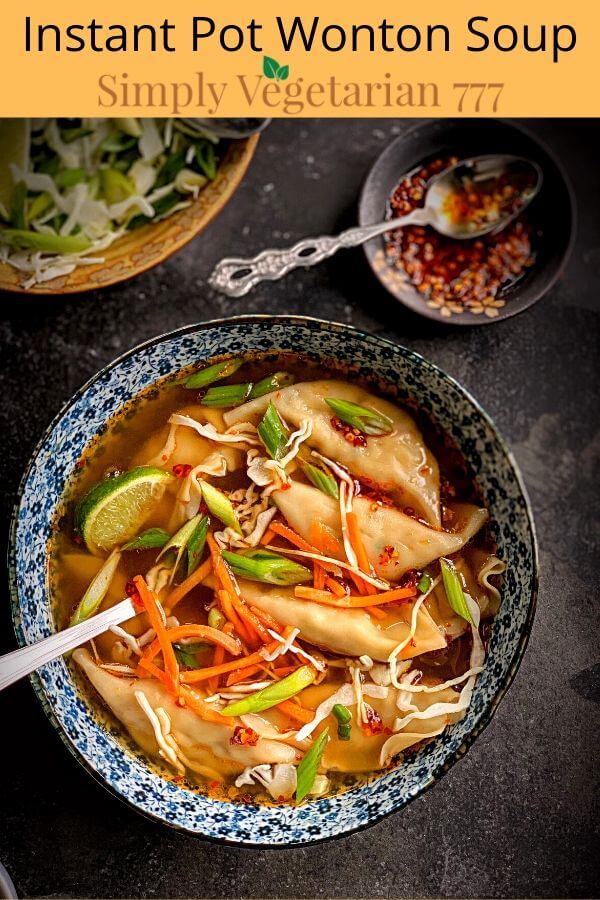 Instant Pot Wonton Soup Recipe is super delicious and so easy to make. It is perfect for light lunch meals or an easy dinner. The broth can be prepared in advance and served with wonton later. The broth is freezer friendly. Perfect Recipe for meal prep too. Easy to personalize as well.

Prep Time: 10 minutes

Cook Time: 10 minutes

Total Time: 20 minutes
Ingredients
Broth Ingredients
32 ounce/ 4 cups Vegetable Broth
2 cups Water
1 tsp Ginger, minced
1 Garlic clove, minced
1 tbsp Rice Vinegar
1 tbsp Soy Sauce, light
1/2 tbsp Sesame Oil
1 tsp Hot Chili Oil/ Sambel Olek
Salt & Peppe as needed
Vegetable Wonton
16 large wonton/dumplings or 24 medium wonton. Or use more or less as needed.
Garnish & Toppings
1/2 cup Cabbage, shredded
1/2 cup Carrots, matchstick cut
5 to 6 Green Onions/Scallions, cut diagonally
Few wedges of Lime
Light Soy Sauce & Hot Chili Oil on the side for personalizing
Instructions
Preparing BROTH
First of all, place inner pot inside the Instant Pot. Plug it in.
Further, add vegetable stock, water, minced ginger and garlic, rice vinegar, light soy sauce, sesame oil, and hot chili oil to the inner pot.
Give it a good stir. Place the lid on it and close it. Finally, set the valve on SEALING. Pressure cook on HIGH for 3 minutes.
Most noteworthy is that it does not matter if you do QPR or follow NPR. If you are in rush, then perform QPR or follow NPR.
The BROTH is ready.
Certainly you can prepare it ahead of time for your meals.
It can be heated at the time of serving on SAUTE and then served. You can easily double the recipe. This broth can be frozen.

Making Vegetable Wonton Soup

Please note that this is a crucial step.
You have to cook Vegetable Frozen Wonton in the broth right before serving.
Therefore this is what you do - Open the lid. Firstly, put the broth on SAUTE MODE. Once it comes to the boil, finally add frozen vegetable wonton to it. Cook it for 2-3 minutes till done.
Immediately serve in the Soup Bowls. Garnish and Slurrp.
GARNISH THE SOUP

Top the soup with shredded cabbage, carrot matchsticks, diagonally cut green onions. Finally, give it a good squeeze of lime juice.
Add more soy sauce and hot chili oil as needed. I always do.
The vegetables on the top add great crunch and texture to the soup.
Please note that if you like your vegetables slightly soft, then boil these vegetables with the wonton.
Notes
1. You can prepare the broth in advance. Add vegetable wonton later before serving.

2. Or you can keep the vegetable wonton steamed and ready to be served. When serving the soup, add steamed vegetable wonton and add the piping hot broth on it.

3. The broth can be frozen. It can be doubled easily in quantity.

4. This is a great broth to be used as a base for any Asian recipe. Add noodles or ramen to it and make Ramen Noodle Soup.
Recommended Products
As an Amazon Associate and member of other affiliate programs, I earn from qualifying purchases.
Nutrition Information
Yield 6
Amount Per Serving Trans Fat 0g

The provided nutrition information is an estimate. Please confirm with your doctor or nutritionist before attempting this recipe if you are on a special diet.

Please leave your feedback and suggestions in the comments section below. Do try this delicious recipe.
Sonal