Thai Curry Noodles Instant Pot Recipe – Vegan & Easy
As an Amazon Associate and member of other affiliate programs, I earn from qualifying purchases.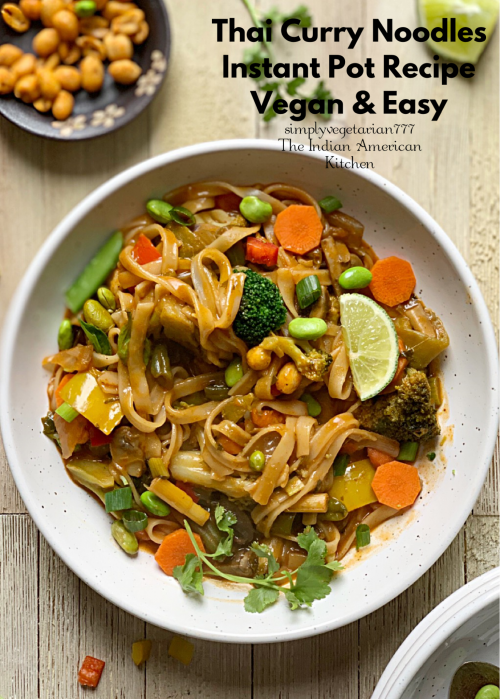 Thai Curry Noodles Instant Pot Recipe is a delicious recipe. It is loaded with vegetables, super easy to make and is VEGAN. This is quick to put together and so comforting.
SCROLL DOWN TILL THE END FOR THE COMPLETE RECIPE. Also, check out the small video clip attached just before the RECIPE CARD, for better understanding.
IMPORTANT – We use Amazon affiliate links on our website to make purchase suggestions. It does not cost you anything extra if you make a purchase through us. Rather it shall help the blog running with small commission earned.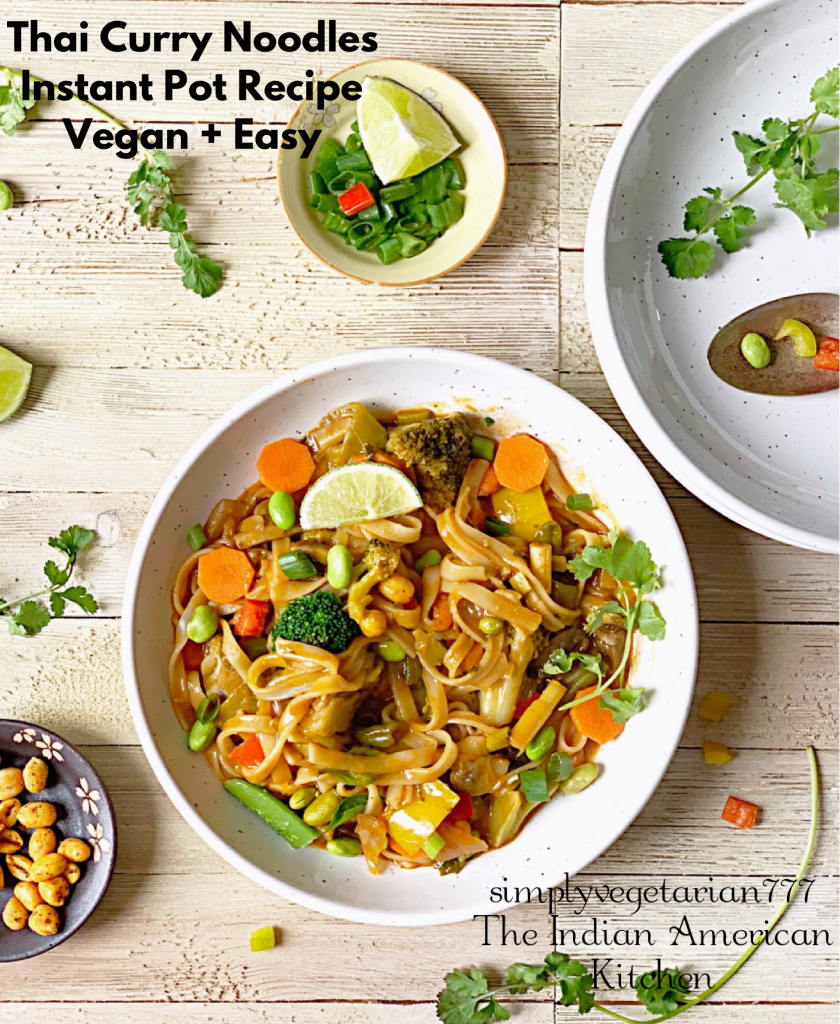 Easy & Vegan Thai Curry Noodles Instant Pot Recipe
If you haven't discovered yet, then this family is all about Thai food. We can go with Vegetarian Thai Food almost every single day. If you want proof then you may go type Thai on my search bar and find out how many of the Thai Recipes I have posted.
Though America is getting sensitive towards vegetarians and vegans, still it gets difficult to find Vegetarian Asian Food. Either the use of fish sauce or other such ingredients can spoil it for vegetarians.
You may say – hey if you do not like authentic, then skip it. My answer is – no, why should I? I am a foodie and I would eat what I wish to. If I can't find it outside, then I will cook that dang delicious thing myself.
So here I am, a self-taught Vegetarian Thai Cuisine Amateur Home Cook. And before anyone points it out, I declare that THIS IS NOT AN AUTHENTIC RECIPE. It is my take on some of my favorite foods from the world around.
My TOP REASONS to make this Thai Curry Noodles Instant Pot Recipe at home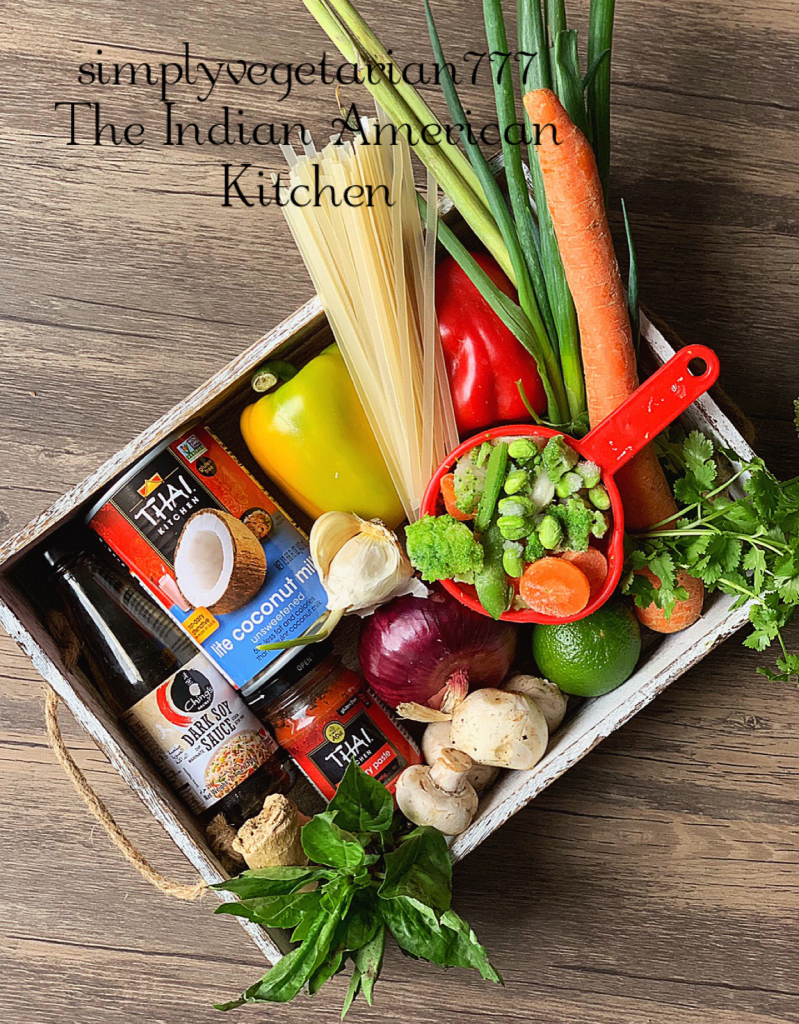 How to COOK VEGAN THAI FOOD?
Seriously, it is not rocket science to cook VEGAN THAI FOOD at home. IMHO, any recipe can be easily veganized at home. Here are a few tips that I follow to veganize any recipe, especially Asian Recipes which use shrimp paste and fish sauce abundantly in their cooking.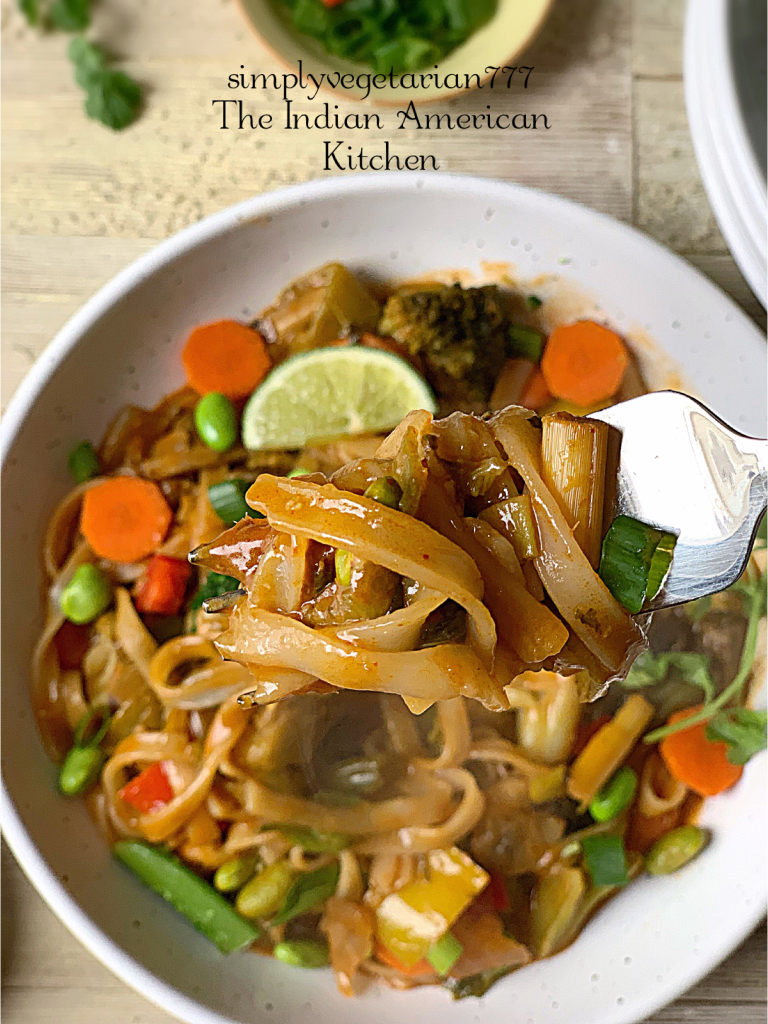 VEGAN THAI CURRY NOODLES INGREDIENTS
These are the easily found ingredients that I have used in the recipe –
GLUTENFREE THAI CURRY NOODLES RECIPE
If some of you are gluten allergic and looking for GLUTENFREE THAI CURRY NOODLES RECIPE, then it is fairly simple to adapt.
COCONUT MILK SUBSTITUTE IN RECIPE
I have been asked a few times about the coconut milk substitute in a recipe. It was hard for me to comprehend. However, with a few discussions here and there, I would like to make these suggestions. Please make these adaptations depending upon your preference. I have not tested these substitutions but others have. So, here you go –
For 1 can of Coconut Milk –> Mix 400 ml /13.66 fl oz plant-based milk, preferably Almond Milk with 1-2 drops of Coconut Extract and use.
For 1 can of Coconut Milk –> Mix 400 ml/13.66 fl oz almond milk with 1 to 2 tbsp Coconut Meal/flour + 1-2 drops of Coconut Extract and blend.
See what works. Or if you have used any other substitute with success, please leave it under comments section for everyone's benefit. Thank you.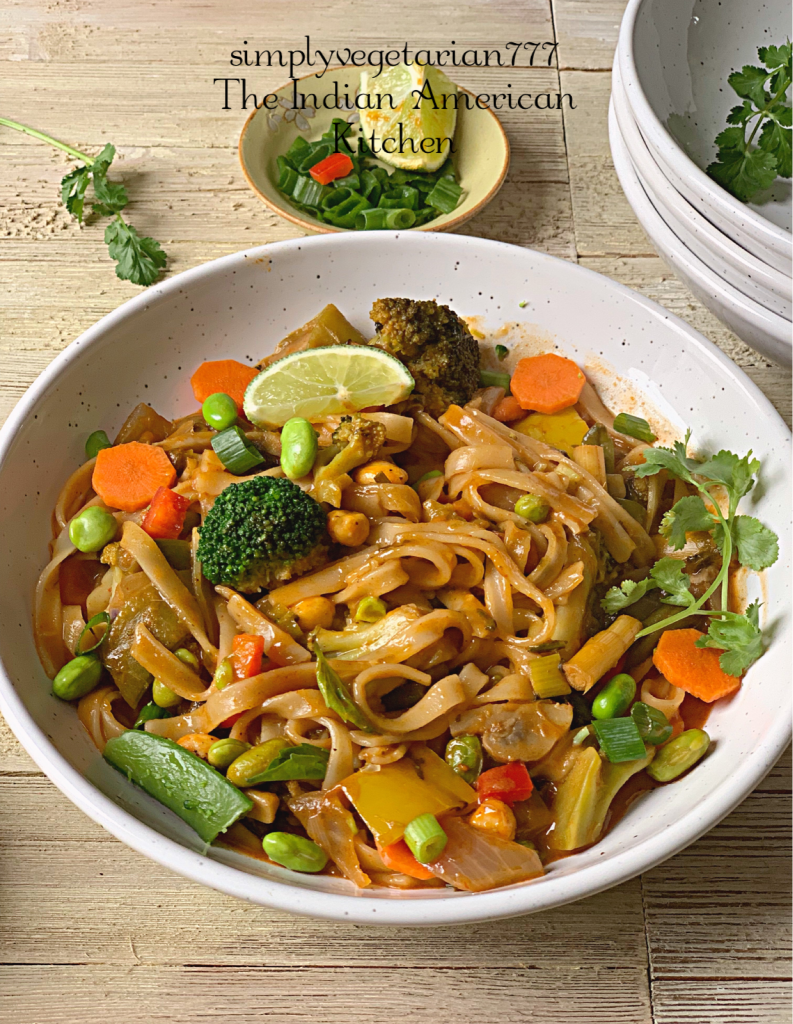 INDIAN VEGETARIAN INSTANT POT RECIPES FROM SIMPLYVEGETARIAN777
Chana Masala, Rajma Masala, Pav Bhaji, Saag Aloo,Vegetable Pulao (Rice), Madras Lentils, Garlic Dal and more.
INSTANT POT CAKES FROM SIMPLYVEGETARIAN777
Eggless Red Velvet Cake, Banana Bread, Chocolate Cake
VEGETARIAN INSTANT POT RECIPES FROM SIMPLYVEGETARIAN777
Green Thai Curry, Red Thai Curry, Tom Yum, Lentil Soup, Tuscan Soup, Taco soup, Enchilada Soup, Pasta Primavera, Creamy Cajun Pasta and more.
THAI CURRY NOODLES IN INSTANT POT VIDEO
EASY & VEGAN THAI CURRY NOODLES INSTANT POT RECIPE – COMPLETE RECIPE
Thai Curry Noodles Instant Pot Recipe - Vegan & Easy
Thai Curry Noodles Instant Pot Recipe is a delicious recipe. It is loaded with vegetables, super easy to make and is VEGAN. This is quick to put together and so comforting.
Ingredients
CURRY BASE INGREDIENTS
2 Cans or

13.66 ounce/400 ml

Coconut Milk, Light & unsweetened

1 small jar of

4 ounce

Red Curry Paste

Thai Kitchen Brand

1

Tbsp

Soy Sauce

Dark

1&1/2

Tbsp

Brown Sugar

or to taste

1

small bunch

Thai Basil Leaves

1

Fresh

Lemongrass

husk removed and chopped

1

large piece

Ginger

chopped fine

2

cloves

Garlic

chopped fine

8-10

stems with leaves

Cilantro, fresh

1

Lime Zest

delicately grate the outer skin of lime to get zest

1

Green Thai Chili or Jalapeno

finely chopped, optional

To Taste

Salt
Vegetables & Noodles
2

handfuls of

Rice Noodles

literally handful. check the video

4-6

cups of

fresh and frozen Vegetables

I go overboard with my vegetables. You may use as less or more as required.

1

Lime Juice
Toppings / Garnish
1

tbsp

Cilantro

chopped

To taste

Lime Juice

2-3

Tbsp

Roasted Peanuts, spicy or plain salted

2-3

sprigs of

Scallions or Green Onions

finely chopped
Instructions
Making Red Thai Curry Base For the Recipe
Insert the inner liner in the 6 quart Instant Pot. Plug it in.

Add all the ingredients as mentioned under Red Thai Curry to the inner pot. It includes - coconut milk, The whole jar of Red Thai curry paste, lemon grass, ginger, garlic, green chili, lime zest, Thai basil leaves, cilantro, soy sauce, brown sugar, and salt. Give all the ingredients a good stir. Make sure that the Thai Curry Paste is dissolved completely in the milk.

Close the lid of the Instant Pot. Set the valve on SEALING. Press the SOUP/BROTH mode. Set it to Low/Less pressure and mode for 8 MINUTES.

Once the timer goes off, do the QR (quick release). Stir the curry base well. It is liquidy and light.
Making Vegan Thai Curry Noodles with Vegetables
CUPS OF VEGETABLES- For the vegetable choice, I used about 5 cups of chopped vegetables. It was a combination of fresh and frozen vegetables. Now I go overboard with my vegetables to add more goodness to my meals. You may choose to use either 1 cup of vegetables or 5 cups of vegetables. Also, you can use fresh or frozen vegetables or a combination of both. It is COMPLETELY YOUR CHOICE. You may also use frozen Asian Vegetable packet.

VEGETABLES USED - I have used a mix of button mushrooms, carrots, onion, colorful bell peppers, broccoli, edamame beans, water chestnuts, snow peas, and beans.

NOODLES USED - I have used A Taste of Thai Rice Noodles Linguine. So my timings are according to this one. I am assuming that most of the flat rice noodles should cook similarly. On the other hand, if you are doubtful, then you may prepare the noodles separately as per the packet instructions. If you plan to prepare the noodles separately in any case, then you may go ahead and use any noodles of your choice like brown rice noodles, ramen, pasta angel hair works really well, vermicelli noodles and etc.

Now add your choice of vegetables to the curry. Give it a good stir. I request you to watch the video for a detailed understanding of the steps.

Add 2 handfuls of Rice Noodles. I literally mean 2 handfuls of Noodles. Check the video. When you are adding these noodles, spread them out evenly. Do not dump all at one spot. Once you add the noodles, press them down gently in the curry.

Cover with a glass lid. Press the SAUTE MODE and set it for 15 minutes. Let it cook for 15 minutes or till you thing noodles are done to your liking. Do stir in between to avoid sticking at the bottom.

Your THAI CURRY NOODLES in INSTANT POT are ready. Adjust the salt and sugar to your choice. Squeeze the juice of 1 lime or to your taste to the noodles. Mix well.

Serve these hot in a bowl. Top the Thai Curry Noodles with some salted or spicy peanuts, cilantro leaves, scallions, and red chili flakes if needed.

I promise this will be your go-to recipe on any weekday or weekend.

THE CONSISTENCY - These noodles are not much soupy but very slurrpy, coated thickly in the Red Thai Curry Sauce.

THAI CURRY NOODLE SOUP - if you desire soupier noodles or to make Thai Curry Noodles, prepare the noodles separately so that they do not soak up all the curry while cooking. When ready to serve, place the noodles first and then drench them in the curry. Top with all the garnishes and enjoy.
I am sure you will be trying this recipe soon. Please leave your feedback under the comments when you try.
CAN'T MAKE IT NOW? PIN THIS EASY GREEN THAI CURRY IN INSTANT POT FOR LATER.

In my Kitchen, you will always EAT HAPPY & STAY HAPPY.
Sonal