Lentil Dal Curry Instant Pot Recipe with Mint & Garlic
As an Amazon Associate and member of other affiliate programs, I earn from qualifying purchases.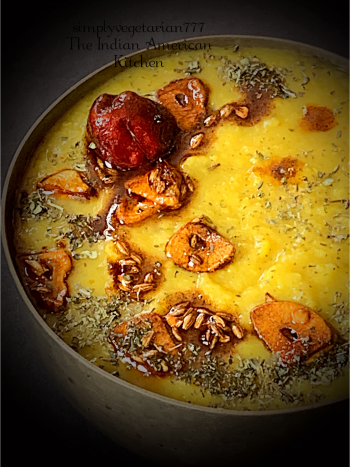 Lentil Dal Curry made in Instant Pot is going to swipe you off your feet. This hearty Lentil Dal is super comfy. The addition of Garlic & Mint in this recipe elevates the YUM FACTOR of the Red Lentils Curry.
Complete Detailed Recipe is given towards the end of the Post. In between, more information and Tips & Tricks are given.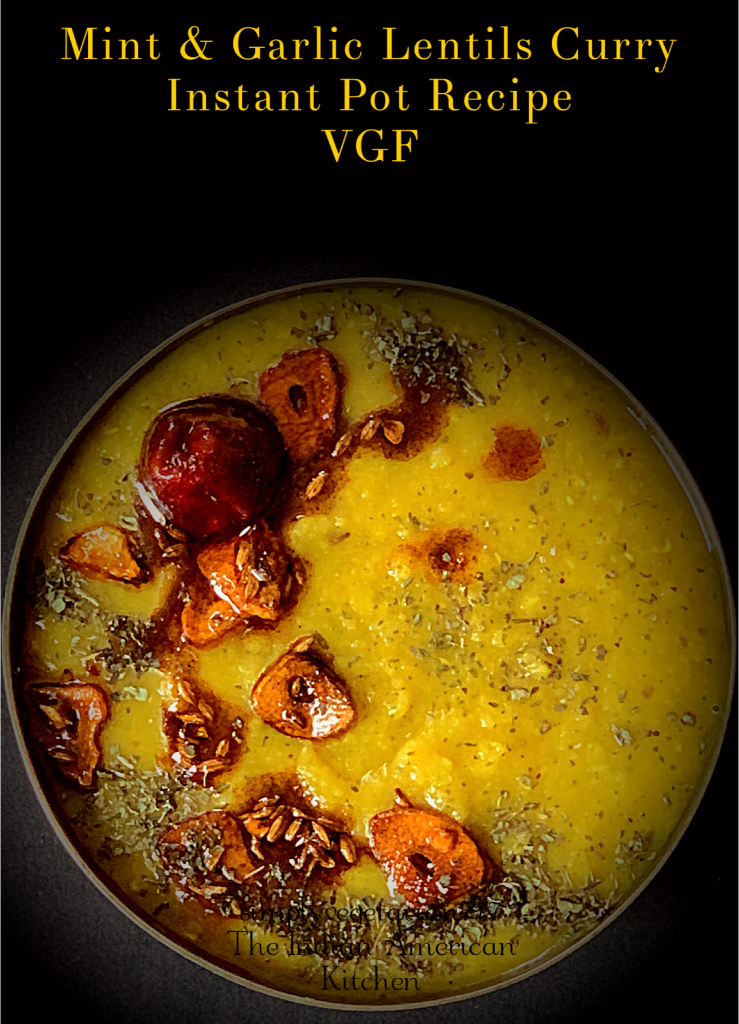 Easy & Delicious Lentil Dal Curry in Instant Pot
As far as I remember, mum never made RED LENTILS. I do not know, why? Had asked her and she had no idea either. Since my mum cooked much variety of beans, it left me pondering for a while.
Anyhow, many years fast forward, I bought my first bag of Red Lentils here in the USA. Ironical, isn't it? Since then there is no looking back. Red Lentils are regular in my pantry.
Red Lentils are popularly known as Lal Masoor or Masoor Dhuli in Hindi.
There is something exotic yet homely about the taste of this Lentil Dal Curry. My family loves Garlic Dal and it is a recurring dish on my monthly menu. When cooked, it is so creamy almost like butter yet so light on the palette. The best part is that it can be easily used as a base to many stews and curries.
What is Dal?
Since childhood, dal has been a constant portion on our lunch or dinner plate. 1 katori (about 2/3 cup) of cooked dal brought balance to our daily meals.
Now if you are wondering what is Dal?
Dal is soupy or stewy kind of preparation made with dry beans. Boiled with Turmeric and Salt, then tempered with Ghee/Oil & Cumin seeds + red chili powder TADKA, it is a very basic and simple preparation.
Then there are many variations and modifications made to this simple dal as per region and personal choice. Different kind of spices & herbs and the addition of vegetables etc, help create unique flavors for Dal Recipes.
Since it is a simple and easy preparation, dal of any kind makes to every Indian household dinner table.
Dal brings the wholesomeness to the meal too. The Lentil Dal Curry is a complete food group with Carbs, Protein and Fiber.
Save 40.0% on select products from 3UMeter with promo code 40SDWH43, through 12/20 while supplies last.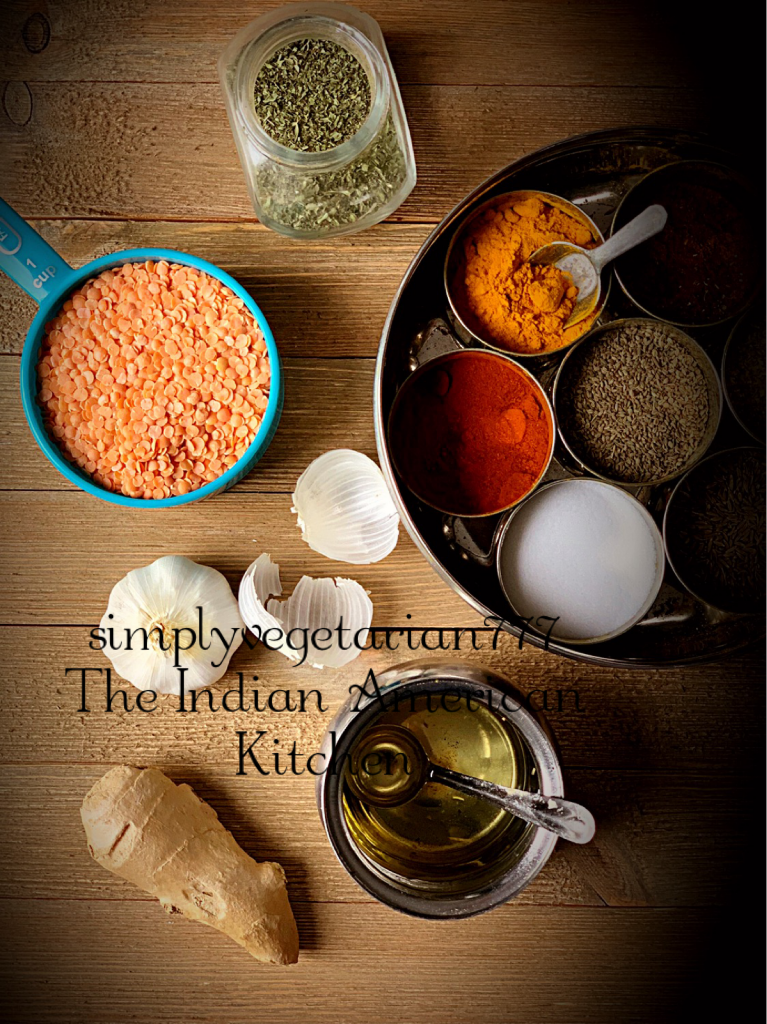 Why I am calling it Lentil Dal Curry?
Curry is basically a sauce made with a variety of spices and herbs. The curry can be a smooth sauce or slightly chunky too. It depends upon how you create it. There is no right or wrong way to make curry.
Variety of vegetables, beans or protein is cooked with the curry base to make it wholesome.
Lentil is a kind of bean and if there is a Bean Curry then why not Lentil Curry. When we can call it Mung Dal or Chana Dal, then Lentil Dal is an easy English Translation for Lal Masoor Dal. Hence the Lentil Dal Curry.
Basic Lentil Dal Ingredients
As mentioned above, Lentil Dal Curry is a simple recipe. The Basic & Simple Ingredients of Lentils Curry are –
Red Lentils – washed & cleaned
Turmeric powder
salt
Water
The Ingredients used in Lentil Dal Curry made in Instant Pot
Indian Spices – Turmeric Powder, Red chili powder, Garam Masala, Cumin seeds
Salt
Oil
Garlic – like lot of it
Dry Mint powder or Fresh Mint
Ginger
Green Chili, raw
Water
For Tempering
Oil
Cumin Seeds
Red Chili powder
Garlic (yes again)
How to make Mint & Garlic Lentil Dal Curry in Instant Pot?
For the complete recipe, scroll down towards the end.
Making Dal is fairly a simple process.
Clean & Rinse the Dal.
Set up the Instant Pot on SAUTE.
Heat oil & add cumin seeds. Add garlic + ginger + green chili. Saute Garlic till it is golden brown in color.
Add Dal & Spices + Mint + Water.
Cancel Saute mode. Place Lid. Set the Pressure Cook Mode.
Once the timer goes off, follow NPR (Natural Pressure Release)
Prepare the Tadka/Tempering and add it to the dal. This step is optional.
Save 60.0% on select products from Namsan with promo code 60OEH4L7, through 12/11 while supplies last.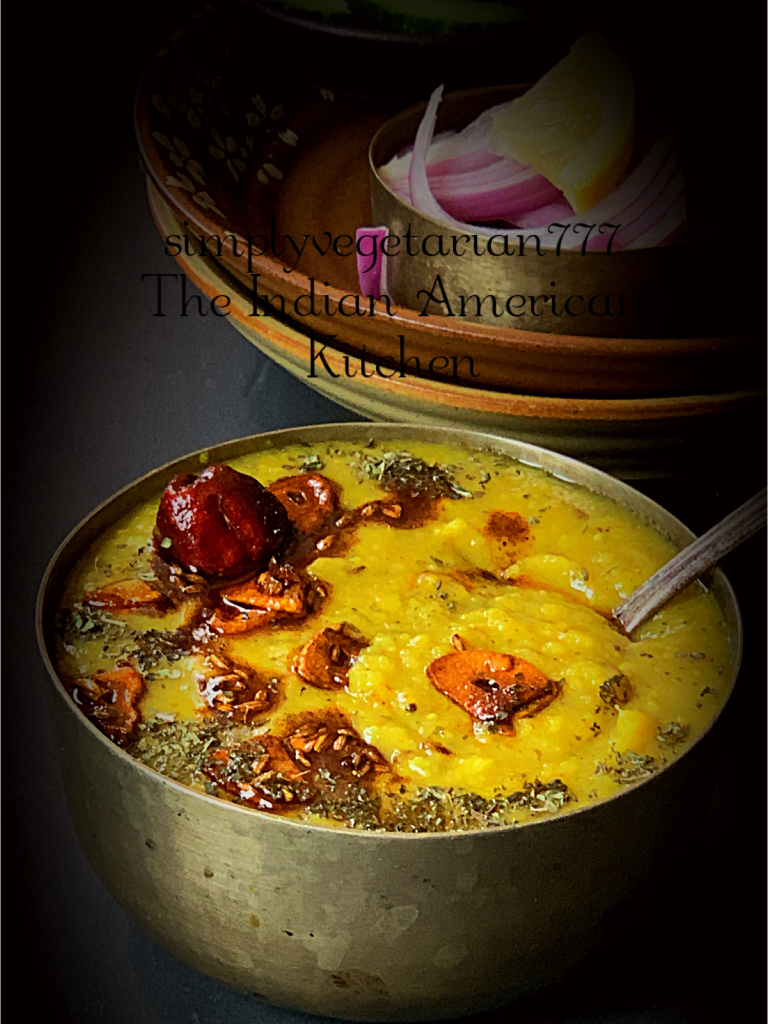 The Texture of Lentil Dal Curry
When we talk about the texture of this Lentil Dal Curry, I have kept it buttery and thick.
I understand that there are many people who like the beans separated. There is a simple solution to it. Just cook it for less time. I will give the options for both in the complete recipe below.
Amount of Water used to cook Dal in Instant Pot
Different brands of the same Beans or Dal require a different amount of water. Lentils of one brand will cook in less water and come perfect. And the Lentils from another brand may require more water. The climate, region, and variety of the same bean matters in the amount of water used to cook these.
Also, it is a matter of personal preference. Some people like their dal thicker and some like it soupier.
I normally do 4 times more water than the dal/beans for the SPLIT BEANS like these – split mung, split lentils, split pigeon peas. It works well. If there is a need for more water later, then I add hot water and bring it to a boil on SAUTE MODE.
Save 20.0% on select products from ICON with promo code 20OFFICONHIL, through 1/8 while supplies last.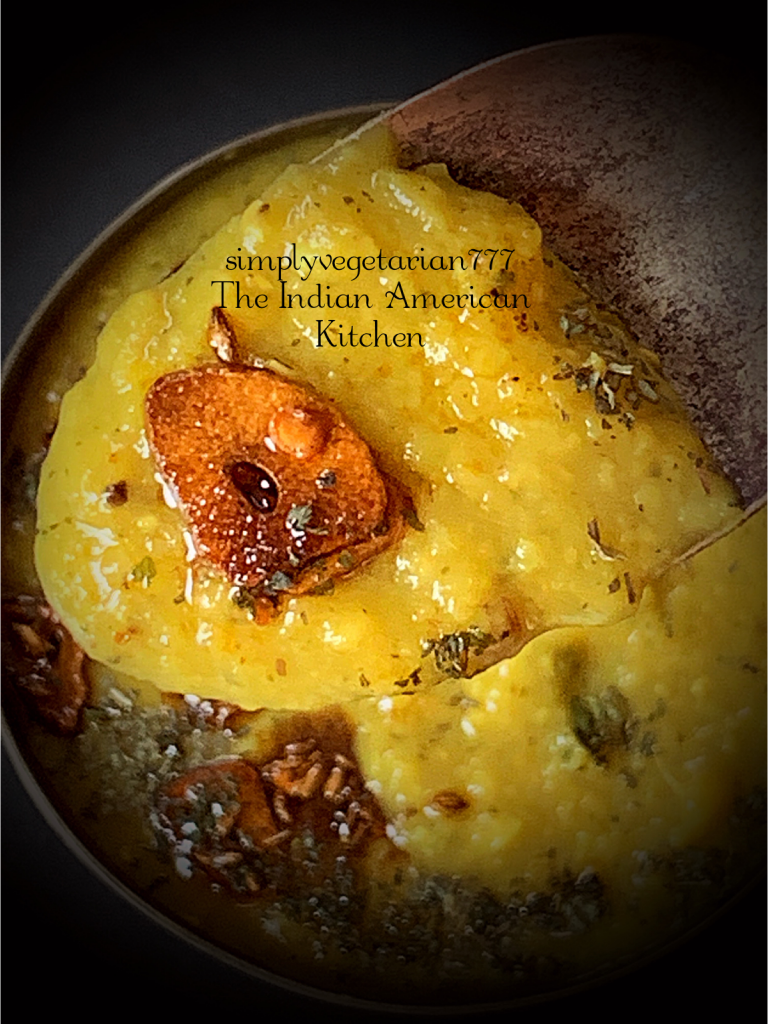 Instant Pot Dal Recipes from Simplyvegetarian777
Madras Lentils, Dal Bukhara, Dal Pumpkin Chana, Black Eyed Peas & Collard Greens, Rajma Masala, Chana Masala and more.
Vegetarian Instant Pot Recipes from Simplyvegetarian777
Mexican Pinto Beans, Red Thai Curry, Tuscan Soup, Taco Soup, Enchilada Soup and more.
Instant Pot Desserts from Simplyvegetarian777
Eggless Red Velvet Cake, Eggless Chocolate Cake, Figs & Walnut Halwa.
Complete Recipe for Mint & Garlic Lentil Dal Curry
Lentil Dal Curry Instant Pot Recipe
Lentil Dal Curry made in Instant Pot is going to swipe you off your feet. This hearty Lentil Dal is super comfy. The addition of Garlic & Mint in this recipe elevates the YUM FACTOR of the Red Lentils Curry.
Ingredients
1

cup

Red Lentils

cleaned and washed

4

large cloves

Garlic

chopped into small pieces

1

tsp

Ginger

minced

1

Green Chili , optional

minced

1

tsp

Mint, dry or use 1 tbsp fresh mint

chopped fine

4

cups

Water
Oil & Spices
1/2

tbsp

Cooking Oil

1

tsp

Cumin seeds

1

tsp

Turmeric powder

1/2

tsp

Red chili powder or cayenne powder

use less for less heat

1/2

tsp

Garam Masala

1&1/2

tsp

Salt

or to taste
Tadka/Tempering (optional)
1/2

tbsp

Cooking Oil

1

tsp

Cumin seeds

1/4 to 1/2

tsp

cayenne powder or red chili powder

1

large clove

garlic

sliced or chopped thin
Garnish
Sprinkle of dry Mint leaves or few fresh mint leaves

Dash of Lemon juice
Instructions
Cooking on SAUTE MODE
Clean and Wash RED LENTILS. Set aside. No soaking needed for this bean.

Place the inner pot inside the Instant Pot. Plug it in. Press SAUTE MODE and set it on HIGH/MORE. When the screen displays HOT, add 1/2 tbsp cooking oil. After 2-3 seconds, add cumin seeds to it.

Wait for 2 seconds. Now add minced garlic, ginger, and green chili. Saute till garlic pieces become golden in color.

Once the garlic becomes golden, add turmeric, red chili powder, garam masala, dry mint, and salt. Stir well. Now add washed red lentils + water. Give it a good stir. Cancel the SAUTE MODE.
Cooking on MANUAL/PRESSURE COOK Mode
Place the lid of the Instant Pot. Set the valve to SEALING. Press the Manual/Pressure Cook Mode and set it on HIGH/MORE for 5 Minutes. This will give a nice mushy buttery texture to the lentils. If you like your beans separated and not so mushy, then Pressure cook for 3 minutes.

Follow NPR (natural pressure release). Once the safety valve drops, open the lid carefully. Add the tempering if you want to. See below how to make Tadka/Tempering for lentil dal.
Garlic Tadka/Tempering Recipe
Heat 1/2 tbsp oil in a frying pan. Once the oil is hot, lower the heat to medium and add cumin seeds and garlic to it. Saute till garlic turns golden. Once the garlic turns golden,

add chili powder and immediately turn off the heat. Stir well.

Now add this Tadka/Tempering to the Mint & Garlic Dal. Garnish with some more mint and squeeze a dash of lemon in it.
Serving Suggestion
It tastes amazing with rice or Naan. I could eat it as is like a thick creamy lentil stew.
I am sure you are going to try it soon. Please leave your feedback under comments, when you try it.
Can't make it now? Pin this Instant Pot Red Lentil Curry for Later.

In my kitchen, you will always EAT HAPPY & STAY HAPPY!
Sonal