Vegetarian Enchilada Soup Instant Pot Recipe – Video Attached
As an Amazon Associate and member of other affiliate programs, I earn from qualifying purchases.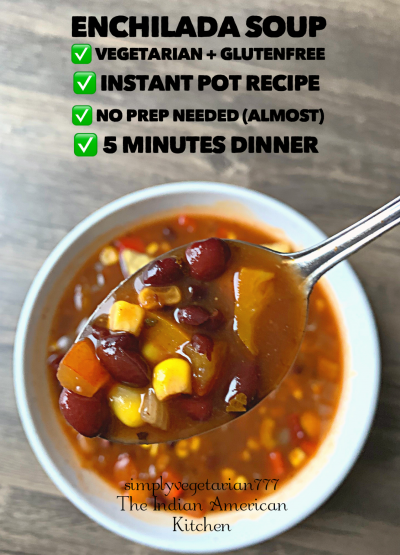 Vegetarian Enchilada Soup is made in Instant Pot. It is a DUMP & GO kind of recipe. Just 5 minutes of Cooking time in Instant Pot and a healthy, hearty & filling dinner is ready in no time.
Please scroll towards the end for the complete recipe. In between from now and till the end – I have given tips and tricks on making Vegetarian Enchilada Soup.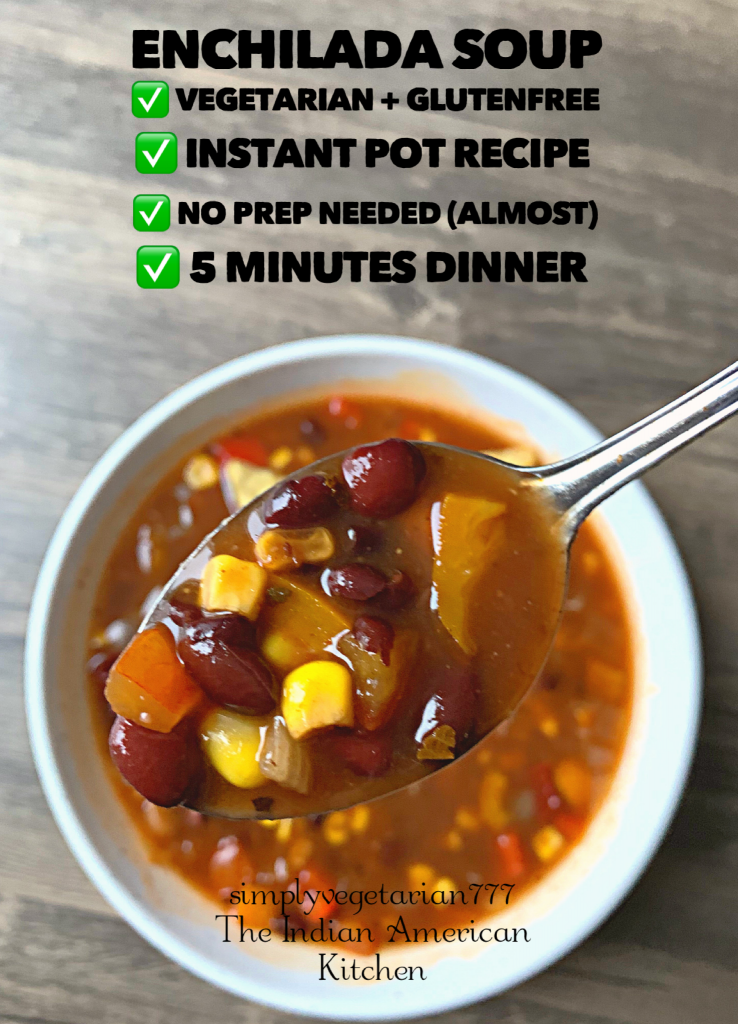 Easy & Quick Instant Pot Vegetarian Enchilada Soup Recipe
Now that picture says it all. I bet it is giving you enough reasons to try out this delicious recipe. Right?
Since we are true blue TEX-MEX cuisine fans here, we love Enchiladas here. Warm and cheesy dripping in enchilada sauce, it is a complex piece of art on the platter. That first bite itself sets you up for the party mood. Any ENCHILADA FANS here? Raise your hands, please.
As much as we love Enchiladas, I do not make it much at home. Yup. It is not difficult but it is time taking. To be honest, who has the time on a weeknight for a labor-extensive meal? Not me. I am always digging for easy quick and filling meals that are delicious and nutritious as well.
You won't regret including this ENCHILADA SOUP in your weekly meal plan for those cold and busy nights.
My reasons are crystal clear for making this ENCHILADA SOUP –
Since it is a DUMP IT ALL and forget about it kind of recipe, it works so well with my evening routine with kids.
Because it gives you a ray of hope that a dinner can be made in 5 minutes in INSTANT POT.
Since it needs almost no prep, it is an effortless meal.
It is bang on the NUTRITION part as well. It has protein from beans, fiber from the vegetables, deliciousness from the flavors. And toss some cheese and Tortilla chips on top, bingo you have a meal. Or add some quick cheese quesadillas on the side for more hungry kids.
It serves you a perfect base to let your imagination go wild. Adapt it to your likings and add whatever else you want to.
The best part is that is almost VEGAN-ish and GLUTENFREE.
My girls loved it. So, it is marked as a KIDS APPROVED MEAL as well.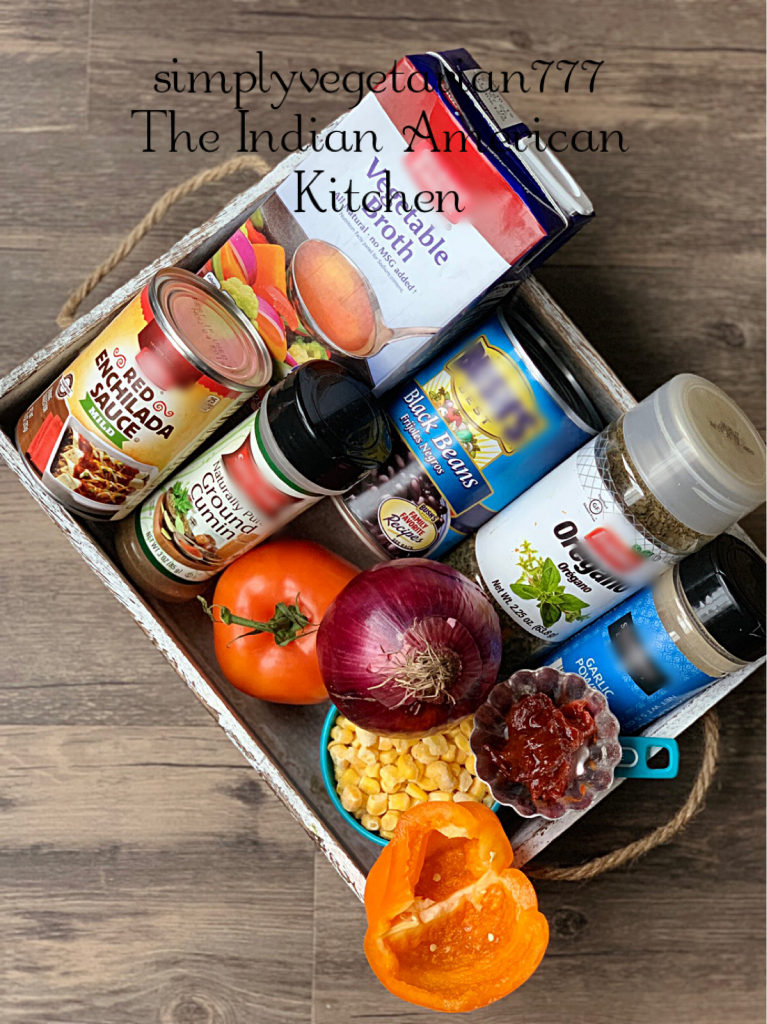 What is Enchilada?
An Enchilada is a Mexican Dish, where a CORN TORTILLA is filled with a stuffing of vegetables, or beans, or potatoes, or cheese and pepper etc. It is then covered with a chili pepper sauce & sprinkled with some cheese and BAKED TO PERFECTION.
That baking part with cheese is kind of Tex Mex Effect. Originally, Corn tortillas filled with the stuffing are dipped in chili sauce and eaten like that.
The best part that I like about this dish is that it is so adaptable.
What is Enchilada Sauce?
Enchilada Sauce is a spicy dipping sauce, where cayenne pepper and tomatoes are the main ingredients.
Many other varieties are available now, with the expansion of the global cuisine. This sauce can be of a thin or thick consistency. You can make it mildly spicy or really hot. Therefore there is a lot of scope with this sauce.
Lately, Salsa Verde is also being used in preparing Enchiladas.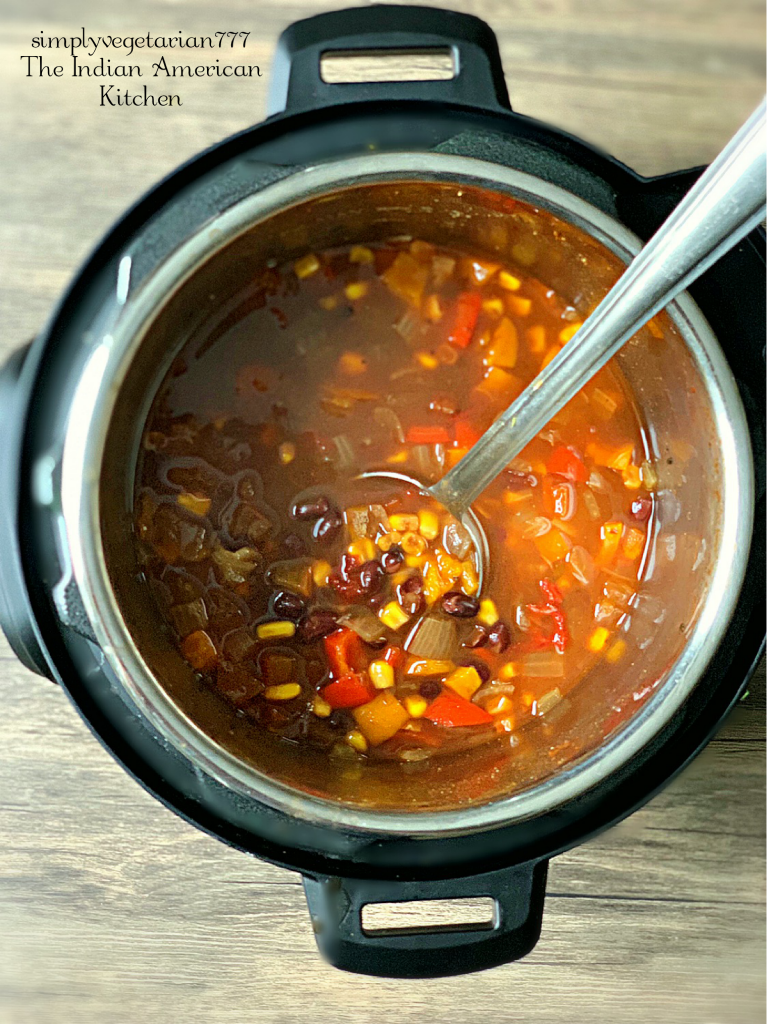 Since making Enchilada is more than a 5-minute process, I made this Enchilada Soup to replicate the flavors of the Enchilada and still have something comfy in my bowl.
Ingredients to make VEGETARIAN ENCHILADA SAUCE in INSTANT POT
Disclaimer – We use Amazon affiliate links to recommend products. If you buy through our Links, you will not pay anything extra. Rather we suggest some more reasonably priced ingredients and recommendations.
The main Ingredients of the Vegetarian Enchilada Soup are 
Stove Top Instructions for VEGETARIAN ENCHILADA SOUP
The folks who do not have an Instant Pot and still want to make this Soup, then it is super simple to do.
Here is how to do it –
Take a heavy bottom saucepan. Add all the ingredients as mentioned in the recipe below. Give it a good Stir. Bring it to a boil. Reduce the heat and cover and cook on medium heat for 20 minutes till everything comes together.
How to Personalize VEGETARIAN ENCHILADA SOUP RECIPE?
There is no recipe that cannot be personalized as per your own taste.
Here are a few things that you can do to personalize it.
Choose vegetables of your choice
You may swap the black beans with pinto beans.
Use regular or low sodium broth.
Increase the HEAT of the soup or make it mild to your taste
You can make a big batch as I did and freeze it too.
This soup is perfect to be served as an afterschool meal on a cold winter afternoon. My Kids love it.
Or save it for a busy weeknight meal. Serve it with Tortilla Chips, Sour cream, and cheese on the side. It is a complete meal
It is a Weight friendly soup as well.
You may use market bought enchilada sauce or a homemade one.
So you see, there are multiple options to make it as per your choice.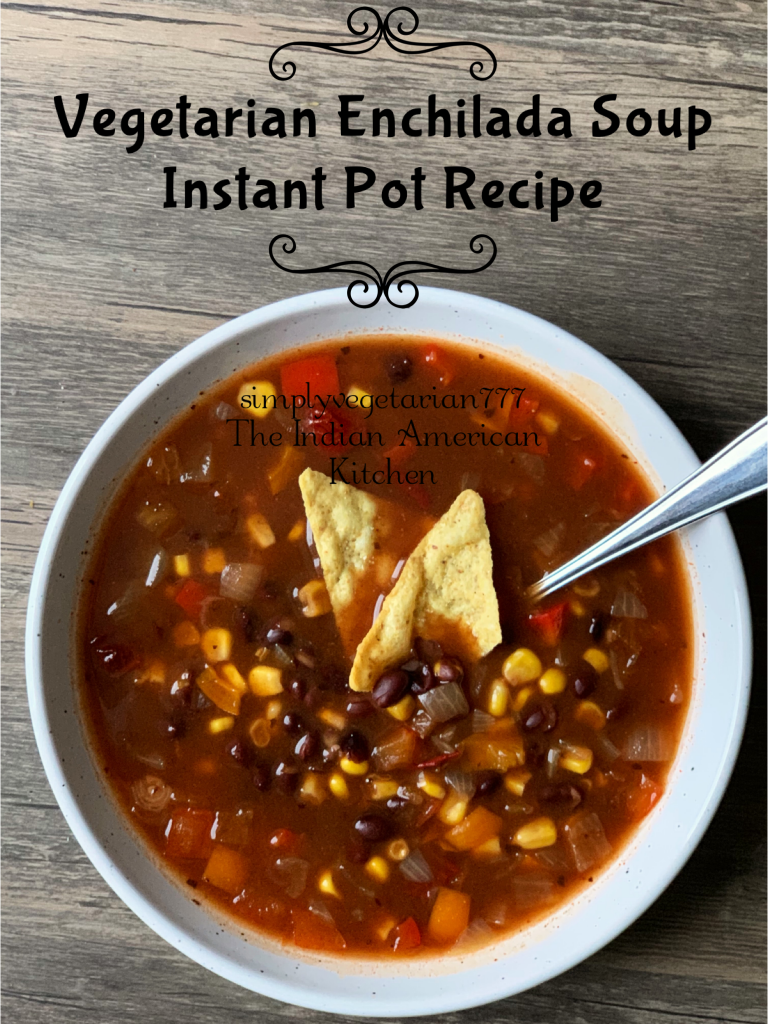 Vegetarian Instant Pot Soups from Simplyvegetarian777
Tuscan Soup, Lentil & Vegetable Soup, Taco Soup, Asian Sweet Corn Soup, Thai Tom Yum Soup and more.
Other Vegetarian Instant Pot Recipes for Meatless Monday from Simplyvegetarian777
Chana Masala, Red Kidney Beans Curry (Rajma Masala), Saag Aloo, Madras Lentils, Cajun Pasta, Pasta Primavera and more.
Check the Attached VIDEO for Better Understanding
Easy & Quick Instant Pot Vegetarian Enchilada Soup Recipe
Vegetarian Enchilada Soup Instant Pot Recipe
Vegetarian Enchilada Soup is made in Instant Pot. It is a DUMP & GO kind of recipe. Just 5 minutes of Cooking time in Instant Pot and a healthy, hearty & filling dinner is ready in no time.
Ingredients
2 cans

15 ounce each

Black Beans

use low sodium if required

2

cups

Corn, frozen or canned

1 can or

10 ounce

Red Enchilada Sauce

use low sodium if available

1 carton or

32 ounce

Vegetable Broth

use low sodium if required

1

large

Onion

chopped fine

1

large

Tomato

chopped fine

1

cup

Bell Peppers (Red, Yellow or Orange or Mix)

1

Chipotle Pepper in adobo sauce

chopped
Spices
1/2

tbsp

Oregano dry

1/2

tsp

Garlic powder

1

tsp

Cumin powder

NO SALT NEEDED SINCE BROTH, SAUCE & CANNED BEANS ALREADY HAVE ENOUGH SALT
Instructions
Place the inner pot inside the Instant Pot. Add all the ingredients inside the inner pot.

Place the Lid of the Instant Pot and set it to SEALING.

Press the MANUAL/PRESSURE COOK button and set it to LOW PRESSURE/NORMAL MODE for 5 MINUTES.

Once the timer goes off, and the safety valve drops down, open the LID carefully. ENCHILADA SOUP IS READY to be served.
SERVING SUGGESTION
You can serve it 2 ways -

1. This VEGETARIAN ENCHILADA SOUP can be served as is and it is a little soupier.

2. To make it more hearty and slightly thicker, Take out a cup or 2 of soup and give it a quick blend in the blender. Add it back to the soup. Stir and Serve.

Add the toppings of pico de gallo, sour cream, cheese, and Tortilla Chips. If you are vegan, skip the cheese and sour cream.
I am sure you are going to try this out soon. Please leave your feedback in comments if you try it.
Can't make it Now? PIN this Vegetarian Enchilada Soup in Instant Pot Recipe for Later.

In my Kitchen, you will always EAT HAPPY & STAY HAPPY.
Sonal