The Best Instant Pot Detox Lentil Vegetables Soup
As an Amazon Associate and member of other affiliate programs, I earn from qualifying purchases.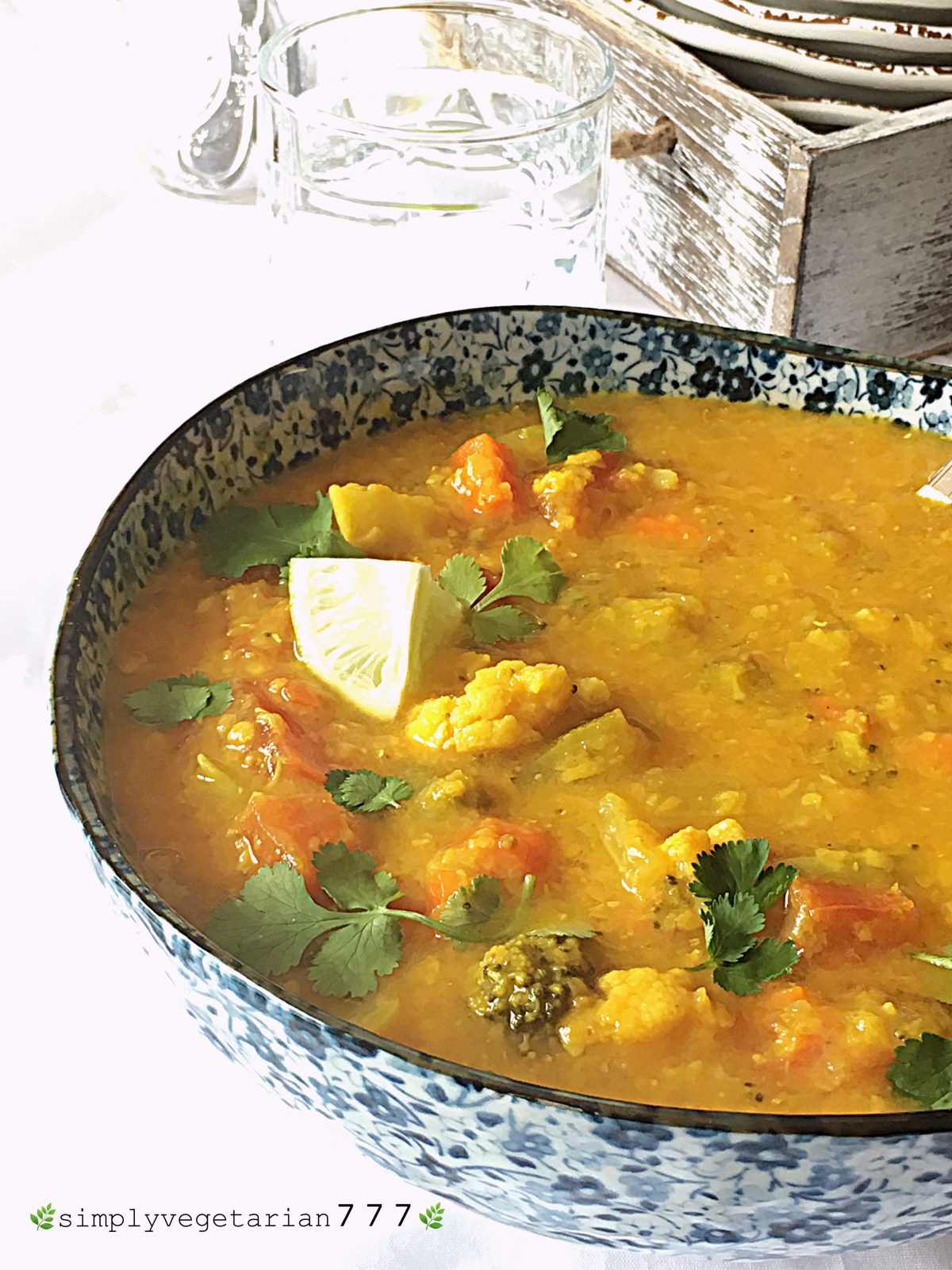 Instant Pot Detox Lentil Vegetables Soup is a SUPER DELICIOUS, LIGHT, and NOURISHING HEALTHY SOUP. This soup is made with Lentils and Seasonal Vegetables. It is EASY, EFFICIENT & made with Everyday Ingredients.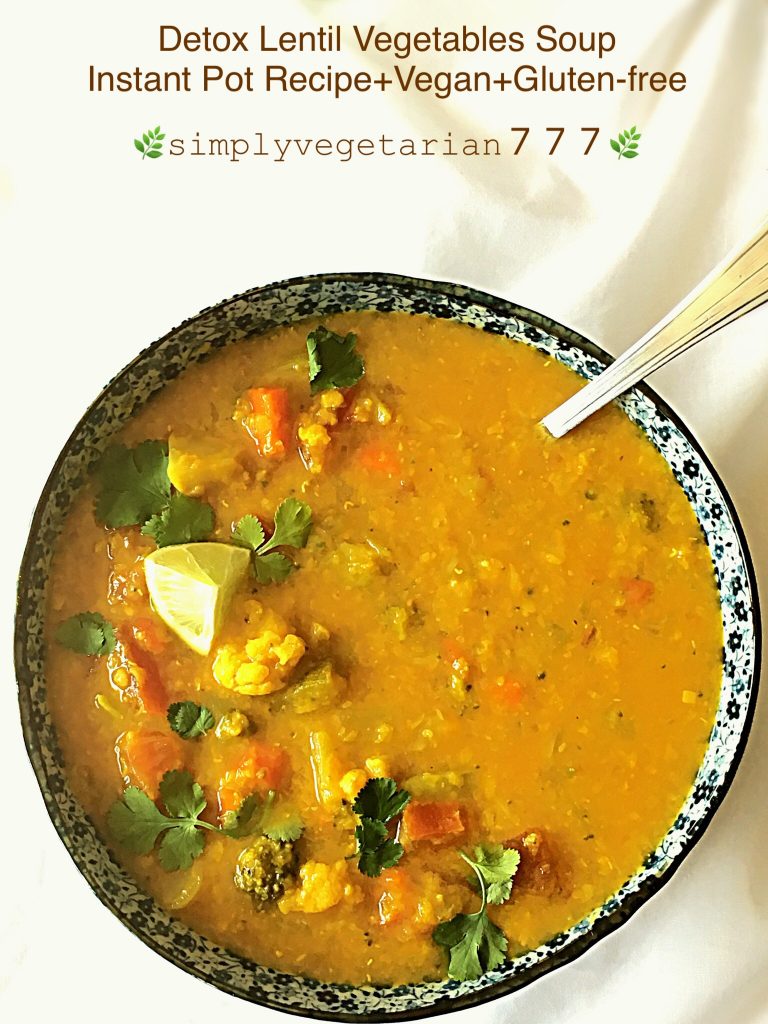 The Best Instant Pot Detox Lentil Vegetables Soup
Lately, my life had been hectic. Don't ask me how? End of the school year + Kids' activities + Traveling husband + Work commitments are just a few to mention. To be honest, life is incomplete and boring with all that madness and I actually thrive on BEING HAPPILY BUSY. What I do not like is my FOOD BINGING during that stress.
Eating out, eating more than required or just eating mindlessly is what I do when I am going crazy, which has become a frequent phase. And you know the side effects of that, don't you?
Why Eating Mindfully is my goal?
Mindless Eating pushes you to eat more carbs that cause more harm than any good.
It leaves you craving for more food and defies the signal of FEELING FULL.
Frequent mindless eating can damage your general health and increase your chances of diseases like weight gain and obesity, and diabetes.
Therefore it is very important to EAT MINDFULLY.
It is so easy to get carried away with all that day-long munching and not to notice unless your clothes stop fitting you and muffin tops become your best friend that you hate daily.
Besides the Health Point of View, Summer is on us people. And all those good-looking clothes are staring at us. Honestly, transitioning from full body length clothes to dresses, skirts, shorts, and capris in summer is a big one for me. I want to wear all of that but without feeling conscious. You can ask me to RELAX but I have some lines drawn for me and I do not impose on anybody else. Though I know that secretly most of the women struggle through that.
Therefore, once in a while I like to DETOX myself with NOURISHING, HEALTHY and WHOLESOME yet DELICIOUS FOOD. I can't diet rather I won't diet. Diet is a FAD.
This is what I try to do my best to keep my system and body healthier and maintaining a BALANCED LIFESTYLE.
Incorporate an hour of walk or work out, at least 4-5 days a week.
Drink a lot of Water.
Tone down my FOOD CHOICES every now and then. This means if I indulge in rich food for 2 days in a row, I will make a better choice for the rest of the days of the week. For example – eating a healthy and wholesome salad or eating glutenfree for few meals or skipping the bread. My favorite way to DETOX is Delicious and Healthy SOUPS.
Most importantly, I laugh and cry to my heart's content and try to PLEASE MYSELF rather than others. BEING A BIT SELFISH is always good.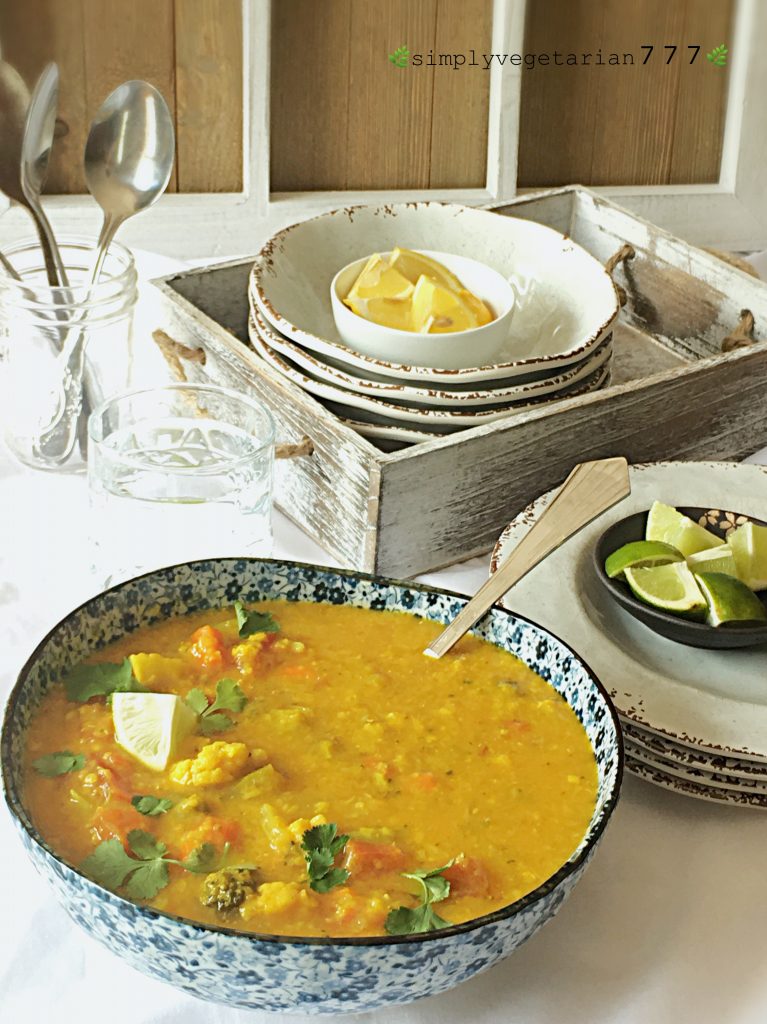 Lately, life has become super comfy with INSTANT POTS in my LIFE. I recommend every busy parent and individual out there to invest in one as soon as they get a good deal!
Kitchen Tools used to Create this Healthy Lentil Soup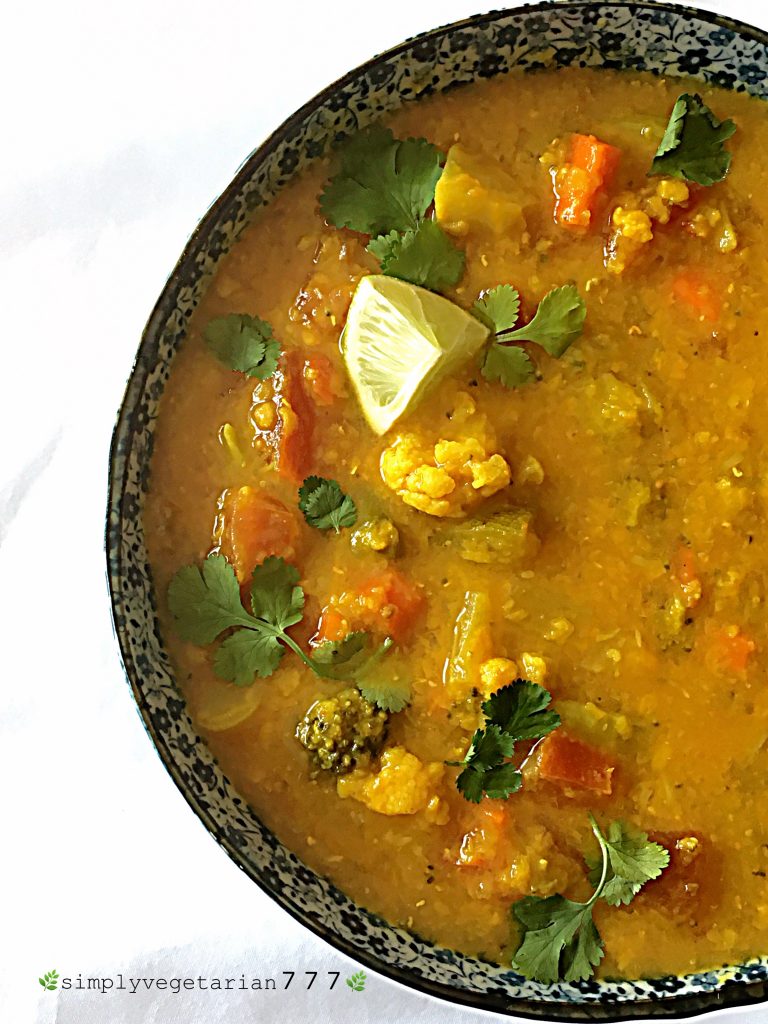 What is a DETOX SOUP?
For me, a detox diet is a diet that is easy in cooking made with seasonal ingredients. A diet or a dish that is wholesome balancing all the nutrients well in a tasty manner is a detox too.
When I say detox here, I am not referring to weight loss but detoxing myself from all the toxins accumulated with processed food. A detox diet for me is soul food that is simple, healing and powerful. Let us have a look at the list of ingredients here.
Red Lentils – These are high in fiber and protein and ideal for managing your sugar level. Lentils are a good source of iron and folate. These are perfect for weight management as well. Red Lentils are light on digestion and filling. You can buy Red Lentils from here.
Olive Oil – This oil is HEART HEALTHY. It is known to reduce stress and boost the mood. Olive oil aids in healing arthritis. You can buy Olive Oil from here.
Turmeric – It is known for its anti-inflammatory and healing properties. Turmeric had always been an integral part of Indian cooking and now is gaining fame internationally for treating IBS, Alzheimers, Obesity, Arthritis, and preventing some types of cancers. For me, turmeric is the lifeline. I use turmeric not only in cooking but for beauty treatments as well. You can buy Turmeric from here.
Ginger – Ginger is another of my favorite ingredient to use in cooking. When combined with Turmeric, it does wonders for your system. It boosts your immune system, heals the digestive system, relieves nausea, lowers cholesterol and is anti-inflammatory. Ginger is your best friend to combat cold and flu.
Garlic – Garlic is another favorite ingredient to cook with not only for its bold taste but because of its health benefits. It promotes BRAIN HEALTH and better ENERGY LEVELS. Garlic is also anti-inflammatory, anti-bacterial, promotes HEART HEALTH, lowers Cholesterol and much more.
Seasonal Vegetables – are high in fiber and vitamins and improves digestion. Eating seasonal vegetables in good amount can aid your weight loss or maintenance journey.
Why should you make Instant Pot Detox Lentil Soup?
It is the best vegan lentil soup made Healthy Instant Pot Recipe.
Instant pot detox lentil vegetable soup is an Insatnt Pot easy efficient and delicious recipe.
It is GLUTEN-FREE Vegan Soup.
This soup is perfect GOLDEN SOUP because of its color and is perfect Recipe for LIGHT LUNCHES. It is an amazing Instant Pot Stew that is a COMPLETE MEAL and is WEIGHT FRIENDLY SOUP.
How do you cook Red Lentils in Instant Pot?
It is fairly easy. Add 1 cup of washed REd Lentils with 3 cups of water. Add seasonings of your choice. Pressure cook high for minimum of 3 minutes for slight texture and maximum of 5 minutes for mushy texture.
Is this Detox Lentil Soup Freezer Friendly?
Yes, absolutely. You can freeze the LENTIL SOUP in single portions in the refrigerator. Thaw and heat and use.
Should I soak the Red Lentils before using?
Red Lentils are split beans and do not require soaking. Washing red lentils prior to cooking is a must.
THE POPULAR INSTANT POT RECIPES FROM THE SIMPLYVEGETARIAN777 ARE
Tuscan Soup, Taco Soup, Asian Sweet Corn Soup, Madras Lentils, Red Thai Curry.
Check out the 22 INSTANT POT VEGETARIAN SOUP COLLECTION HERE.
Check this small video on making this Soup!
This is how to make this DETOX soup
The Best Instant Pot Detox Lentil Vegetables Soup
Instant Pot Detox Lentil Vegetables Soup is a SUPER DELICIOUS, LIGHT, and NOURISHING SOUP. This soup is made with Lentils and Seasonal Vegetables. It is EASY, EFFICIENT & made with Everyday Ingredients.
Ingredients
1

cup

Red Lentils / Lal Masoor

1/2

tbsp

Olive Oil

1

large

Onion

peeld and chopped into 1 inch pieces

4

large

Garlic cloves

chopper fine

1

small piece

Ginger

chopped fine

2

large

Carrots

peeled and cut into 1 inch pieces

4-5

stalks

Celery

cleaned and cut into 1 inch pieces

1

large

Zucchini

cut into 1 inch pieces

1

cup

Broccoli florets

cut into small pieces

1

cup

Cauliflower florets

cut into small pieces

5

large

Tomatoes

roughly chopped

2

tsp

Turmeric

1&1/2

tsp

Salt

1/4 to 1/2

tsp

Red chili powder or Smoked Paprika

or to taste

4 to 7

cups

Water
Instructions
Prepping for Soup
Wash Red Lentils in cold water till water runs clear. Soak them in clean water till ready to use. Meanwhile, wash all the vegetables. Peel, Clean n chop the vegetables as mentioned above in ingredients. Keep everything ready. When Red lentils are ready to use, drain the water.
COOKING ON SAUTE MODE
Place the inner pot inside the INSTANT POT. Plug the IP in and press SAUTE MODE. Once the screen displays HOT, add oil in it. Now add onion, ginger and garlic to the pot. Saute for 2 minutes till onions become slightly soft.

Now add celery, carrots, zucchini and cauliflower florets tot he pot. Cook further for 2 more minutes. Now add broccoli, tomatoes, Red lentils, turmeric, salt and red chili powder. Give it a good stir and add 7 cups water for very soupy consistency. if you are looking for a slightly thicker consistency then use just 4 cups of water. The seasoning remains the same. Adjust salt accordingly. Stir again. Switch off the SAUTE MODE.
COOKING ON MANUAL/PRESSURE COOK
Place the lid of IP and place the valve to NO VENTING. Press the MANUAL BUTTON and set it on MORE + HIGH PRESSURE. Select 3 minutes for slightly Textures Soup. Or Select 5 minutes for mushy texture. Or you may cook for 10 minutes for really no texture soup. I like it at 5 minutes for a stew kind of soup.

Once the timer goes off, follow the NPR method that is Natural Pressure Release. Open and Serve it Warm.
Traditional Pressure Cooker Method
Follow the same instructions of sauteeing and adding ingredients. Pressure cook for 1 whistle. Then lower the heat and cook for 10 more minutes with whistle/weight on. Switch off after 10 minutes and open after the pressure is released.
Stove Top Pot/Pan Cooking
Follow the same instructions on stove top also in a deep sauce pan. Add water and bring to a boil. Lower the heat and Cook for about 30-35 minutes till it looks thick and creamy.
I am sure many of you will try this soup and wil give me a positive feedback. Because not only it comes together in less time but it is also filling, wholesome, nourishing and delicious.
Some Popular Soups from my BLOG are
Doesn't this soup look so pretty, almost GOLD LIKE. I think I would like to nick name it as Instant Pot Golden Soup with the goodness of Turmeric, Ginger and Garlic.
Can't make it now? PIN IT FOR LATER!


Get the best gift for your mom from this list of MOST DESIRED GIFTS on AMAZON.

Or Gift this to your mom for Mother's Day

As I always say, in my Kitchen you will EAT HAPPY and STAY HAPPY!
Sonal