Vegetarian Instant Pot Creamy Cajun Pasta
As an Amazon Associate and member of other affiliate programs, I earn from qualifying purchases.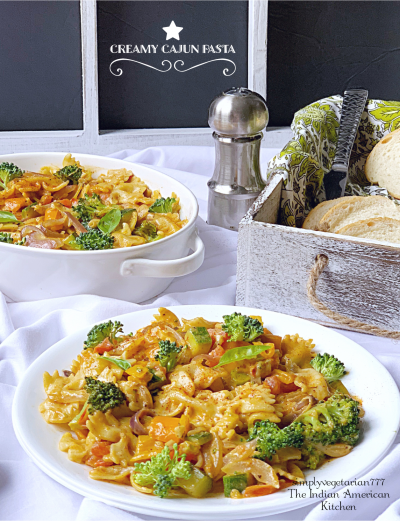 This Instant Pot Creamy Cajun Pasta is so creamy, delicious and easy to make. It is the perfect Pasta Recipe for Fall and Winters. Entertain your guests with this dish or make it for your family.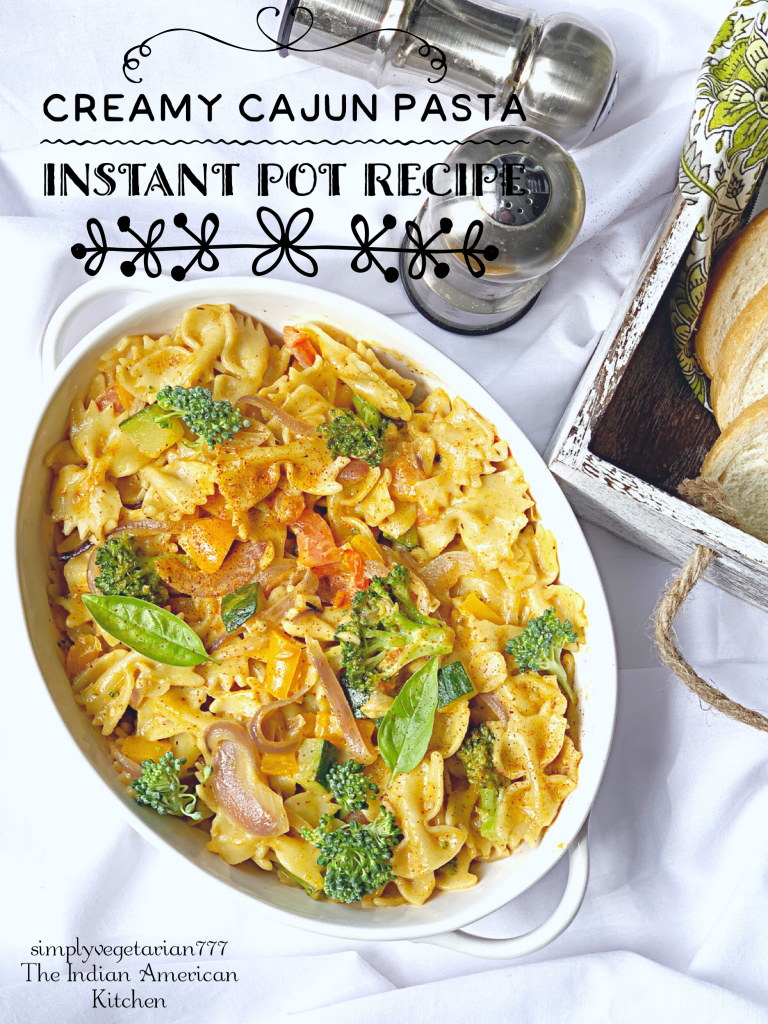 Easy & Delicious Vegetarian Instant Pot Creamy Cajun Pasta
Oh, I am drooling again looking at these pasta pictures. It was just mind-blowing delicious. Rich, Creamy and the sauce coated every bow tie so well. The kick from spicy Cajun Seasoning and the balancing heavy cream created the magic in my Instant Pot.
The first time I ever tasted any thing Cajun was in Dallas at a Restaurant chain called Razzoo's Cajun Cafe. Before that I had no clue about anything Cajun. I ordered Pasta with a request to swap the craw-fish in it with some vegetables. The chef was kind enough to do that for me.
For the first time, I licked my pasta plate clean. It was a huge dish with lot of pasta. I left no traces behind. It was that delicious.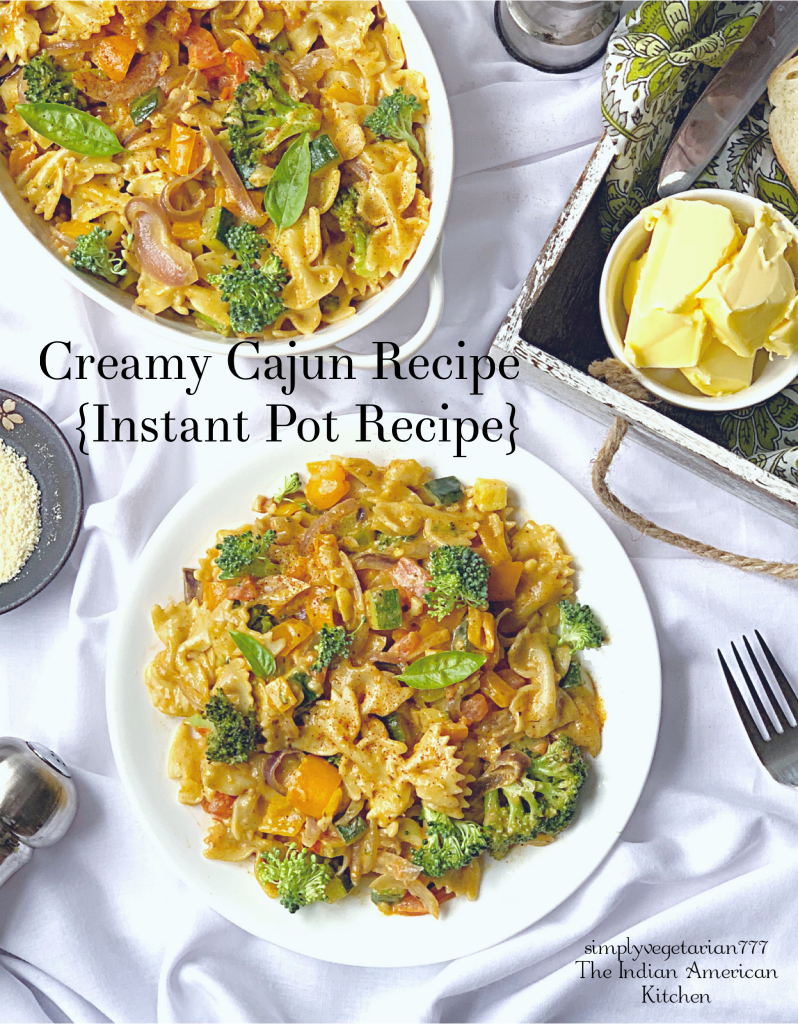 What is Cajun Cuisine?
Citation – Here
Cajun cuisine has its roots from Louisiana, USA. Acadians of Canada were forced to move to Louisiana in 1755. Acadians were French speaking Canadians.
They created this beautiful cuisine with French Traces and local ingredients of swampy & marshy Louisiana. Cajun cooking is a 3 Pot Affair.
It is predominantly made with craw-fish, andouille sausages, and shrimp. Green Bell Peppers, Onions and Celery are the Holy Trinity as called by Cajun chefs. It is often served with Rice on the side.
My Creamy Cajun Pasta is inspired by Cajun style cafe but I do not know if it is 100% Cajun. Well, I will take it any day in the name of Cajun or close to it too.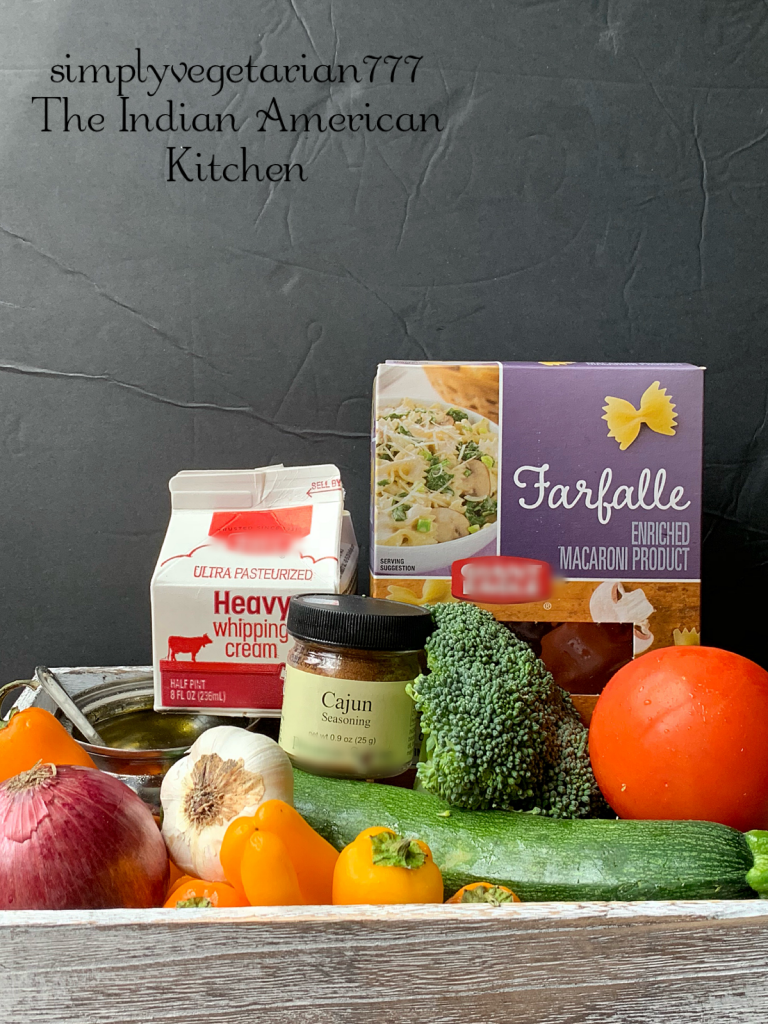 What is Cajun Seasoning?
Cajun seasoning is a combination of different spices. It is hot and spicy. The main ingredients are –
Paprika
Black Pepper
White Pepper
Thyme
Cayenne
Here is the recipe from Chow Hound if you want to make it at home.
I used Penzy's Cajun Seasoning, gifted by a friend. You may order from amazon.com or buy from the market.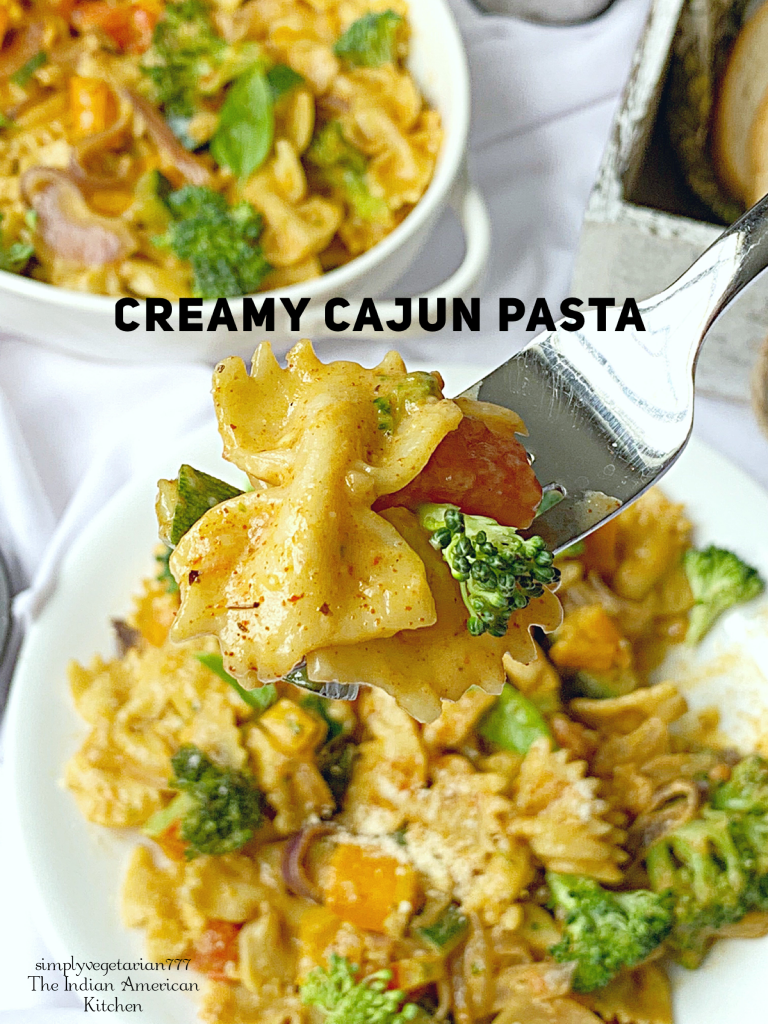 How to make Vegetarian Creamy Cajun Pasta in Instant Pot?
You need the following ingredients to make Creamy Cajun Pasta
Pasta of your choice. I would recommend Penne or Bow Tie(farfalle) or Medium shells or Rigatoni.
Seasonal Vegetables of your choice
Cajun Seasoning
Heavy Cream or Half & Half
Alfredo Sauce
Making Creamy Cajun Pasta has 4 steps to it.
Boiling Pasta
Sauteing Vegetables
Adding Cream + Cajun Seasoning
Mixing Pasta with Vegetables & Cream
Why should I make Creamy Cajun Pasta in Instant Pot?
Oh I would definitely encourage you to make Cajun Pasta in the Instant Pot.
Firstly it becomes just 2 part cooking instead of 4 part.
Definitely it needs less attention from you and lets you do better time management.
I cook my perfect al-dante pasta in Instant Pot these days. Refer to this post for reference.
There are less cooking pots and pans to clean. Instant Pot Inner Pot cleans so effortlessly.
The best part is that you can use pre-cooked pasta for this recipe.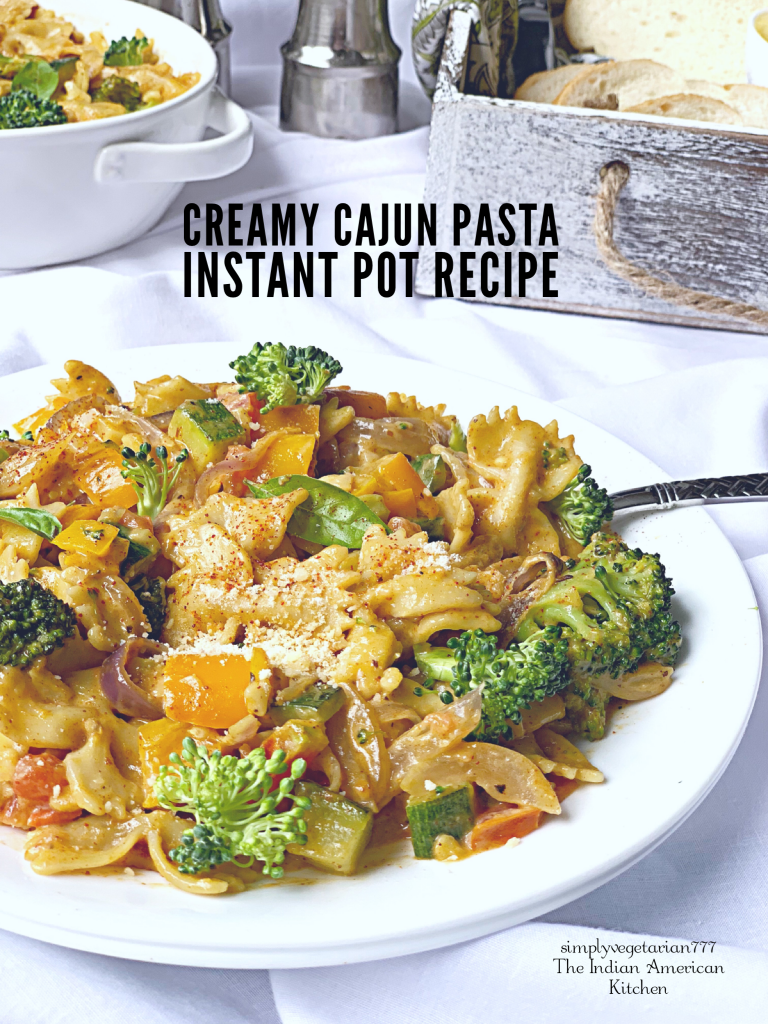 Which Instant Pot to Buy and Why should I buy Instant Pot?
I have 2 sizes for Instant Pot – 3 quarts and 6 quarts. Honestly, I use 3 quarts more for day to day cooking for the family of 4. I use 6 quarts when I am making Pasta, Rice or larger quantities. Therefore, I recommend both. I have DUO Version for both. ULTRA is making waves these days too and is getting popular. You may look into all and decide. I am very happy with my 3 quart Duo 7-in-1 and 6 quart Duo 10-in-1 models.
Here are my Top 3 Reasons for buying an Instant Pot. I am a living proof of IP convert, from hater to Lover.
It is MESS FREE Cooking.
This is ONE POT Cooking.
Cooking in Instant Pot gives you FREEDOM of TIME. You can manage your time better.
It is STRESS FREE Cooking.
Here are some more VEGETARIAN PASTA RECIPES from simplyvegetarian777
Spaghetti aglio-e-olio, Spaghetti in Mushroom Sauce, Kung Pao Spaghetti, Penne Pomodoro, Mac n Cheese, Penne Primavera, Pasta in Arabiatta Sauce and more.
Here are some VEGETARIAN INSTANT POT RECIPES from simplyvegetarian777
Red Thai Curry, Taco Soup, Creamy Spinach Pasta, Corn Chowder, Mexican Pinto Beans and Collection of 22 Vegetarian Soups in IP.
Watch this Video about making Vegetarian Creamy Cajun Pasta in Instant Pot.
This is how you make Easy Vegetarian Creamy Cajun Pasta in Instant Pot
Instant Pot Creamy Cajun Pasta
This Instant Pot Creamy Cajun Pasta is so creamy, delicious and easy to make. It is the perfect Pasta Recipe for Fall and Winters. Entertain your guests with this dish or make it for your family.
Ingredients
1

pound or 1 box

Pasta - pick any from penne, farfalle, rigatoni, medium shell

1

medium

Red Onion

thinly sliced

3

cloves

Garlic

chopped fine

1

medium

Zucchini

chopped into small cubes

2 large or

6 small

Bell Peppers

use mixed color

1

small head

Broccoli

cut into small flowers

1

medium

Tomato

chopped fine

Water to cook Pasta

1

cup

Heavy Cream or Half & Half

1

cup

Alfredo Sauce

use plain alrefo
OIL & SPICES
1 tbsp +

1 tbsp

Olive Oil

4 to 5

tsp

Cajun Spice

use less if you want milder taste

To Taste

Salt & Pepper
Instructions
COOKING PASTA IN INSTANT POT on MANUAL/PRESSURE COOK MODE - Refer to the Video
Place the Inner pot inside the 6 quart Instant Pot. Plug it in. Add Pasta to it.

Add just enough water that the pasta and water is leveled. For more al-dante pasta which is recommended, make sure that the water is just a tad bit lower than the pasta. Check the video. It shows how.

Add 1 tsp salt & 1 tbsp Olive oil. Place the lid and close it. Set the floating valve to SEALING. Set the timer to PRESSURE COOK /MANUAL at HIGH/MORE for 5 minutes.

Once the timer beeps, immediately perform QPR that is Quick Pressure Release. Open the Lid. There might be some water left that is ok. Pasta will soak it up. Transfer the pasta carefully to a big bowl.
COOKING CREAMY CAJUN SAUCE WITH VEGETABLES on INSTANT POT SAUTE MODE
Clean the same inner pot or use the second if you have extra. Or if you have 2nd Instant Pot then you can use that too.

Place the inner pot inside the instant pot. Plug it in again. Press SAUTE MODE and set for 15 minutes on HIGH/MORE. Once the screen displays HOT, add 1 tbsp Olive oil to it. Now add Garlic and Onions to the hot oil. Give it a good stir. Cook for 2 minutes.

Now add bell peppers, broccoli and zucchini to the pot. Give another good stir and cook further for 3 minutes.

Add heavy cream + alfredo sauce + CAJUN SPICE + salt n pepper to taste. Give it a good stir. Let cook further for 3 minutes. Now add chopped tomatoes and boiled pasta. Give it a good stir.

Let it all cook further for 5 minutes till pasta absorbs the sauce. Keep stirring in between.

Your Creamy Cajun Pasta in Instant Pot is ready.

Serve it warm. You may add Parmesan cheese and some fresh basil for additional flavors. I sprinkled a bit of Spanish paprika for more kick.
Creamy Cajun Pasta on Stove Top
You can easily make this recipe on stove top. Boil the pasta till al-dante. Meanwhile prep the vegetables with sauces and cajun seasoning in a pan. Mix together and serve warm.
Cooking Pasta in Traditional Pressure Cooker
Take a pressure cooker. Add pasta + 1 tsp Salt + 1 tbsp Olive oil to it. Add enough water till the level of pasta. Place the lid and pressure weight on it. Cook on high heat. When the pressure blows off, switch off the heat. Release the pressure manually. Open the lid. Pasta is ready. If there is any water left, let it sit. It would come handy with cooking the wholesome Pasta.
I am sure you are going to try it. Please do not forget to share your feedback in the comments.
Can't make it now? PIN Creamy Cajun Pasta Instant Pot Recipe now.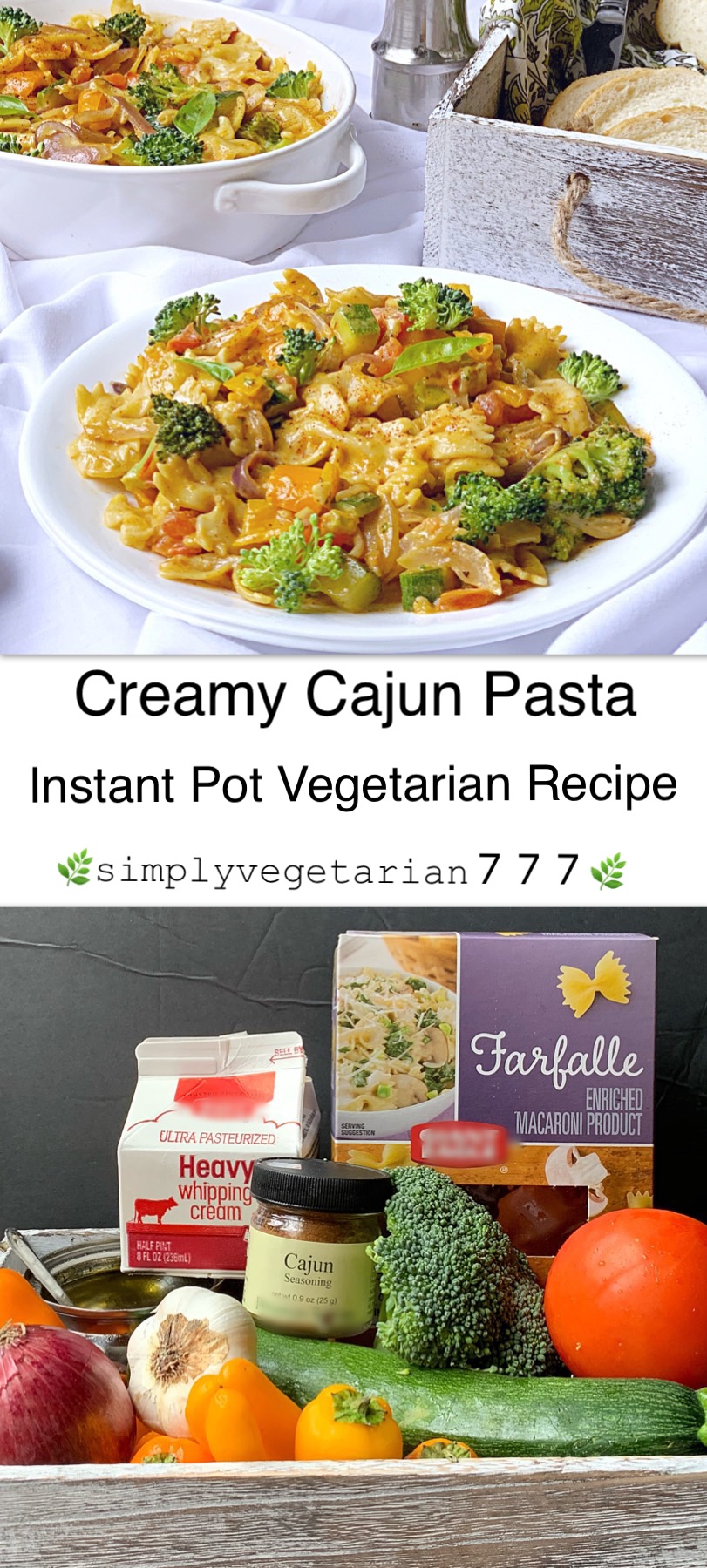 In my kitchen, you will always EAT HAPPY & STAY HAPPY!
Sonal