Instant Pot Mexican Pinto Beans Vegan Recipe
As an Amazon Associate and member of other affiliate programs, I earn from qualifying purchases.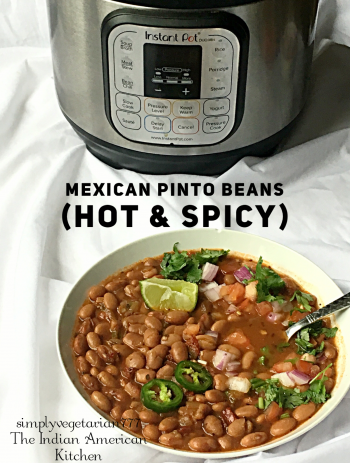 The Instant Pot Mexican Pinto Beans are super yum and bursting with flavor. These Frejoles Con Todo are hot, spicy and just out of this world. You can serve these as a side or as a bean soup.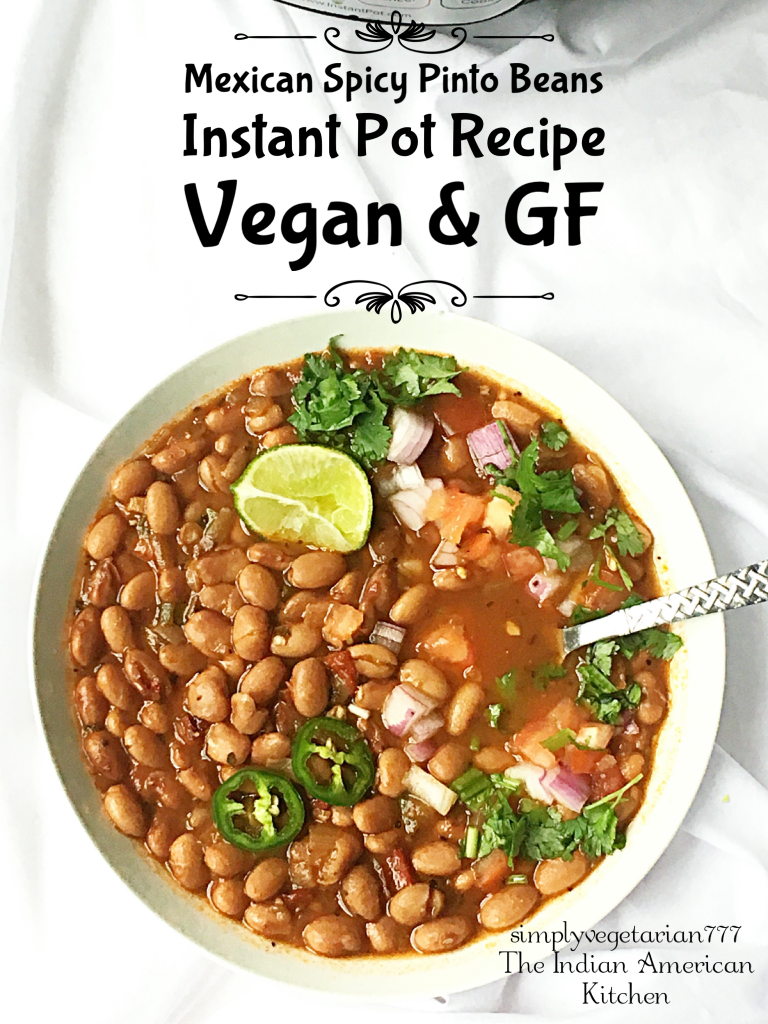 Super Yum Instant Pot Mexican Pinto Beans – Frejoles Con Todo
Growing up in India in the 80s & 90s, I had no inkling about Mexican Cuisine. When I came to the United States of America in 2001, Bean Burrito at Taco Bell became my best friend. We didn't have much money so McDonald's and Taco Bell were the places we would hang out occasionally.
2 years later, we started settling down and started exploring more Cuisines. It was then when we came across more delicacies and choices from Mexican or American Mexican cuisine. Vegetable Fajitas and Quesadillas became my instant favorite along with the Black Bean Soup. And we fell in love with the Tex Mex Cuisine.
Being a vegetarian, there weren't many choices for me to eat out. Therefore I started exploring recipes online and started making many kinds at home. We might not have a TACO TUESDAY trend at our home but we do RESCUE TEX MEX anytime.
I think I bonded with Mexican cuisine naturally. Since it has similar heat and warmth to its cuisine like that of Indian cuisine, it comforted me.
Salsa, Salsa Verde and Pico de Gallo plus Guacamole is a regular feature in my casa.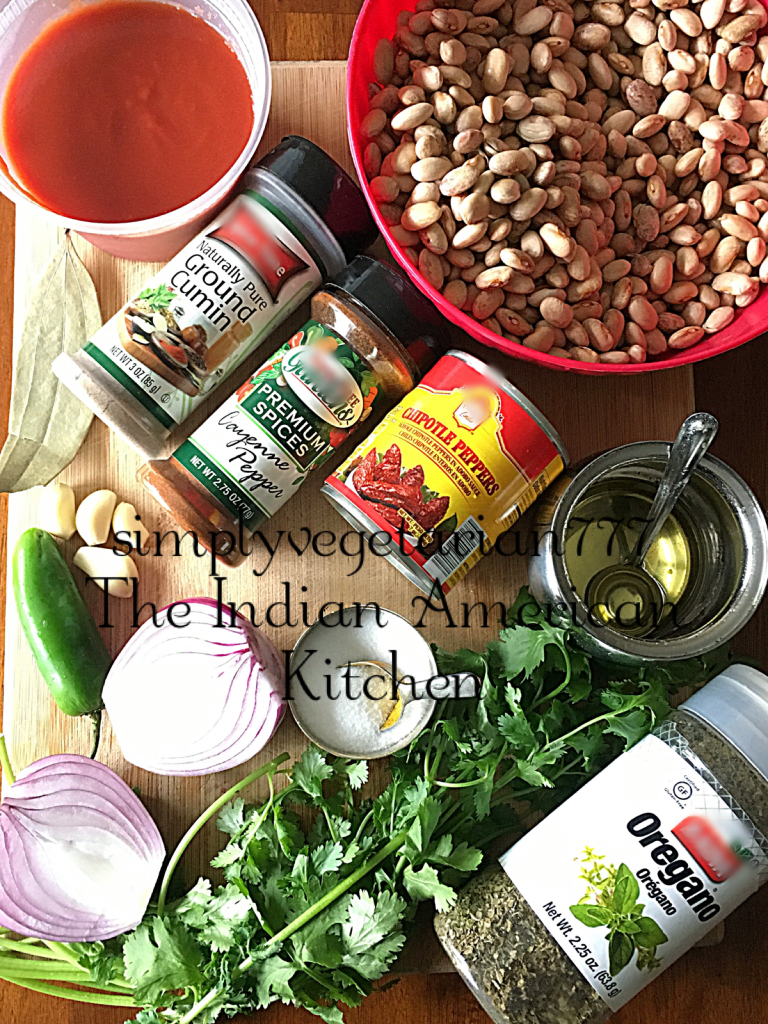 How to make Mexican Beans in Instant Pot?
Making Mexican Beans in an Instant Pot is a breeze. For that matter, cooking any beans in the Magic Pot is easy.
It requires –
Cleaning and Washing the Beans under running water. Make sure the water is at the room temperature and not warm. Wash till all the debris is clear. Sometimes, there are small stones mixed with beans. Make sure to pick those out.
Soak the Beans. Yes, you read it right. Though Instant Pot is fully capable of cooking the beans efficiently without soaking them. I will still recommend soaking the beans overnight or a minimum of 6 hours. Soak in room temperature water. Discard that water before cooking.
Get your Instant Pot ready and gather all the ingredients.
Saute Mode followed by Beans/Stew Mode are the 2 modes followed by NPR (natural pressure release) is the way to cook the Mexican Beans in Instant Pot.
Why should we soak the Beans before cooking?
It is believed that soaking the beans helps in better digestibility of the beans.
Also, soaking the beans helps in absorbing important minerals from the beans, in the body.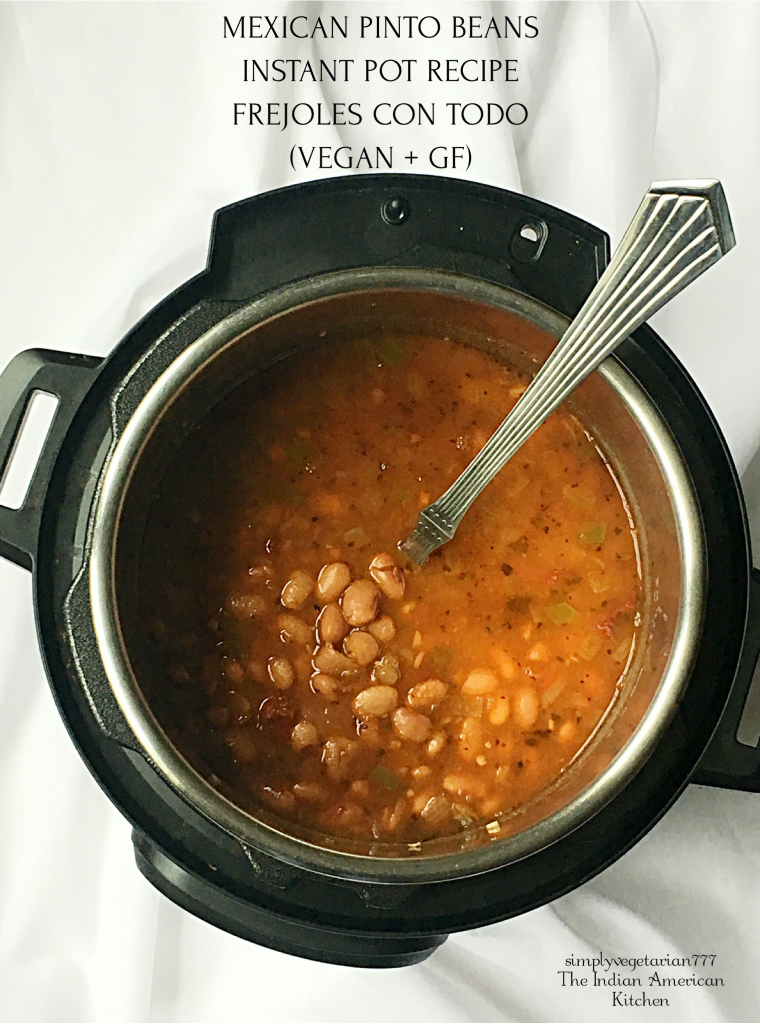 Why should you make Mexican Pinto Beans in Instant Pot?
I can give you several reasons to cook Frijoles Con Todo in Instant Pot. For now, these are the top ones on my fingers.
Traditionally these beans are cooked in an earthen pot. Cooking beans in Instant Pot cut down so much time and make it TIME EFFICIENT.
Cooking in Instant Pot is MESS FREE. No splattering and no cluttering at all.
Making Beans in IP is a HANDS-FREE process. Saute, set beans mode and DONE.
You can set the beans to cook in the morning and forget about it. Open whenever you have time and they will be ready. So, it is absolutely STRESS FREE cooking. NO BABYSITTING at all.
VEGAN & GLUTENFREE Mexican Beans in Instant Pot
These Mexican Beans are also known as Frijoles Con Todo which means Beans with everything. It is traditionally cooked with either some ham or lard in it and is topped by Cotija cheese (Hispanic style Cheese).
But this Mexican Pinto Beans recipe is completely Vegan and Glutenfree. My carb-loving husband gave 2 thumbs up for this recipe.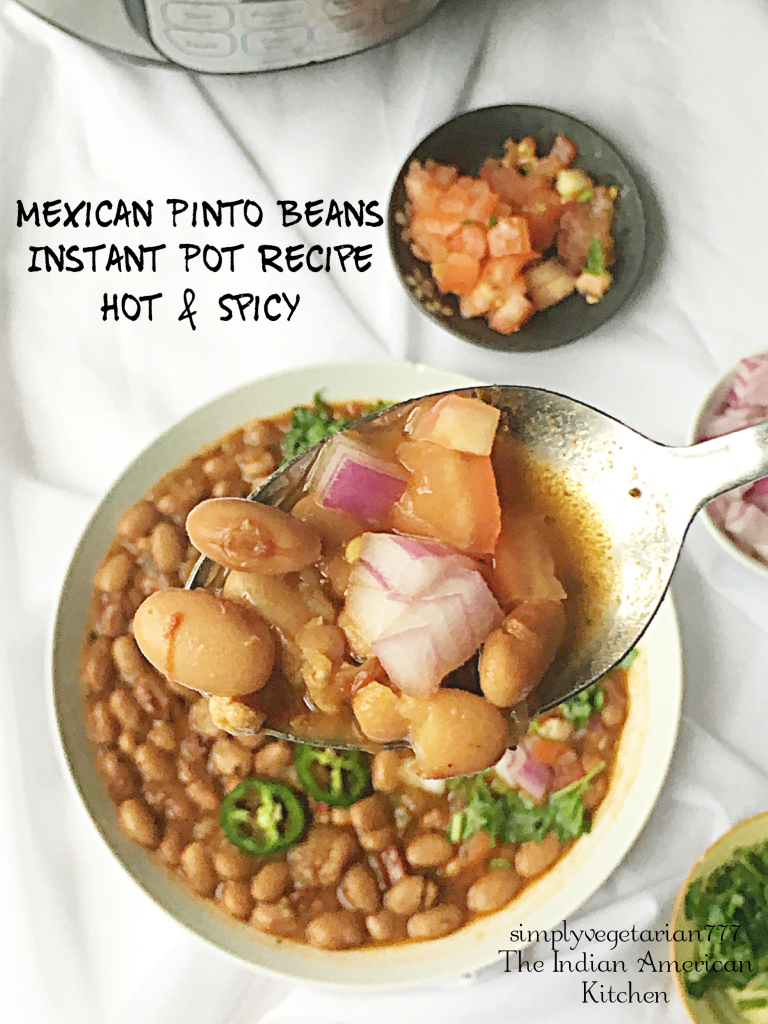 My top 3 reasons to try these Mexican Pinto Beans
These beans are super flavorful, hot & spicy. If you like spicy food then it sure is a must try. Read the notes in the recipe to see how you can cut the heat and still enjoy these beans.
The Mexican Beans are perfect to be served as a side to your Tex Mex or Mexican spread. Or you can make them slightly soupy and enjoy as a bowl of soup. Actually, better is make a Tex Mex Bowl with these beans along the side of rice, some lettuce, pico de gallo and avocado.
These beans can be further mashed or pureed to make REFRIED BEANS (without frying). Perfect to fill your BURRITOS or TACOS.
Here are some more Vegan & Glutenfree INSTANT POT VEGETARIAN RECIPES from simplyvegetarian777
Asian Sweet Corn Soup in Instant Pot
Rajma Masala (Red Kidney Beans Curry) in IP
Chana Masala (Chickpeas Curry) in IP
Punjabi Dhaba Dal (Costco style Madras Lentils) in IP
You can order the following items on amazon to make this recipe.
It won't cost you anything more but will help me earn a small commission to run this blog.
Watch this video on making Vegan + Gluten-free Mexican Pinto Beans or Frijoles Con Todo in Instant Pot
This is how you make Instant Pot Mexican Pinto Beans. Traditional Pressure Cooker Instructions are given too.
Instant Pot Mexican Pinto Beans Recipe - Vegan + Gluten-free
The Instant Pot Mexican Pinto Beans are super yum and bursting with flavor. These Frejoles Con Todo are hot, spicy and just out of this world. You can serve these as a side or as a bean soup.
Ingredients
2 cups /

1 pound

Pinto Beans

May use Black Beans also

1

medium

Onion

finely chopped

4

cloves

Garlic

finely chopped

1/2

cup

Tomato Puree

or use 3 large ripe tomatoes finely chopped or pureed

1

Jalapeno

finely chopped. To decrease the heat level, remove the seeds from jalapeno

1

Chipotle Chili Pepper in Sauce (comes canned)

finely chopped. You may use 1/2 or 1/4th of it to reduce the heat

3

cups

Water
OIL & SPICES
1&1/2

tsp

Cooking Oil

1

dry

Bay Leaf

1

tsp

Cumin powder

1

tsp

Oregano

1/2

tsp

Cayenne pepper

use 1/4 tsp to reduce the heat or skip it. May use kashmiri lal mirch to substitute

1&1/2

tsp

Salt

or to taste
GARNISH
2

tbsp

Onion

finely chopped

2

tbsp

Tomato

finely chopped

2

tbsp

cilantro leaves

finely chopped

1/2

jalapeno

sliced thinly or chopped

1

tbsp

Lime Juice
Instructions
WASHING & SOAKING THE BEANS
Wash your beans under running water till the water runs clear. Make sure that the water is at the room temperature. Clean the beans of any extra debris. Now soak the beans in a large bowl in about 4 cups of water (room temperature). The best is if you can soak them overnight. Minimum of 6 hours soaking is advised.

When ready to use, drain and discard the water. Set aside to use. You may refrigerate the beans as well if you do not have time to cook them the next day.

You may wash and use the beans directly as well if you are cooking last minute.
SAUTE MODE
Place the INNER POT inside the Instant Pot and Plug it in. Press the SAUTE MODE on more/high. Once the screen displays HOT, add oil to the inner pot. Wait for 2 seconds and add onion + garlic to it. Saute for 1 minute. Cover with a LID and cook for about 3-4 minutes till onions are soft. Stir often in between to avoid burning.

Add soaked and drained beans+ bay leaf+ jalapenos + Chipotle chili pepper + tomato puree. Give it a good stir. Add cumin powder, cayenne pepper + oregano + salt and water. Give another good stir. CANCEL THE SAUTE MODE.
BEAN / CHILI MODE
Now place the Instant Pot lid and set the floating valve to SEALING. Set the timer for 30 minutes on HIGH/MORE.

Once the timer goes off, let the pressure release naturally. As the safety valve drops down, open the lid carefully. Take it out in a bowl and garnish with onion, tomato, cilantro leaves, jalapeno, and lime juice. Serve it warm.
NOTES
This is slightly soupy beans recipe. You can eat it as a Bean soup. If you want less soupy, then go for only 2&1/2 cups of water for cooking.

The Beans will thicken as they sit longer. They taste absolutely amazing the next day.

The leftover cooked beans can be blended or mashed to make REFRIED BEANS to stuff your burritos and tacos.
TRADITIONAL PRESSURE COOKER METHOD
Heat the oil in the cooker on gas top. Follow the instructions till SAUTE MODE as is, as given above. After sauteeing and adding all the above-mentioned ingredients, add 4 cups of water and place the lid of the cooker. After the first whistle or the pressure blows off the weight of the cooker lid, lower the heat to simmer and let it simmer for 35 minutes. Turn off the heat and let the pressure release naturally. Open the lid and garnish as instructed above. Serve warm.
OIL FREE VERSION
You can absolutely make it oil free. Skip the oil from ingredients and skip the SAUTE MODE. Add all the ingredients to the inner pot of the Instant Pot. Place the lid and cook on beans/chili mode for 30 minutes followed by NPR. Open and Garnish as instructed. Serve Warm.
I am sure you will try this soon. Do leave your feedback in the comments when you try.
Can't make it now? PIN INSTANT POT MEXICAN PINTO BEANS FOR LATER.

In my kitchen, you will always EAT HAPPY & STAY HAPPY!
Sonal