Salsa Verde Instant Pot Recipe
As an Amazon Associate and member of other affiliate programs, I earn from qualifying purchases.
Salsa Verde Instant Pot Recipe is a finger-licking Mexican Sauce made with simplest ingredients. It is super easy to make in Instant Pot and is full of blasting flavors. IIt goes great with Nachos, Burritos, Fajitas, Tex Mex Bowls and more.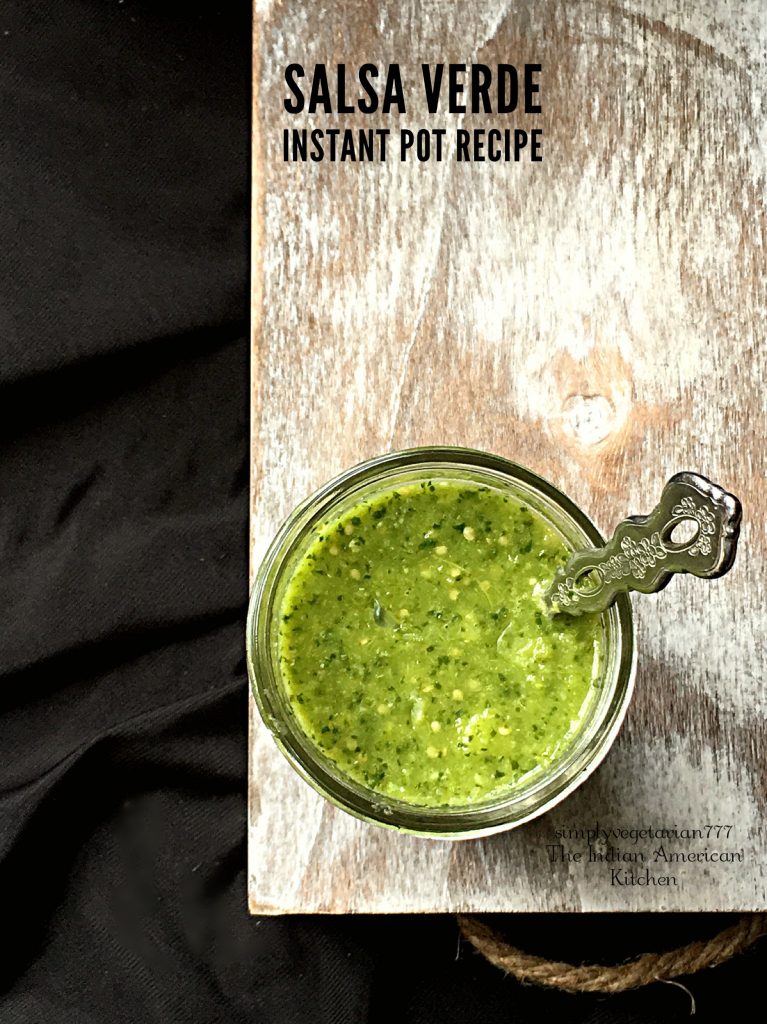 Spicy & Hot Salsa Verde Instant Pot Recipe
Any Tex Mex food enthusiasts in the house here? Raise your hands. My house is full of Tex Mex food Buffs. We infuse our weekly meals with Mexican flavors every now and then. Yep, that's true. Nacho chips with Salsa, Sour Cream, Guacamole and Pico de Gallo are a regular scene on the snack counter. Kids eat these in heaps. I do not have to worry much about feeding them in between meals.
I make complete Mexican meals often for dinners like these Vegetables Fajitas, Quesadillas, Vegetarian Cantina Bowl and restaurant style Salsa. But never got to try making Salsa Verde at home. For that matter, I never got to try Salsa Verde much. I have observed that not even restaurants offer it much. The only kind of Salsa Verde you find is the bottled one in jars on the grocery store shelves.
When I recently tried it, I was bowled over by the big bold flavors of this sauce. It was hot and kicked at the right spot. The color of the sauce was so bright and warm. It was just amazing. I had to make it at home.
Can I add something for my Indian Readers? It is a delicious version of Green Tomato Chutney. Yes, it is Hare Tamatar ki Chutney. 😀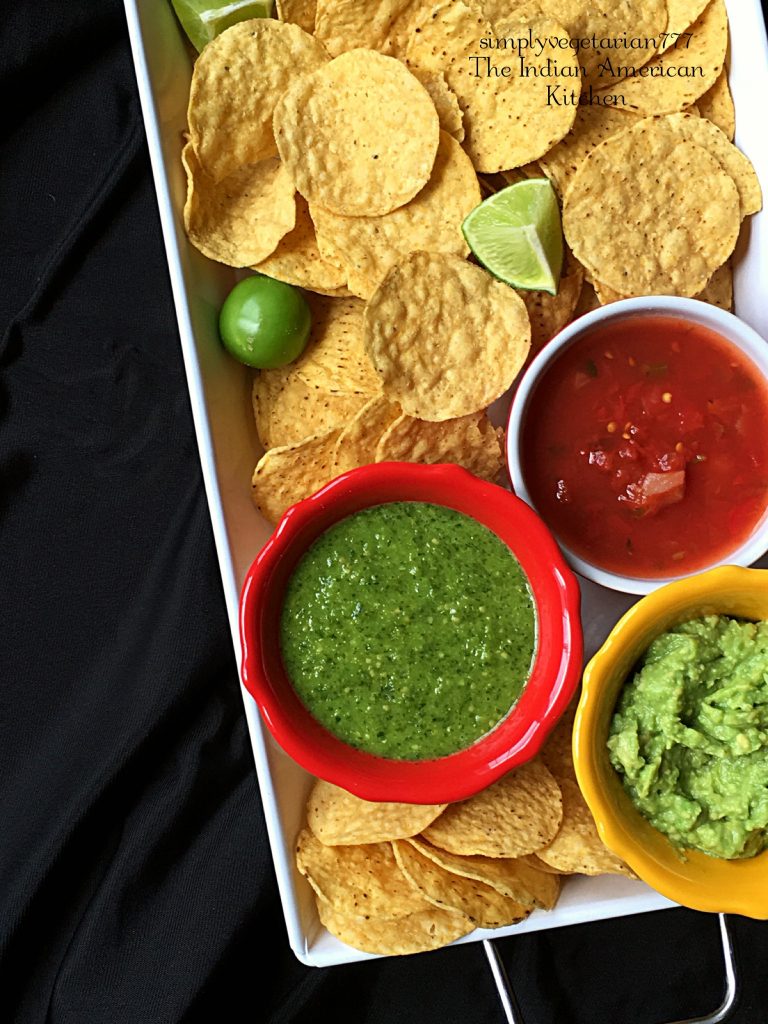 What is Salsa Verde?
Salsa Verde is Green Sauce in layman's language. Verde means Green in Spanish. This sauce is of Mexican origin. The main ingredients of this sauce are Tomatillos and Chili Peppers like jalapeno and serrano peppers. Tomatillo is a Mexican Husk Tomato. Serrano and Jalapeno are common green chilies used in Mexican cuisine.
So, Salsa Verde is a Spicy Mexican Green Sauce made with Tomatillos and Hot Peppers.
There are 3 versions of Salsa Verde –
Cooked Salsa Verde – The ingredients are first cooked down and then blended in a blender to make the sauce.
Roasted Version – In this method, ingredients are first roasted or grilled and then blended.
Raw Verde – Ingredients are kept raw and blended as is in this method.
Why did I make Salsa Verde Instant Pot Version?
Before you ask me that question, I would ask you back, WHY NOT? This is the Instant Pot Era. Here are my top reasons to make Salsa Verde in Instant Pot.
It is a simple and quick process in Instant Pot. Just 1 button, few minutes and the cooking part is done.
Making Salsa Verde in Instant Pot is completely a MESS FREE process.
It is so safe to use that I could instruct my teenage daughter to keep a watch on it, without the fear of getting burnt. Instant Pot is COMPLETELY SAFE.
It is the most EFFICIENT kind of cooking that I have experienced so far. Hence if I can cook curry in it, then why not my sauces.
THESE ARE THE 2 TYPES OF INSTANT POTS THAT I RECOMMEND TO PURCHASE.
Instant Pot LUX Duo 3 quarts 6-in-1 if you do not want to make yogurt at home. It is the cheapest model and works as well as Mini Duo 3 quarts 7-in-1. The 7-in-1 has yogurt setting added.
Instant Pot Duo Plus 6 quarts 9-in-1. I am not sure why it is 9-in-1 since it has 14 functions that you can use for cooking including baking. Amazing, right?
I have both the models and use them regularly. My stove top cooking has become minimal. I use my 3 quarts Instant Pot more often for my daily cooking of Instant Pot Vegetarian and Instant Pot Vegan Curries and other Recipes. For this recipe also, I used 3 quarts Instant Pot. You may use your 6 quart also.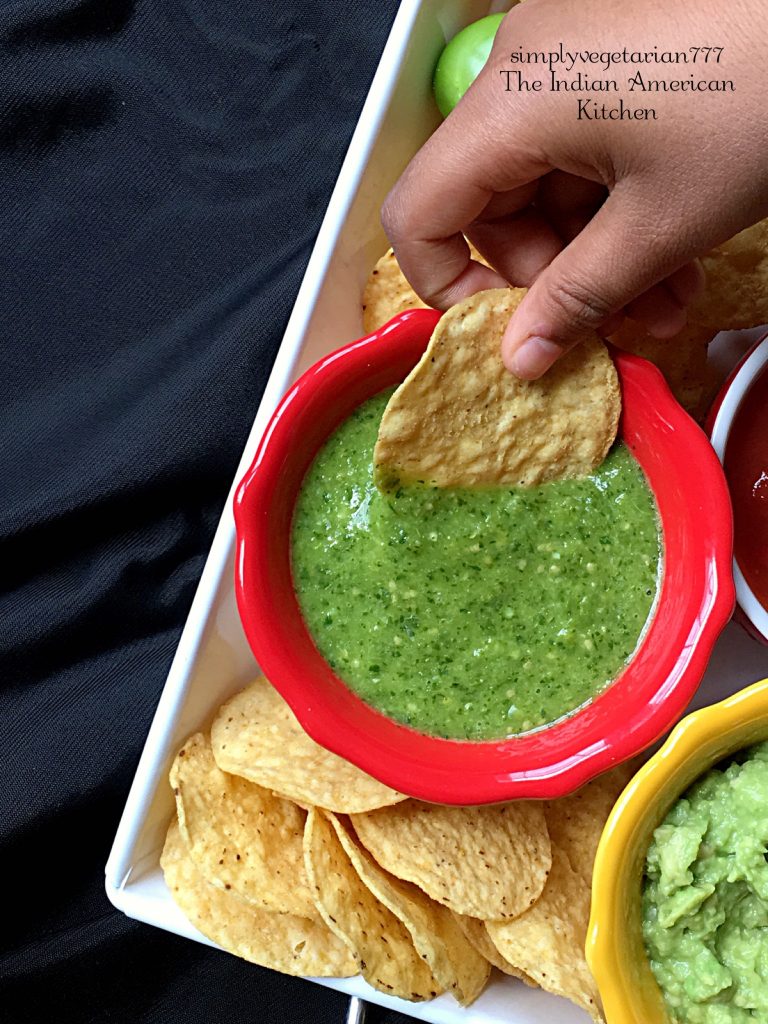 Is this Salsa Verde Vegan?
Yes, absolutely. This sauce is 100% Vegan. All the ingredients used are fresh produce. Not only it is Vegan, Home-Made version of this sauce is free of any preservatives, additives or colors. Salsa Verde is GLUTENFREE as well.
Can I make Salsa Verde in a regular stove top pot, if I do not have Instant Pot?
100% yes. You can easily make this Salsa Verde on the stove top if you do not have Instant Pot.
What can I use to replace Tomatillos in this recipe?
I would say go with Green Tomatoes. Or even regular Red Tomatoes. If you use red tomatoes then it will be Salsa Rosa and not Salsa Verde. 😉
Here are some popular Instant Pot Vegetarian Recipes from my blog –
Red Thai Curry, Tuscan soup, Punjabi rajma / Red Beans Curry, Saag Aloo, Pav Bhaji and more.
Check this small VIDEO on how to make SALSA VERDE in INSTANT POT.
This is how you make this Salsa Verde in Instant Pot.
Salsa Verde Instant Pot Recipe
Salsa Verde Instant Pot Recipe is a finger-licking Mexican Sauce made with simplest ingredients. It is super easy to make in Instant Pot and is full of blasting flavors. IIt goes great with Nachos, Burritos, Fajitas, Tex Mex Bowls and more.
Ingredients
10 oz/

280 - 300 grams

Tomatillos

2

Jalapenos

use 1 in case you do not want too spicy

4

cloves

Garlic

1/2

tsp

Oil

To taste /

1 tsp

Salt

1 Tbsp

or to taste

Juice of Lime

Use Lemon in case you can not find Lime

1/2

cup

Cilantro / Coriander Leaves
Instructions
Refer to the Video above the recipe card for better understanding.
Cooking on SAUTE MODE in Instant Pot
Once the screen displays HOT, add oil to the inner pot. Wait for 2 seconds and then add chopped tomatillos, jalapenos and garlic together to the hot oil. Give it a good stir. Cook for 3 minutes till tomatillos are soft.

Add 1 tbsp water to the inner pot. Place the lid with the floating valve at VENTING. Keep it closed for 2 minutes.

Cancel the saute mode. Plug off the IP. Take out the cooked ingredients from IP. Let them cool down a bit.
Blending to make SALSA VERDE
Take a high-speed blender. I used my MAGIC BULLET. Just love it. Bought my 2nd Magic Bullet after my 1st one gave up after 7 years of good use.

Add the cooked ingredients, cilantro leaves, salt and lime juice to the blender.

Blend till you get a smooth sauce.

Your Salsa Verde is ready. Once completely cooled down. Store it in airtight glass jar and store in the refrigerator. It is good for 1 week at least.
Suggestions to Use Salsa Verde in Recipes and Meals
It is perfect to be served as a dipping sauce with your chips/nachos or even papadoms.

Salsa Verde is super awesome alongside your burritos, tacos, enchiladas.

You can use it as a baking sauce to make Verde/Green Enchiladas.

It goes so well as a side chutney along with Indian Meals. I am eating it daily with my food.

Spread it on your toast and make a yummy sandwich.
Stove Top Cooking Method
In case you do not have an instant pot or if your instant pot is busy, then you can make it on stove top also. Take a pan. Heat oil in it. Add chopped ingredients. Saute for 2 minutes. Add little water and cover + cook for 2 more minutes. Switch off the stove top. Cool the pan ingredients for 10 minutes. Then add the pan ingredients, cilantro, salt and lime juice to a blender and blend to a smooth sauce. STOVE TOP SALSA VERDE is ready.

If you try it, then do give a shout out on our social media –  FACEBOOK, INSTAGRAM, PINTEREST, and TWITTER.
Can't make it today/ PIN SALSA VERDE INSTANT POT RECIPE FOR LATER!

In my Kitchen, you will always EAT HAPPY & STAY HAPPY!
Sonal