Salsa Restaurant Style
As an Amazon Associate and member of other affiliate programs, I earn from qualifying purchases.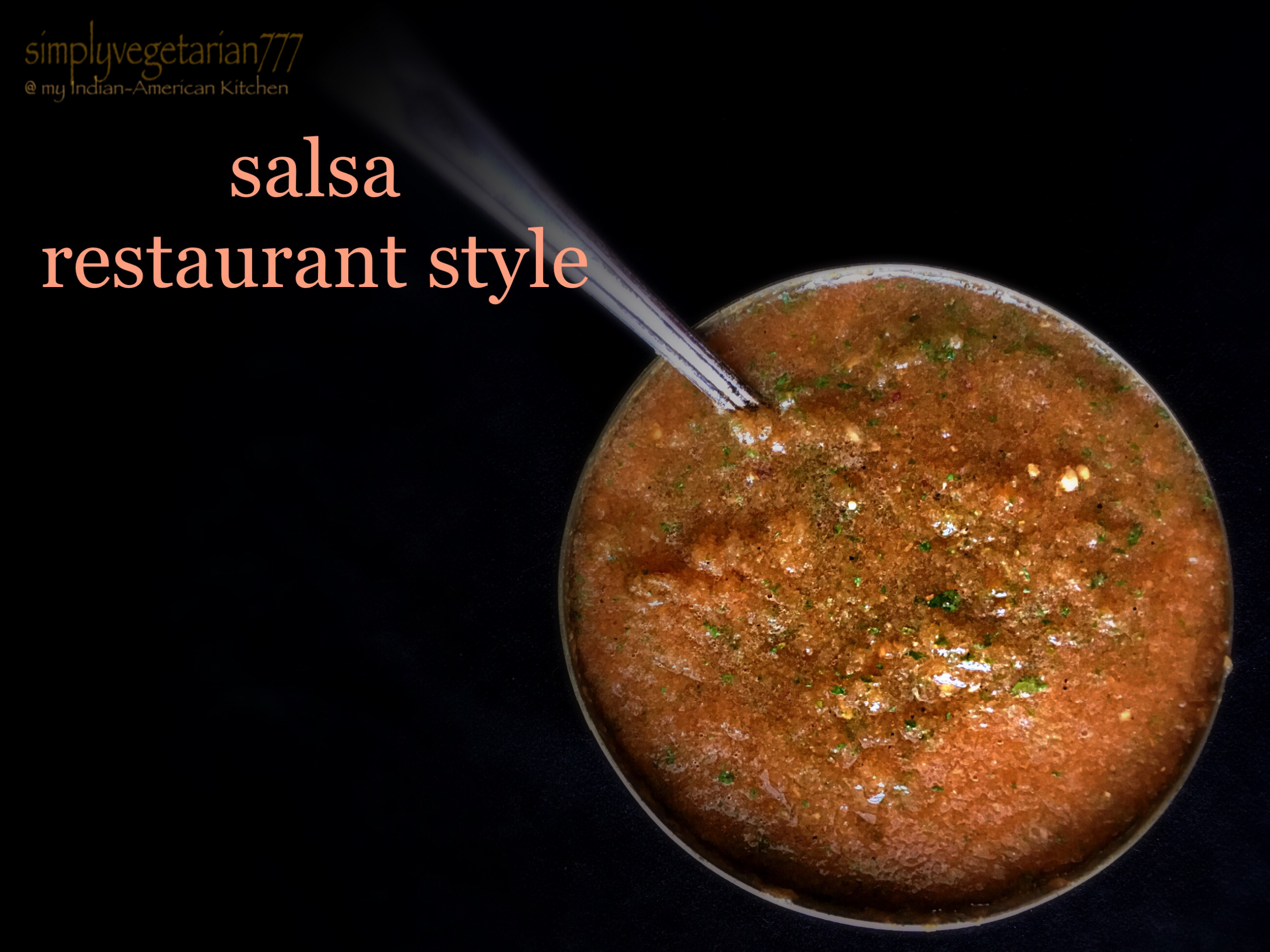 Salsa Restaurant Style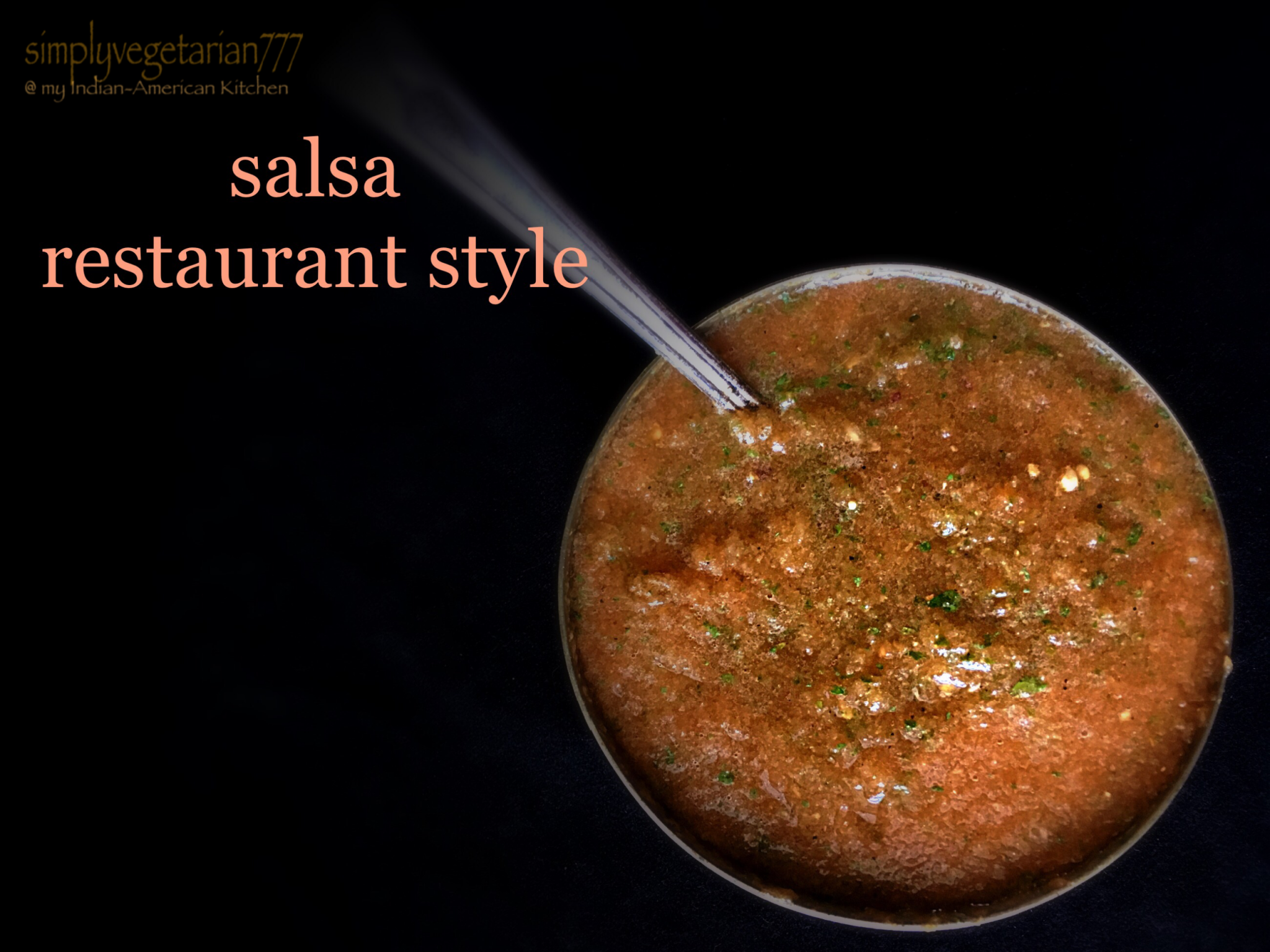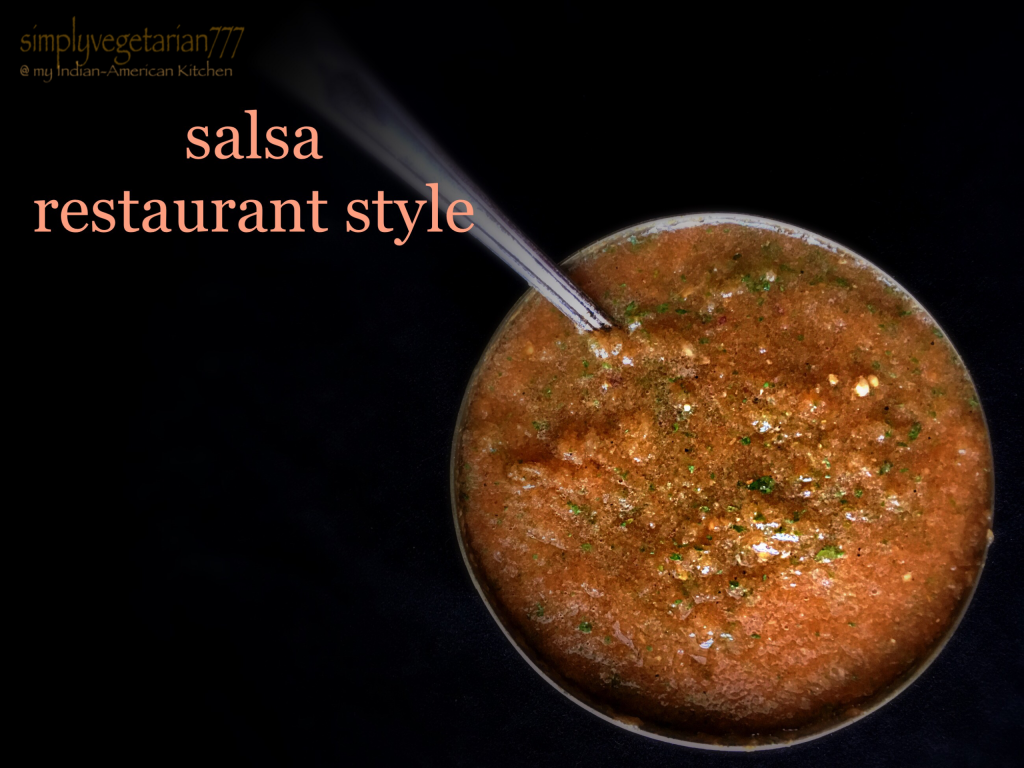 Salsa Restaurant Style is the perfect match to your nacho cravings.
The Salsa Restaurant Style is my favorite kind of salsa. It is not really chunky but have some chunks in it with nice kick of jalapeno and garlic. Charred tomatoes pack a nice punch to it.
Whenever my family goes to a Mexican or Tex Mex Restaurant, we finish buckets of freshly fried nacho chips and the blame has to go to their freshly churned salsa. Damn! It is hott and spicy and just the perfect texture.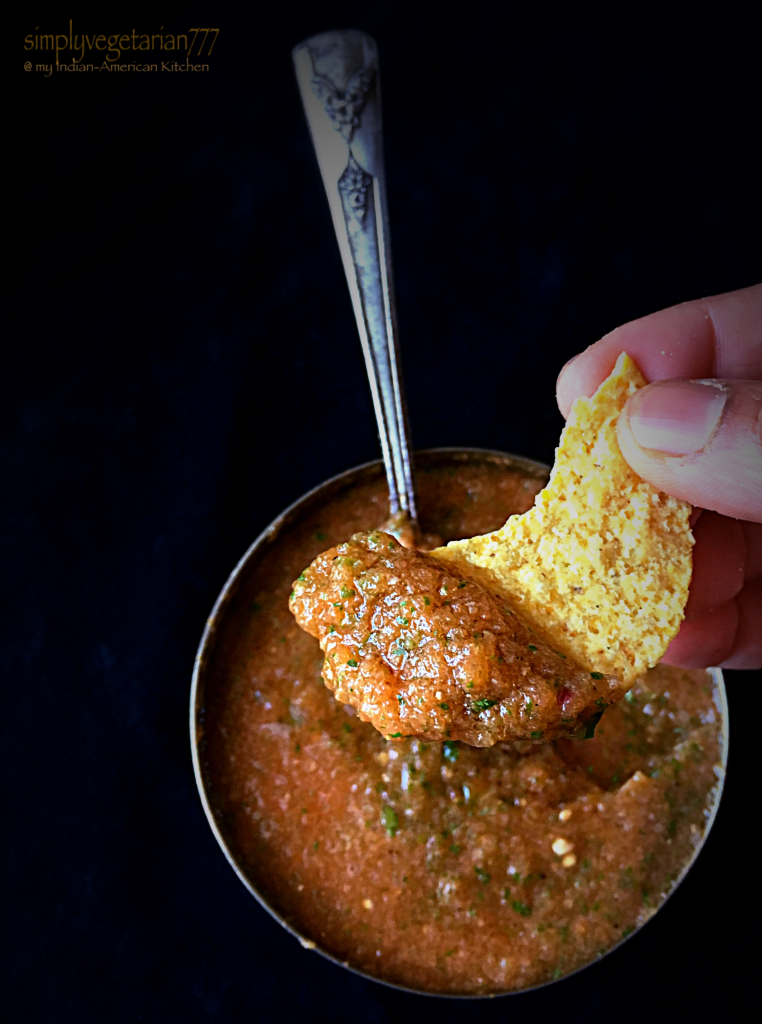 This kind of salsa is more about the texture and flavors.
Originally, the restaurants either use canned tomatoes that are fire grilled or grill their own tomatoes on fire for that burnt smoky flavor. The tomatoes get nicely caramelized.
Every bite of the salsa restaurant style, is a dip in the food heaven. It is quite orgasmic.
I have adapted this recipe from our dearest Food Network fame sweet Ree Drummond. Check out her recipe here !
Though she hasn't used the fire grilled tomatoes. I read couple of recipes and few of them mentioned the fire grilled tomatoes, therefore I went with that and altered a recipe to discover the perfect restaurant style taste in home made salsa.
I am assuming that everybody knows what salsa is, given the fact how global the world has become. You eat Chinese food in America, American food in India, Indian food in Germany, German food in Canada, etc etc. Time to refelct…huh!!
Well, salsa is a sauce, a form of music and dance also. Here, we are talking about Salsa as a food, that is Sauce.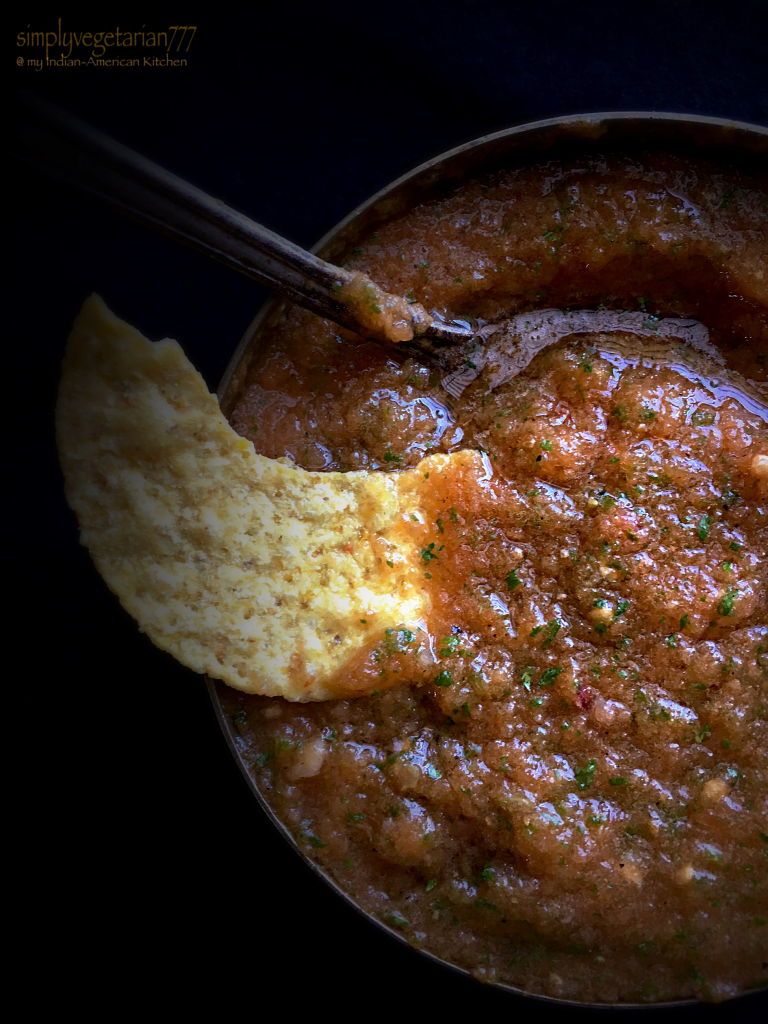 Salsa is the Italian and Spanish term for Sauce. In English-speaking countries usually refers to the sauces typical of Mexican cuisine known as salsa picante, particularly those used as dips. [1]
Salsa is often a tomato-based sauce or dip which is heterogeneous and includes additional components such as onions, chilies, beans, corn, and various spices. They are typically piquant, ranging from mild to extremely hot. [1]
Piquant means something with a sharp taste and an appetizing flavor.
Mexican salsas were traditionally produced using the mortar and pestel – like molcajete, although blenders are now more commonly used. [1]
Some common types of Salsa that one can find in a taco bar are – Salsa Roja, Pico de Gallo, Salsa Verde, Mole, Guacamole, and many more. Then there are modern variations and urban adaptations to these sauces.
I created this recipe by pan grilling the tomatoes, then I peeled them and churned them in a blender with other ingredients to make salsa. This is a close variation of Salsa Ranchera, whch meas ranch style sauce.
Refer to the picture below to understand the pan grilled texture of a tomato.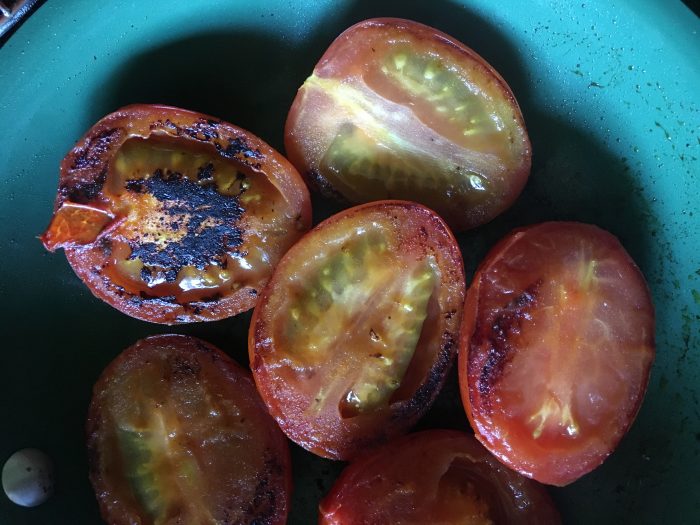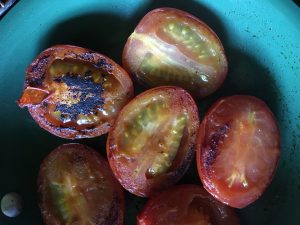 <<<<——-This is how the tomatoes look when pan grilled.
Some dips and sauces from my blog are – Avocado Yogurt Dip , Garlic & Parsley Yogurt Dip , Mint Coriander chutney, Coriander chutney , Sundried tomato & Sour cream party dip and many more.
This is how I made the Salsa, restaurant style.
Salsa Restaurant Style
Authentic Restaurant style Salsa, made at home. Easy recipe for all our Mexican needs.
Ingredients
Tomatoes

slightly firm - 2 lbs / 900 gms

Onion - 1/4 cup

chopped roughly

Garlic - 2 cloves

chopped roughly

Jalapeno - 1 chopped

roughly

Cilantro / Coriander leaves - 2 tbsp

chopped fine
Oils & Spices
Oil - 1 tsp to grease the non stick pan

Cumin

ground - 1/2 tsp

Salt - 1/4 tsp or to taste

Lime Juice - of 1 large Lime
Instructions
Pan Grilling The Tomatoes
Wash and pat the tomatoes dry. Cut the tomatoes in halves and set aside.

Grease a large non stick or hard anodized pan with little oil. Heat the pan.

Place all the tomatoes on the hot pan, cut side facing down.

Sear the tomatoes in the pan on high heat, till they are charred from the bottom. Do not stir them or press them. Do not over crowd the pan. All the tomatoes should touch the pan.

Once they are charred from one side, turn them slightly from all the sides to get mildly charred.

Take them off the pan. Peel the skin of the tomatoes, while hot. Place them in a plate to cool down to the room temperature.
Making Salsa Restaurant Style
Take a blender. Add all the ingredients and spices in the blender besides coriander/cilantro leaves.

Start pulsing the ingredients slowly, for the perfect salsa texture, till you see nice pureed tomatoes.. This will give you a smooth salsa with few chunks of onion, garlic and tomato in between.

Alternatively, you may puree the salsa into a smooth dipping sauce.

Pour it in a serving bowl. Add finely chopped cilantro and mix well.
Serving
Serve it with nachos, tacos, fajitas or any Mexican food of your choice.
Storage
It stores well for a week in the refrigerator, in an air tight container. Though it tastes best when it is fresh.
Notes
To make it less spicy, you may remove some seeds from jalapeno. To add more color to the salsa, especially with American Tomatoes, add 1/4 tsp of fancy paprika or degi mirch.
Isn't this a simple recipe? I am sure you are going to try it. My family doesn't want to eat the store bought salsa anymore. I have to keep a stock of Salsa Restaurant Style ready all the time, at home.
Pin this for Later!


If you are in my kitchen, You are Eating Happy & Staying Happy!!
Sonal
[1] – wikipedia source