Coriander Chutney, Basic Recipe
As an Amazon Associate and member of other affiliate programs, I earn from qualifying purchases.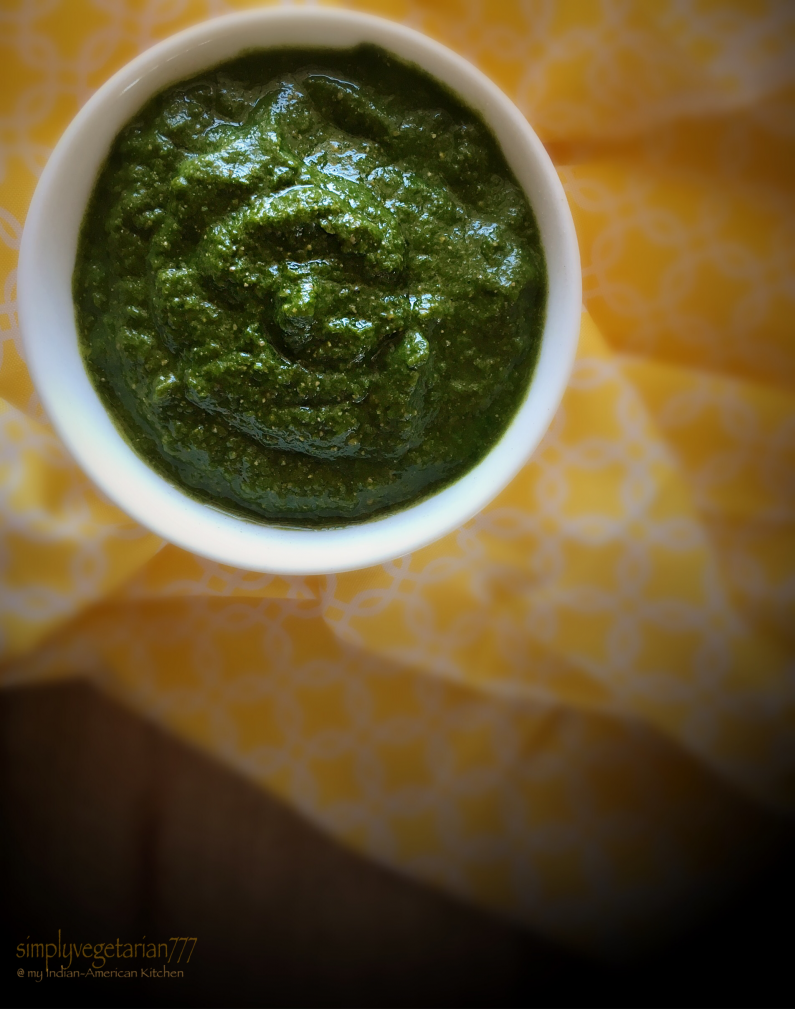 Coriander Chutney, Basic Recipe is a common chutney from Indian Households.
Coriander is more commonly known as Hara Dhaniya or Kothimbir in India and Cilantro in America. Chutney is Chutney, well to be more precise, a fine paste like dip that is filled with simple flavors.
English have taken Chutneys to a different level by marketing these as one exotic thing. During my 1 year stay in UK, slightly north of London in a village town called Letchworth, I came across a lovely chain of bakery called GREGGS and man, I loved their food. They tasted so much like Indian bakery. I bet you can make the connection there, given the history of Britain and India. Not only the Kohinoor traveled over the seas to land in the Queen's hands, but Indian Chutneys and Curries reign the market too. ;)….
The 2 best sandwiches for me at GREGGS were their Egg Salad Sandwich and the other fingerlicking delicious sandwich was Arugula, sprouts & Grey Mango Chutney Sandwich. Just Delish. It's been over 10 years now, but I still have that taste fresh in my mouth. In my humble opinion, UK offers one of the finest foods, showcasing global cuisine.
Ah, you get carried away sometimes, don't you? Having said that, the Grey Mango Chutney and GREGGS have no relevance to my HUMBLE HARI DHANIYA CHUTNEY here.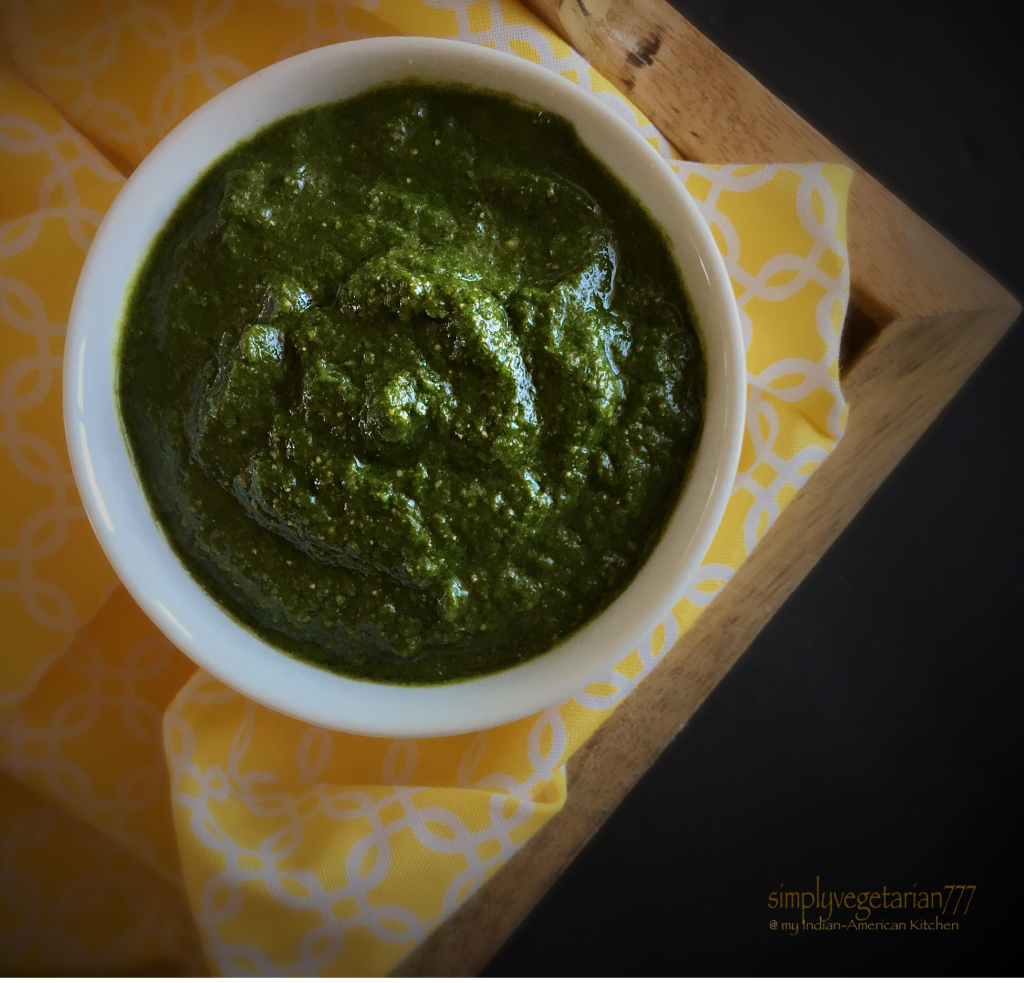 16 years ago, when I first entered an American Grocery Store of Small University town of Pennsylvania, State College (the heart of PennState University), I knew no difference. I kept searching for a bunch of coriander leaves, reading all the herbs' labels carefully – mint…cilantro…rosemary….flat leaf parsley..oregano…….and then back again….oregano…flat leaf parsley…rosemary…cilantro…mint. This went on for 10 minutes and I came back empty handed. Frustrated enough, I asked one of  the Indian neighbors about coriander leaves in the stores and she educated me about the cilantro. Since then, it became easier to locate Cilantro for coriander leaves.
Phew the cultural things…but great learning experiences that make a journey fun, fulfilling and worth while…
Coriander Chutney is given a lot of importance in Ayurveda. It is an Essential Chutney of any Indian Kitchen. It is advised to consume 1-3 tbsp of Chutney everyday with meals during a day. It is full of minerals and vitamins, especially, it is rich in micro-nutrients. Coriander chutney has adequate amount of vitamin A, B, C & E along with minerals like calcium, phosphorous, iron and magnesium. Coriander recipe is one of the best appetizers as it aids in digestive juice secretion. Coriander chutney is also beneficial in constipation, piles, stomach pain, cough, throat pains, blood sugar and fever. It is antiseptic in nature. (Click for Information source)
This is how I make this Indian Classic Hari Chutney. (Hari means Green)
Few ingredients and a quick churn, resulting in delicious and nutritious dip.
Green Coriander Chutney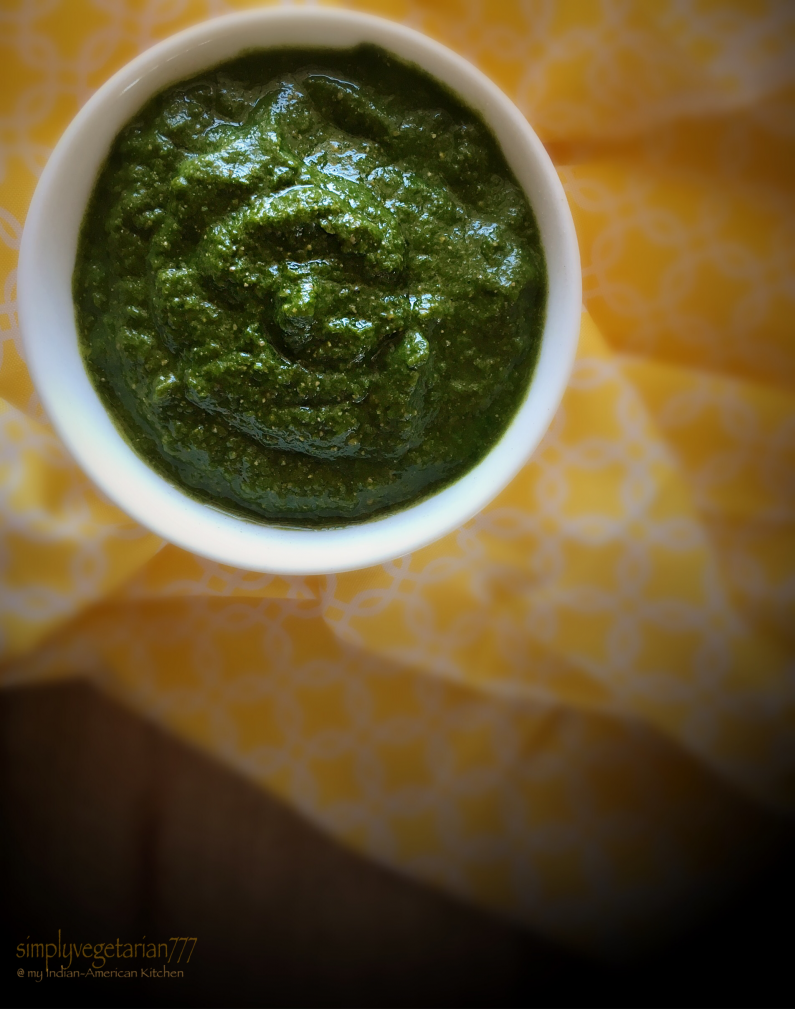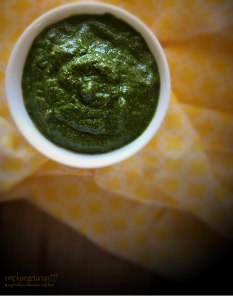 Author – Sonal @ simplyvegetarian777
Cuisine – Indian
Type – Dips & Chutneys
Kitchen Equipments Required
Chopping board, a good high speed blender.
Ingredients
Coriander leaves or Cilantro leaves with tender stems – 1 big bunch
Ginger – 1 small piece
Green chillies – 1 to 2 small, depending upon how hot you want the chutney
Amchur/ Dry Mango Powder or Lemon Juice – 2 tsp amchur or 1&1/2 tbsp lemon juice
Kala Namak / Rock Salt – 1/2 tsp
Water – 3 tbsp
Method
Wash your coriander or cilantro leaves and green chillies really well. We do not need any trace of mud or sand in chutney.
Do not remove the stems of the coriander bunch. Remove only the ones that are too thick and woody. Remove any dirty leaves.
Remove the stem of chillies.
Roughly chop the leaves, ginger and green chllies.
Add all the above mentioned ingredients in to your high energy blender along with 3 tbsp water. Use very little water since we do not want our chutney runny. Add water as required, 1/2 tsp at a time, if needed more.
Puree the ingredients into a fine chutney.
Notes & Storage
A high speed and efficient blender is a must for good chutney. Vitamix, Ninja etc etc all are good. I use my small and humble MAGIC BULLET to make my chutneys. The best thing ever. Cheap and consistent and never disappointing.
Store in an air tight container and refrigerate. In earlier days, fresh chutney was on the menu everyday, but given the current busy life styles, you may refrigerate it for up to a week. Though the chutney starts loosing the flavor by 4th day, so fresher the better. You may also, make a big batch and freeze the individual portions. When needed, take out the frozen chutney, thaw at room temperature or overnight in the refrigertor.
Uses
It is a very versatile dip or chutney. It can be used as a dipping condiment along side with your fritters, savories and wraps. It can be used as a spread for sandwiches, subs and hoagies. It can be tossed with cooked rice and eaten as chutney rice. Aloo chutney raita is another great dish to prepare with it. The perfect use is with all Chaats like papdi, bhel. tikki, etc. Goes so well with Global Fame Golden Samosa. Phew….the list can go on.
A perfect chutney that I often make in my Indian American Kitchen. Do bookmark this recipe when you want to make it at home. I am guaranteeing you that you will disapprove of restaurant served or market bought bottled hari chutney.
Sonal