Punjabi Rajma Masala Instant Pot Recipe
As an Amazon Associate and member of other affiliate programs, I earn from qualifying purchases.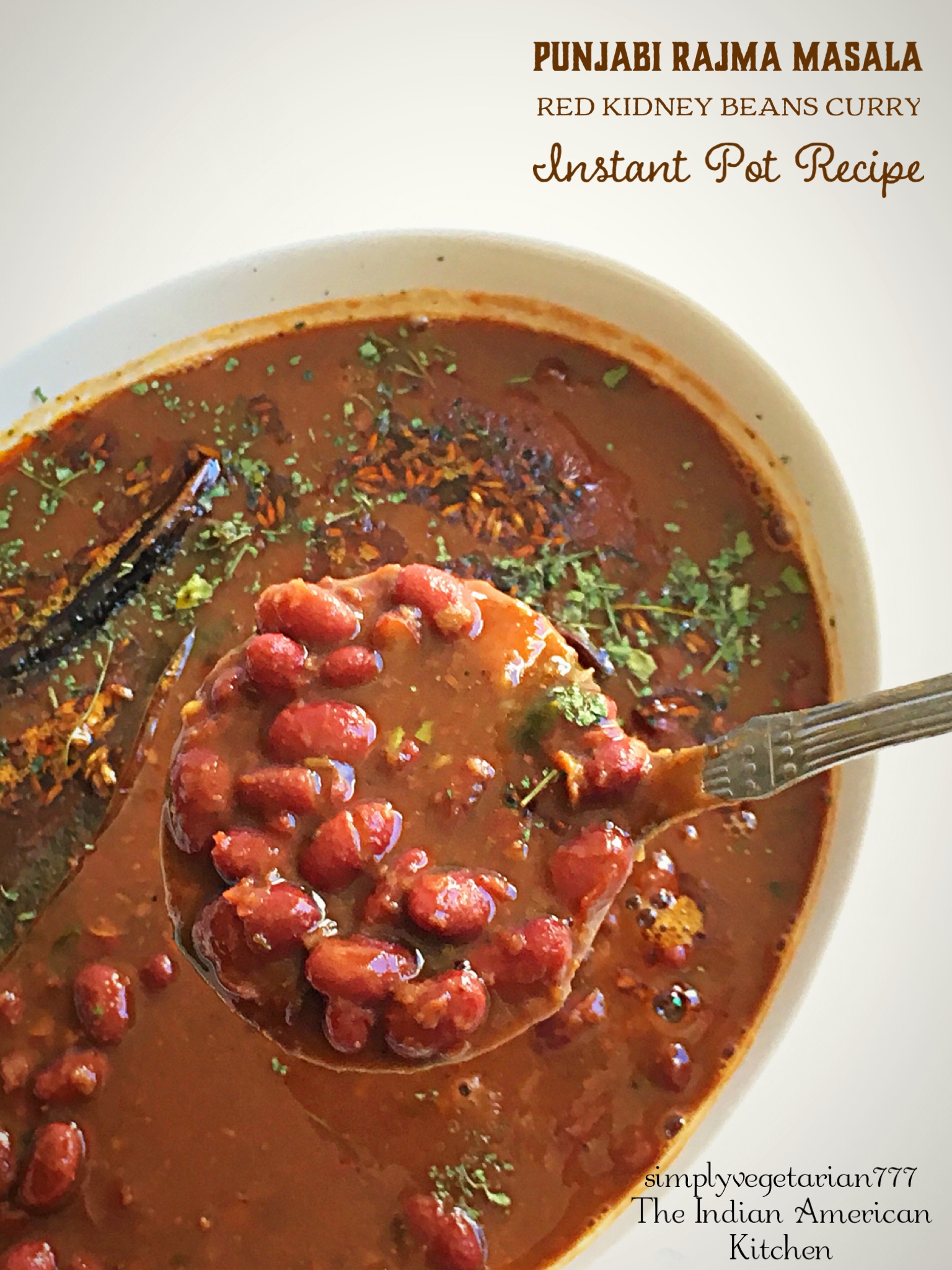 Punjabi Rajma Masala Instant Pot Recipe is a perfect way to enjoy authentic Punjabi Rajma with less effort. This has the perfect texture, flavor, and aroma. It is best served with Perfectly Cooked Basmati Rice.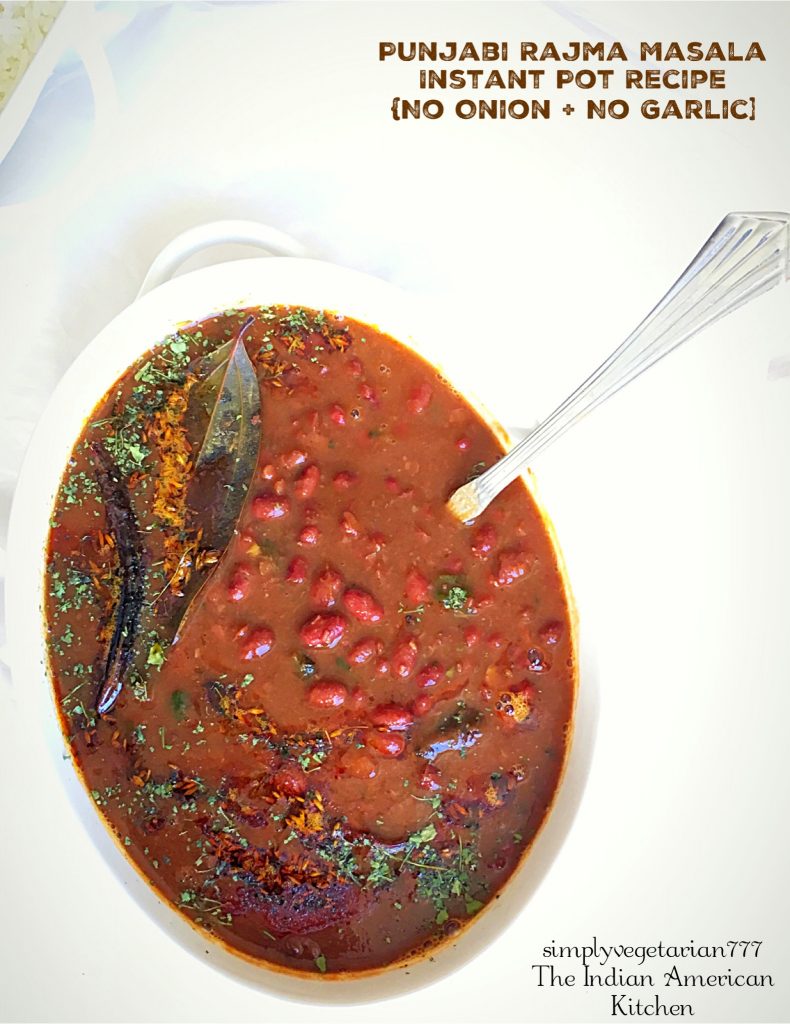 Punjabi Rajma Masala Instant Pot Recipe
Just like Punjabi Kadhi, Rajma is another favorite indulgence for my family. Can't help it, that is how North Indian families live, from Kadhi to Rajma to Mah ki Dal to Chhole and so on. Whenever I ask the family what to cook over the weekend, Amit and Aanya are confused between Kadhi and Chhole, whereas Myraa has her answer fixed with Rajma. So this Rajma was made especially for her, as she calls it Red Beans.
Sabut Dal or Whole Lentils make a significant part of North Indian Meals and that is quite evident with the use of different varieties of Beans and Legumes in our diet. Well, I have to tell you that if you like Rajma then it has to go PUNJABI STYLE. The use of warm spices and the long hours of cooking imparts mesmerizing aroma and spell-binding flavor. You just can not stop at one serving.
Rajma-Chawal goes together which means Red Kidney Beans & Rice. It is a complete FOOD COMA. It resembles The Dirty Rice from Southern American meals. Rajma alone can give a tough competition to American Chili or should I say, it can easily be mistaken as Chili.
Since I am hooked on my Instant Pot, this Punjabi Rajma had to be cooked in it. You can see below, why?..
Why do I cook in Instant Pot?
There is no Baby-sitting your cooking when using Instant Pot, since temperatures are always controlled and the food doesn't get burnt or spoiled.
I can multi-task my life easily without stress. All you parents can agree with me that when you have kids juggling around between school and activities, life gets PRRETTY fun. So, Instant Pot is a savior. You should believe me since I am a hater turned lover.
Why not use Instant Pot, is rather I would ask.. It is a cooking gadget that is smartly programmed, makes your life easy, makes cooking effortless, you can actually plan your meals in advance and not worry about it. Moreover, it is mess-free one pot cooking.
You come back home hungry and the food is ready, can you beat that? Set your food for cooking in the morning and it is done and ready when you are back. Takes so much stress away from everyday planning. FOOD IS TAKEN CARE OF when you plan with Instant Pot.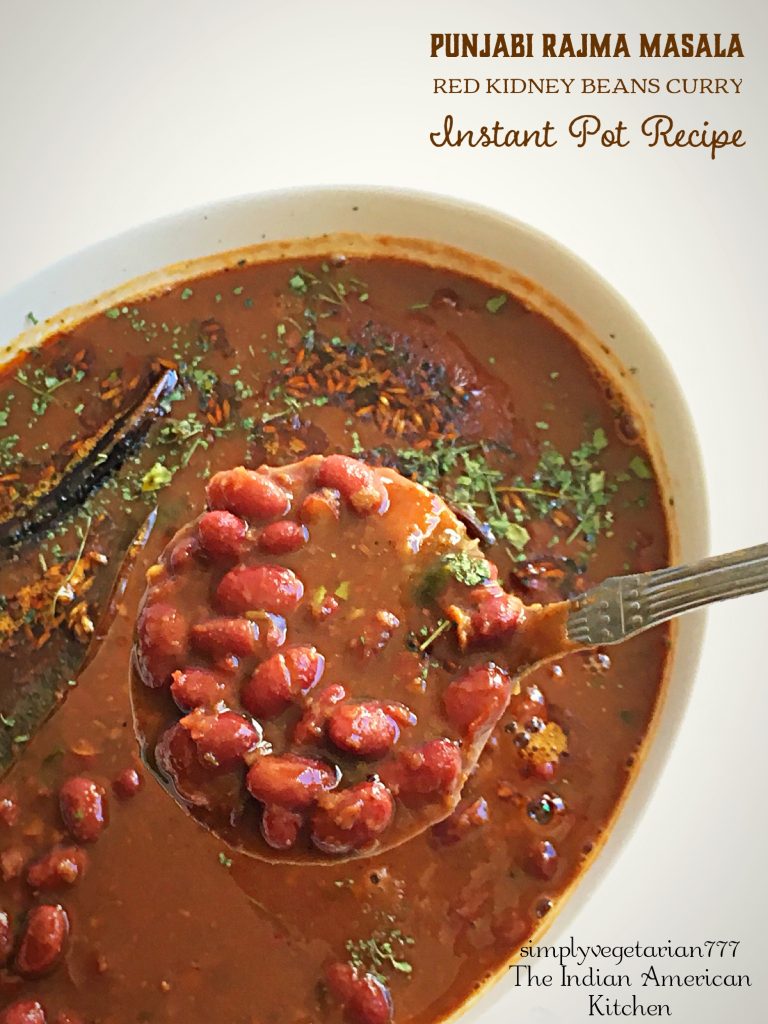 Some Other Popular Vegetarian Instant Pot Recipes from my Blog are
Punjabi Kadhi Instant Pot Recipe
Tuscan Vegetable Soup Instant Pot Recipe
Some RAJMA or RED KIDNEY BEANS Recipes from the blog are – Rajma & Soy Patties for Breakfast and Tomato and Red kidney Beans Baskets.
This is how you make Punjabi Rajma Masala in Instant Pot, which is a NO ONION & NO GARLIC RECIPE.
Here is the Stove Top/Pressure Cooker Recipe for the same.
Punjabi Rajma Masala Instant Pot Recipe
Punjabi Rajma Masala Instant Pot Recipe is a perfect way to enjoy authentic Punjabi Rajma with less effort. This is a No Onion & No Garlic Rajma Recipe and still has the perfect texture, flavor, and aroma. It is best served with Perfectly Cooked Basmati Rice.
Equipment
Measuring Spoons, Measuring Cups, Stirring Spoon,

Chopping board and knife

Kitchen Colander

Instant Pot 6 quart or Mealthy Multipot

Inner Pot

Kitchen Spatula
Ingredients
2

cups

Rajma / Red Kidney Beans

I used small Jammu Rajma. Use any that is available.

1/3

cup

Chana Dal / Split Gram

this is optional. Skip it if you dont have it.

1/2

cup

Red Onion

500 grams/

1 pound

Tomatoes

juicy and plump

1

Big Piece of

Ginger

about 1 tablespoon

2

small

Green chilies

Use 1 for medium heat or Skip if you want to make it mild

1

tablespoon

Tomato Paste

4

cups

Water
OILS & SPICES
1

tablespoon

Oil/Ghee

1

teaspoon

Cumin seeds

1

Large

Bay Leaf

4

Pieces

Cloves

4

Pieces

Black Pepper Corns

1

Medium

Cinnamon Stick

1

Piece

Black Cardamom

2

Whole & Dry

Red Chili

1

Teaspoon

Kashmiri Lal Mirch/ Fancy Paprika

1

Tablespoon

Coriander powder

1/2

Teaspoon

Turmeric

1/2

Teaspoon

Red Chili Powder

1

Teaspoon

Garam Masala

1

Teaspoon

Kasuri Methi

1

Teaspoon

Amchur/Khatai/Dry Mango Powder

To Taste

Salt
IF YOU DO NOT WANT THE LONG LIST OF SPICES, USE MARKET BOUGHT RAJMA MASALA.
1

Tablespoon

Oil

1&1/2 to 2

Tablespoon

Rajma Masala

MDH or Shaan are good brands for this

TO Taste

Salt
Instructions
IMPORTANT NOTE about IP Timings
It takes about 6-7 minutes for IP to start the timer and once the timer is off, it takes IP about 10 minutes to release the pressure naturally. I have written actual time of cooking and have not included the extra time.
Soaking Rajma / Red Kidney Beans
Take Rajma and Chana Dal in a large bowl and wash thoroughly in cold water. Soak both the beans for atleast 5-6 hours. For best results, soak overnight.
Making Punjabi Rajma Masala in Instant Pot
Cooking on SAUTE MODE
Collect all the ingredients beforehand and place near Instant Pot. Wash the vegetables. Drain the water from the beans and set aside. Place the inner pot inside 6 quart Instant Pot and Plug it in. Set it on SAUTE MODE at MORE setting.

Meanwhile, take a blender and add onions, tomatoes, ginger and green chilies to it and make a fine puree. Once the IP screen displays HOT, add OIL, cumin seeds,bay leaf, cardamom, cloves, black peppercorn, cinnamon and dry whole red chilies to it. Saute for about 30-40 seconds and then add KASHMIRI LAL MIRCH + TOMATO PUREE + TOMATO PASTE to it.

Give a good stir and then add all the other spices, besides Amchur to it. Stir once again. Cover with glass lid and let it simmer for 7-8 minutes till it looks slightly thick and cooked. Some people use covering lid specific for IP pots, where as I use any glass lid from my pots and pan collection.

Once the tomato sauce is thick and the bright, add soaked rajma and chana + 4 cups Water to the tomato curry. SWITCH OFF THE SAUTE MODE. Place the IP LID and set the FLOATING VALVE to SEALING.
COOKING ON STEW/MEAT MODE or You may choose Bean/Chili mode as well.
Set the IP on HIGH PRESSURE and MORE STEW MODE for 45 Minutes and forget about it.

Once the pressure is released, open the lid carefully. Add amchur/dry mango powder and give it a good stir. Cook further for 5 minutes on stew mode, uncovered.

If Rajma is too thick for you, add warm water as desired and adjust salt and garam masala.

Serve it hot with Basmati Rice or Naan. Or eat it as is like stew. I love it with a slice of rustic bread.
Notes
How to cook INDIAN CUISINE with EASE?
I have come across many people who love Indian Cuisine but when it comes to cooking Indian Recipes, they get intimidated.
I am going to break it down into some simple and easy tips and tricks for all the people who want to get started to cooking INDIAN at home.
Take Baby steps and then become a pro. It is not that hard. If you cook Pasta Sauce at home then it is as easy as that.
How to cut down the long list of spices and still cook authentic Indian Food
The best way is to skip that long list of SPICES and rather buy a starter pack of READY MADE INDIAN SPICE BLENDS. You can either buy it from the Indian Grocery Store of your town or Order from AMAZON.COM.
Do not go for Hot blends or Madras or Vindaloo blends since these are spicy.
Go low on heat to begin with. MDH and SHAAN are 2 great brands to shop from if you are going to Indian Store. For a serving of 4 people, stat with 1 tsp to begin with. Add 1/4 tsp more at a time, if needed.
How to control the HEAT OF THE CURRY, if it gets spicy by mistake
It is super simple and easy. You can add either or combination of these to reduce the heat in Indian Curry.
The heat can be reduced by adding either some Sugar or Honey OR Heavy cream OR Coconut Milk OR MILK. Start by adding a little at a time and adjust accordingly. I sometimes add boiled potatoes to bring the heat down.
I served my Punjabi Rajma with Basmati Rice, Yummy Aloo Methi and Loads of Salad.
I am sure you are going to try this recipe soon in your Instant Pot. If you do, then send me the feedback, or ask me any question. I will try my best to answer the queries.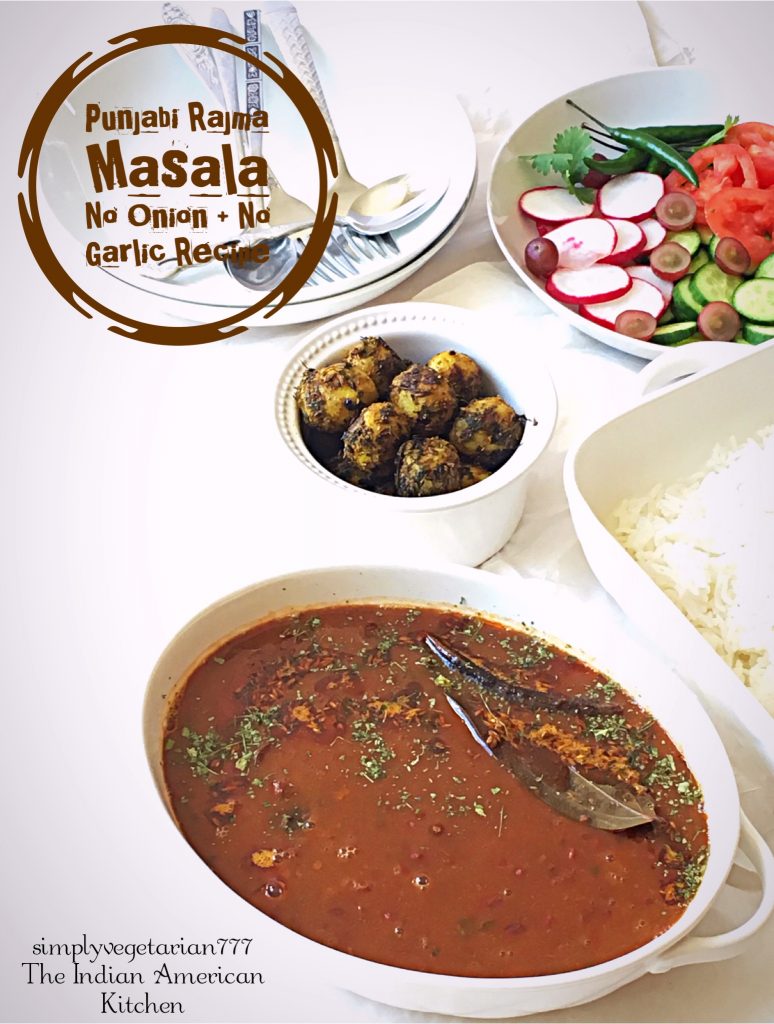 You can order the following from amazon to make this recipe. It won't cost you any extra price than stated.
Can't Make it Now? PIN IT FOR LATER!
In my kitchen, you will always EAT HAPPY & STAY HAPPY!
Sonal