Spicy Rajma Chaat in Tomato Baskets – Diabetes Friendly Thursdays
As an Amazon Associate and member of other affiliate programs, I earn from qualifying purchases.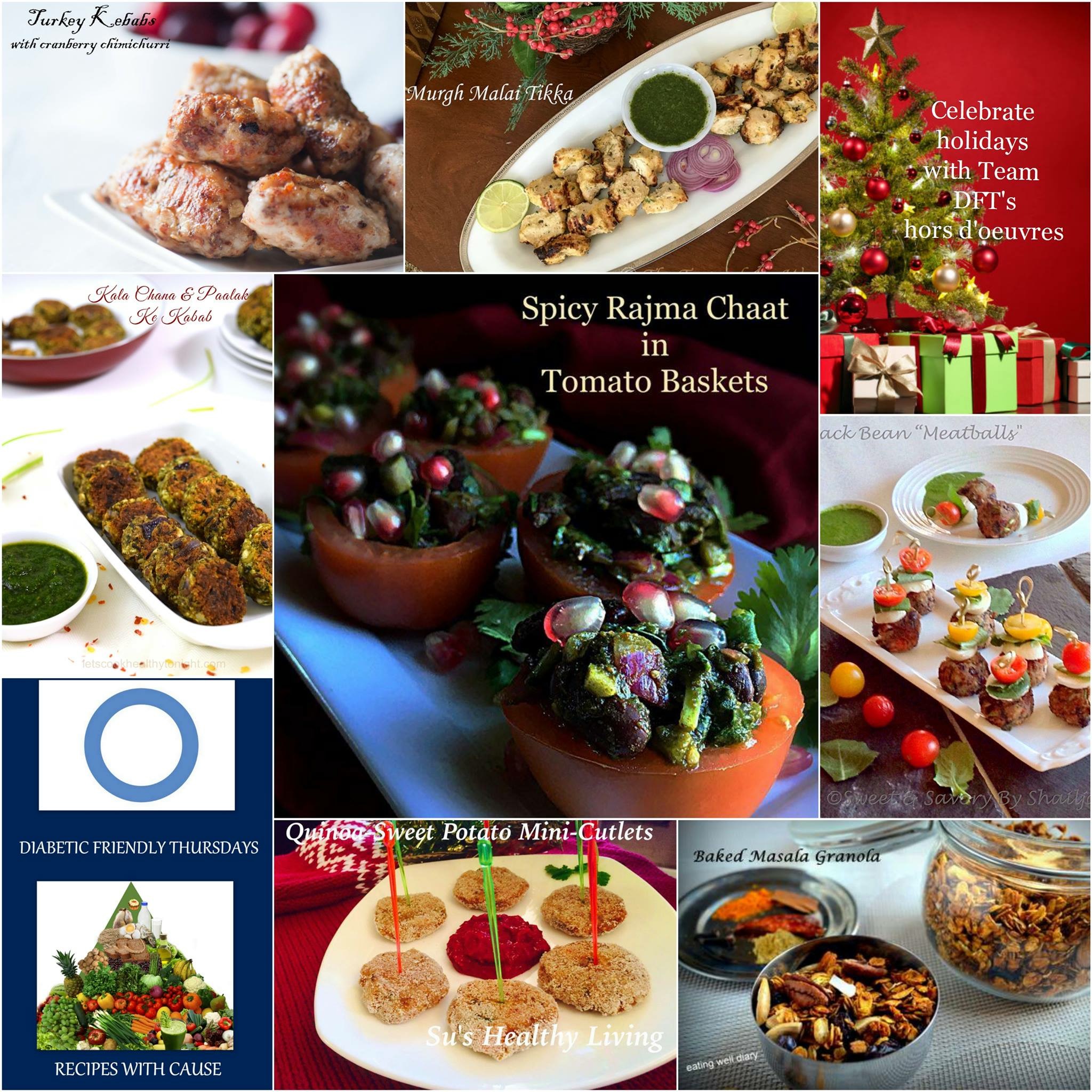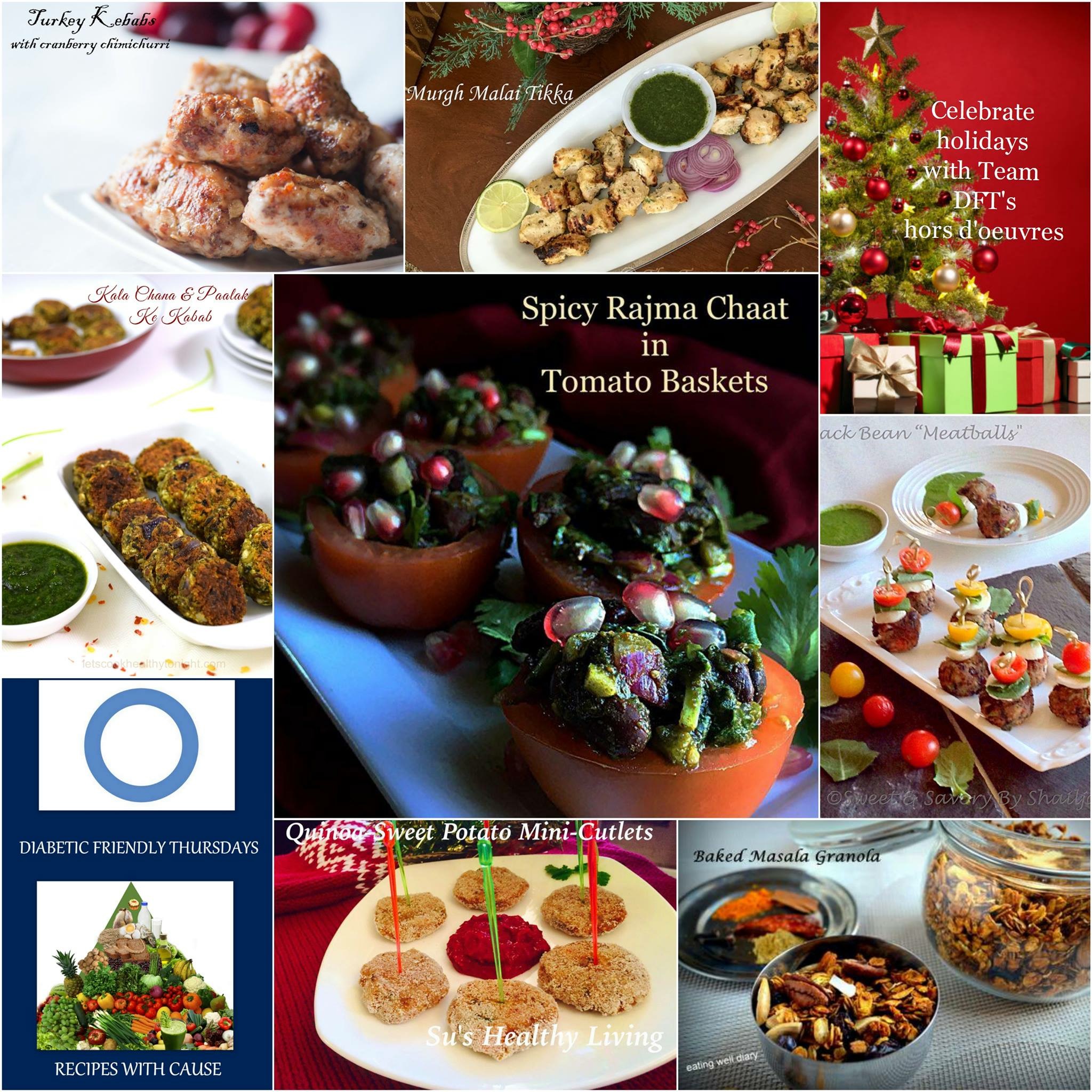 Creating Recipes with a Cause! I am a proud DFT blogger. To learn about DFT, Read it here!! view more DFT recipes, Click here!
Spicy Rajma Chaat in Tomato Baskets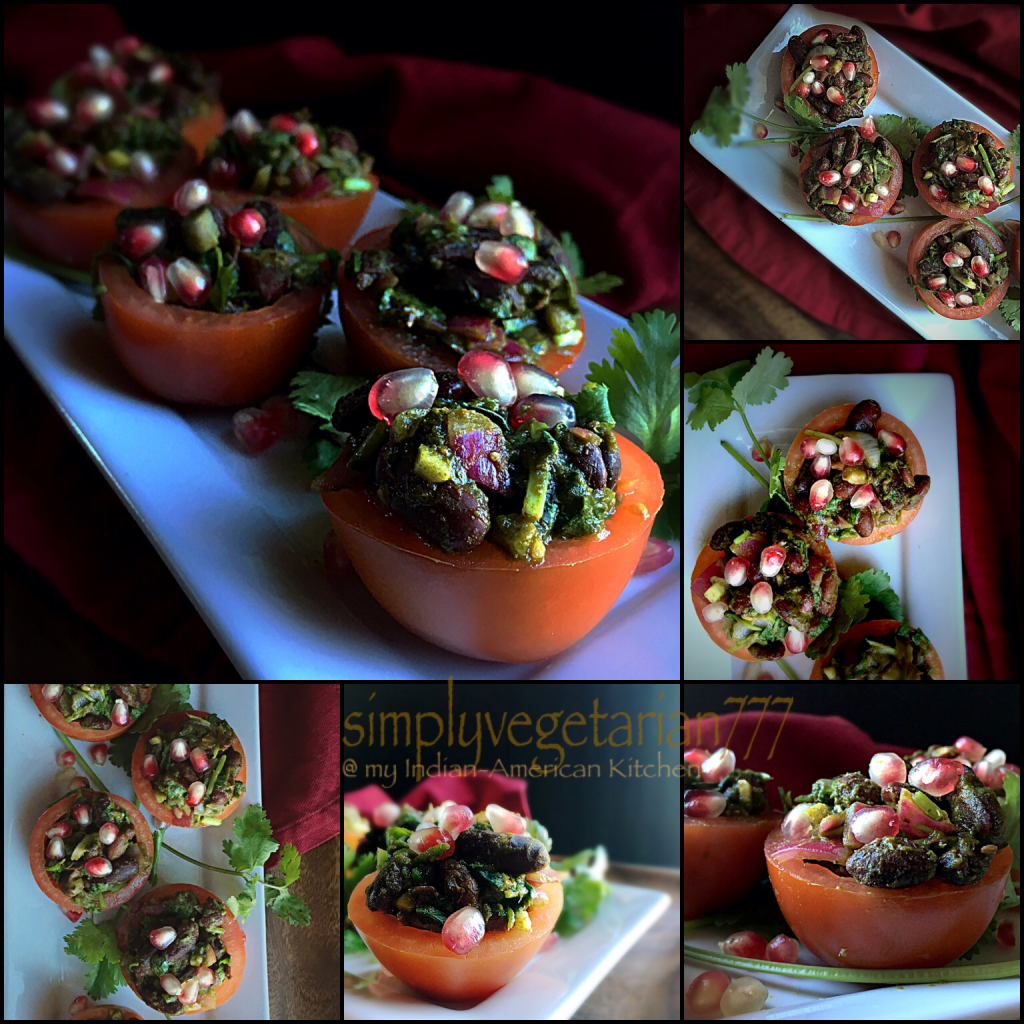 Celebrate this Holiday Season with Team DFT with some figure fitting, weight watchers and Diabetes Friendly Recipes!
It can't get easier and simpler than this appetizer! A quick fix and an ideal holiday party food for figure conscious, weight watchers and Diabetics. Around holiday times, we often forget to eat good and keep splurging over rich and heavy food. Which definitely gives the momentary pleasure and later sends you on a guilt trip.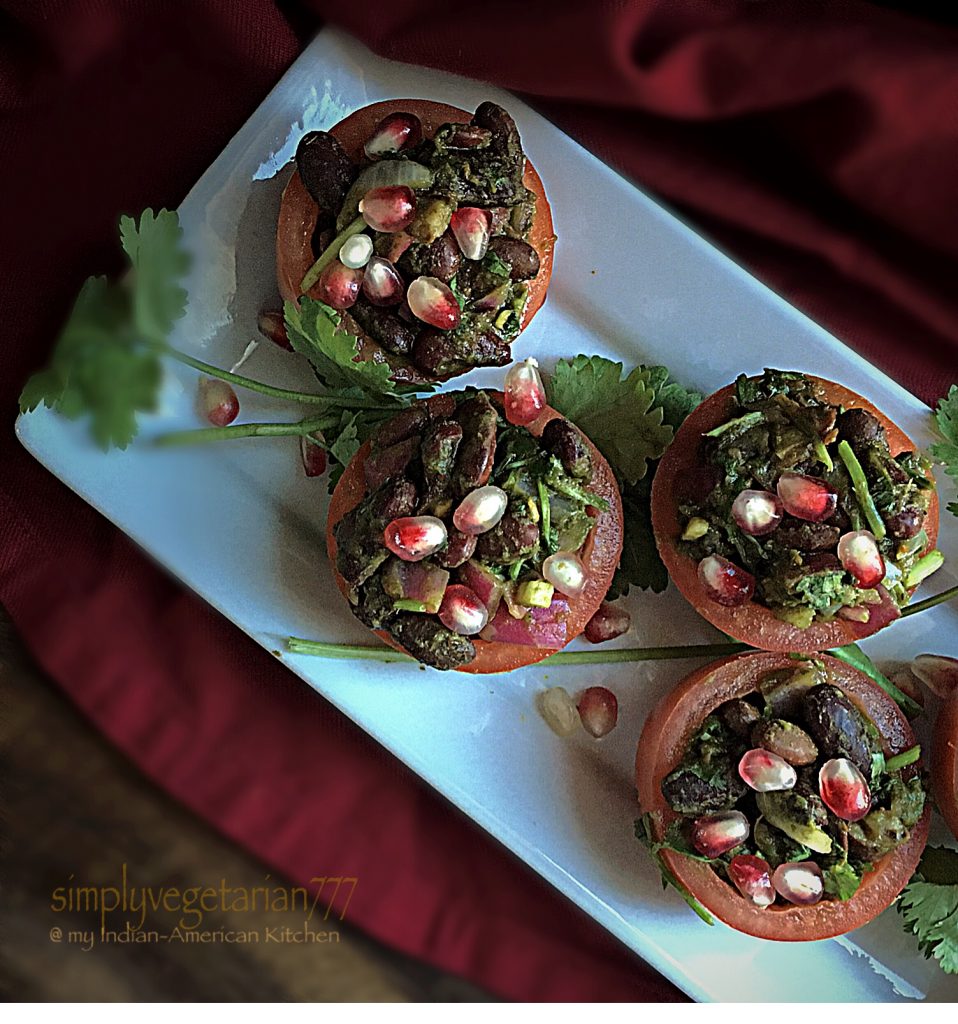 So I created a simple recipe, keeping the fiber and protein content high as compared to the carbs. The kidney beans are good for diabetics, is a known fact. Tomatoes are super food that help in detox and maintaining weight is another known fact. These 2 when combined, created a fiesta in my mouth. Firm tomato shell, filled with rajma tossed in spices, ginger, coriander leaves and green chili along with good Green Corinder Chutney, is a raunchy number in the mouth! 😂
This is how I made it!
Spicy Rajma Chaat in Tomato Baskets
Servings: 4
Difficulty: easy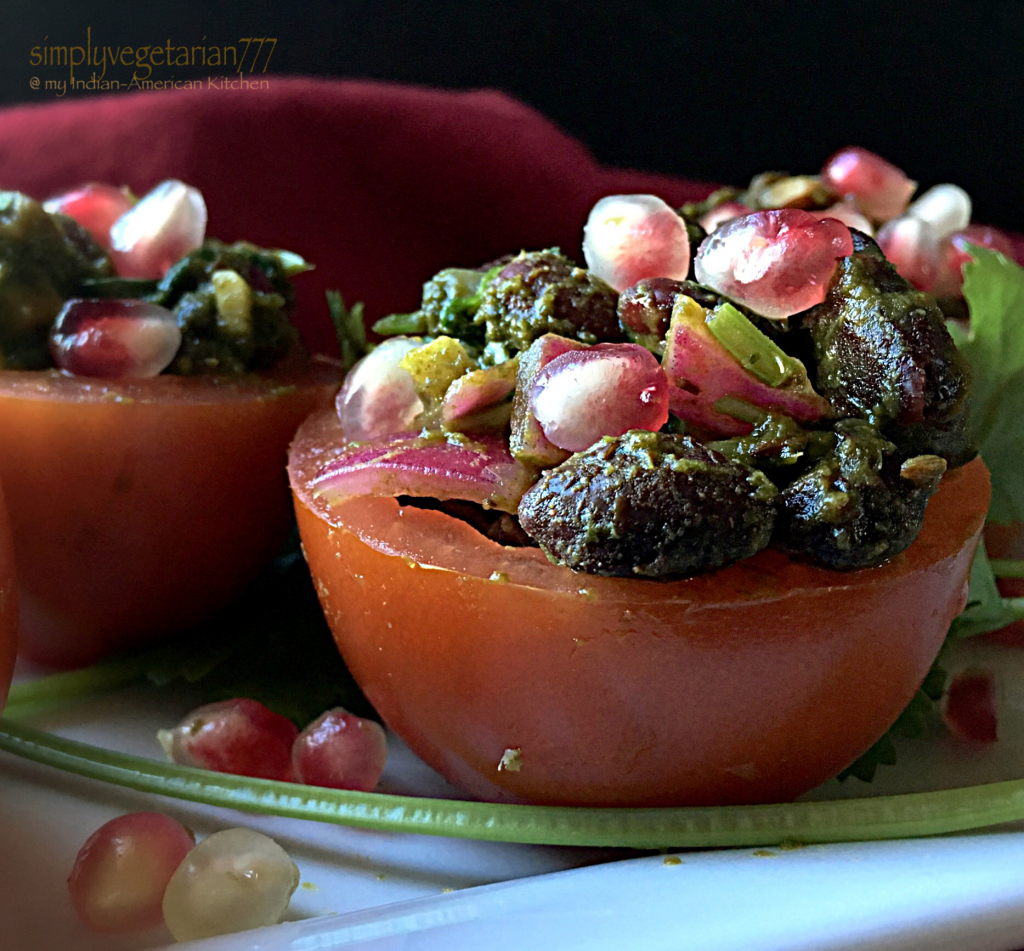 Kitchen Equipments Required
A mixing bowl, spoon, chopping board, knife, a sauté pan.
Ingredients
Tomatoes, medium – 4, firm
Rajma / Red Kidney beans – 1 cup, boiled soft
Ginger – 1 tsp, finely chopped
Green chili – 1, chopped fine
Coriander leaves – 1/4 cup, finely chopped
Onions – 2 tbsp, chopped fine
Pomogrenate pearls – 2 tbsp to garnish
Lemon Juice of 1/2 small lemon
Oil – 1/2 tsp
Cumin seeds – 1/4 tsp
Red chili powder – 1/4 tsp
Turmeric – a pinch
Cumin powder, roasted – 1 tsp
Green coriander chutney – 2 tbsp
Salt to taste
Method
Preparing the Tomato Shells
Halve the tomatoes horizontally. Put them on the chopping board. Take a knife and cut the side adjoining membranes of the tomato to loosen the pulp. Take a spoon and gently scoop the pulp out without making any holes on the walls of the tomatoes. Now take the pointy half of the tomato. Slice the bottom of the tomato, without disturbing its inners, so that it can sit on its bottom without rolling. Refer the picture towards the end.
Preparing the Rajma / Kidney Beans Spicy Chaat
Heat 1/2 tsp of oil in the pan. Add cumin seeds, red chili powder and turmeric powder. Once cumin crackles, add rajma and salt to taste. Mash roughly with the back of the spoon. Cook for 2 minutes and switch off the flame. Add chopped onions, cilantro leaves, ginger and green chili along with lemon juice and Green Corinader chutney. Toss well.
Serving 
When ready to serve, make your tomatoes sit on their bottoms on a serving tray. Fill them up with 2 tbsp of Rajma filling. Sprinkle with few pomogrenate pearls. Serve immediately.
Notes
Always use very firm tomatoes.
Always fill the rajma chaat in the tomato bowls, before serving. If you fill it in advance, it might make the tomato soggy.
Reserve the pulp of the tomatoes and use in curry or sauces later. Don't waste it.
If you don't like the raw tomato taste then you may bake it also in a baking dish for 8-10 minutes till tomatoes are slightly tender, at 375*F / 190*C.
You may use crunchy small bell peppers / capsicums instead of tomatoes.
You may add taco seasoning instead of Indian seasoning.
You may add salsa verde or regular salsa instead of green chutney.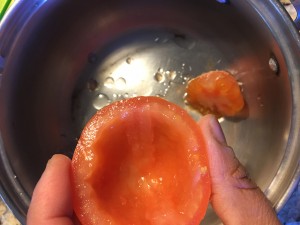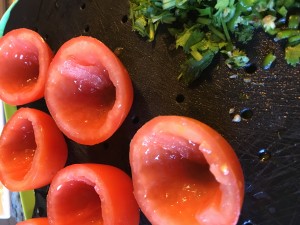 ————————————–———-
Foot Notes
Tomatoes 
Tomatoes are not only Low GI but high in fiber. American Diabetes Association puts this humble fruit, in its list of top 10 Super Foods for Diabetics. It is also rich in nutrients like vitamin C, iron, vitamin E. Go on and include some tomatoes on daily basis in your diet, no matter which form – purée, chopped, blanched or raw.
Rajma / Kidney Beans
The kidney beans or rajma are very high in fiber, giving you about 1/3 of your daily requirement in just a ½ cup, and are also good sources of magnesium and potassium. ADA again ranks these beans in its list of top 10 super foods. They are an exploding mine of nutrients. They are considered starchy vegetables, but ½ cup provides as much protein as an ounce of meat without the saturated fat. To save time you can use canned beans, but be sure to drain and rinse them to get rid of as much sodium as possible.
Cilantro
Cilantro or Corinader leaves are not only good for toxic metal cleansing from the body and good for cardiovascular health, the leafy plant helps in controlling blood sugar too.
————————————————

Disclaimer

I am not a nutritionist or dietician. My knowledge and information is based on my research and reading from different resources. Please consult your doctor or dietician before making any changes to your diet.
————————————————
Other Appetizers from the Team DFT! Click on the under-lined links to get the recipes.