Instant Pot Tofu Curry Recipe
As an Amazon Associate and member of other affiliate programs, I earn from qualifying purchases.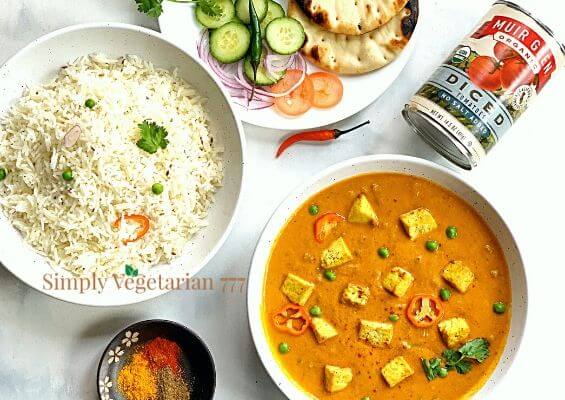 This Instant Pot Tofu Curry made with Muir Glen Canned Tomatoes is an amazingly flavorful curry recipe for the Curry enthusiasts. It is relished best when served with hot naan and rice on the side.
This post has been sponsored by Muir Glen in partnership with TheFeedfeed. All opinions are mine alone. #ad #MyMuirGlen #feedfeed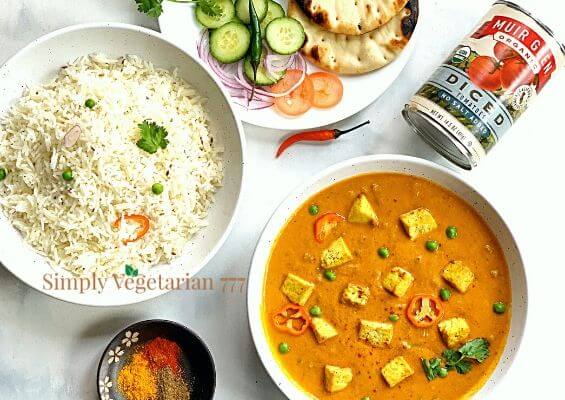 Instant Pot Tofu Curry Made with Muir Glen Diced Tomatoes (No Salt)
Curry is a much loved dish in many parts of the world. And if you are aware, then tomatoes are the quintessential ingredient for many popular Curries from India.
And this recipe is a beautiful vegan & gluten-free rendition of famous Matar Paneer.
Tomatoes not only offer that beautiful color to the curry but add deep intense flavors to it when cooked properly.
The invention of canned tomatoes has simplified the lives of the curry makers. Like literally. When I was introduced to the Muir Glen tomatoes, I was blown away with the quality of the product.
Not only it is a high grade product, the philosophy of the company resonates with my philosophy of recycle, & eco-friendly. Since then I have not looked back.
I am a huge fan for one more reason – it is one of the very few companies that provide the consumer with a "No Salt" product option as well. Isn't that amazing?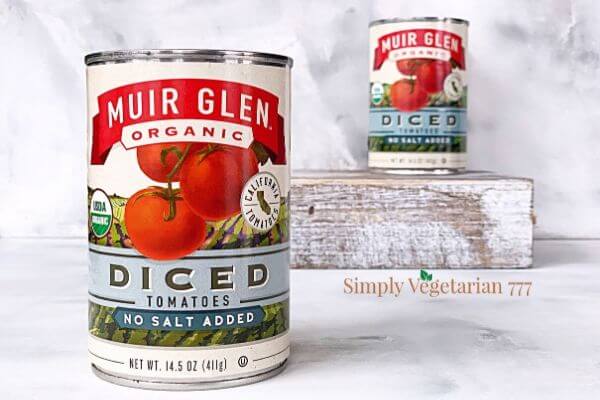 MUIR GLEN TOMATOES
Making curry is not a joke. It is hard work. Thanks to Muir Glen Organic Tomatoes, it has become convenient to make this recipe at home with less effort.
Muir Glen brings the best tomatoes to your kitchen. These are grown organically in the rich soils of California.
The texture, and freshness of these lush tomatoes is well preserved in the packaging. As soon as you open the can, that fresh sweet tomato smell envelopes you immediately.
My reasons are very clear to recommend Muir Glen Diced Tomatoes (No salt) to make this Instant Pot Tofu Curry.
Muir Glen brings the organic tomatoes to your cooking table.

The company promotes the healthy eco-system of the valley by encouraging the pollinators of the region. Healthy active bees mean healthy bigger and juicier tomatoes. Great, isn't it?

Muir Glen is one of the few companies that believe in ZERO WASTE. They have state of the art Composting facility where they create organic compost. And this compost goes back to the farmers growing Organic Tomatoes.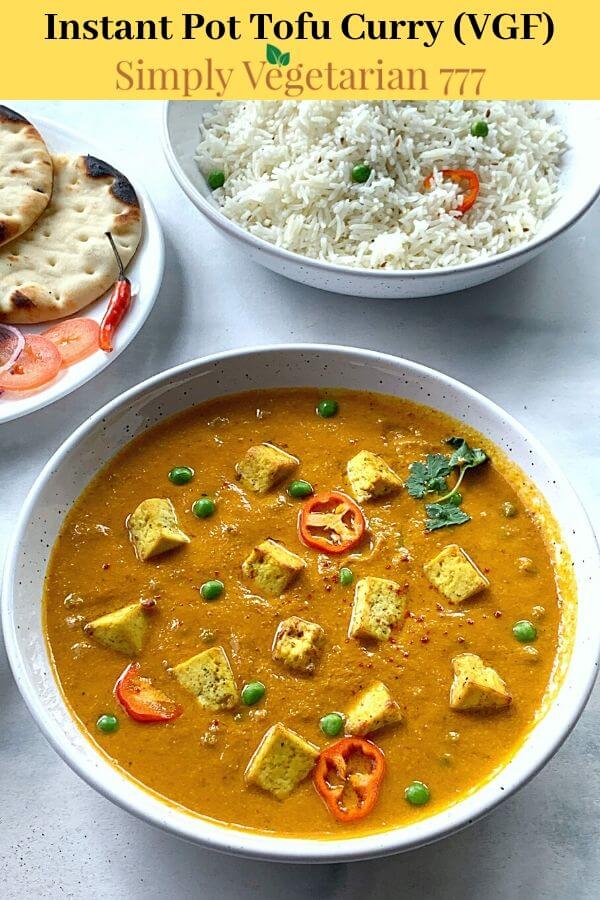 EAST END FOOD CO-OP, PITTSBURGH
Our local East End Food Co-Op in Pittsburgh is a great place to shop that supports the Muir Glen concept of farming and giving back to the farmers as well. Both the organizations support the local and organic.
It is amazing to see how few well-chosen quality ingredients can create a scrumptious dish with so much ease. When the ingredients are bought from your local Co-Op Grocery Store, it creates more impact.
OFFER
Hey – do not forget to avail the super offer on Muir Glen Canned Tomato Products in your local Co-op Store. It is at a fabulous price for 10/$10 for 14 oz Canned Tomatoes from today until February 4, 2020.
WHAT IS A FOOD CO-OP?
A Food Co-op is a voluntary organization which has democratic owner control.
It is autonomous and independent cooperation among the cooperatives. Anyone can have economic participation in a co-op.
The food co-op runs the education, training, and information programs in the community generating awareness about the local farmers and their produce.
It supports the community by making charitable donations. Whatever surplus funds they generate, it is given back to the community.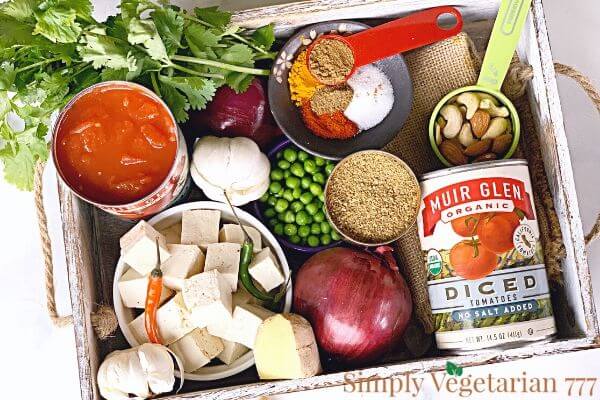 Vegan Tofu Curry Ingredients
Since you can easily get all of the required ingredients at your local Co-op, shopping is all the more fun. Get the shopping list below –
Extra Firm Tofu
Green Peas
Muir Glen Diced Tomatoes (No Salt)
Ginger
Garlic
Onion
Cilantro leaves
Green chili
Almonds & Cashews
Cooking Oil
Curry Spices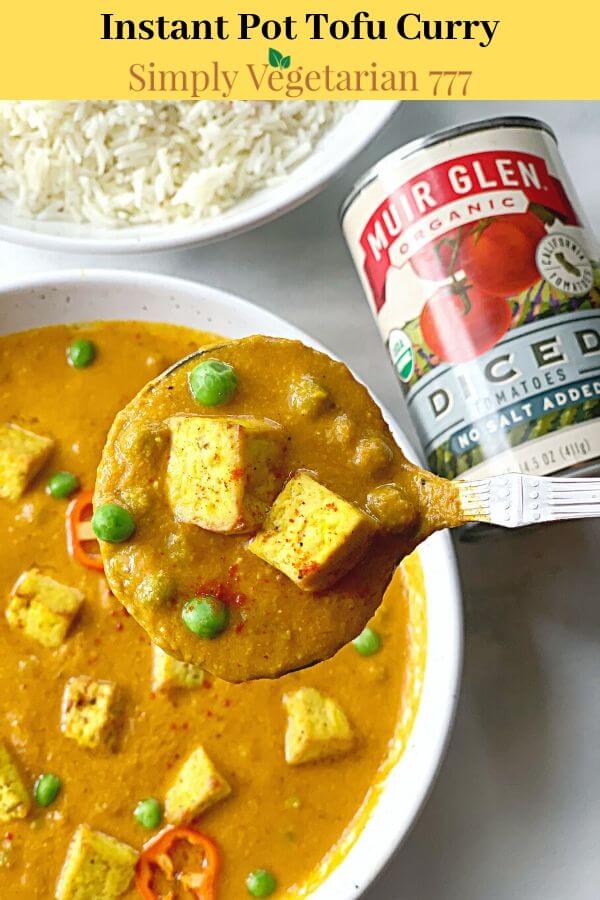 My top reasons to make this Tofu Curry with Muir Glen Tomatoes in Instant Pot
For the reason that my family loves it so much, here are my top favorite reasons to make this in Instant Pot at home-
You can make the curry sauce separately in the Instant Pot ahead of time and can use it as required.

Yes, it is one of those make-ahead meals that are freezer friendly as well.

Use of Muir Glen Diced Tomato (no salt) has made it possible to make this sauce effortlessly and efficiently in instant pot.

This recipe is very adaptable. Find out how below.
How can I personalize this Vegan & Gluten-free Curry?
Since you can prepare this Vegan Gluten-free Curry sauce in advance, it can be personalized as suggested below.
If you are not a fan of Tofu, then use vegetables of your choice. Potatoes, Broccoli, Baby Corn, Vegan Meatballs, or Mix Vegetables are a great choice.

You may add vegan protein of your choice like Chickpeas, etc. if you are not in the mood for vegetables.

The heat level of this Curry can be easily adapted as per your taste. Therefore I always advise starting from a tiny amount of spices first. Taste test it and build up the heat as desired by adding a little bit at a time.

Similarly, the creamy quotient of the curry can be controlled as well.

Most importantly if you are weight conscious then skip the nuts or use lesser amount. And use artificial sweetener as desired.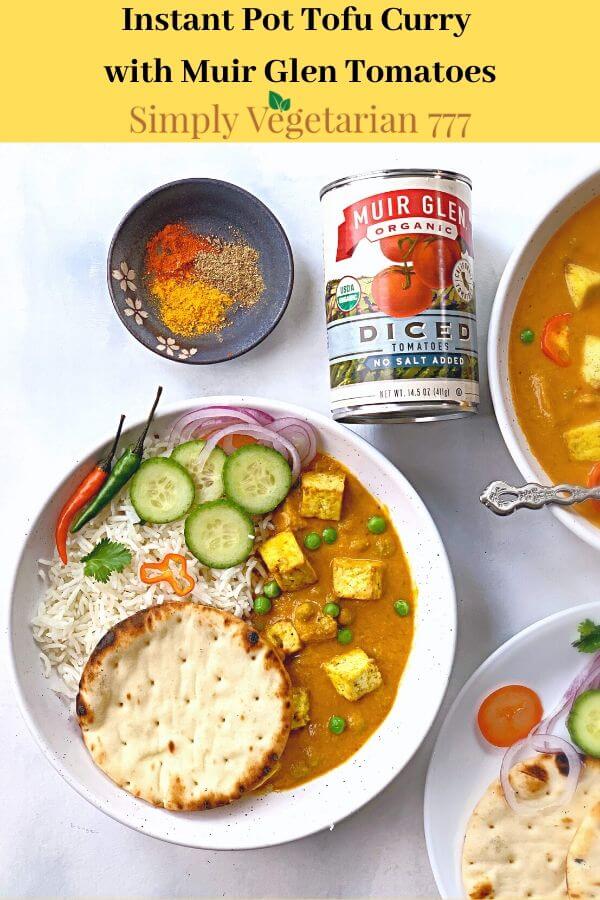 Instant Pot Tofu Curry has 2 Components of Cooking
Prepare Tofu in the Oven/air fryer. Marinade and Bake it in the oven till slightly crispy.

Prepare the CURRY sauce in INSTANT POT.
Simplyvegetarian777 Recipes that can be made using Muir Glen Tomatoes
–
Gobhi Tikka Masala, Minestrone Soup, Chana Masala, Red Kidney Beans Curry, Vegan Chili and more.
Instant Pot Tofu Curry Recipe with Muir Glen Organic Tomatoes (No Salt Added)
This Tofu Curry is scrumptious & so easy to make in Instant Pot. The best part is that is is made with Muir Glen Organic Tomatoes (No salt added). And it is a vegan and gluten-free preparation.
Equipment
Instant Pot 6 quart or Mealthy Multipot

Measuring Spoons, Measuring Cups, Stirring Spoon,

Kitchen Colander

Chopping board and knife

Food Processor
Ingredients
1

small

Onion

chopped roughly

1

cup

Muir Glen Diced Organic Tomatoes

from the can

2

Garlic Cloves

chopped roughly

1/2

tbsp

Ginger

chopped roughly

1/2

tsp

Green chili (jalapeno or Thai)

optional

1

cup

Green Peas

thawed/microwaved for 2 minutes

1

tbsp

Cilantro leaves

1 block/

14 oz

Extra Firm Tofu

cut into 1 inch cubes

1/4

cup

Cashews

broken pieces

1/4

cup

Almonds

broken pieces

1/2

tbsp

Raisins

2

cups

Water

more if needed
Oils & Spices
1

tbsp

Cooking Oil

1/2

tsp

Cumin powder

2

tsp

Coriander powder

1/2

tsp

Turmeric powder

1/4

tsp

Red Chili powder

1/2

tsp

Garam Masala

1

tsp

Salt

or to taste
Tofu Marinating Spices (Optional)
1

pinch

Turmeric powder

1 small

pinch

Red Chili powder

1 small

pinch

Salt

1 small

pinch

Garam Masala

2

sprays

Cooking Oil

or use 1/2 tsp cooking oil
Instructions
Preparing Tofu for the Recipe
Extra firm Tofu cubes can be used as is or can be prepped before adding to the curry.

Take a bowl. Add tofu cubes, pinch of turmeric powder, red chili powder, salt and garam masala. Spray with little oil. Toss to coat evenly.

Heat a heavy bottom pan. Spray with Cooking Oil. Add marinated Tofu Cubes. Cook on medium flame from all the side till slight crispy. Use these Tofu cubes in the curry.

You may prepare these Tofu Cubes in the air fryer also. Air fry these at 390*F till they are crisp. It would take about 10-12 minutes. Shake in between for even cooking.
Instant Pot Tofu Curry Instructions
Place the inner pot inside the Instant Pot and plug it in. Press the Saute Mode and when the screen displays HOT, add 1 tbsp oil to the inner pot. Now add chopped onion, garlic, ginger, and green chili. Saute for 2-3 minutes till onions sweat and become slightly soft.

Now add cashews, almonds, 1 cup of Muir Glen Diced Tomatoes (No Salt) & Raisins. Give it a good stir. Add all the spices and ½ cup water. Give another good stir.

Cancel Saute Mode. Place the Lid on Instant Pot and lock it. Set the Floating valve to SEALING. Press Manual/Pressure Cook Button and set it on high for 10 minutes. Once the timer goes off, follow NPR (natural pressure release) and open the lid. Add 1½ cup water and blend with hand-held blender or a high speed blender into smooth sauce.

Return the curry sauce back to the inner pot. Add thawed green peas, chopped cilantro leaves and pan grilled tofu cubes to the pot. Stir it all together. Close the lid. Cook on saute mode for 5 minutes.

Tofu Curry is Ready. Adjust the salt if needed. Also if it is too thick for you, add more warm water to the desired consistency.

It is best served with Naan and Rice.
Stove Top Recipe Instructions
Take a heavy bottom pan and heat oil in it. Reduce the heat to medium and add onions, ginger, garlic, and green chili to it. Saute for 3 minutes and then add almonds, cashews, raisins and 1 cup of Muir Glen Diced Tomatoes (No Salt). Give it a good stir. 

Add spices and 2 cups of water. Bring it to a boil. Reduce the heat and simmer for about 10-15 minutes till nuts become soft. Switch off the heat. Add 1 cup water and then blend it into a smooth sauce. Add more water if needed. Adjust salt and garam masala as needed. Add green peas and pan fried Tofu cubes. Stir and Simmer for 10 minutes.

Tofu Curry is Ready. It is best served with Naan and Rice.
Notes
You may prep the tofu in advance. It is perfect for the meal prep.

You may keep the Curry Sauce ready in advance as well. And use it as needed.

This recipe can be easily doubled.

You can refrigerate this curry up to a week easily.

The sauce can be prepared in advance and is perfect for freezing.
Since I am sure you are going to try this recipe and love it, please leave your feedback in the comments section.
Sonal