Meatless Mondays : Bell pepper, Onion & Cheese Quesidellas with Home made Taco Seasoning
As an Amazon Associate and member of other affiliate programs, I earn from qualifying purchases.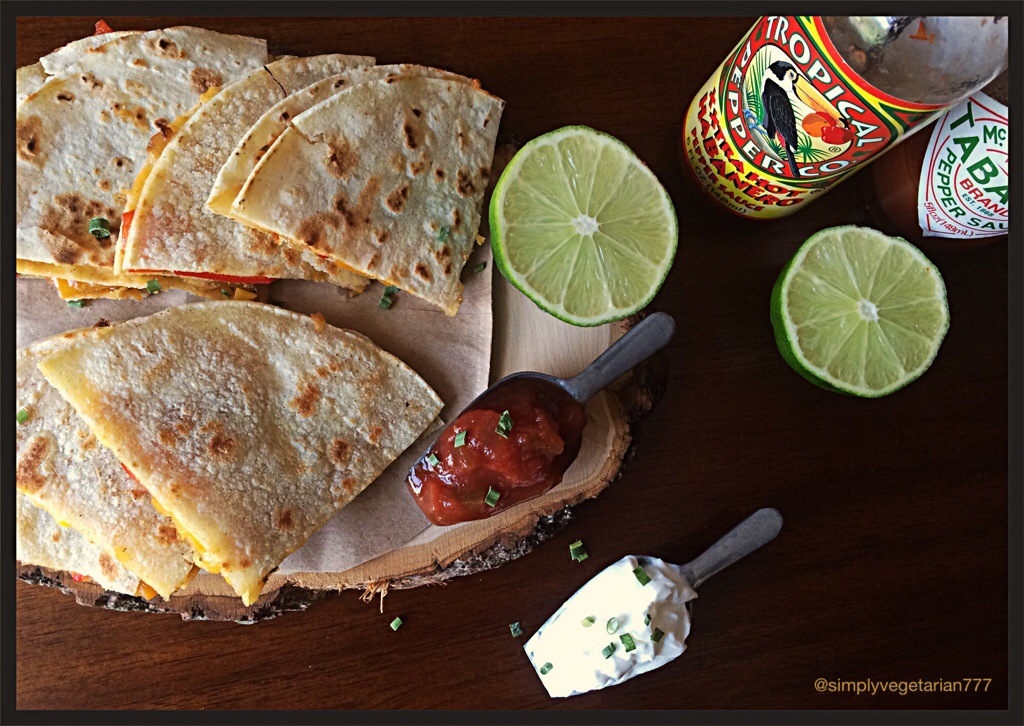 Meatless Mondays : Bell pepper, Onion & Cheese Quesidellas with Home made Taco Seasoning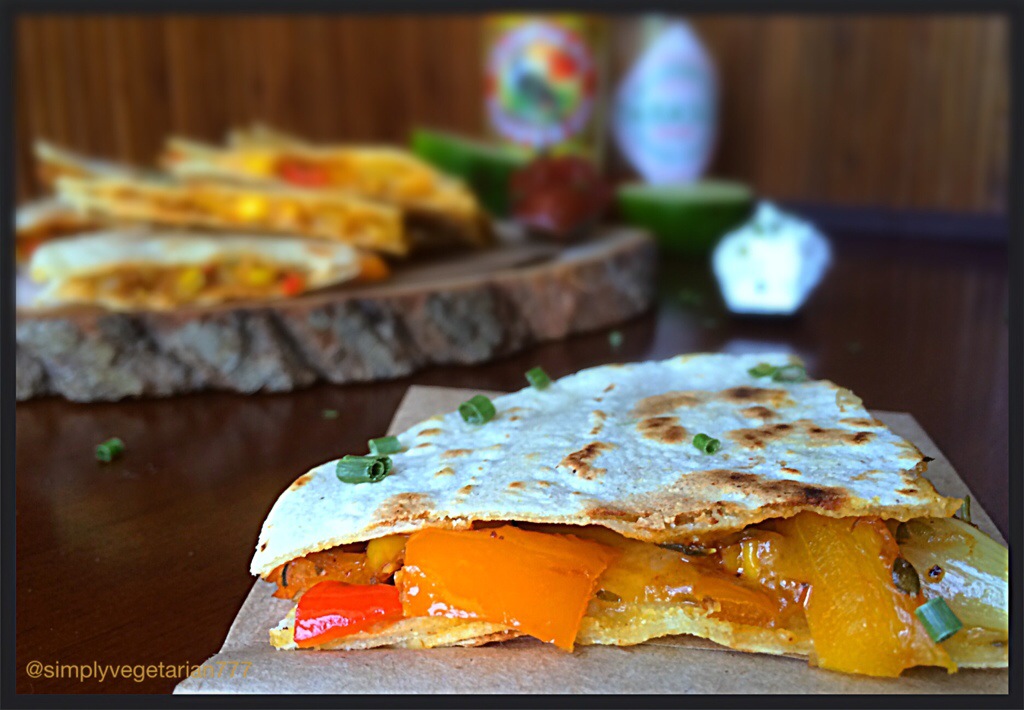 Bell Peppers, Onions & Cheese Quesidellas with home made Taco Seasoning are the perfect answer to your quick and satisfying Weeknight meals. They are filling and delicious and nutritious. Not only that, if you are following Meatless Monday, then these make an ideal meal for the same.
Now you know the purpose of my Taco seasoning post ? Aha! 🙂 yes. These beauties were waiting to use some of that. Are you drooling yet? No…then go on..read further..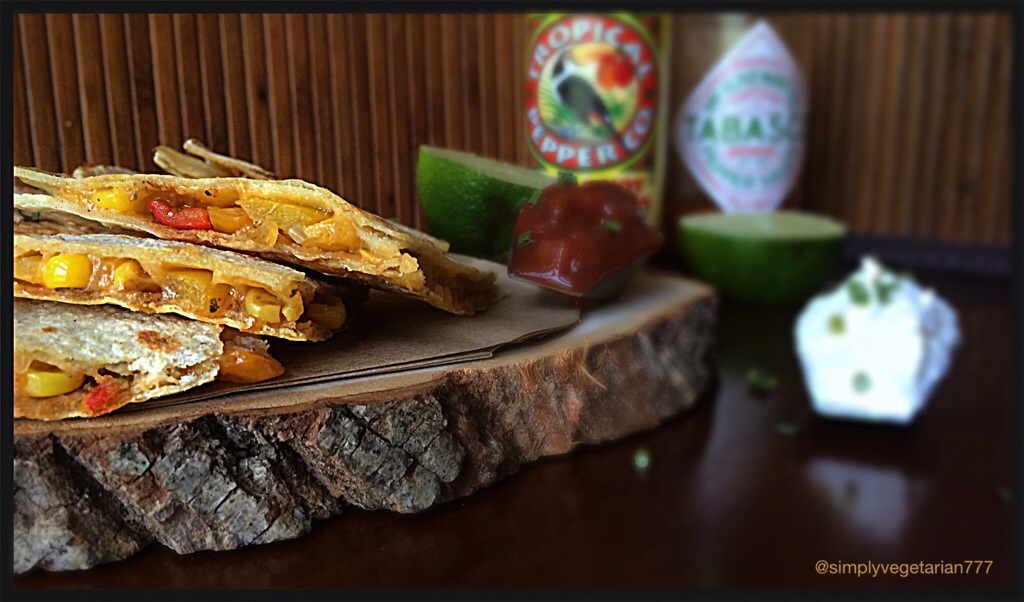 Crunchy, gooey and melt in the mouth, cheesy Quesidellas, layered with bell pepper, onions and cheese, sprinkled with taco seasoning and a dash of lime juice.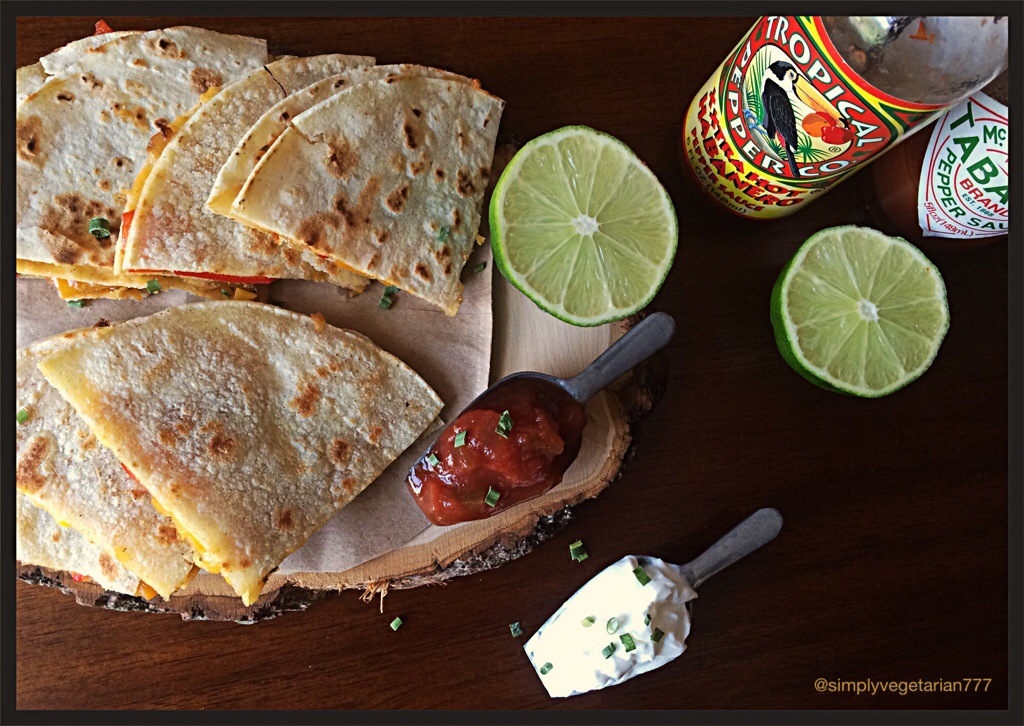 Dip in salsa, some hot sauce and sour cream…and voila, a full blown party in the mouth. Have I teased you enough? These were delicious. Tangy and Spicy. 2 of my favorite flavors :).
Home Made Taco Seasoning Recipe – copy and paste this link in your browser – https://simplyvegetarian777.com/taco-seasoning-home-made/
This makes for a perfect Meatless Monday dish. Where Quesidellas are commonly famous with steak and chicken stuffing, and when you ask for a vegetarian option, the restaurants come back with, "ma'm sure, is cheese inside okay?". Well yes but what else? Nothing :(. We call it in Hindi "Thenga", which means a thumbs down nothing ;). Lol! It just cracks me up to say thenga with an attitude! Have I talked enough? Yes? Okay! Okay! Okay! Here we go with the recipe then. Gosh! Impatient people, just kidding ;). Love you all :).
Some other Mexican Recipes to go with this dish from the blog are –
and many more.
This is how to make these Meatless Mondays : Bell pepper, Onion & Cheese Quesidellas with Home made Taco Seasoning.  
Meatless Mondays : Bell pepper, Onion & Cheese Quesidellas with Home made Taco Seasoning
Easy Quesidellas Recipe
Ingredients
Bell Peppers / Capsicum

green or colored : 1 cup approximately, sliced thin

Onion : 1 cup

sliced thin

Oil : 1/2 tbsp plus little more for grilling the Quesidellas

Corn Kernels : 1/4 cup full

Cheese : 1 cup. You may use Monterey

Queso, cheddar or any other available.

Tortillas : 8-10 small or 4-6 medium

Home made Taco seasoning : 1/2 tbsp to 1 tbsp

Salt : to taste

Lime or lemon juice : 1/2 tsp

Accompaniments : salsa

guacamole, sour cream, hot sauce. You may use all or any one to match your taste.
Instructions
Preparing the stuffing : Take a pan. Heat oil in the pan. Add onions and bell peppers together. Sauté them on high heat for 4-5 minutes. Add taco seasoning and salt. Toss well. Switch the stove off. Add lemon or lime juice. Set aside.

Assembling and cooking the Quesidellas : heat the griddle or pan on the stove with little oil or 1 oil spray. Lay a tortilla flat on the pan. Spread the prepared stuffing on it. Top with cheese. Now place another tortilla on the top. Press it down with flat spatula and cook for 2 minutes approximately on medium heat. Flip carefully, without letting the ingredients fly around. Now cook the other side. All done :). Finish the tortillas and stuffing similarly.
Notes
It is a great dish for either a complete meal, entertaining or snacking. A totally fun dish for game night.
A video for you all! Again not professional at all but still :). Dedicated to the spirit of World Cup FIFA, being played now in Brazil, since this totally fits the bill of a game food ;).
http://www.magisto.com/album/video/fjUwWERCAF06IXwBDmEwCXh5
Another video of the FIFA 2014 Song, Ole Ola, We are One !
http://www.youtube.com/watch?v=9W3sWiZ-iO8&sns=em
Eat Happy ! Stay Happy!
Sonal